Styling built in shelving for Fall can get some people in a frenzy… but it truly doesn't have to be hard! This year, I wanted to embrace fewer, but larger type items in each shelf… instead of multiple small things in each shelf if that makes sense! LOL.
You'll see a mix of Fall diys I have made, junk store and thrifted finds, and other various things I have picked up here and there! So keep on scrolling to see how I styled each shelf for Fall!
You may recognize this diy moss ball wreath that I made using Dollar Tree supplies! Y'all always ask me what I do with the things I make… and most of the time, I decorate with them!
I LOVE the look of these natural stems… I found them at Miss Lucilles in Clarksville, TN! Anyone know what they are called?
You'll see me use natural elements for Fall decor all season long… especially things like moss! This moss ball was found from a local florist here in town, Broadway Flowers and Gifts.
This wooden lantern is used in LOTS of places around my house. I love to shop my home, and move things around that I already have on hand to get a new look!
These pumpkin picks from Hobby Lobby fit inside the lantern very well!
Setting right beside the lantern is an old, vintage scale holding a (you guessed it) AQUA glass pumpkin!
The very top shelf is pretty simple for me… but I honestly love it! I layered together a white-washed pumpkin I found at Big Lots, and two other larger pieces of decor to complete the look!
Here's the full look of the left side of my built-ins! Also… I found those placemats at a local thrift store, and threw them up on the wall. HOW CUTE!!
How cool is this vintage camera I found from Miss Lucilles?! I'm telling you what… you never know what kind of treasures you'll find at booth malls!
I used another Big Lot's pumpkin in this shelf as well! I added a little bit of height with a random top to a wooden basket I had to create that look.
Peeking in the background is actually a random piece of junk that I found at Anything Goes! I THINK it was a door off a side table, like the one I gave a makeover to a few years ago!
Having horses was a HUGE part of my childhood… so when I saw this metal horse sign, it spoke to me. In fact, it said, "TAKE ME HOME!!!" …so I did. LOL.
The shelf right above might just be my favorite. Let's break it down!
This GORGEOUS vase was bought from The Snooty Fox in Brentwood, TN.
Right beside of it, I have an aqua vase (which I sat inside a mustard bowl) filled with my diy wooden roses!
Right on top, I have this very unique vase filled with pumpkins!
To the left of it, I have yet another old lantern sitting right on top of a very old hymnal.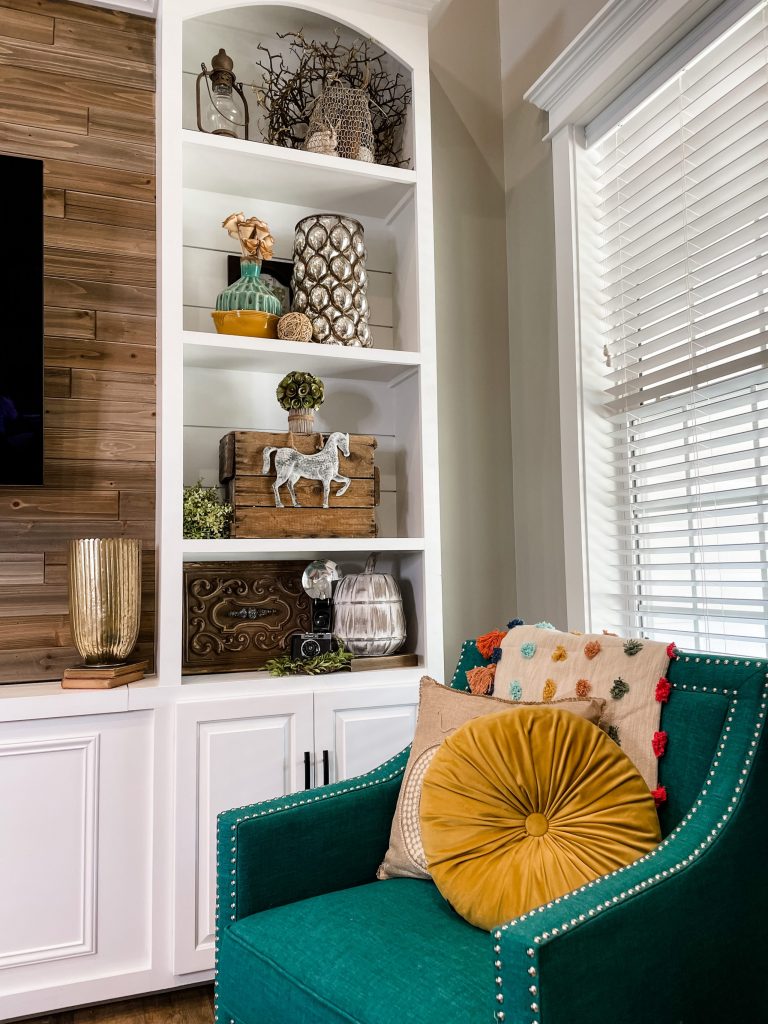 Many might not think that my aqua chair from At Home Stores would match… but I think it fits right in with every season!
Here's an overall look of how I styled my built-in shelving units for Fall!
I'm a huge fan of redecorating my shelves for all seasons… If you haven't seen how I styled them for Spring and Christmas time, you should check them out!
Make sure to PIN!