On my most recent trip to Hobby Lobby, I was browsing the WEDDING section because everything was 50% off (PSA: If you don't check out Hobby Lobby's wedding aisle, you're MISSING OUT on some cute crafting supplies!!)
I found these wooden "rose shavings," and instantly thought of a cute and EASY bouquet I could make. I'm SURE this has been done before… but the idea popped into my head, so I'm just running with it!!!
I'm serious, this project took about 3 minutes to put together and style into my decor. It only cost me $5 (since the rose shavings were 50% off this week), and I already had the dowel rods on hand (which you can find for $1 at Dollar Tree)!
What you'll need…
*click the bolded item to shop my direct affiliate link!
The good thing about the rose shavings, is they come with a tiny hole at the bottom… which makes it perfect for a dowel rod to slide right through!
This is literally the easiest thing. Simply just stick the rod right through the hole of the rose! I had to stick my rod through the top of the rose, then slide it down until the flower was at the tip of the rod.
For a few of the flowers, I decided to break off a little at the ends to help make them all different lengths when styling them into a bouquet!
Make as many as you want! I had a specific vase in mind that I wanted to fill, so I made enough to make the vase full.
If you find that your rose is wanting to slide down the rod, you can add a dot of hot glue at the base to keep it in place!
TADA!!!! I mean… not only is it the easiest thing ever, and only takes 3 minutes to do… but LOOK HOW CUTE!!!!
I'm in the midst of styling my dining table, so this made for the perfect centerpiece!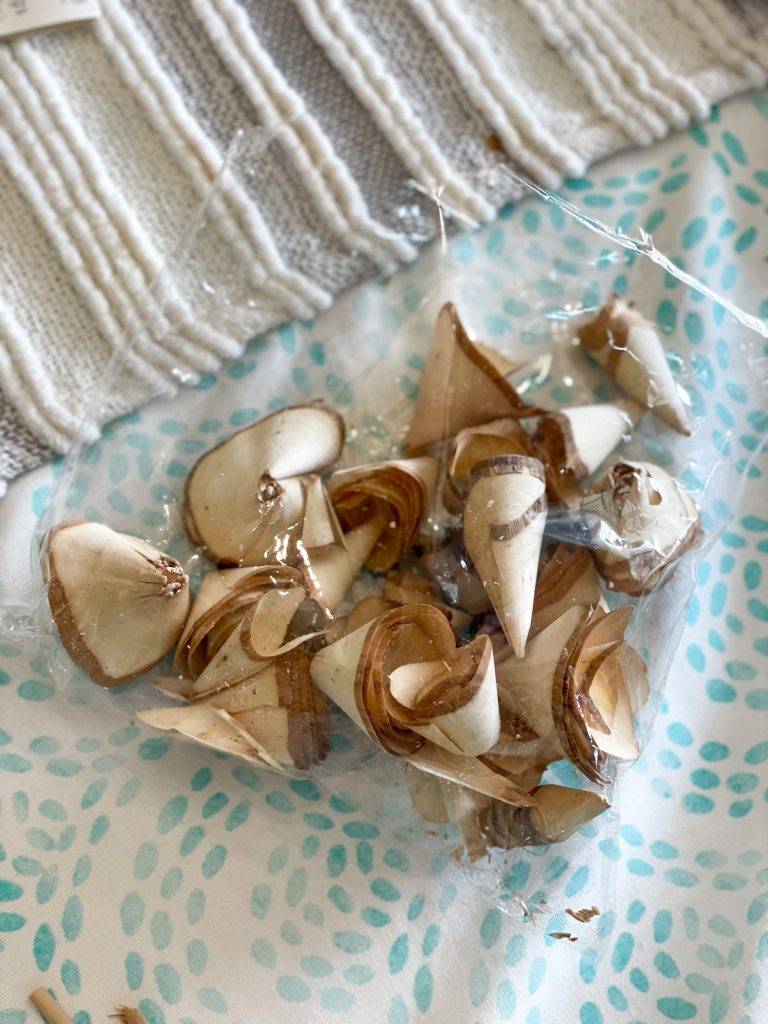 Also… look how many shavings I still have left, even after making so many!
If you're interested to see another CHEAP diy "flower bouquets" that I have made… check out this one that I made from wooden spoons!
MAKE SURE TO PIN!