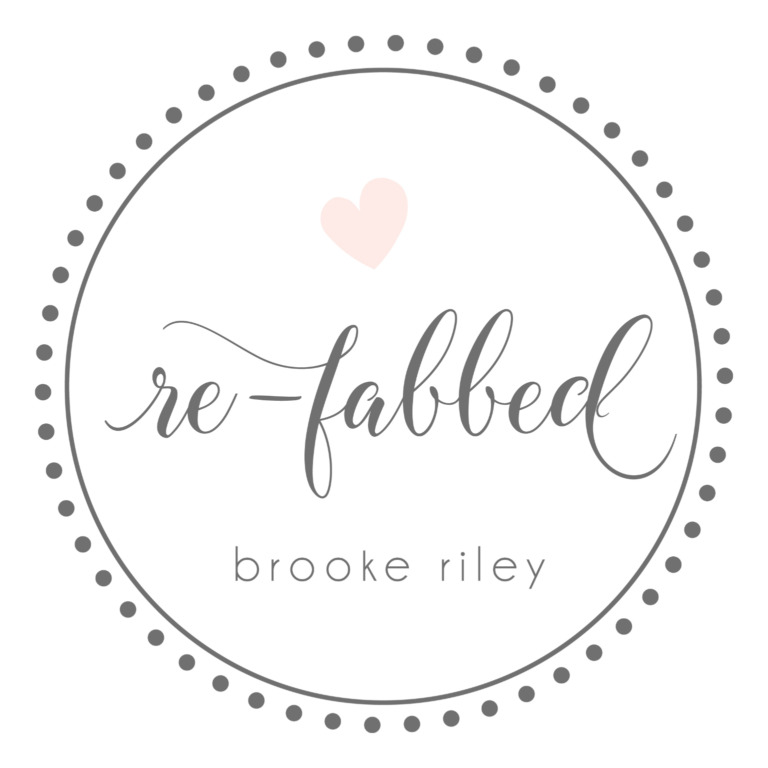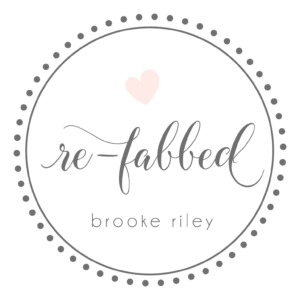 I know many of you have seen my furniture makeovers and probably assume the name "Re-fabbed" simply derived from making something old into something fabulous? Well, if you think that- you are partially correct! I do feel that the name Re-fabbed goes right along with that, and trust me- I do ALOT of that…but there's so much more behind the name. Throughout my life, I have had hurdles, heartache, joy, encouragement, lessons, and the list could go on forever. Let's just say, I have had a lot of Re-fabbing take place. We have all been in a place in our life where we simply needed revived. We needed that breath of fresh air, that light at the end of the tunnel. By the grace of God, I have made it through each and every thing. I have been BLESSED beyond inconceivable measure in this life, and I do not want to take one single thing away from that, but I have also had struggles like everyone else. I think when we don't acknowledge those struggles, we fail to give credit to God for what He did to get us through to the other side, better than we were before. I have been through the heartbreak of losing someone close to me long before their time, struggling with infertility for 4 years, medical issues that were not supposed to randomly happen to a 29 year old woman, 2 children being born and having to spend their first weeks of life in the NICU, moving to a new town where I did not know hardly a soul, and being turned down for opportunities that I truly had thought was God's plan for me at the time (to name a few- just like everyone else!) . All of this is part of LIFE…it is nothing to get down about or feel sorry for yourself over. It is life. Life has ups and downs. It has disappointments, and it is has inconceivable JOY if we don't hide ourselves from the One who gives that joy. Out of each and every struggle in this life, God has re-fabbed  me. He has turned a sorrow into something fabulous. He has turned tears into joy. He has taken the issues that I have faced and given me a podium to speak with knowledge because I have been there, and because of that- I can help others get through. He has taught me that trials are sometimes brought to us so that we can only rely on Him to bring us through. In all the years that I struggled with infertility, I prayed diligently that God would bless us with a child. I yearned for that. I saw others whom I was close to having children, and I wanted that so badly. I could not understand why I was having to wait. I learned that my timing and God's timing is not the same. It rarely ever is. He sees the big picture, and I see a tiny portion of the current time frame. We suffered a miscarriage after a few years of trying, and as much as it hurt, it gave me all the more reason to fall back on God and let Him hold me. I knew He would see me through, and He did. 8 months after the miscarriage, He blessed us with the pregnancy of our first child! When Eden was born, I felt like I was all the more appreciative because I knew that it was only by the grace of God that she was here. I have watched her live her life with such vigor and determination, and I can't help but constantly give thanks for His answered prayers. He then blessed us with our second child in a FAST manner. I figured it would take a while again, but I was wrong 🙂 Again, my timing and God's timing…they are rarely the same~ but my how I wouldn't not change one that about it! Blaize has been a blessing beyond words, and I can't imagine waiting for him any longer than I did. Whatever the situation, I realized that good would come in the end. Whether it be a woman who is struggling with infertility that I can talk with for months to encourage her because of my journey, or a young girl who is having health issues and is scared and comes to me for encouragement, I know He had placed me in that position so that I could be that voice of encouragement and that listening ear. If it is a job opportunity that you were passed up on, and you are disappointed and feel "not good enough", DON'T! God has something better than what we have for ourselves. He is shaping you to become what He wants you to be.If we only followed our own dreams without allowing him to mold us into what HE dreams for us to be, we miss the opportunities to be Re-fabbed! He can turn all of us dirty ole sinners into something fabulous! We just have to let Him. We just have to let him sand us down, scrape us off, smooth us, and give us a fresh coat of paint! 
I hope that by learning a little more about my personal journey, you will leave feeling inspired and ready to conquer whatever your heart desires! Remember, "You can't do everything, but you can do more than you think!"
There is nothing I would love more than to have you follow along on my journey! If you want to receive an email letting you know when a new post goes live, just put your email in!