Are you wondering how to decorate for Fall on a budget?? You've came to the right place! 
Many times, we think of pumpkins and themes for fall decor, but while I love a good pumpkin as much as the next gal, I love a good FEEL even more.
You may be wondering what I mean by a good feel…so let me explain!
You see, to me…fall is all about a feeling. Each season is, truthfully…but for fall, there are certain colors and vibes that make me FEEL connected to the season.
1. Using Certain Color Schemes
When I use neutral colors, mixed with some jewel tones and even some light minted aqua- my mind immediately starts to feel that special "fall" feeling. Those colors create a vibe all in and of themselves! I love a good mustard and deep green! 
2. Natural Elements
When I mix in more rustic and natural elements into my decor, it brings the outdoors in and feels like fall even more.
Using sticks (hello…can we say FREE), wooden spindles, tree bark, driftwood, wood slices, etc can add beautiful natural texture for very little, if any, money!
3. Use On-Hand Items from around the house
I have ALWAYS been a huge fan of changing things up constantly, not just for the seasons. I get bored…(I think it is my creative mind LOL) but there is no way I am going to buy new things constantly, so I shop my own home! 
Go to different rooms in your home and switch things out. My built ins were mostly all things I already had around my house, just used in different places! (minus the pumpkins of course!)
4. Use thrifted items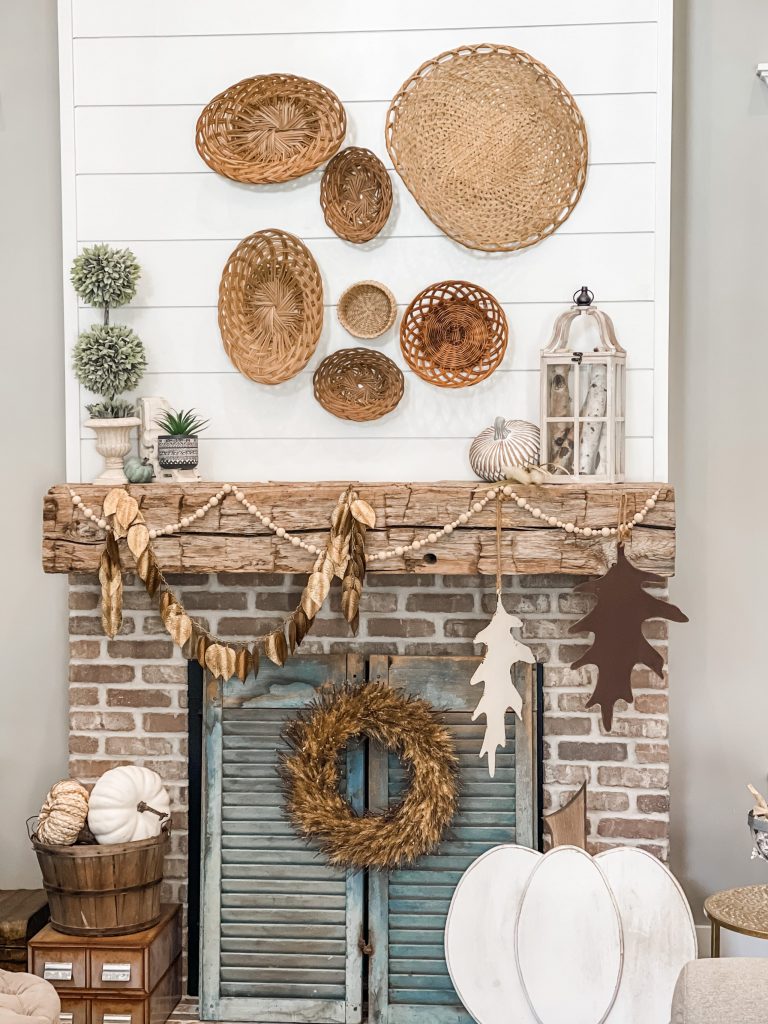 There is nothing wrong with using thrifted items in your decor… you see all those baskets hanging above my Fall mantel?! Yep… those were found at various THRIFT STORES!
5. Repurpose items for different areas
You might be thinking… "Brooke, are those PLACEMATS on your wall?" Why yes, yes they are. They may have been MEANT for a dining table, but I decided to use them on the wall beside my Fall built-in shelving!
Speaking of… I ALSO thrifted these from a booth mall in Clarksville, TN called Miss Lucilles!
6. Decorate with things from the Dollar Tree
The Dollar Tree is my BFF. I gave these Dollar Tree velvet pumpkins a makeover, and they fit in with my Fall decor PERFECTLY!
7. DIY your own Decor
DIY'ing your own decor is MUCH easier on the pocketbook than buying all new things… and, it's a heck of a lot more fun!
I made this diy leopard chicken by using a $3 sign from Dollar General… can't beat that!
You see, decorating for Fall can be simple, easy, and done on a budget… you just need to use a little bit of imagination!
Make sure to PIN!