If you haven't seen the selection of Fall and Halloween decor at Big Lots yet… You are MISSING OUT.
Not only is there decor VERY reasonably priced, they have so much amazing things to choose from this year!
Let's start with their Fall decor!
I bought this adorable "welcome" pumpkin sign, and actually gave it a super cute makeover… which you will see on the blog very soon 😉
Need a nice Fall Wreath? Big Lots has you covered!
I actually bought this too, with plans to give it a new look! I can't wait to share what I do with this one!
They had lots of options for door hangers, front porch signs, and yard signs!
These were only $5 each, and already sooo cute! Talk about the perfect item for a Fall tiered tray!
Their selection for little signs like this were unbelievable! I could totally picture this on my Fall coffee bar!
If you're decorating with muted natural tones, look no further!
I honestly can't tell you what my favorite thing in this photo is… it's all SO GOOD!
I could totally picture buying one of these, re-painting it, and adding a new bow to it! Or… leaving it as is- either way, it would be adorable!
Their selection of pillows/kitchen towels were crazy! They truly had so much.
Who could see this in the center of a Fall Tablescape?!? I could!
I'm not much of a huge sunflower fan, BUT… I could totally see this sign re-painted, and maybe even a fun scrapbook paper on each letter!
We could totally DIY this!
Alright… who told Big Lots they could have SUCH CUTE things!?!?!
All of these were so cheap… and even if you don't like them as is, you could absolutely paint over them!
They even had LOTS to choose from if you're decorating with more traditional colors, too!
They even had some Thanksgiving decor out!
I was lovingggg everything on this end cap, too!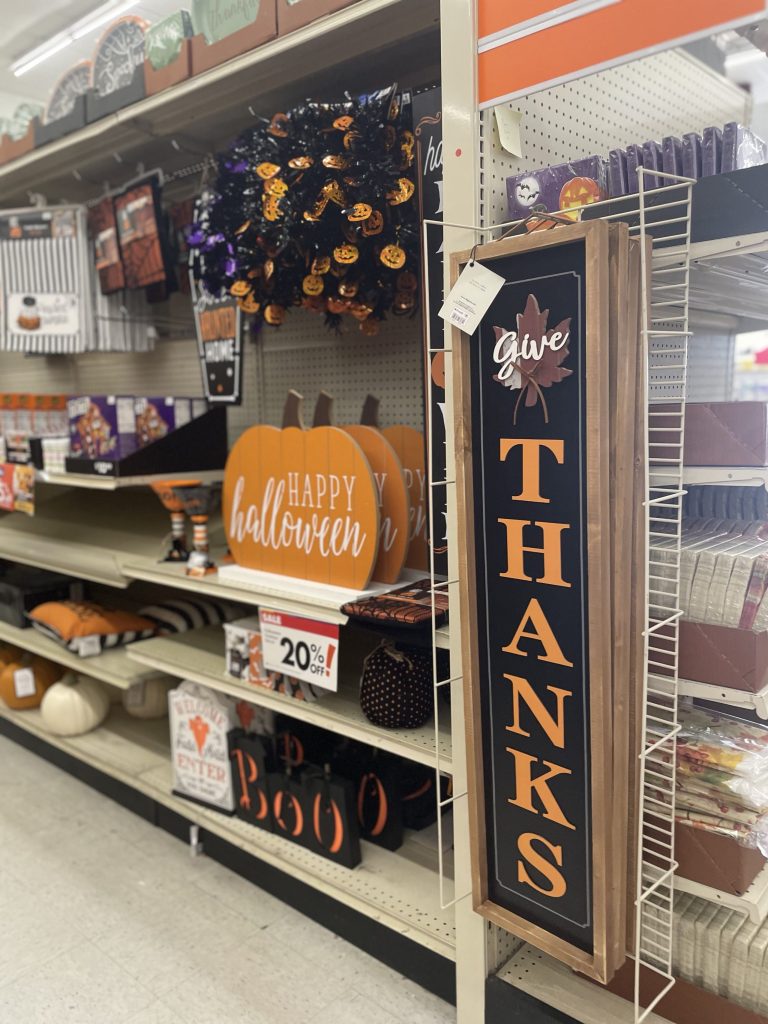 Let's take a peek at the Halloween section!
$12 for this cute little ghost. Even if you don't decorate for Halloween… it's so hard NOT to pass him up!
I only took a picture of these, because I thought they were a good base to give a makeover to… I wouldn't leave them saying this! LOL
How fun are these for decor, or even for a Halloween party??
I think it's fair to say that if you're leaving this post without wanting to run to Big Lots… something is wrong with you!!! LOL!
In all honesty, I left with so many goodies from here! Some I will be leaving as is, but some I'm giving makeovers to! Keep an eye out on the blog for all the amazing before & afters!
Be sure to PIN!