How many of you have a HUTCH in your home?? My assistant, Hannah, has this GORGEOUS aqua hutch in her double wide mobile home… and today- she's showing us how she decorated it for FALL!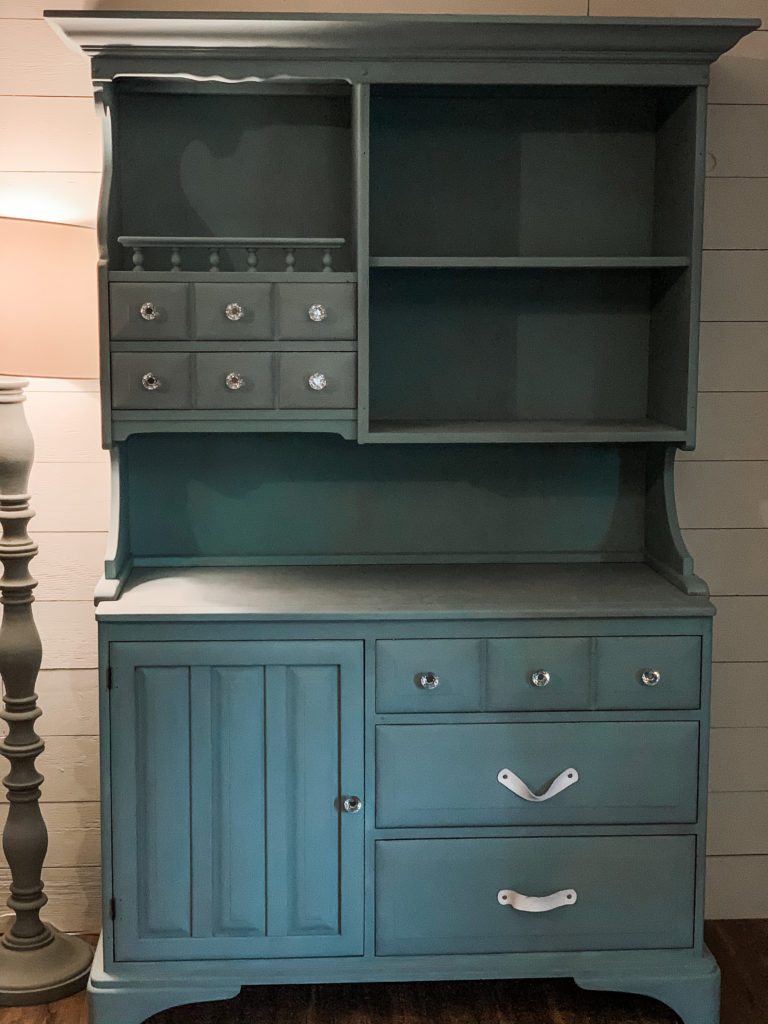 This is the hutch while it's naked… so of course we need to dress it up!!!!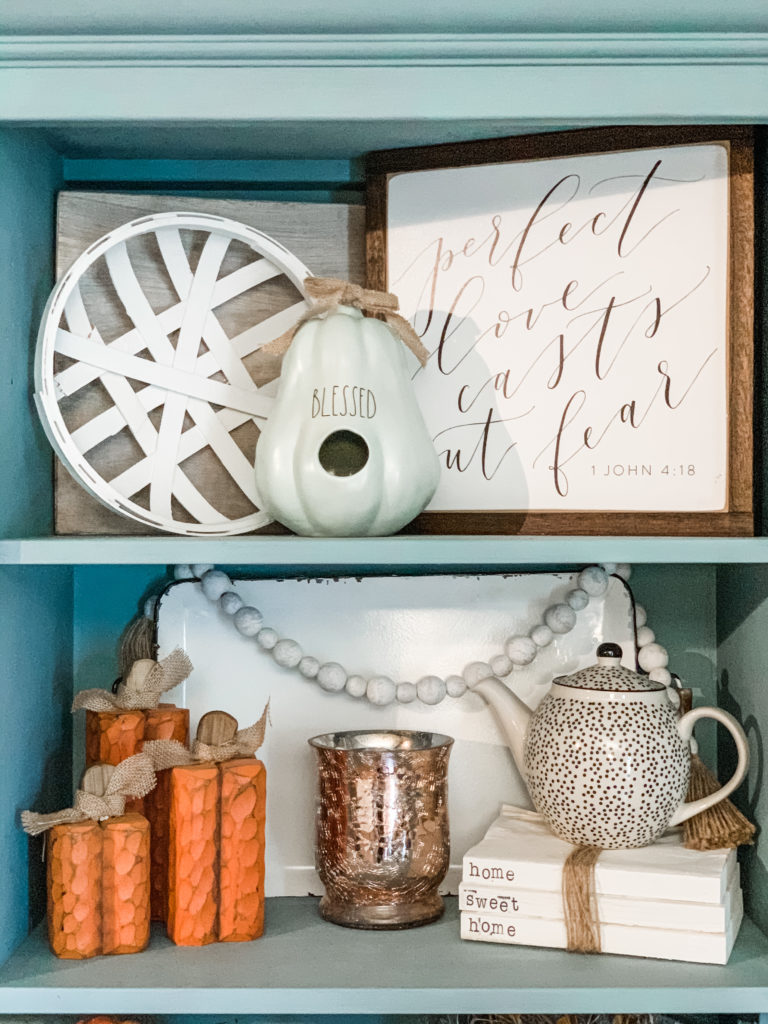 In the open shelving area on the top right, she does something that I ALWAYS recommend to do… LAYER! Layering your decor ALWAYS is more appealing to the eye, especially when you have different heights incorporated as well!
Everything on the top shelf and the set of 3 pumpkins came from Hobby Lobby, except for the Rae Dunn birdhouse- that came from TJ Maxx!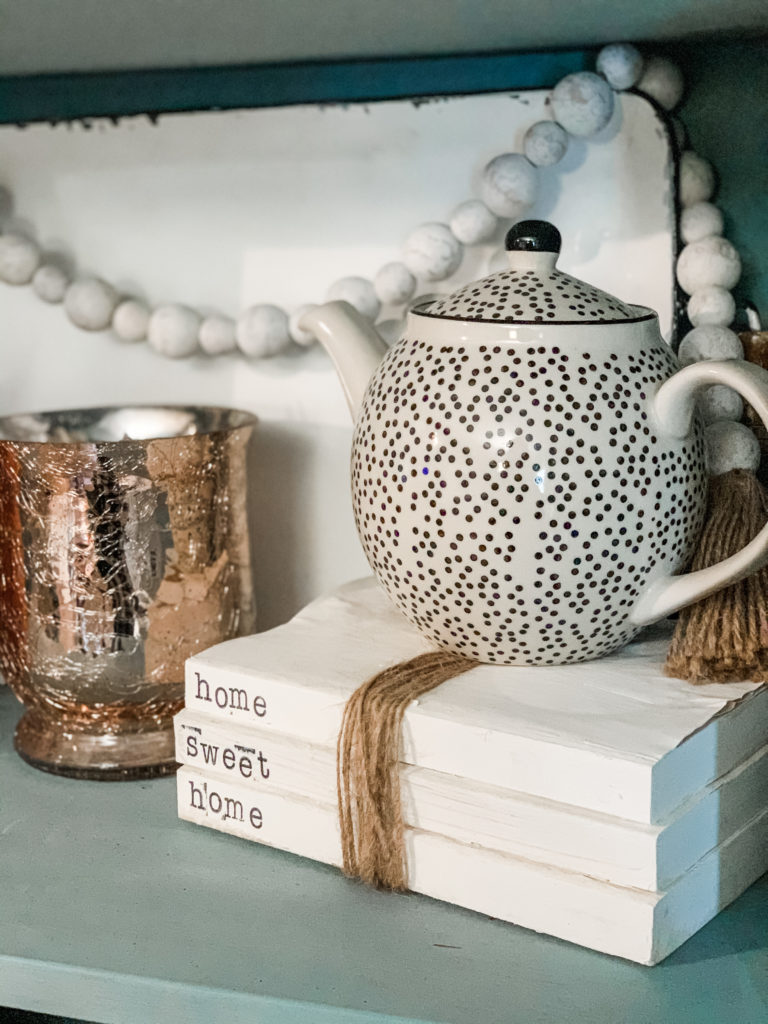 She actually DIY'd this set of farmhouse books by taking the cover off 3 Dollar Tree books, painting them white, then wrapping them with twine (which you can also buy from the Dollar Tree)! She stamped them stamps from Hobby Lobby.
The tea pot came from a local home decor store, 2 Chicks and A Farmer
The rose gold vase & the wooden bead strand came from Hobby Lobby
The white tray came from a Flea Market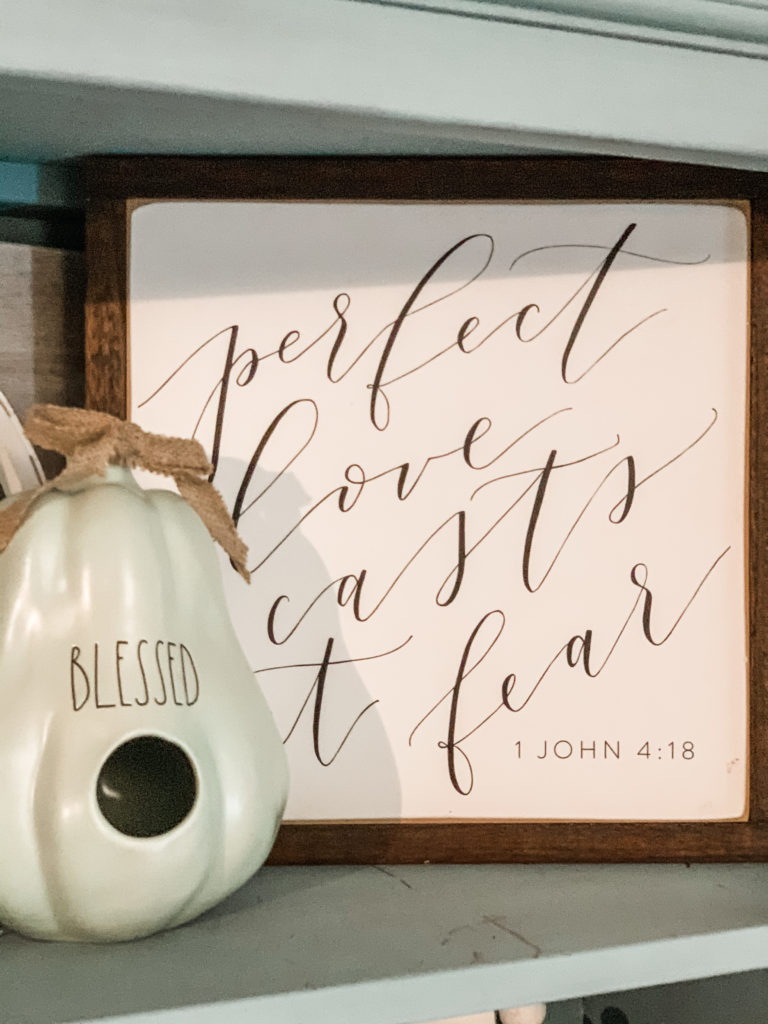 Are any of you Rae Dunn fanatics??? This birdhouse is one of her new releases for this Fall!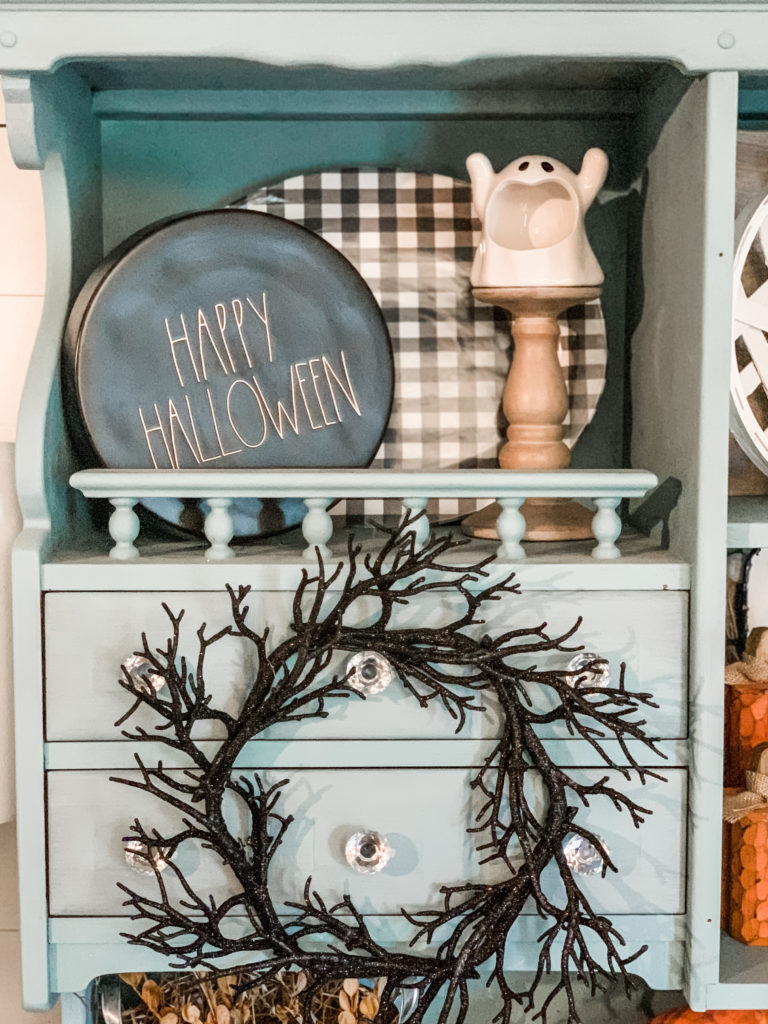 On the top left of the hutch, this is her dedicated "Halloween" display! She's like me in the sense that I don't decorate TOO much for Halloween… but it's fun to throw in a few pieces here and there!
The black wreath is from Target Dollar Spot for $5
The Rae Dunn Happy Halloween Cake stand, candle stick, and the little ghost is from TJ Maxx
The buffalo plaid plate came from a little home decor shop in Franklin, TN that her parents got for her!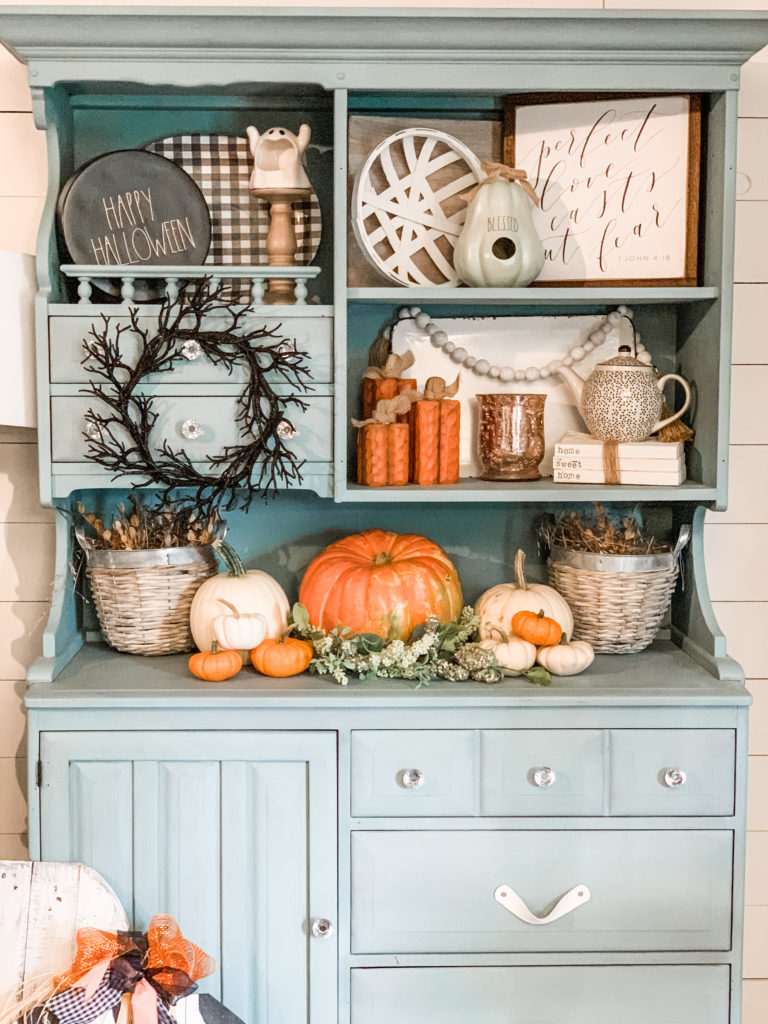 Here it is ALL together!!! She bought a mix of pumpkins to display on this bottom shelf from Walmart, and sat the biggest pumpkin on top of a wreath from Hobby Lobby! Funny story… she needed something to fill the two little side baskets with, so she drove down the road and picked some dead plants…LOL! But hey, whatever works, right?!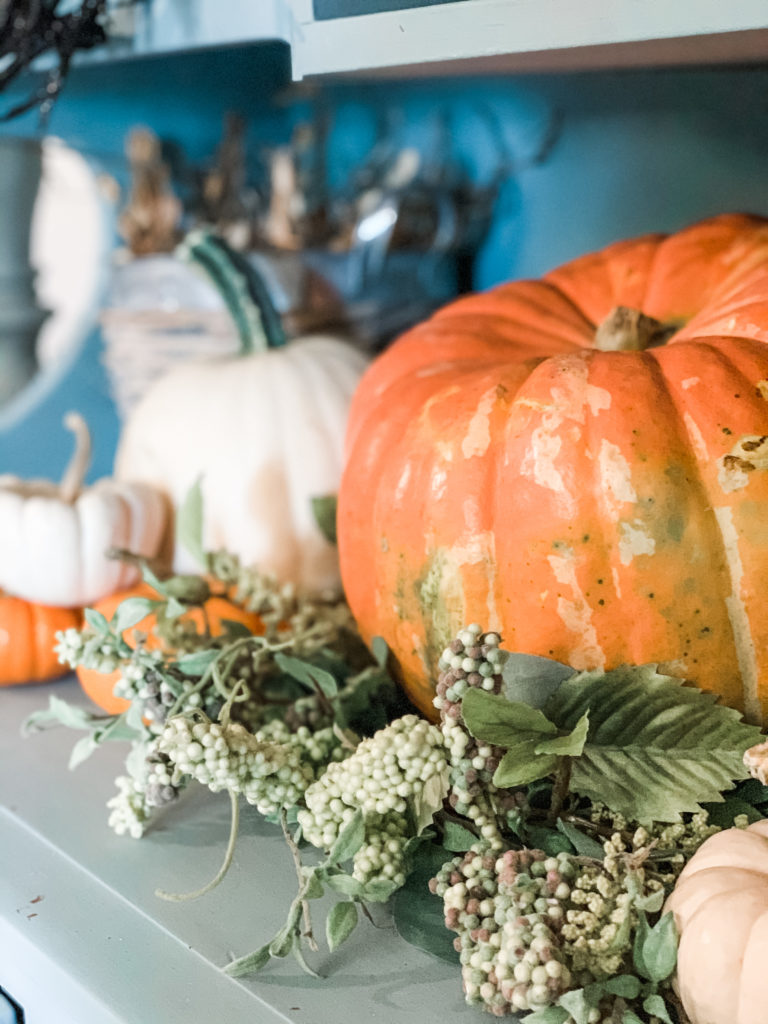 Here's a tip… go for the ODD pumpkins. The ones that AREN'T perfect… those make the best and most unique decor!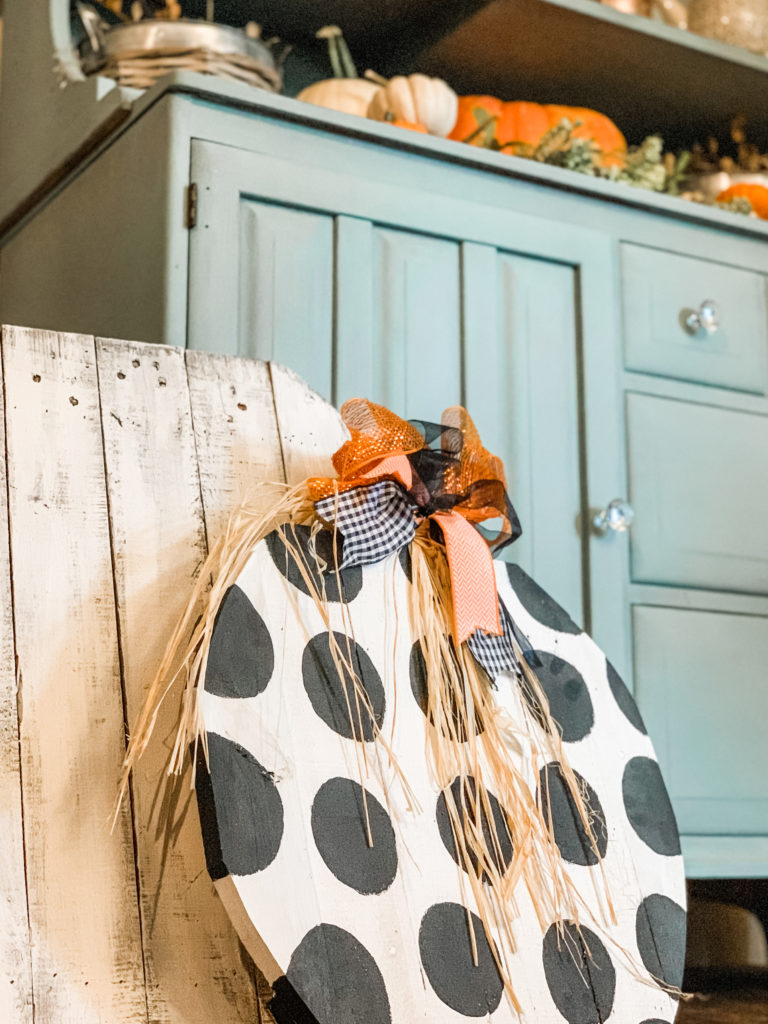 Just for something FUN, I let her borrow these pallet wood pumpkins that I received a few years back! She has them leaning up against the hutch to add some "whimsy" into her decor!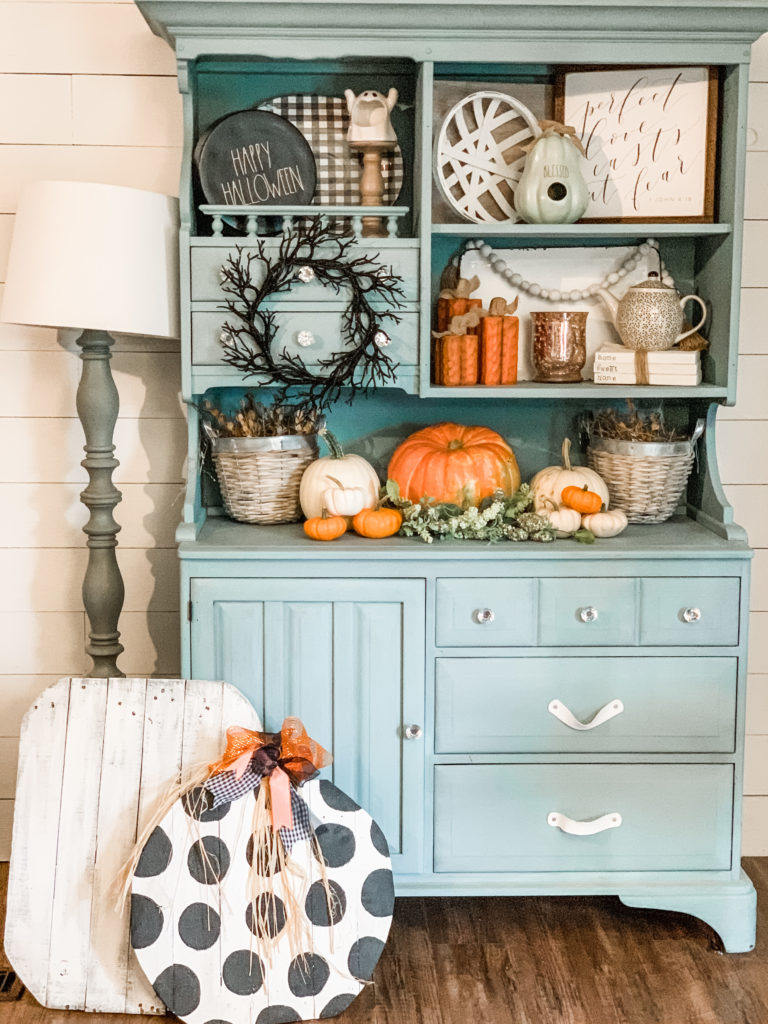 Ta-daaaa!!! What do y'all think about it??? I personally love it, and hope this gave you a little inspiration to add in some Fall decor to your home!
Don't forget to pin for later!!!