Some may say that August is too early to start decorating for Fall… well, here's what I say to that: DO WHAT YOUR HEART DESIRES!!! If decorating for Fall in 100 degree weather is what makes you happy, then go for it!!
Anywho… today, my assistant Hannah is showing you how she decorated her TIERED TRAY for Fall- and I think y'all are going to like it!!!!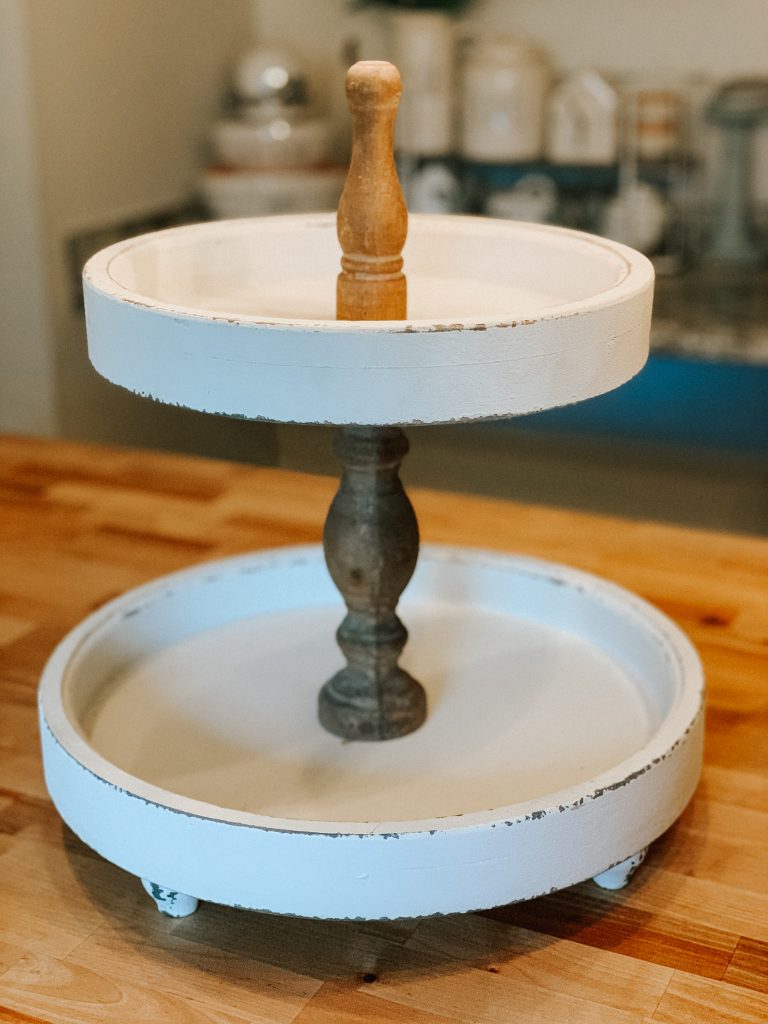 First thing's first- you need to start with a clean slate! Go ahead and take all the decor that was already on it off, then give it a good cleaning… we don't want no 'Rona around here. She used Mrs. Meyer's Clean Day Multi-Surface cleaner in the scent "Apple Cider"… which basically smells like Fall in a bottle!
Next, gather up all your small Fall decor pieces. This way, you can see everything you have all in front of you!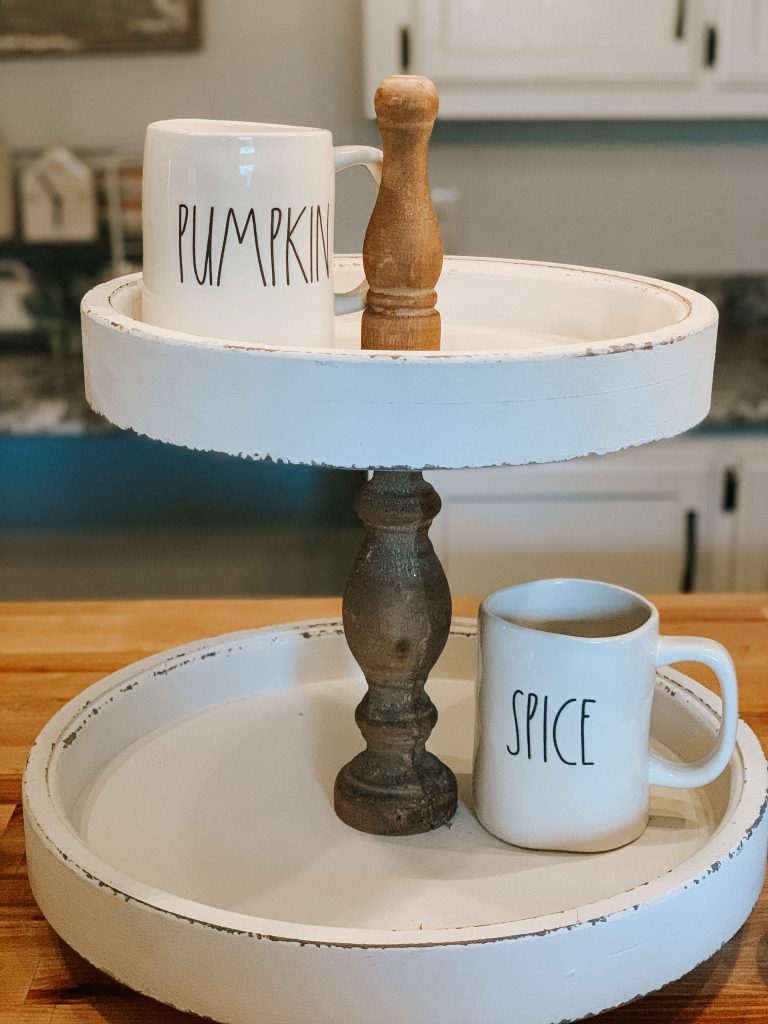 She then started to play around with how she wanted things to look. She bought this set of Pumpkin Spice Rae Dunn mugs from Homegoods last year, and she knew she wanted them somewhere on this tray! Also, having them on opposite sides of the tray is more eye catching than if they were side by side!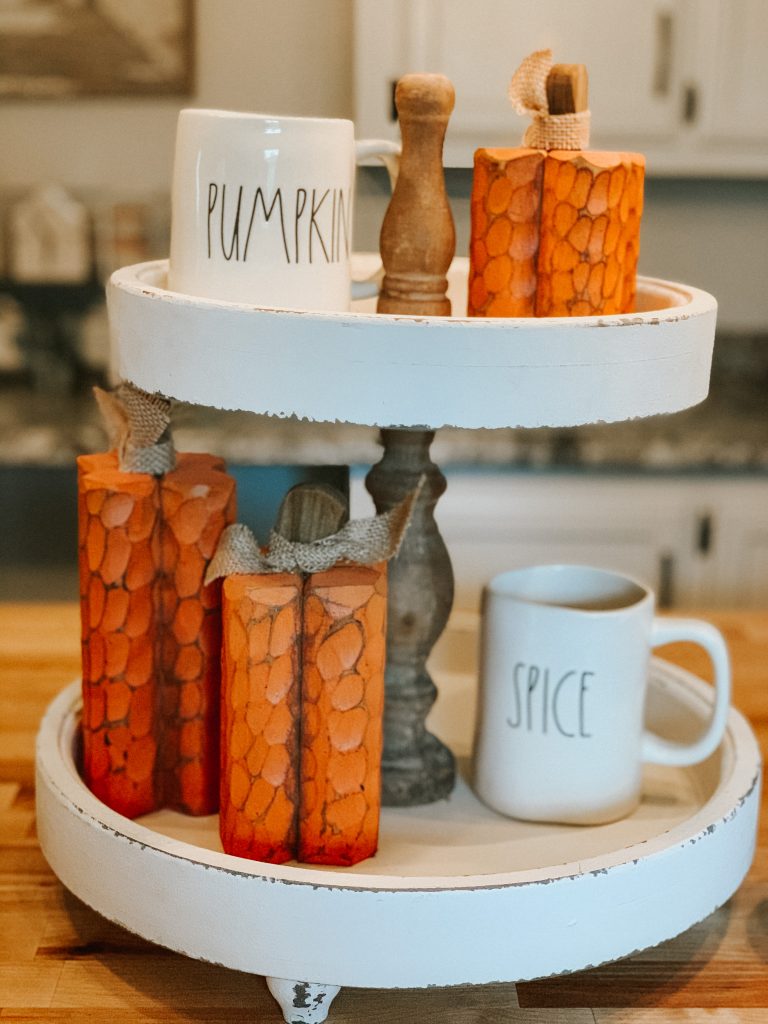 Next, add in some color!! Again, adding 'like' things on opposite sides of the tray is MUCH more appealing to the eye. Adding them on different levels of the tray definitely helped balance it out, too! In case you were wondering, the pumpkin set came from Hobby Lobby!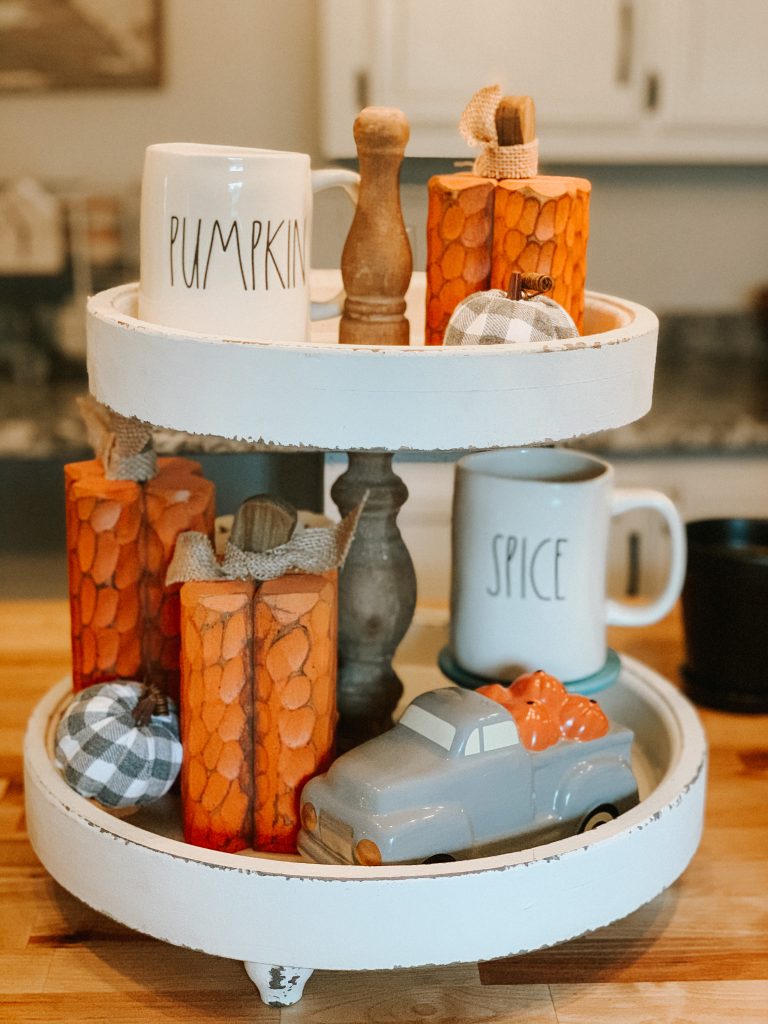 Okay, how cute is this little truck from the Target Dollar Spot?!?! The orange pumpkins in the back of the truck help tie in the orange color, and those little buffalo check pumpkins (which are from Hobby Lobby) help balance out the grey from the truck! Since the truck was kind of covering the "spice" mug, she put it on a little pedestal to add some height.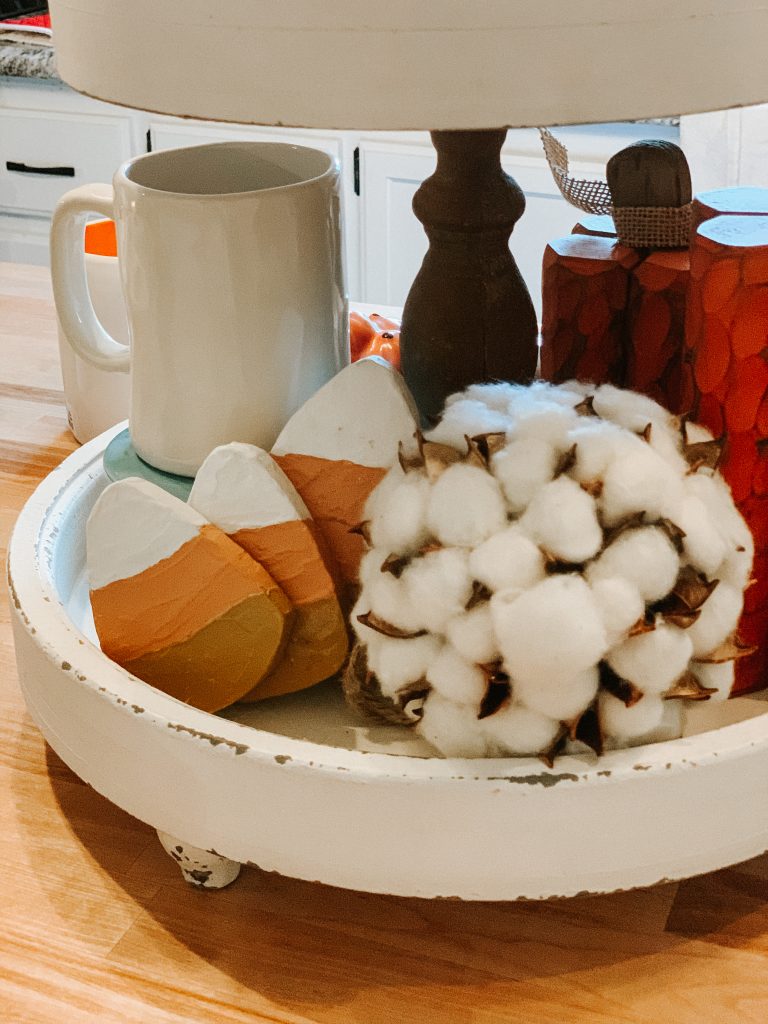 Now to work on the back of the tray! Since she has this in the center of her Kitchen island, you will be able to see the back… which means, you have to make that part cute, too!
She added this set of 3 wooden candy corns (which she bought online from Danielle with Belle of the Barns), and this big cotton ball!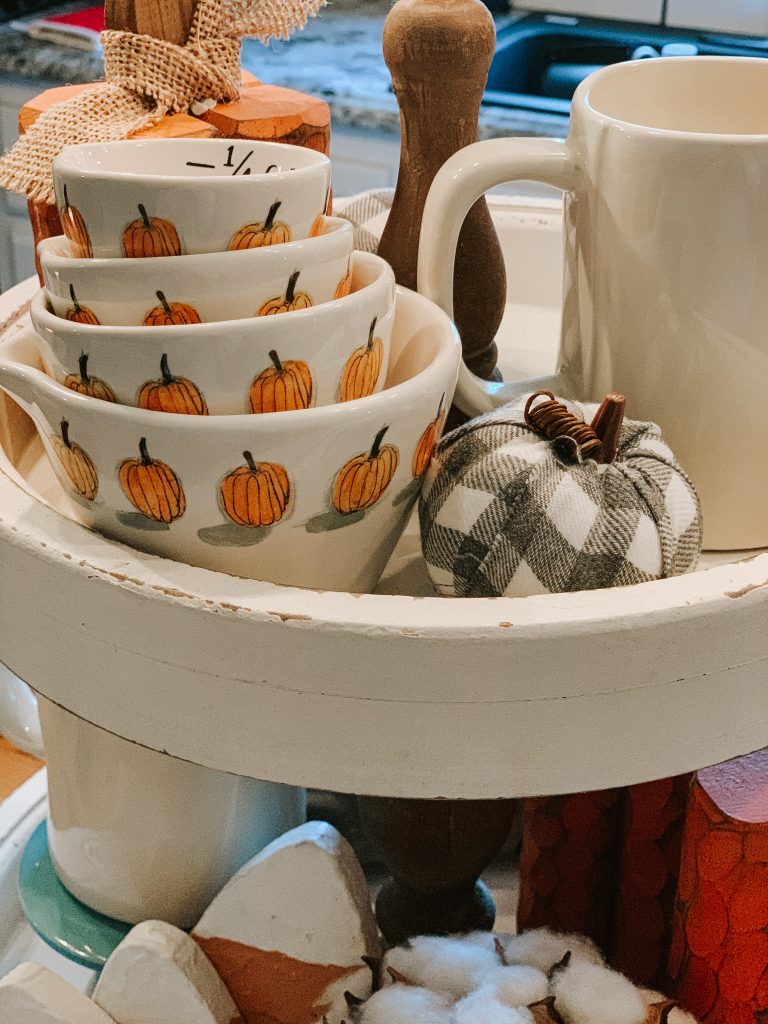 On the top tier in the back, she stacked up these ADORABLE Rae Dunn measuring cups (also from Homegoods), and added one more buffalo check pumpkin… and BAM. ALL DONE!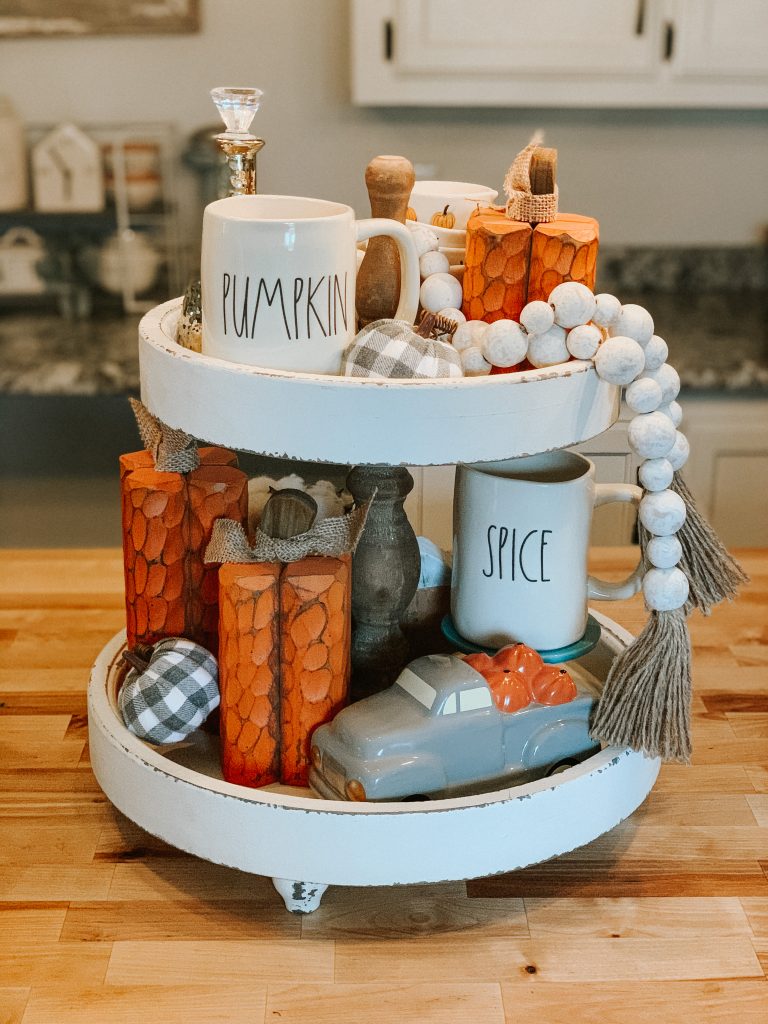 (After looking at it some more, she ended up adding this beaded garland from Hobby Lobby to the top to add some texture!)
She needed to add a little more height to the back, so she added in that cute little vase from Burkes Outlet!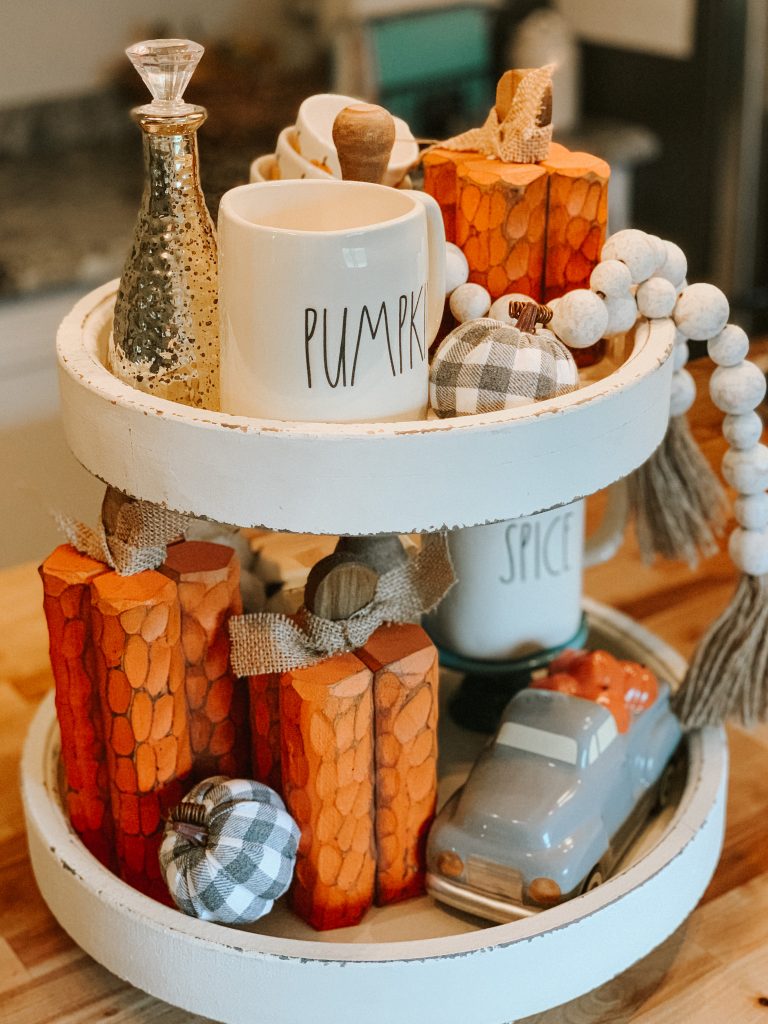 What do you think of her tray???? Does it inspire you to start decorating for Fall, even though it's only August?! Let me know!
Make sure you PIN FOR LATER!!!!!!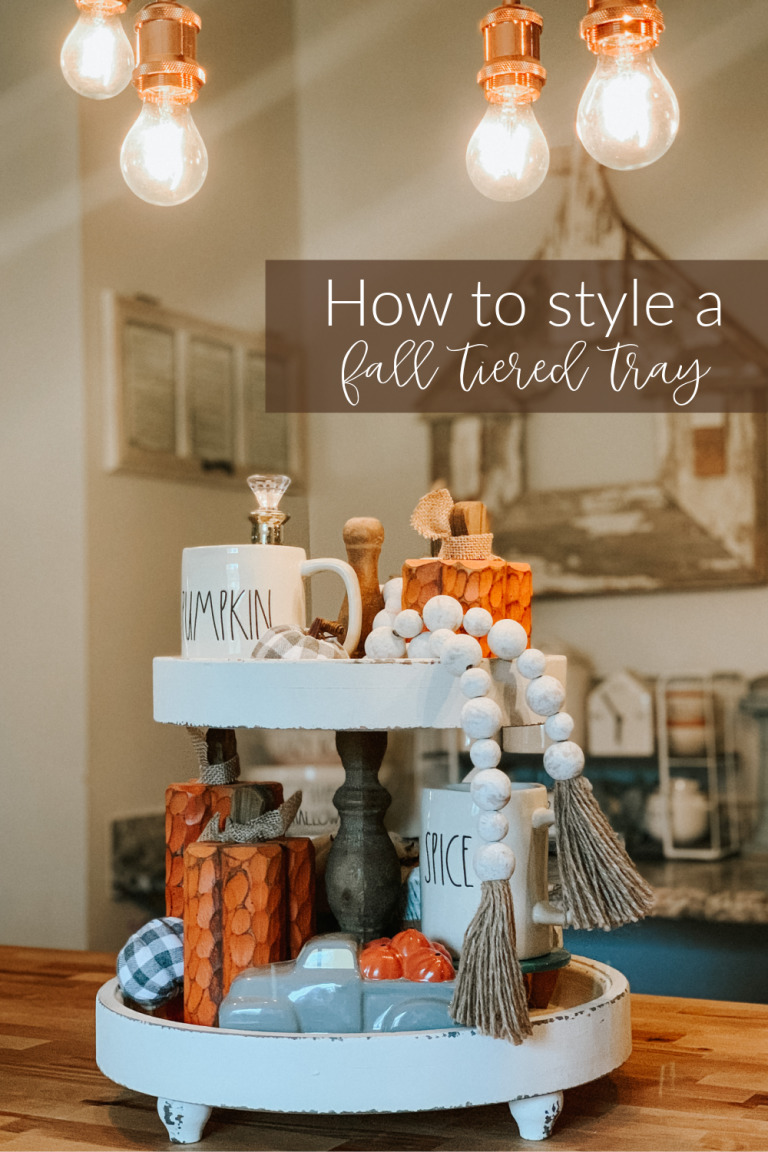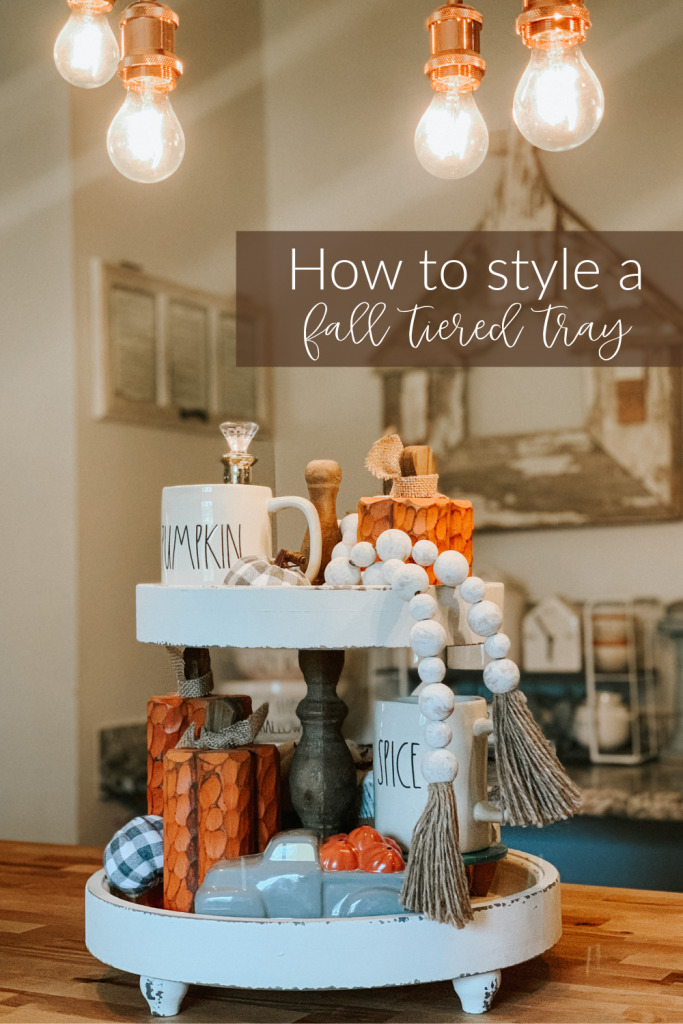 HAVE YOU SIGNED UP FOR MY TEXT LIST YET?!?!
➡️ Text 270-200-5848 to text me ANYTIME!! ⬅️