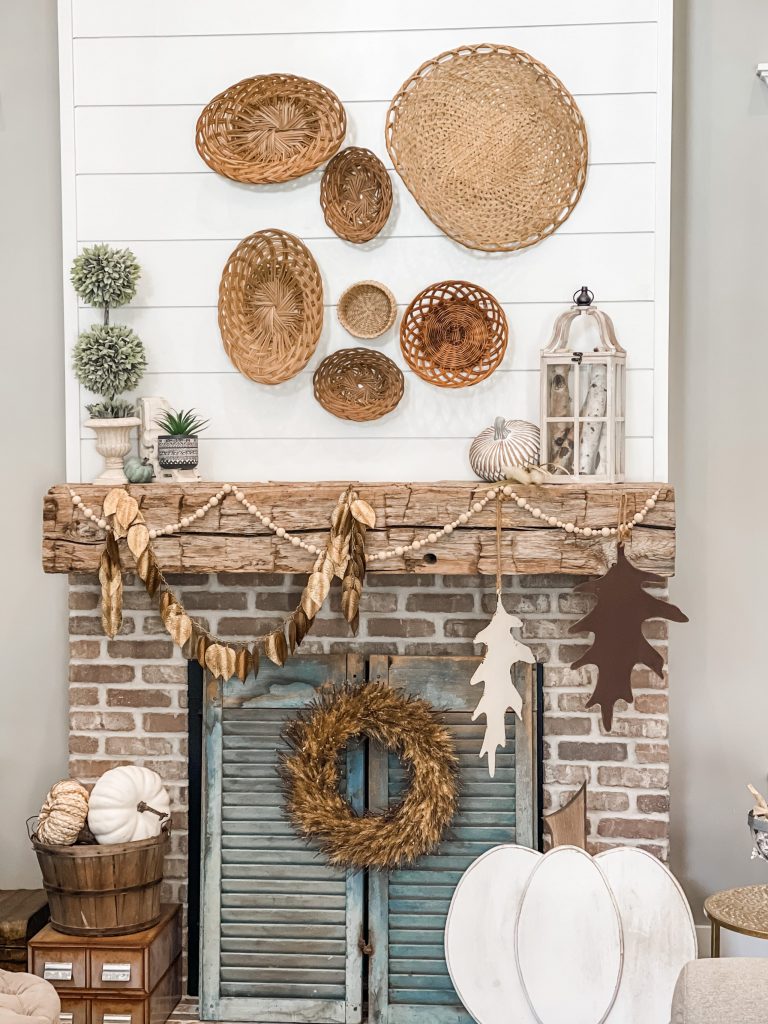 There is something so soothing about the feel of my fall mantel this year. The neutral and natural elements truly bring me a sense of serenity. Is that the silliest thing you have ever heard? But for real. I LOVE color. I thrive with color. BUT, for fall…I definitely go much more neutral…and this fall mantel is probably my FAVORITE to date!
Let me just walk you through some of the details!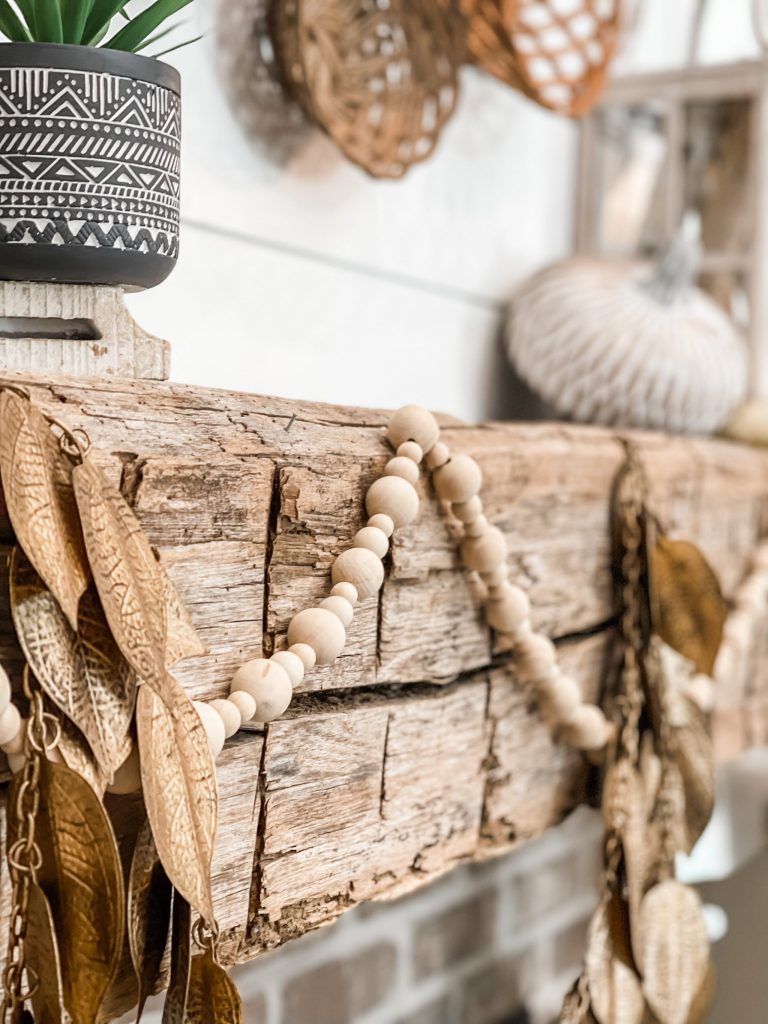 The same leaf garland that I had last year on my mantel made an appearance again, except this year I decided to break some design rules and hang it on ONE side of the mantel! #rebeldecorator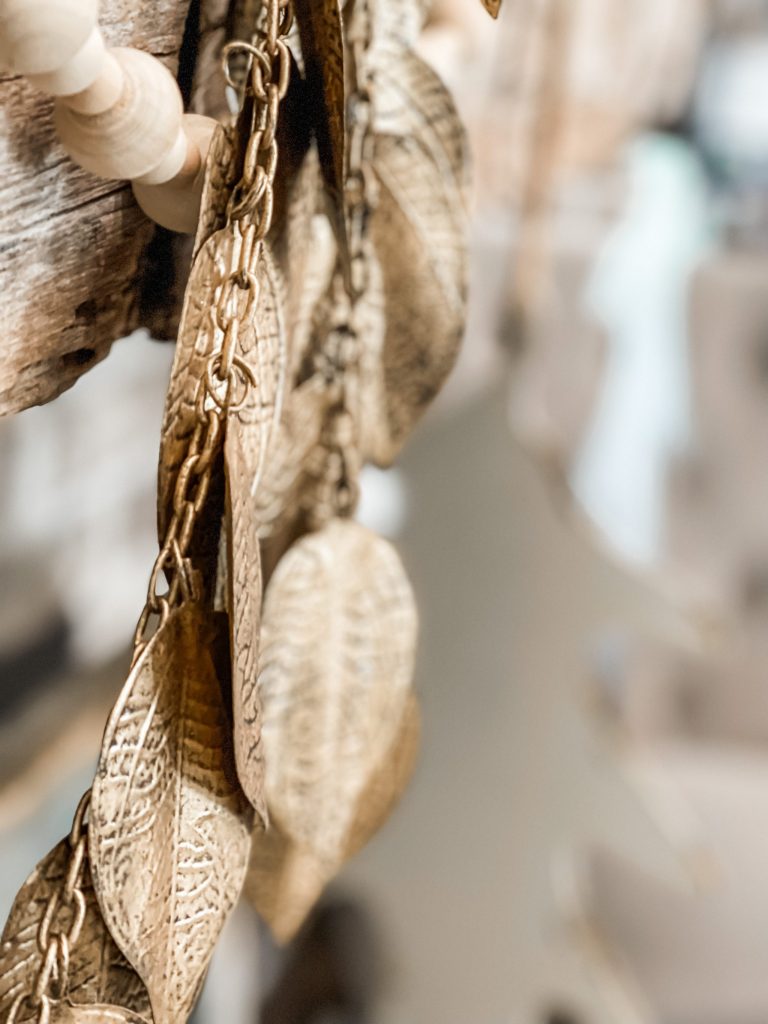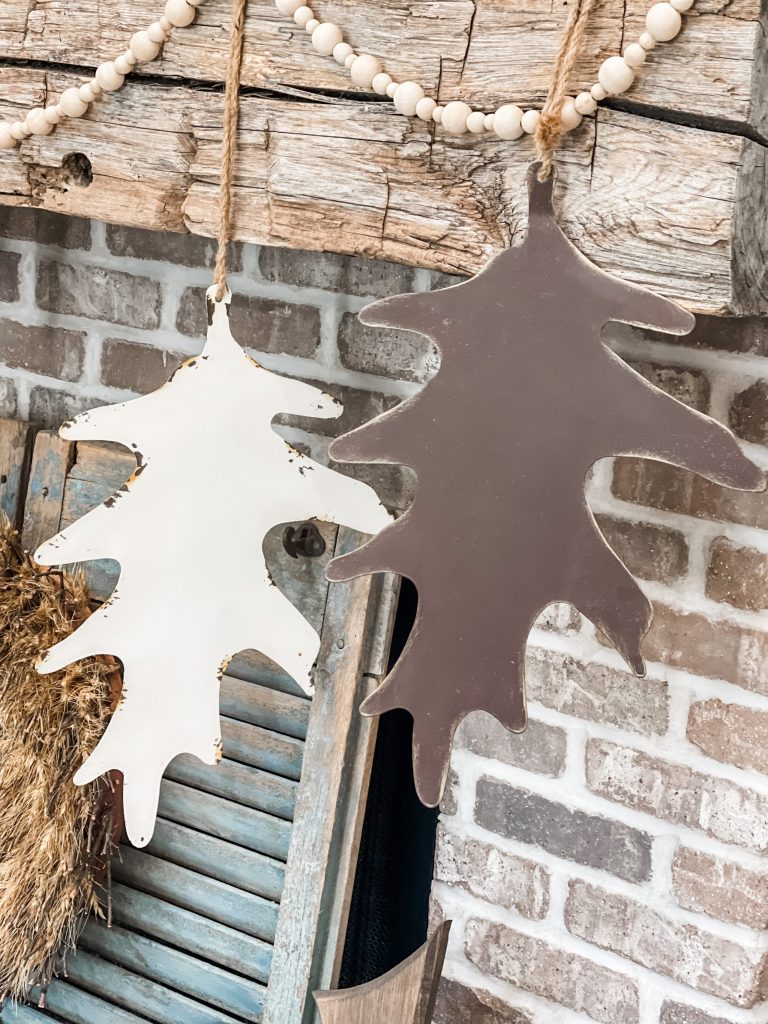 These large metal leafs were on of my very favorite finds this year! I got them from Miss Lucille's Marketplace in Clarksville, TN! I love that place! It is a bunch of random booths in a large warehouse, and you never know what you may find!
This HUGE wooden pumpkin was too good to pass up from my friend Tracy at Broadway Florists here in town. Could I have made one? Probably so…but when??? And besides that, I love to shop with my locals in town! It made the perfect addition to my whole look!
If you have heard me once, you have heard me a million times…ANYTHING GOES here in my town (or right outside of it anyway) is my favorite place to go and find amazing things! I found this rusty ole something or other there there other day…and I just plopped it in front of the fireplace and BAM…I am loving it! The basket was also from there, and if I am not mistaken, it was free. It looks great filled with different textured pumpkins!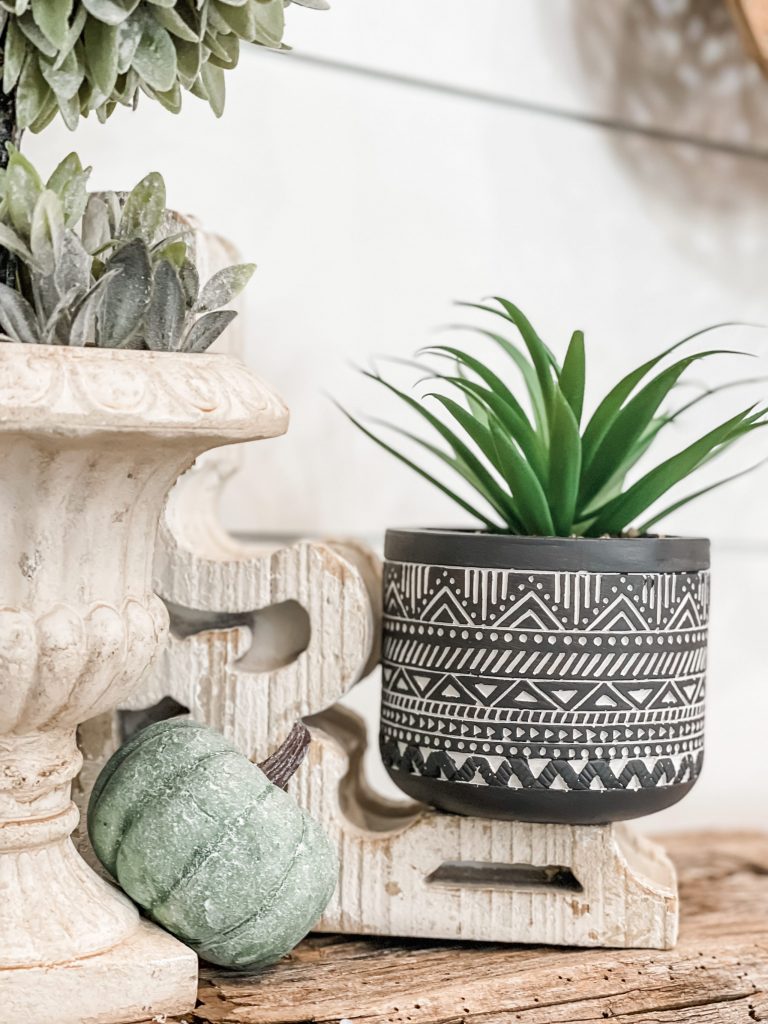 My actual mantel is truly very very simplistic! A topiary that I also found at Broadway Florists, a succulent from Big Lots, a corbel I had and a small dollar store pumpkin pulled together to make the perfect little fall vignette!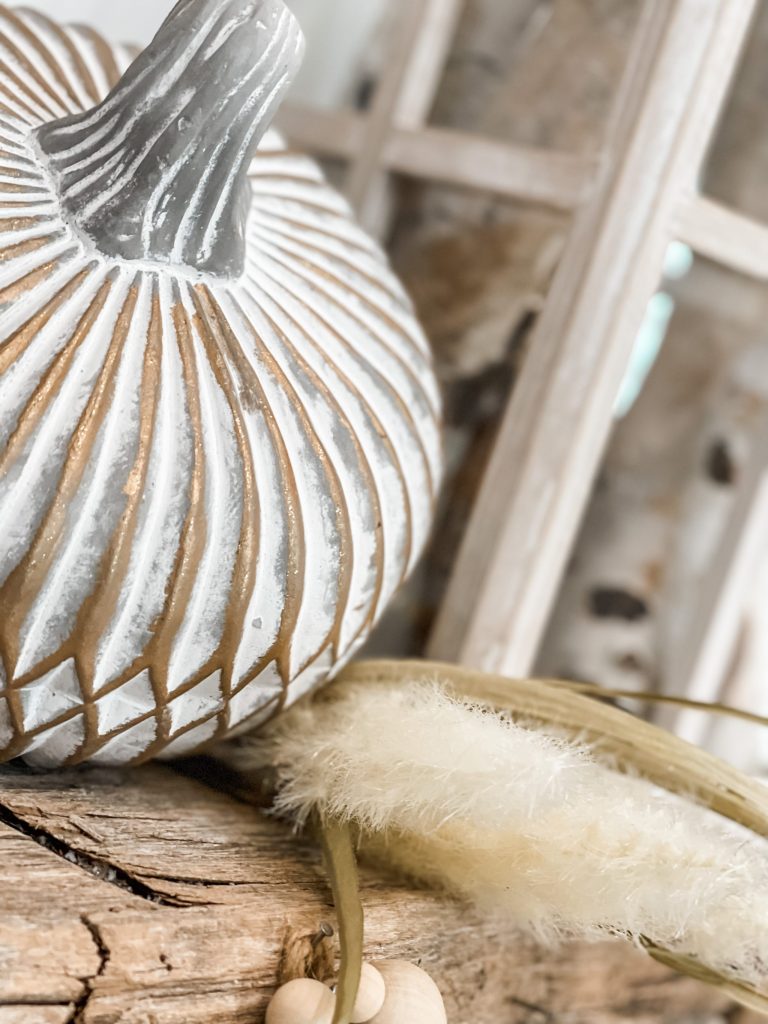 The other side of the mantel is just as simple! A concrete pumpkin from Burke's Outlet, a little filler from Hobby lobby and an old lantern filled with Birch Wood tops off the neutral theme!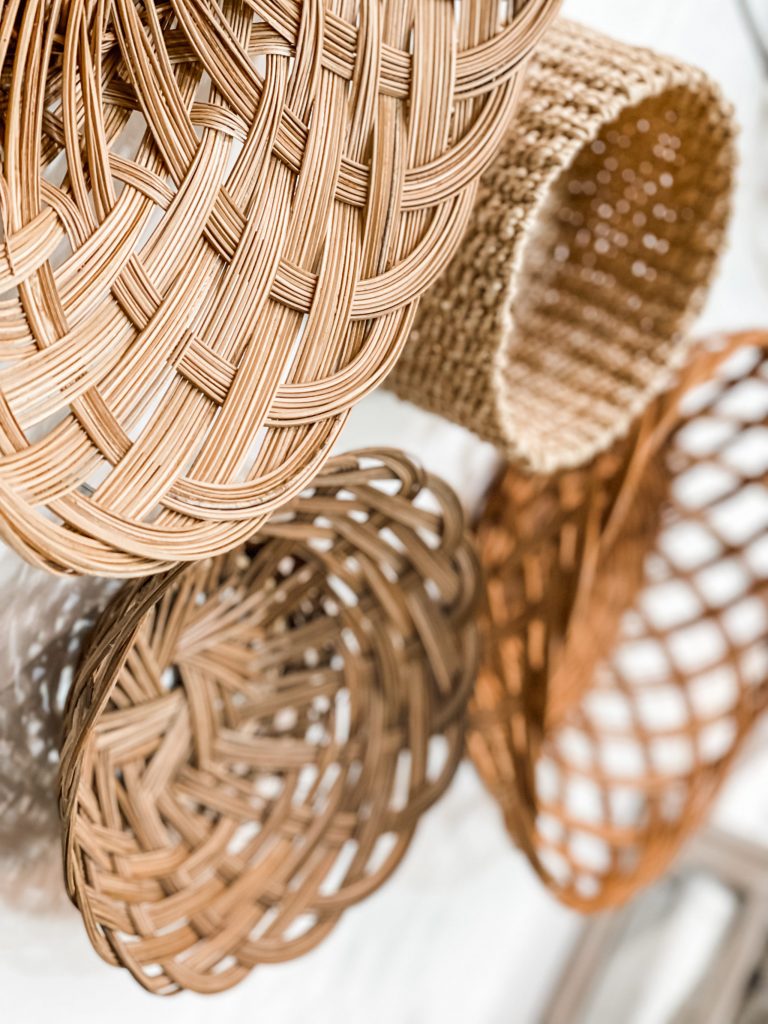 I have been wanting a basket wall for a long time now. The look of them has always been something I've loved…but I had a hard time finding the right wall in my home to do one…sooooo…I decided the space about the fireplace was the PERFECT place! Honestly, I think it ties right in with my natural elements and simplistic style!
All of the baskets came from thrift and junkin stores! I bet all together they weren't more than $6 at the most!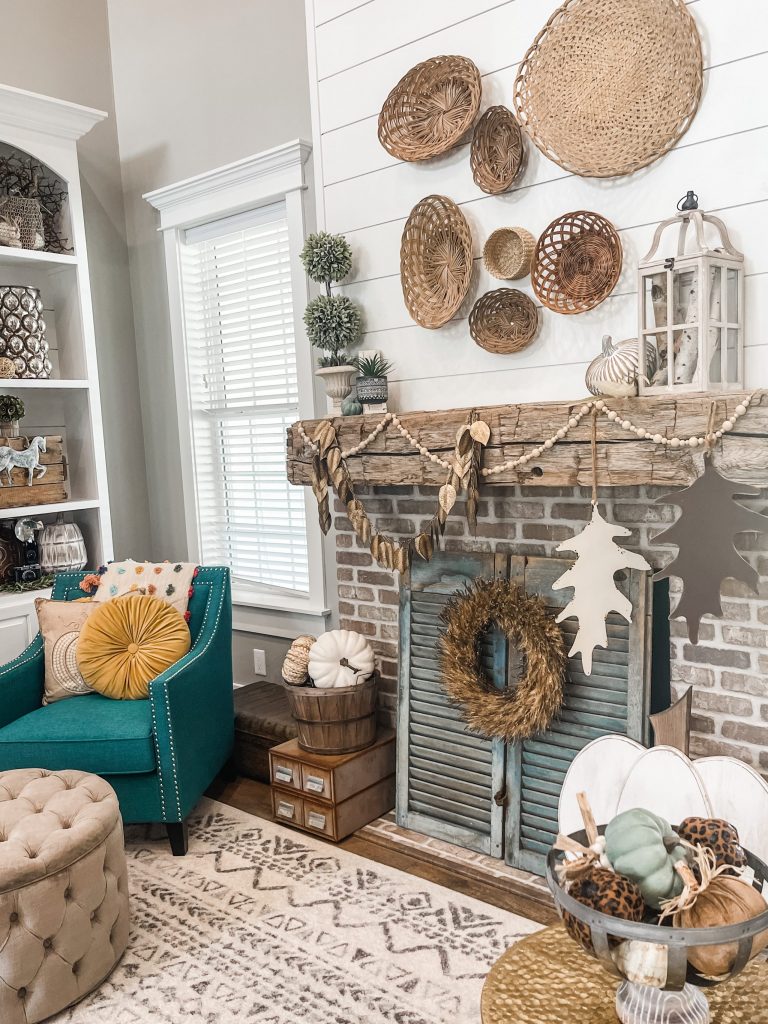 Do you peep my new rug??? You can shop it through my affiliate link HERE!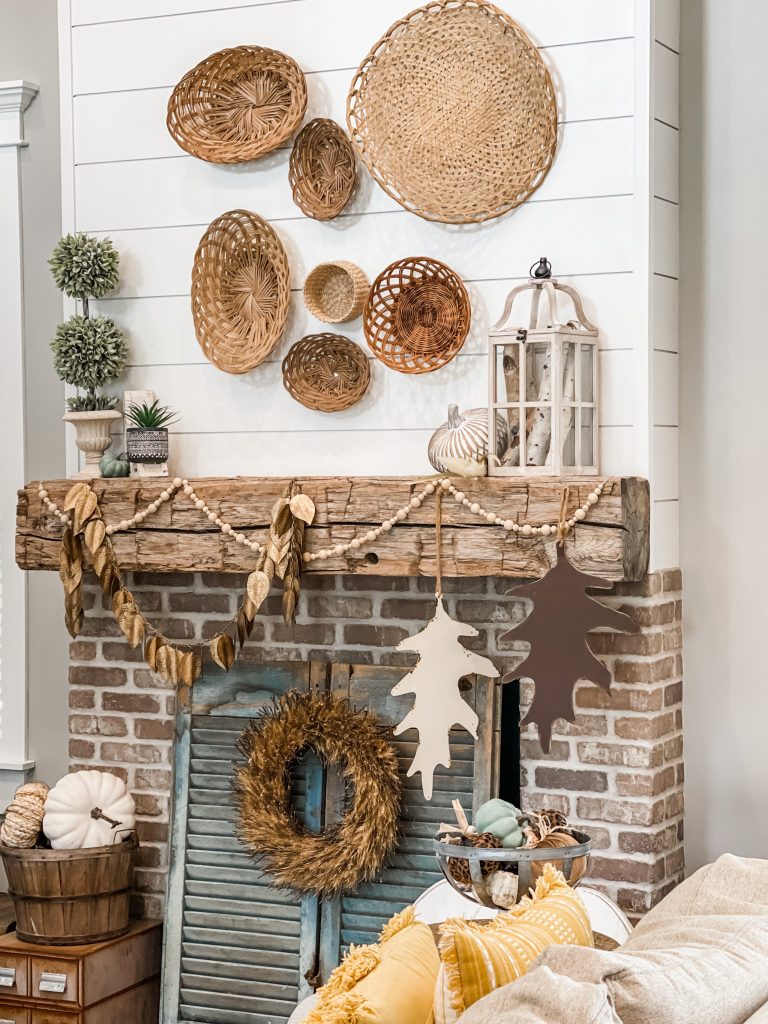 I'm hoping y'all enjoyed my mantel this year and that I was able to inspire you in your fall decorating! Let me know your favorite element! I always love to hear!
Want to see more of my Fall decorating?? Check out the posts below!
Be sure to PIN FOR LATER!!!