You don't have to know me for long to see that I don't really follow the "rules" when decorating. For instance, my fall mantel is not your typical orange pumpkin and bale of hay- instead, we're breaking ALL the rules by using things like leopard print and my fave color…AQUA!!
One thing that I MUST mention before we get down to the nitty-gritty- this may be my all time favorite mantel display I've done… everything about this display just SPEAKS to me!!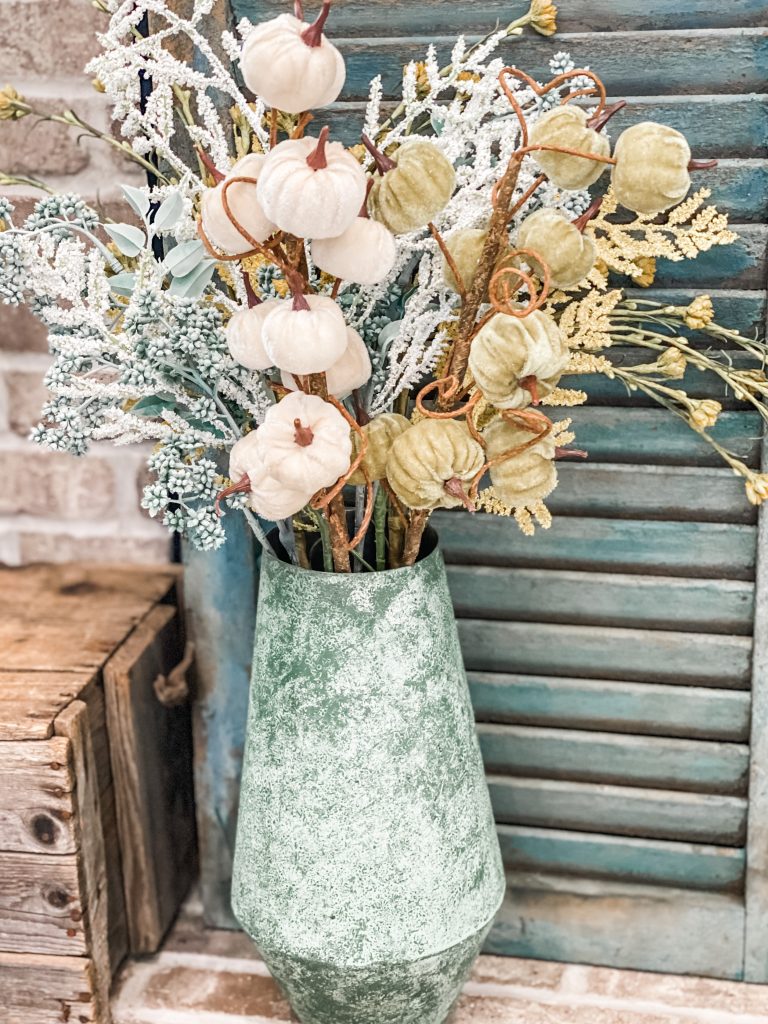 To the bottom left of my fireplace, I have this GORGEOUS vase from Tuesday Morning, filled with some fun picks and florals from Hobby Lobby! You'll be able to see throughout this post that I have really been focused on the muted greens, creams, and blues for my fall decor!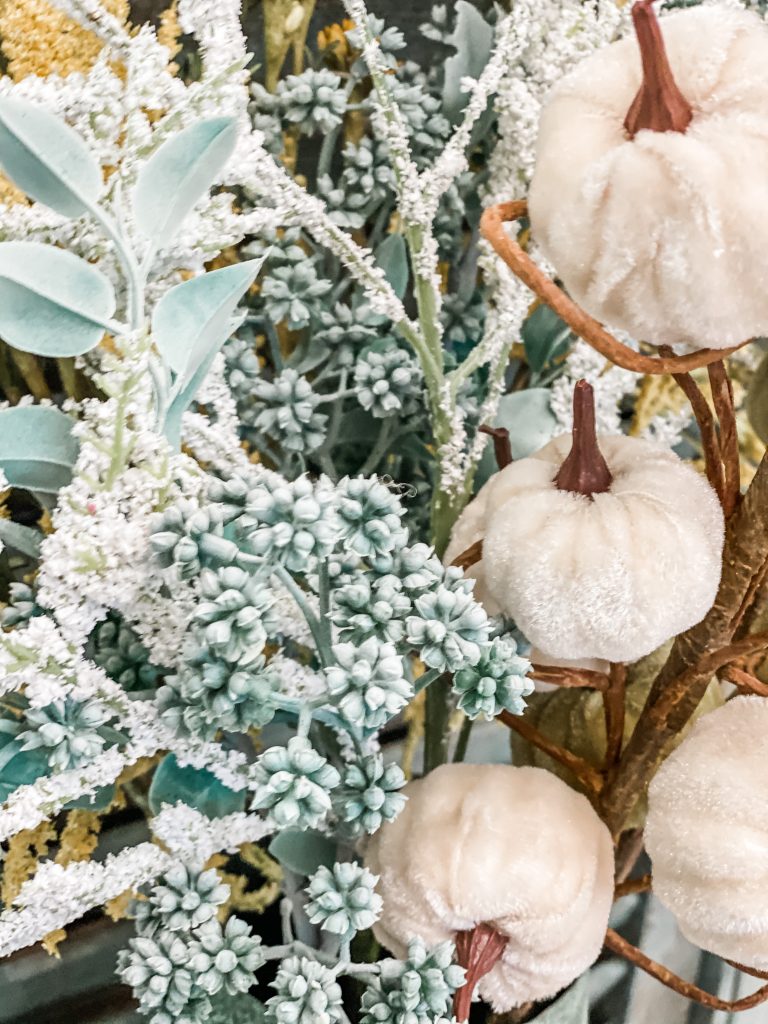 Seriously… how pretty are these colors together?!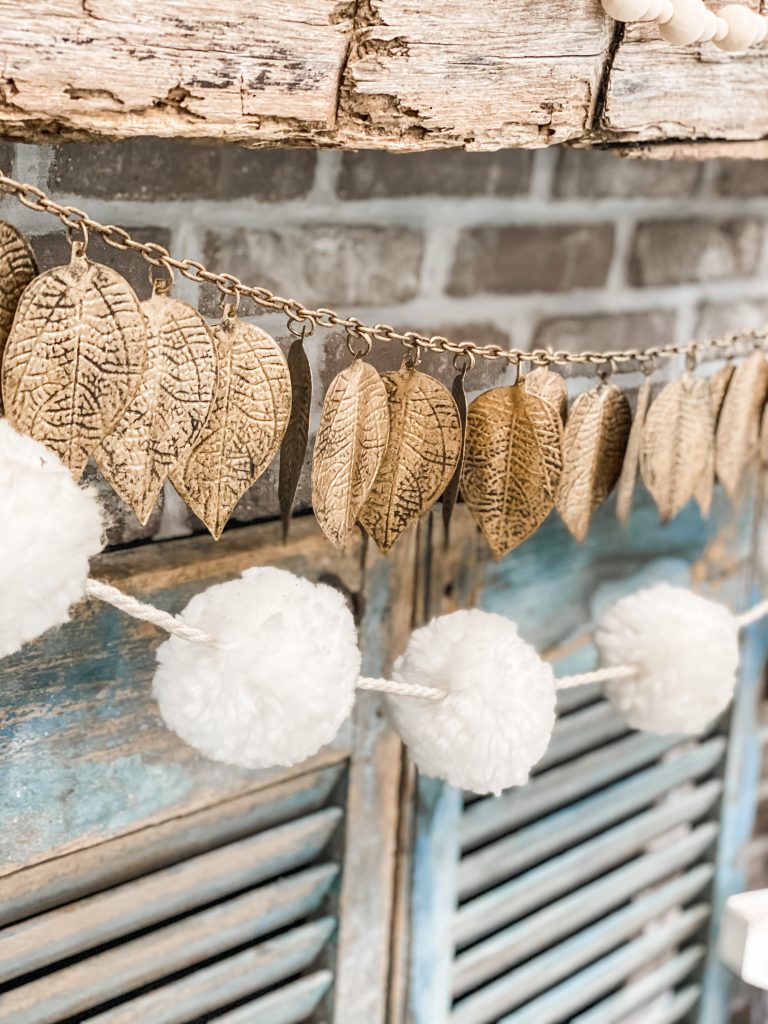 Of course this mantel wouldn't be complete without GARLANDS!!! The metal leaf garland is from a local store called House to Home Creations, and the white pom-pom one is from Hobby Lobby in their Christmas section (a few years ago)! I usually keep this one hanging all year long no matter the season.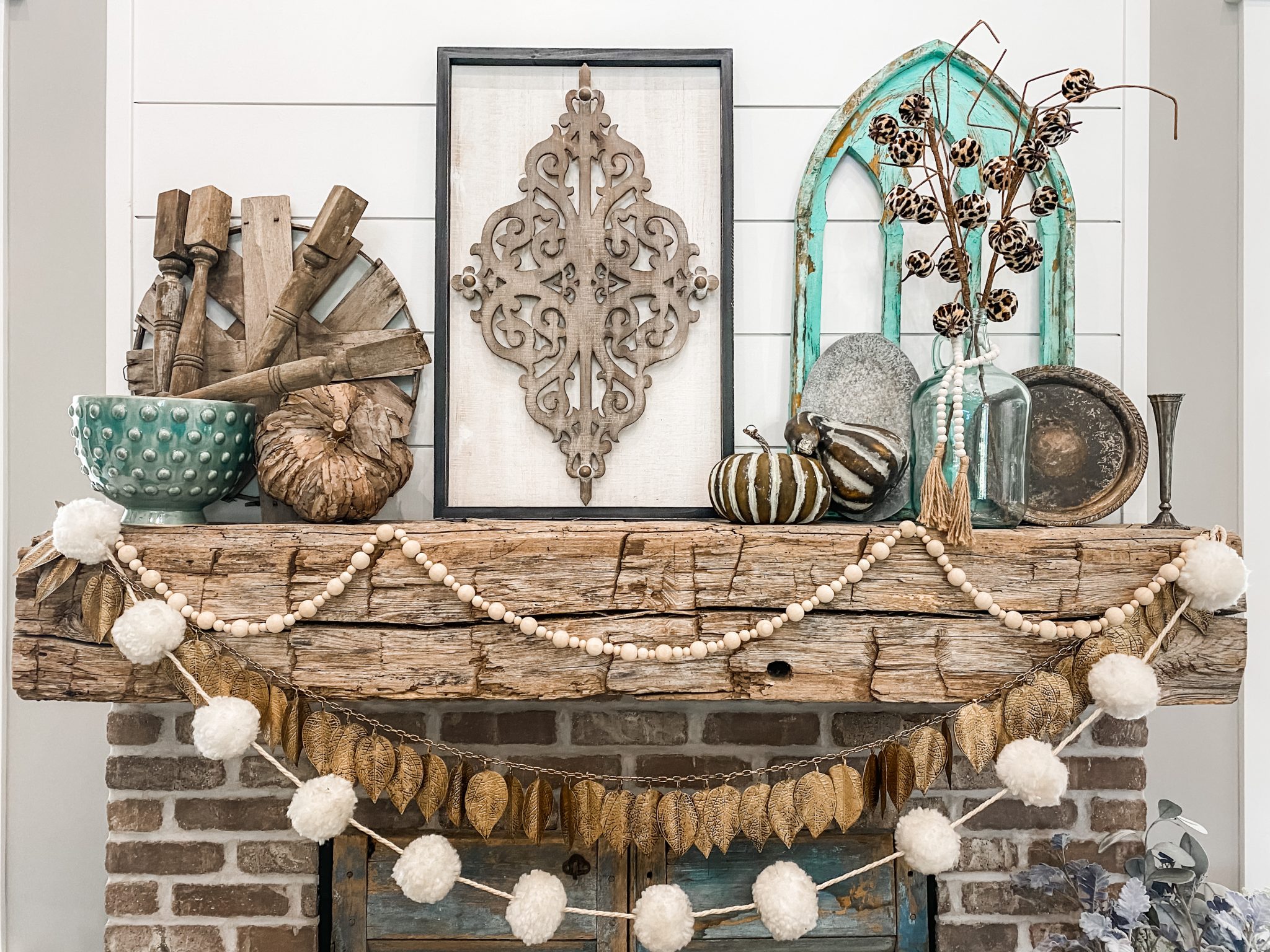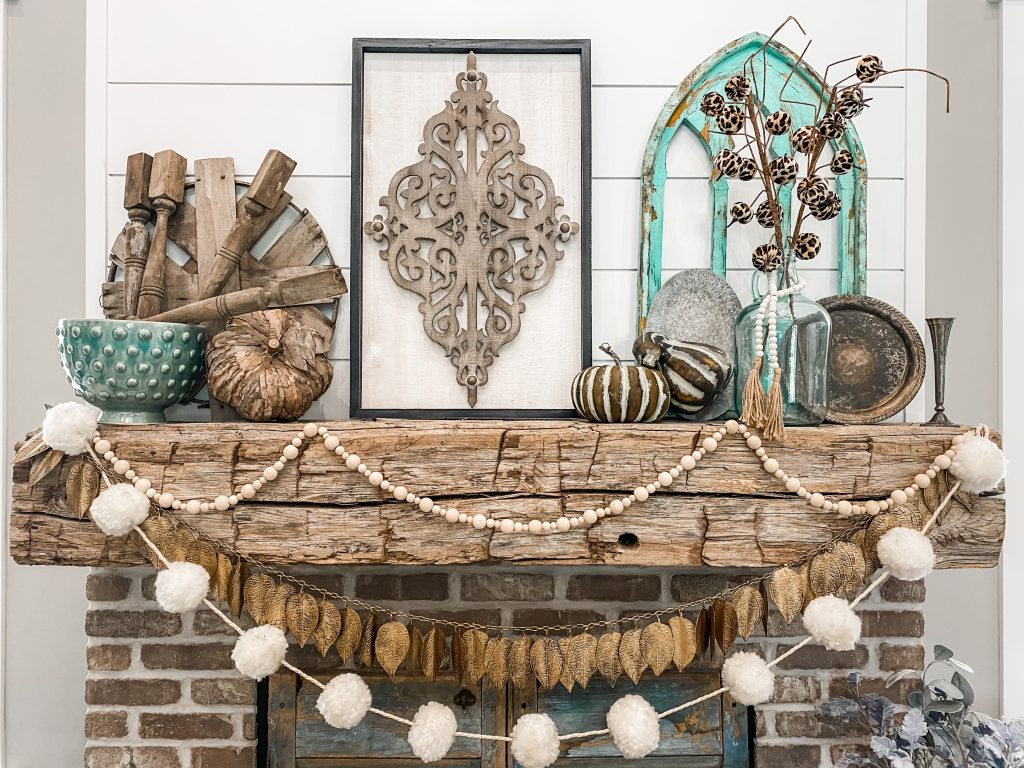 Some may say that having 3 garlands is too many… but like I mentioned in the beginning of this post, we're breaking ALL the rules today!!! The wood bead garland is from Raz Imports.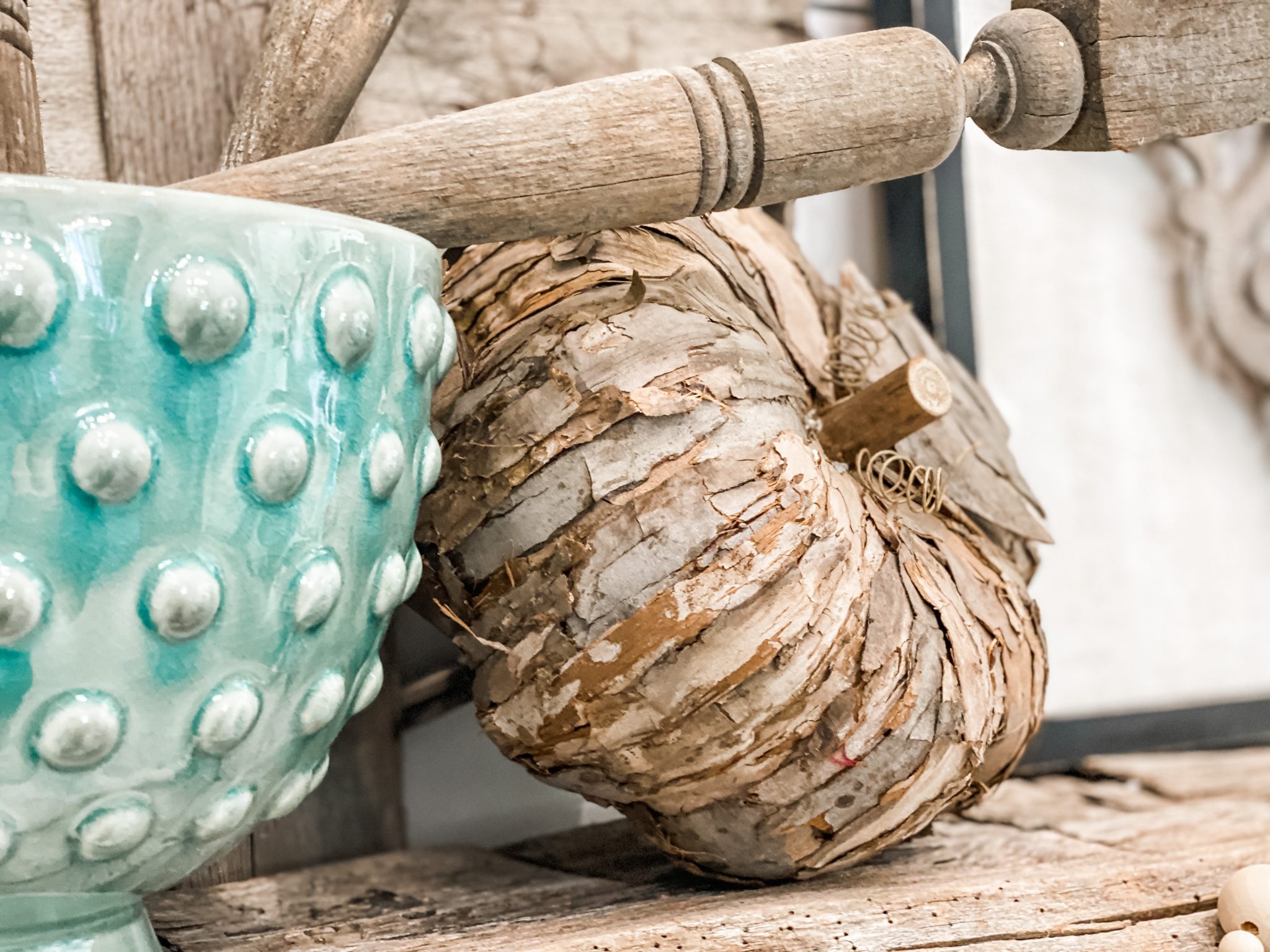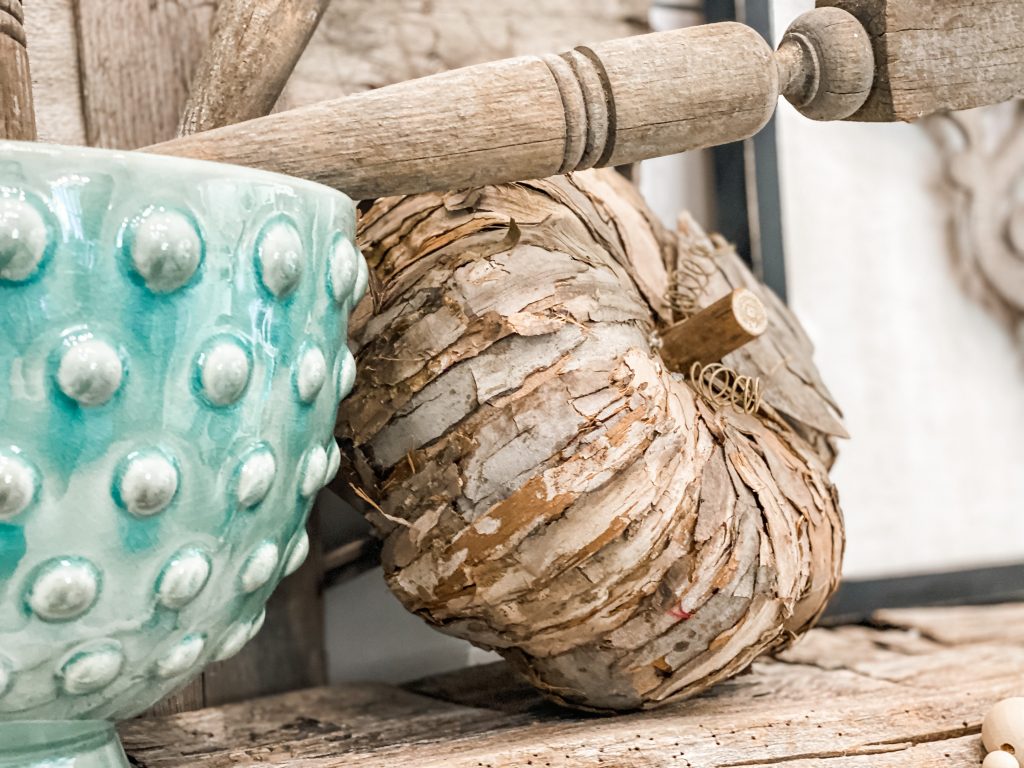 Would you believe me if I told you that HALF of the items on my mantel are from a local JUNK store?! On the left, the wooden spindles and the tobacco basket are from Anything Goes Trading Co. I have them layered up with the aqua bowl from Tuesday Morning, and the wood chip pumpkin from Hobby Lobby!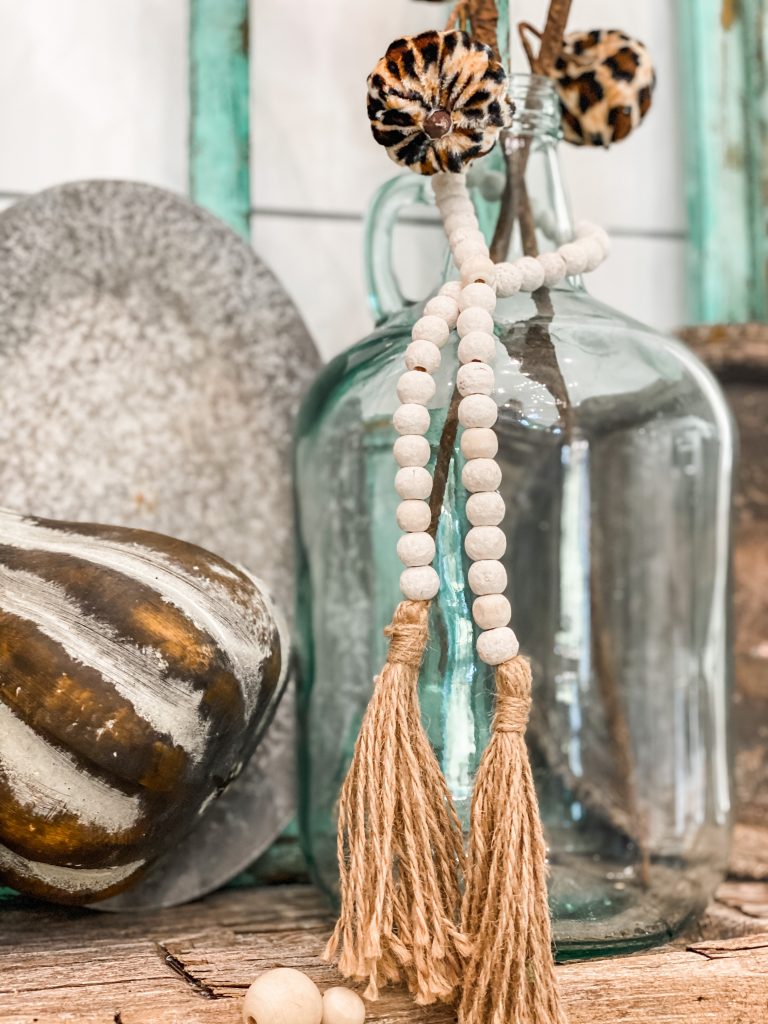 On the right side of the mantel, we have this beautiful glass jug from Pear Tree Mall (which is a local booth mall in my town), along with the wood bead garland from another local shop, Broadway Florist! Behind the jug are two more pieces from Anything Goes, but I bet you wouldn't have been able to guess that!!!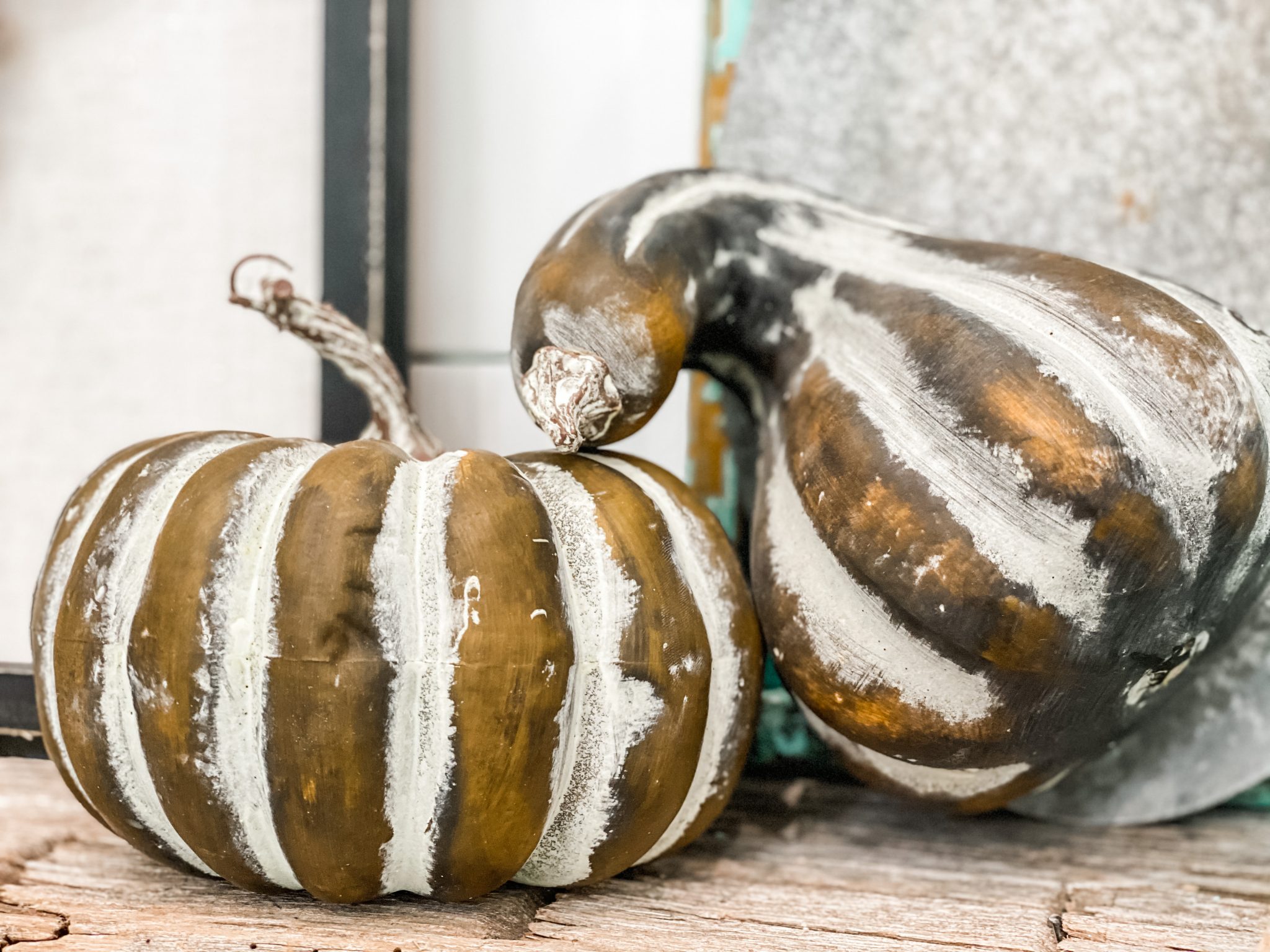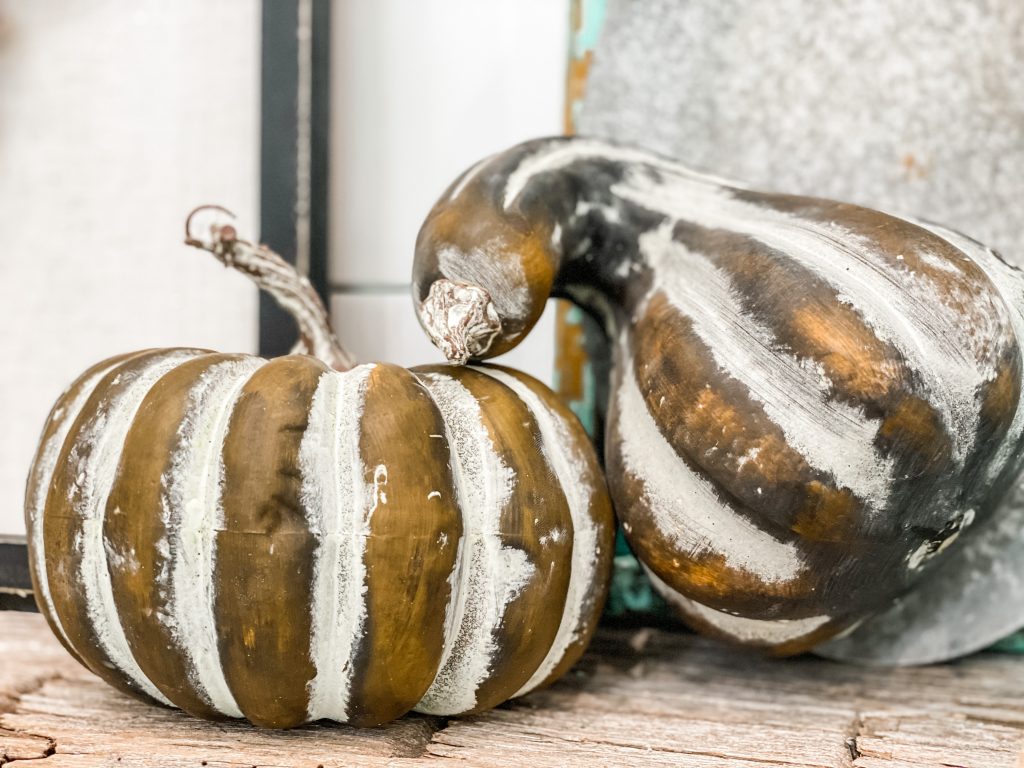 Isn't this pumpkin and gourd set so cool?? I picked them up from Hobby Lobby a few years ago. I have them displayed to the left of the glass jug!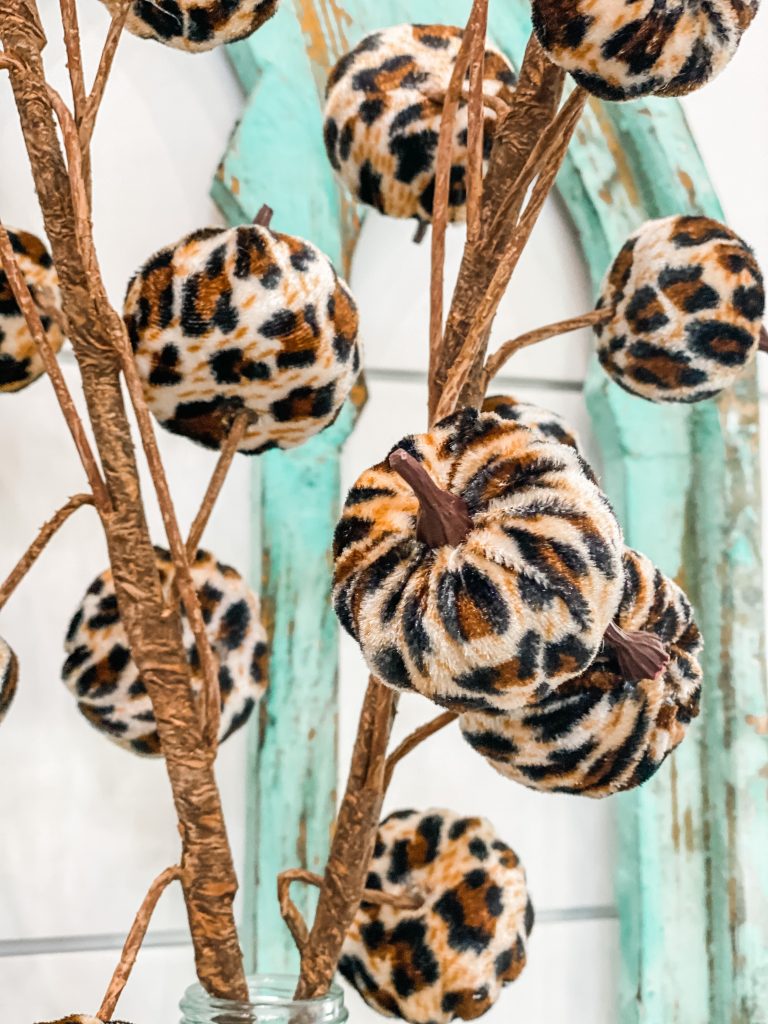 Remember at the beginning of this post I said I'd be using some leopard??? Leopard IS the new neutral, right?! HOW STUNNING is this leopard pumpkin pick from Hobby Lobby… not to mention how good it looks with all the aquas!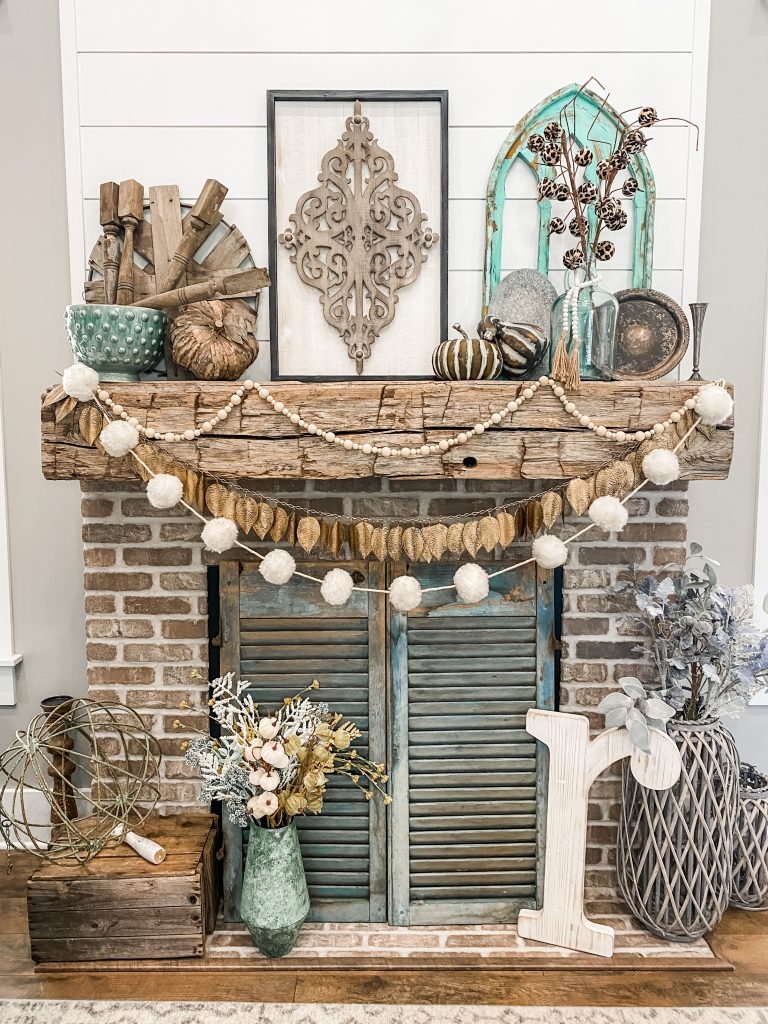 I can't get over how HAPPY I am with how this display turned out… seriously. From the bottom to the top- it just flows so well!!!
Layered in the back of the glass jug and leopard pumpkins is a BEAUTIFUL turquoise arch, but I cannot remember where it came from exactly!!
The big piece of wall decor in the center of the mantel came from Hobby Lobby.
On the bottom right corner, the large R came from Hobby Lobby a few years back, and the vases came from Birks Outlet. I have more gorgeous florals stuck in the vases that came from… you guessed it… Hobby Lobby!
I bought the blue shutters that are in front of my fireplace from a friend who was selling them on facebook! What a steal, right?!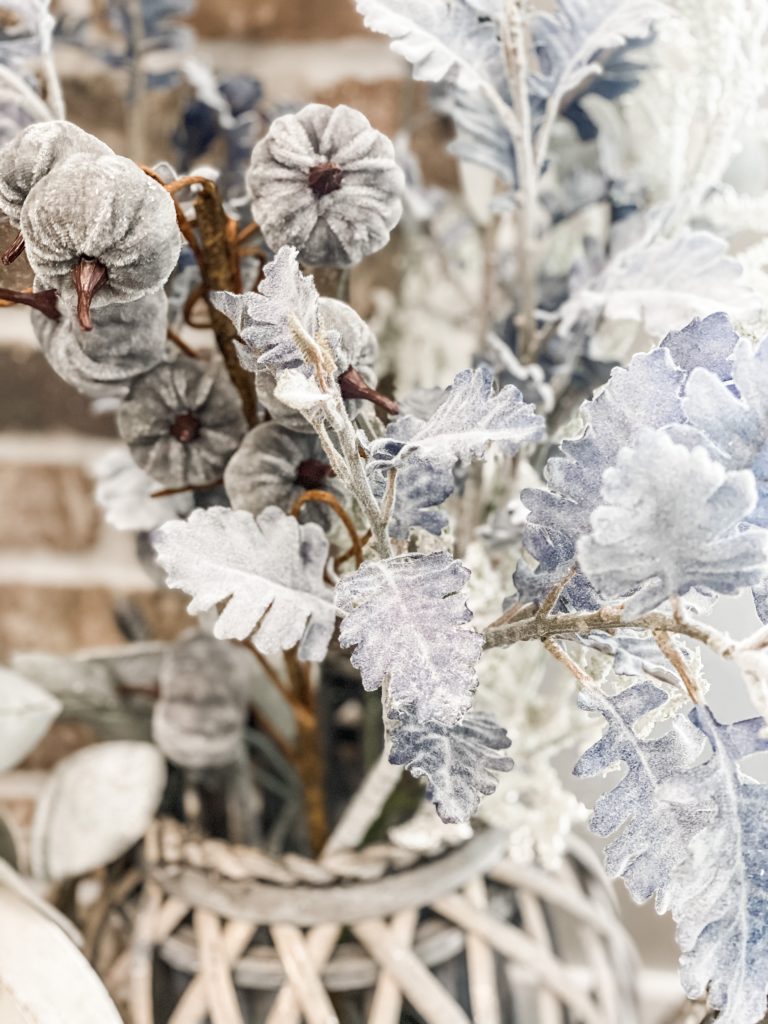 These colors y'all… they speak to me.
So tell me… what do you think about my untraditional fall mantel?!? What was YOUR fave part? I'd love to know!
MAKE SURE TO PIN FOR LATER!!!!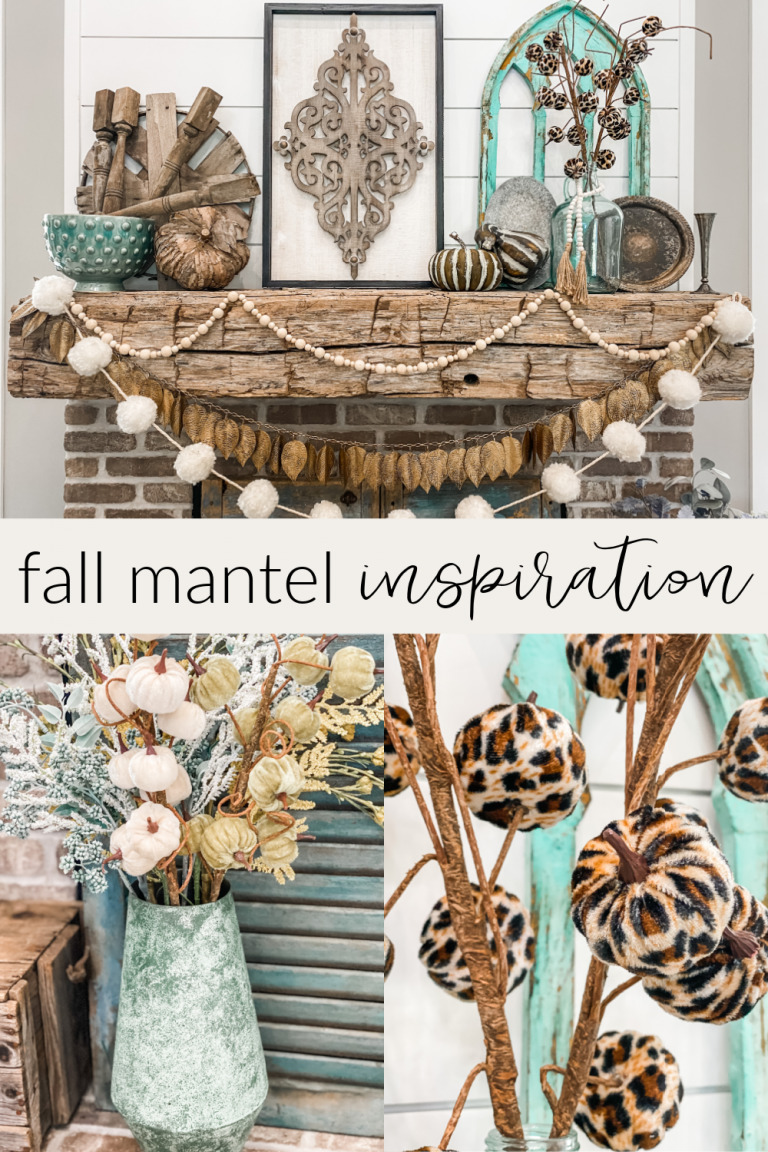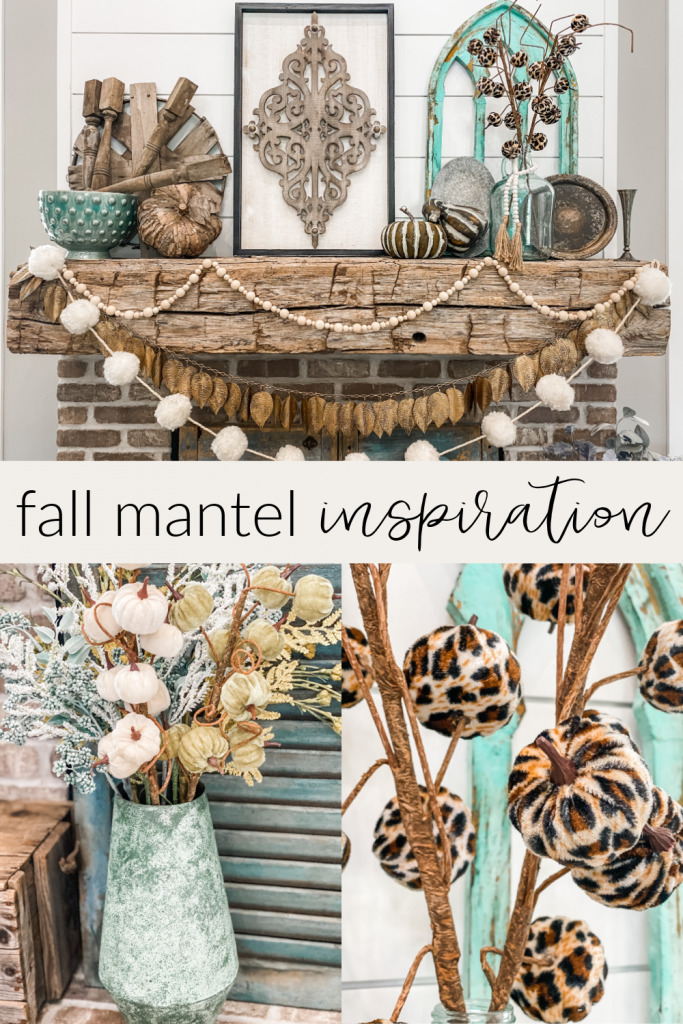 P.S… did you know you can now TEXT me?! It is really me, and I always try my hardest to respond!!! Send in any questions, craft help, or just say hey! The number is 270-200-5848!!