Believe it or not… this is the VERY first time I have decorated a porch for Fall- so this post is VERY exciting for me!!! In all the houses I have ever lived in, I never decorated ONE for Fall. I know… what's wrong with me?!?!
Either way, 2020 has been a year of firsts for me… so it was only perfect timing to do it NOW!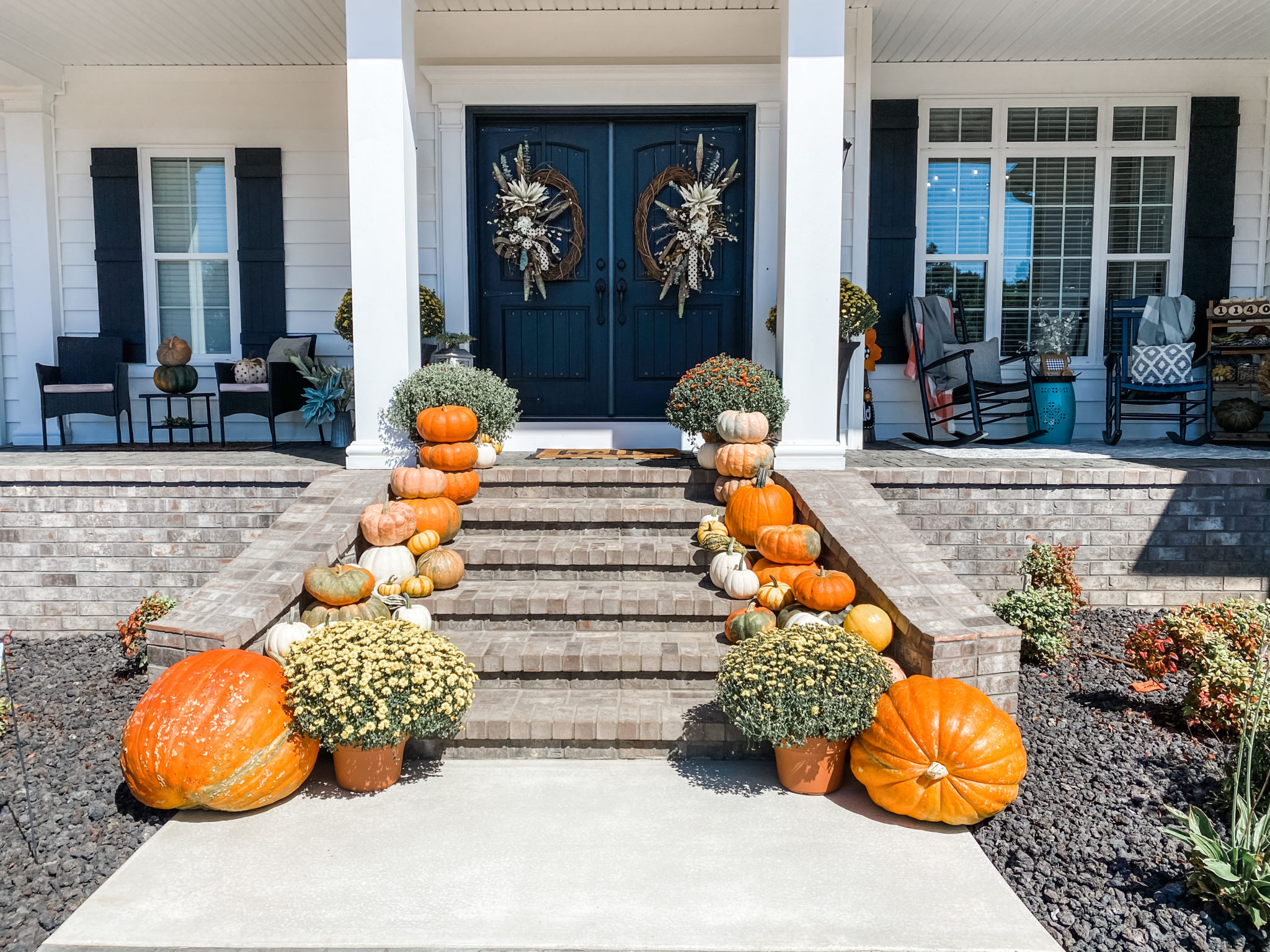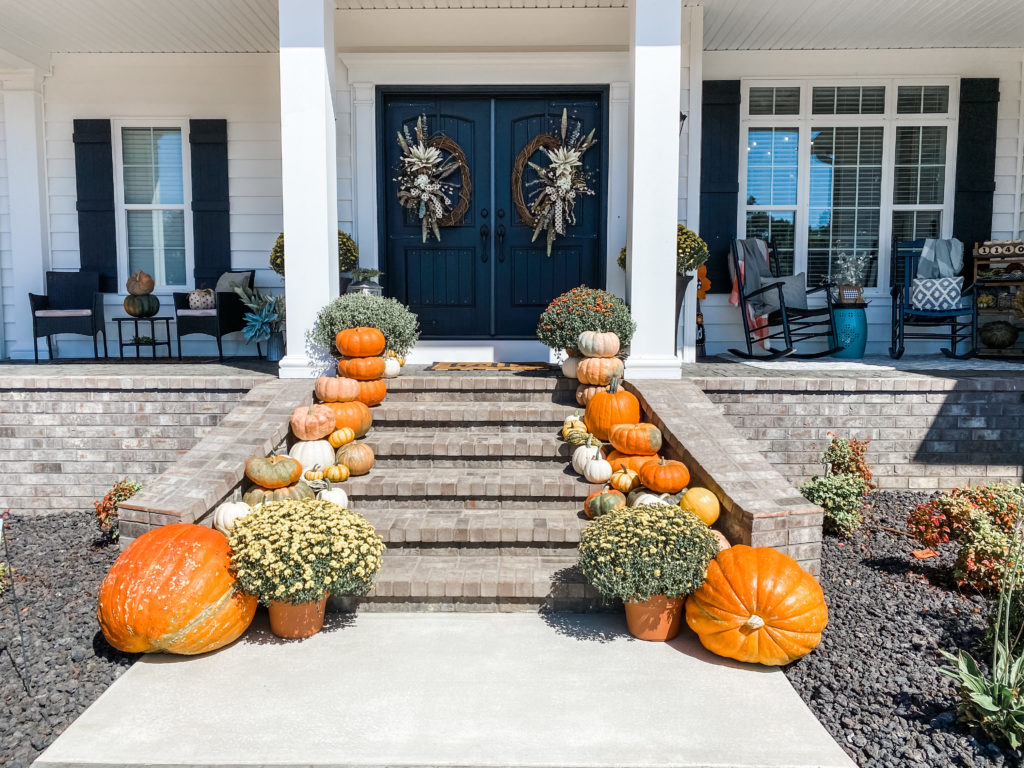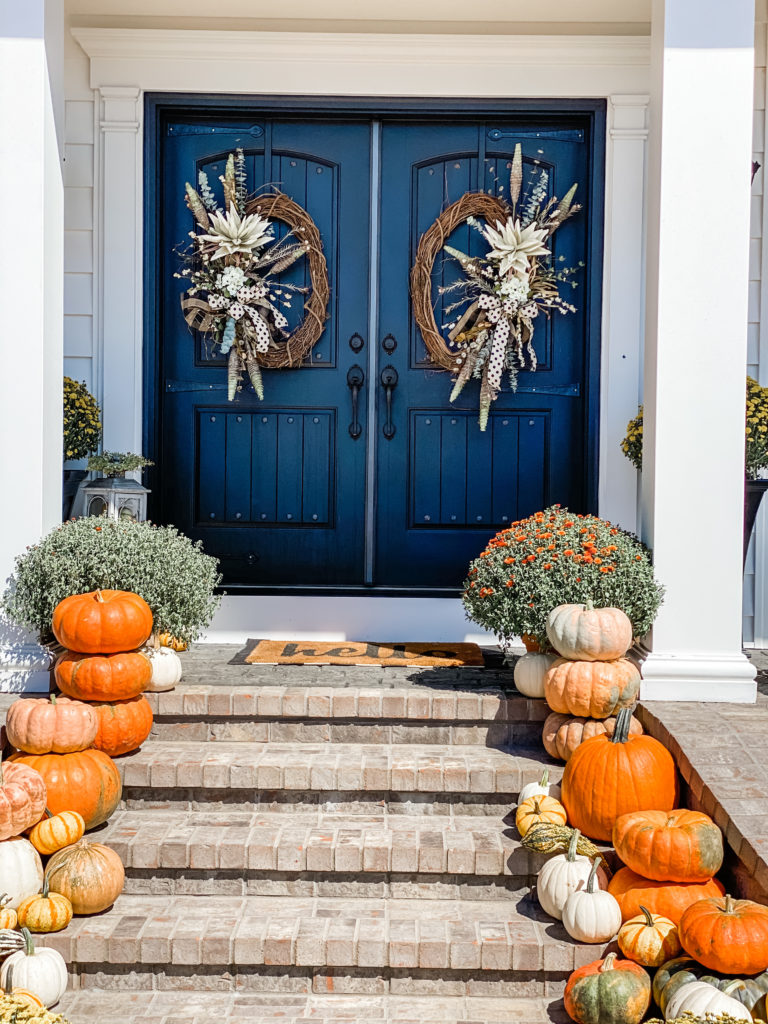 When you first walk up, THIS is your view!! We had such a fun time picking out our pumpkins from Darnell Family Farms in Western KY- they had soooo many types of pumpkins to choose from, AND amazing prices. I highly recommend them, and they are FAMILY…win win!
Also, no… I did NOT do anything to the pumpkins to preserve them… simply because I don't know how 😂 I do not have a green thumb!!!
Speaking of not having a green thumb… the colossal mums (which I bought from a fundraiser through my kids school) may regret coming to live with me as well. I never have REAL plants, so… I might need to break it to them that they MAY live a short life…LOL.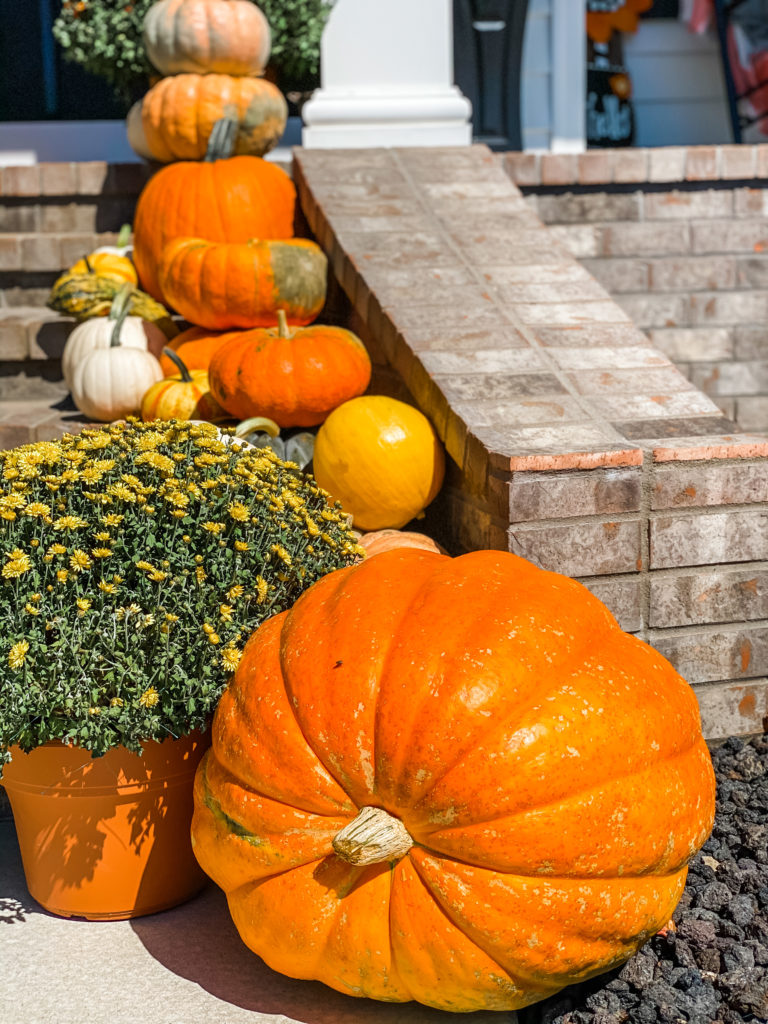 Now, I have to give Brandon credit for this one… he had the idea of putting two HUGE pumpkins at the end of each side, and I must say- it does look pretty dang good!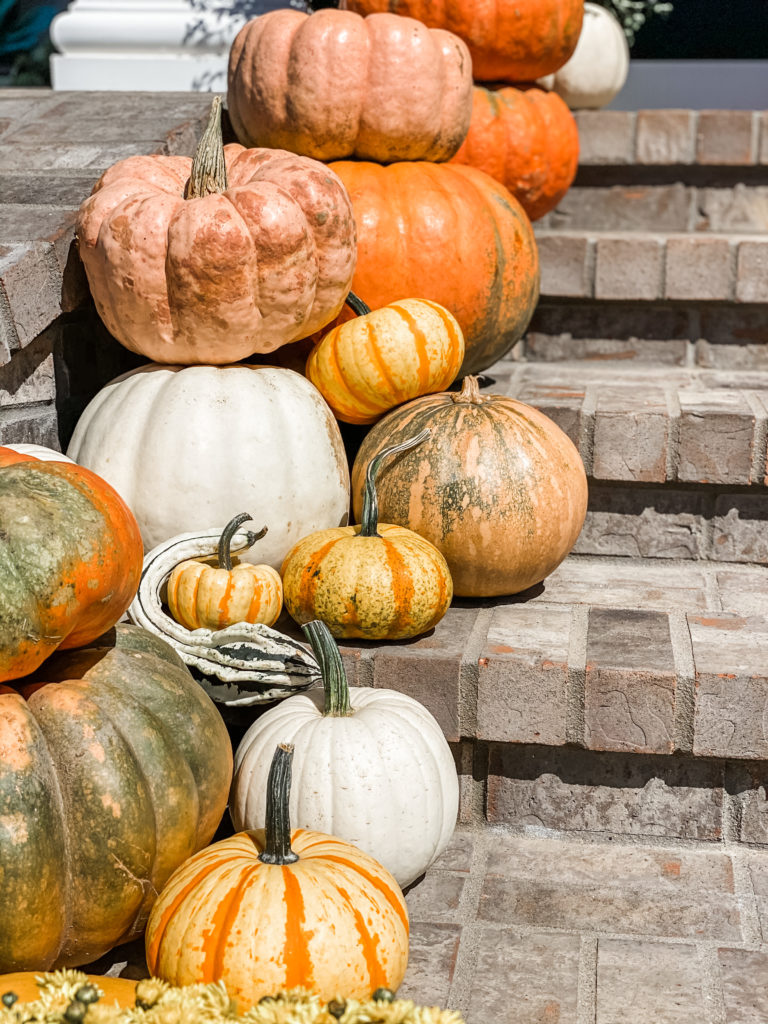 One of my favorite parts of decorating the steps was mixing in different types and textures of pumpkins. Like I said before, this was my very FIRST time decorating a porch for Fall… so I had never arranged this many pumpkins before!!!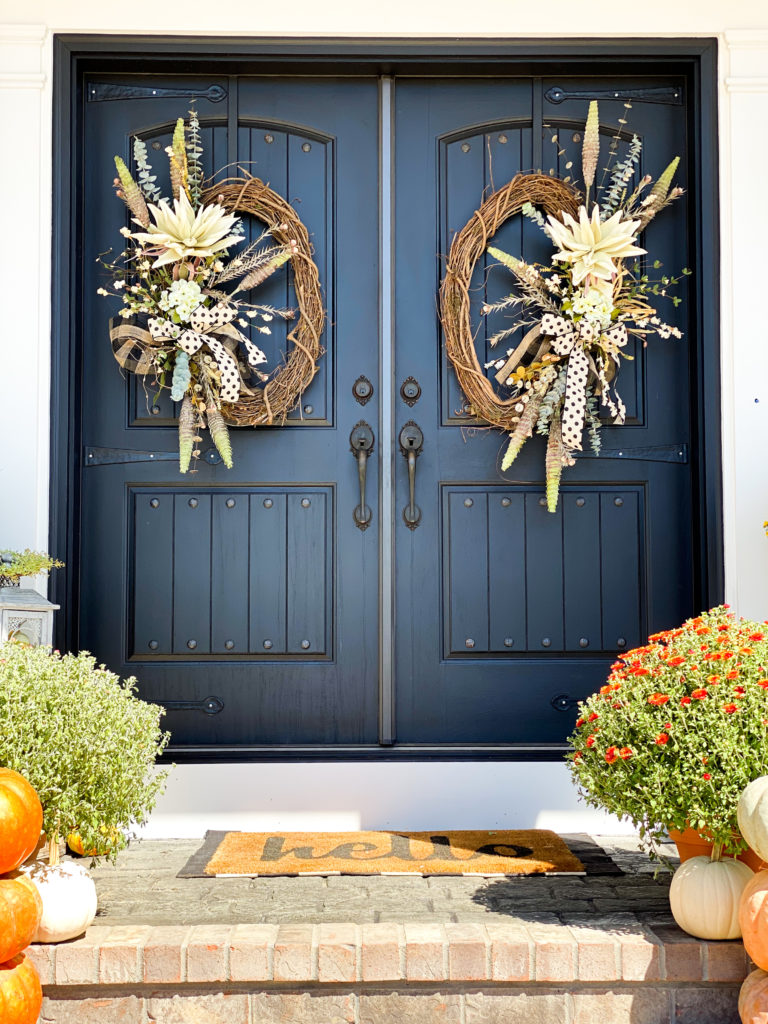 Can we just take a moment for how BEAUTIFUL these wreaths are?!?!?! I bought them from a local home decor & florist shop in my town, Broadway Flowers and Gifts! Actually, they only had ONE available… but Tracy (the owner) graciously whipped me up another so I could have a matching set for my double doors!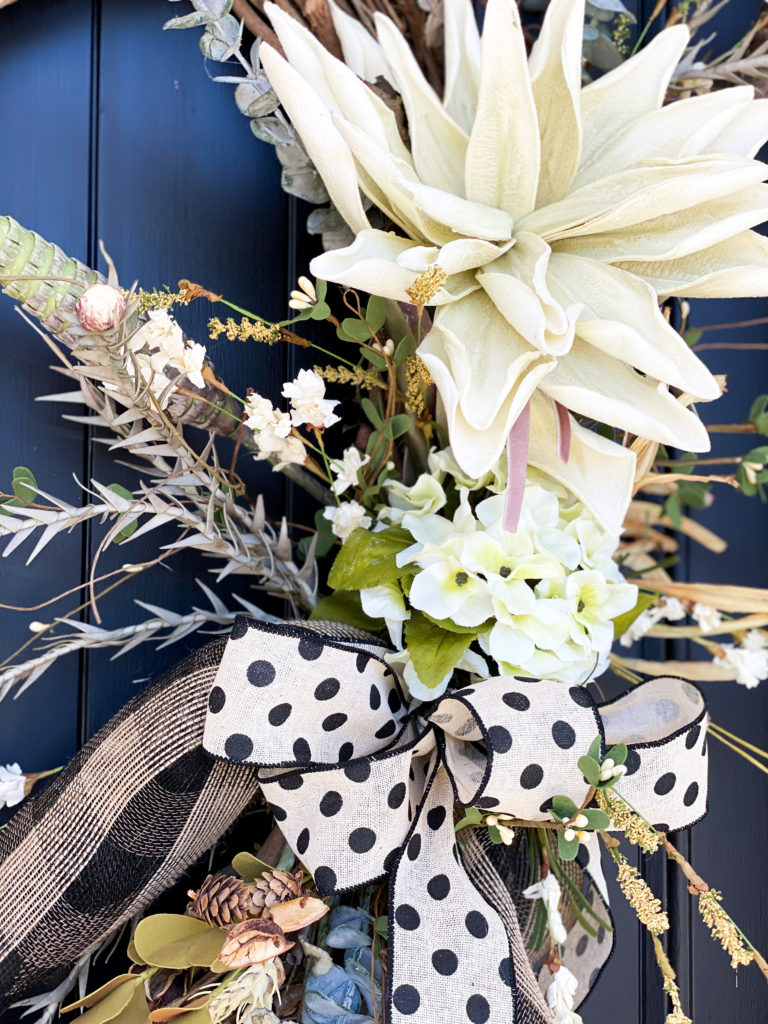 Here's a close up so you can see all the details… I am OBSESSED with them!!!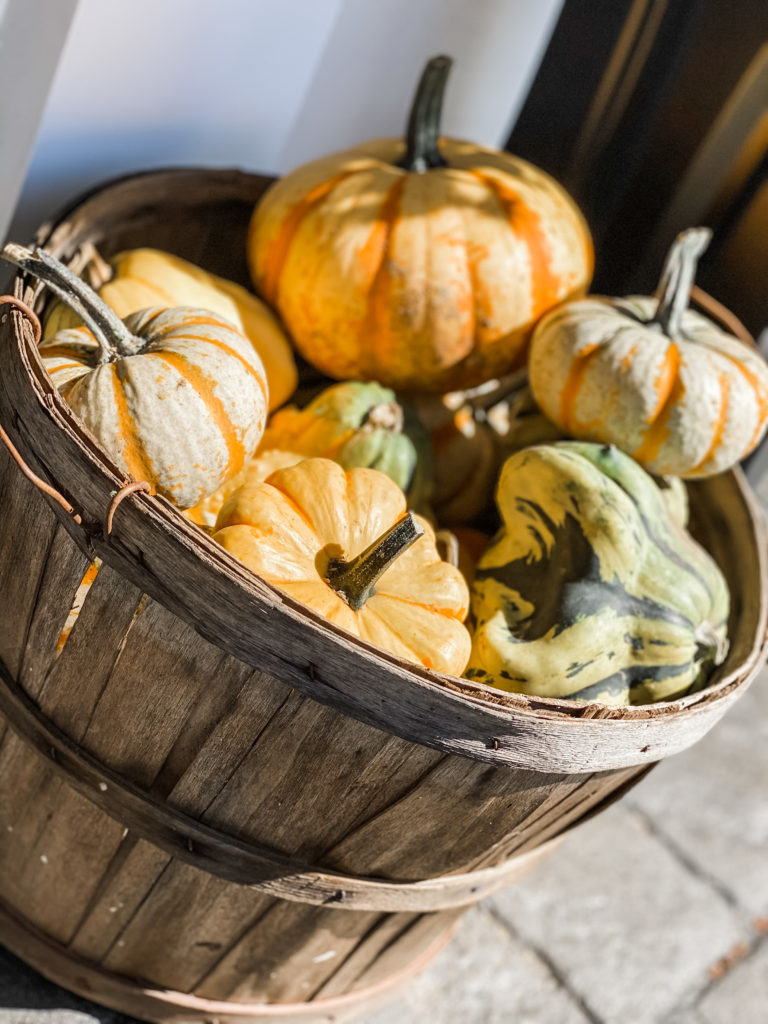 You can't have a fall porch without a bucket of pumpkins, can you??? Maybe you can… but I definitely wanted it for my porch!! 😂 The wooden bucket came from my favorite local junk store, Anything Goes Trading Co in Boaz, KY, and the pumpkins were bought from the same pumpkin patch as mentioned before- Darnell Family Farms!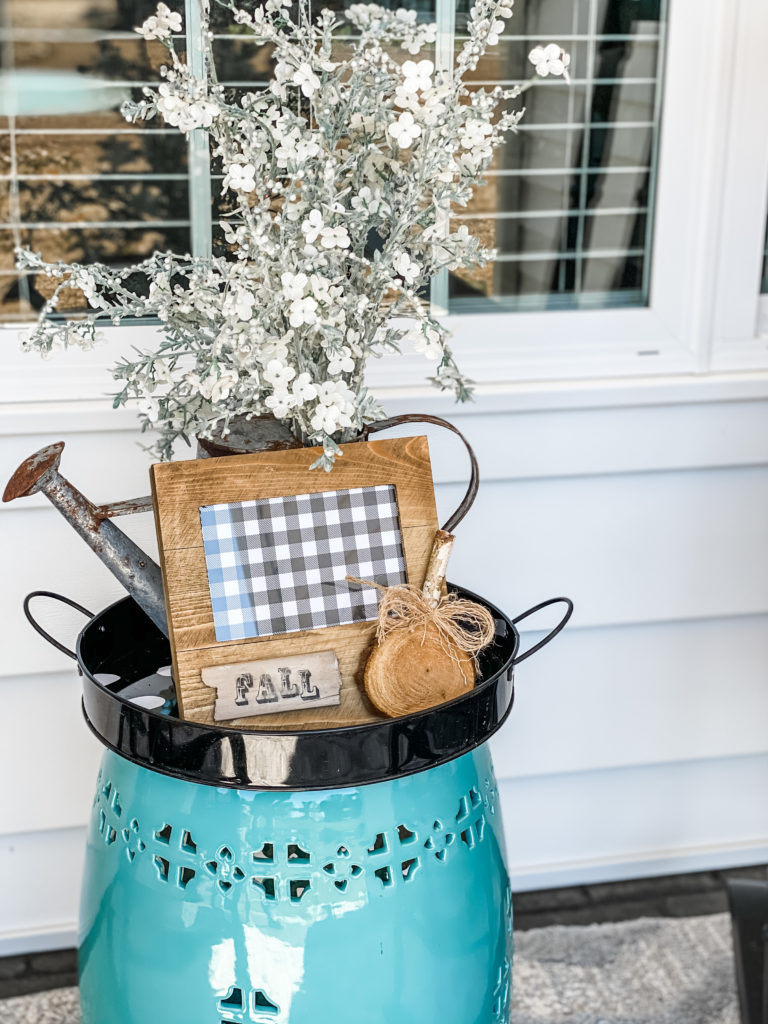 I am using the same garden stool that I had from my Spring porch reveal, but added some fall elements to it!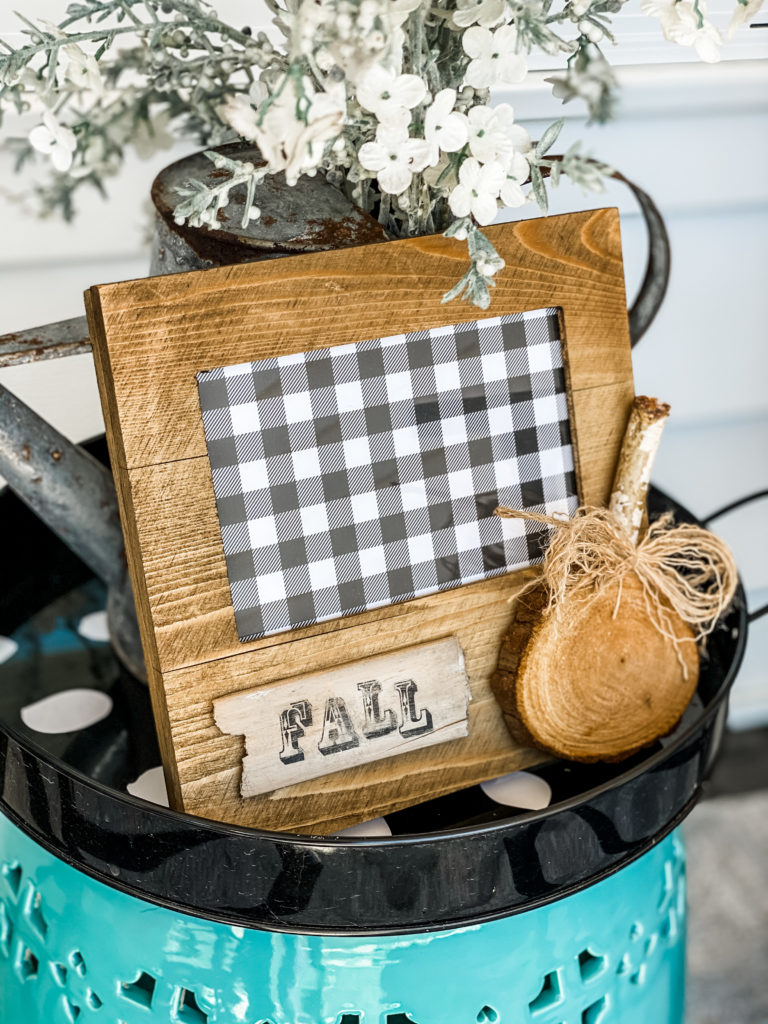 You might recognize this little frame if you're an avid follower around here!!! We made it on a blog post not too long ago- if you happened to miss it, you can view it right HERE!
This little corner just makes my heart skip a beat 😍 There's just so much FALL all in one place!!!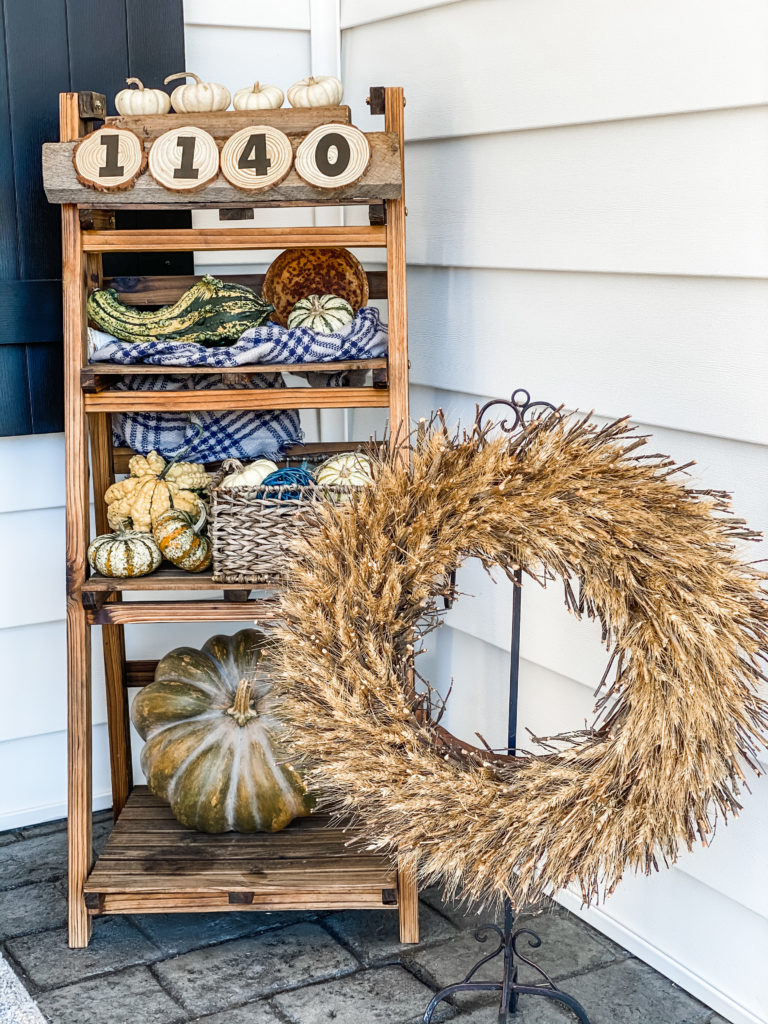 Pumpkins are from Darnell Family Farms
Wheat Wreath is from Broadway Flowers and Gifts
I made the house number sign, which you can see a tutorial for right HERE
Navy scarf is an old scarf I have had for years, and just recently crafted with on my last Talk of the Town segment!
On the rocking chairs, I ended up draping a few of my blanket scarves that I had from the Boutique!!! While you aren't wearing them, why not decorate with them?? 😂 You can find them on our website HERE!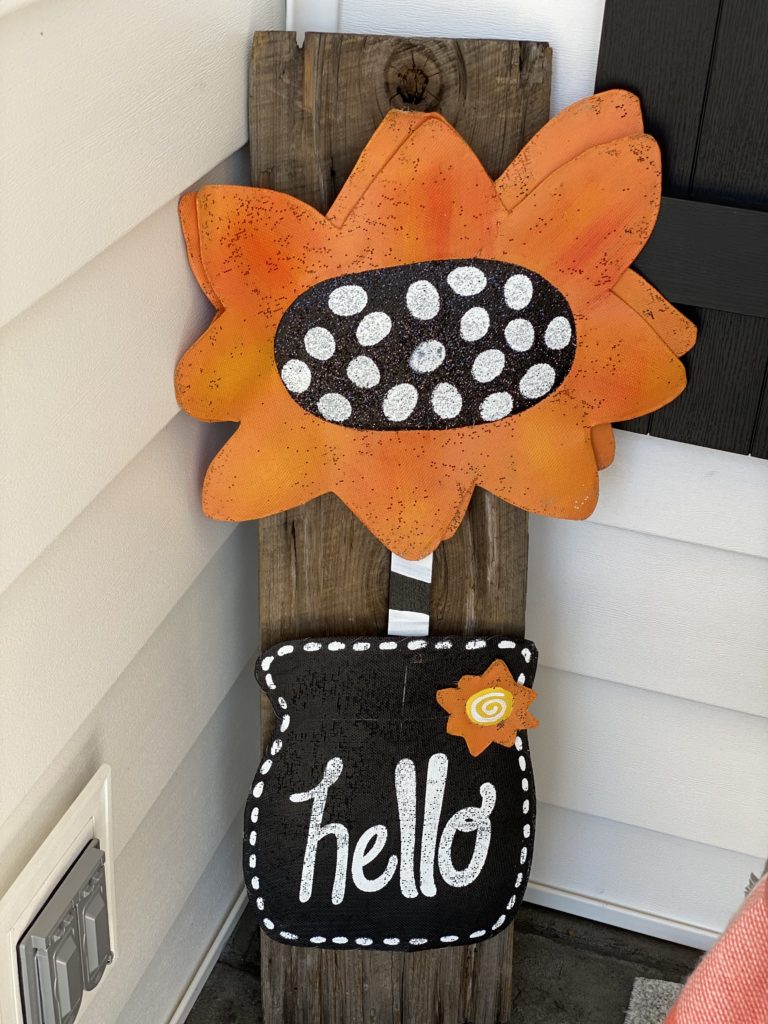 In the other corner, I simply nailed this SUPER CUTE sunflower sign (from Broadway Flowers and Gifts) to a scrap piece of wood I already had laying around!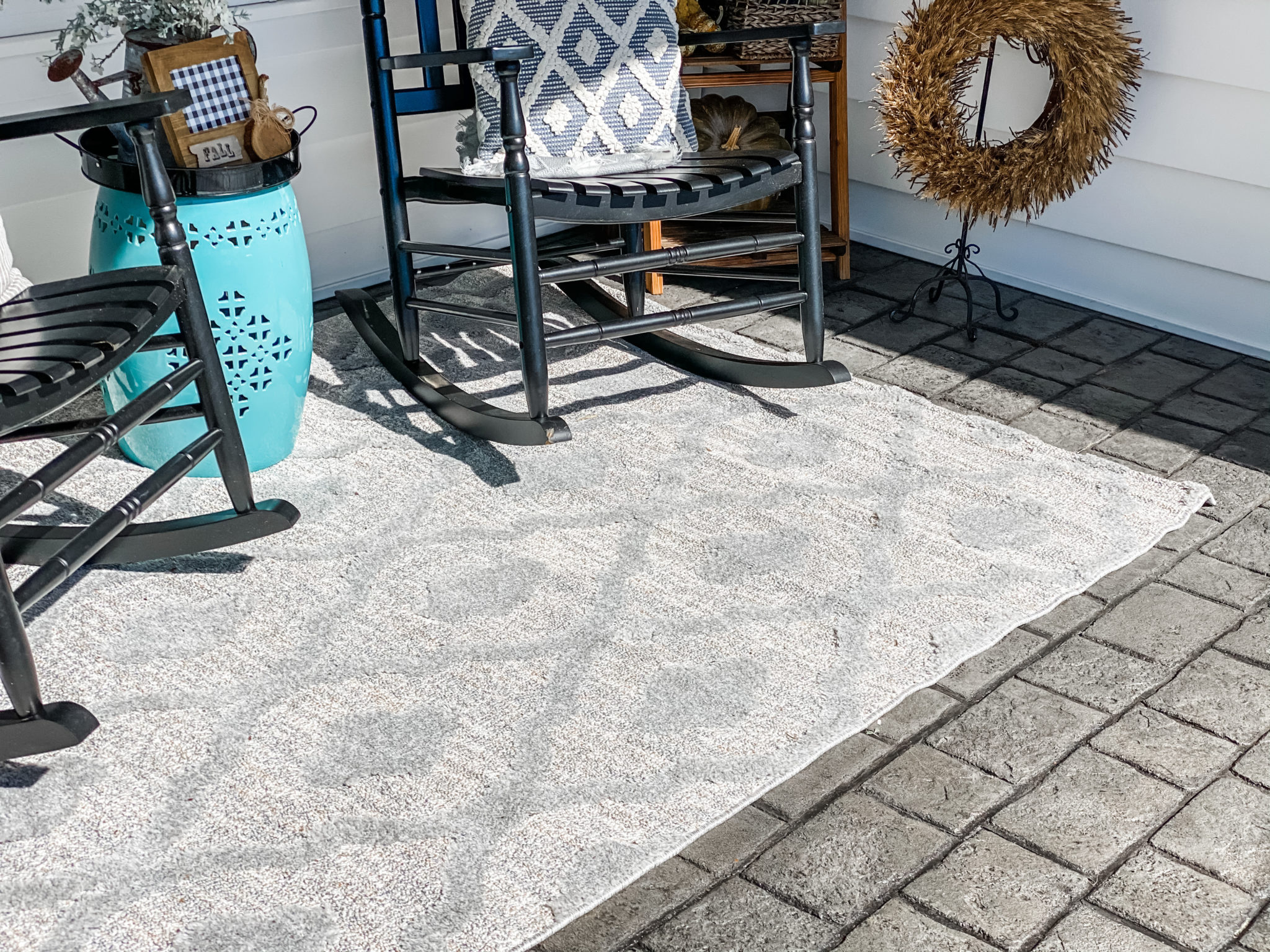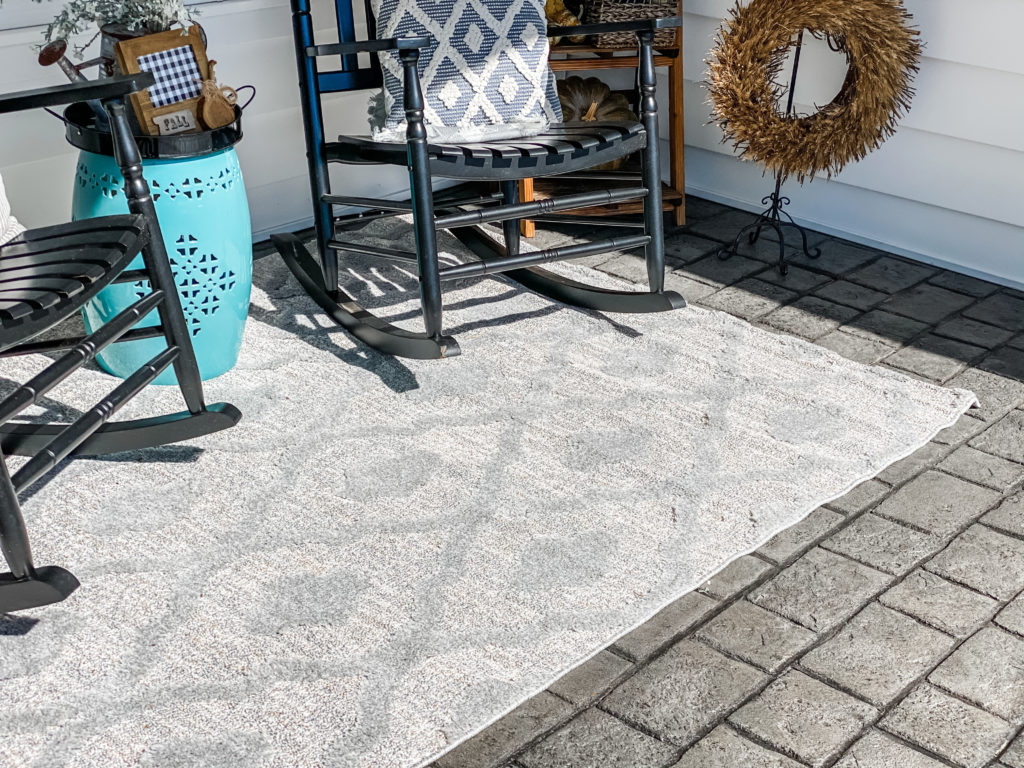 I decided to add a neutral rug under the rocking chairs, that way I can easily transition it in with my Winter decor. I found this one at Big Lots, it's a size 5'x7′, and it is marvelous.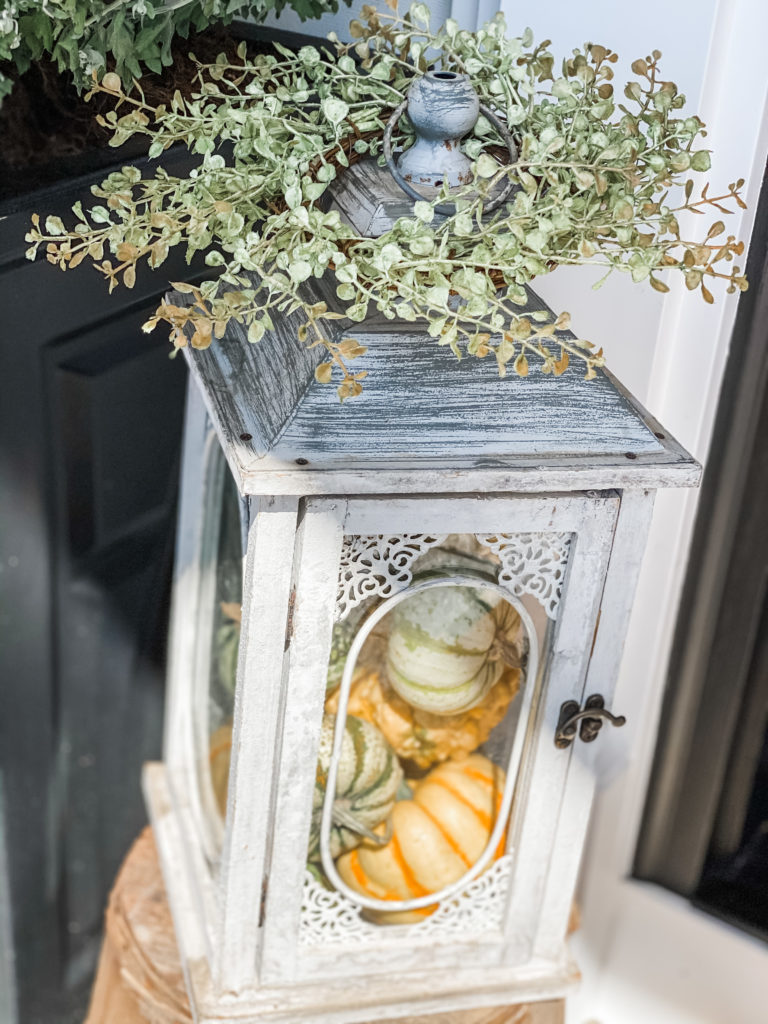 Heading over to the other side of the porch, I stuck a few mini pumpkins into this lantern that I also used in my spring porch decor!
Let me just tell y'all a quick tip… you can ABSOLUTELY repurpose things that you use in different seasons to the season you are currently in! Just by adding those pumpkins to the inside of the lantern, it immediately transformed it to Fall!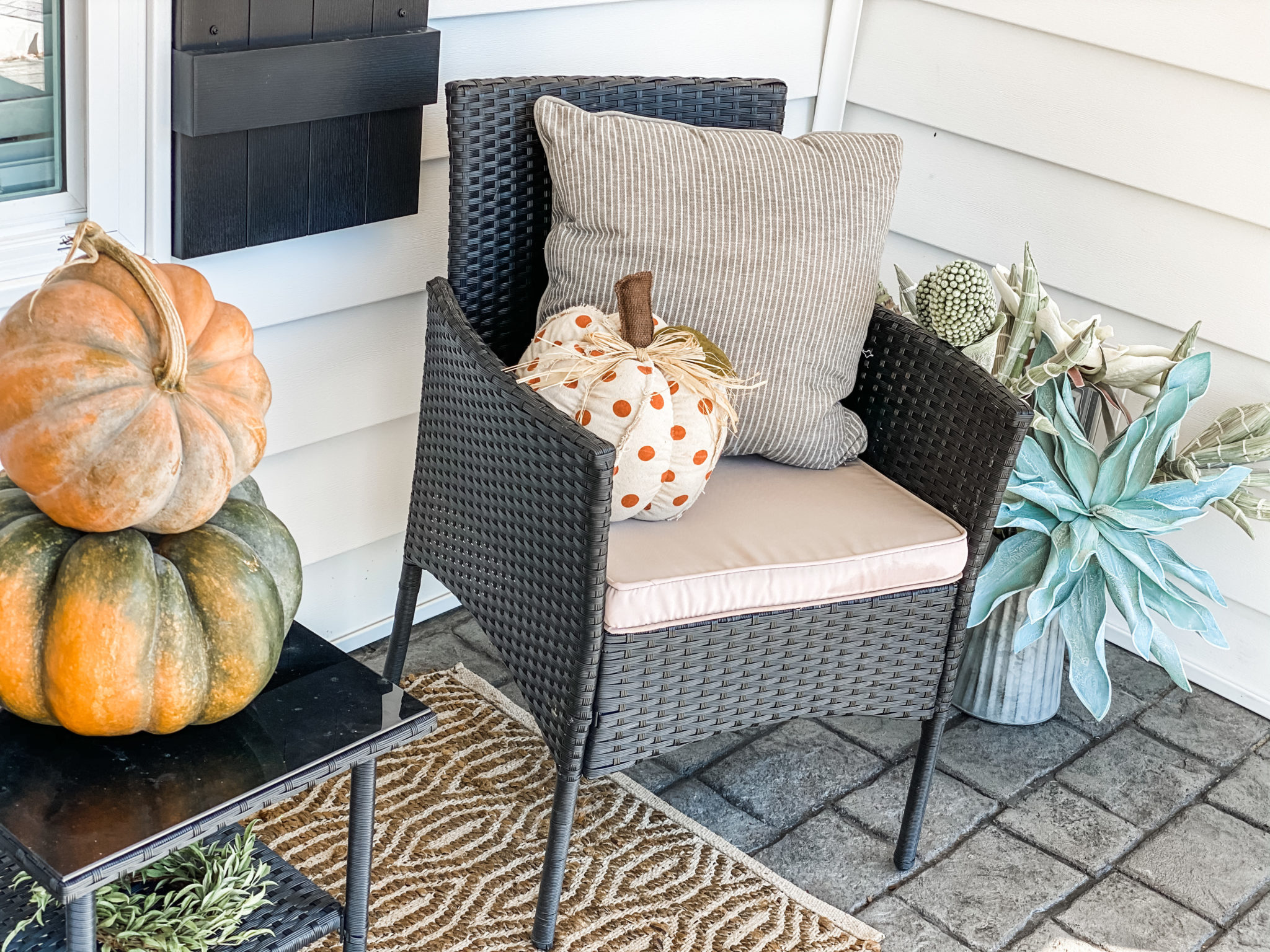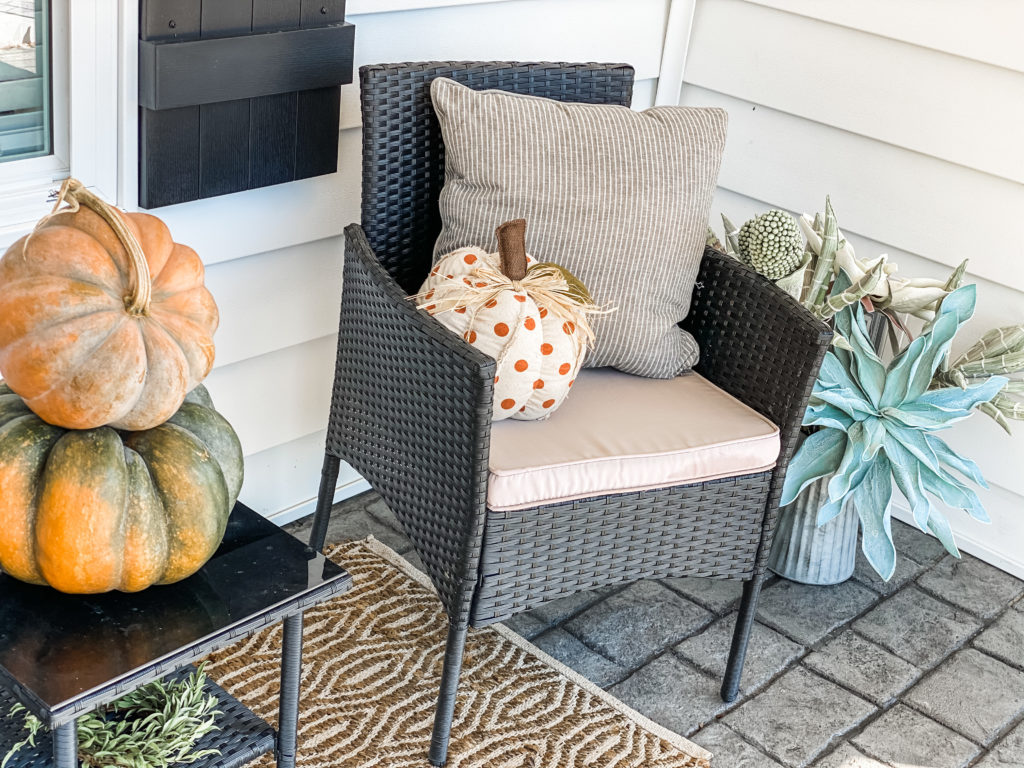 This side of the porch is a little more simple… which I totally love! I added this adorable cloth pumpkin (that I also bought from Broadway Flowers and Gifts… can y'all see a pattern here??) as well as some stackable pumpkins on top of the side table!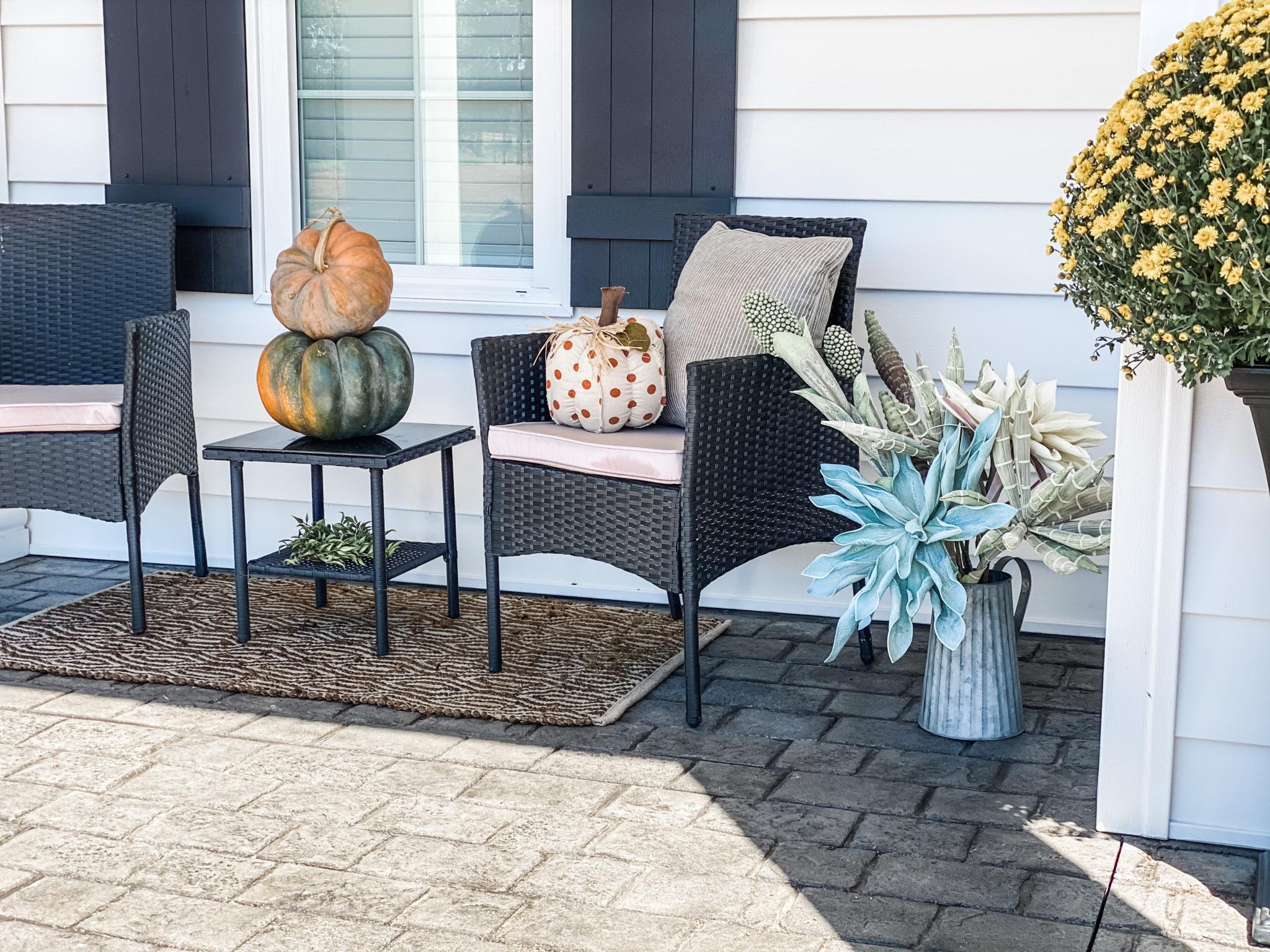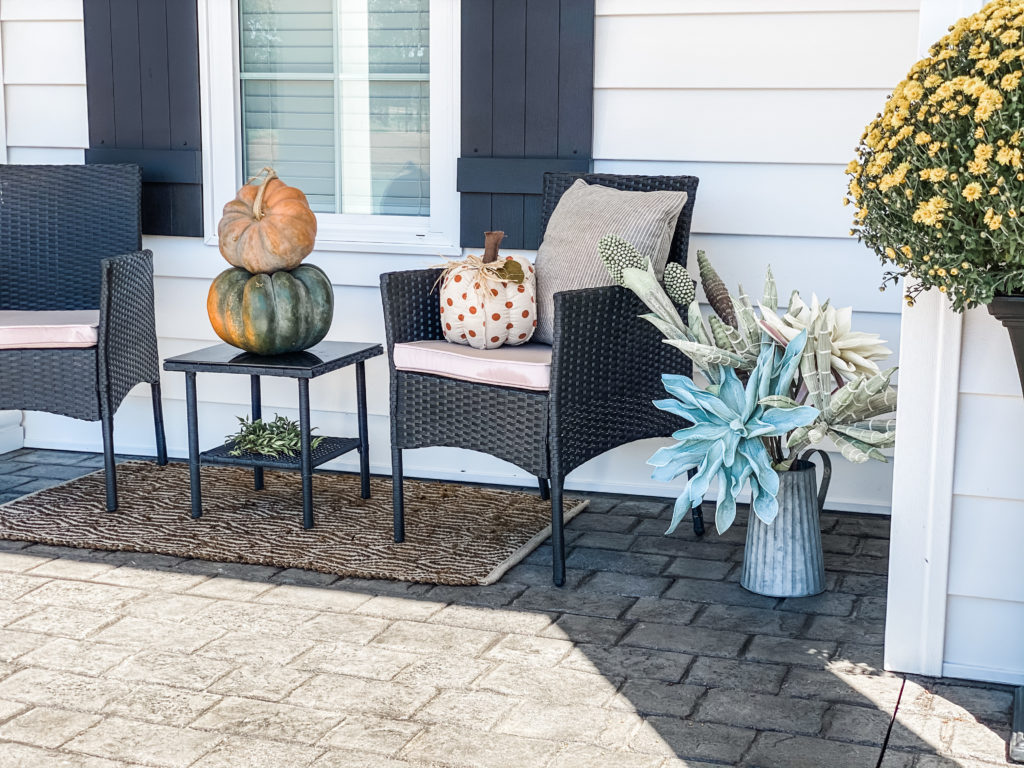 Also… can we just talk about that GORGEOUS arrangement in the galvanized pitcher??? They are a mix of various tree picks that I bought from… you guessed it… Broadway Flowers and Gifts!!! If you haven't noticed, I REALLY love to support our local shops!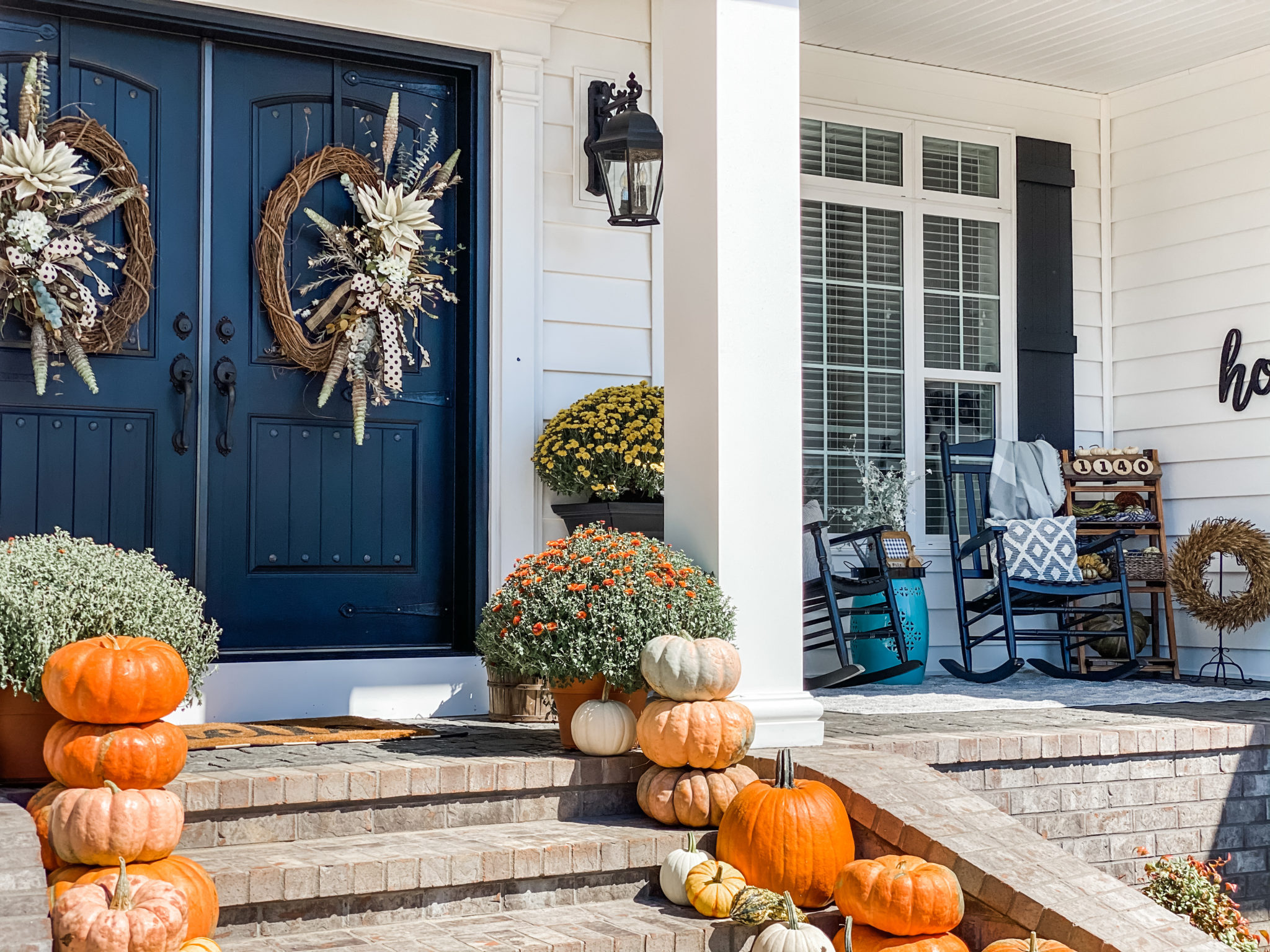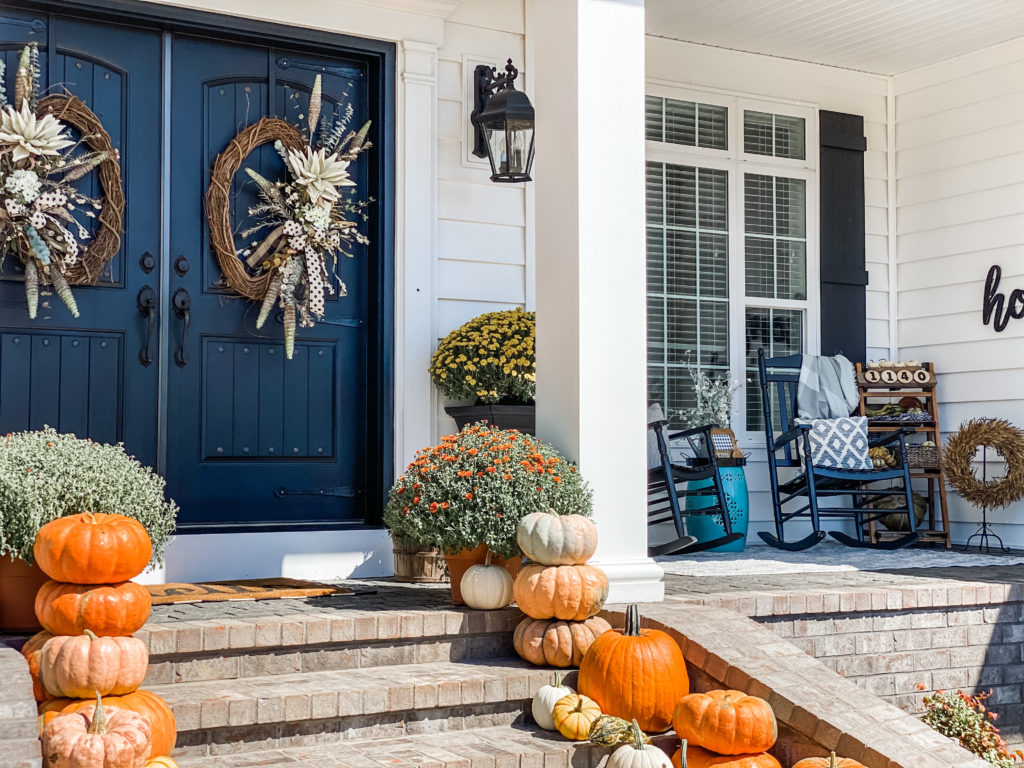 I think this has to be my favorite photo of the porch… I can just imagine rocking in those chairs, watching my kids go fishing, while sipping on some hot cocoa… does that not just INSTANTLY put you in a good mood?!?!
And there we have it folks… my VERY FIRST Fall porch reveal!!!! I truly love the way it turned out, and had a blast fixing it all up. I hope this was able to inspire you, and give you some new ideas for your own porch!
BE SURE TO PIN FOR LATER!!!!