I used to be so intimidated by the idea of multiple pumpkins layered up along my front porch steps. The task just seemed daunting almost! BUT…I have found that this beautiful look of cascading pumpkins is actually extremely easy and almost effortless! I will show you what I do, and maybe it will inspire you to tackle your own!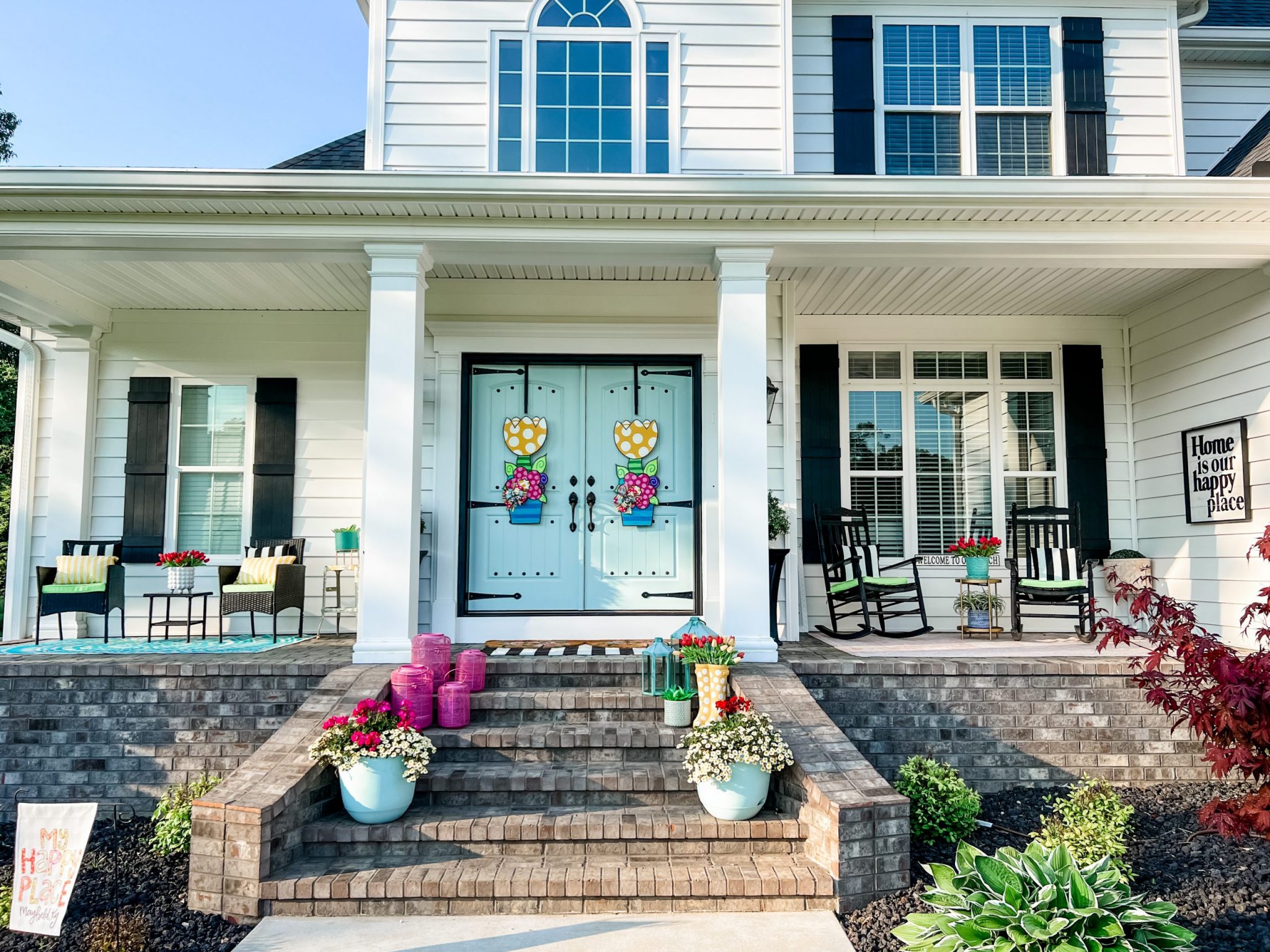 Unfortunately, I forgot to take pics of the steps BEFORE the pumpkins, so I pulled one from a previous season so that you could see what they looked like! As you can see, there is ALOT of room to really go all in with some beautiful pumpkins!
First step was to head to the pumpkin patch to gather up LOTS of beautiful pumpkins to accent the NEW WREATHS that I got!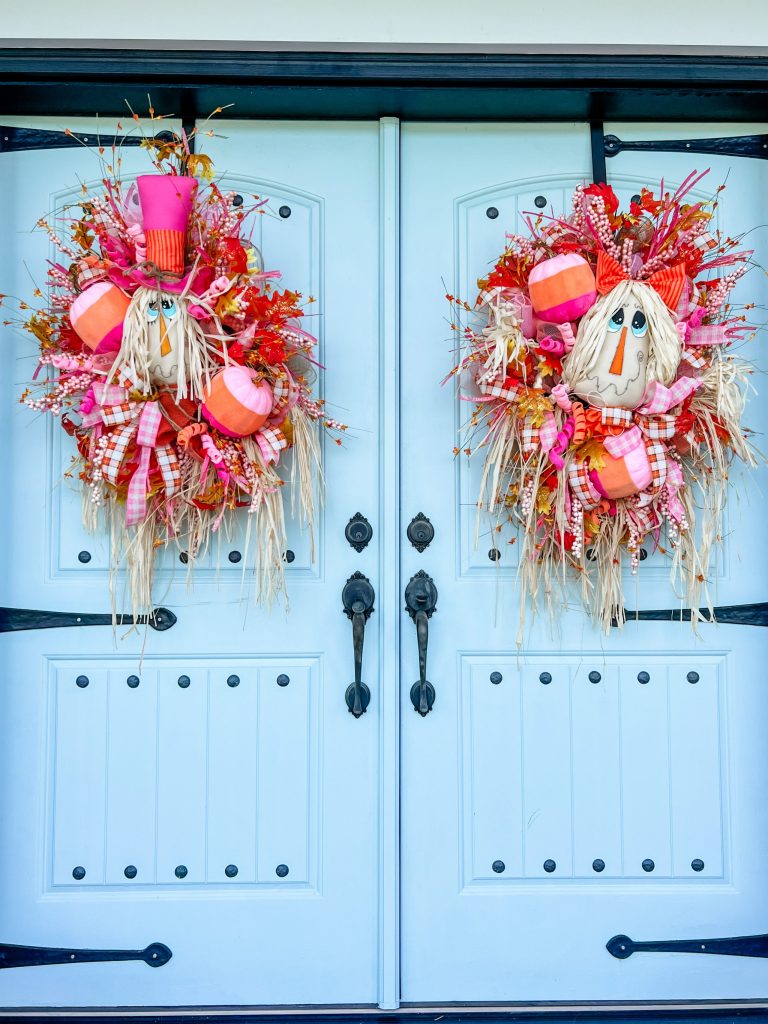 Don't you just love the pink and orange together??? Most of you know that I typically do not decorate with much orange, but for fall…I make a tiny exception! You will still notice that I go light on the orange pumpkins and lean heavier in on yellow and green!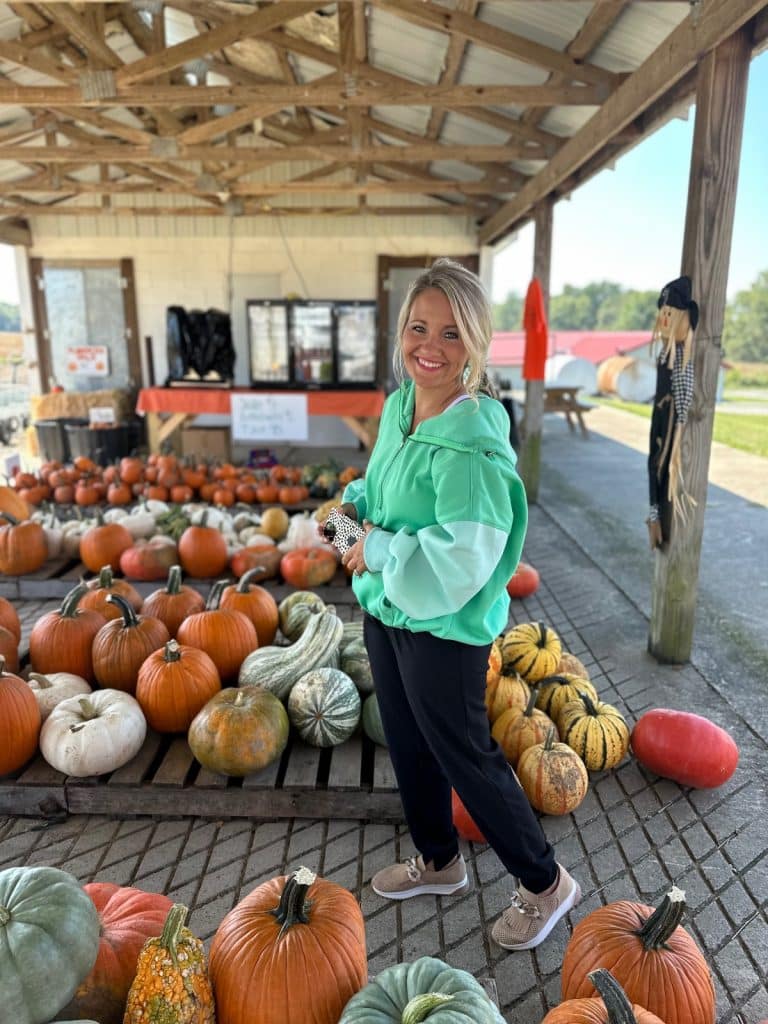 My husbands cousin owns a pumpkin patch (Darnell Pumpkins), so we always go get our pumpkins and mums from them because they are family AND they are the best!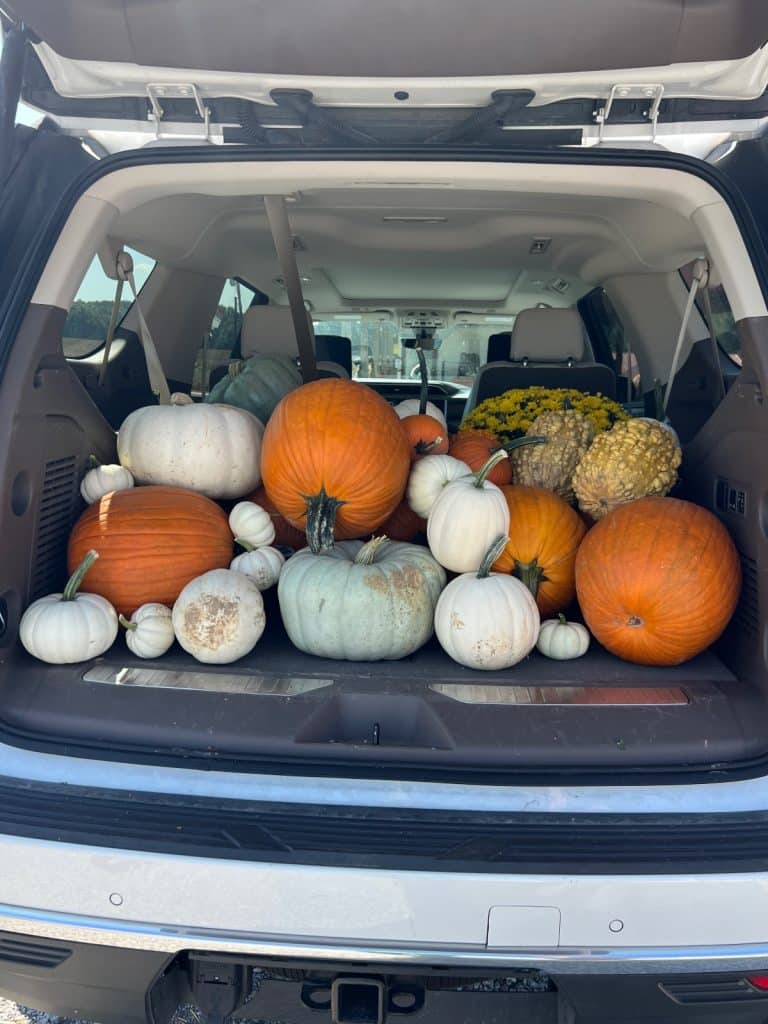 I loaded down the truck and was ready to tackle those steps!
Once unloaded and sitting all out, it literally only took me and Kylie about 10 minutes MAX to do the steps. I promise you…it is EASY.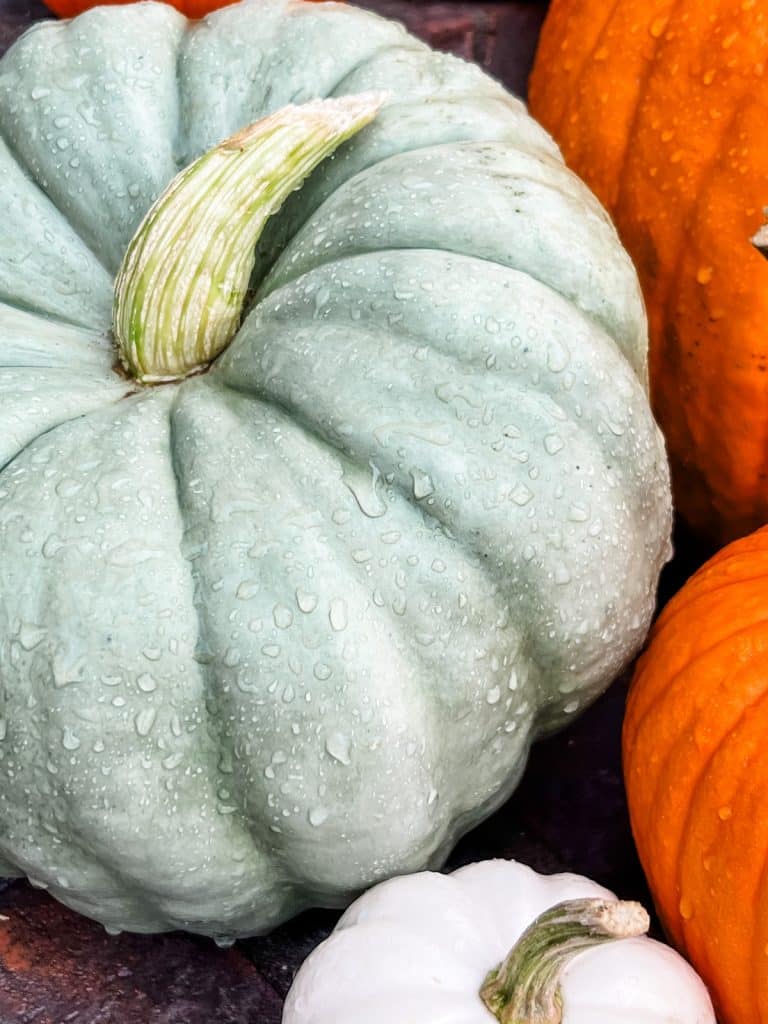 I loved this picture of the fresh rain on this beautiful green pumpkin! So much detail and beauty!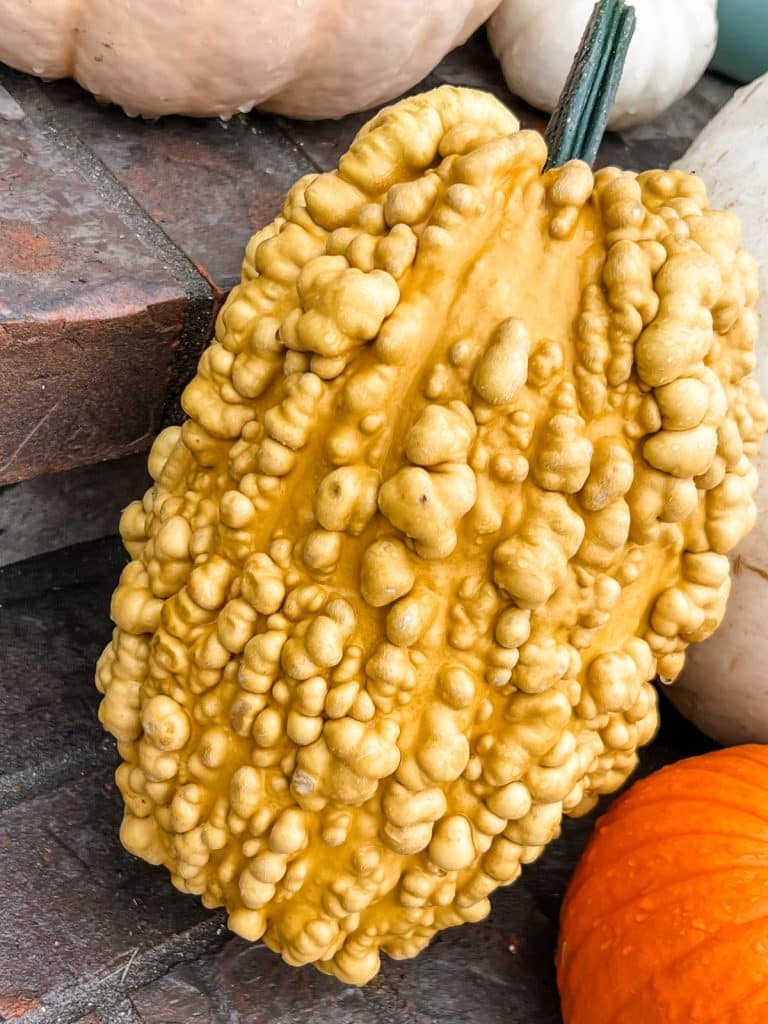 The process that I do is to take the larger pumpkins or decorative pieces and place them along the outside of the steps first. Those pieces would include large pumpkins, the lanterns and the mums.
Once I have those set out, I literally just start filling in the gaps along the steps with the next largest selection of pumpkins, on down to the smallest to fill in the little crevices!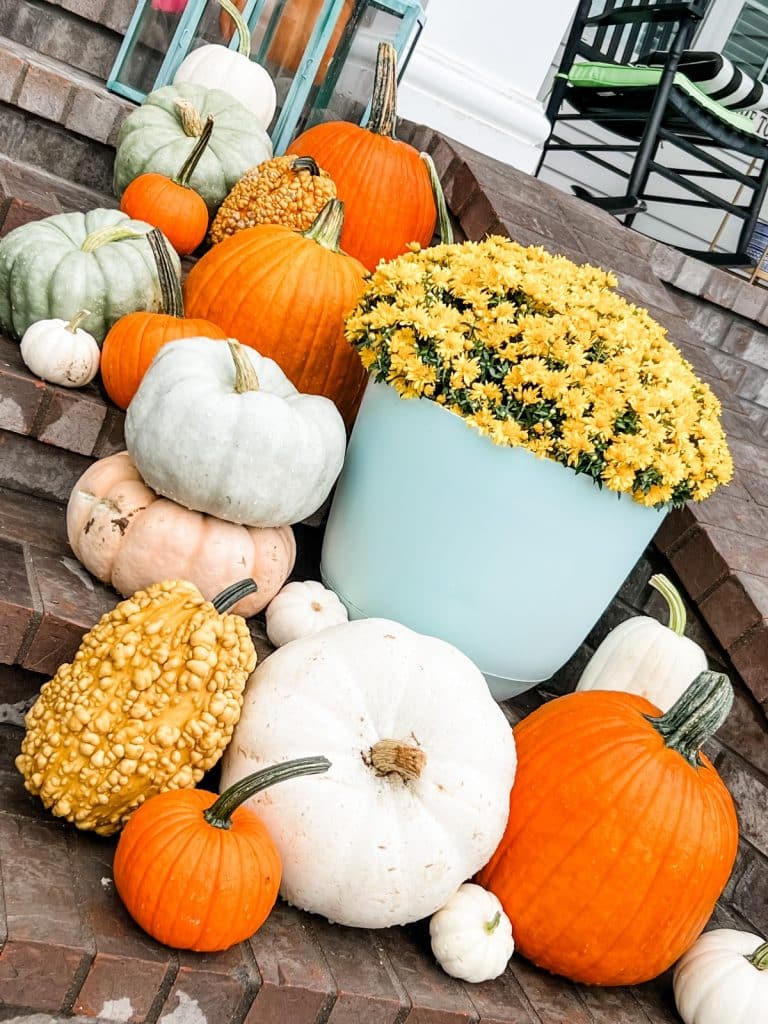 I try to be "somewhat" symmetrical, but it is far from truly symmetrical. I didn't even gauge how many of each kind I bought, so it was sheer luck to have even a little bit of symmetry, to be honest LOL
Once it was done, I stepped back and just admired how GORGEOUS it looked! I wish you could see it from the road. It stands out and looks SPECTACULAR! It is hard to believe I used to never even decorate for the fall season! Boy, I sure was missing out! (P.S.) If you noticed some hot pink pumpkins near the doors…stay tuned! That's another blog coming soon!!
PIN FOR LATER! Share this with a friend on Facebook!