You're about to be blown away when I say this… I do NOT go all out for Halloween/Fall decorating. Crazy, right?!?! Now don't get me wrong- I like to spruce up small spaces in my house, like my built ins and my mantel… but my FAVORITE place to decorate for different seasons is my COFFEE BAR. I built this area in my house SPECIFICALLY for decorating… pretty extra, I know. LOL.
Today, I am showing you how I decorated it for HALLOWEEN for the very first time!!!! I truly love the way it turned out, because it's so ME. I love the look of a black and white design, so you will see that I carried this throughout my whole coffee bar. Also- I'm not one to decorate "spooky" for Halloween… I'm more of a "cute not creepy" kind of gal! So, if this sounds like it's right up your alley, go ahead and take a look down below! 🙂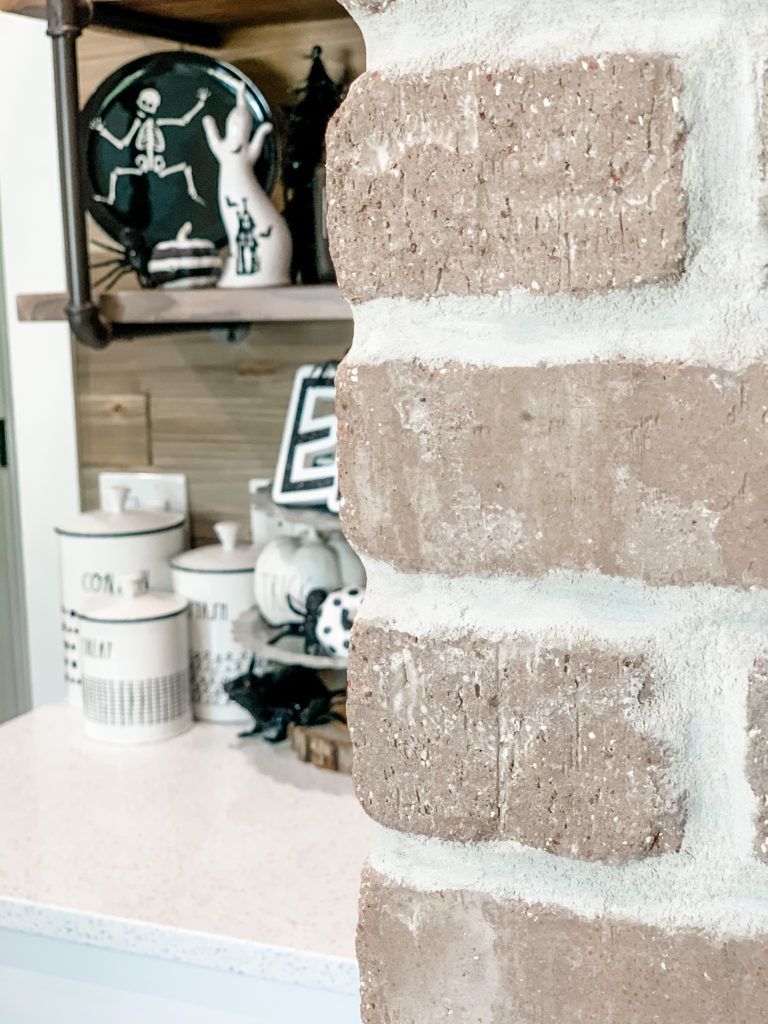 If you're new around here, my coffee bar is right behind my brick archway leading into my kitchen!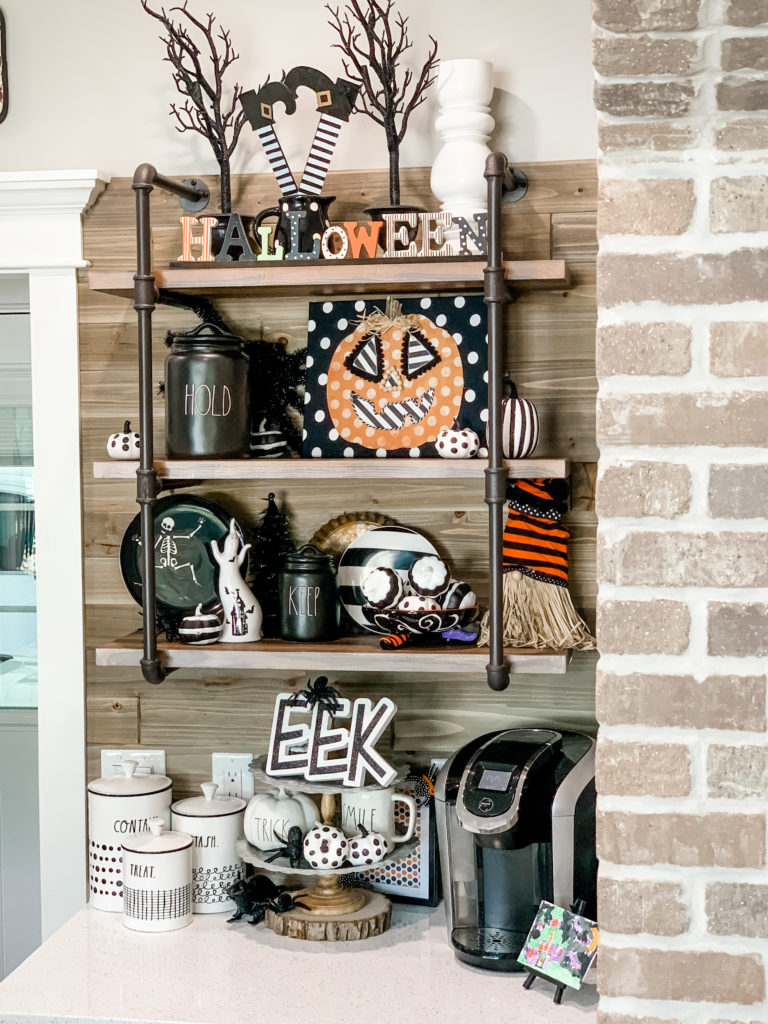 TAA-DAAAA! As you can see, it doesn't have a TON of traditional Halloween colors, but I do have LOTS of Black and White!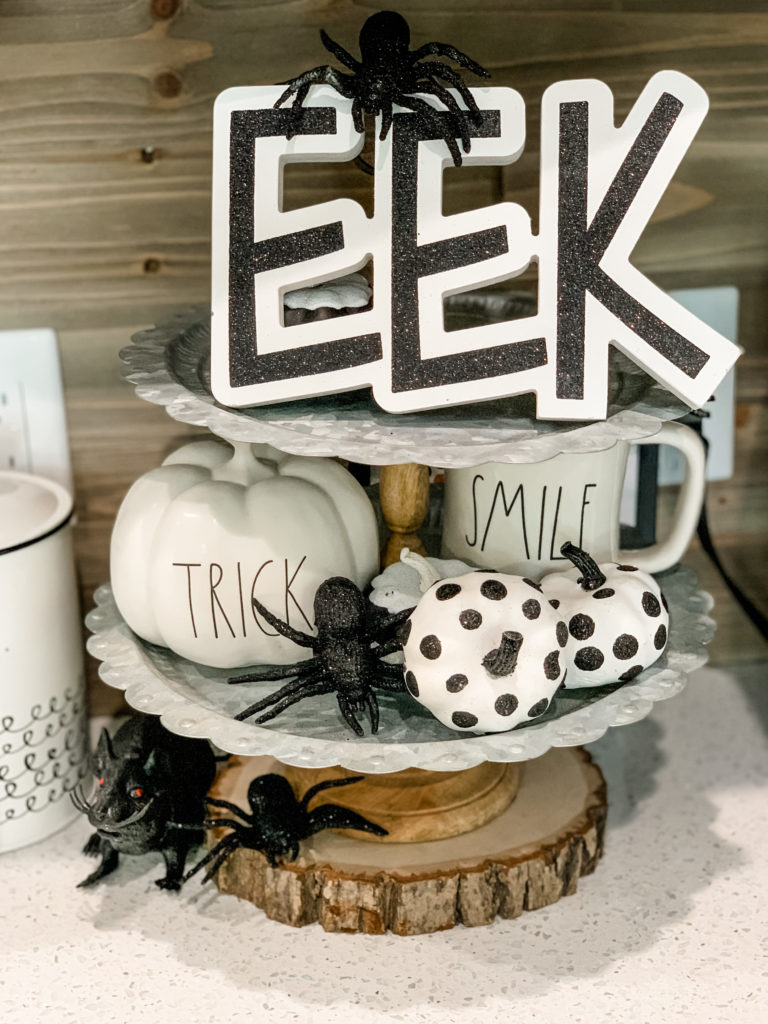 Sitting right on the counter is my galvanized tiered tray that I found at TJ Maxx, along with some Rae Dunn pieces that are also from TJ Maxx! The polka dot pumpkins came from Hobby Lobby LAST YEAR for 90% after the Halloween season!!! Talk about a STEAL! My cute little EEK sign came from Target Dollar Spot, and it fits in PERFECT with the theme of the coffee bar! Also… I couldn't help but add in some fun little spiders from Dollar Tree to jazz it up a bit!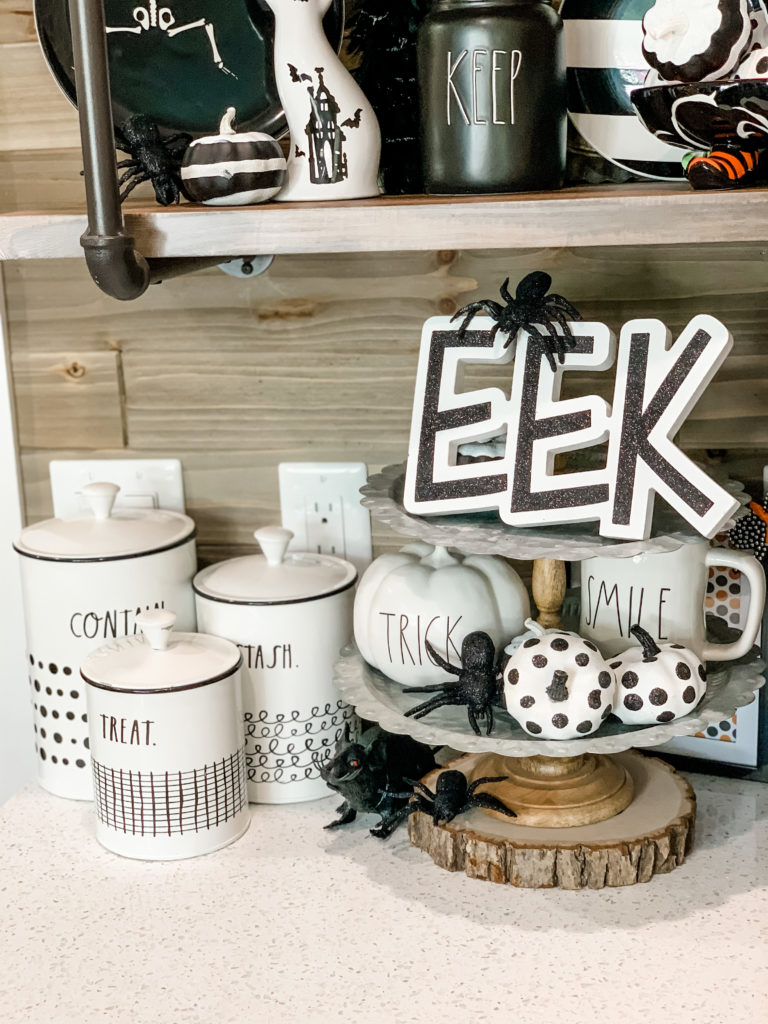 Right beside the tiered tray is my ADORABLE set of Rae Dunn canisters which holds my coffee and sugar!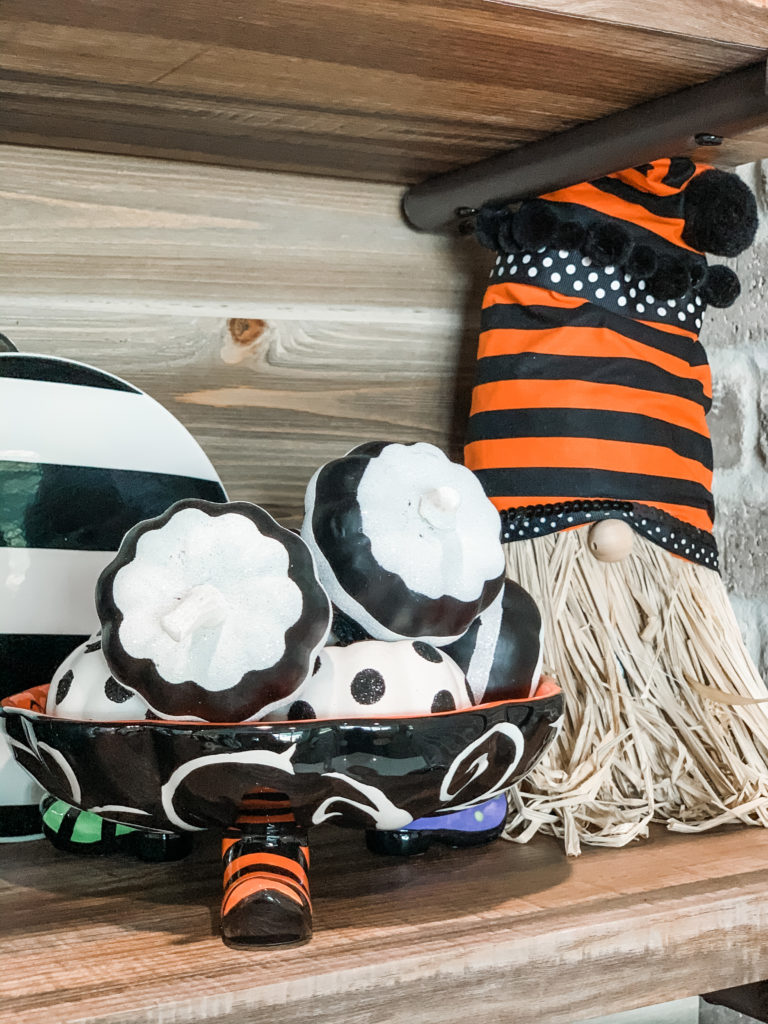 Right above the coffee maker on the first shelf, I have my cute little Halloween gnome that I made from DOLLAR TREE!! (You can see the tutorial on how to make the gnome RIGHT HERE) I also have a few more of those 90% off pumpkins sitting inside this adorable Halloween bowl, which also helps add in some festive colors!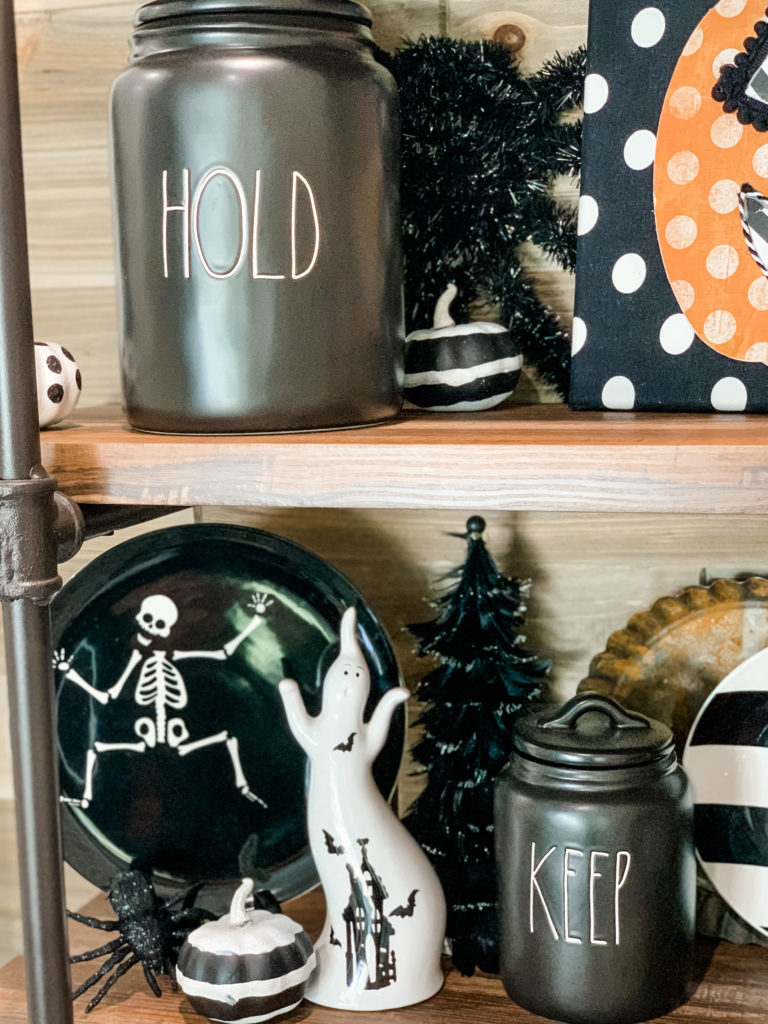 This might just be my very favorite section of the coffee bar, because it's so festive!!! The ghost and the skeleton plate came from Hobby Lobby (again from the 90% off sale last year) and mixed in more Rae Dunn pieces that I bought from a friend on Facebook.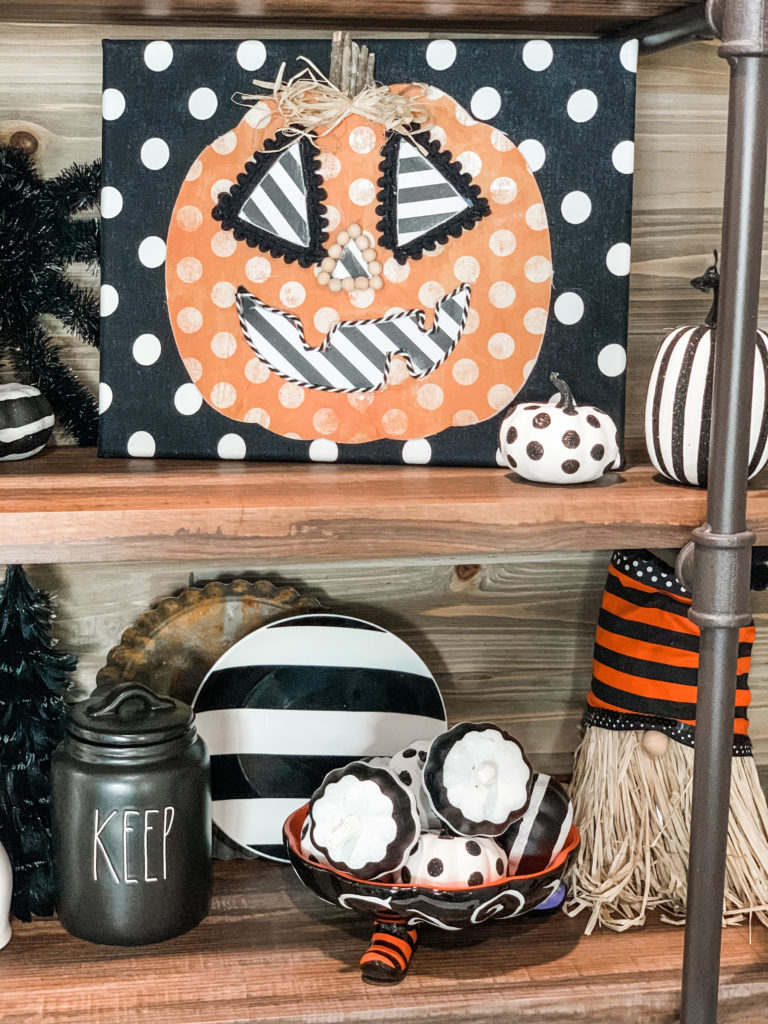 The focal point of the whole coffee bar is this pumpkin sign that I also diy'd!! I bought a blank pumpkin sign from Dollar Tree, worked a little magic, and came up with this!! You can see the tutorial on how to make this sign RIGHT HERE.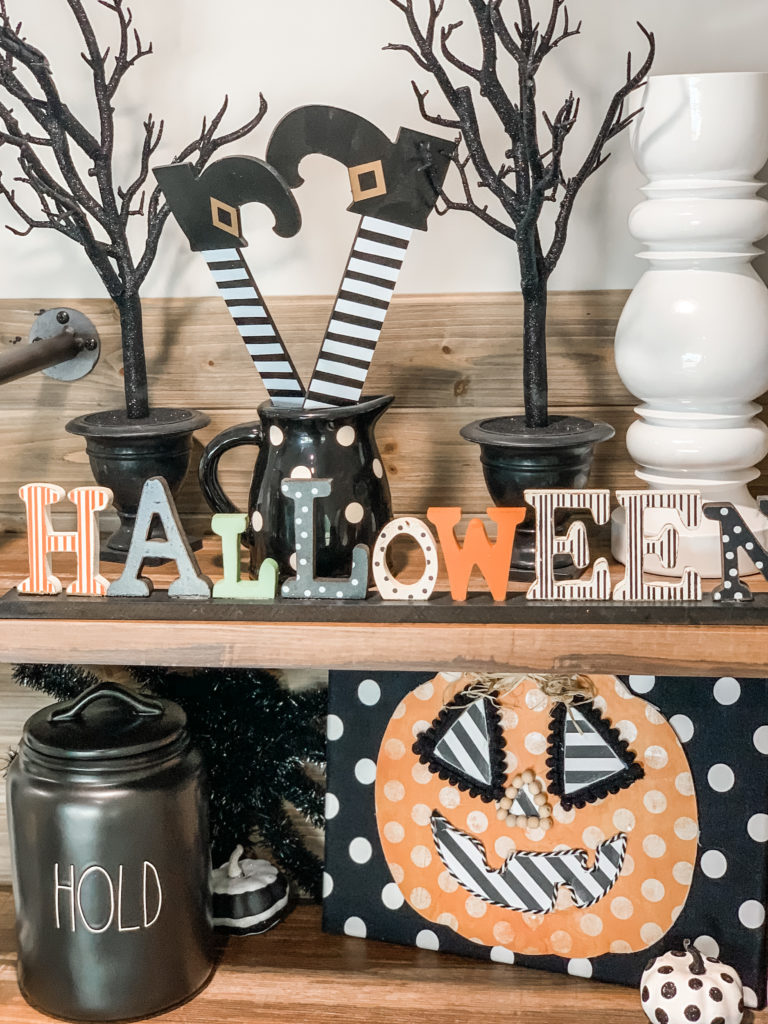 At the very tip top of the coffee bar, I decided to stick these witches legs in a polka dot pitcher, and I just loooove the fun twist it adds! They came from the Target Dollar Spot last year! On each side of the witches legs are some black sparkle trees from Target Dollar Spot, and the Halloween sign with ALSO came from the 90% off Hobby Lobby sale… Y'all, if you haven't learned by now that you NEED to hit up Hobby Lobby RIGHT after a holiday so you can score some awesome deals!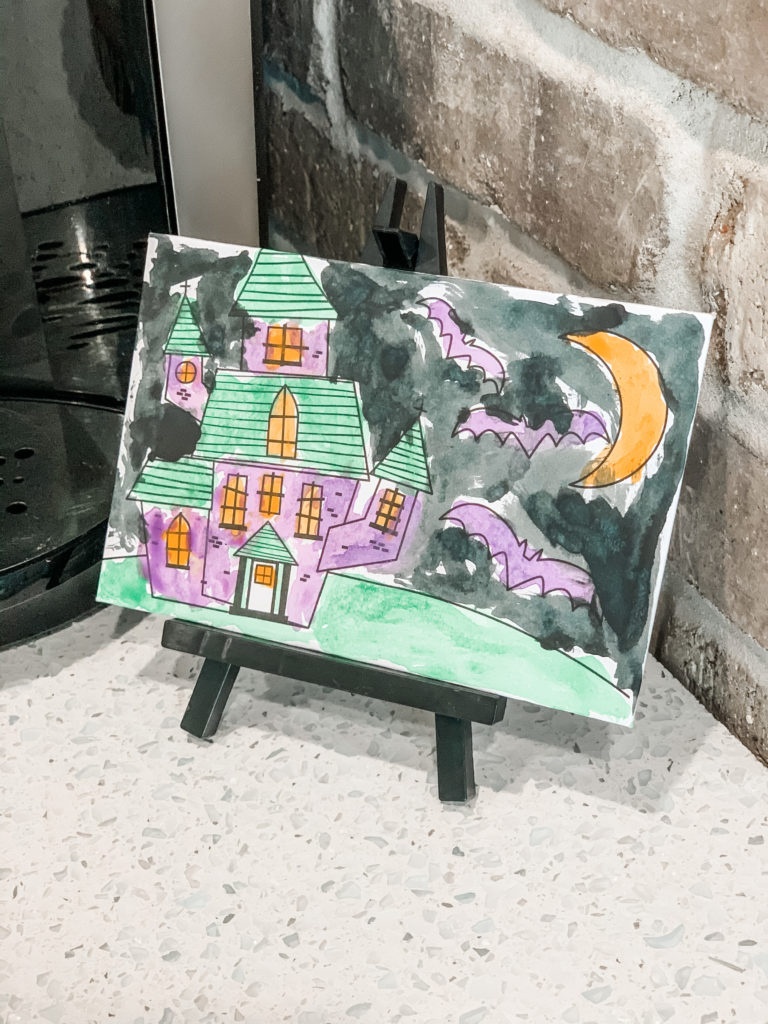 I also can't forget to mention the BEST piece on the whole coffee bar… My son painted this little Halloween scene, and I think it matches PERFECTLY. 🙂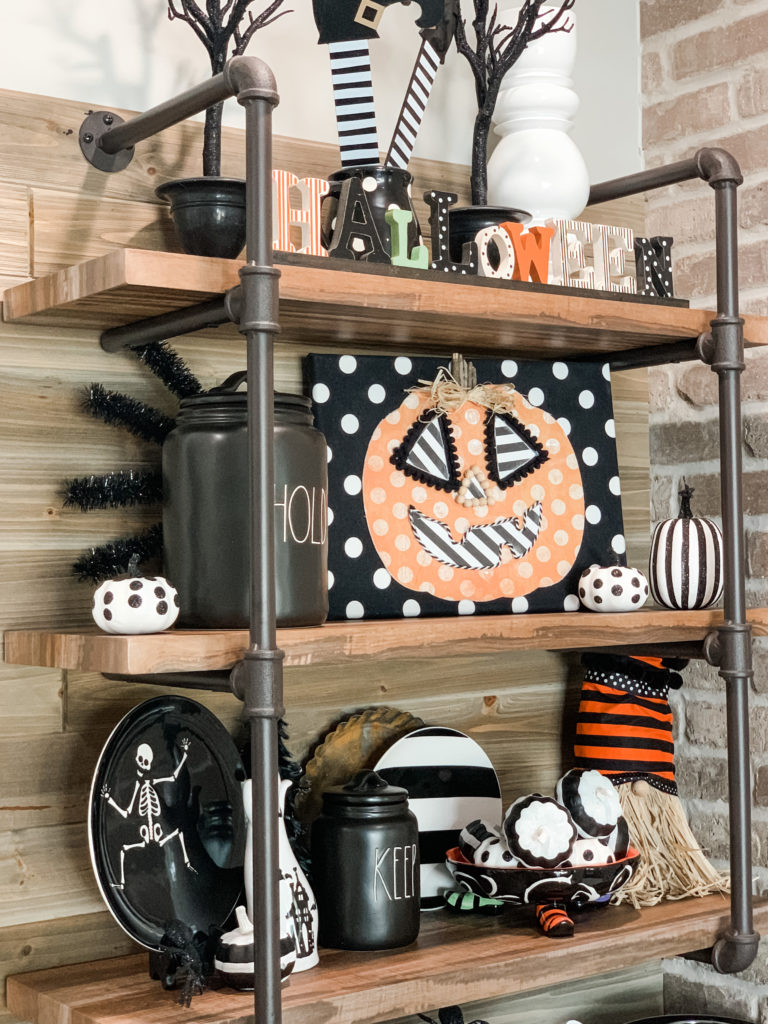 Soooo… what do you think about the Halloween coffee bar?? Would YOU do this in your own home?? Be sure to let me know your thoughts!
BE SURE TO PIN FOR LATER!!!!