Adding Halloween in the kitchen has never been more FUN! Stores seem to be carrying more and more amazing products, and of course you know I have been DIY'ing my little heart out too!
I just want to give you a little "tour" of my kitchen Halloween decor! I think it looks pretty cute this year, if I do say so myself 😉
This is my little corner area under my cabinets. I always have fun doing little vignettes under there!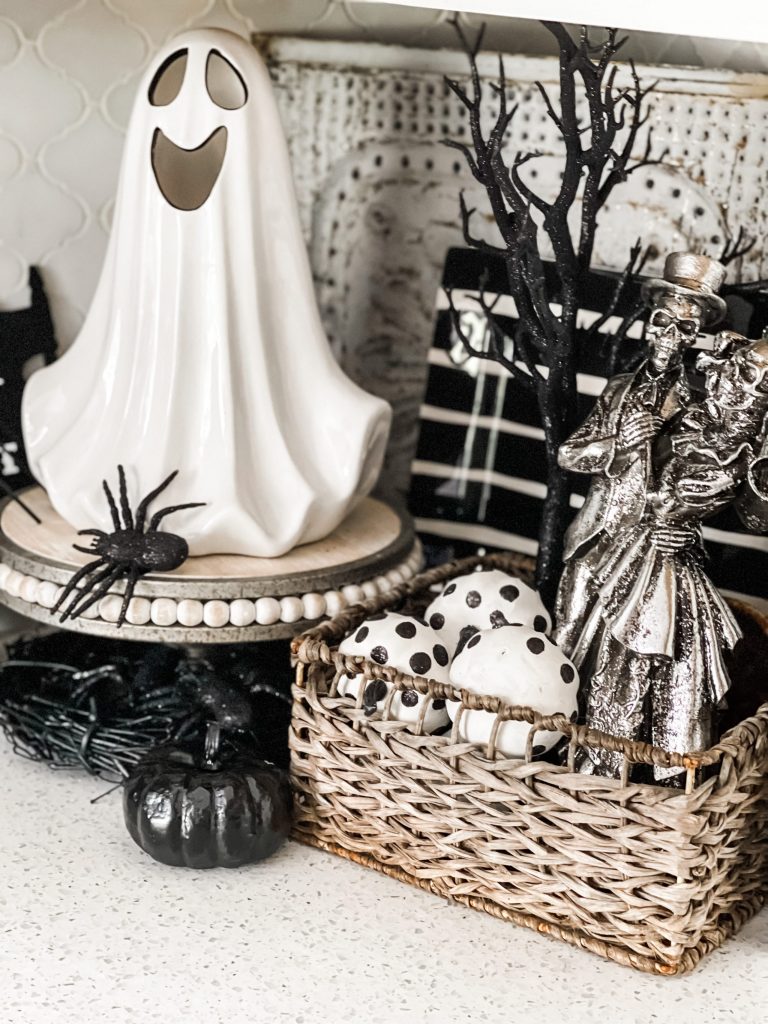 To me, layering is key. It doesn't have to be or even need to be extravagant! Just make sure it is varying heights!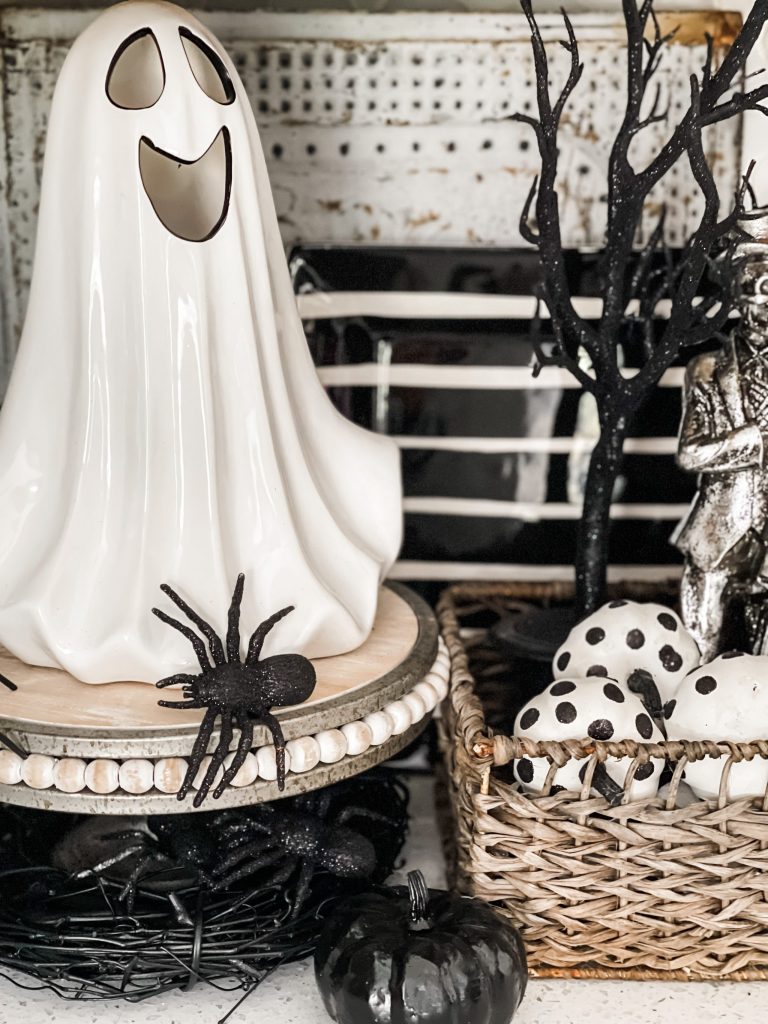 Y'all, this ghost from Dollar General is EVERYTHING!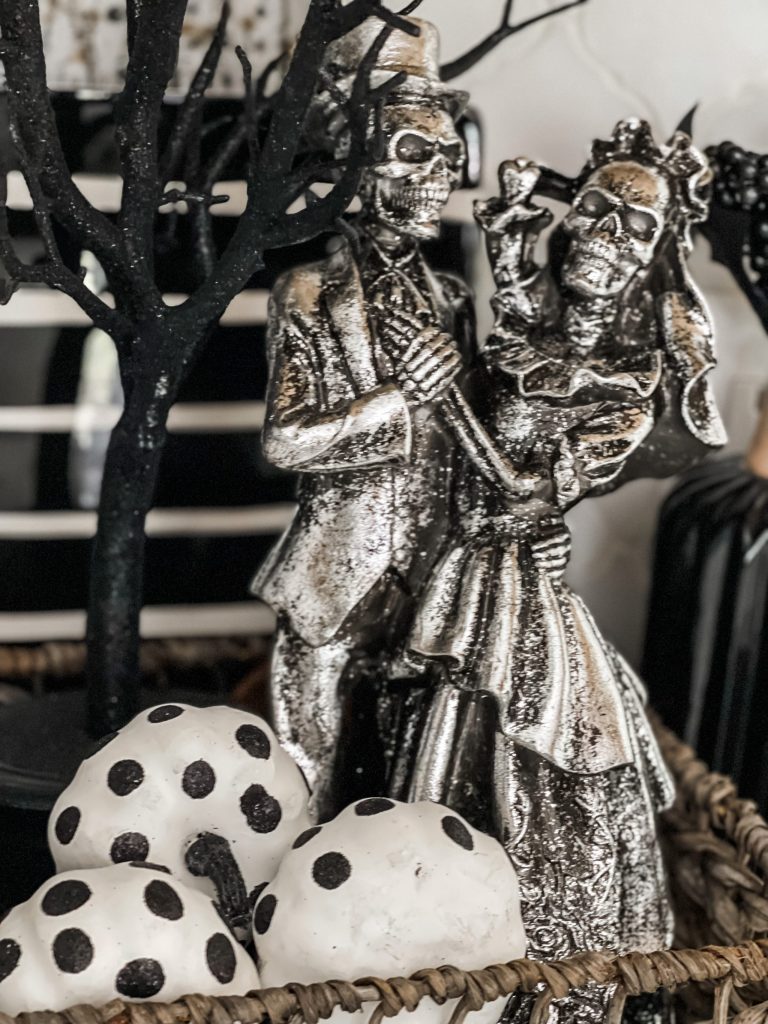 Oooh lala! This skeleton bride and groom are fabulous! I got them at Burkes Outlet!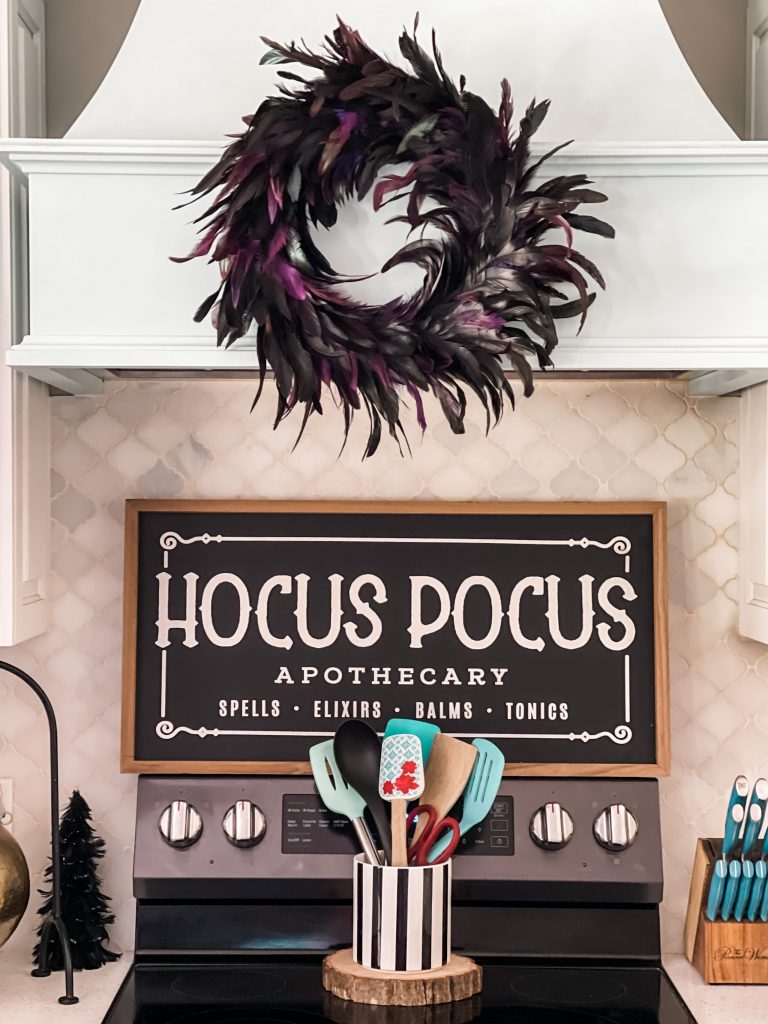 I am loving my hood and oven area right now! The wreath is from TJ Maxx and is EVERYTHING I wanted in this area! I loved the pops of purple in the feathers! 
And can we talk about the Hocus Pocus sign??? Kirklands killed it with this one!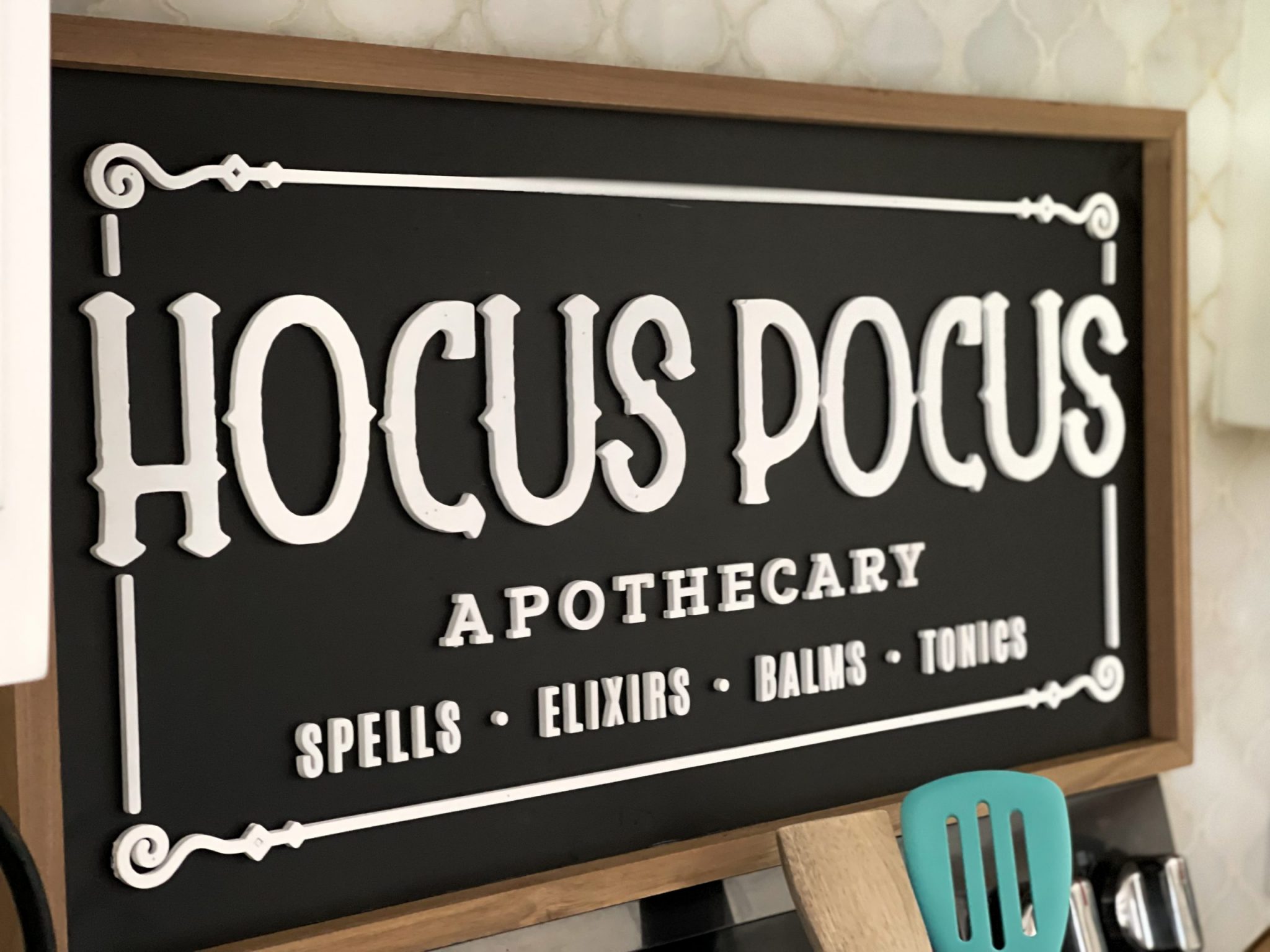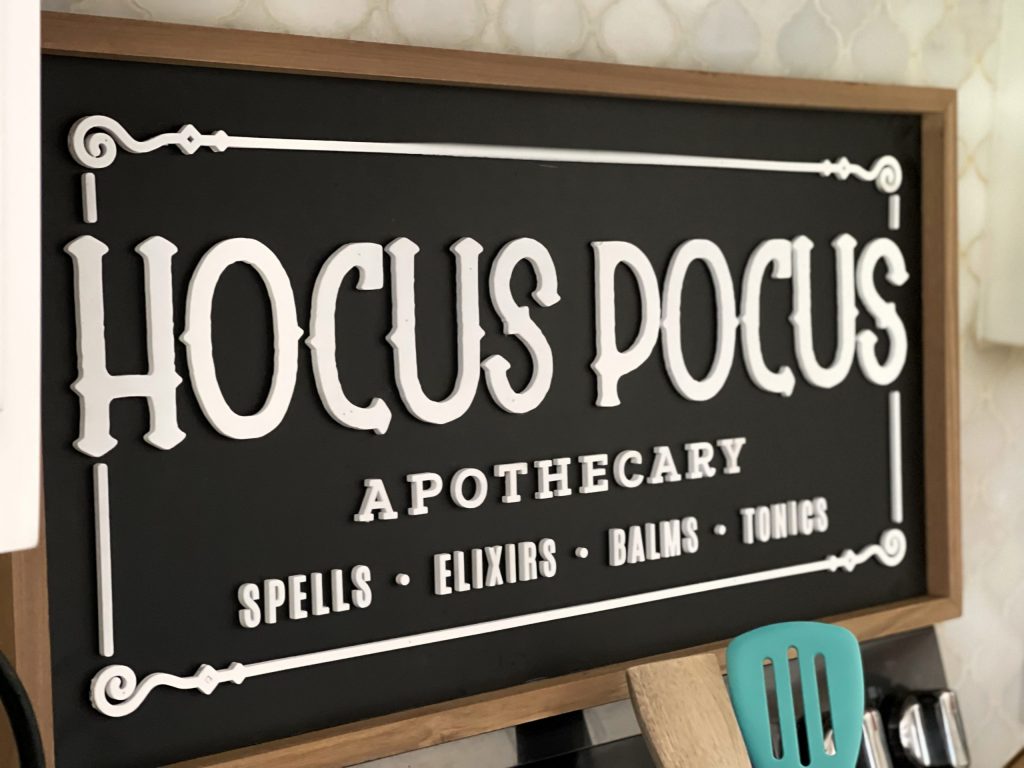 Don't you love how the white pops and stands out against that black!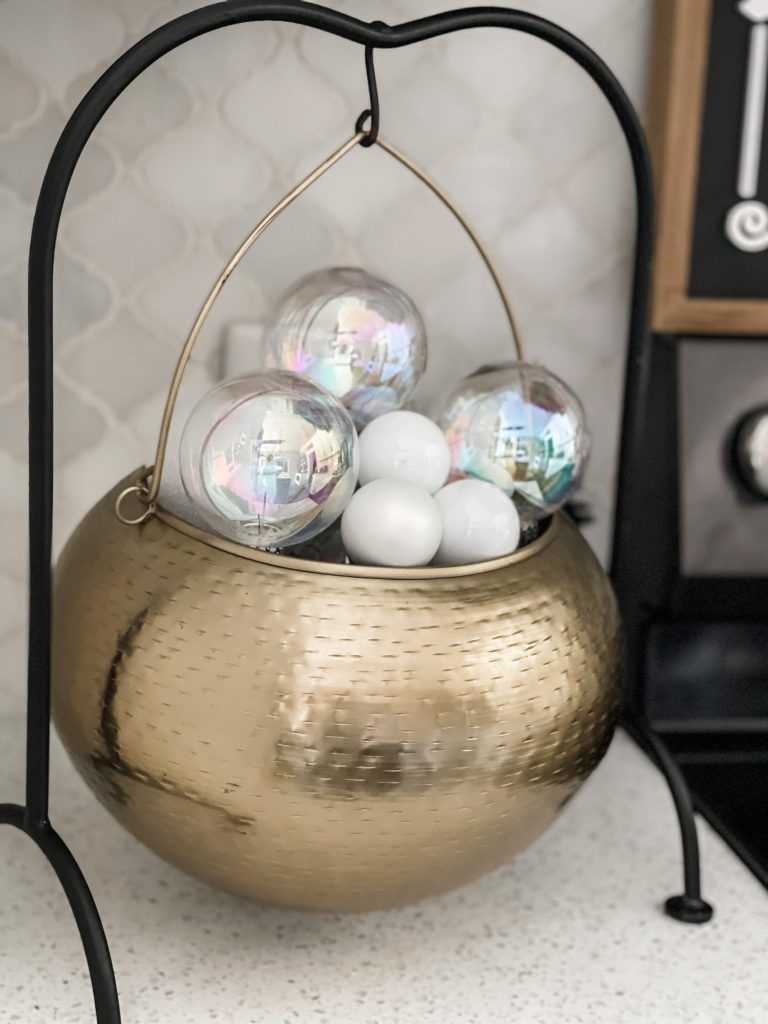 That gold cauldron had my heart from the second I saw it at Marshalls! I KNEW I had to have it. As a little added bonus, I added some ornaments to look like "bubbles"! I think it turned out super cute!
 Now let's go to the other side of the kitchen to the COFFEE BAR! This is literally my FAVE area to decorate for all the seasons! You can see LAST YEARS HALLOWEEN COFFEE BAR!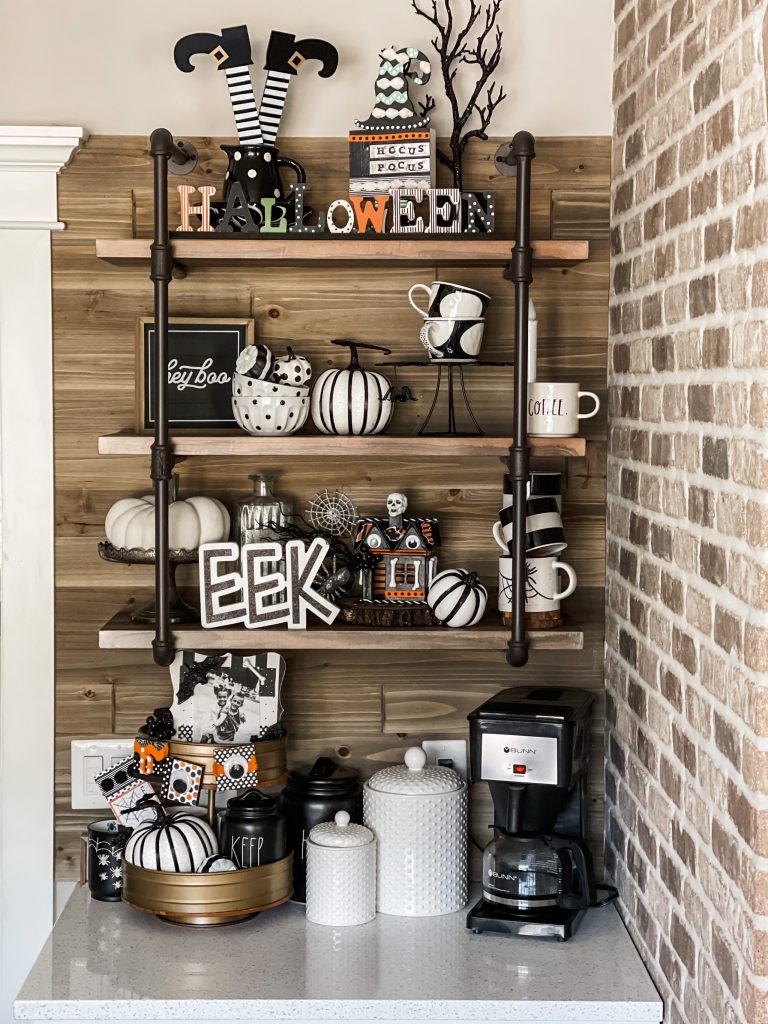 Do you recognize any of the Halloween DIYs I did this year?? The HOCUS POCUS sign makeover, the HALLOWEEN FRAME and the DIY HAUNTED HOUSE are all some big time faves from the blog this year! Make sure you check them out while you are here!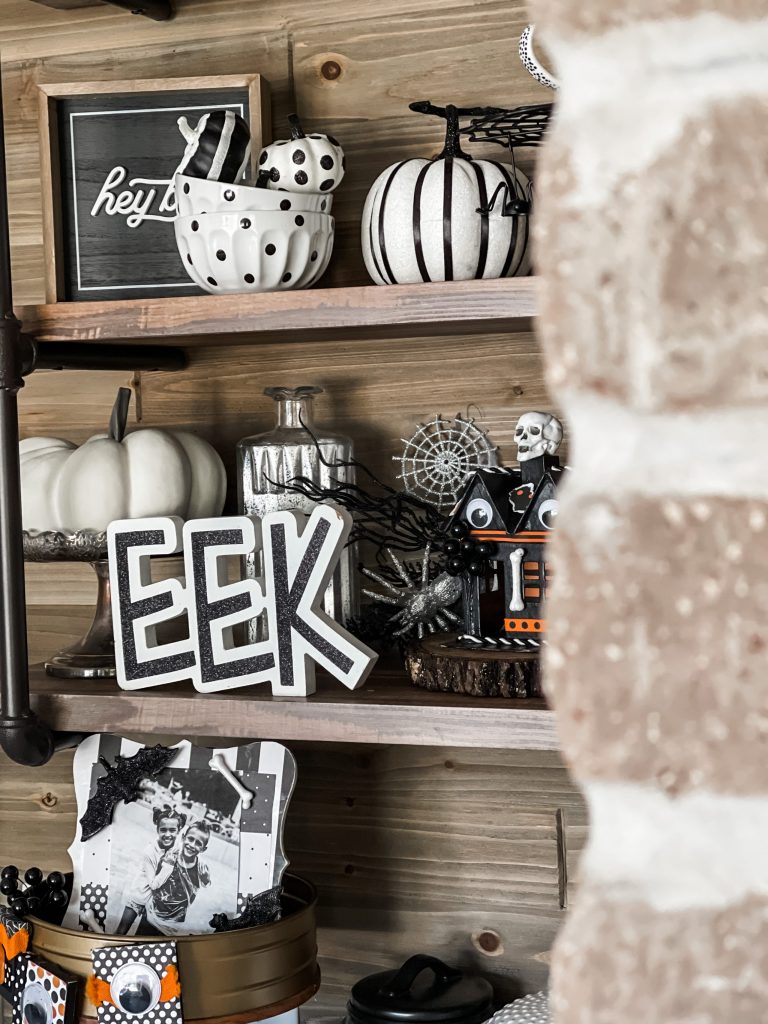 Let's talk about that Hey Boo sign!!!! Kirklands knocked it out of the park again with this one! And those polka dot bowls?? A clearance special at Burkes Outlet for the WIN!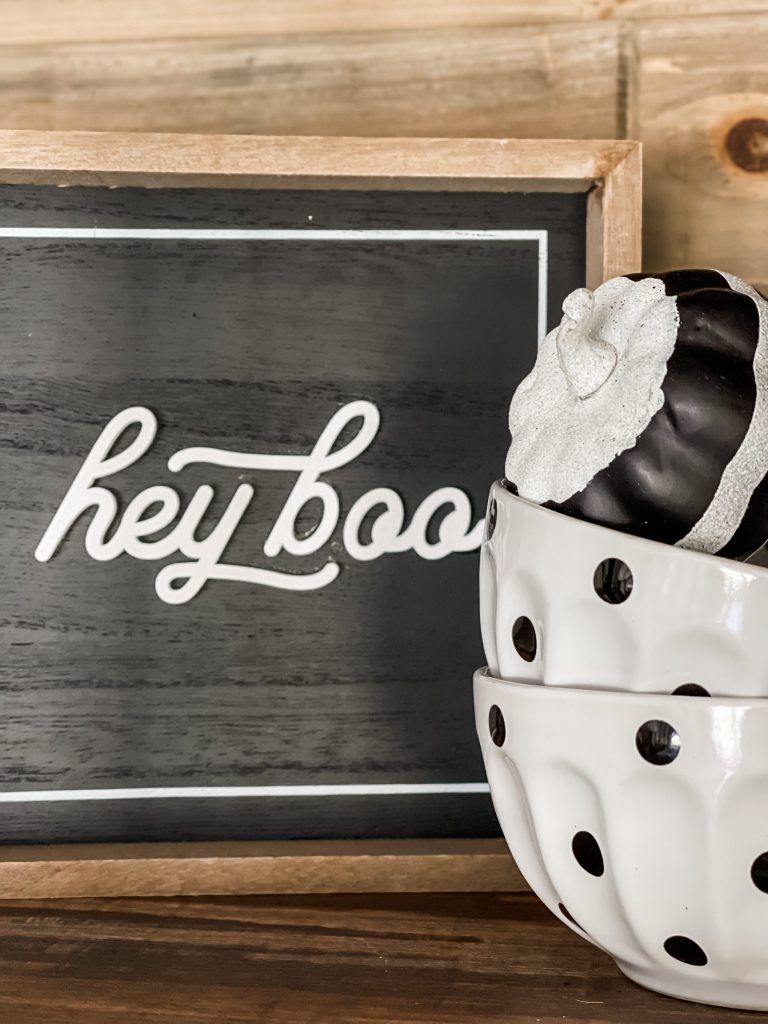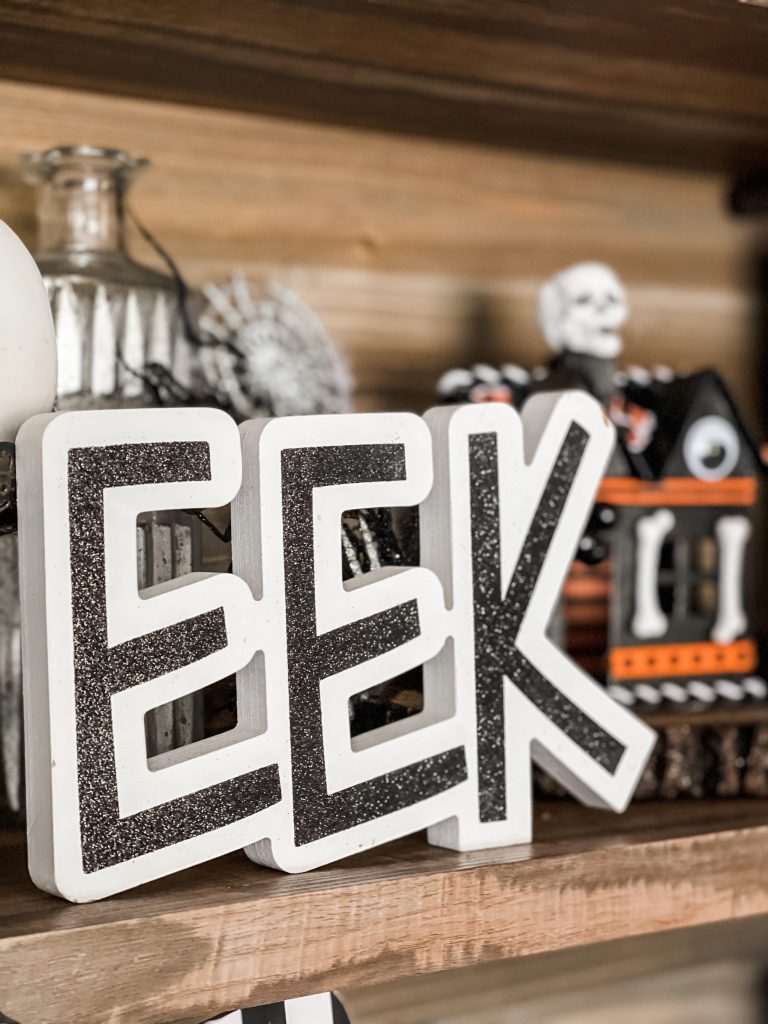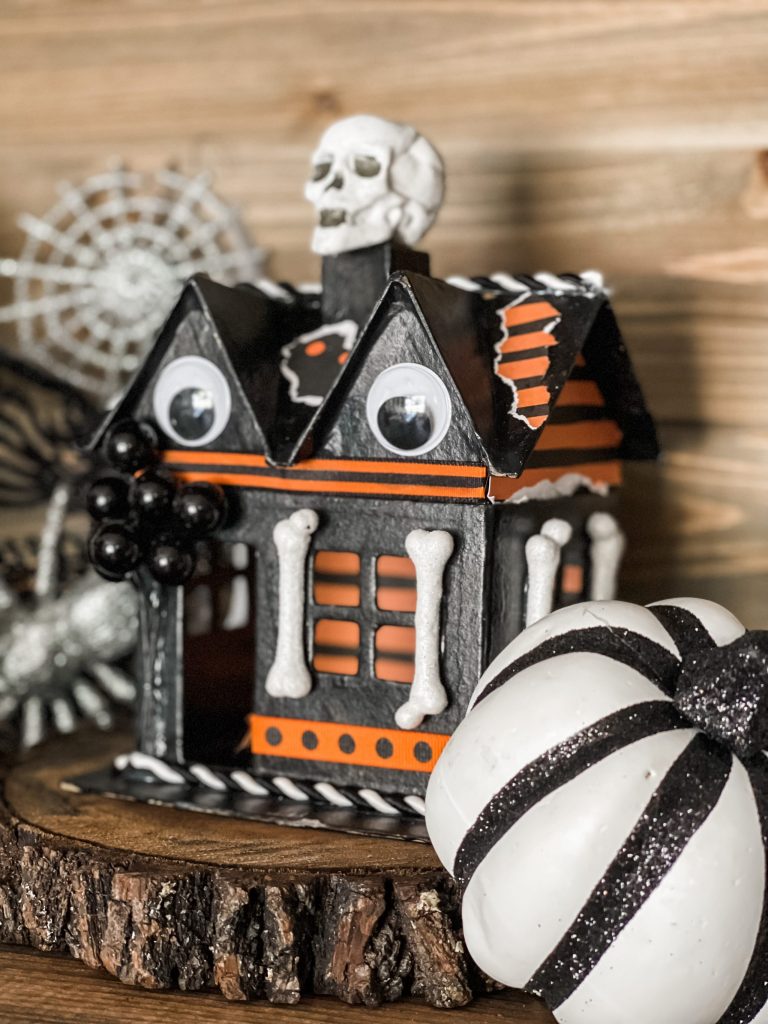 Remember me mentioning the DIY Haunted House?? Is it not the CUTEST EVER?!?! You can go HERE to see how to make yourself one!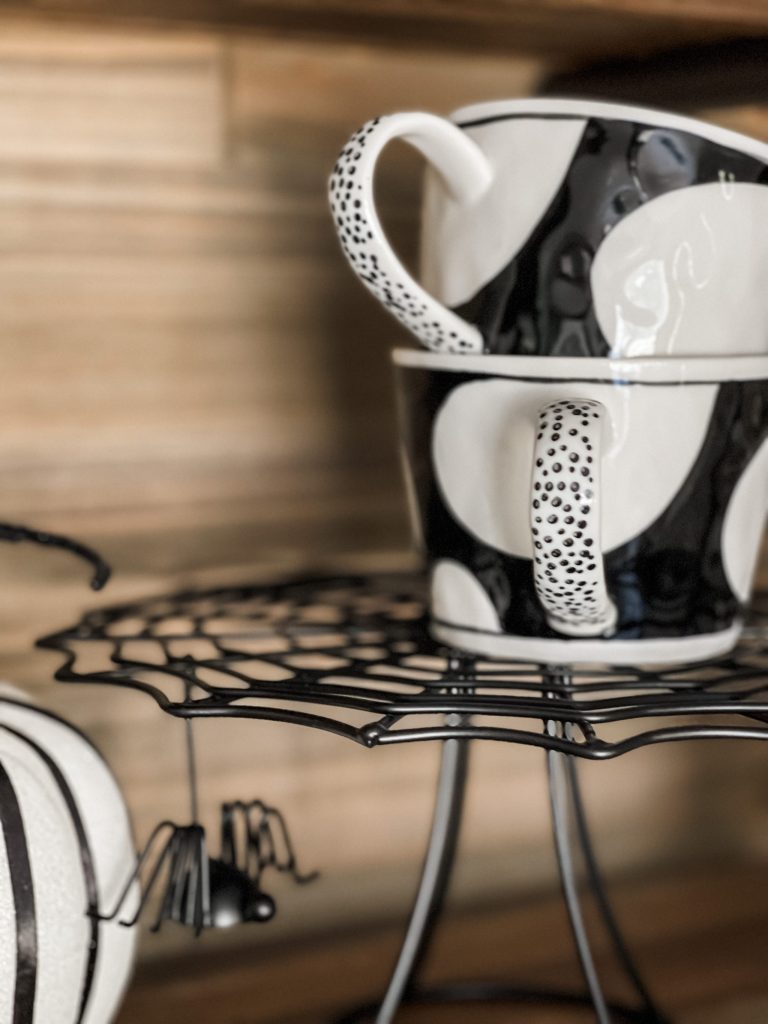 I loved this little set up right here! The spider web cake stand with the hanging spider stole my heart at Burkes Outlet! Setting a couple of fabulous coffee cups on top of it, and it was good to go! The black and white has literally stolen my entire heart this Halloween!
Well, what do you think??? Pretty fun, huh?? It sure was fun to do!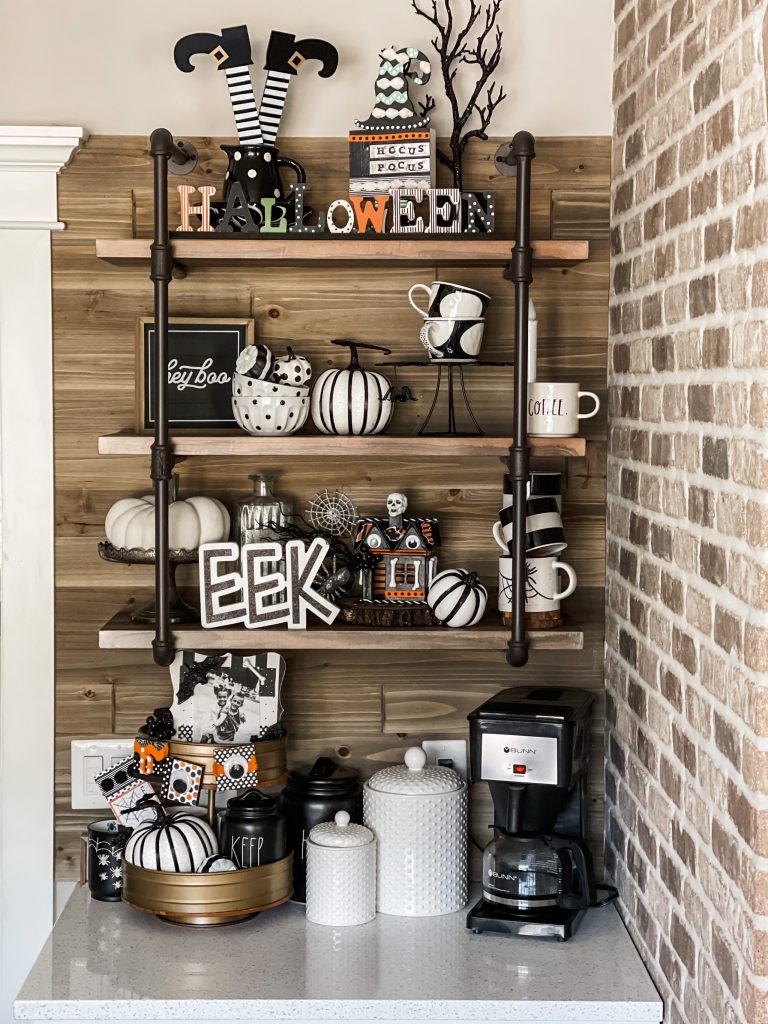 Be sure to PIN for later! I sure would appreciate it 😉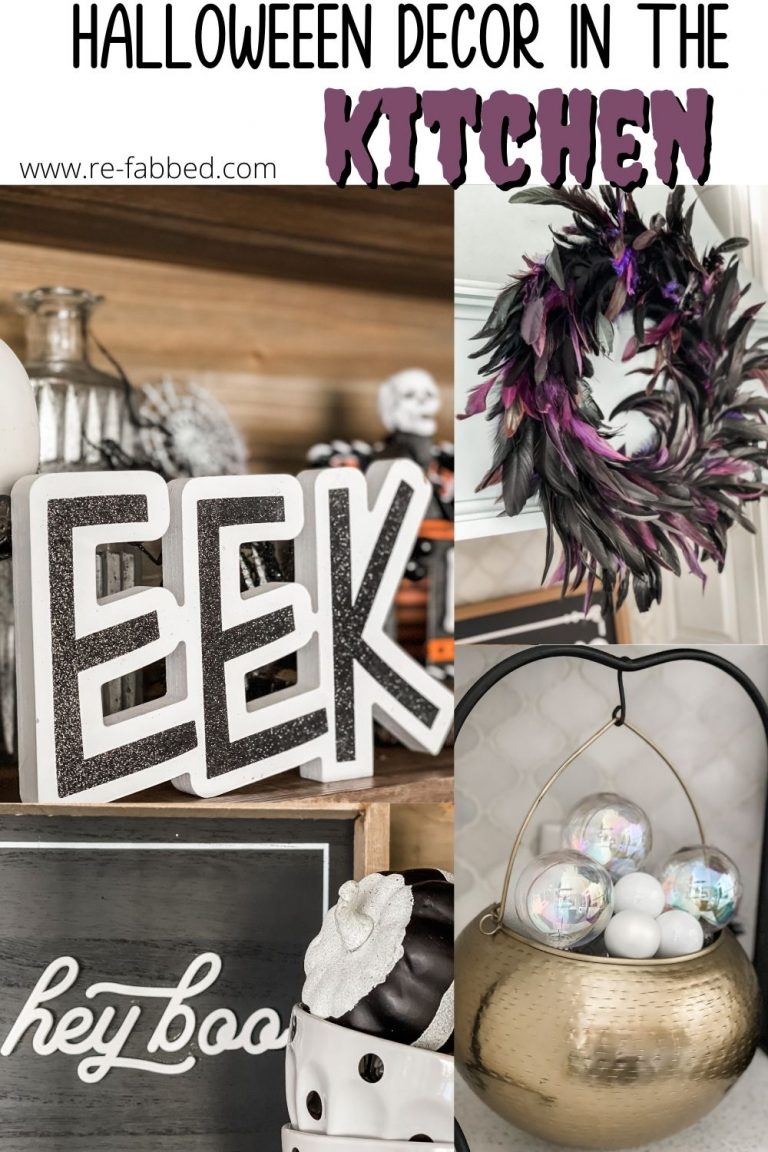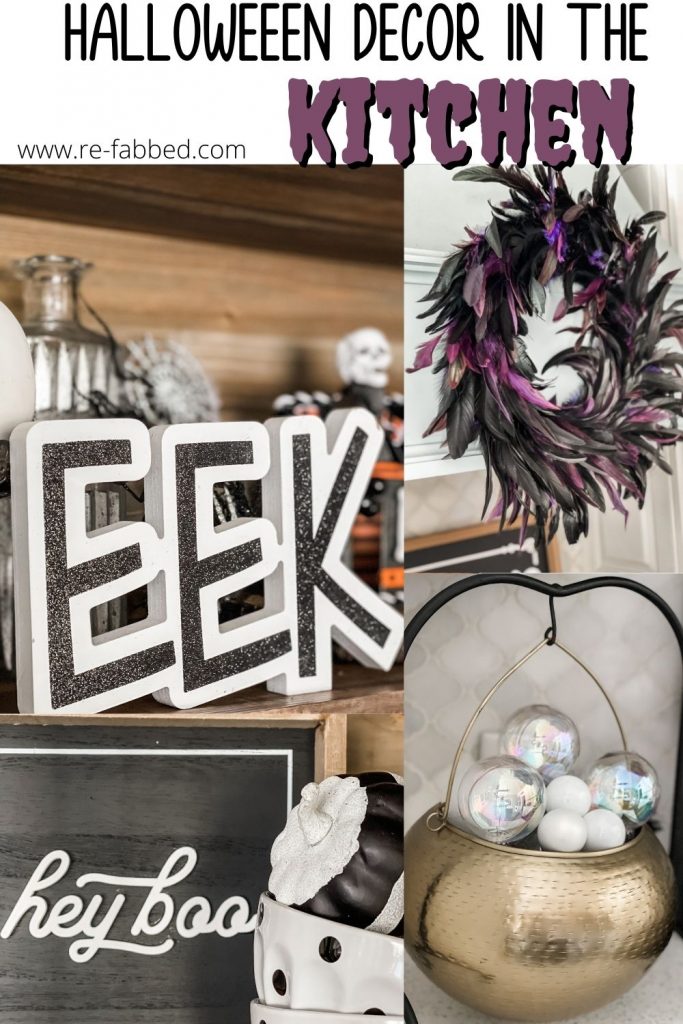 Are you on my TEXT LIST?? JUST GO HERE! NO SPAM, I swear! But you can beat the Social Media algorithm and never miss a thing!