One thing I have recently learned is that it is SUPER FUN to decorate the table for Halloween! I truly never did much in the past, but I just had to give it a whirl this year, and I am glad I did! I introduce you to: my Halloween tablescape!
I am not good at taking overhead shots, so bare with me on this one LOL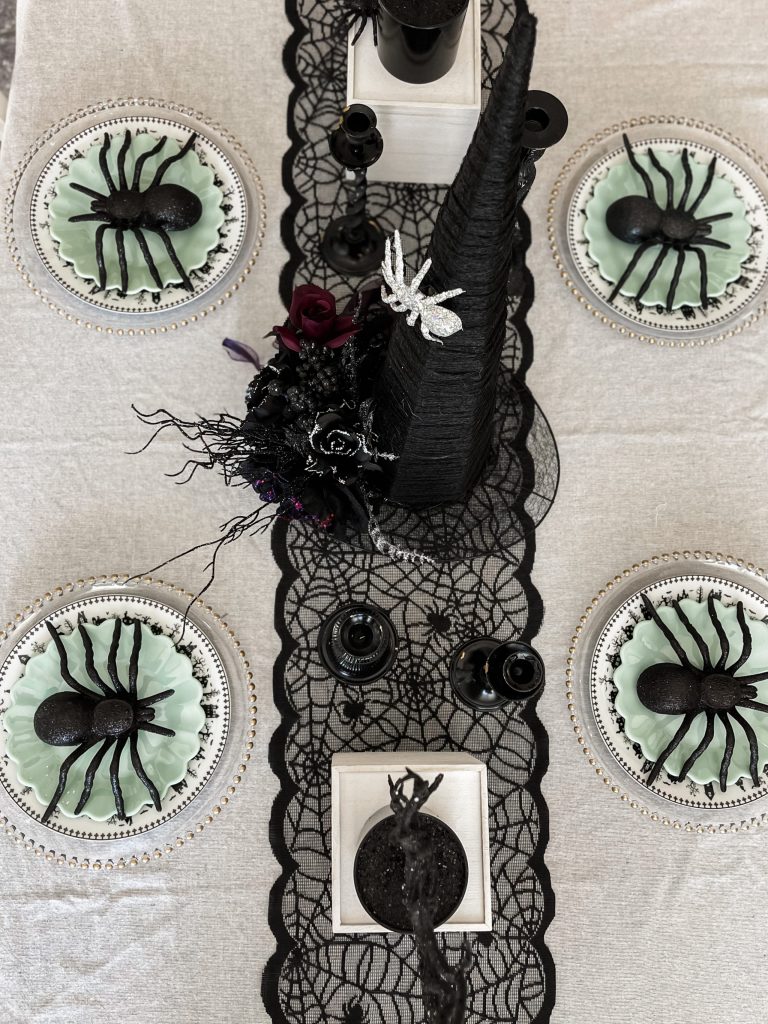 Let me just walk you through what I used and where it came from! I will list where each item was purchased at the end of this post! 
How I created my Halloween tablescape:
First, I simply took a neutral tablecloth and covered my table.
After covering my table, I took a lace spiderweb table runner and ran it across the center of the table!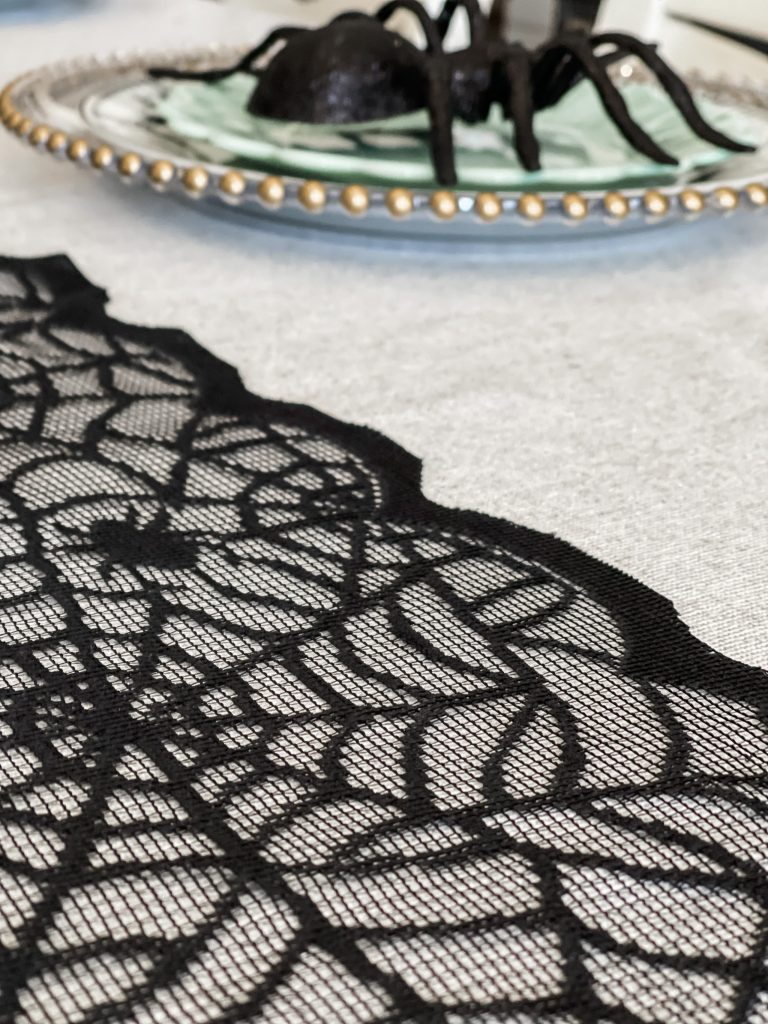 Once the actual table was ready, it was time to do what I love most…LAYER!
I wanted a large statement piece in the center of this table to give it a real POP, so when I saw this witches hat at a local Marshall's store, I HAD TO HAVE IT! I did not change a single thing about it. It was perfect as is! It even had the spider on it!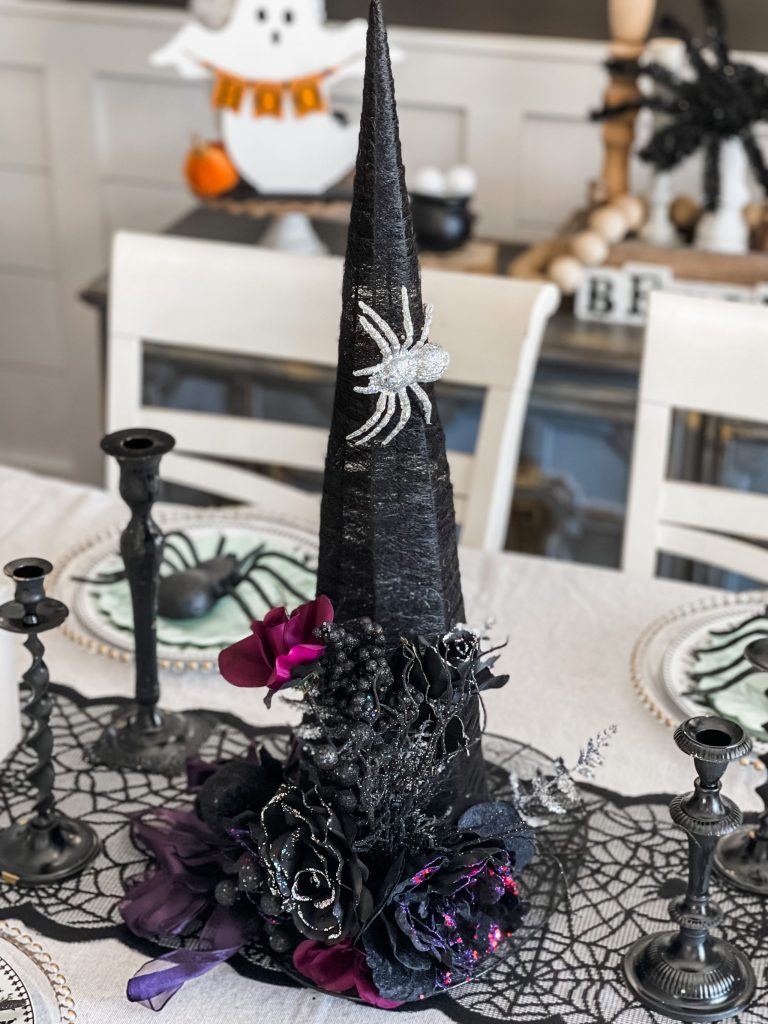 Once I had my witches hat in the center, I decided to add some candlesticks that I had spray painted black on each side! I used varying heights for fun!
One each side of the candlesticks, I wanted some symmetry, so I found some white boxes from my craft stash and turned them upside down to create height!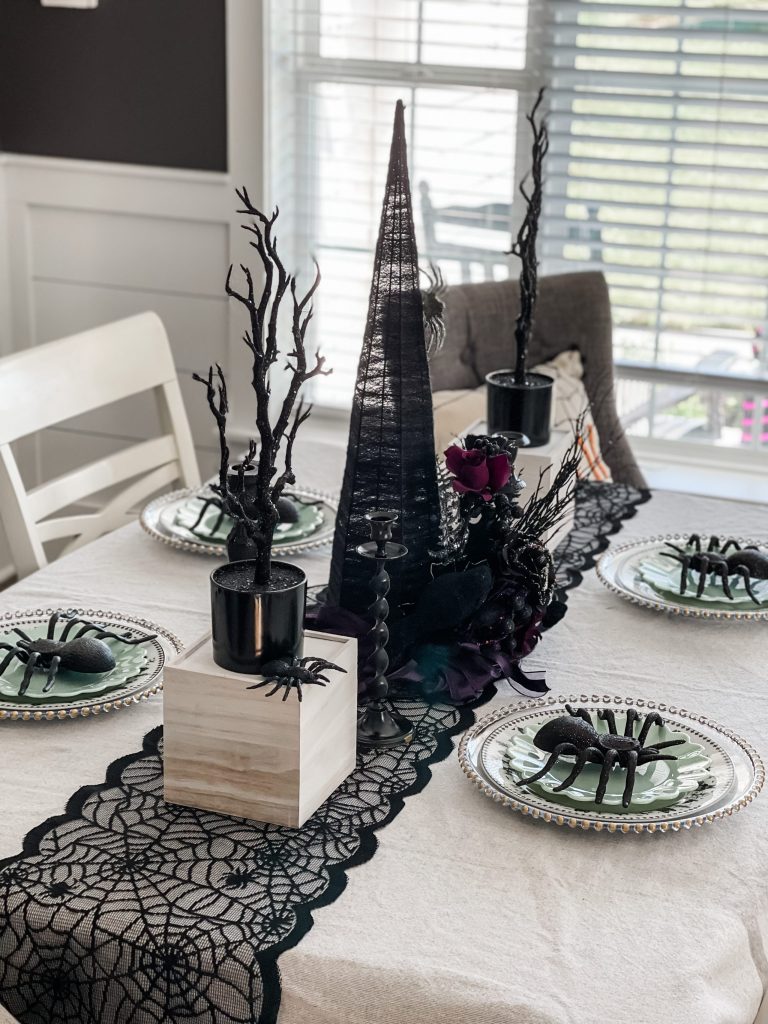 The boxes were PERFECT for my little $3.00 Halloween trees I found at Five Below! What a steal, y'all!
Next, well…the place setting, of course!
Layering is key for this look!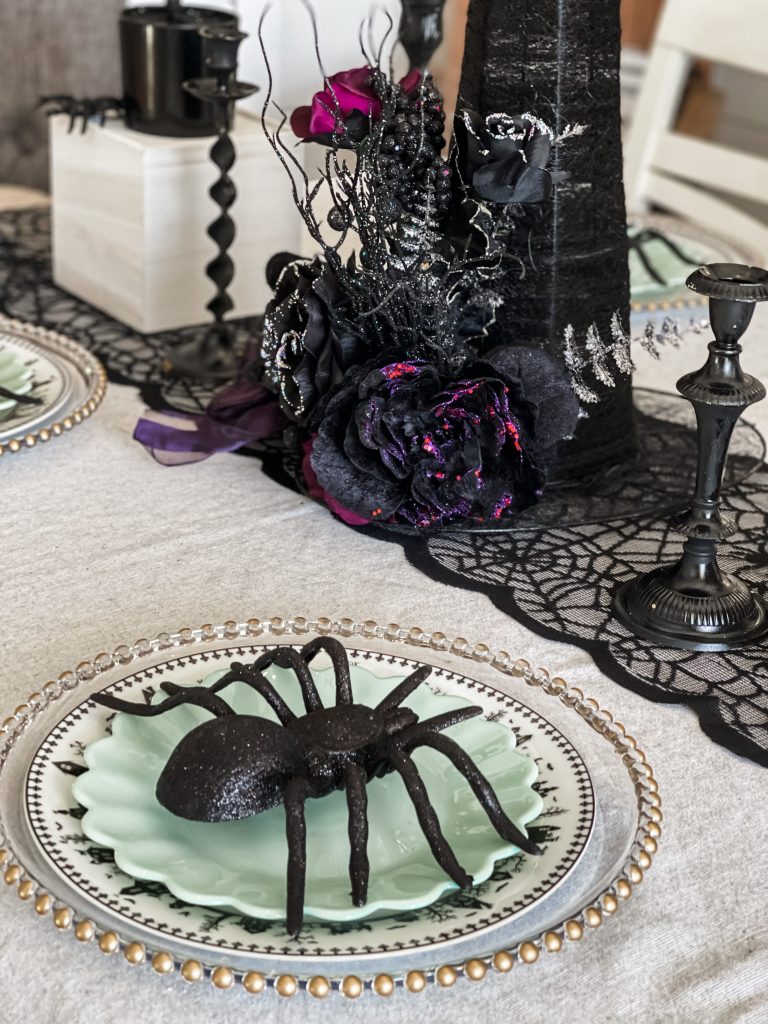 I started with a charger at the bottom. I got them from Hobby Lobby, and they are PLASTIC. Can you believe that??? The gold detailing! They are perfect!
Then, I took some super fun Halloween plates that I got as a set of 4 from Marshall's and placed them in the middle of the charger!
After that, I took my Pioneer Woman saucers and added them! I LOVED the mint color, and I thought it looked amazing with the black and white theme! 
To finish it off, a large spider from Dollar Tree for the WIN!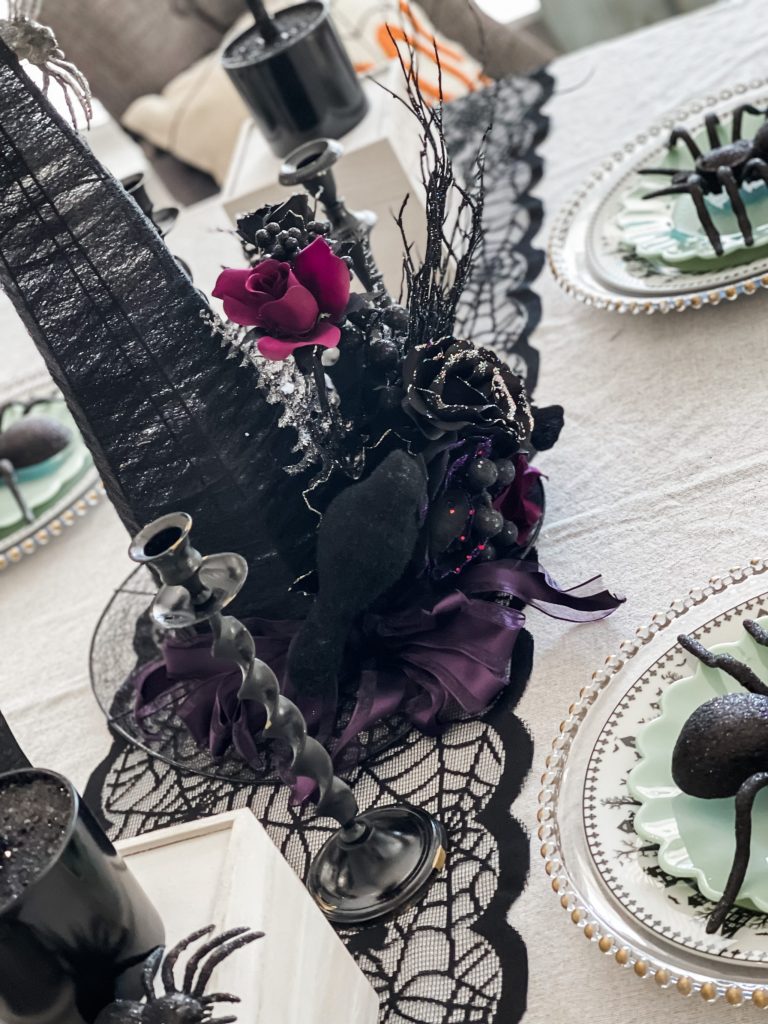 I seriously LOVE how it turned out! SO budget friendly too- which you know is a winner in my book!
On each side of the table, in my chairs, I put a Halloween throw pillow! I think they were the perfect touch!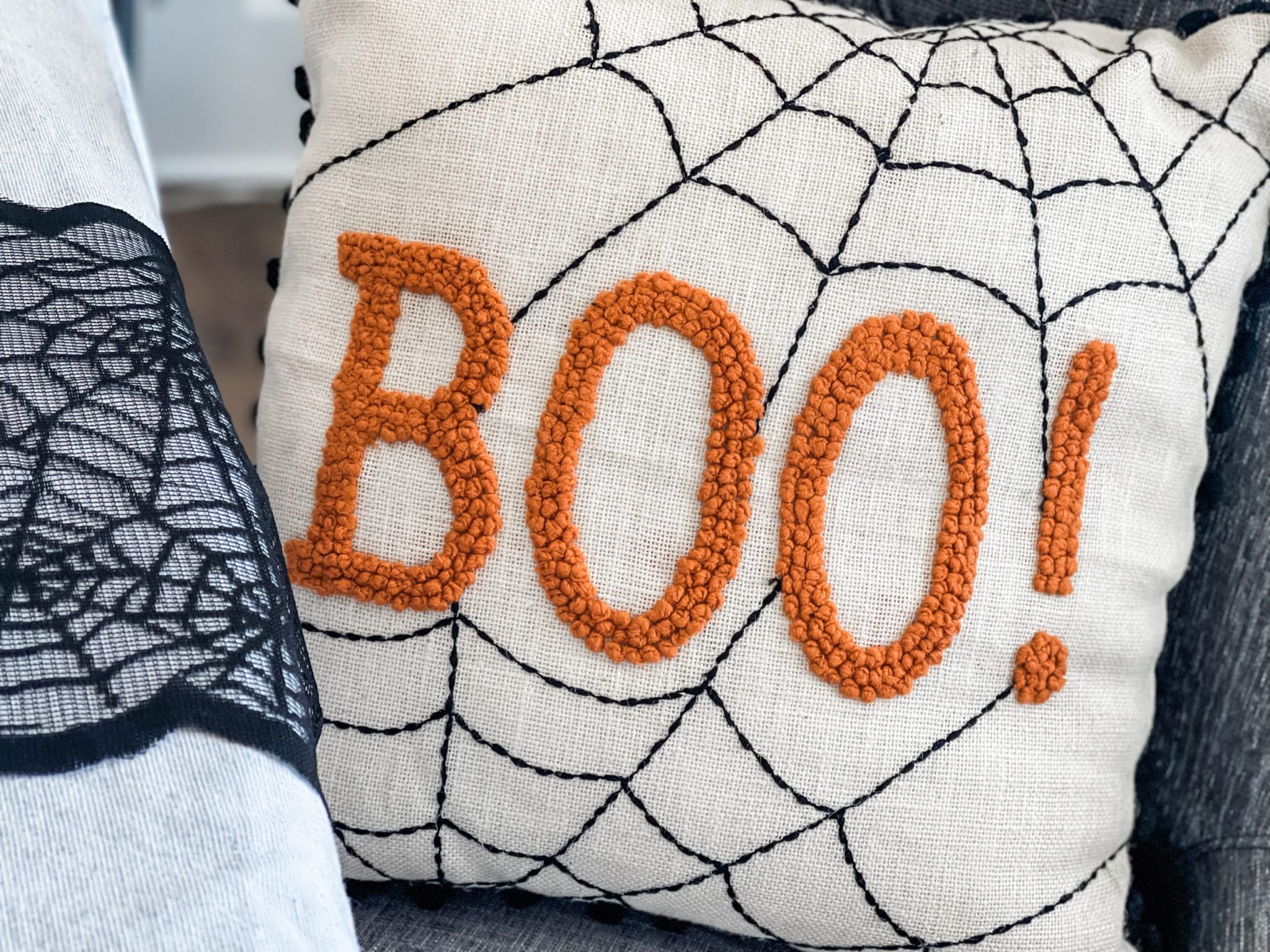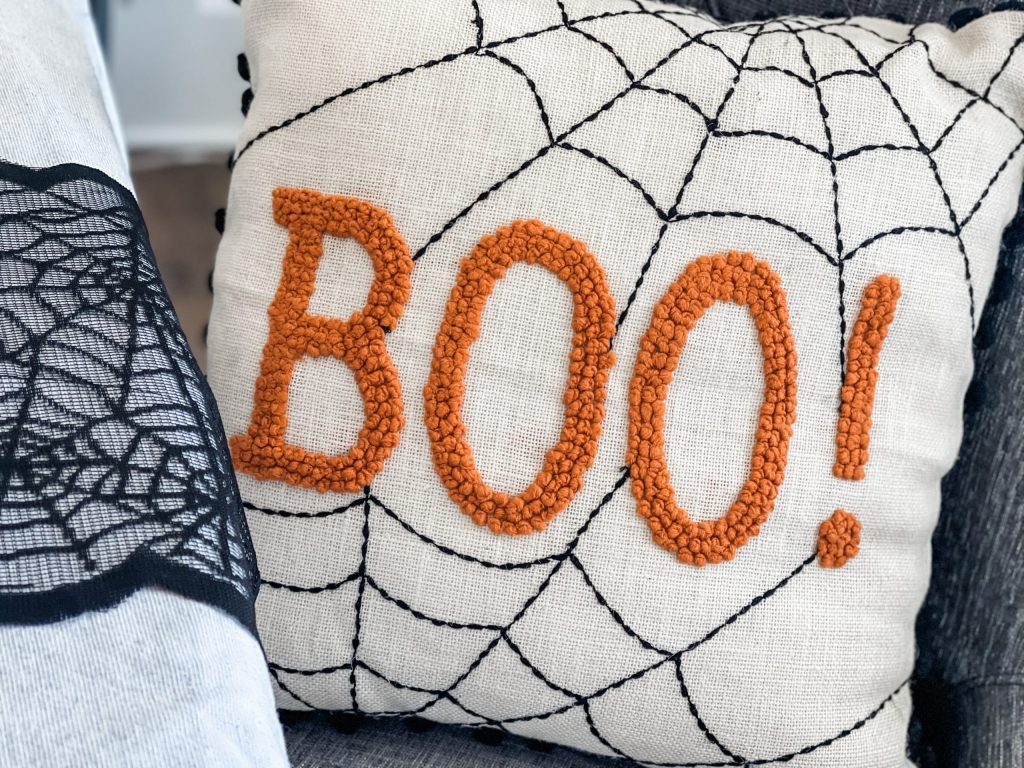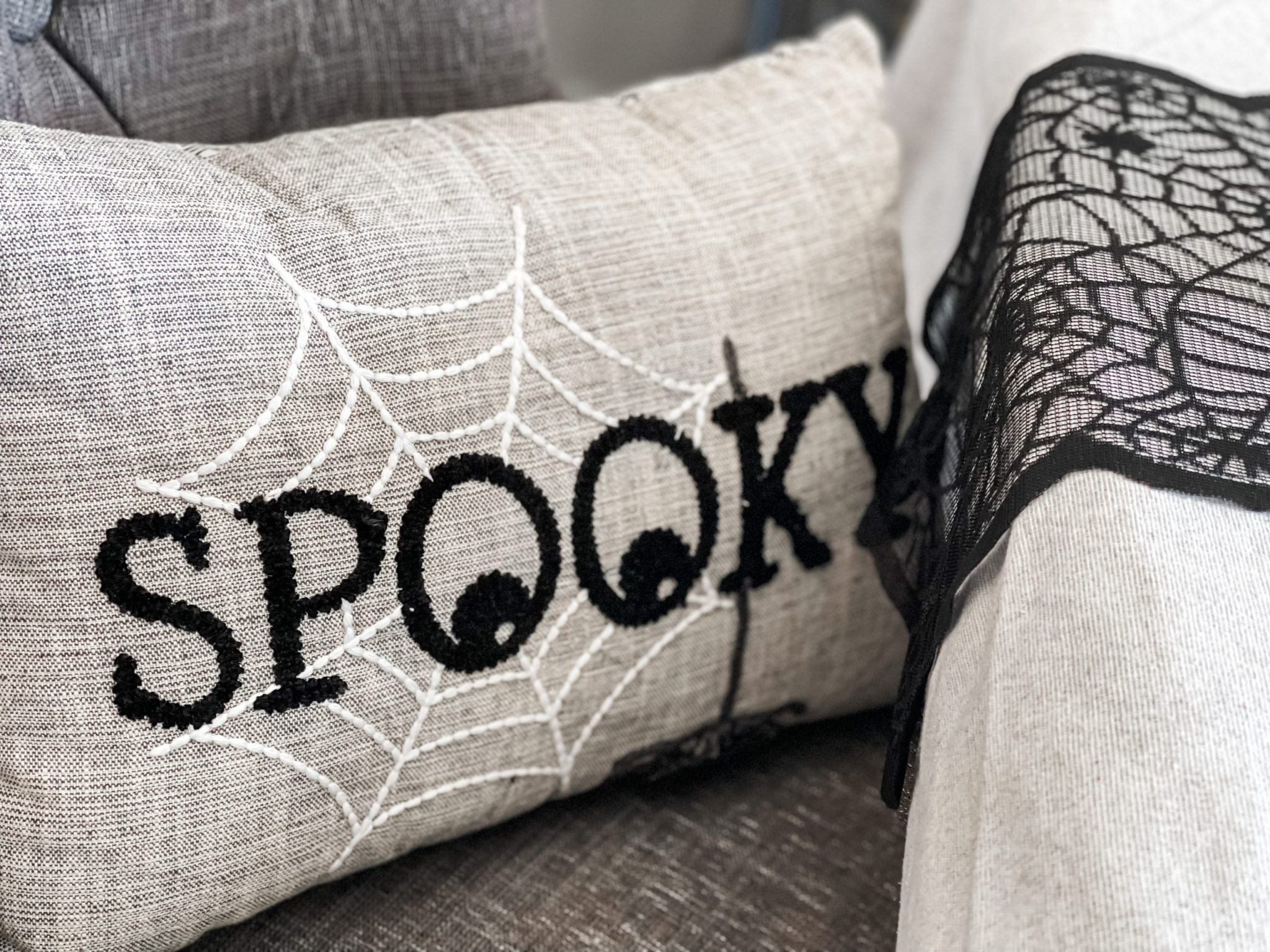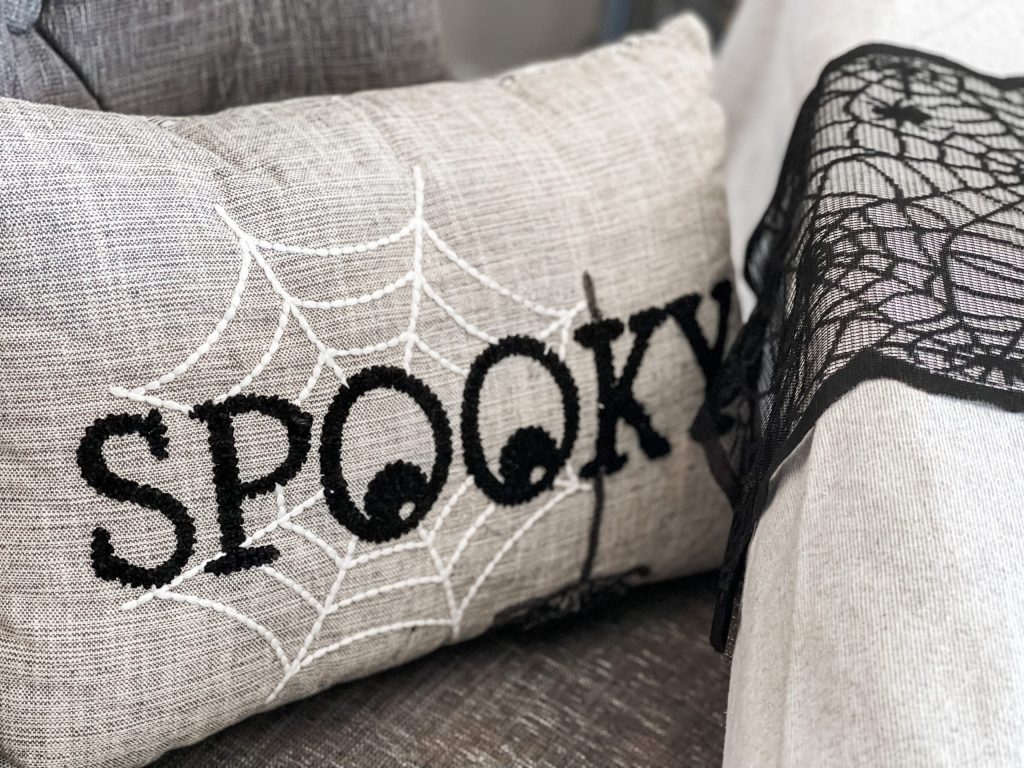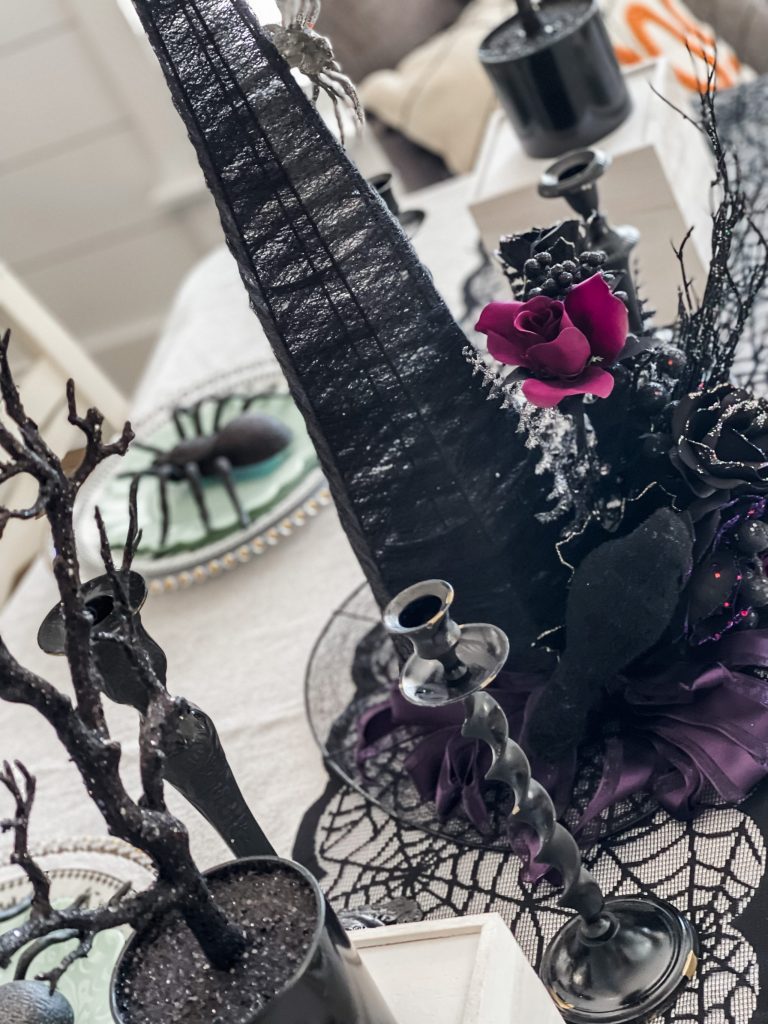 Here's a better view of table!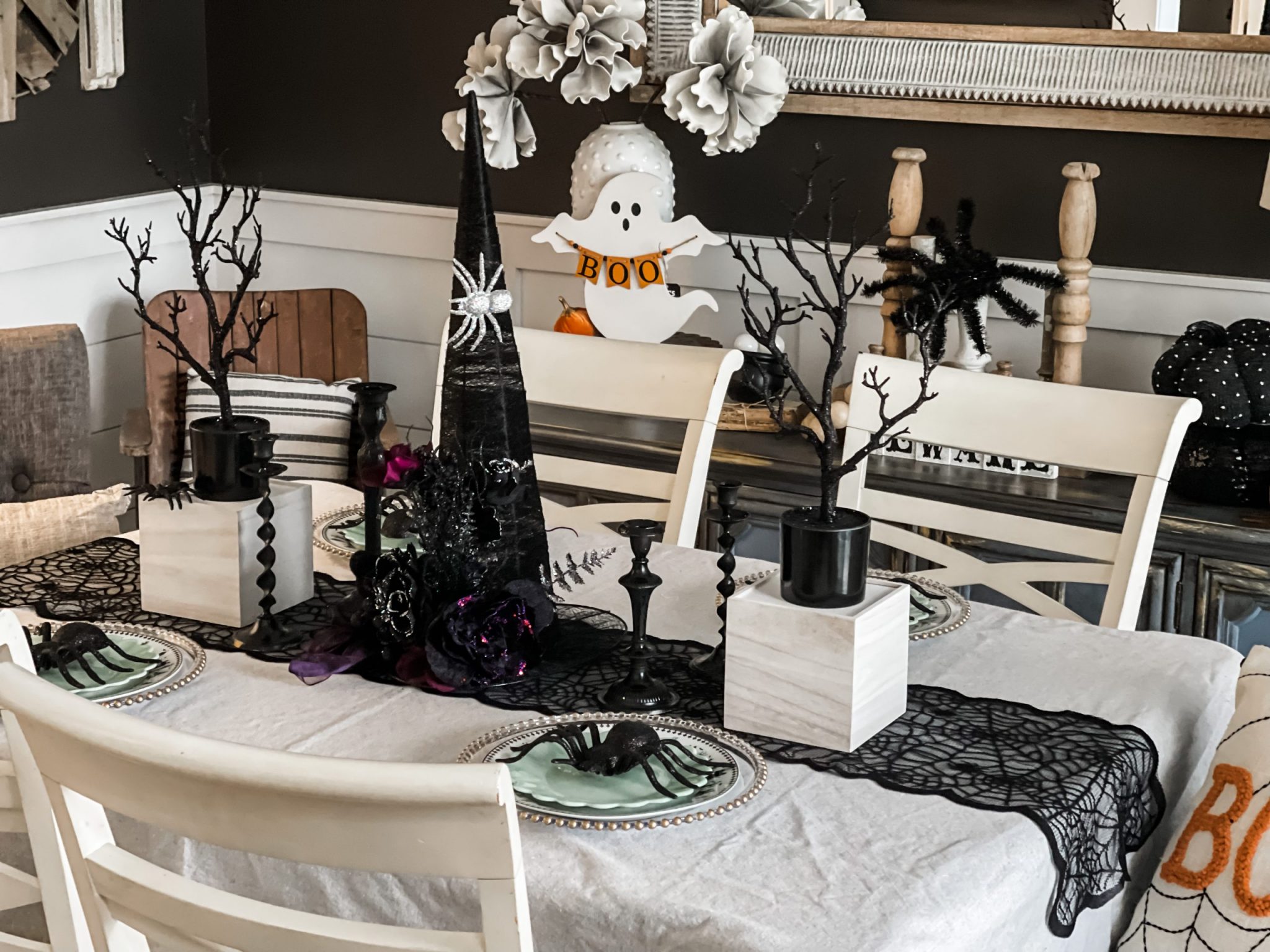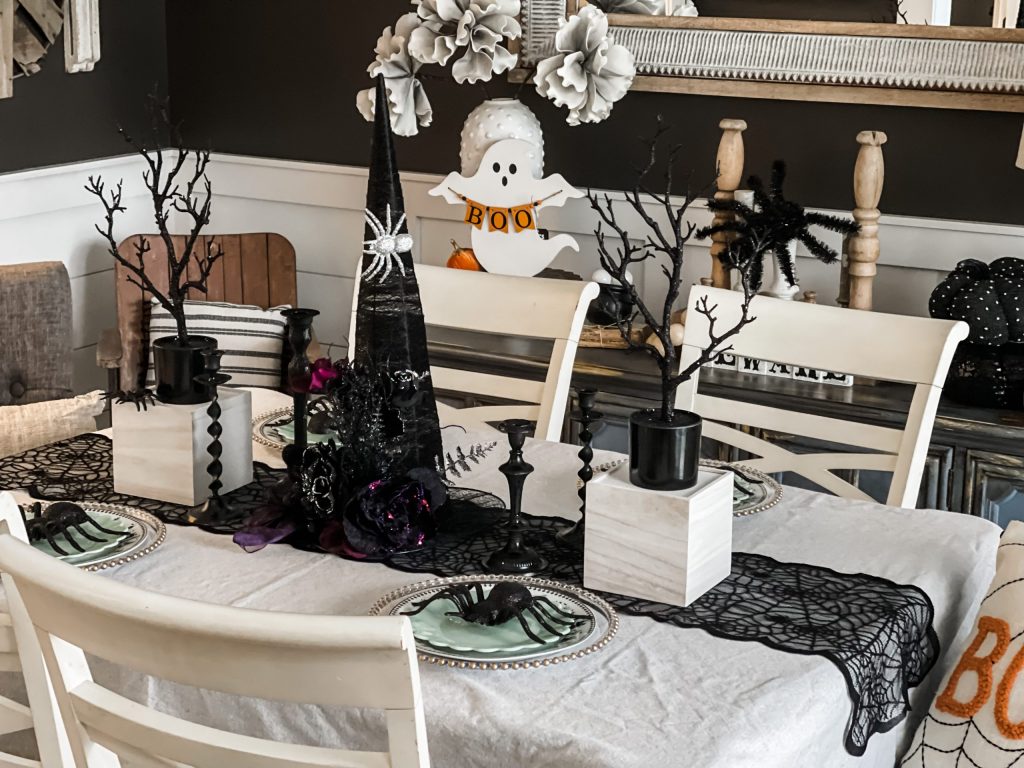 And here are a few more added touches around the dining room!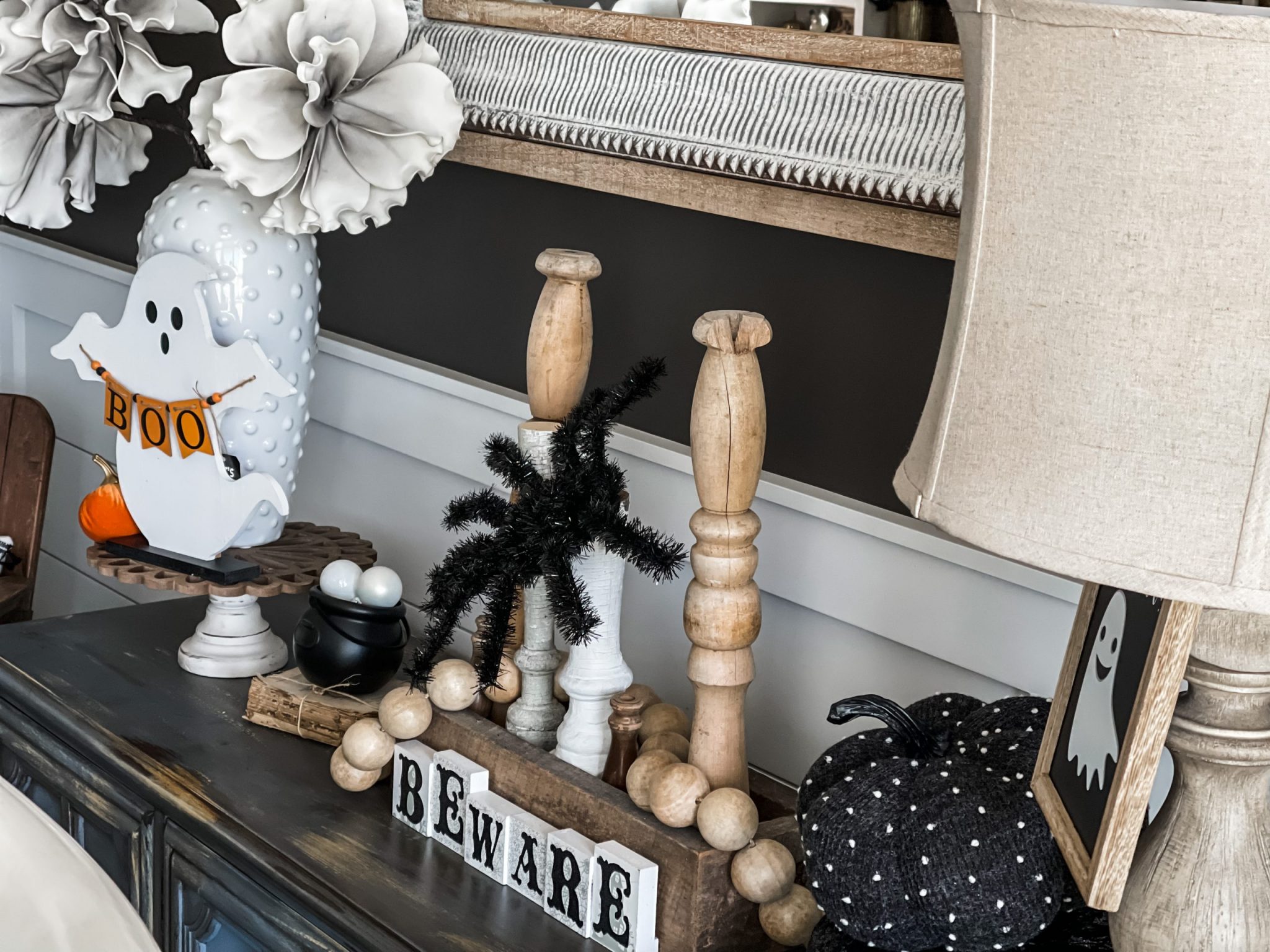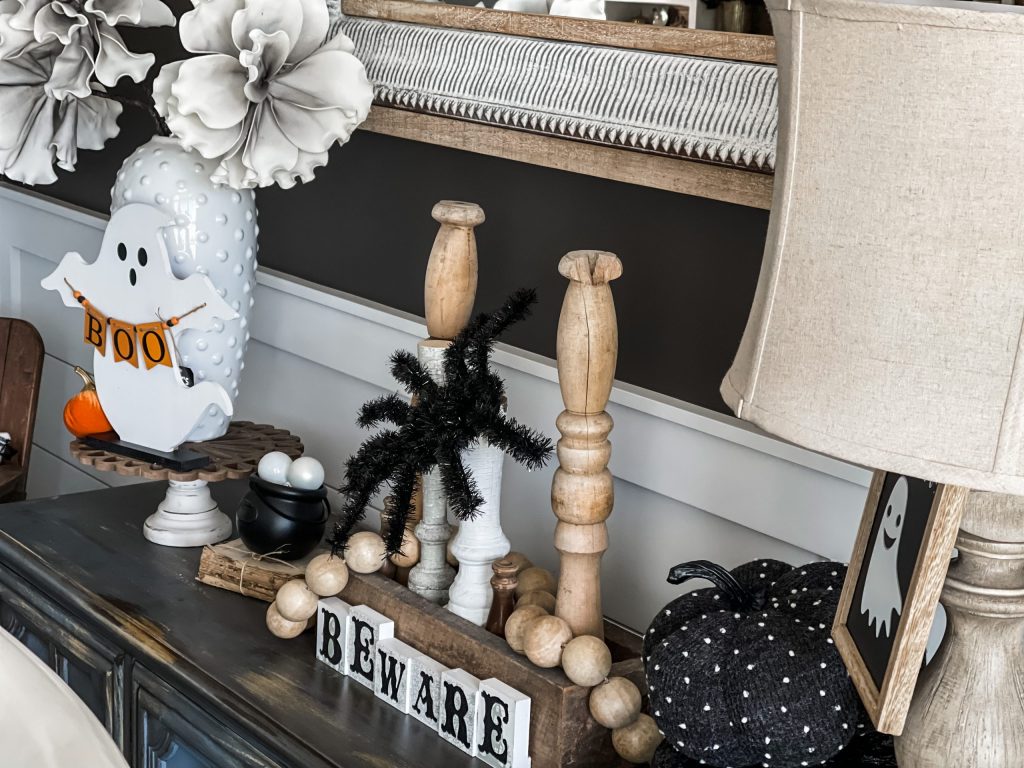 I loved my little shelf display!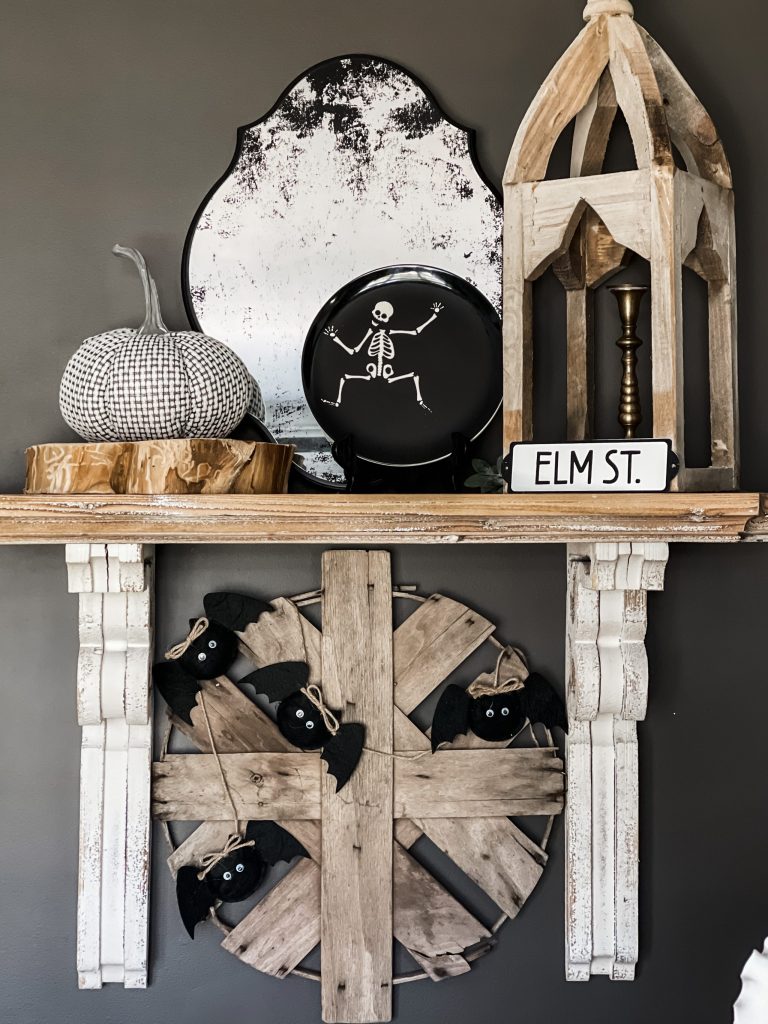 Where I got my Halloween Decor:
I will do my best to remember where each thing came from!
On Table:
Witches Hat: Marshalls
Tablecloth: TJ Maxx
Spiderweb tablerunner: I THINK Big Lots a couple of years ago!
Chargers: Hobby Lobby
Halloween plates: Marshalls
Saucers: Walmart
Spiders: Dollar Tree
White boxes: Pop Shelf
Black trees: Five Below

On Buffet:
Beware sign: Hobby Lobby a few years ago
Large Spider: Dollar Tree
Ghost sign: Target Dollar Spot
Ghost with Boo banner: Big Lots
Velvet Pumpkin: Target Dollar Spot
Little cauldron: Dollar Tree

Shelf:
Skeleton Plate: Hobby Lobby few years ago
Bat banner: I truly cannot remember!
Mirror: Hobby Lobby clearance section
Elm St Sign: Target Dollar Spot
Pumpkin: TJ Maxx

Well, tell me what you think!? If you like it, why don't you go ahead and pin it to Pinterest or share it with a friend!
PIN FOR LATER!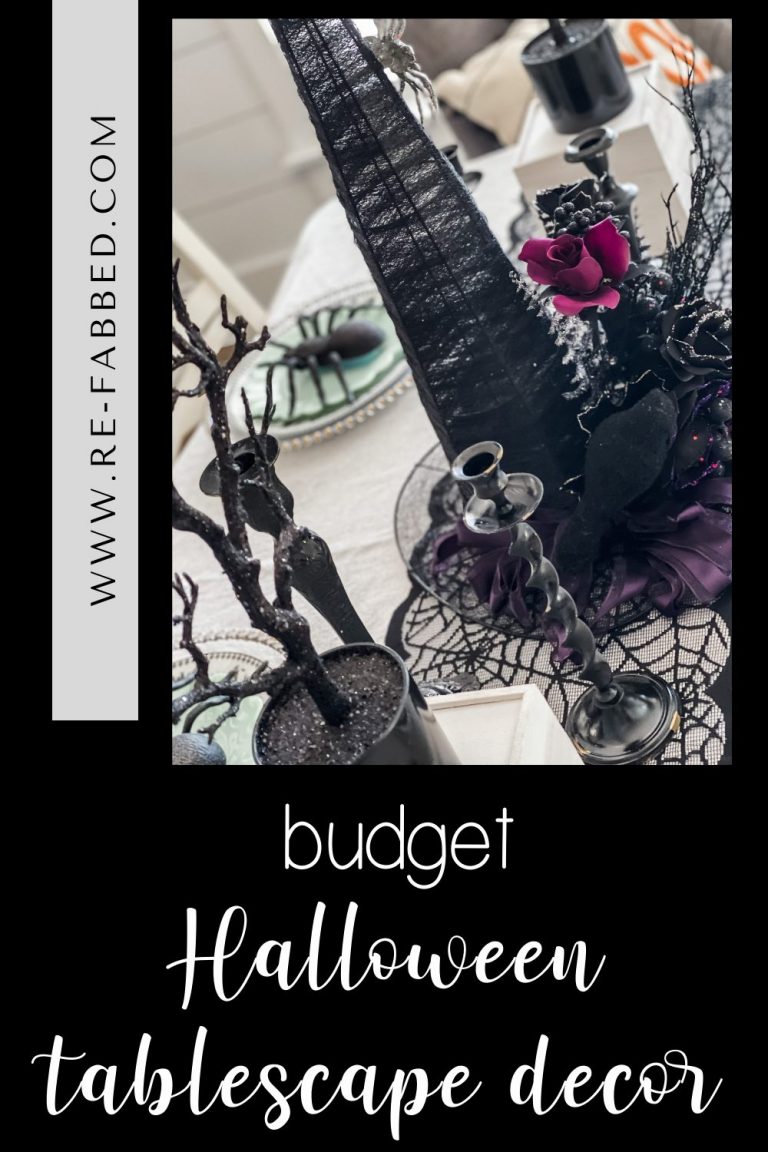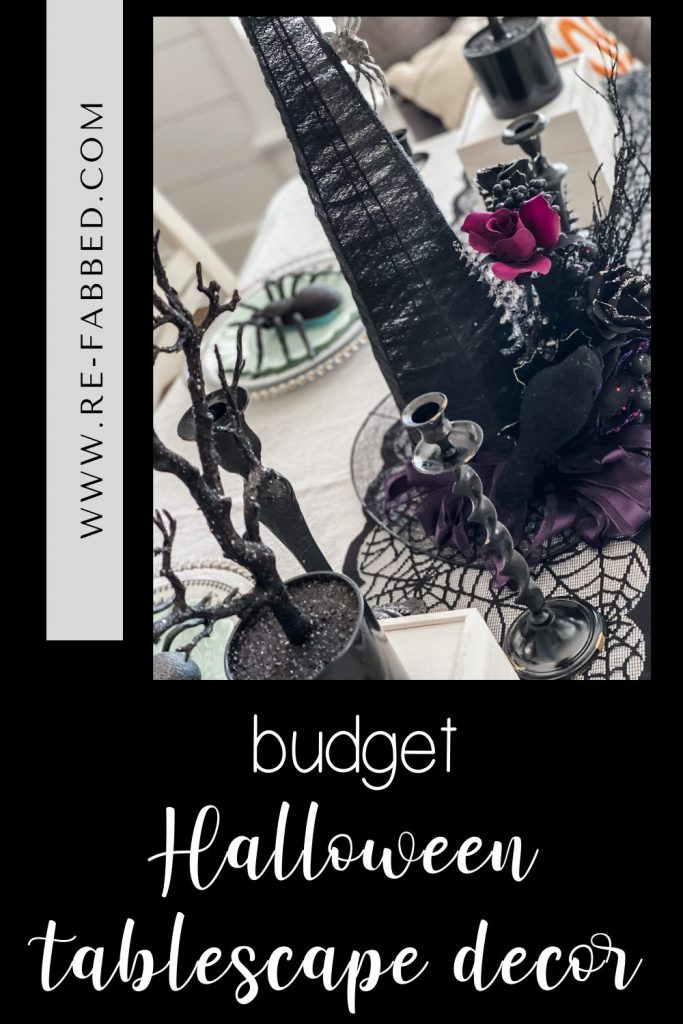 Make sure you are following along in all the places!!! 
Facebook| Instagram| TEXT LIST| Pinterest| YouTube