There is something SO exciting about Demo Day! To go in and see everything just completely demolished, knowing it is going to come back greater than ever before is an awesome feeling. The feeling of knowing that you are restoring something back to greatness after it has been let go for so many years…that is the whole reason we love doing these flips. Every time, it is invigorating to see the transformations.
Well, demo is well underway- and almost completely finished over at the current Fixer Upper Home, which I will start calling "The Cottage Charmer" to make it easier to distinguish, since I have done several other "fixer uppers" and want to keep them straight in my writings.
Several of my followers asked me to keep them updated on the actual process and not just the before and afters, so here is a peek into the demo in the kitchen/living and laundry area!
We have had to fill lots of dumpsters! We love Rhino Rentals. Great customer service and communication. If you are in our area, I highly recommend them!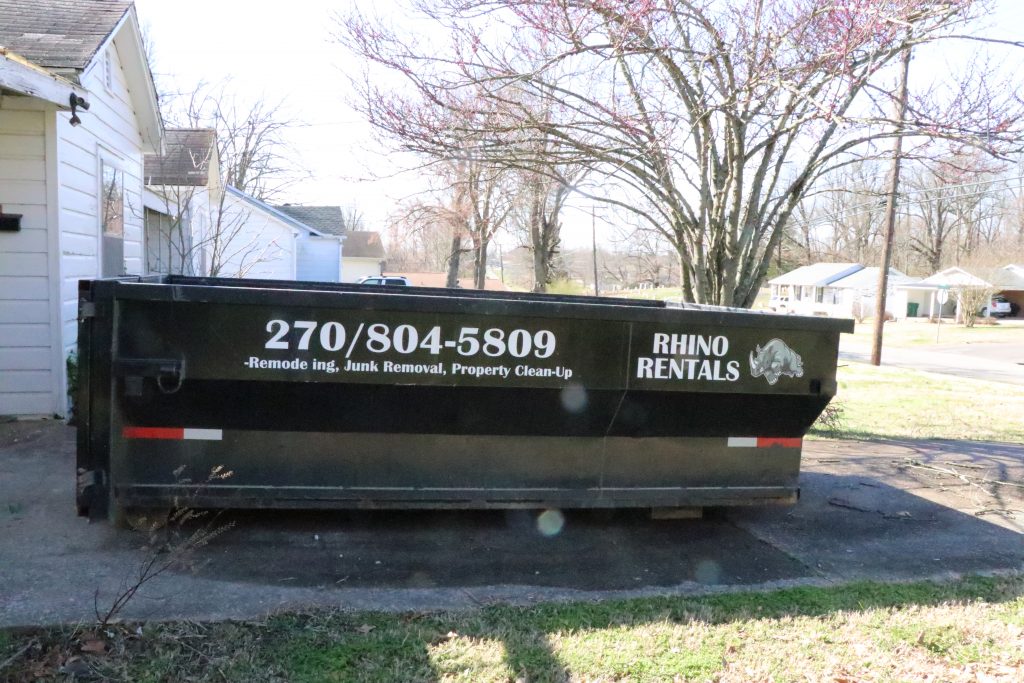 And….here is the kitchen! (or lack thereof!) Looking straight ahead through the kitchen is the laundry room. I don't know if you remember, but there used to be a solid wall on the right that separated the master bedroom. Not anymore! Part of that area is now going to be made into our 2nd bathroom and an on suite!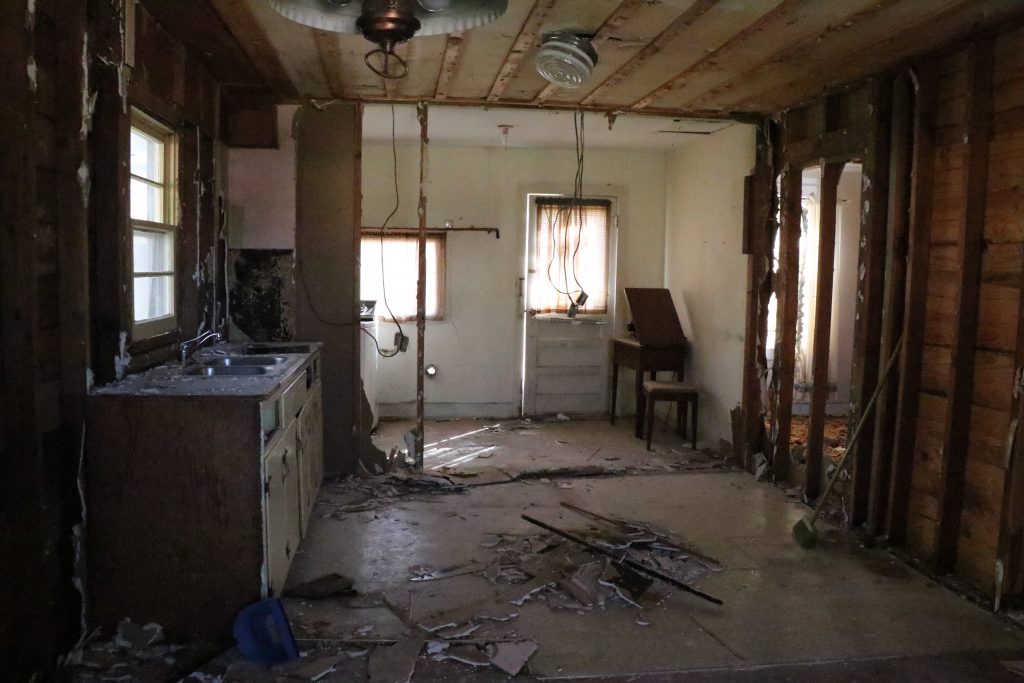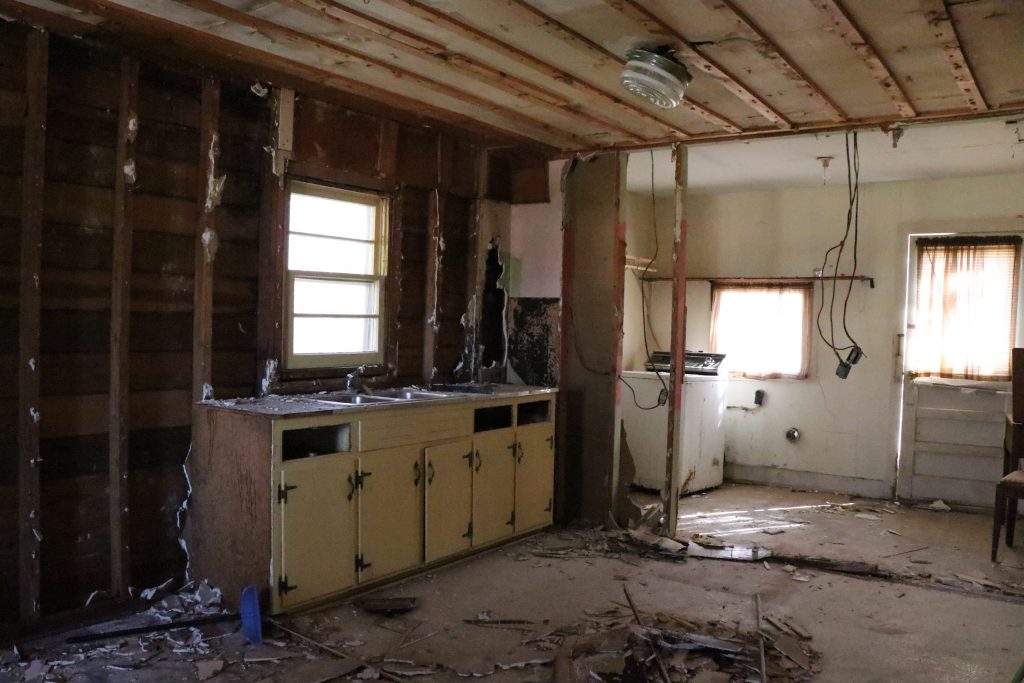 Laundry Room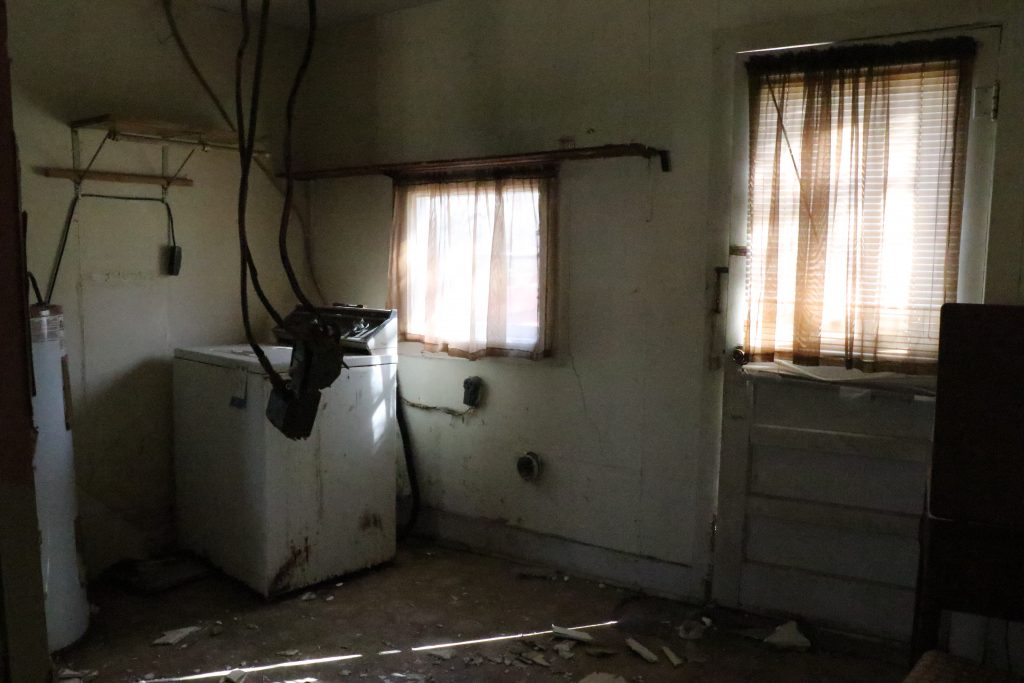 Living room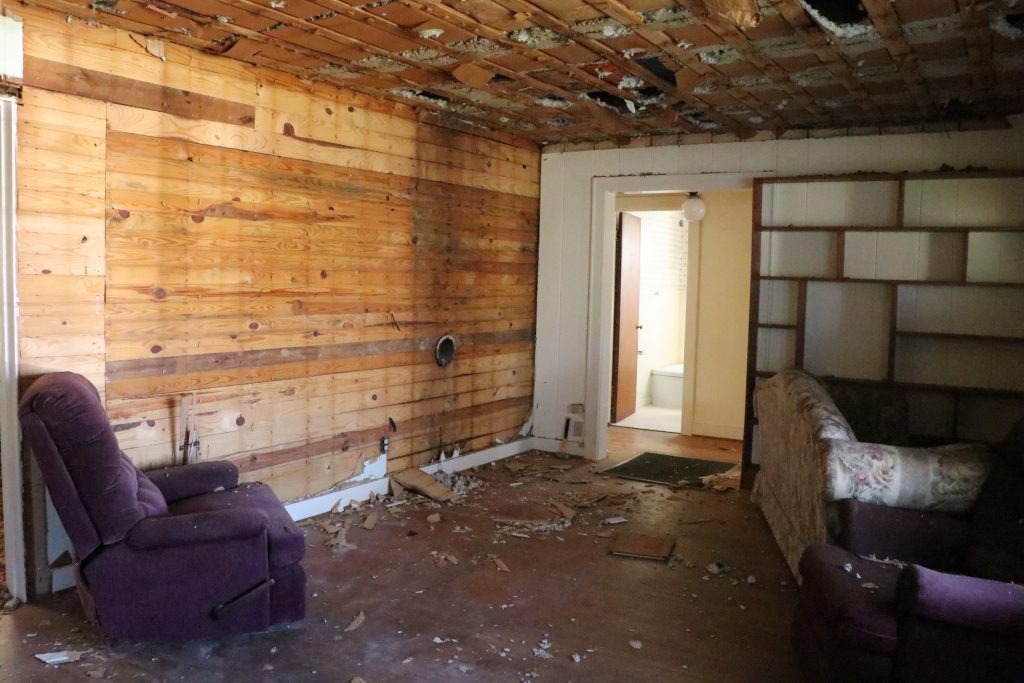 So, like I said- this is just a few pics of the demo, but WOW! It is coming along! I told the men how good it looked when I stopped by. They looked at me like I was a little crazy! LOL. I guess I forget that not everyone has the same eyes that I do for a place. I see what is ahead, and they are seeing the mess that it is now!
So, if you are wondering what direction we may be heading in this home- let me give you a little peek. We plan to refinish all existing hardwood floors. I haven't 100% picked a stain yet, so that is in the works. Today, I just want to share a few peeks of the kitchen with you and what the plan is for that.
I wanted to do white cabinets in this home because it feels like a cottage to me- and when the outside is finished, I truly think it will have that cottage charm, hence the name The Cottage Charmer. Also, white cabinets are so classic and bright- which this home needs. I didn't want to go ALL light with this home, though. I wanted contrast, so we are doing a darker countertop that highlights grays and beiges. We will use dark brass hardware and faucet to highlight that look against the white. The sink will also be white instead of the typical stainless that many use these days. I loved that contrast when put together. The flooring will be a beautiful gray tile to bring in the gray from the countertop. I haven't decided on the back splash or lighting yet~ but this will give you a little idea!
So, here are a few of the picks: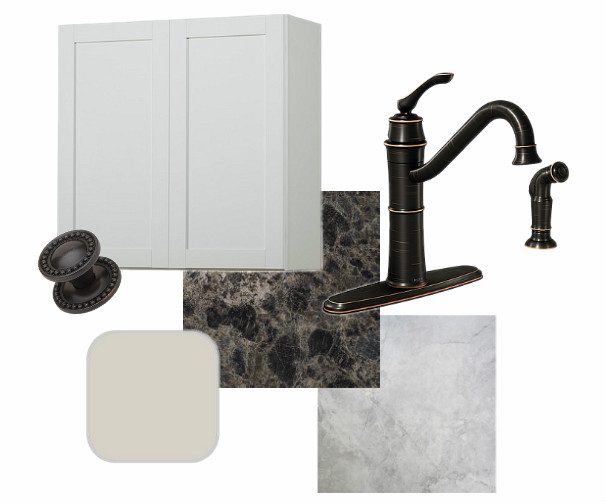 Pin for Later!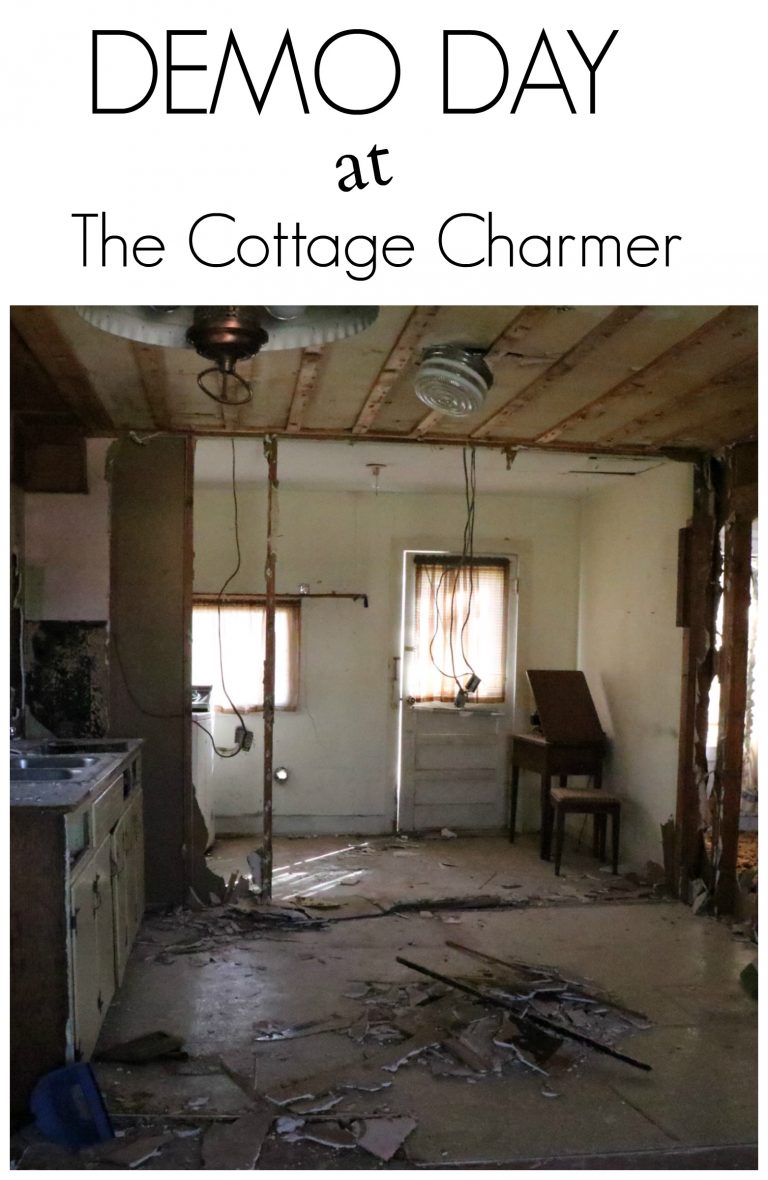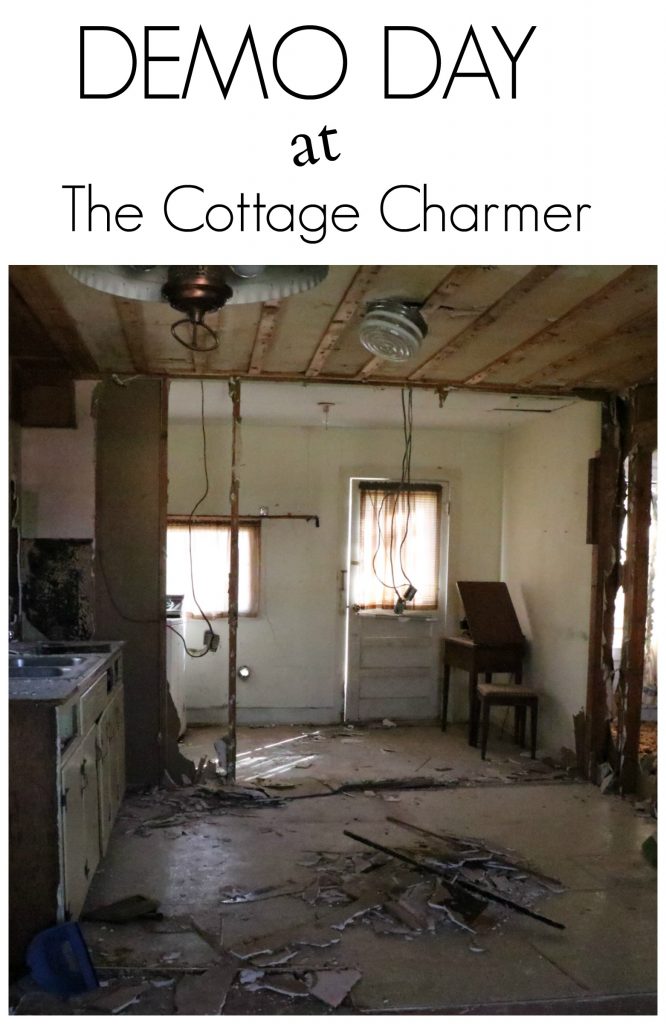 Remember, to catch up on the FULL story of this Cottage Charmer and to see the before pictures, check out the post below!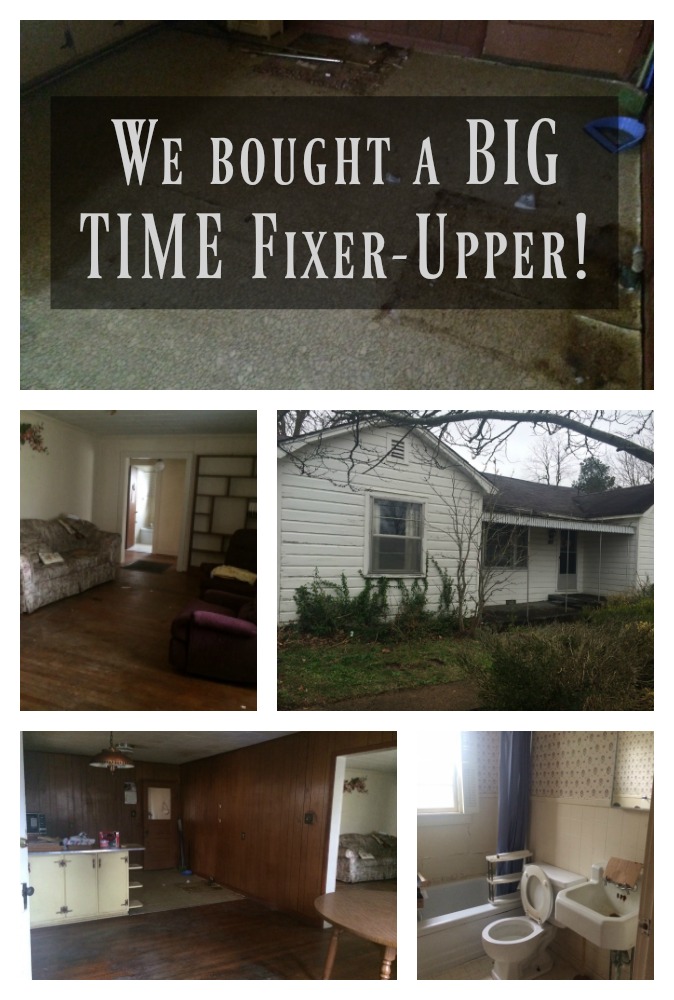 Don't miss out on all of our progress! Sign up for emails when a new post goes live! NO spam, I promise!