Right now, there is so much going on in my life. We are renovating the fixer upper that I told you all about earlier in the week, I have several houses that I am decorating, I have pallet sign classes aplenty- and not to mention all of the normal day to day things that every woman has…oh yeah and 2 toddlers! haha. I am no busier than any other woman- don't get me wrong…but there is a lot going on! I absolutely love every second of what I do, but at times, I just have to stop for a minute and day dream about MY OWN house. You see, before I even blink, I will be building it. Right now, our shop is about to be built- in fact, the concrete is already down! While that is exciting, I can't help but love to plan and dream about how the actual house will be. Today, while searching for items for clients, I just had to take a little quick second to think abut my own space…one space that I am the most excited about is turning the kitchen into my dream kitchen.
This isn't any kind of lengthy post full of how-to's. This is just simply a style board of what I hope to have when we build. These are my favorite designs, colors and fixtures. They are what makes my heart flutter a little faster when I see them- and I have an arrhythmia so it already flutters too much 🙂
I love the light wood tones mixed with the white and the crystal. It feels kind of rustic glam. I also love adding some color, like I did with the fabric to recover the bar stools and with the hints of aqua brought in with the canisters and the pendant lighting. And, if you follow me on Facebook, you know I love exposed brick. I have some fun ideas on how to incorporate that in my kitchen, but I haven't committed totally yet 🙂 Oh yeah, and what about that farmhouse sink with the chrome faucet! ahhhh…..flutter flutter.
So, here is my attempt at creating a board that showcases my style and my dream kitchen. Sure, it is just a board- but all of these items brought together bring together a dream that I am so excited about.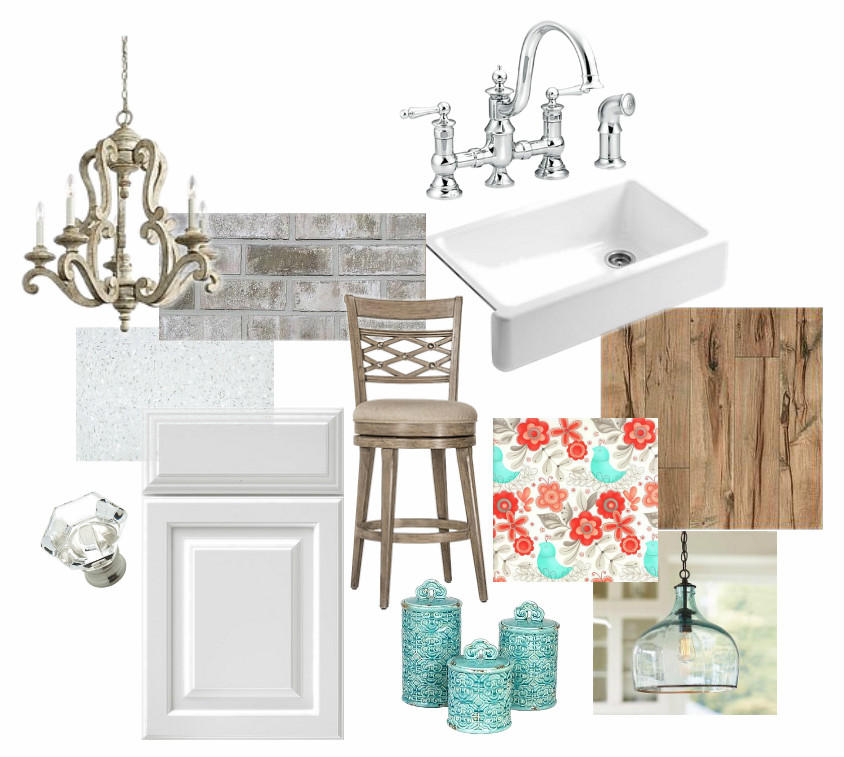 This post does not contain links to these products or affiliate links. It is just simply a collection of looks and styles that I have pulled together from all over to create a "feel" and "look" that I love!
Tell me what YOU think!