I absolutely love to decorate homes. It is the most satisfying part of what I do…getting to see a space totally transformed into something that the client can finally feel in love with and proud of. To hear the words, I LOVE IT…that makes my heart so so happy.
This master bedroom was a room that the client simply was not happy with. It wasn't their style, and as the owner said-"They just landed." They never got around to really making it their own, unlike the other parts of the home (which I also got to decorate! See that post HERE!)
As we chatted back and forth about her desires for this space, she mentioned painting the furniture. I told her I thought that was a great idea, and if they did- I would go light (white). I felt it would lighten the room up tremendously. She agreed. She asked what I thought about the wall color, and I told her that I would keep it. I knew it would look totally different with the furniture lightened up, and it flows good into the rest of her beautiful home.
So…here are the before pictures she sent me. It just doesn't look at all like her personality or style…and she knew that.
She decided that she WOULD paint the furniture, and they did that themselves. They knocked it out of the park. It looked amazing!
This is how the room looked when I walked in the day of decorating! Already a HUGE difference, and nothing had been done except painting the furniture! Holy cow. I love paint.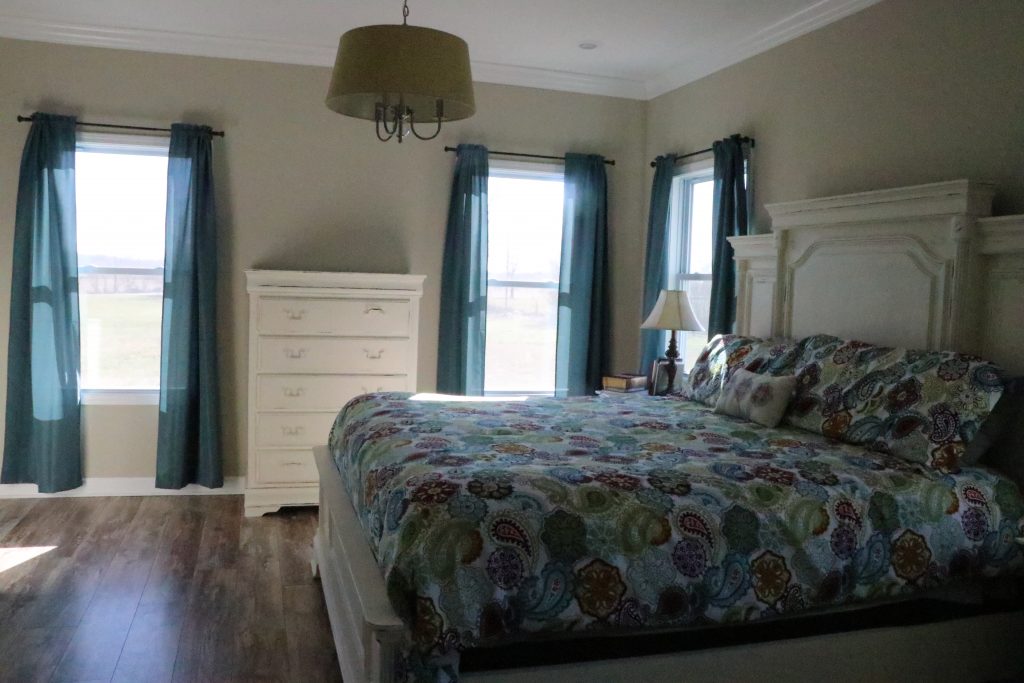 Just another room view before the decorating started. She decided they didn't use the mirror much, so she had told me "work your magic." haha. I always appreciate that! I love to just go with it! She really gave me no stipulations. She mentioned liking coral and I knew she had blue curtains- which I could have changed if I wanted to. There were so many things I could do, and I LOVED decorating this gorgeous room.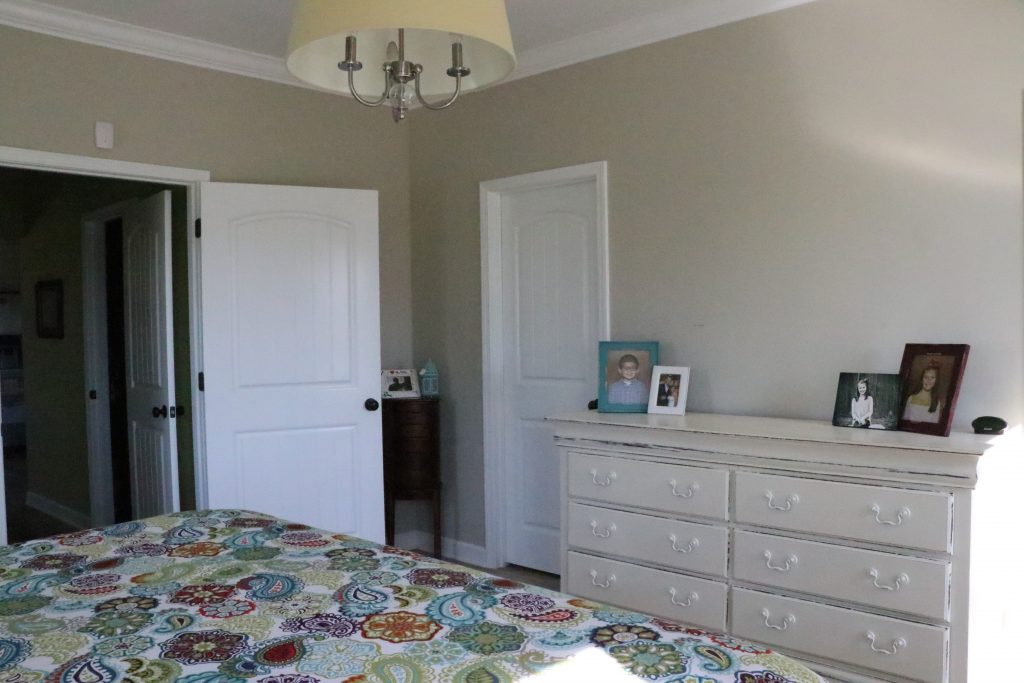 From here on, it is pretty much just beautiful pictures of their new master bedroom. Hope you enjoy! I will share some sources at the end of the post 🙂
Aqua & Coral Master Bedroom Makeover REVEAL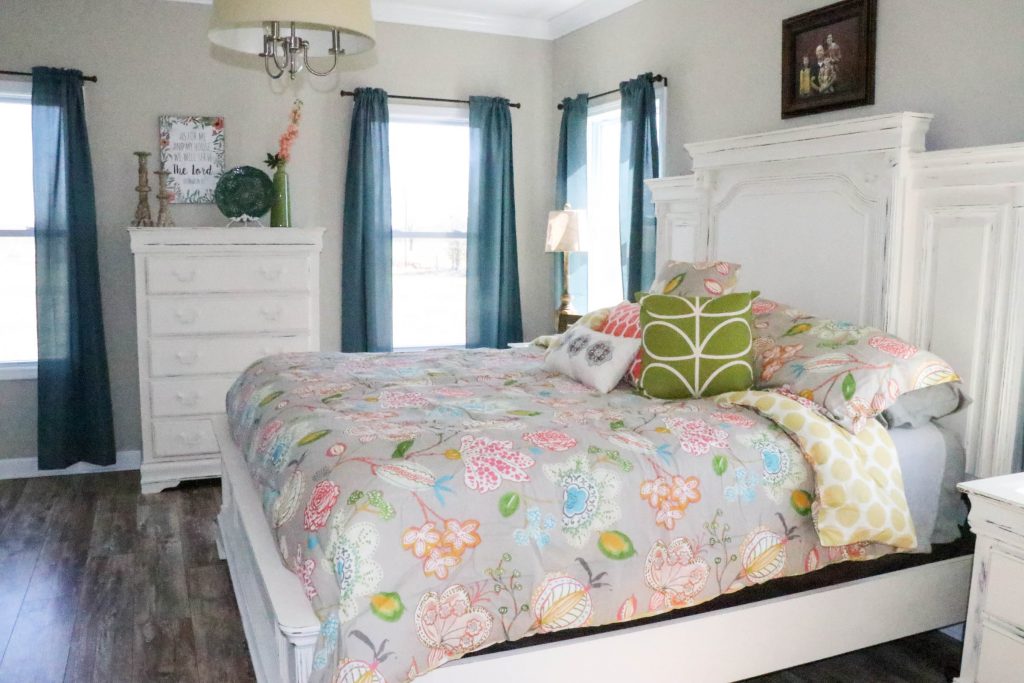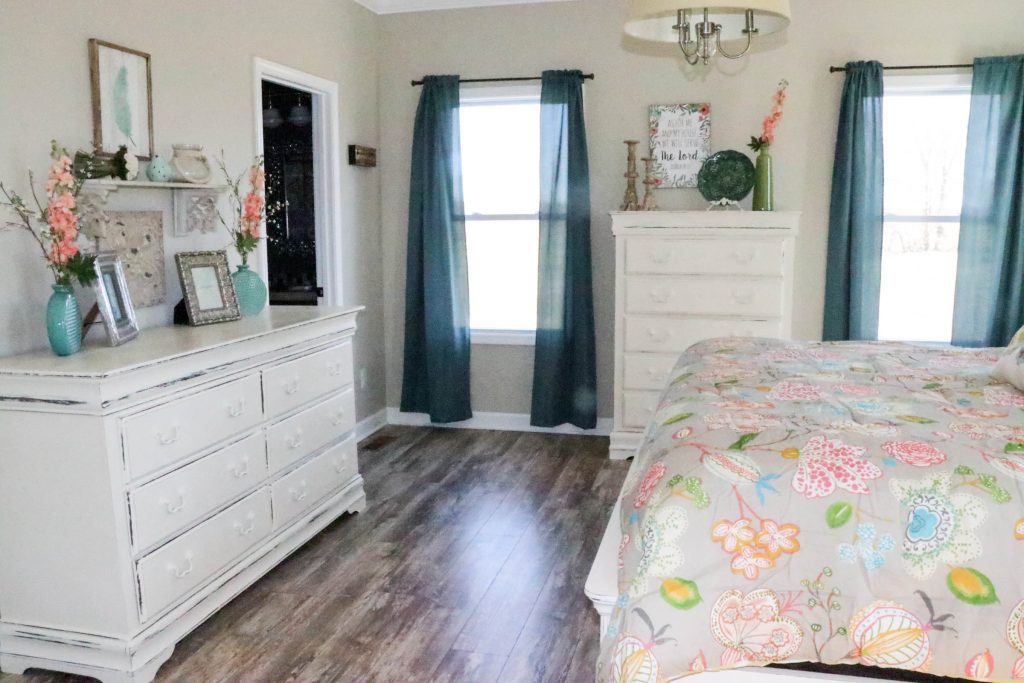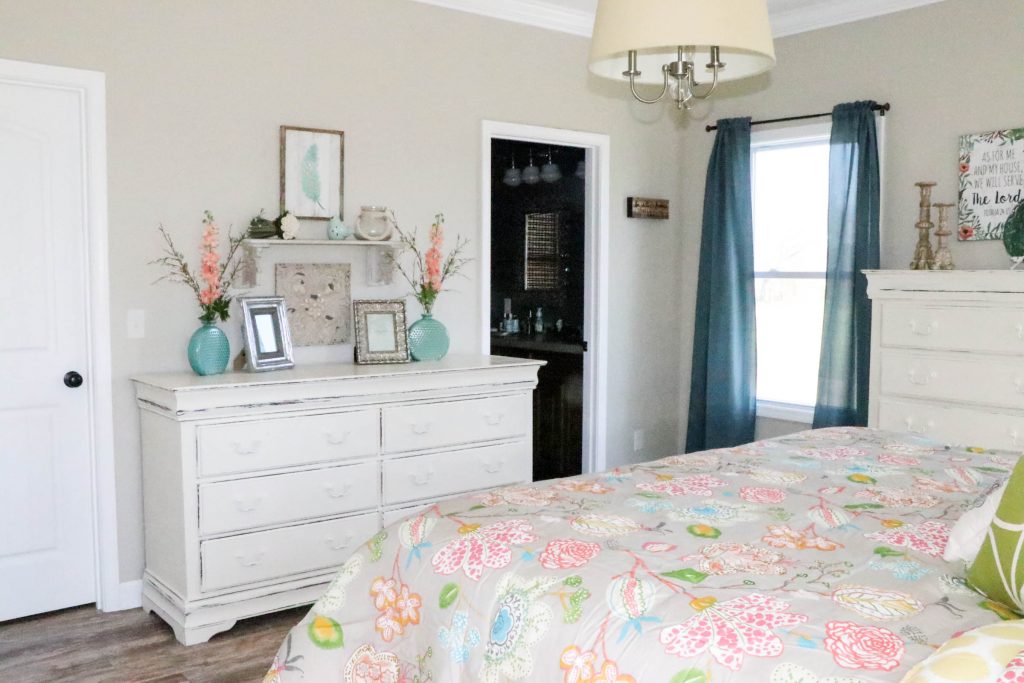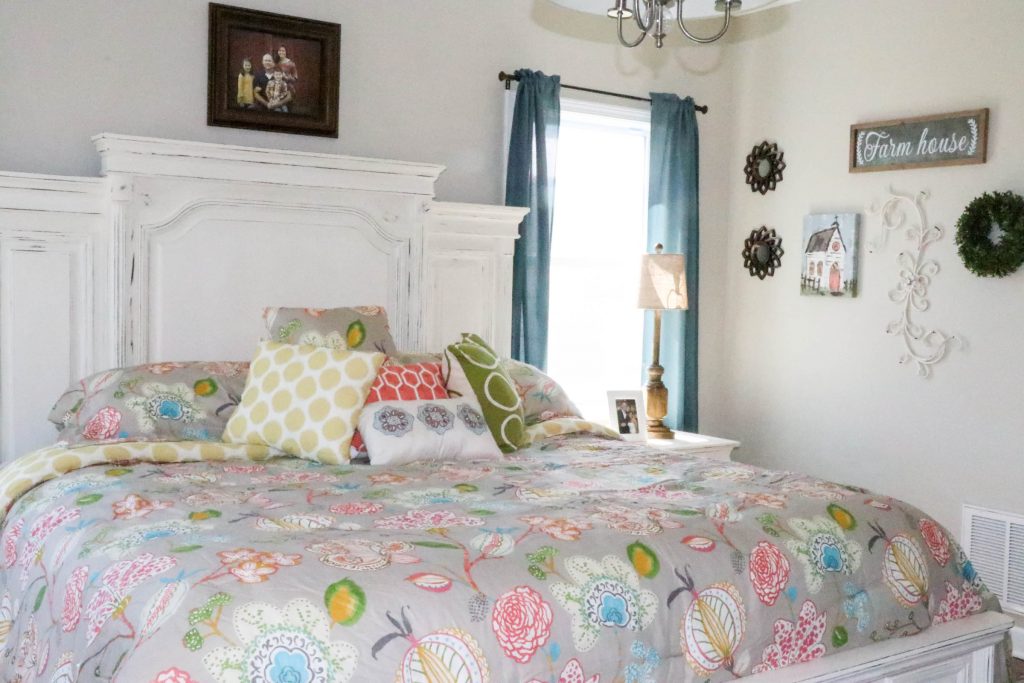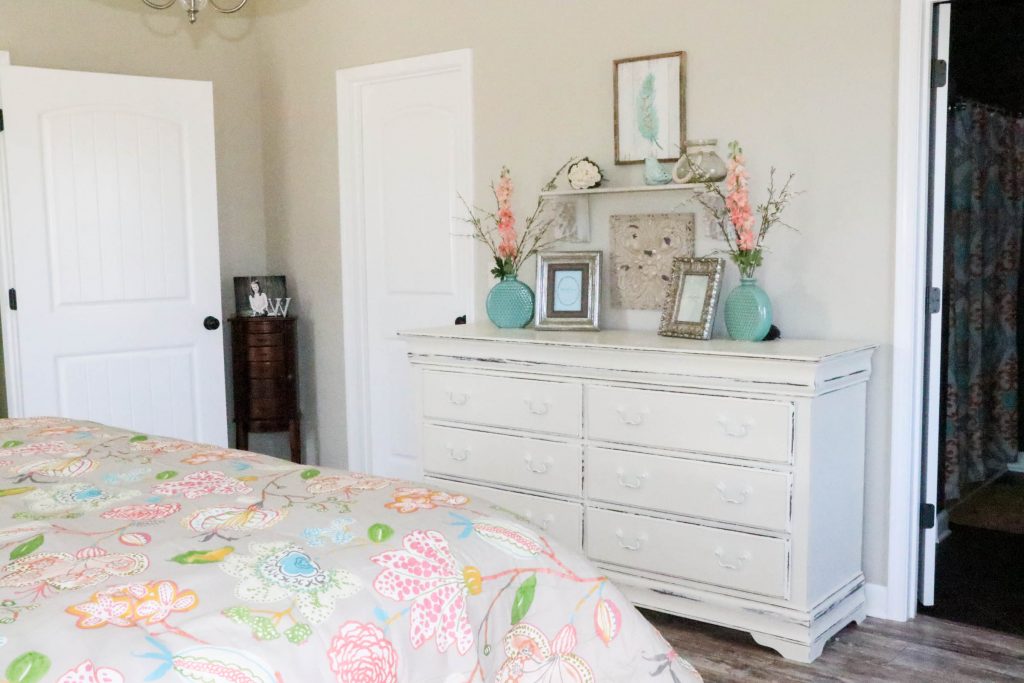 Isn't it incredible what some colorful, yet subtle decorations and some painted furniture can do to the look of a room? A room that was once just dreary was brought completely to life. And, isn't it crazy how the wall color looks 10X lighter now?? It truly did change every detail of this room!
Most of the decorations for this room came from the following places: (highlighting the main items in room)
Gordman's- Rosette stems, Aqua Bird
Kirkland's- Picture Frames, Wall shelf, Church canvas, candle sticks
Hobby Lobby- White metal wall hanging, table lamps, turqoise vases and flower stems, feather picture, Serve the Lord wall art
TJ Maxx- Boxwood Wreath
Burkes Outlet- Bedding, bedding pillows (except one that was on previous bed), Farmhouse Sign
It just takes looking around and pulling items together to get the look that you desire. You have to be willing to shop around and remember what you have. I buy items I love, and I pull them together the day I decorate. I often do not know what is going where, but that is the fun in it! I am excited for how their master bedroom turned out, and they loved it…so you can't get any better than that!
Pin this Makeover for later!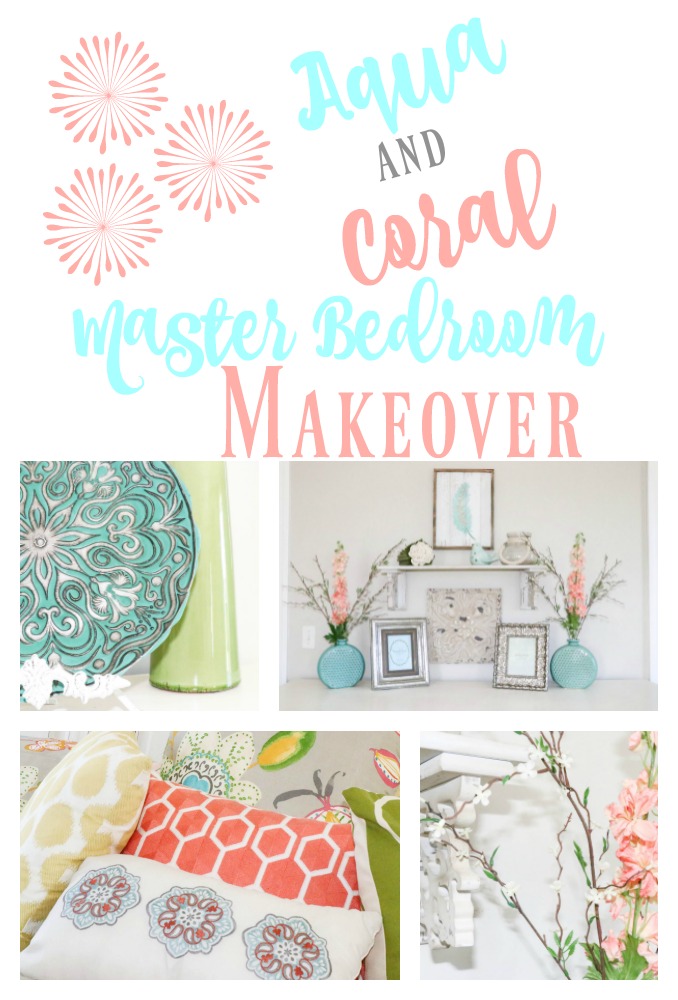 Follow me on Social Media!
Facebook/Pinterest/Instagram/Twitter