Farmhouse. Farmhouse. Farmhouse. It is ALL we hear about these days! There is no denying that it is the "in" thing. Everywhere you look, it is all you see! I sure do love it (now), but let me let you in on a little secret. My house was far far far from "farmhouse" not even a year ago. That just wasn't my thing at the time.
Over time, my style has evolved. In fact, my style evolves daily. I have never and never will have one set style- BUT I have grown more and more inclined to decorate with the farmhouse look over the past several months, and even though my home was far from it in the beginning, it has come a long way.
I wanted to share with you today some tips on how I started to transform to farmhouse style, slowly…so that you don't feel overwhelmed. I also want to throw this in there- it is OK to have some color! I will never be without color. Not all farmhouses have to be 100% neutral 😉
So here we go!
How to Transition to Farmhouse Style: Start bringing in some natural wood tones!
To me, it is important to have at least a little bit of natural colored wood here and there throughout your home. It adds in that bit of rustic, farmy (is that a word??) look, but I don't over do it. I just sprinkle it in 🙂
I absolutely LOVE my driftwood mirror from Kirkland's. It was actually one of my very first purchases as I decided to start transitioning styles. It is the perfect accent piece.
I also have found that spindles are my new obsession! You can find them all over the place, if you look. Sometimes they can be pricey, but sometimes, they practically give them away. I snag them up anytime I can. I love them painted or unpainted like in these pictures. I just sit them around in different places for a little extra farmhouse charm 😉
How to Transition to Farmhouse Style: Neutral Walls!
One very easy way to change the look of your home (on a budget) is to simply paint your walls! I know a lot of people say white, but I don't. I say use a lighter gray. I just think white can be a little too stark if you don't know what you are doing in choosing the right color, and gray has the perfect hint of color, with remaining a fabulous neutral.
How to Transition to Farmhouse Style: Whitewash/Distress
I love painted furniture…painted everything actually. Even more so, I love white wash and distress. That specific look just appeals to me, and with certain colors, it screams farmhouse to me. You know, chippy?? Give me all the chippy goodness! I love it!
I recently whitewashed my kitchen table (post coming soon hopefully), and I love the new look. It changed the appearance so much…and it was dirt cheap to do!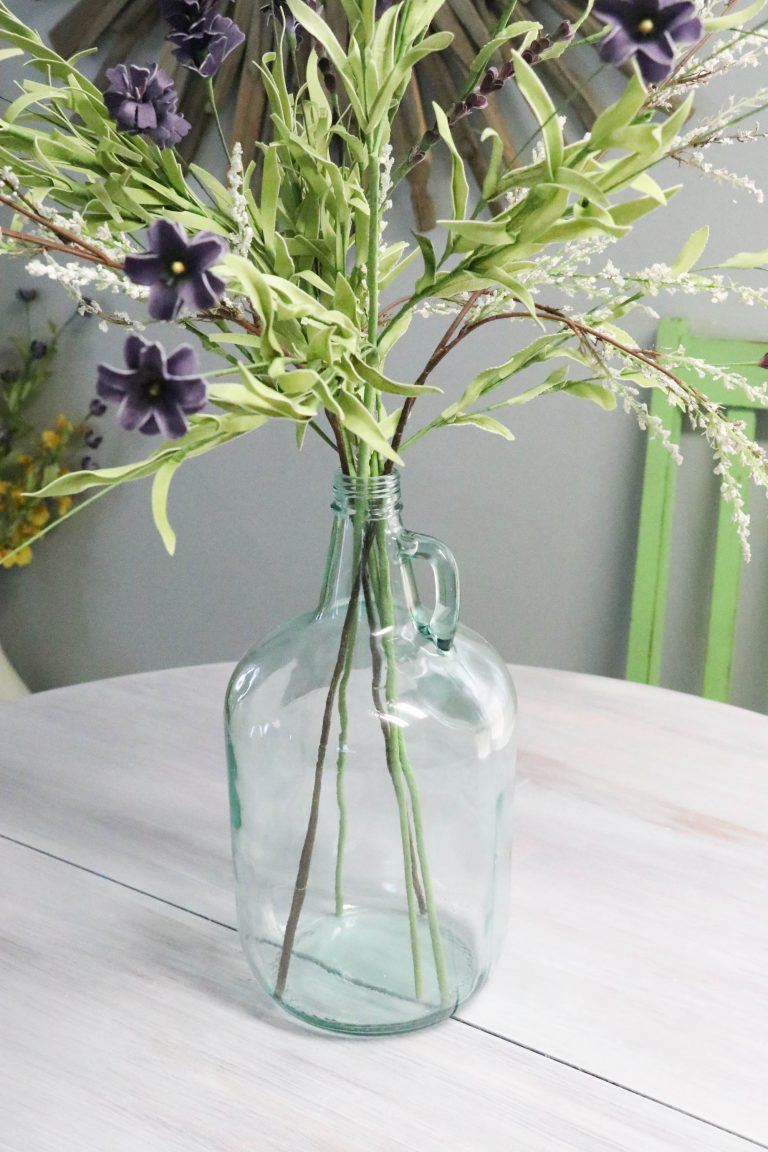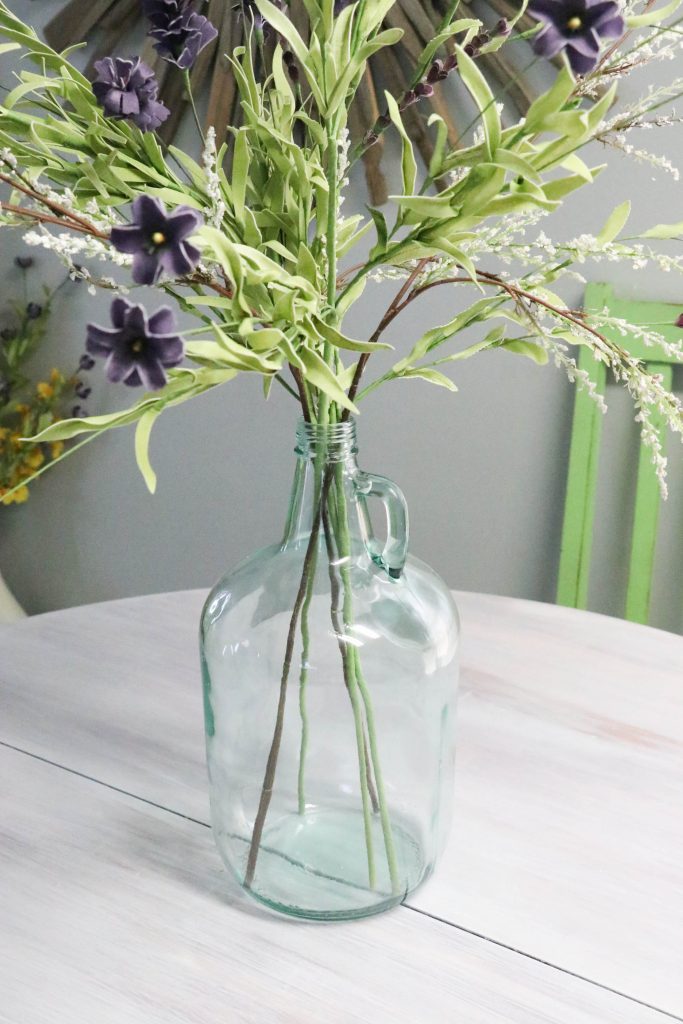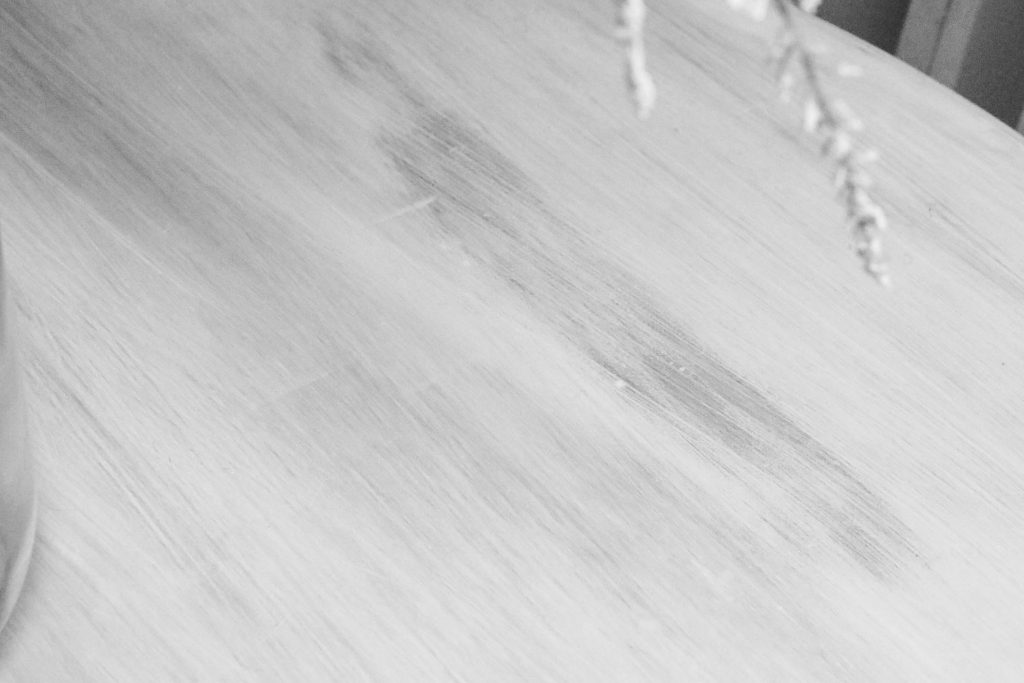 That light and airy feel of a white wash just feels like an old farmhouse to me.
I also have been buying up several picture frames when I see them that have that wood/chippy paint look to them. You can find them everywhere for so cheap, so I have been buying instead of making my own right now. Sometimes, it is just as cheap to buy instead of DIY! Most of my frames tend to come from TJ Maxx, Homegoods, Burkes Outlet or Hobby Lobby.
How to Transition to Farmhouse Style: Flowers!
I am not a flower expert. In fact, I am the furthest from a flower expert there is. I barely know the names of hardly any flowers, so I won't pretend to know much. All I know is that flowers in vases are gorgeous and give a real farmhouse vibe. I found these tulips on sale for DIRT cheap at a little local downtown shop the other day while browsing. I bought all they had. They are large and look SO REAL. I stuck them in this vase to see if I liked them here, and I believe I do! (tags are still on them because who has time to take tags off when you are trying to decorate??)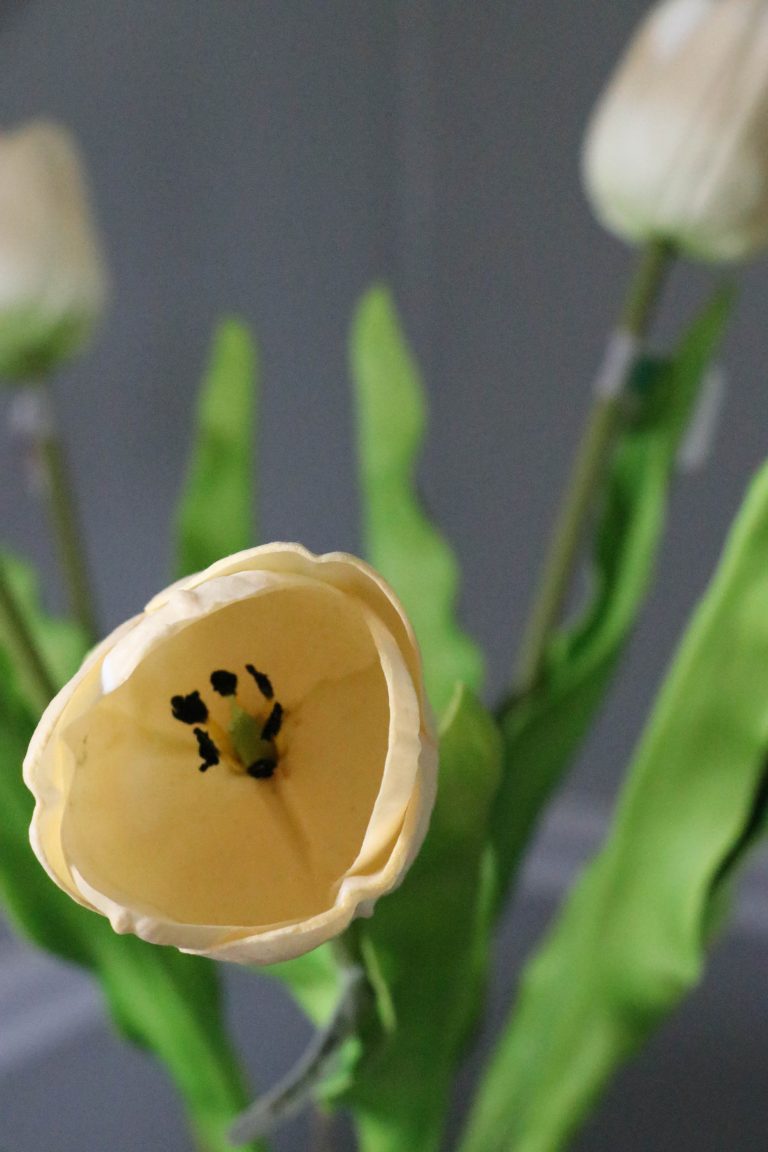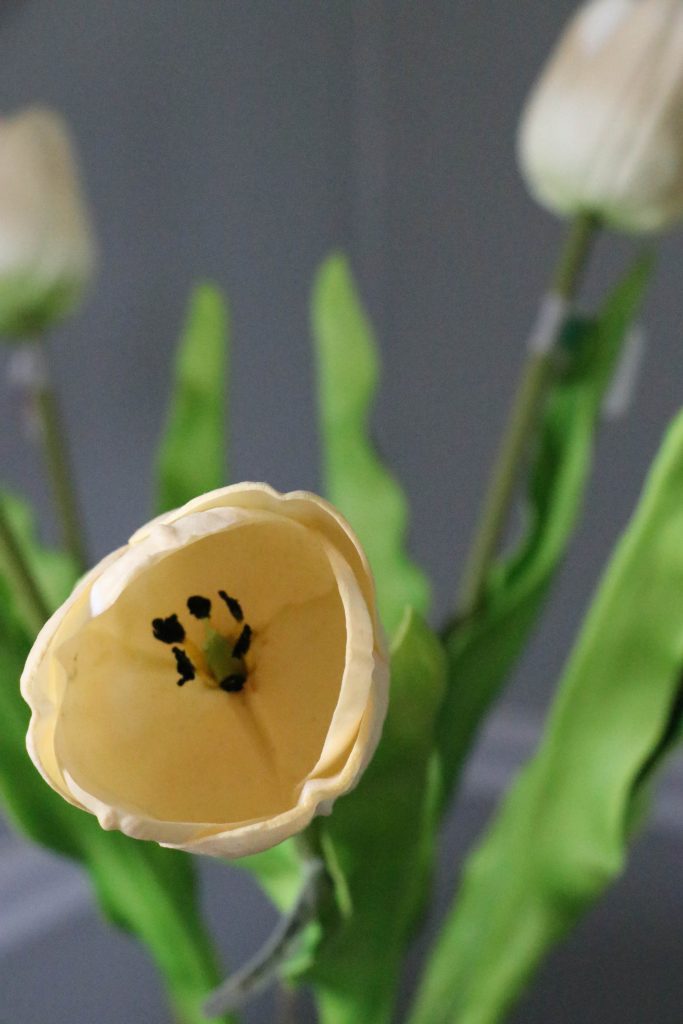 I liked the tulips because they were a neutral creamy color, and someone told me you could use them year round. It was funny they told me that, because I use all flowers year round! oops!
I have also been leaning towards purple and yellow lately for some pops of color in my floral arrangements. Feels farmhousey to me!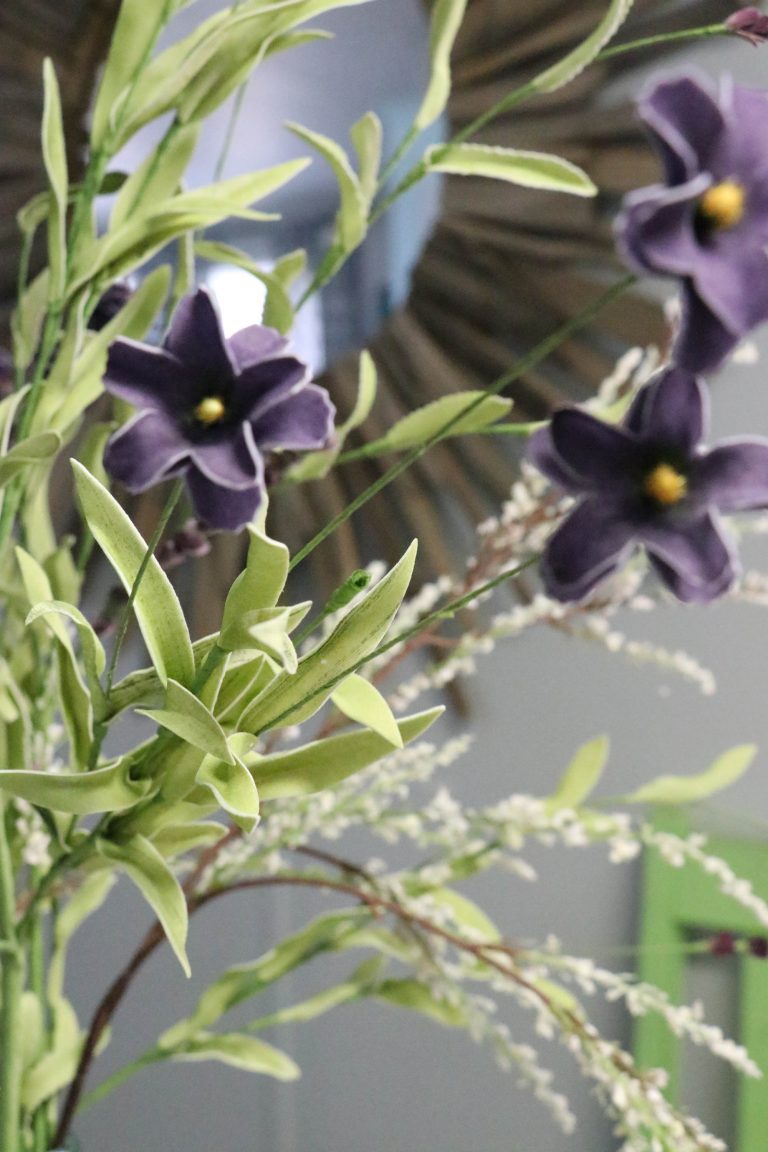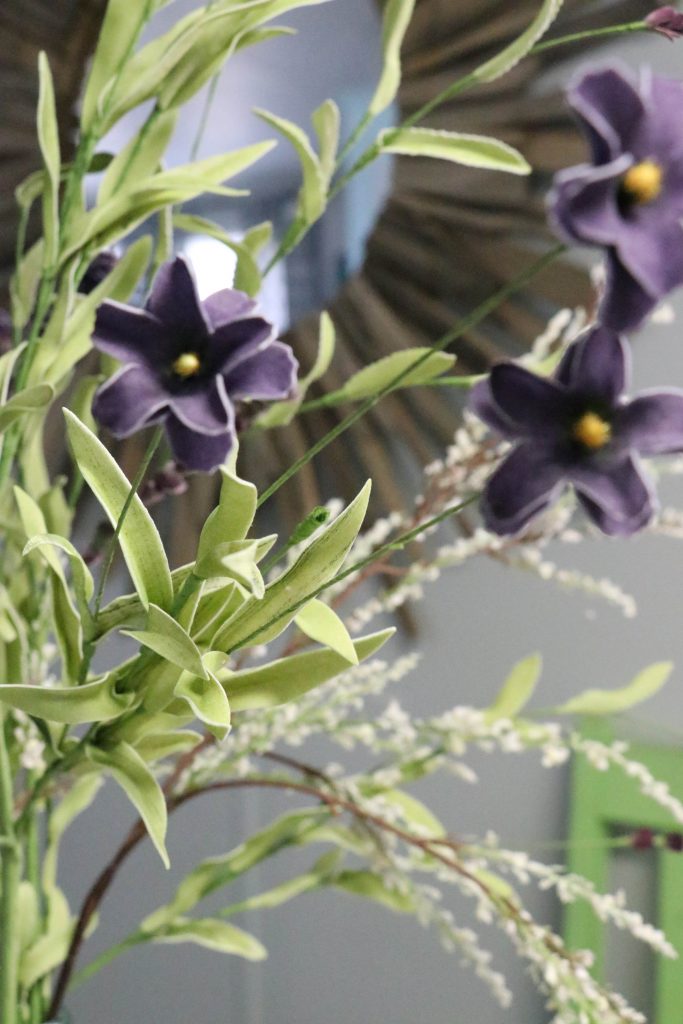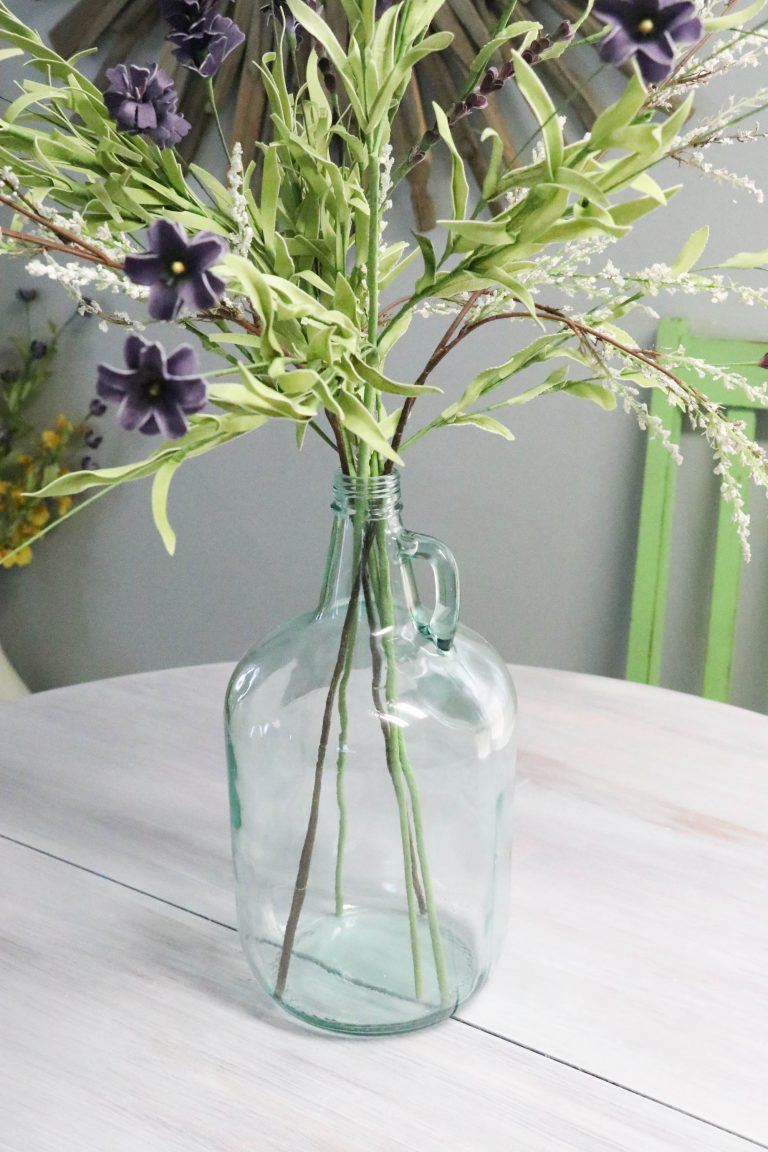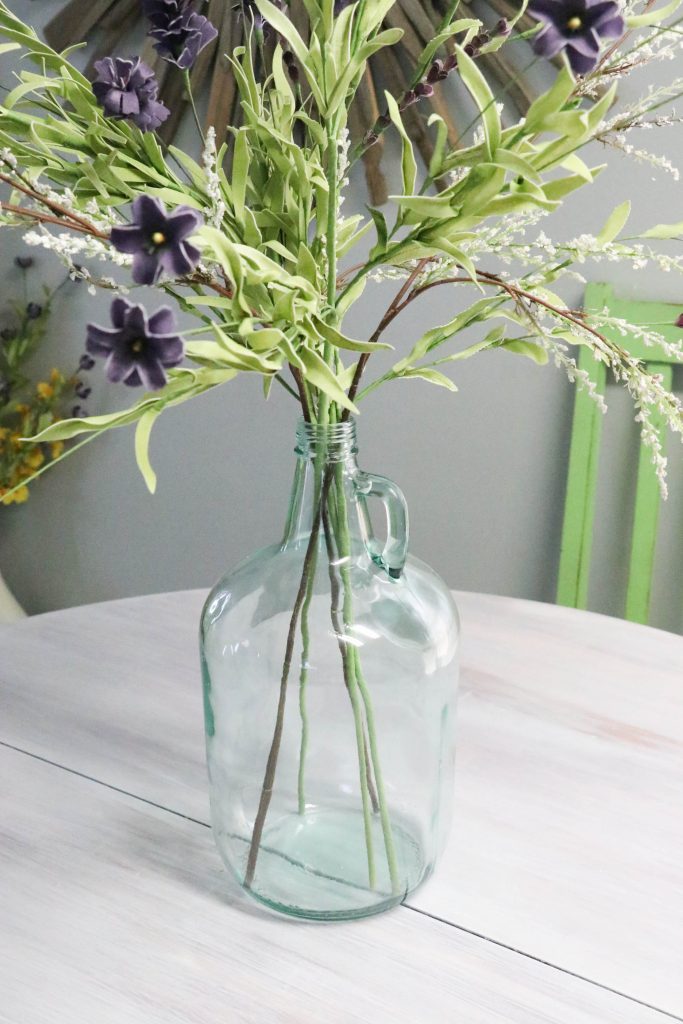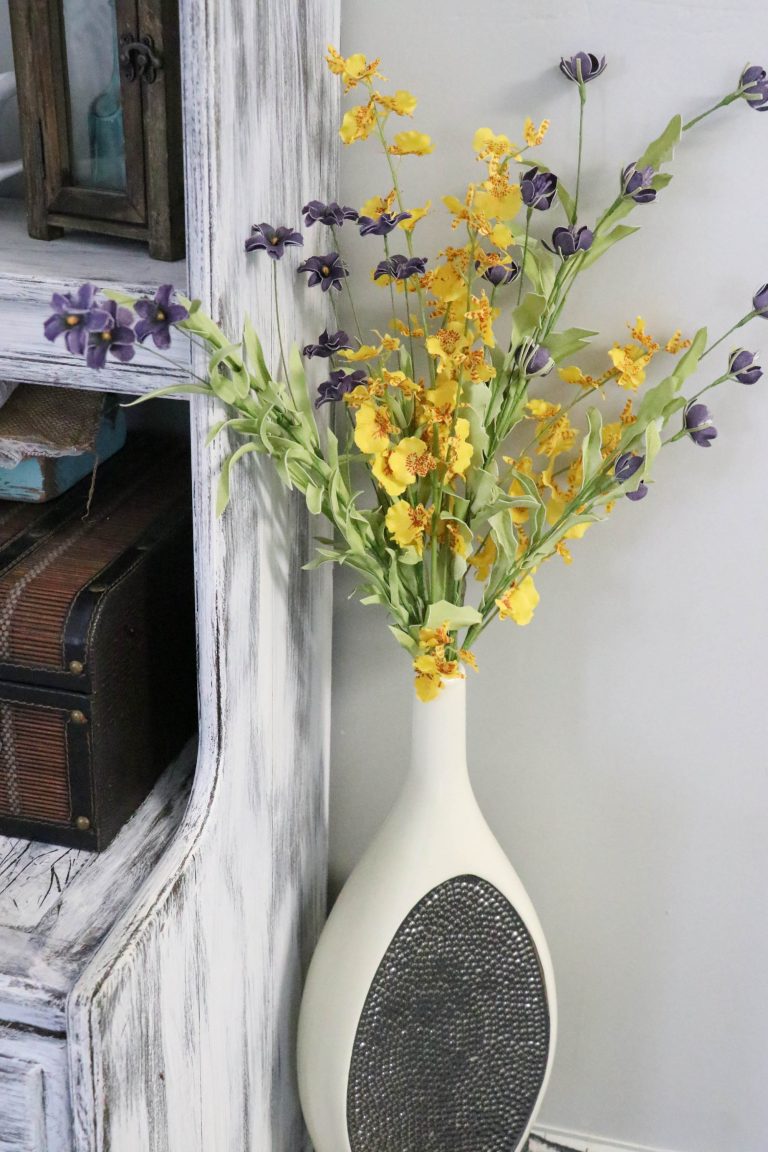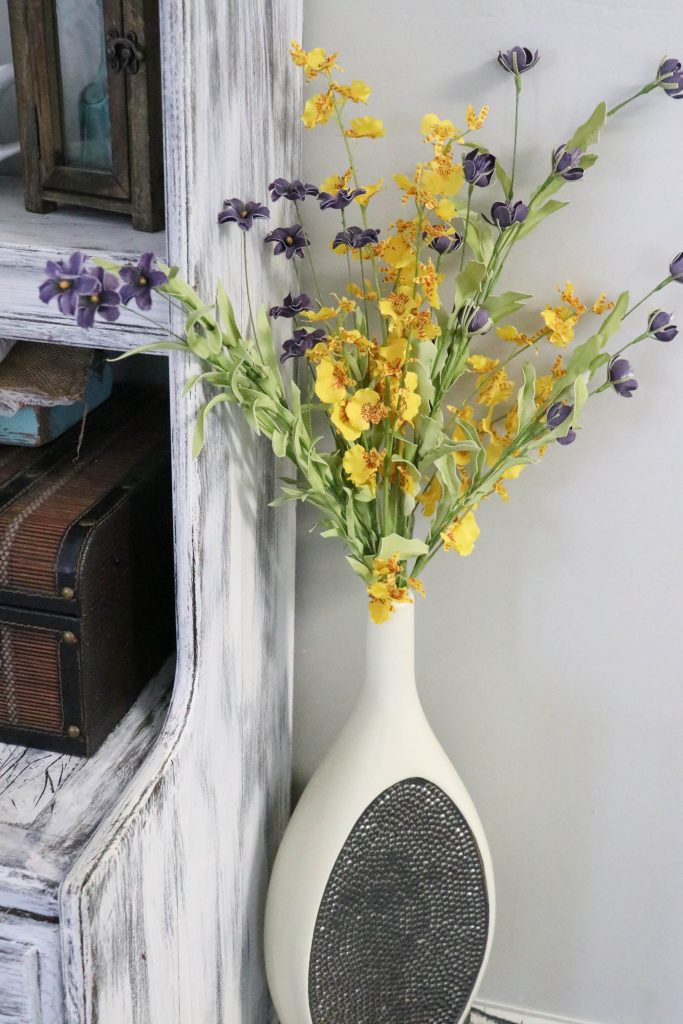 How to Transition to Farmhouse Style: Adding the perfect accents!
This one may be one of the most important parts of transitioning styles, in my opinion.
I love thrift stores, consignment stores, booth malls, yard sales, junk stores…etc. Those are my jam. Those are also the places where I find my best farmhouse items!
Anything galvanized is awesome for farmhouse style!
I found this old pitcher for like $2.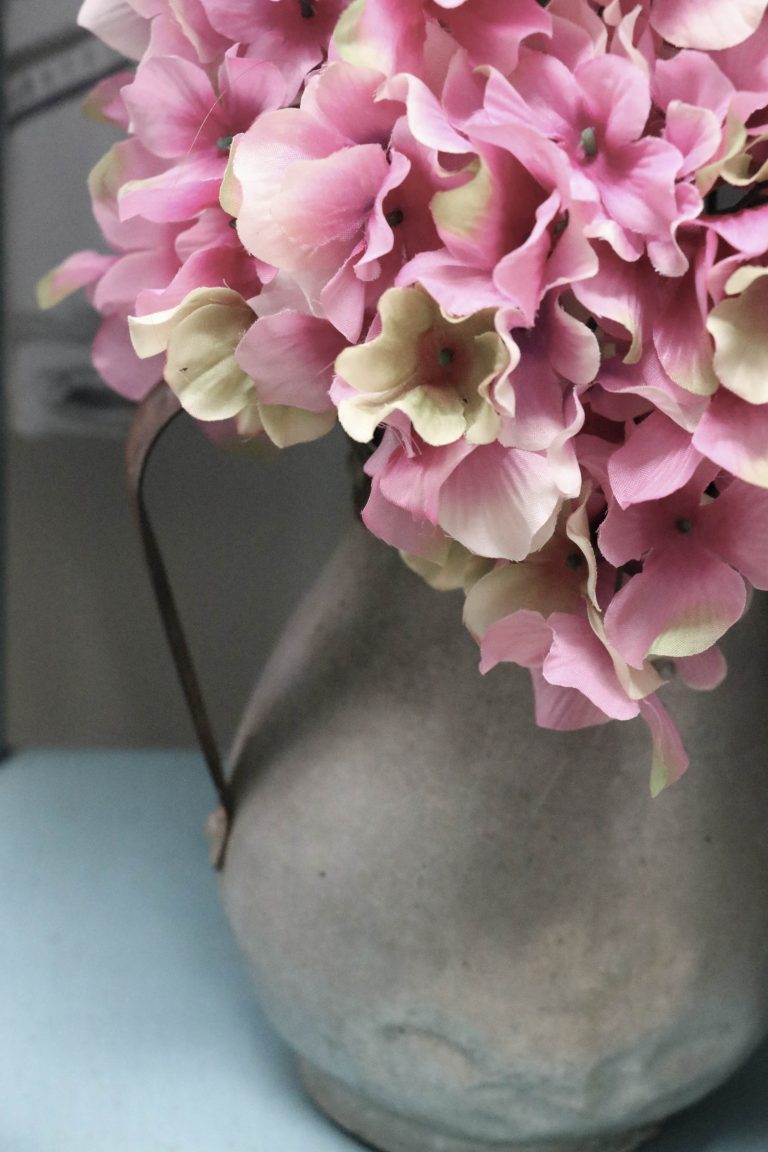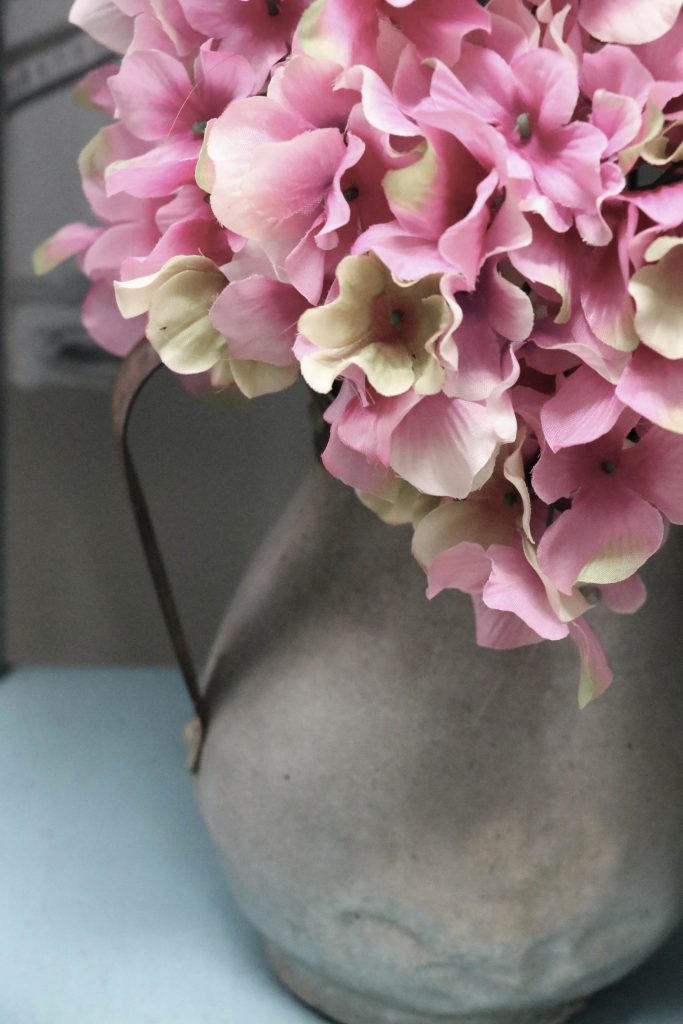 Even my pencil holder is a little galvanized bucket!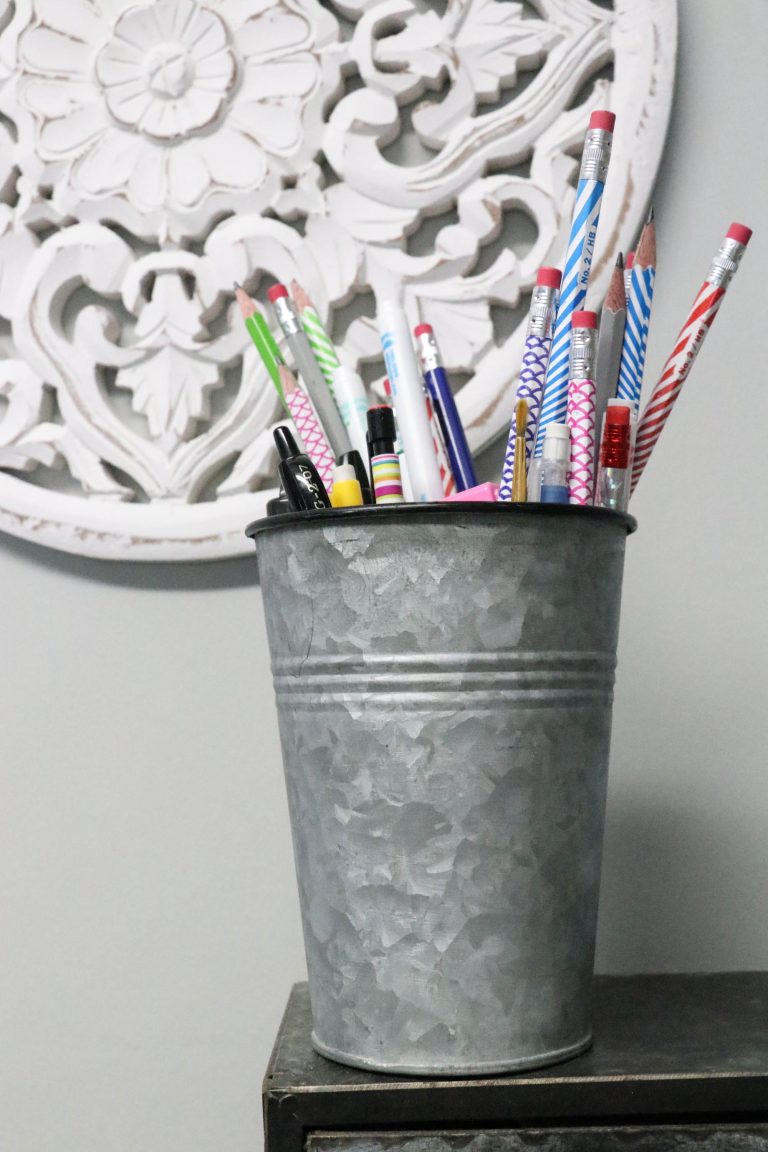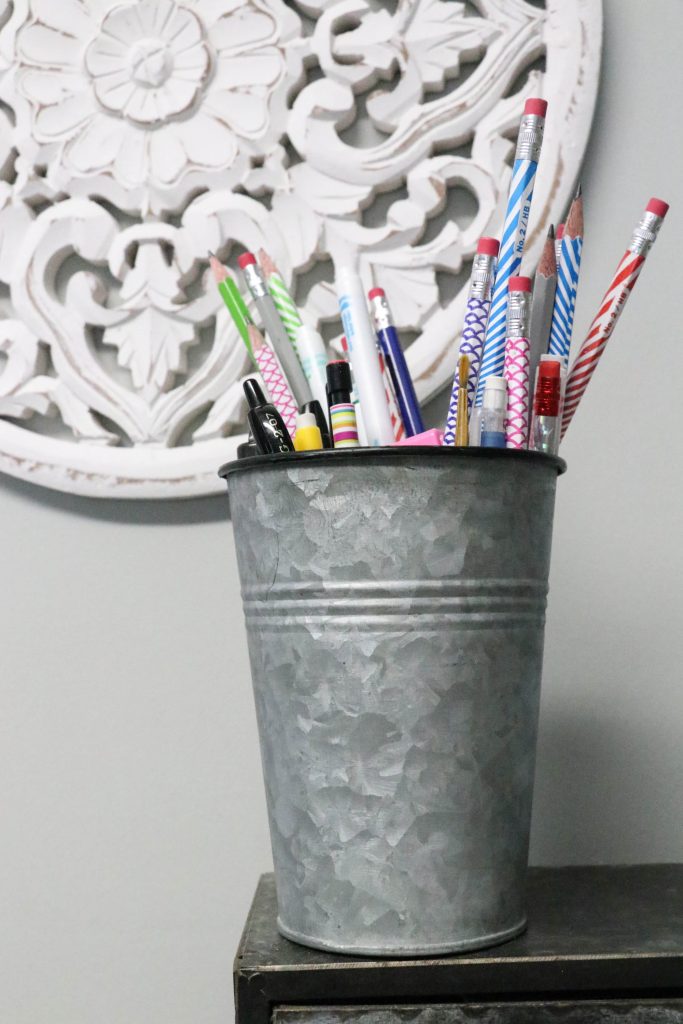 I also love to just look for old pieces of kitchen goodness at junk stores. I found this ole cheese grater for a little of nothing, so I displayed it in the kitchen. Little things like this just add that special farmhouse touch.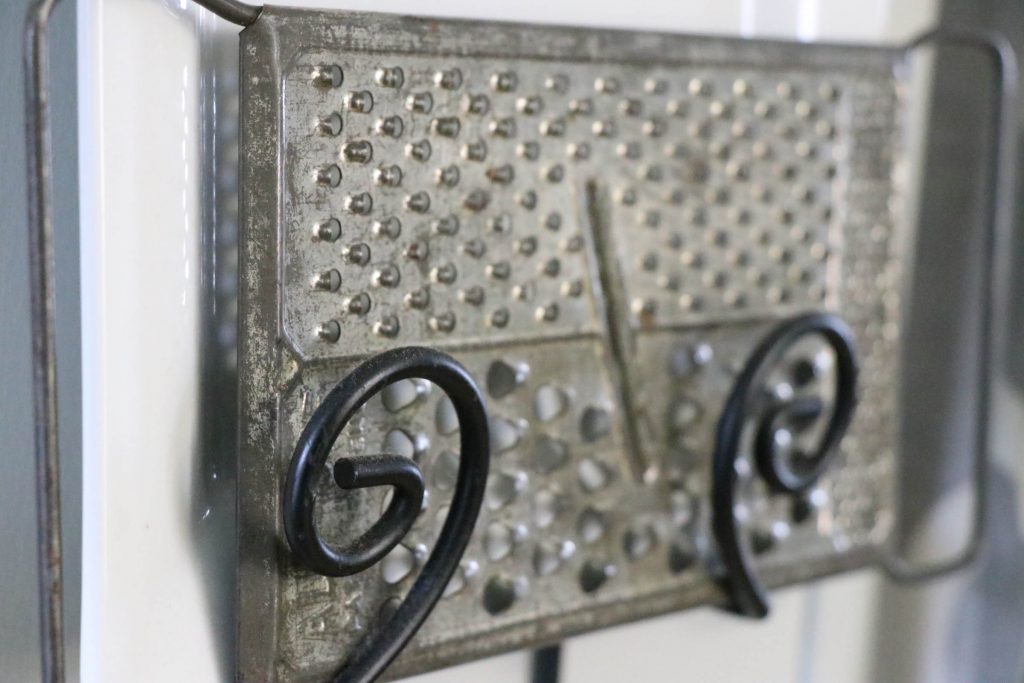 And what is a farmhouse without a rooster? I mean, for real.
I got this from Kirkland's for LESS THAN $1 folks! I used my K Club rewards (NOT a credit card- just gives you points when you purchase, and eventually you earn enough to take some money off an item, like this awesome rooster!) one day, and it came in at like $.93 or something crazy.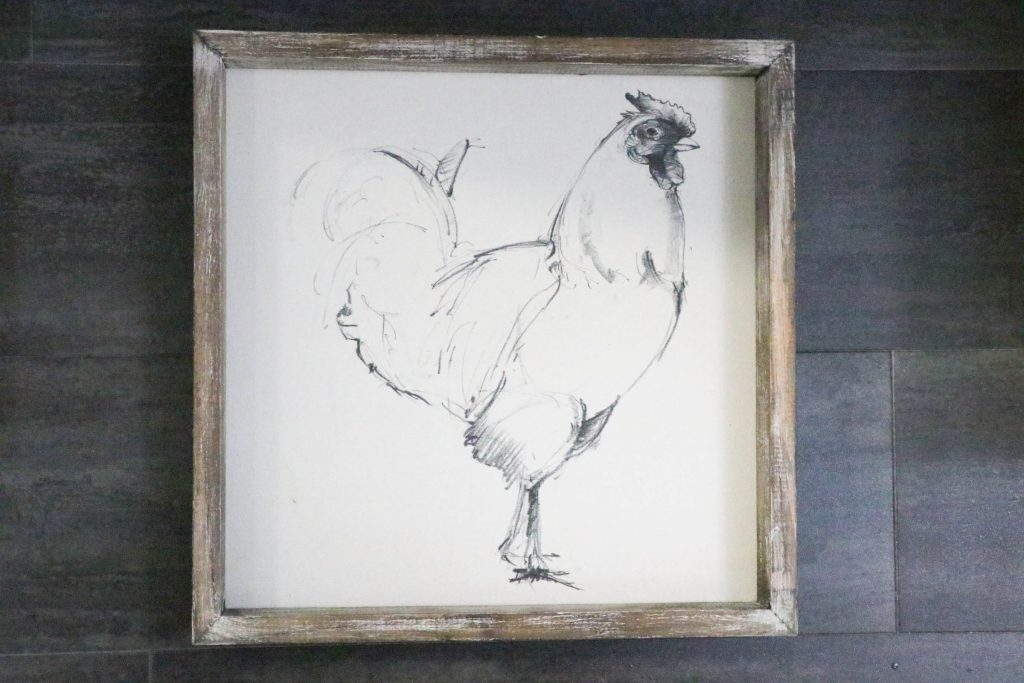 How to Transition to Farmhouse Style: All things WHITE!
Maybe it's just me, but if it is white, I feel like it says farmhouse! White dishes, white pitchers, white candle sticks, white ANYTHING!
I love my pretty white candlestick, and I also LOVE my scale that I bought from a friend on Facebook! (and see my white dishes in the background? I just bought 3 square dishes and put them on a plate rack and bam…neutral farmhouse goodness)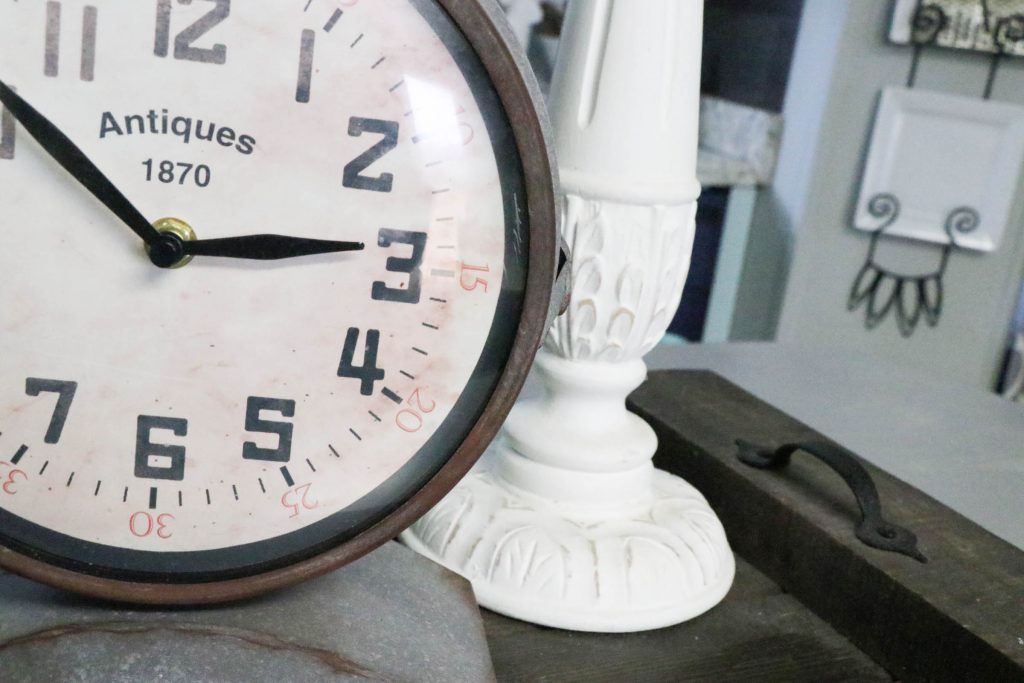 Another awesome frame and little white pitcher from a yard sale. The laugh sign was just a little DIY from an old pallet board. I bought the word at Hobby Lobby for about $2 and glued it on. Voila. Easy little sign. By the way, lanterns are also easy to find and scream farmhouse look.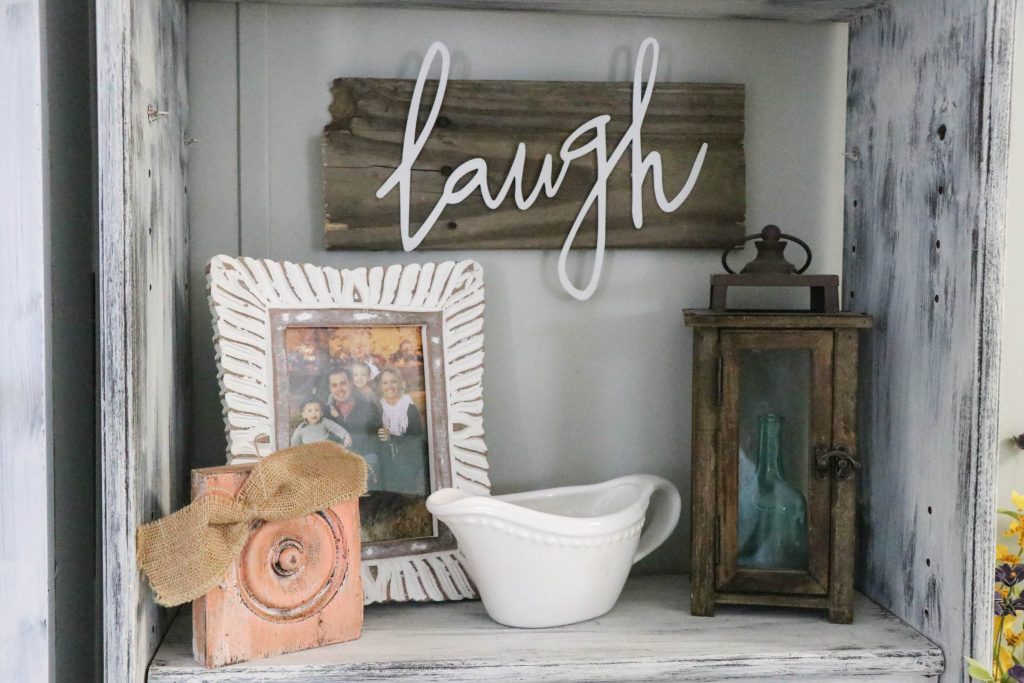 All things white, remember? This little corner of my kitchen is rocking the farmhouse feel. My chicken was a DIY (see that post HERE…because it was NOT white!) The milk glass was from a thrift store for a little of nothing, and the little piece in the back was a Hobby Lobby clearance find years ago. It is just propped against the backsplash (which by the way, is VINYL FLOORING! See that post HERE!) The little tray was also a Hobby Lobby find that I use all the time. For Christmas, it serves as my hot cocoa bar! And, of course…the pear is a Hobby Lobby clearance find too.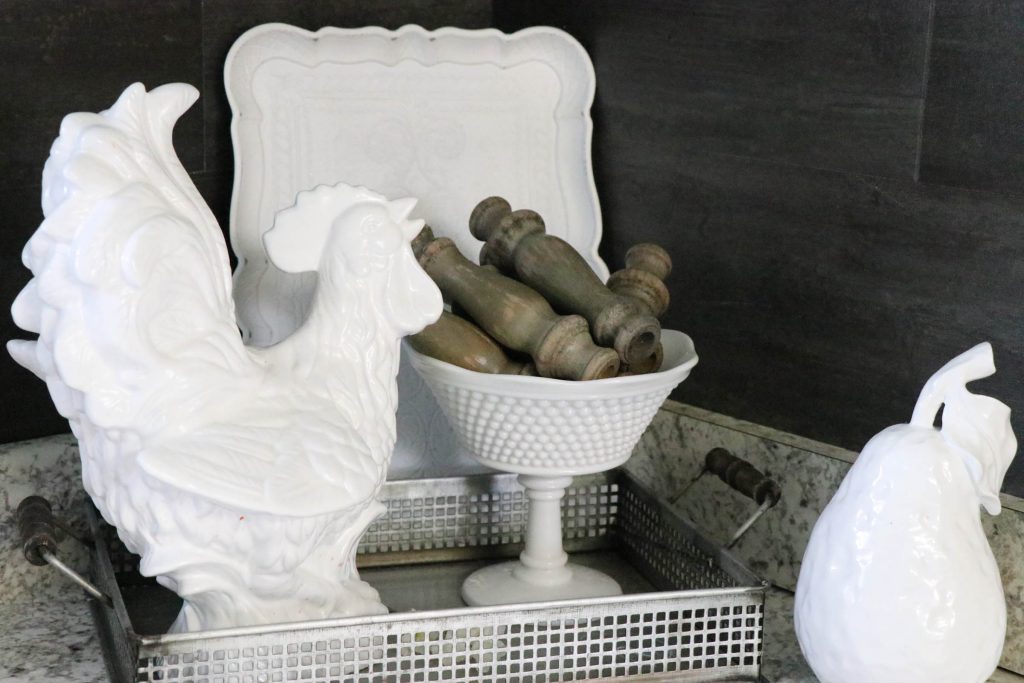 And one more thing (although there is sooooo much more that I could add, but I am sure you are tired of reading!)
How to Transition to Farmhouse Style: Cotton Stems!!
You can find these everywhere now! Grab you a couple of bundles and stick them here and there. The possibilities are endless! They definitely have that farmhouse feel, and they are a staple for your home if you are going that route!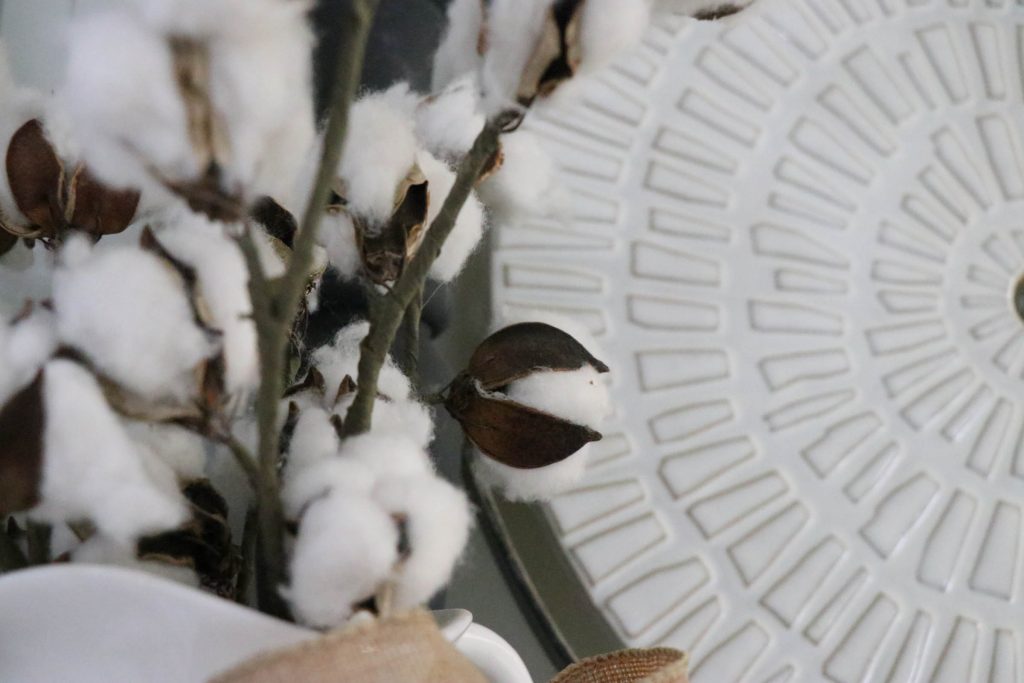 I guess I just want you to realize that farmhouse style is everywhere…and it is easy to mix in with what you have. Just slowly get rid of items that you no longer love and replace them with new items you find. This can be done on a serious budget, trust me…just be on the lookout. Go to yard sales, don't be scared of spray paint (like my chicken), dig through the junk places…there is stuff everywhere to be found!
I hope this post inspires you and helps you take that jump to transition, if that is what your heart desires. I am here to help if you have any questions along the way!
If this post helped you or you think others would enjoy it, Please share! It would mean the world to me!
PIN FOR LATER!!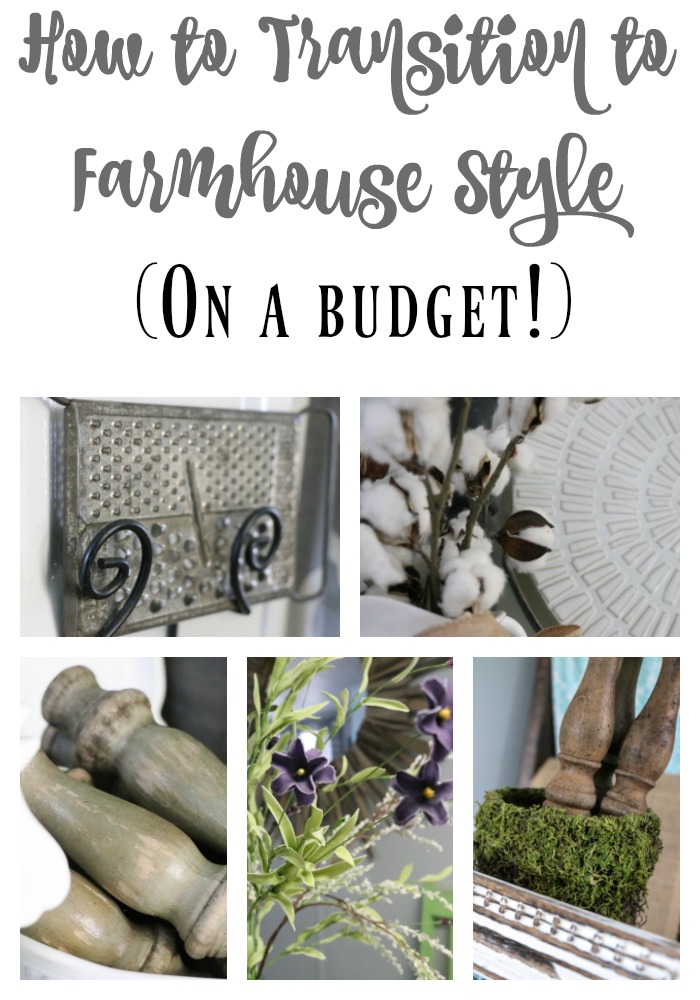 Follow me on Pinterest!
Follow me on Facebook!
Follow me on Instagram!