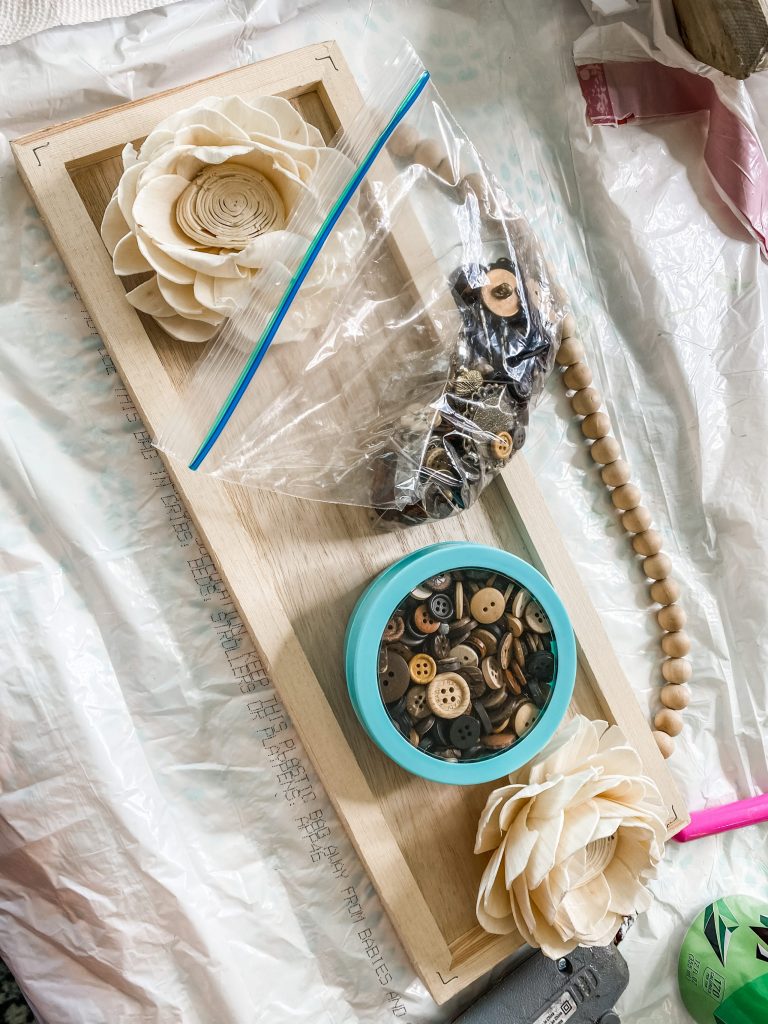 I've been chugging along with our "theme weeks" over on the Re-Fabbed Facebook page! (If you haven't seen my diy frame week, be sure to check it out here!) Day 2 of this week, I threw together a few supplies I had on hand to make a wooden sign… HOWEVER, I definitely underestimated the BEAUTY this sign would come to be!
It wasn't even hard y'all! Sure, there's a few steps… but they are easy, and well worth it!
Here's what you'll need…
*click the bolded item to shop my affiliate link!*
picture (printed on regular printer paper)
stain of your choice (I used the Kilz Dark Wax)
hymnal paper/scrapbook paper
mini wooden plaque (can find at Dollar Tree)
First things first, you need to stain your sign! I didn't worry too much about the inside, because we'll be covering it up later!
Don't forget to stain the beads, too!
Next, take your hymnal paper (or scrapbook paper- up to you!) and start measuring out enough to fit inside your frame. I just creased where it needed to be cut, and cut out my pieces!
I simply mod podged the pieces into the inside of the frame!
Pull your stain back out! Hit the edges of your mini plaque sign… this is what we'll be mod podging our picture onto!
I chose a family picture from our recent vacation to Myrtle Beach! Just make sure to print it on regular printer paper, so it will adhere correctly.
This is the simplest thing. I mod podged the picture onto the plaque, then used a sanding block to take off the excess. Just look at how PRETTY it turned out!!!
Ignore my missing nail. LOL.
We're just about done!!! Hot glue your plaque to the center of the sign, then add whatever embellishments you choose! I found these Sola Flowers on amazon, and they were the perfect touch!
Let me just say… I am PROUD to hang this bad boy in my house! It is SOOOO stinkin' cute!
And since this was a live video… you can watch me make this in video form, too!!! Just click the button below to watch along!
If you enjoy making signs for your home… I have tons of other diy signs here on the blog! Here are a few of my faves! (just click on the picture to go straight to the tutorial!)
Make sure to pin!!!