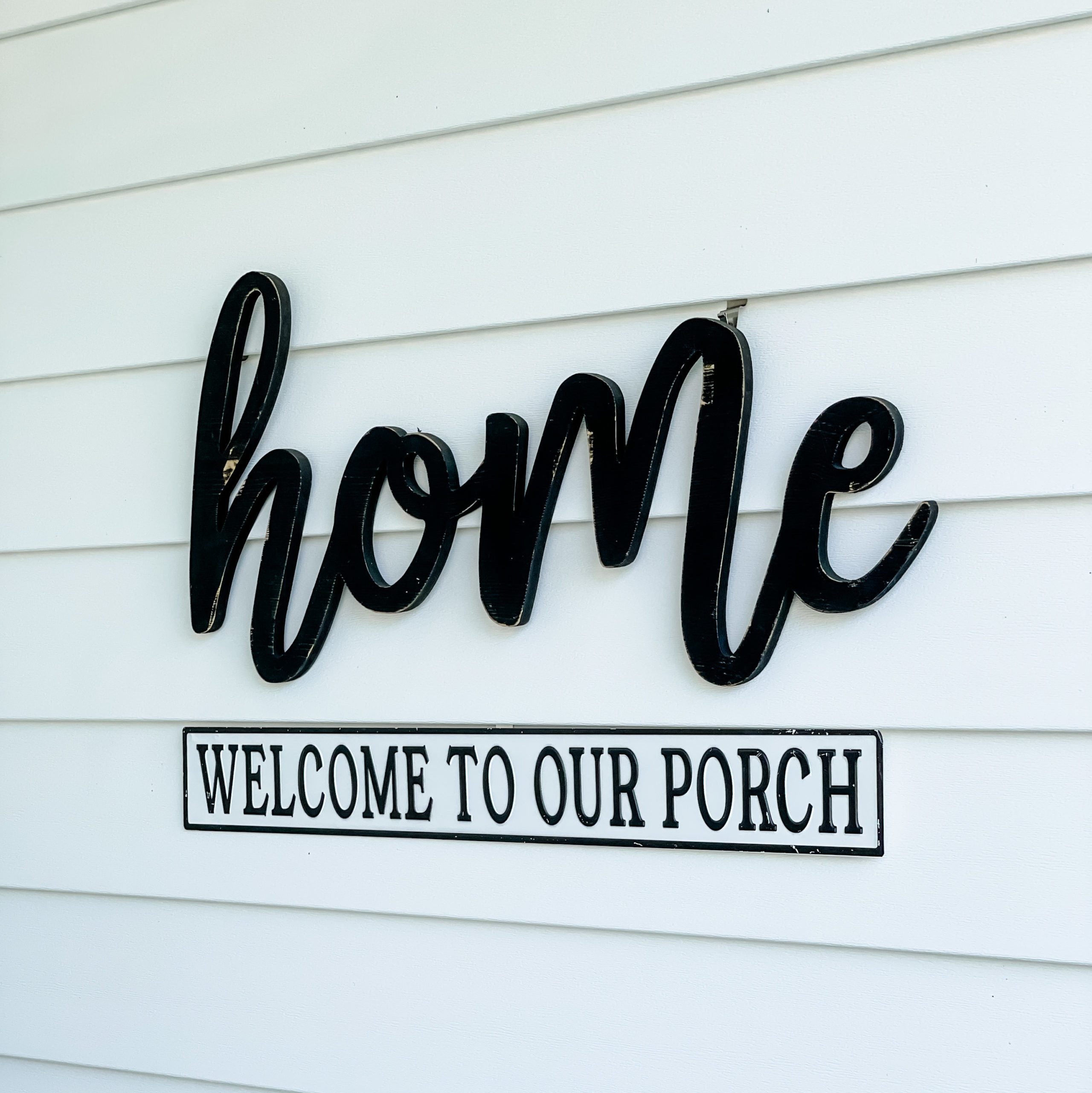 When I think of Spring, the first thing I think of is sitting on my front porch, enjoying the warmer weather. I'm not the kind of gal that enjoys the cold… so Spring is like a breath of fresh air for me!
I knew I wanted to incorporate the color YELLOW into my Spring front porch this year- it's just my go-to color when I want to be HAPPY!
So, you will be seeing LOTS of yellow… yellow tulips, LEMONS, and other elements that I thought would pull this whole porch together. So without further ado, let me show you around!
*throughout this blog post I will be including affiliate links for items I used on the porch!*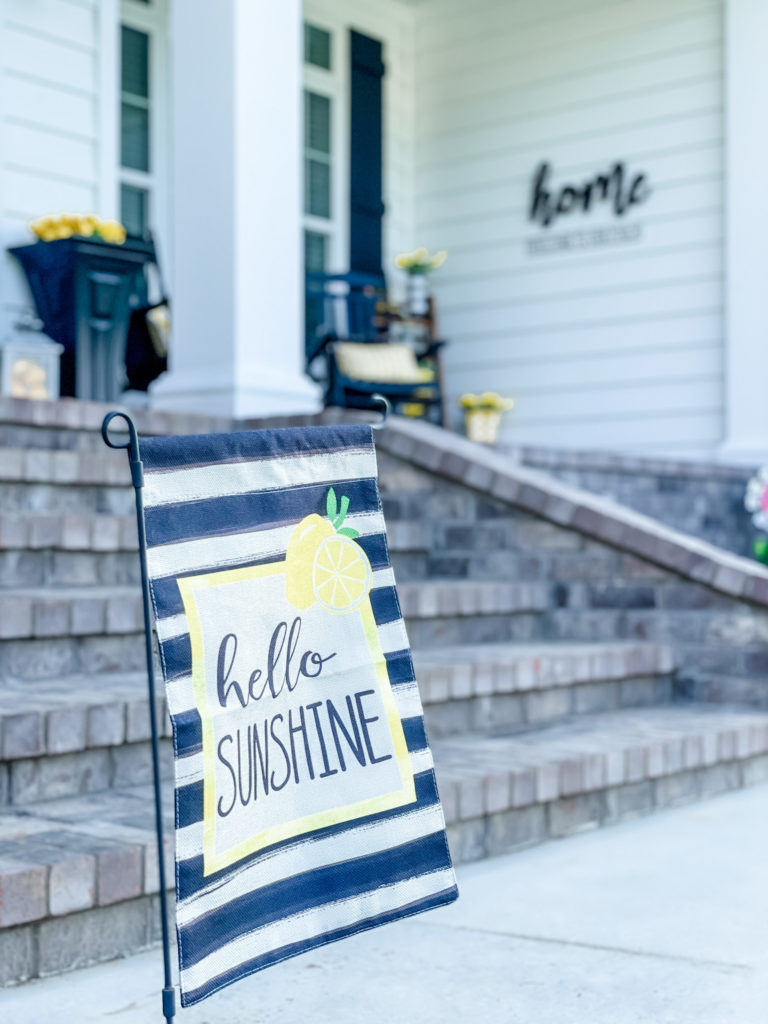 Before you walk up the brick stairs, you are greeted with this precious garden flag I bought off Amazon! It just seemed like the perfect fit.
I actually used the same wreaths from last year's Spring front porch because they fit PERFECTLY. My good friend Damon with DecoExchange made them for me!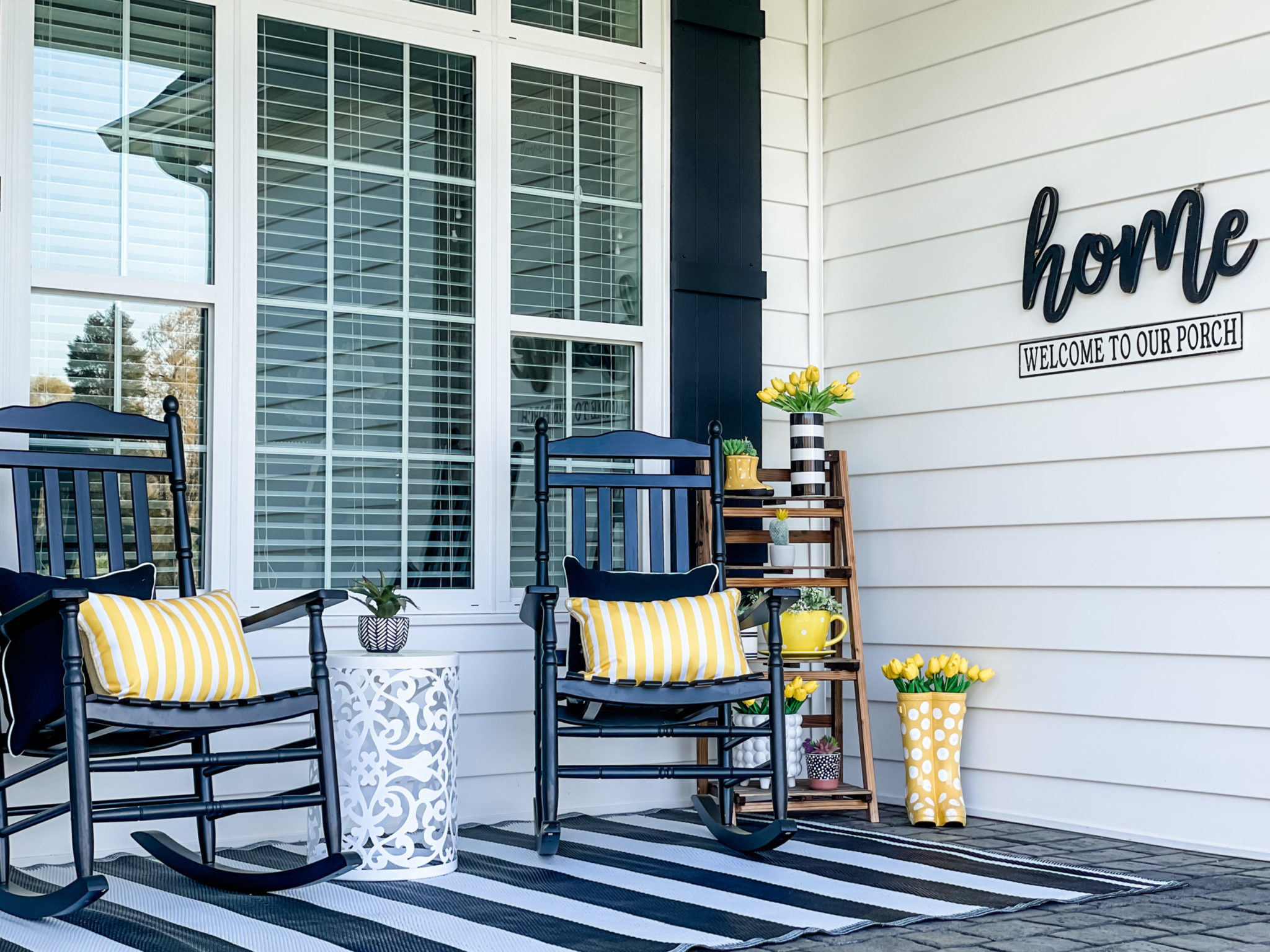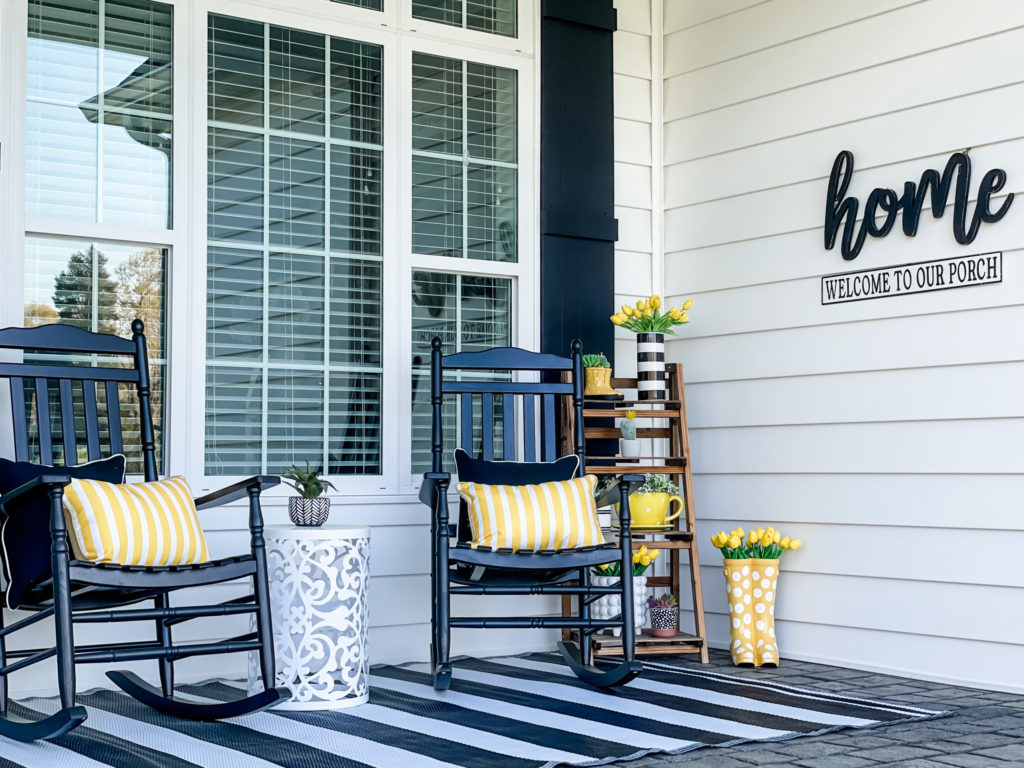 Y'all, I am still loving my rocking chairs I found on Amazon! They have held up SO nicely, and look perfect for every single season!
Between the two rocking chairs, I have a cute little side table from Big Lots! I found it in my most recent shopping trip to Big Lots when I was checking out their Spring selection!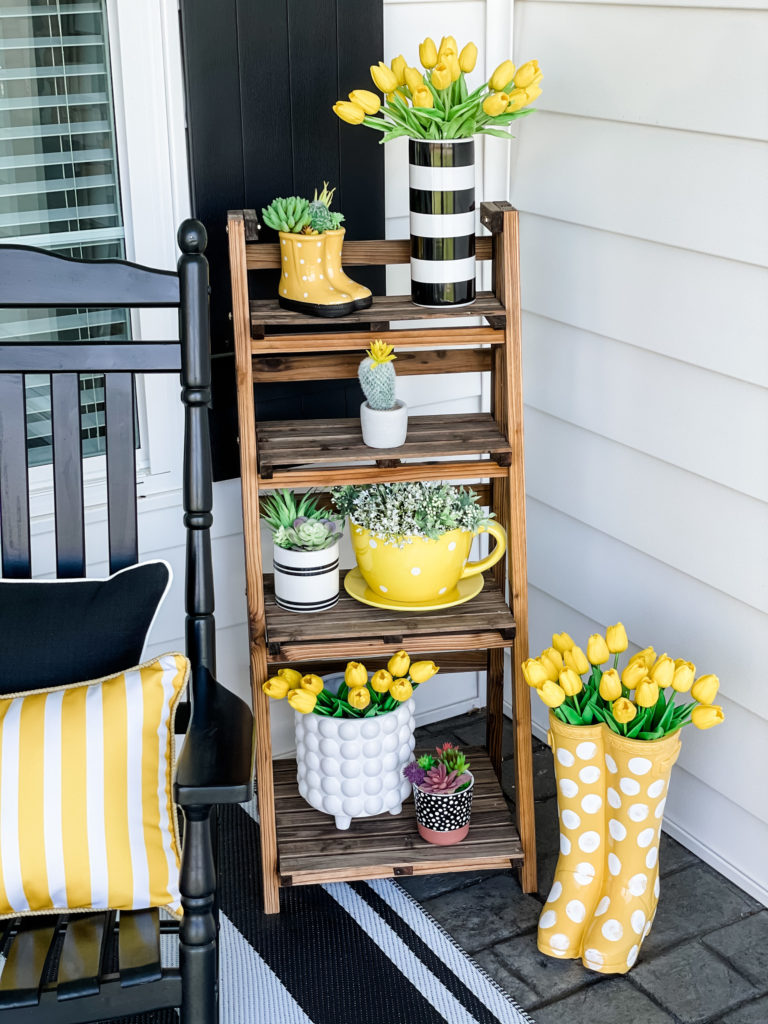 I also LOVE using this corner shelf from Amazon. It's the perfect way to display all my cute little knick-knacks!
I'm sure you remember my Big Lots rubber boot makeover, and now you can see how I displayed them! 
Behind the rubber boot planter, you can see the white "bubble" planter. That, as well as the tiny rubber boot planter, came from TJMaxx! 
The large yellow mug planter with polka dots came from Hobby Lobby, and the black and white striped vase came from Amazon!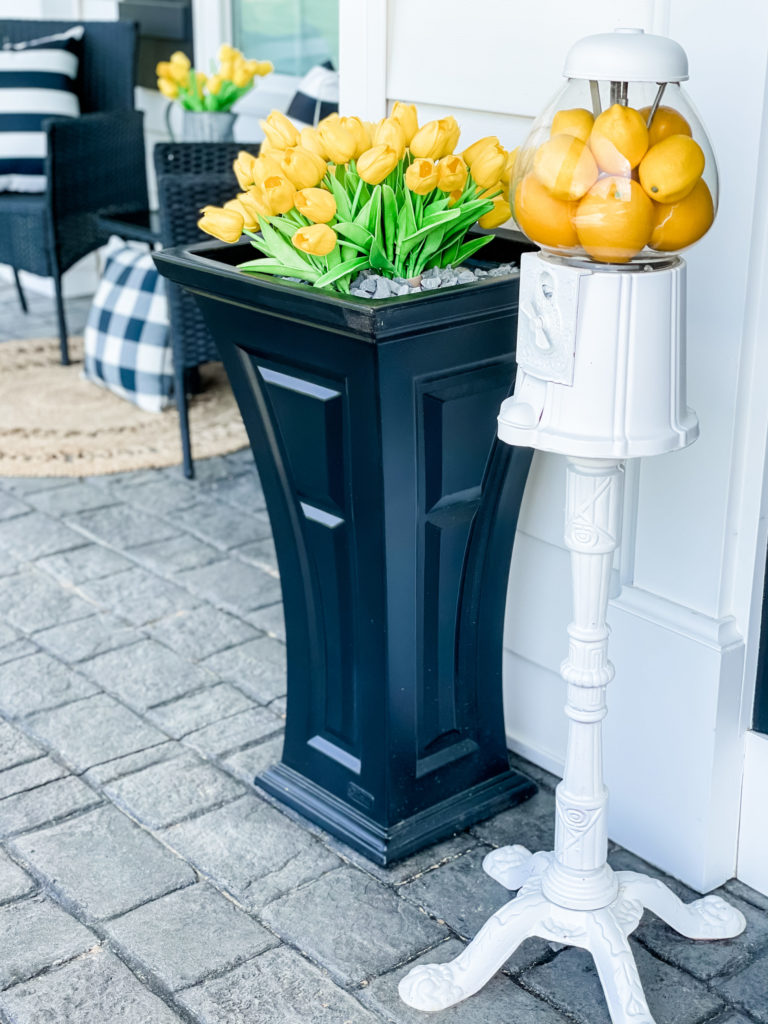 Moving on to the other side of the porch, you'll notice what might be my favorite element to the whole thing… my vintage gumball machine that I filled with lemons!!!
You might notice how I'm using yellow tulips, like, EVERYWHERE. I can assure you- they are FAKE!!! There is no way I would be able to keep all those bad boys alive, so I bought them all from Amazon!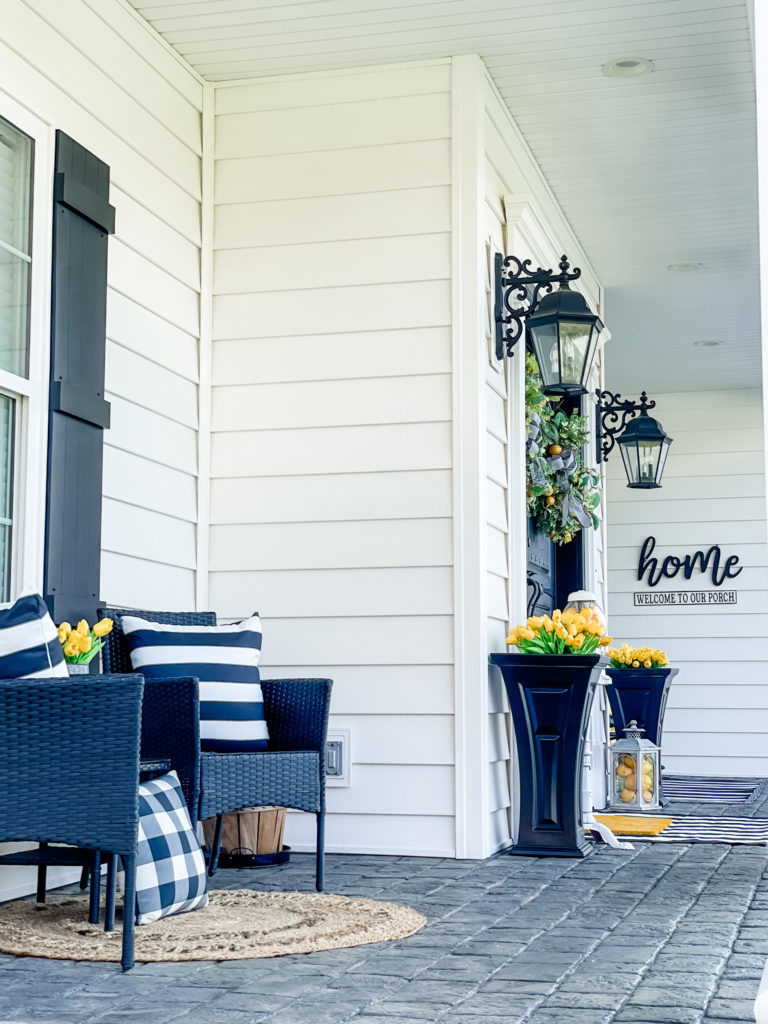 On the opposite end of the porch, I have a separate seating area with just a touch of yellow!
The GORGEOUS jute rug came from Hobby Lobby, and the pillow covers came from Amazon.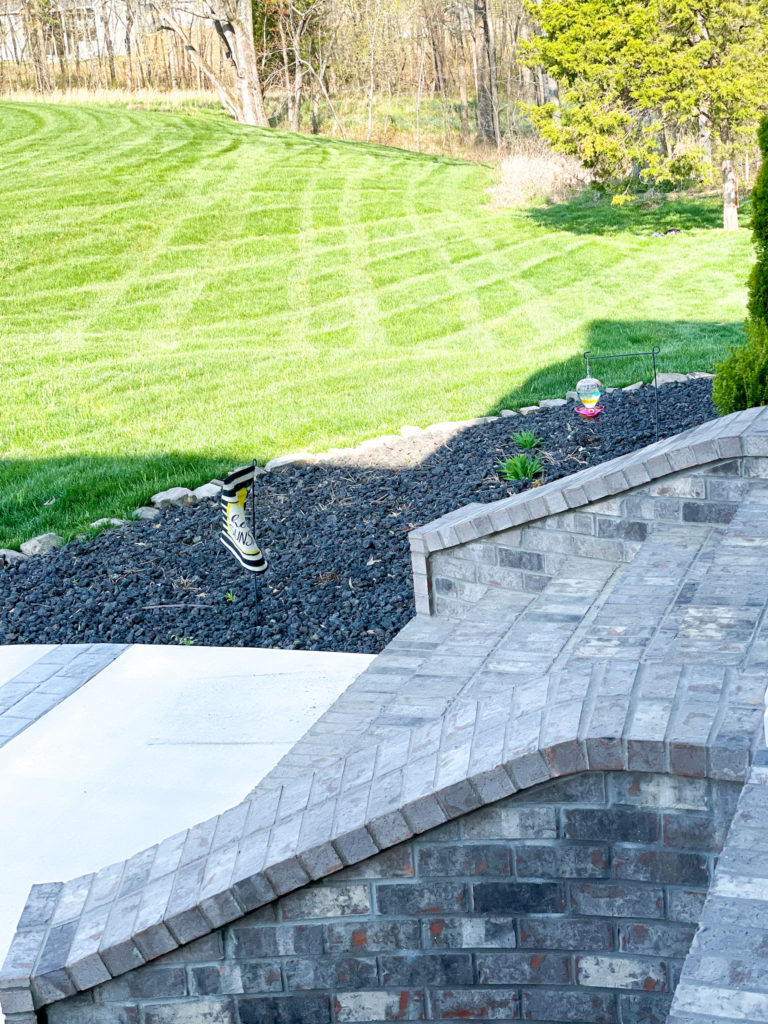 I really hope you enjoyed coming along and touring my Spring Front Porch!! I hope you feel welcomed when walking up these brick stairs… that's all I could ever hope for!
MAKE SURE TO PIN THIS!