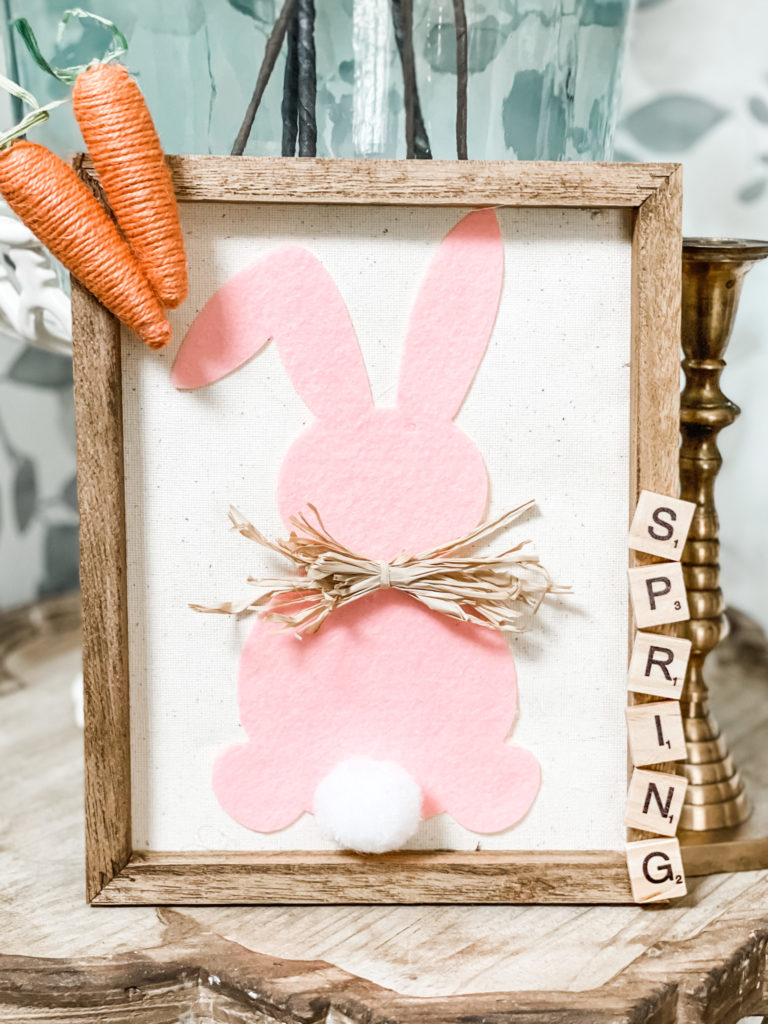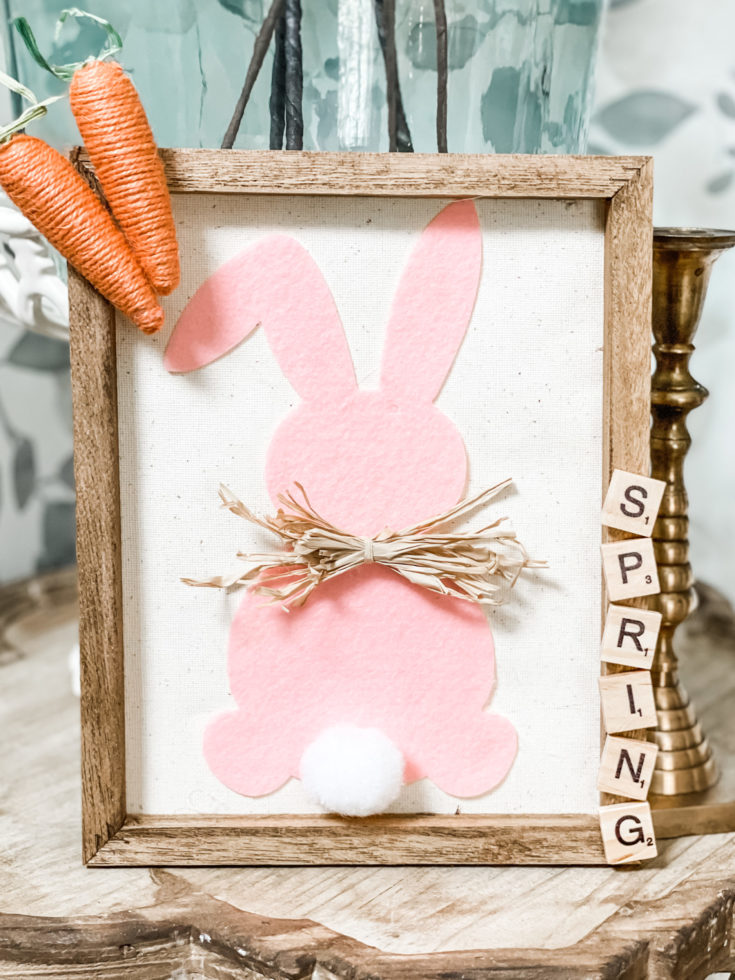 diy dollar tree bunny sign
I'm about to show you how to make the CUTEST, CHEAPEST, and EASIEST little bunny sign EVER. I spent $3 to make this, and boy was that $3 worth it!!!
Materials
Dollar Tree bunny banner
Dollar Tree canvas
Raffia
Dollar Tree carrots
Scrabble pieces 
Instructions

We'll start by getting the "hardest" thing out of the way... which is constructing our reverse canvas! If you have never made one before, here it is in a nutshell...
Start by removing the staples from the back of the canvas. I used a flat head screwdriver for this, but you can absolutely use a staple remover... LOL
Once you have your staples removed and canvas out of the way, start staining the wood! Make sure you stain the FRONT of the wood, which is the side WITHOUT the staple holes.
While your stain is drying, go ahead and cut the piece of canvas where it fits onto the back of the frame with NO overhand on the edges. Once that's done, hot glue it onto the back!
Now is where the bunny comes into play. This Dollar Tree bunny banner had a bunch of different colored bunnies to choose from, but I just went with light pink! Go ahead and hot glue him onto the canvas... notice he fits PERFECTLY!!
Now it's time to dress him up a bit! I went ahead and made a teeny tiny raffia bow... basically, just bunch up a little bit of raffia, and tie it in a knot in the middle!
...and hot glue that bad boy onto his neck! Now... if you wanted to be TECHNICAL, you can either pop his tail off, or omit the bow. I know normal bunnies don't wear bows on the back of their neck, or wear a bow at all... but, I thought it was cuter this way!!!
These next few things are totally optional, but I thought they added the cutest little additions! I took two little carrots from the Dollar Tree (they come in a pack of 4) and hot glue them onto the top left corner of the frame!
Lastly, I spelt out "spring" in scrabble letters, and hot glued them onto the bottom right of the frame... and DONE!!!

MAKE SURE TO PIN!!!