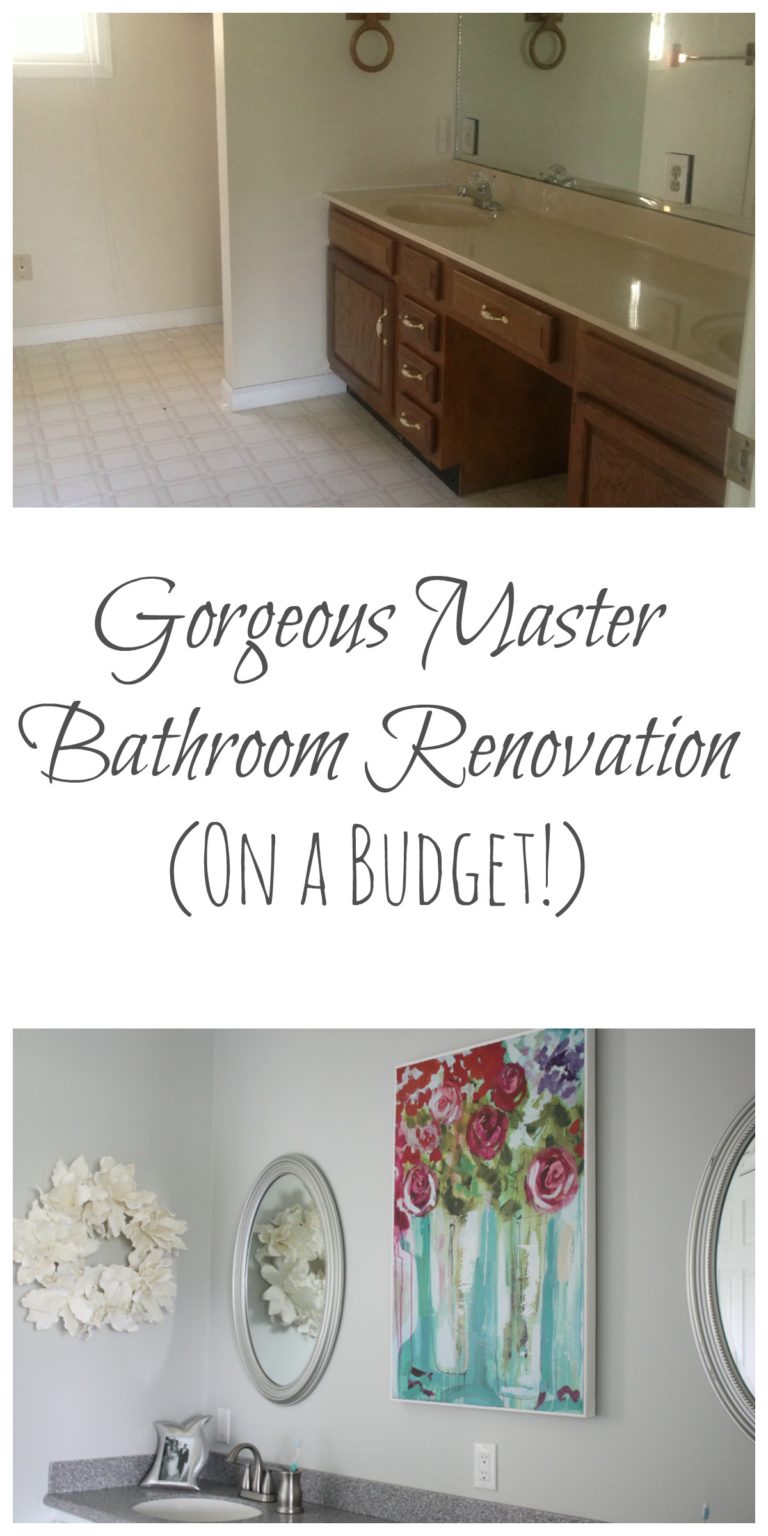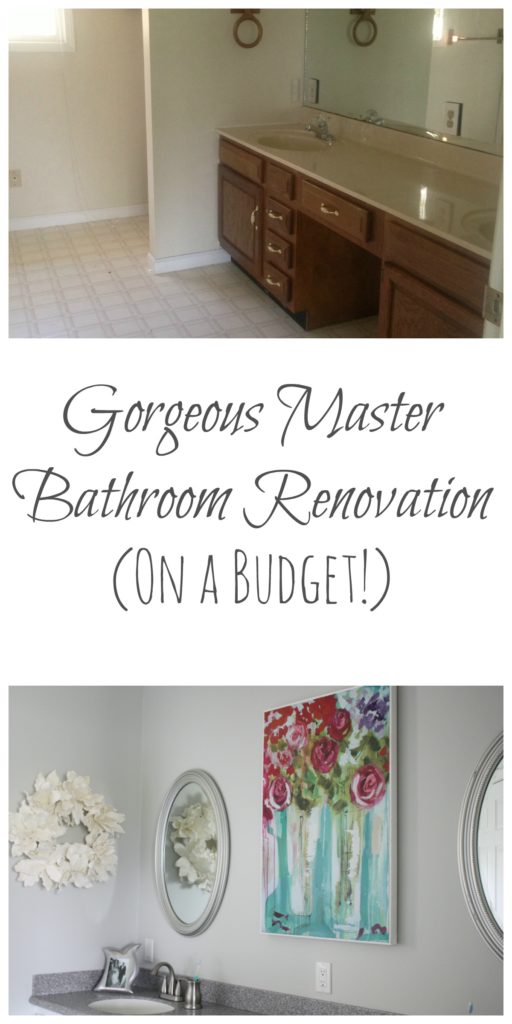 Today I want to show you the 5th room in our Re-Fabbed home tour~The Master Bath! This room was in desperate need of some attention. It was outdated, run down and just plain dirty. Cobwebs were hanging in corners, the linoleum flooring was coming apart, and the list could go on. I knew this space could be awesome, though. As I have said many times before, it is simply looking past the ugly/outdated and seeing what could be!
Here are a couple of pictures of our bathroom before: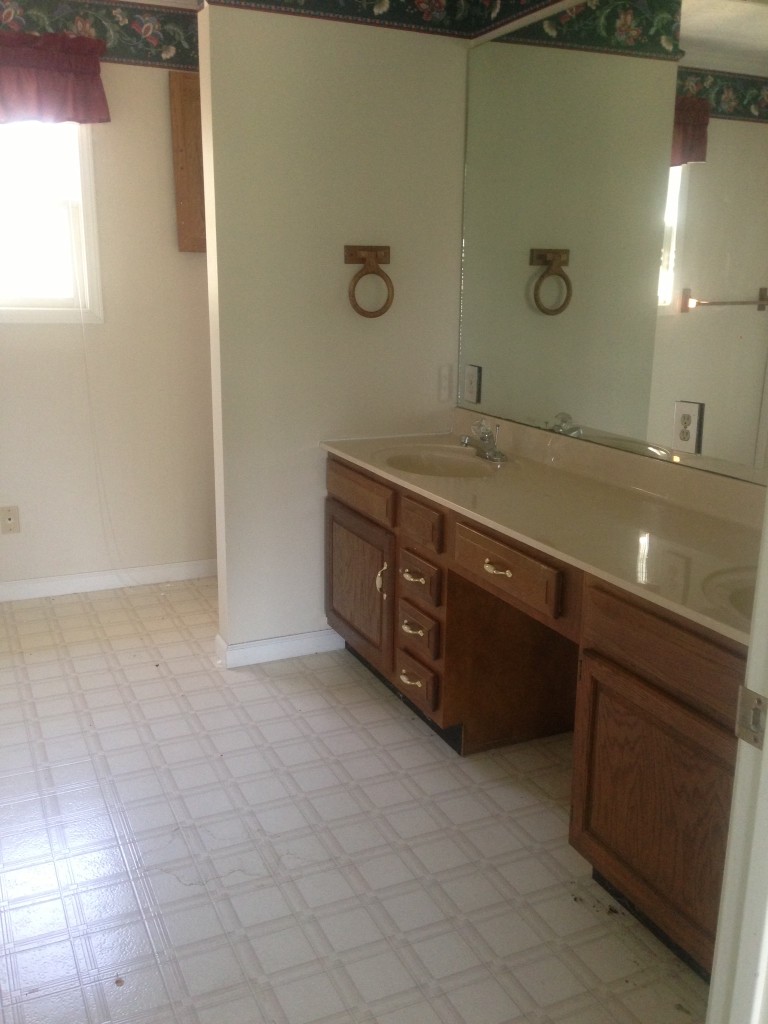 So, what do you think? Pretty snazzy huh?!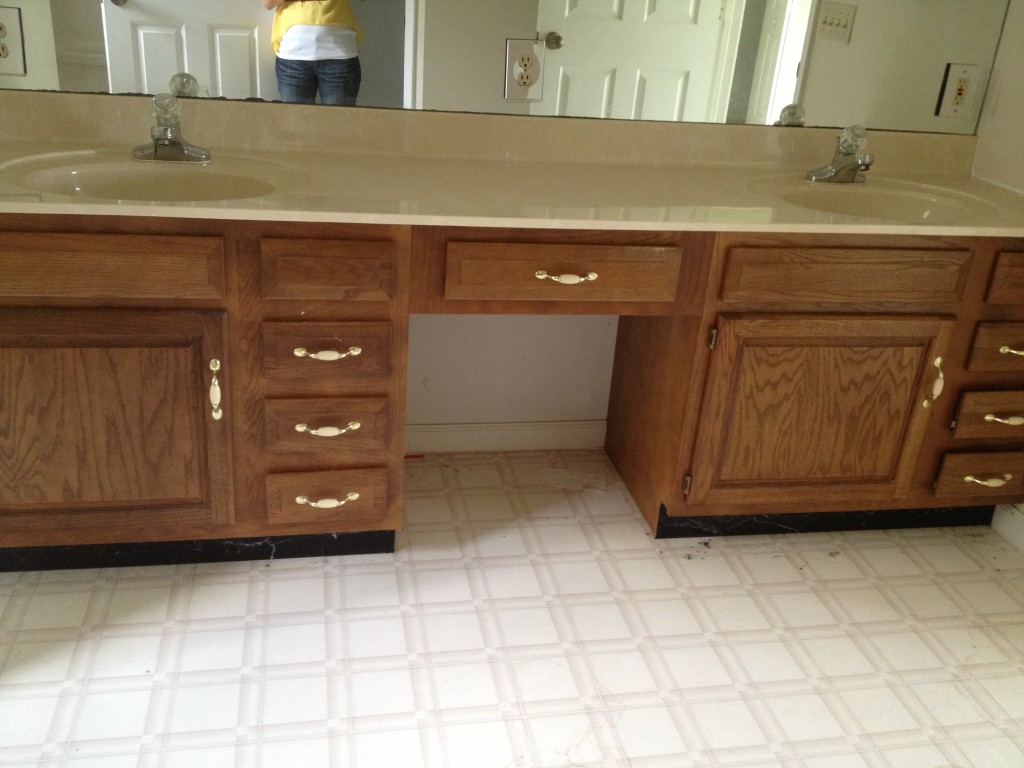 Did you spot some of the cobwebs?!
I did love the fact that this bathroom was HUGE…and that it had a large walk-in closet in it (no pictures- that is NOT an area that I have re-fabbed yet!), lots of cabinet space and double sinks.
*I really think the key to seeing past what it is at the time is simply looking at all that you DO like. Sometimes that is hard, but soooo worth it in the end.*
Here is the bathroom NOW: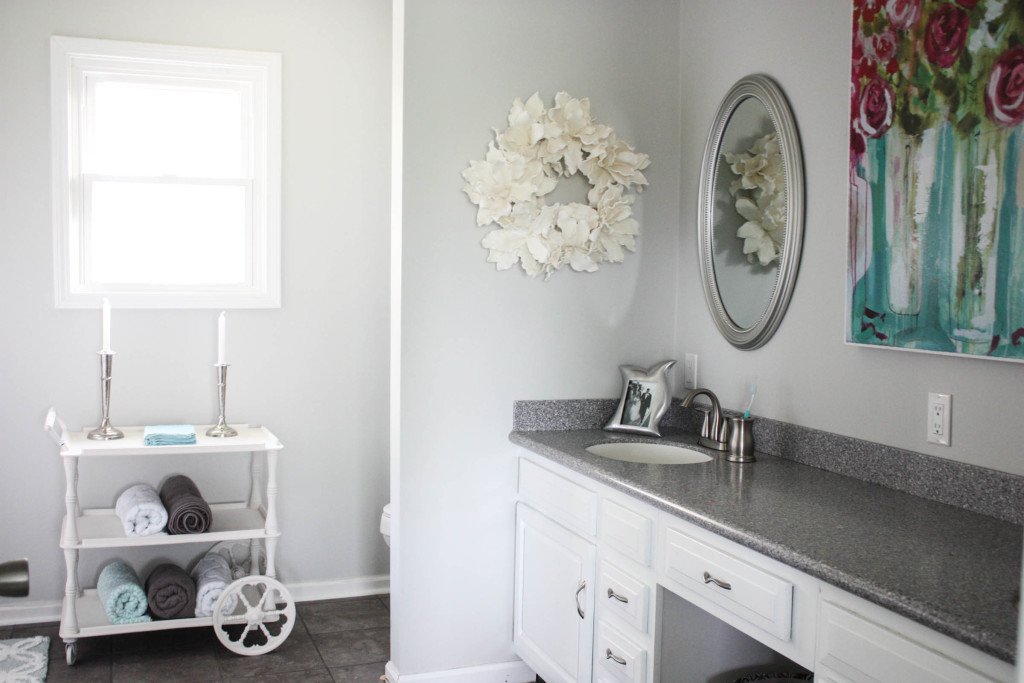 What a major difference!!!
Don't you just love my tea cart? (That was a fun make-over too!)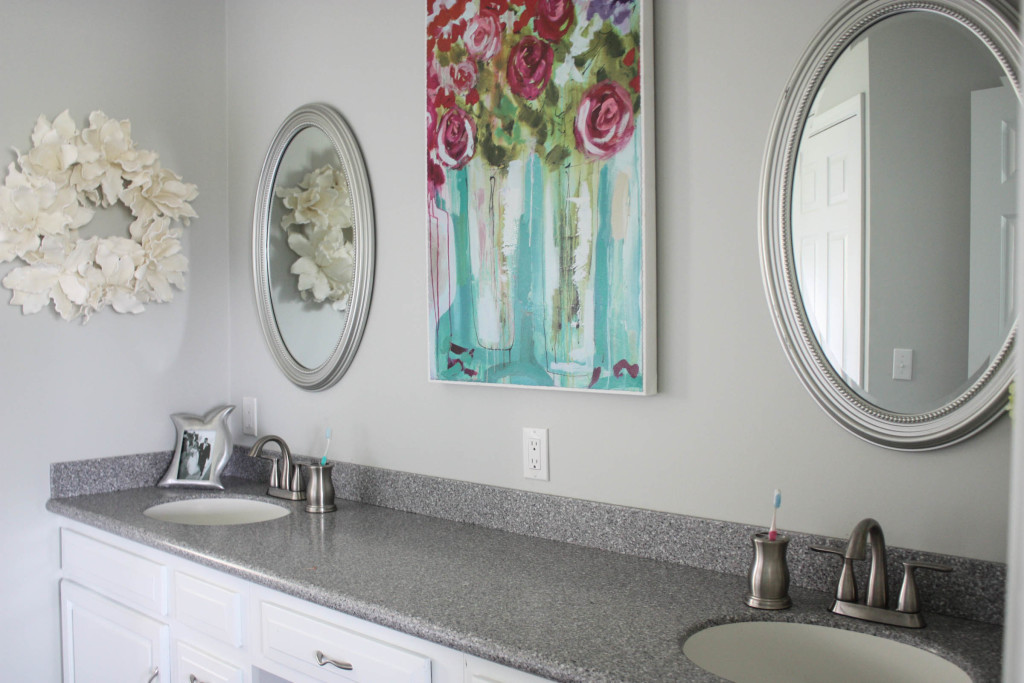 I LOVE my counter-tops! They are a solid surface gray speckled…and they were a bit of a splurge, but totally worth it. I DO think I need something in between the 2 sinks, but I am not sure what exactly. I have played with a few things, but I am not in love with anything yet. Any ideas?!
The oval mirrors came from Kirklands, and I thought they added the perfect touch right above the sinks. The paper flower wreath is from TJ Maxx, and it has made its rounds in my home 🙂 It is an awesome piece of decor (It has even hung on my front door for a few months!).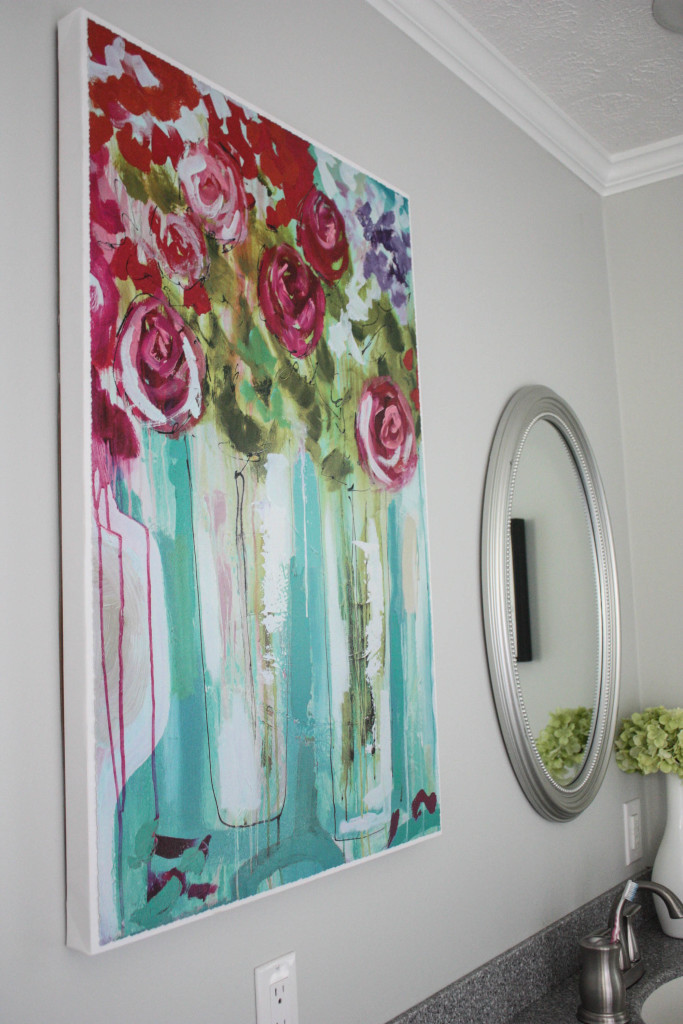 The canvas painting, which I ADORE, is from Hobby Lobby! I got it half off for $40, and it totally brings life to this room. I love the colors and the vibrancy.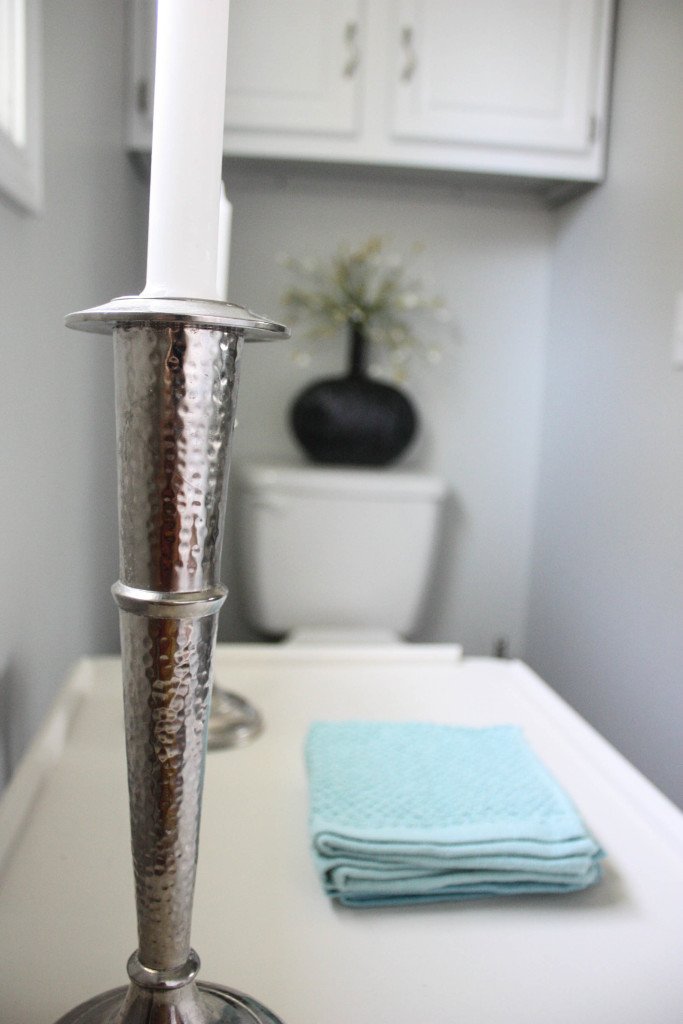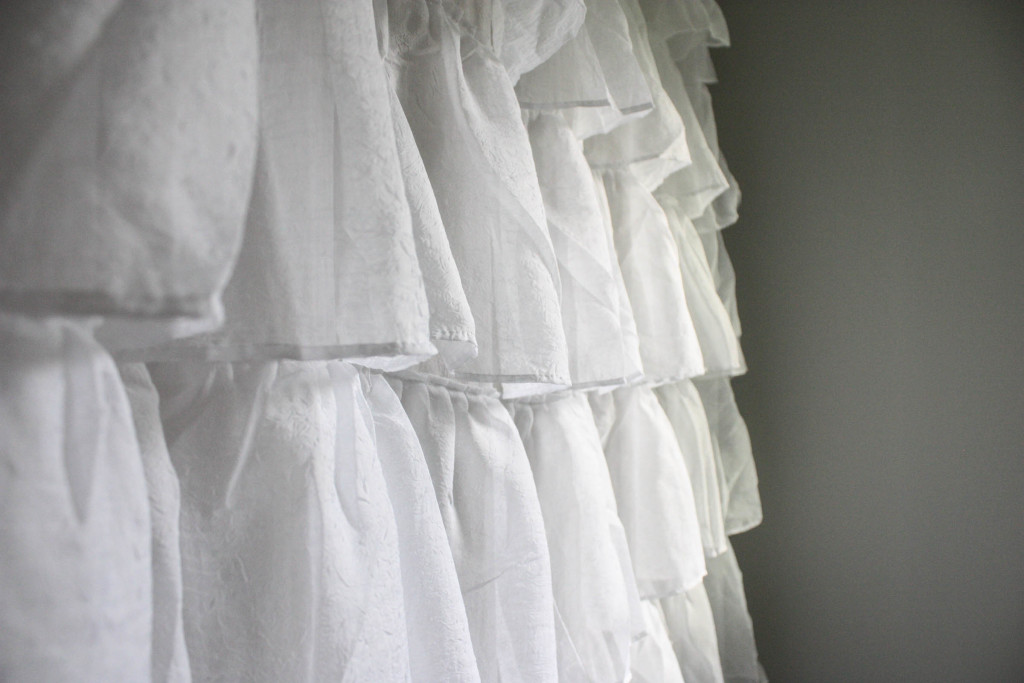 Our white ruffle shower curtain is the perfect accent, bringing light and airy with a touch of feminine into the space. I have always loved ruffle curtains, so I knew before we ever moved that I wanted to incorporate one into a bathroom somewhere. It happened to work perfectly in THIS one 🙂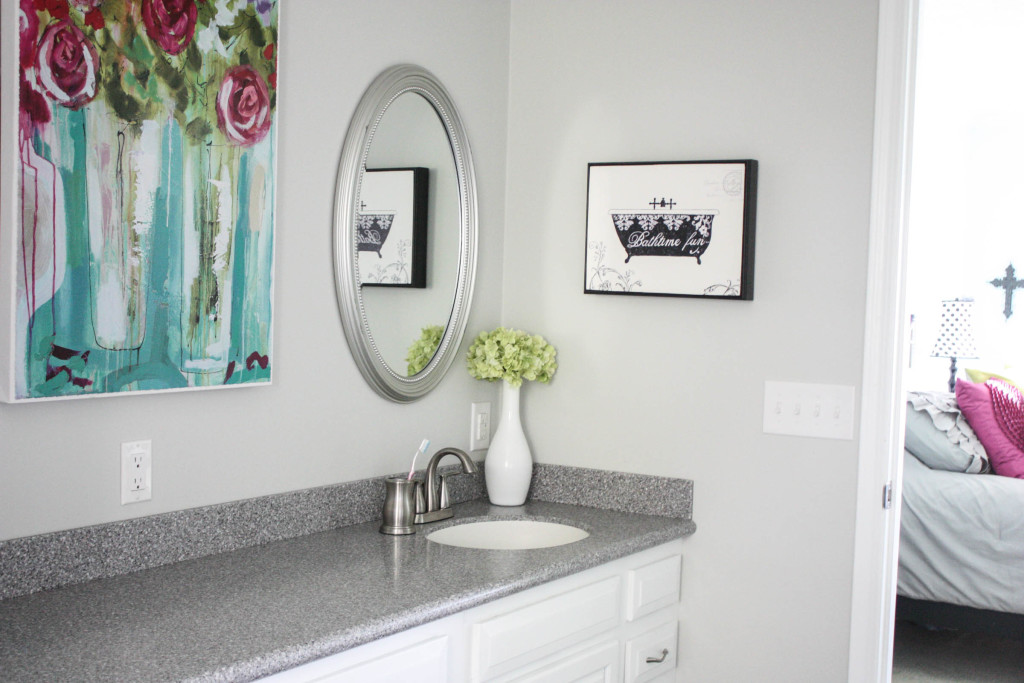 The bathtime fun canvas is one I have had for a few years now, and I am not even totally sure where I got it. I believe it came from Hobby  Lobby. If you can't tell, that is one of my very favorite stores!
The little vase in the corner was a dollar store find, and the artificial flowers are left from a wedding I was in a couple of years ago. I thought it looked great paired together, and I loved the shade of green~plus, very little money! (You can even see a little hint of our master bedroom!)
All in all, this bathroom is just a very simple space. There isn't a whole lot going on in here as far as design, which is what I wanted. I do love the way it turned out! It is very neutral, but has pops of color (which I cannot live without! If you have seen the rest of my house~you know that is true, especially the kitchen.)
Here is a list of the changes we made:
New tile flooring
New solid surface counter-tops
New sinks and faucets
Painted cabinets/Changed hardware
Removed border and large glass mirror
Painted all trim (white) and walls (Valspar~Madeline Steps)
New toilet
Lots of new accessories!
This renovation came in at around $1100 when it was said and done. For the drastic change that was made, not too shabby!
Well, what do you think? I love feedback!
Pin it for later!