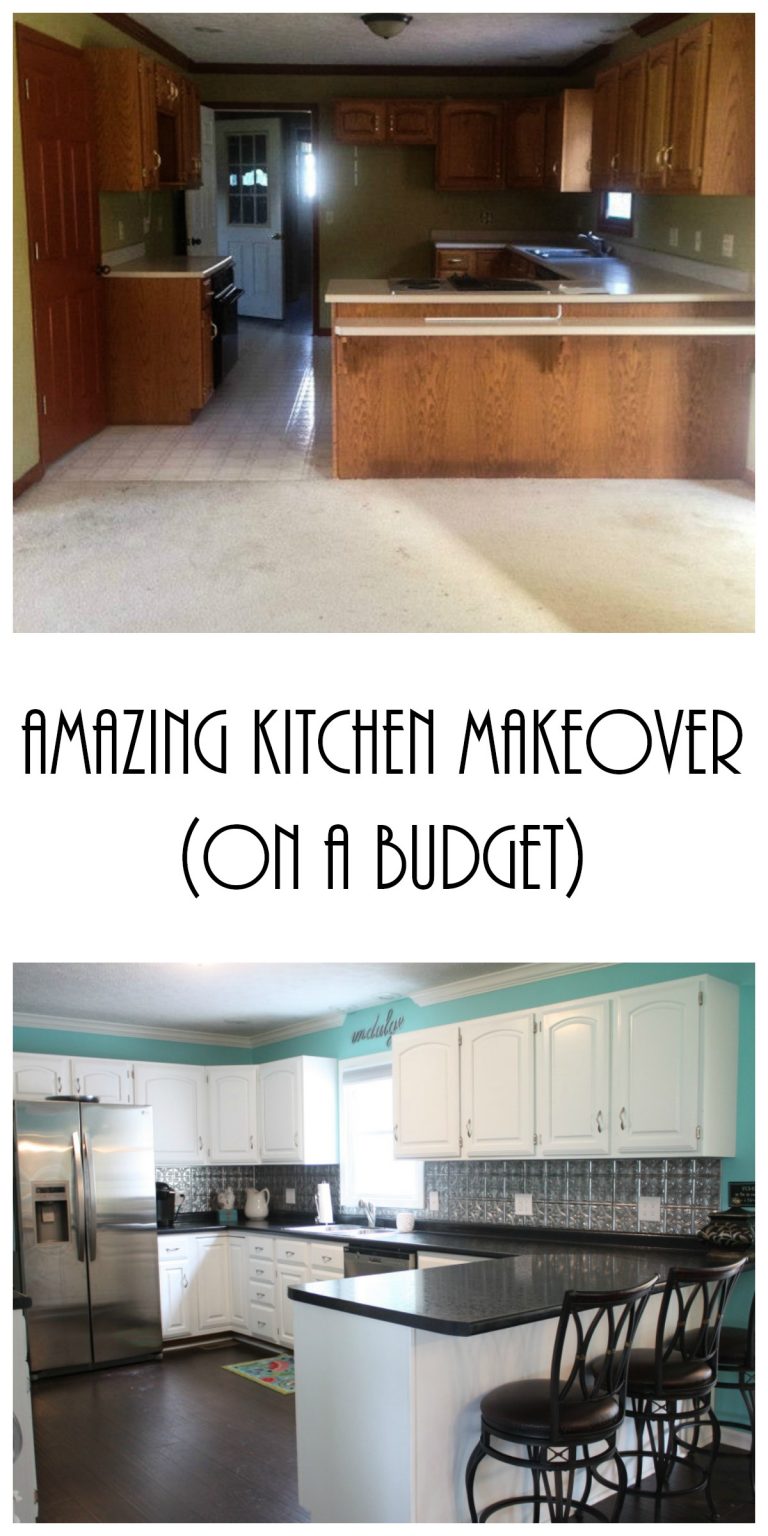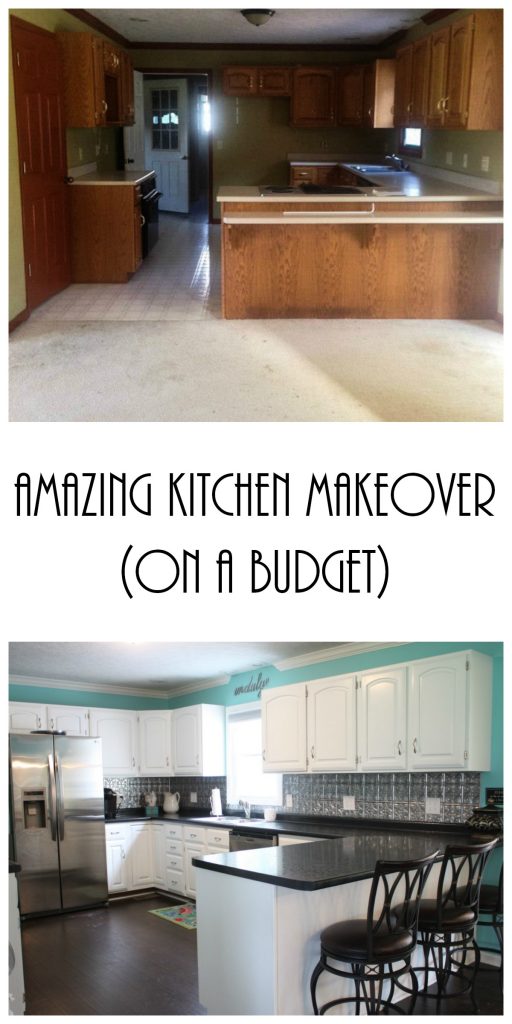 They call the kitchen the "heart of the home", and in our case, this heart was about to have a full blown Heart Attack! Get the nitro ready. Ouch! This kitchen (well, the whole house really) was in such distress. Thankfully, I have always been able to look past the ugly and see the "could be", so I had big dreams for this space.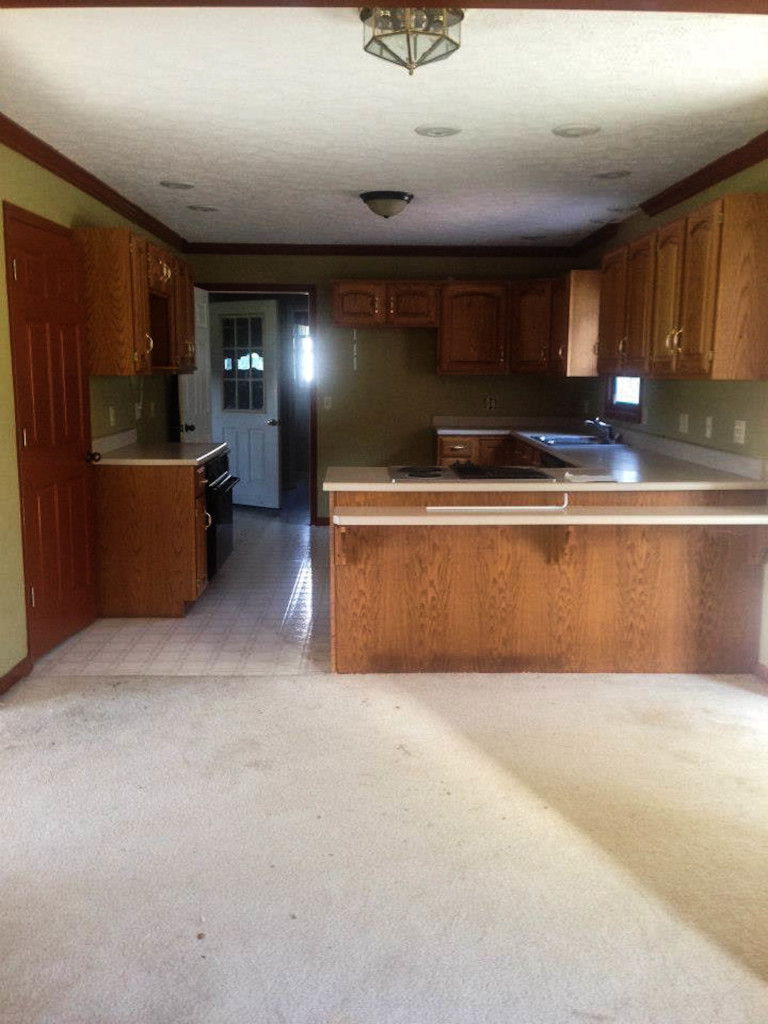 Ok. Besides the layout (which is certainly a vital part), there is NOTHING about this space that I like. Notta. Zilch. I am still hung up on the trim and door colors. In what world was that color ever acceptable?!?! Anywho- with some work, this space would soon be a beautiful space that we could be proud of.
*Note…because so many people have asked- This before picture was taken while the home was still in foreclosure. There was no electricity. This picture was in the broad daylight. It was just dark and gloomy. It is the only before picture I have, because at the time, I did not have a blog and did not think about all of the things I would now.*
Here is a list of what we changed:
Painted all cabinetry white (had a painter do this. He primed and sprayed the doors with an oil based white paint- I am sorry, I do not remember the exact brand/color)
Changed hardware (from Lowes) but found some that are very similar on Amazon:
Took out existing flooring (linoleum and carpet) and replaced with laminate hardwood. We got this from Sam's (surprise!), and it is Select Surfaces Brazilian Coffee. The color is gorgeous. YES, it shows dirt badly!
Painted all trim, doors and walls white
Removed counter top and replaced it with a nice HD laminate (I am sorry that I do not have the exact name. If I find it, I will update.)
Removed existing bar area and extended new counter top out for a new bar area
New sink
New appliances
Put back splash in~Visit Lowe's website for the details of what we used. For only $19.95/sheet, it was a very inexpensive way to add a huge wow factor.
New lighting
This kitchen renovation was honestly very reasonable. After ALL was said and done (including the flooring), we came in around $4500! For all that was done, I think we did pretty darn good!
This is our kitchen NOW!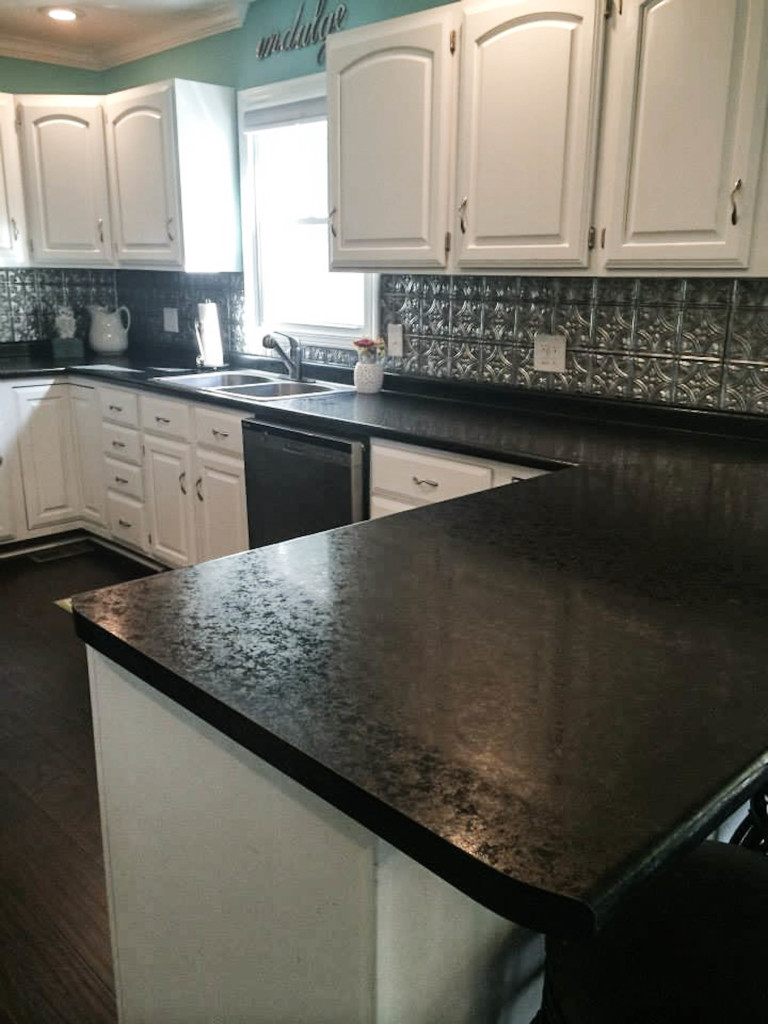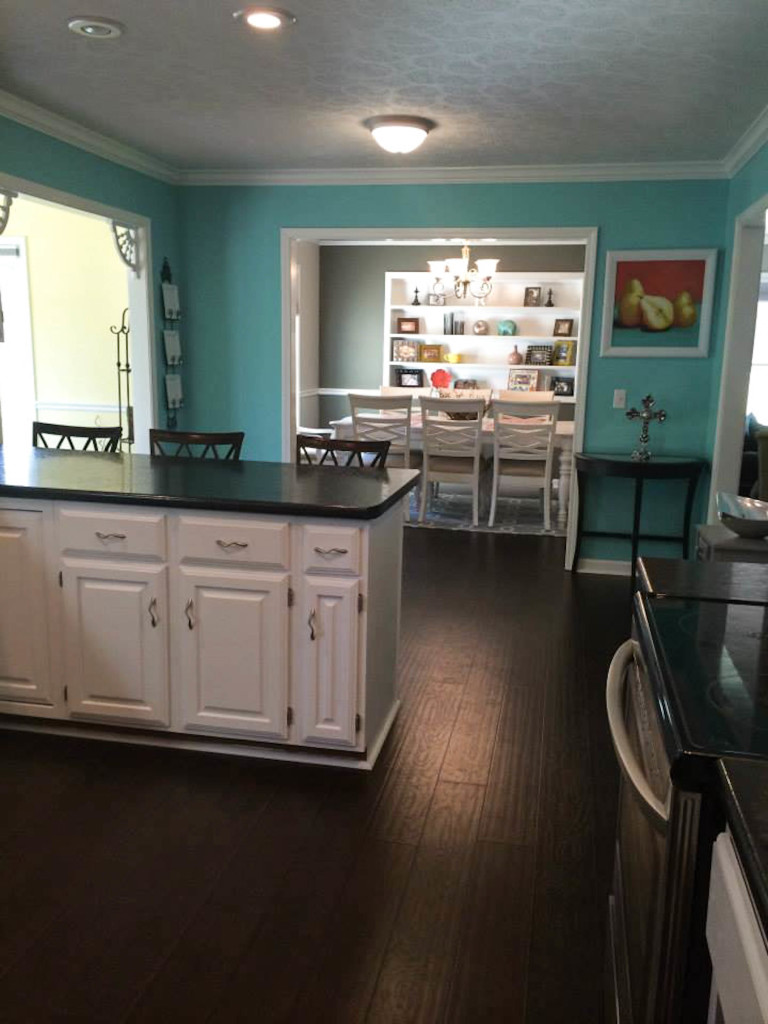 It's real life up in here on this blog–so yes, my beautiful dark floors are showing some dirt! With 2 toddlers, I do the best I can! LOL.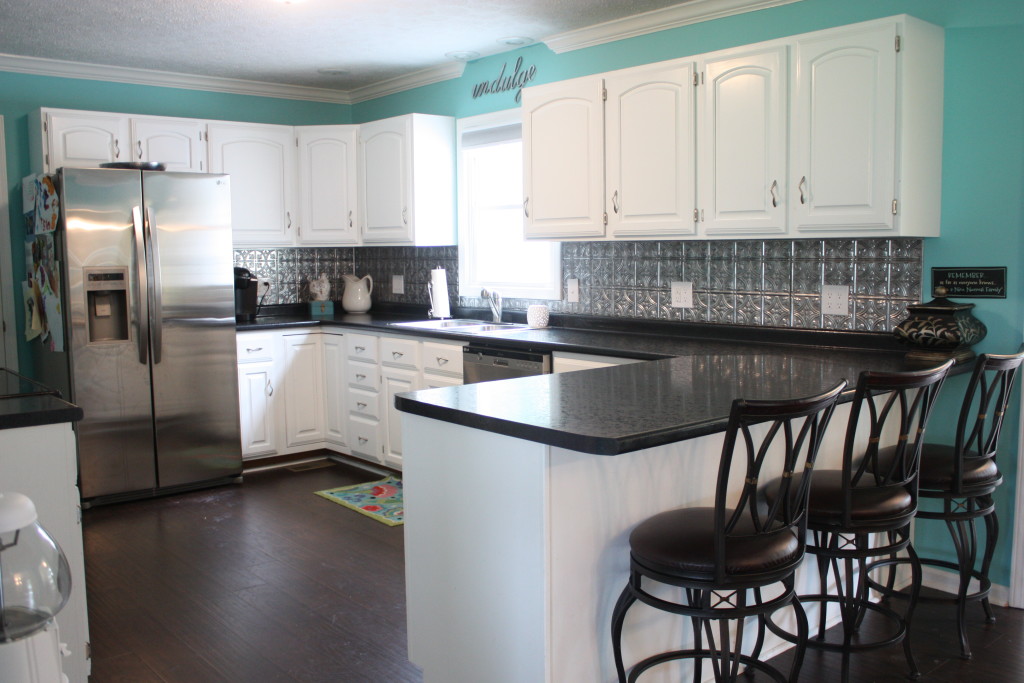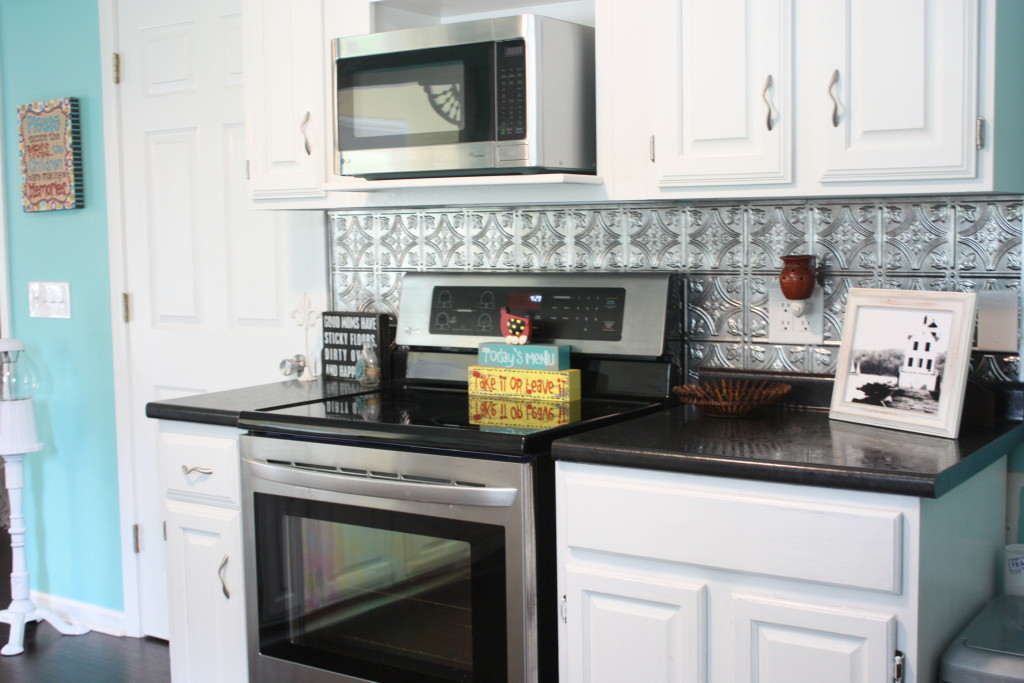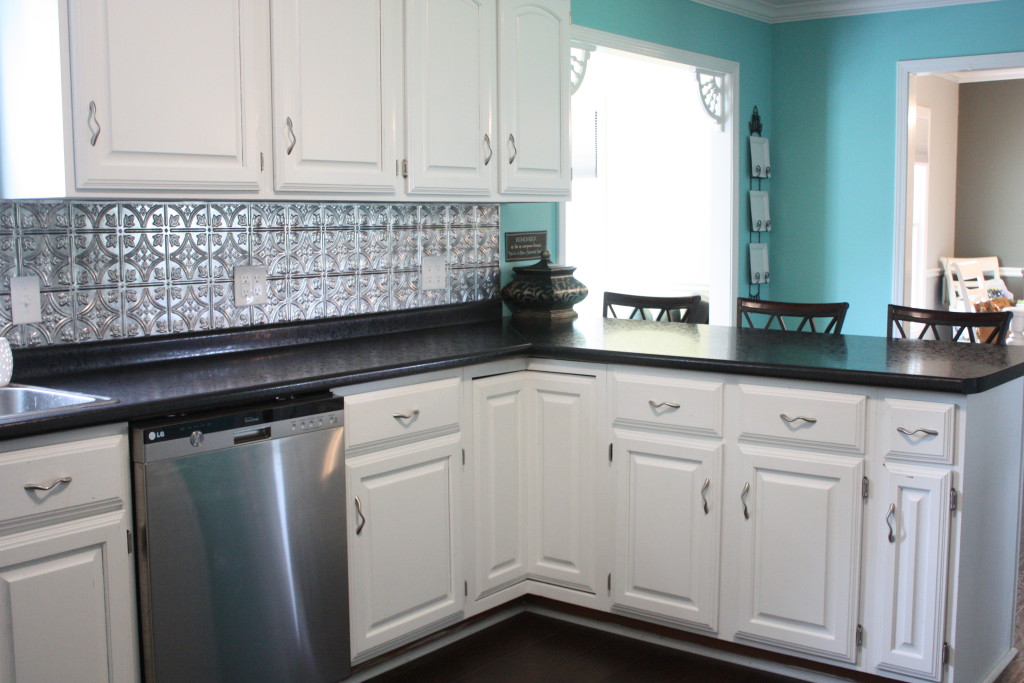 I could not be happier with this lively, fun kitchen! I LOVE the walls (Valspar Gentle Wave) and the way it makes the white just pop! It truly is a happy space where I enjoy being. I am still amazed at the transformation.
What do you think? Does an aqua kitchen appeal to you?
PIN FOR LATER!