Ok guys. Let's talk BOWS. Mainly, the SUPER easy way of how to make a bow. They can set off any gift or wreath or door hanger or literally ANYTHING. They add that little extra oomph to your project, but soooo many people have no idea how to make them. Guess what? That was ME not even 2 months ago. I had never made bows. I didn't have a clue what to do. BUT, I knew the style I liked…and I worked around with it until I found a process that worked for me- and I tweaked it along the way until I had it just the way I wanted it.
I can't tell you how to make those gorgeous loopy bows. I don't know how. But, I CAN tell you how I make MY bows…and they are super duper easy.
Easy Step-By-Step Instructions on How to Make a Bow
I am basically going to just walk you through my process with pictures. I will actually do a video a little later and try to add it to this blog post too, for reference.
Get all of your ribbon together!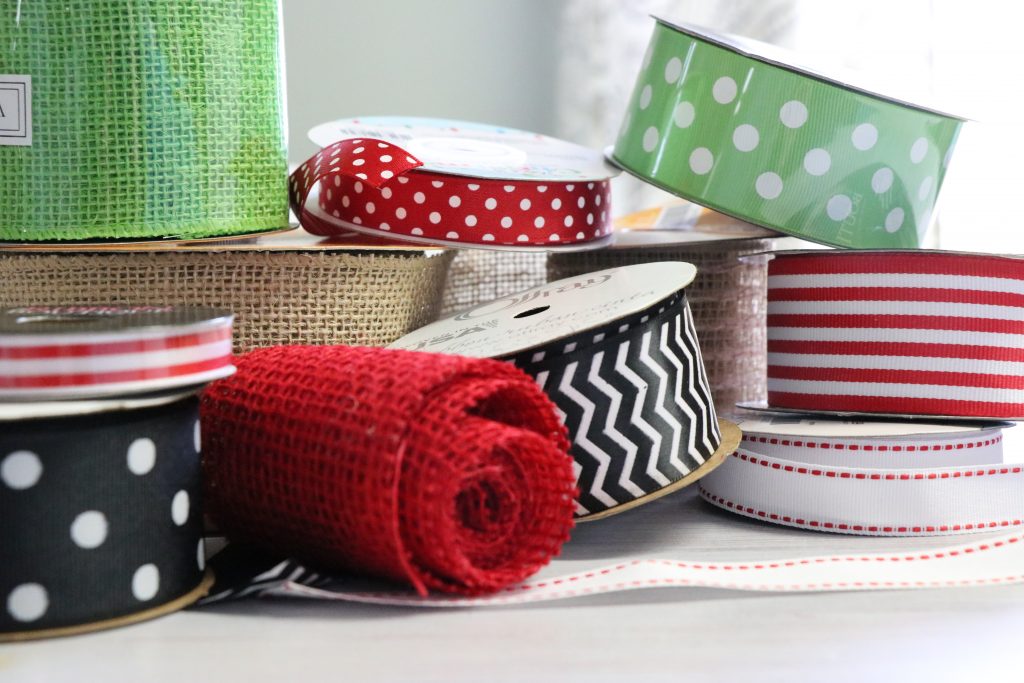 1. start with a "base" for your ribbon bow.
I consider a base either some really thick ribbon of some sort that matches your theme or a very neutral burlap. 99% of the time, I use a neutral color, such as burlap. I lay 2 pieces down and crisscross them. It is up to you how long your ribbon should be, depending on how big you want your bow.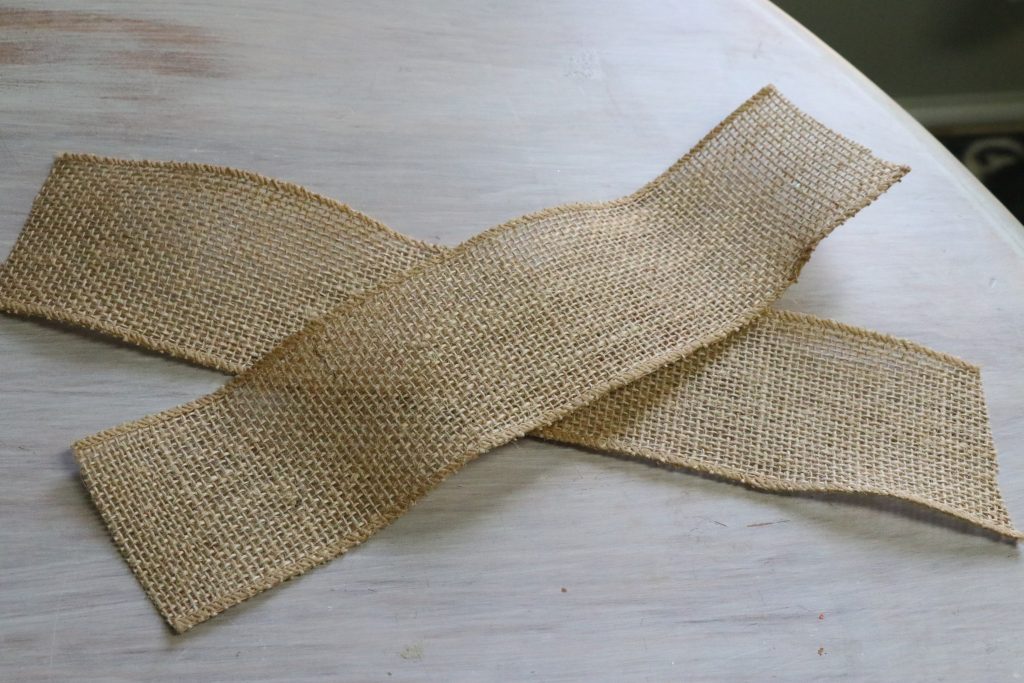 2. Cut strips of ribbon.
Cut strips of ribbon and continue this process until you feel like you have used as much ribbon as you desire!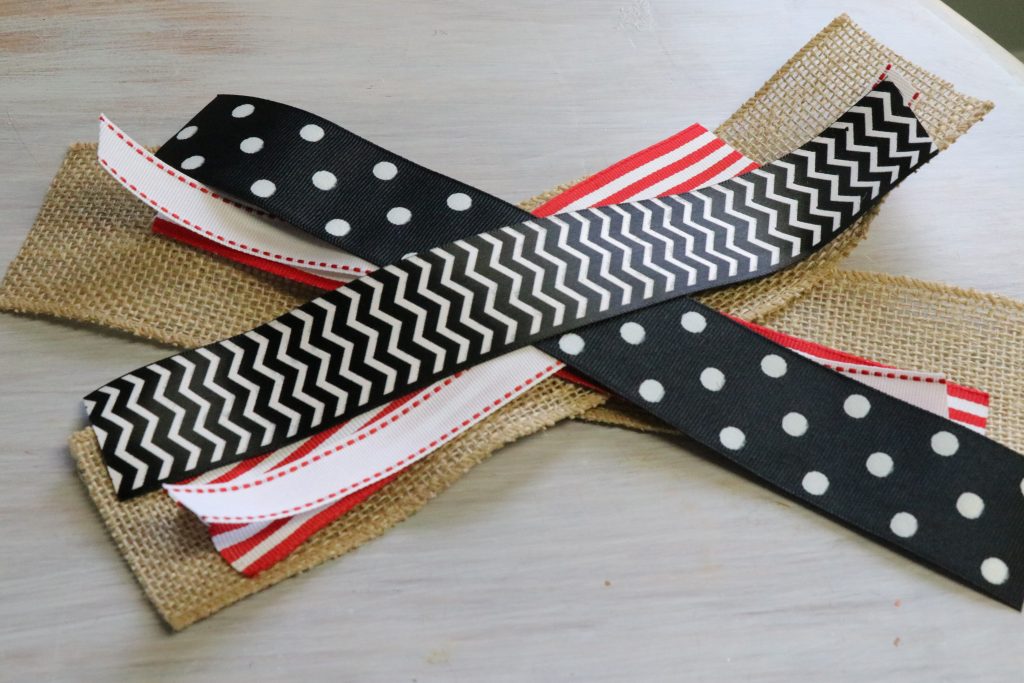 3. Layer your strips of ribbon.
Mix and match fun colors and designs. It is FUN to make a bow! I like to mix thick, thin, different designs, plain, etc… It gives your bow more fun layers.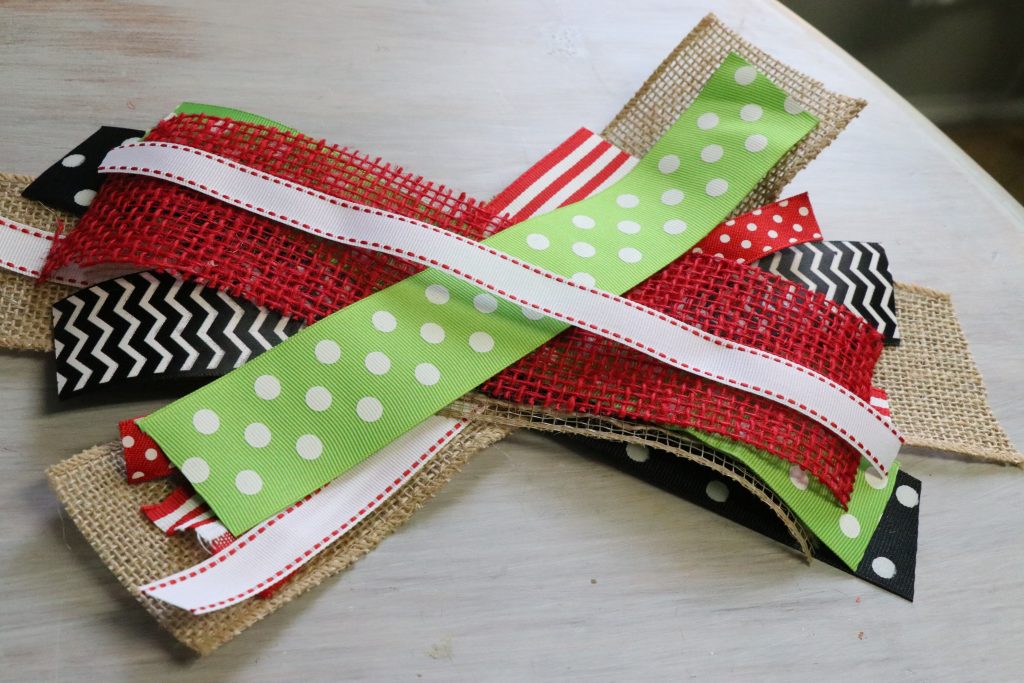 4. Secure your ribbons
Once you are done layering your ribbons, take a piece of thin ribbon (maybe 1/2 inch or whatever you want to use) and lay it across the top, like pictured.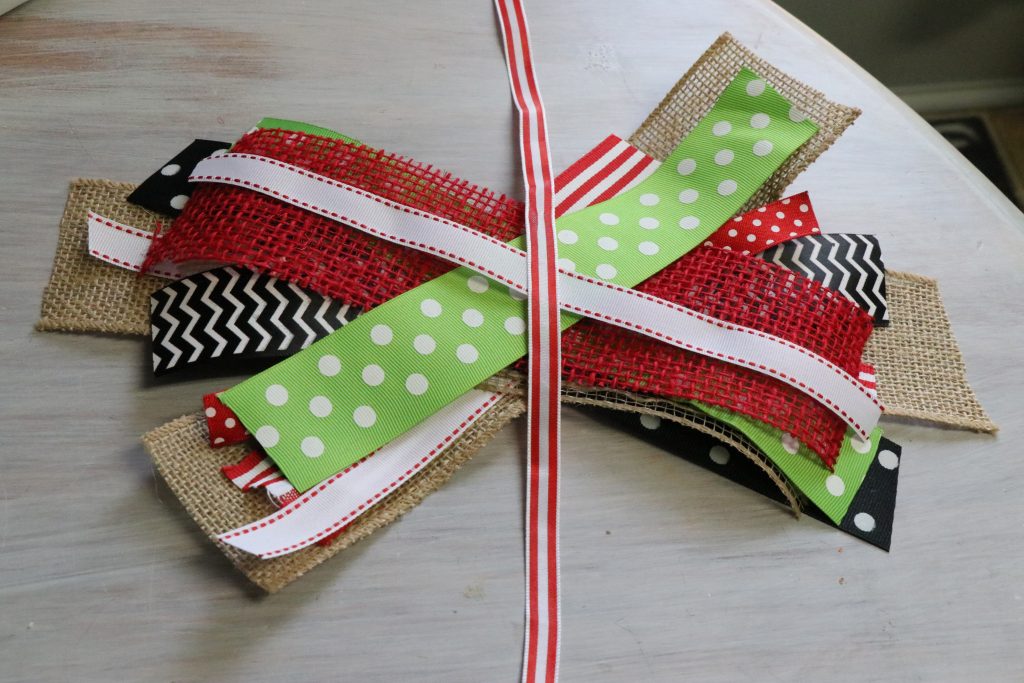 Flip the ribbons over and tie the ribbon in the back. Tie it TIGHT so that it really gathers your ribbons.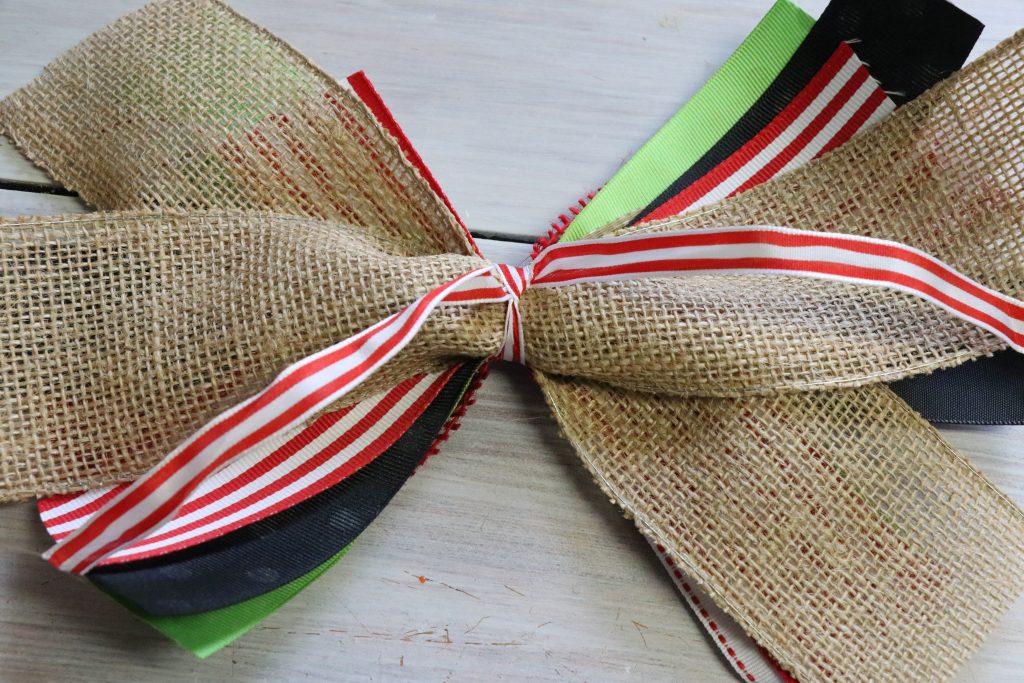 BOOM! You made a bow! Now, just tweak it and pull the ribbons into place as you want them to lay…and you are DONE!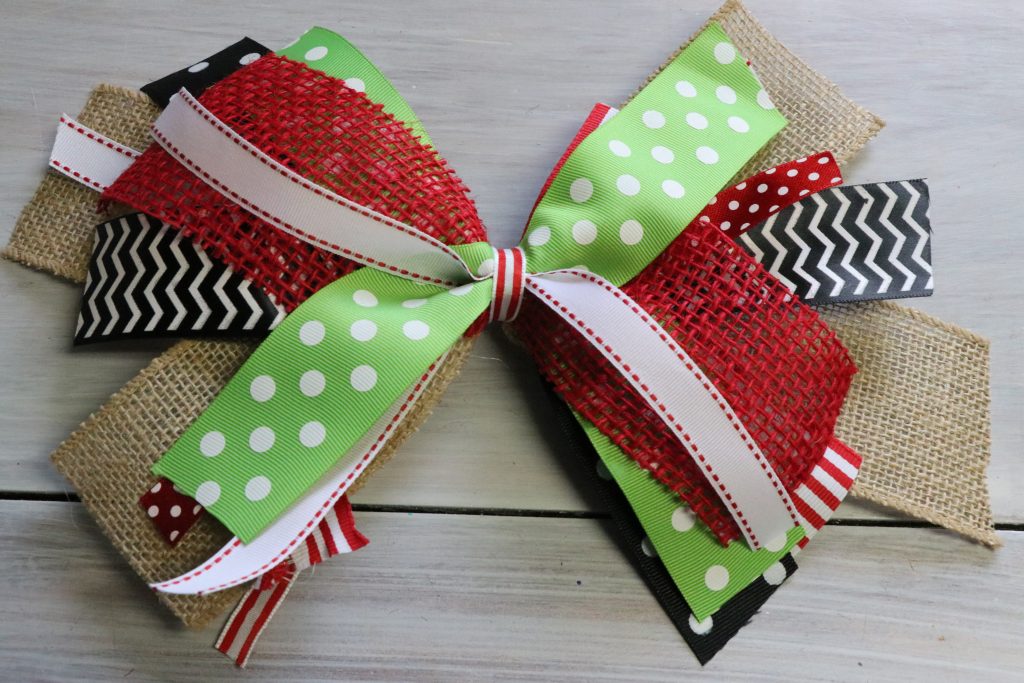 I told you that it was so easy. Did you believe me that it was literally THIS easy??
FAQs About This Bow Tutorial
What type of ribbon do you use?
Get creative! You can use any style ribbon you like, it does not have to be wired ribbon either. Mix and match patterns and colors to add to everyday crafts, or get festive with seasonal ribbon.
Now, here is my bow hanging on my Santa hat door hanger!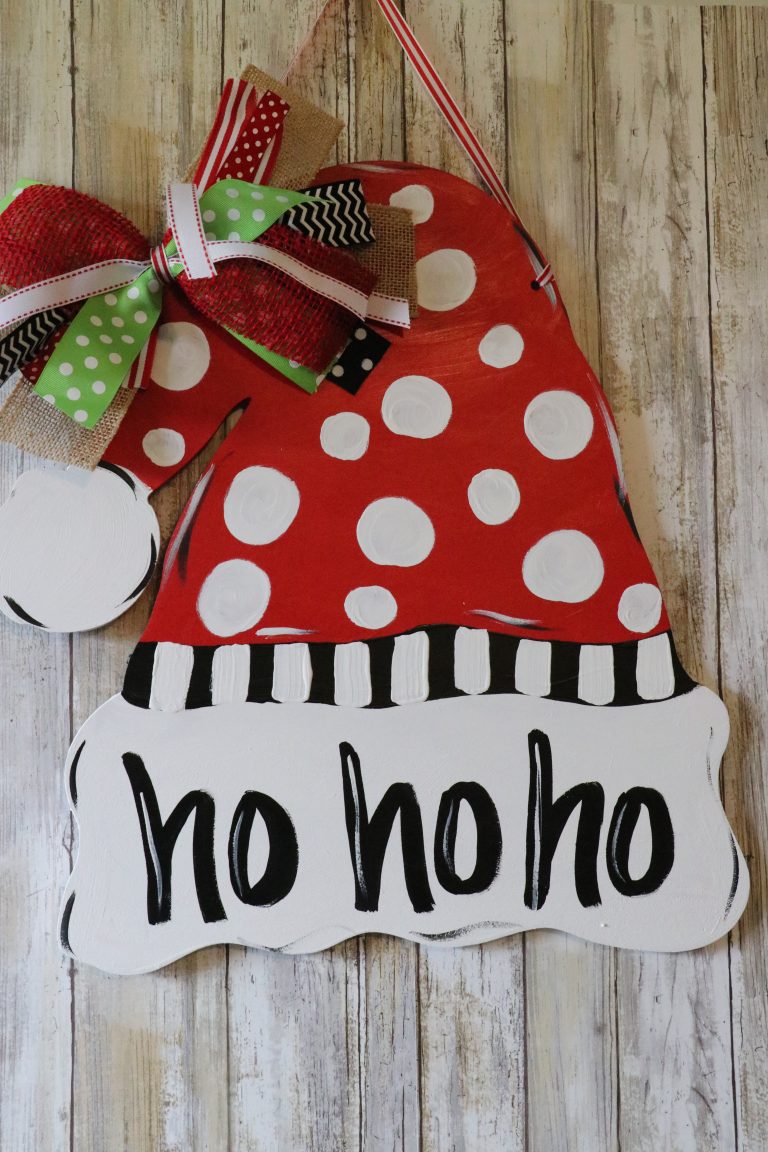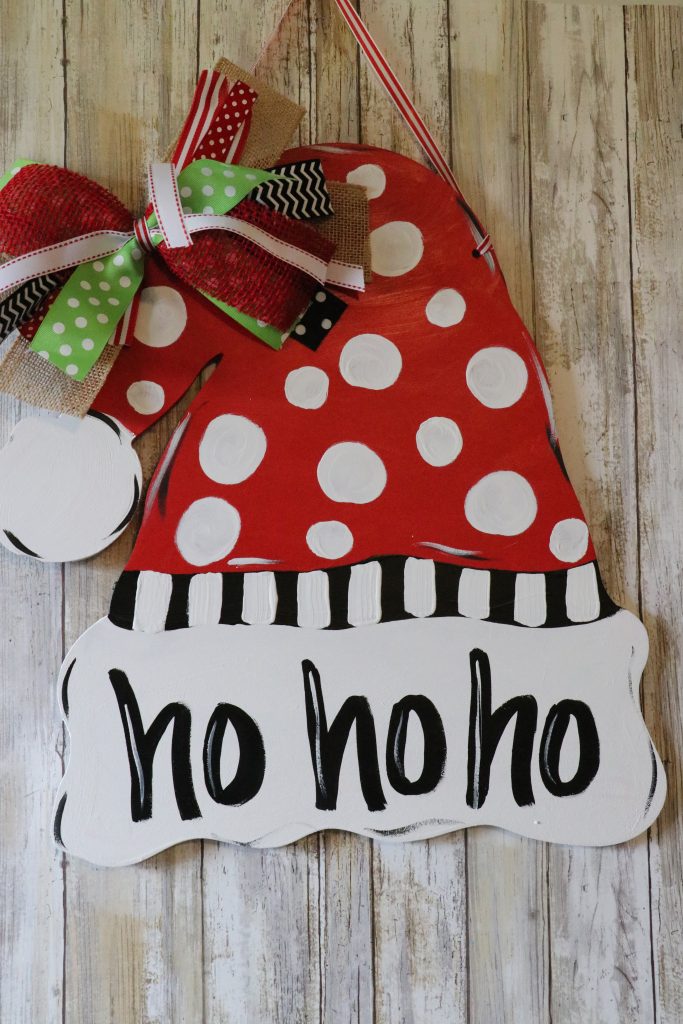 What supplies do I need to make a bow?
We're all about making things simple and easy here. You'll just need your favorite ribbons and pair of scissors. You can also use pipe cleaners or zip ties to secure your bows too. Just make sure to cover them up with decorative ribbon or fabric.
Love ribbon crafts?
Take a peek at all of these craft ideas that include some of your gorgeous ribbon supplies.
Show me the bows you make in the comments!
Share this post so that all of your friends can learn how to make a bow the SUPER EASY way!!