Y'all are never gonna believe this…but as I looked through my Christmas decor, I realized I have ONE thing with a snowman on it…just ONE! I had to change that, because that is just unacceptable! I found a wooden snowman cutout at Hobby Lobby and decided to paint it to go on my TREEEEE.
I just love how it turned out!
I will try to walk you step by step what I did, so hopefully I make good sense LOL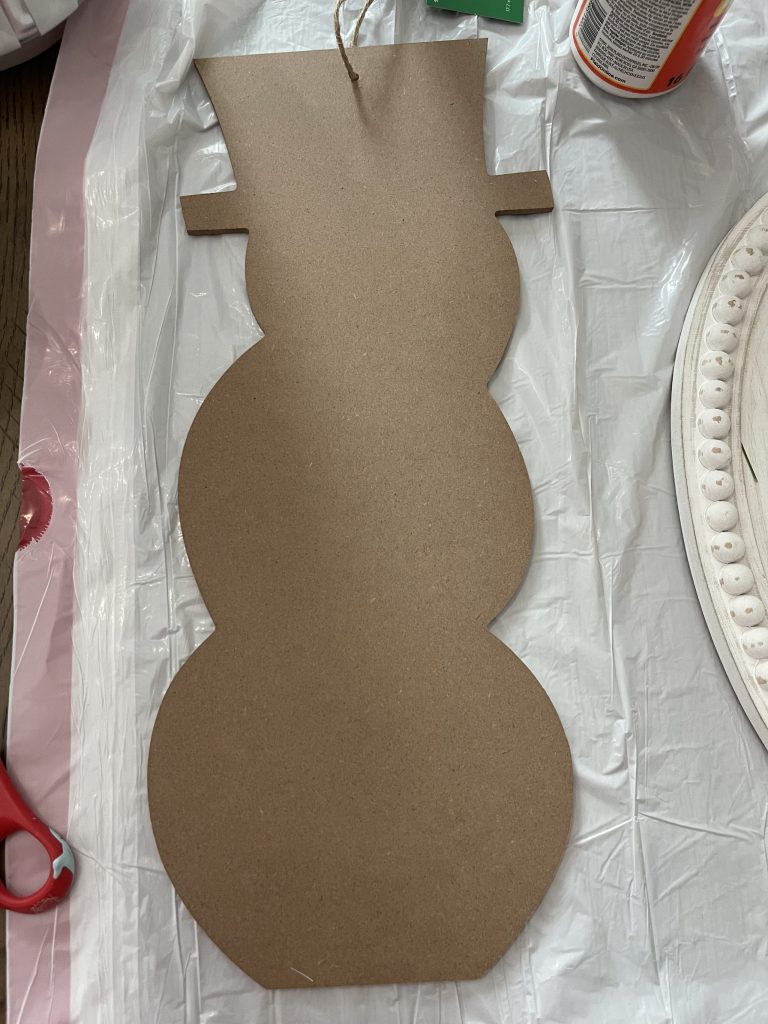 Supplies Needed:
*some are linked with my referral link for convenience*
Wooden Snowman cutout
Acrylic Craft Paint: white, black, light pink, orange
Hot glue gun
Embellishments for hat
Scrapbook paper for the hat and buttons
mod podge
Directions:
First, I painted the snowman white! (except the hat! We are adding scrapbook paper to it!)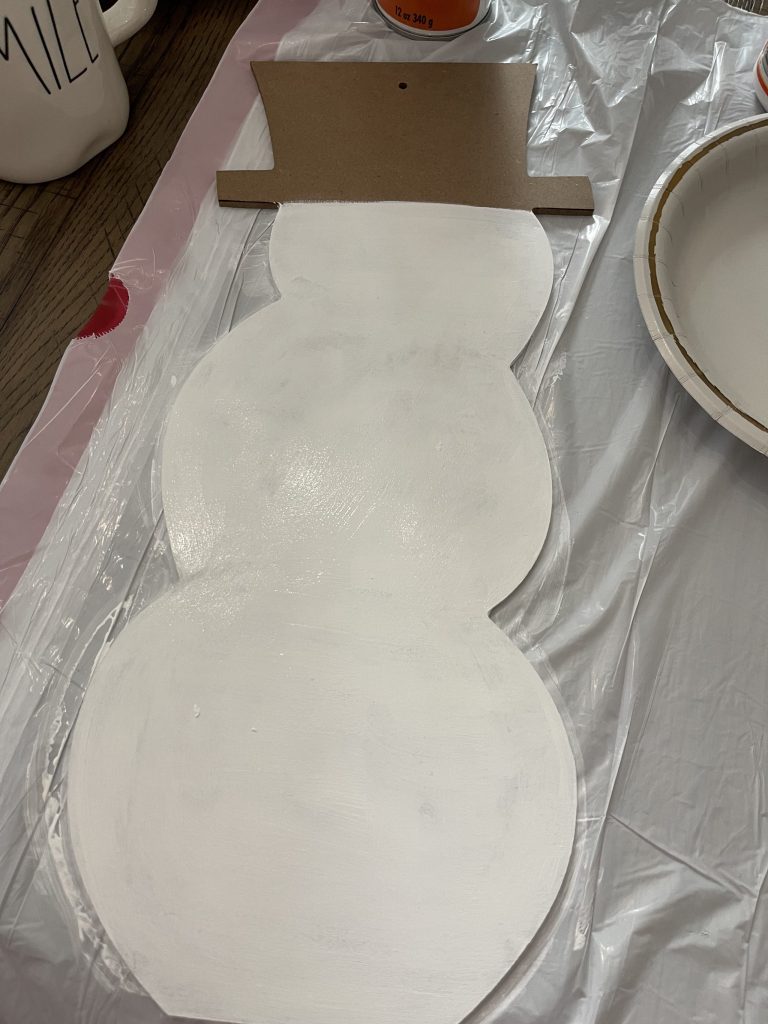 Once I had a couple of coats of white on him, I took some of my gray and added JUST A TAD bit to the sides for some highlights! You can kind of see that on the next picture.
After that dried, I traced some super cute black and white striped scrapbook paper for the hat and then mod podged it on!!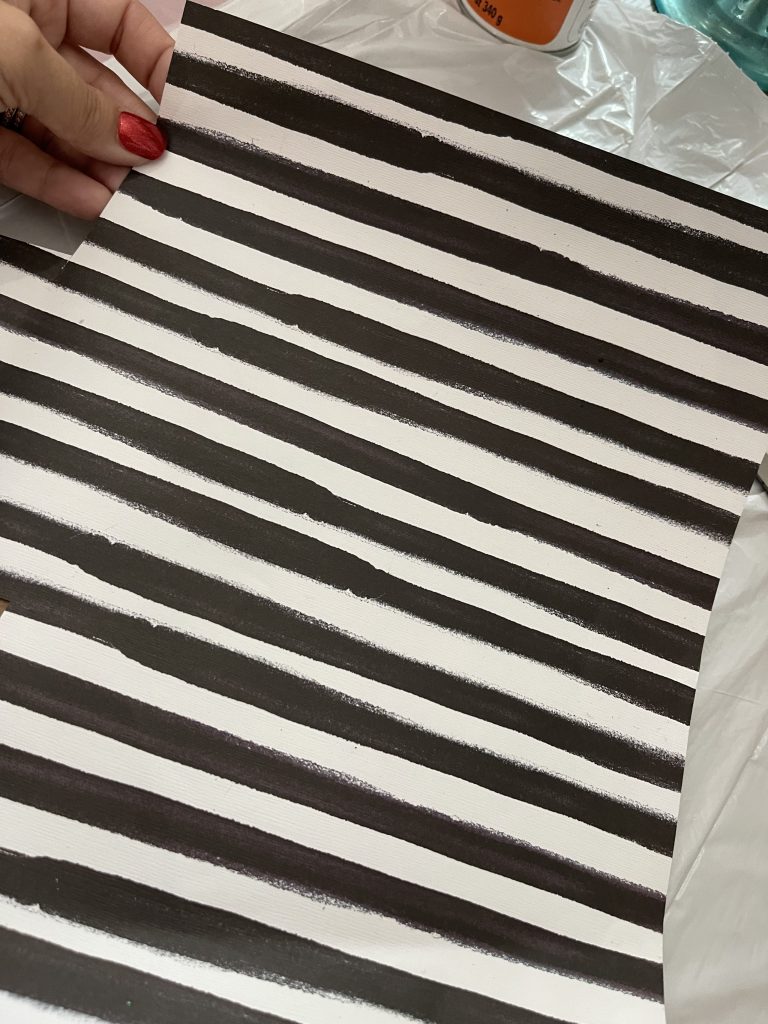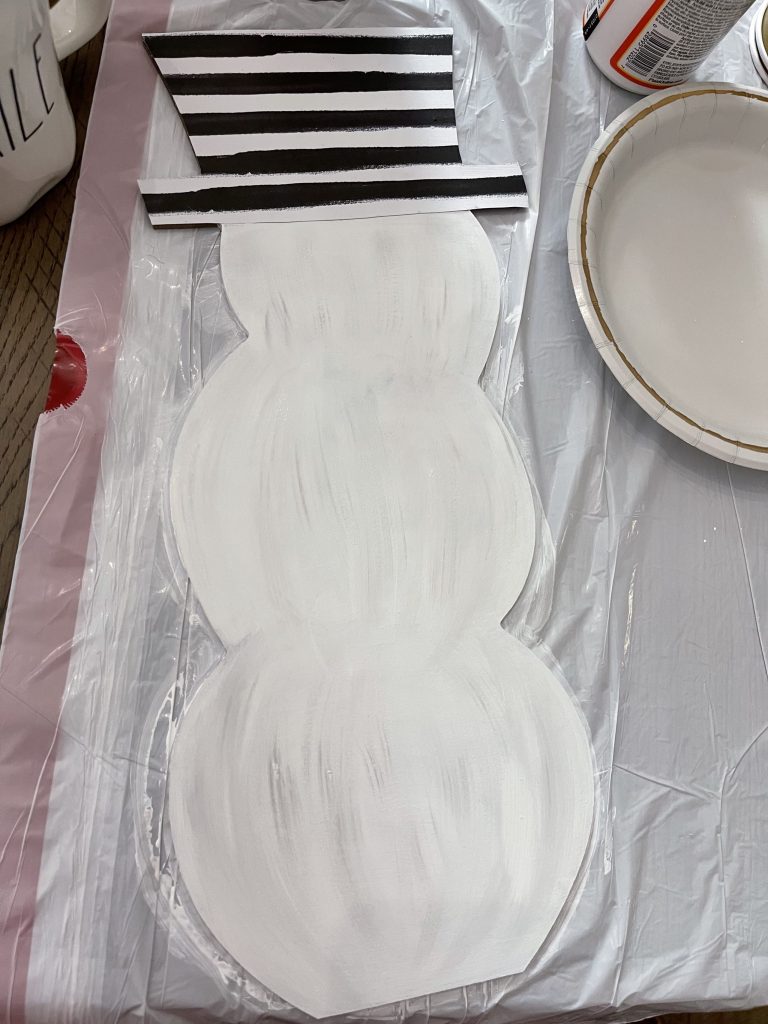 Now onto the next step! I picked some super cute scrapbook paper for my scarf and cut it down to size to look like a scarf. I don't know what I am doing LOL so I did the best I could!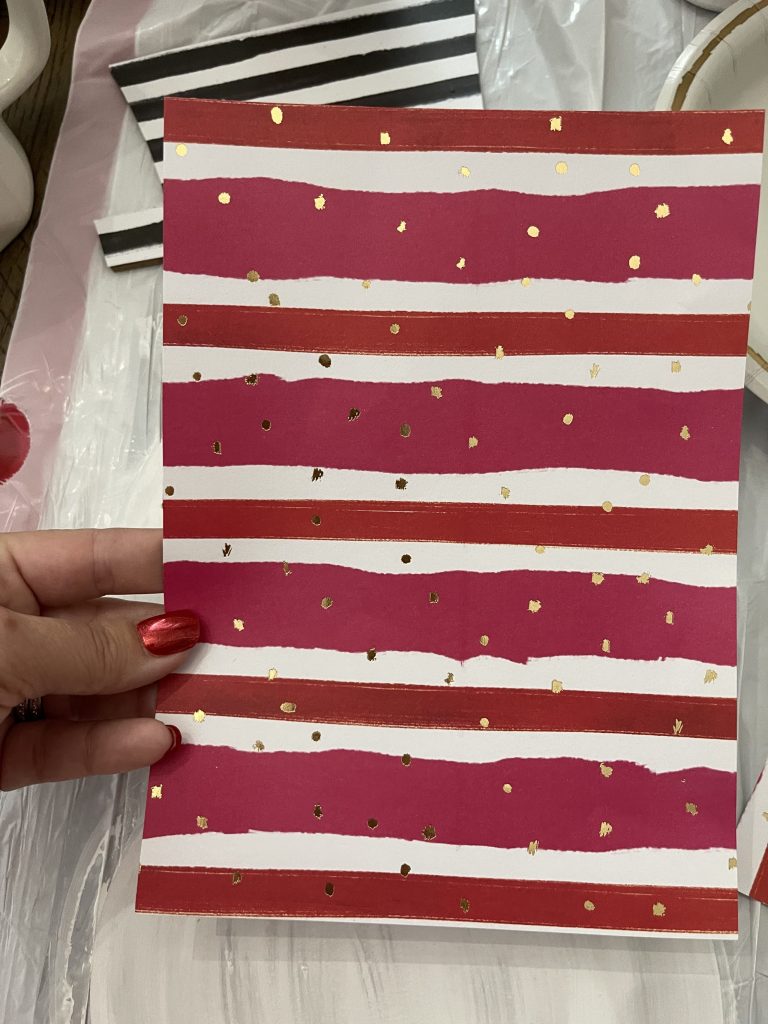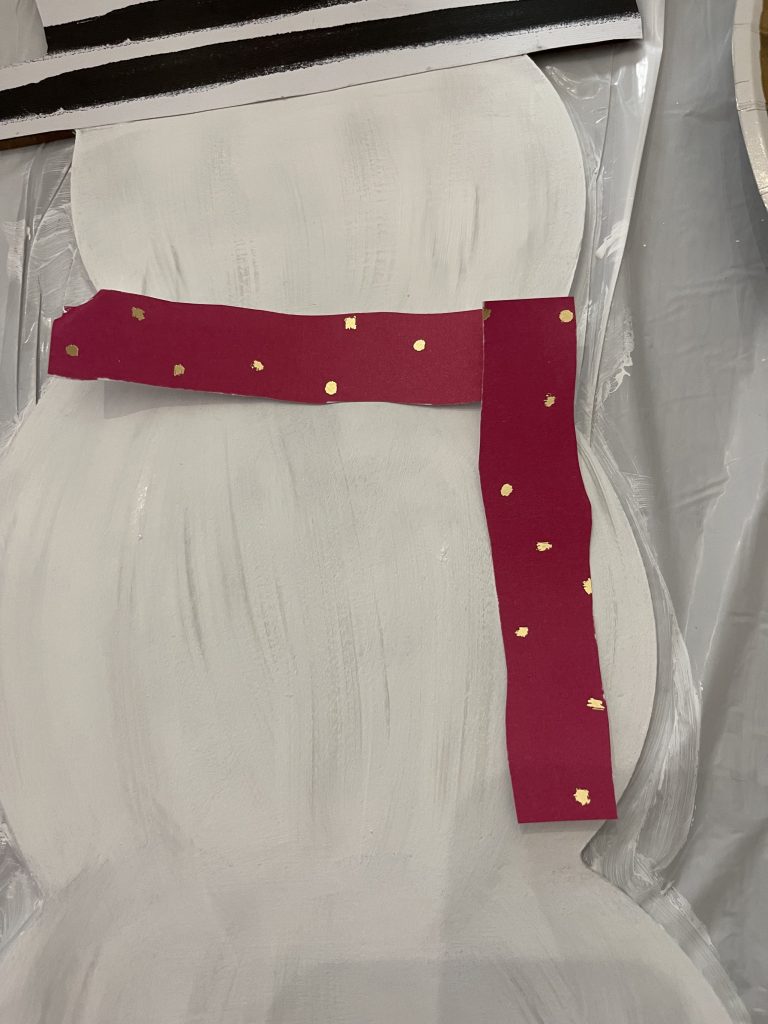 Once my scarf was all ready, I mod podged it on!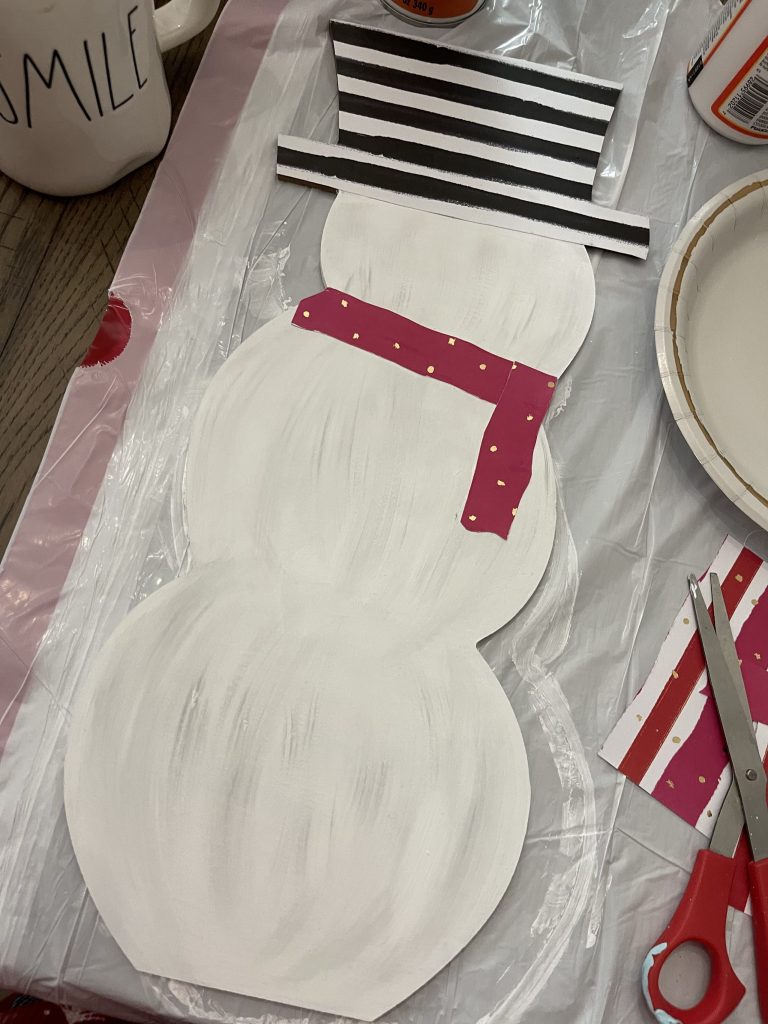 Now it is time for the BUTTONS! I decided to use the same scrapbook paper for my buttons! I simply cut them into circles (I didn't measure)! After cutting them, I mod podged them onto my snowman!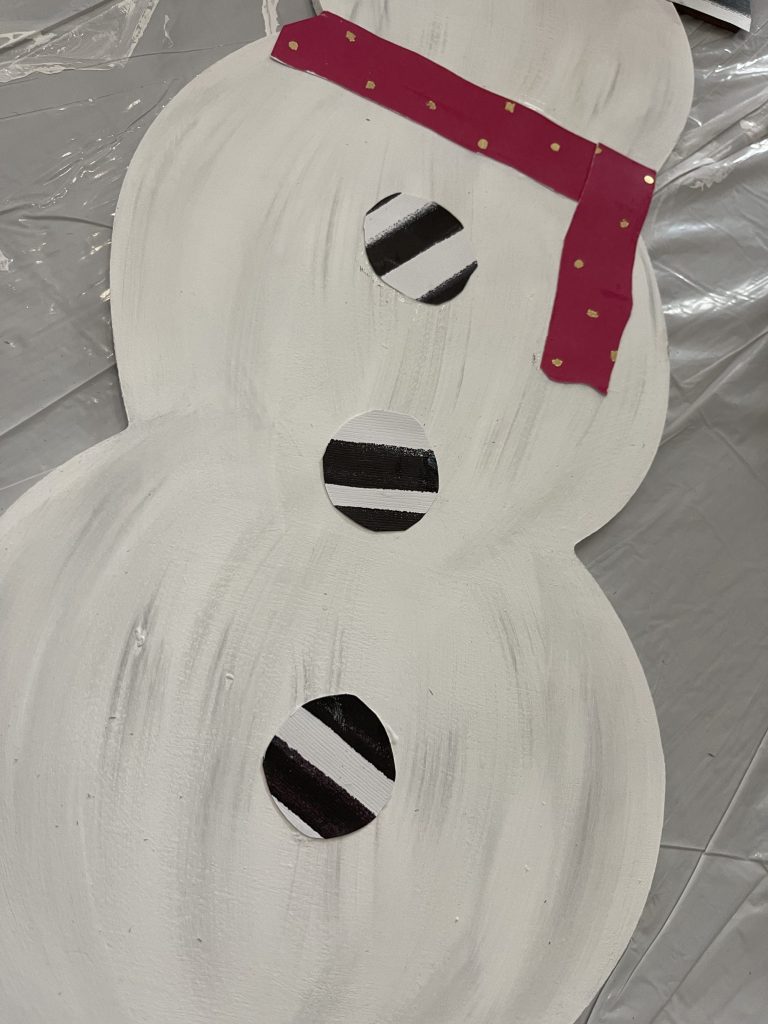 Now onto the PAINTING of the face! The fun part!
You do NOT have to be a good painter to paint a snowman face, I promise. I am 100% not the best painter. I realize I didn't take pictures of the process, but as you can see, I made 2 oval eyes and squiggly eyebrows, an orange crooked carrot nose and some light pink polka dots as cheeks 🙂 Not hard at all! Don't be scared…just go for it!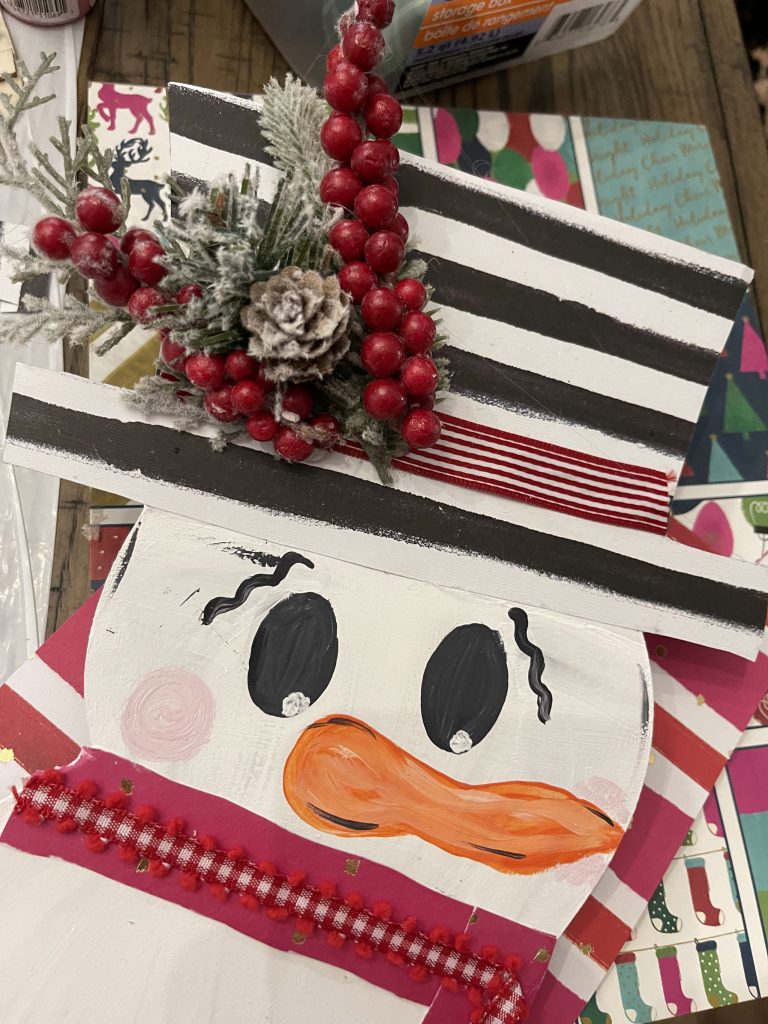 You may also notice the embellishments on the hat! I took a pick from Walmart and dissected it apart to make the fun little side part of the hat! I also just took a piece of ribbon and glued it across the part of the hat that intersected with the painting! 
OH YEAH…and one more thing! When complete, I sprayed my whole snowman down with mod podge spray and then sprinkled iridescent glitter allllll over it!
And……now for the FINISHED product on my living room tree! 
I LOOOOVE HIM! Why do I not have more snowmen???? Like, for real? He looks super cute on my tree!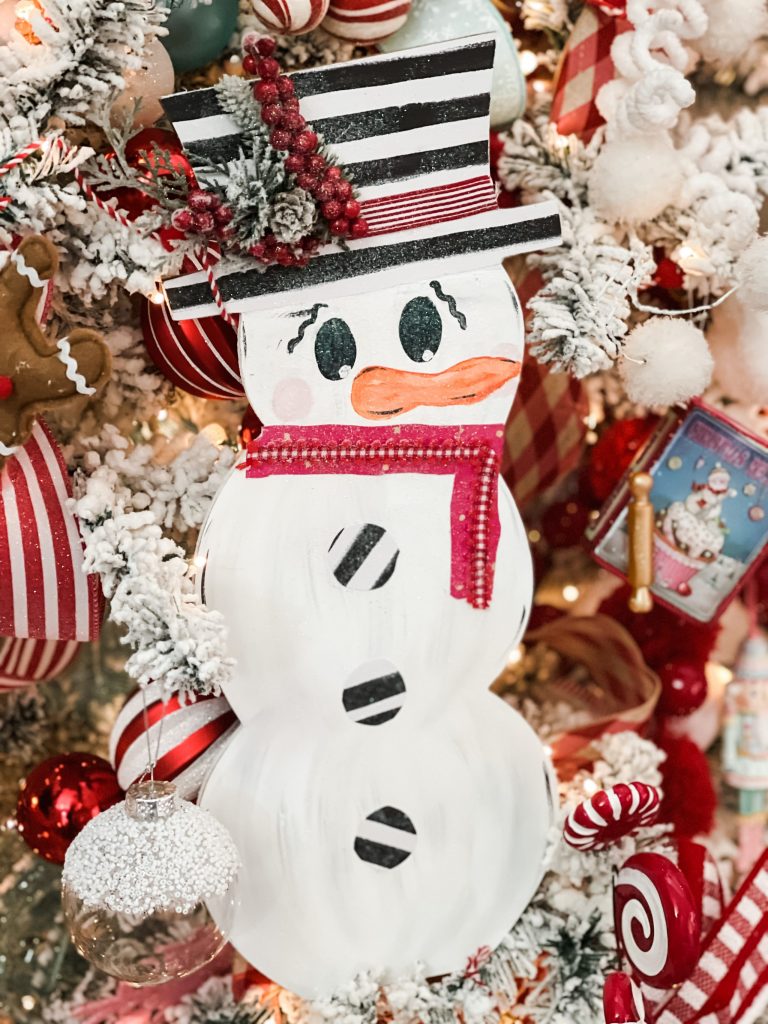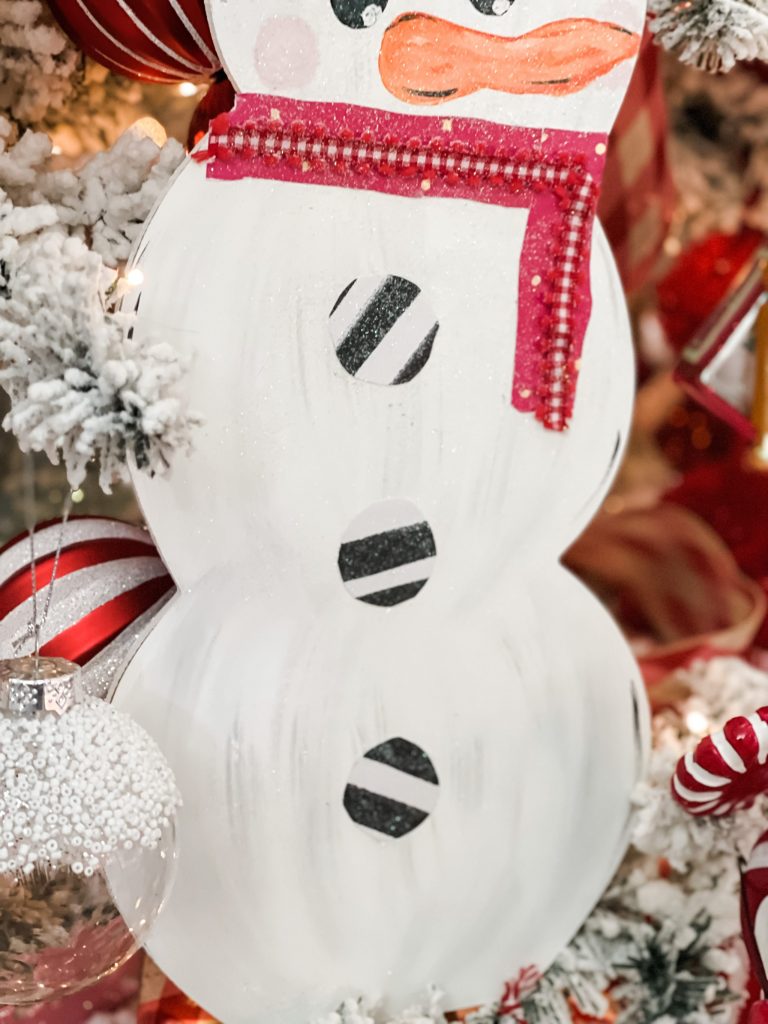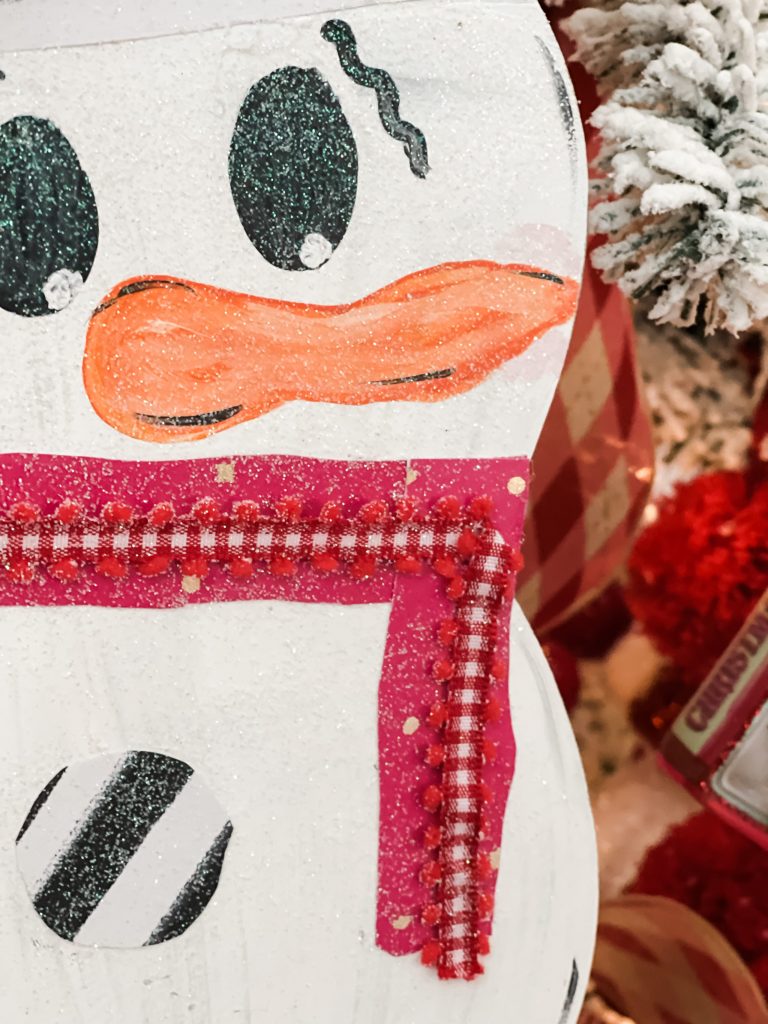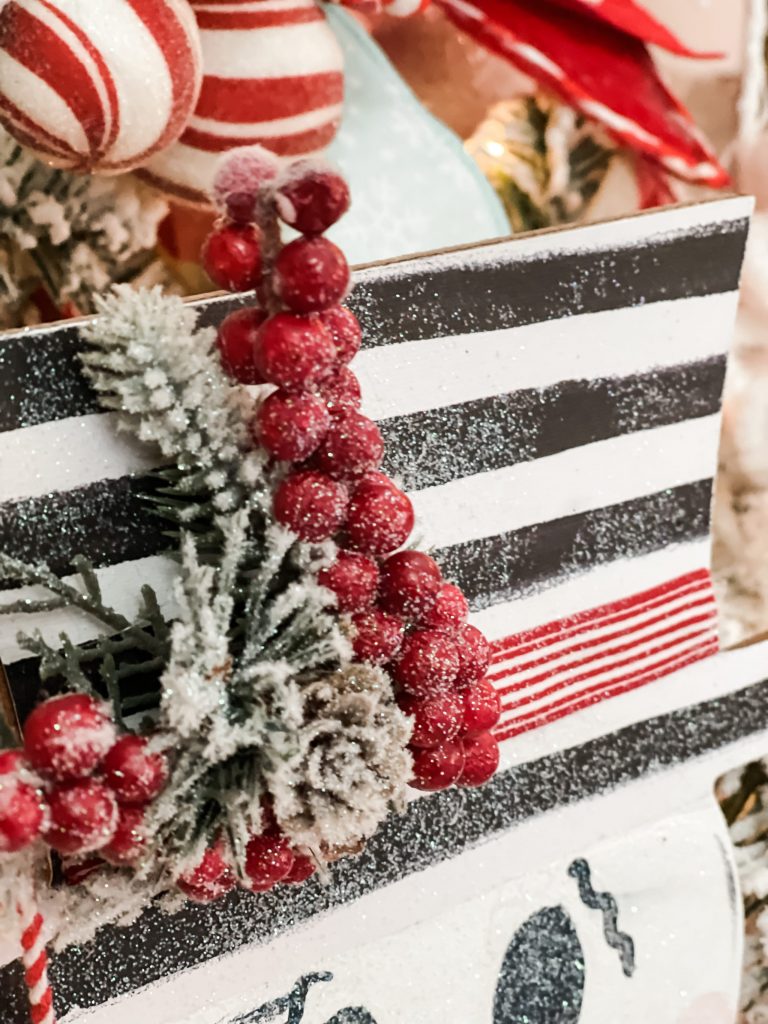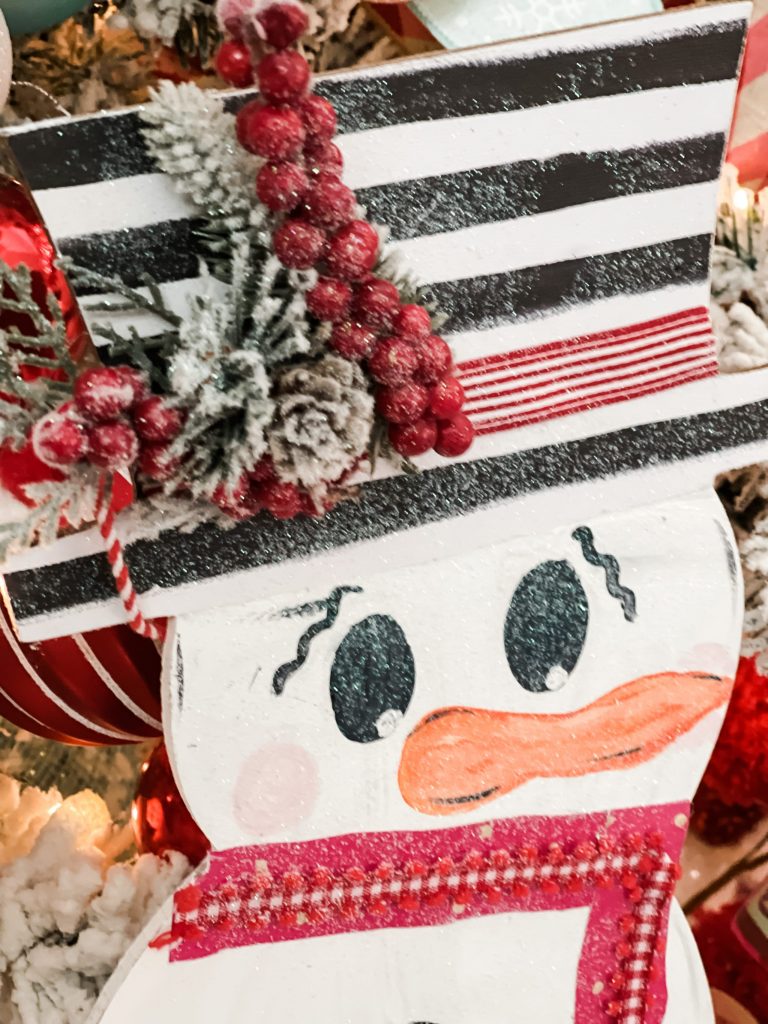 I keep going back and forth on whether or not I need to add stick arms….What is your opinion?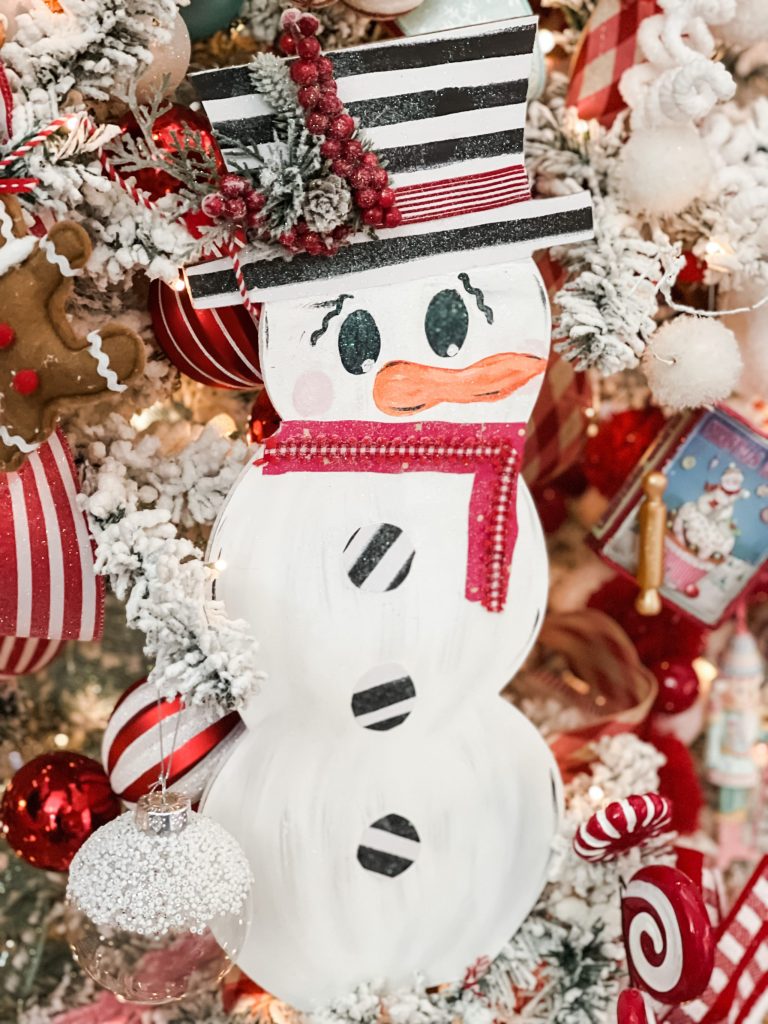 PIN FOR LATER!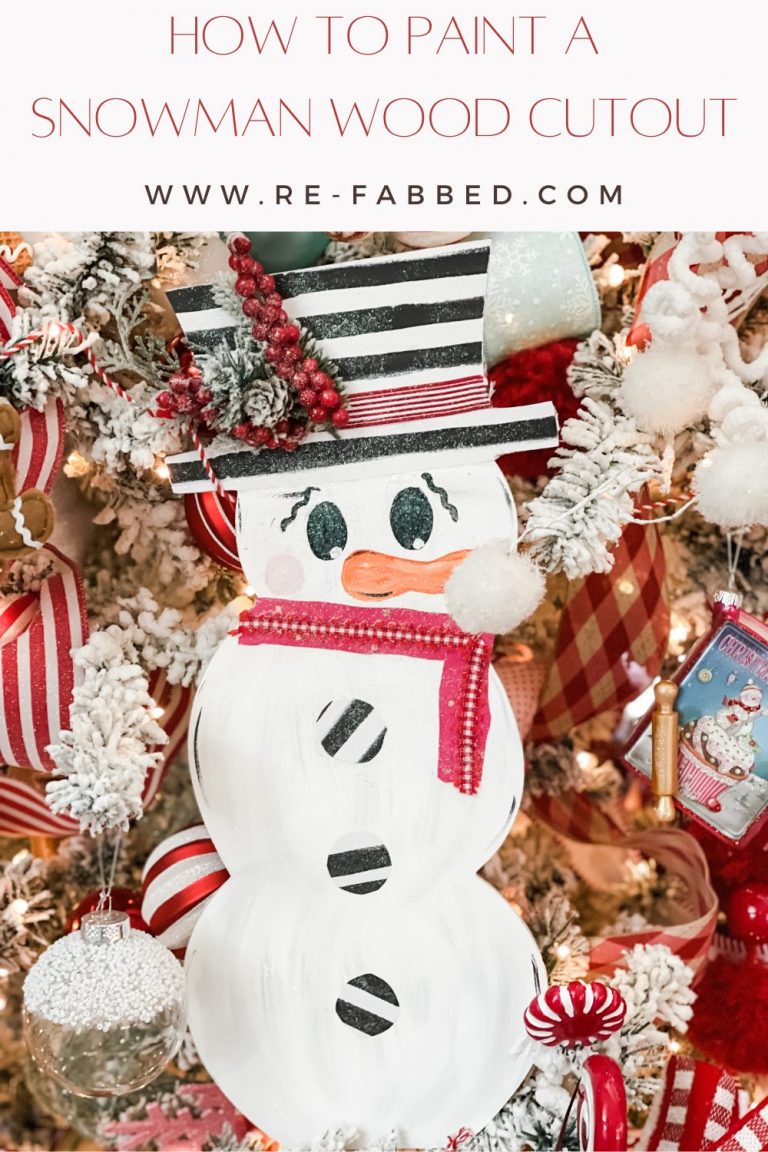 TEXT ME!!! FOLLOW ON INSTAGRAM!