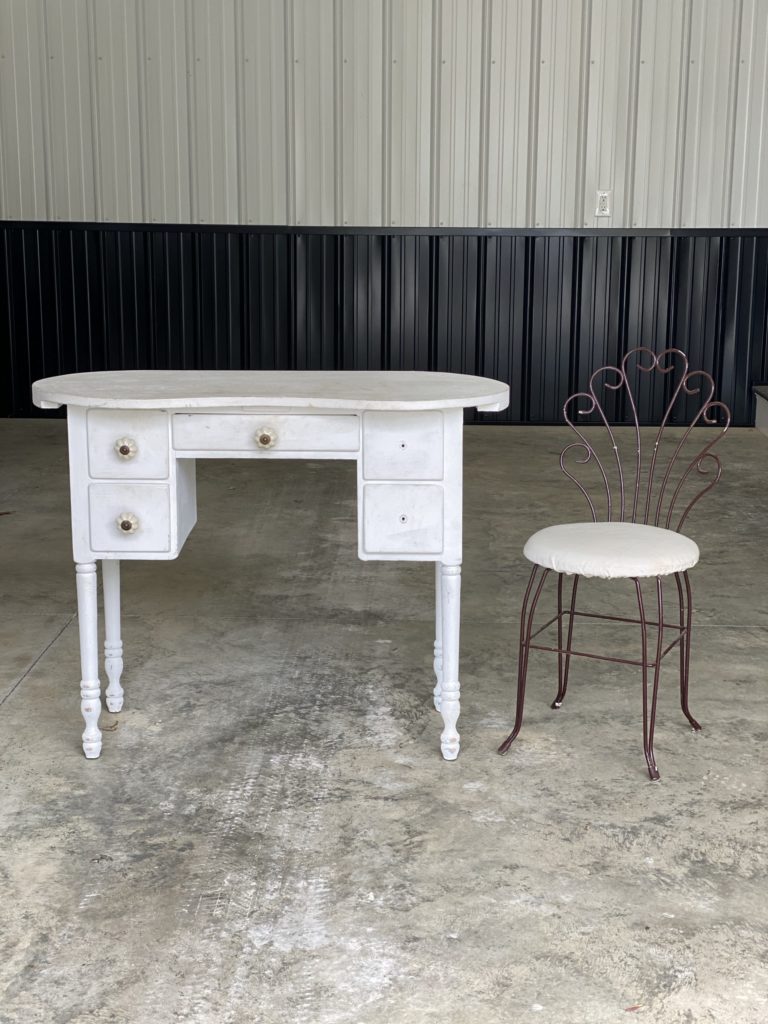 You never say no to a FREE piece of furniture… and when my precious neighbor asked if I wanted this sweet little vanity, I couldn't say no… I mean, look at how GORGEOUS it is!!!
I also had this chair stuck in storage that I bought for $5… and together, I think they'll make the perfect pair!
I thought they would look PERFECT in Eden's bedroom- however, she didn't want to leave it as a vanity… she wanted to transform it into a desk! So, that's what we did!
The very first thing we did was remove all the drawers and hardware on the vanity and began painting the whole thing WHITE. We used the Funky Monkey "Vintage White" chalk paint- and it worked perfectly!
Eden had the idea to mod podge a cute piece of scrapbook paper to the center drawer… and I thought that was GENIUS! We used a scrap piece from my stash that she liked, and simply mod podged it on like normal!
Once it was stuck on, we went to sanding! I wanted it to look like the paper was part of the desk… so sanding the edges really helped mesh the paper with the drawer! (You'll see how it turned out at the END of this post!)
Now it's time for the hardware! We didn't end up using the original hardware, since we were missing a few knobs… but, I'm still keeping them for a future project! I found this set of golden knobs at HomeGoods for $9.99. I simply just screwed them into place!
While the desk was drying, we started to spray paint the chair. We unscrewed the top from the bottom, and made sure to remove the cushion from the base as well (we'll be recovering this!!)
I just wanted to make mention that Eden helped through the WHOLE process… she wasn't scared to get covered in paint, and burn some elbow grease! But don't worry… she was rewarded with brownies afterward. 
Eden wanted to paint it pink to match the scrapbook paper she chose, so we went with the Krylon spray paint in the color "satin ballet slippers."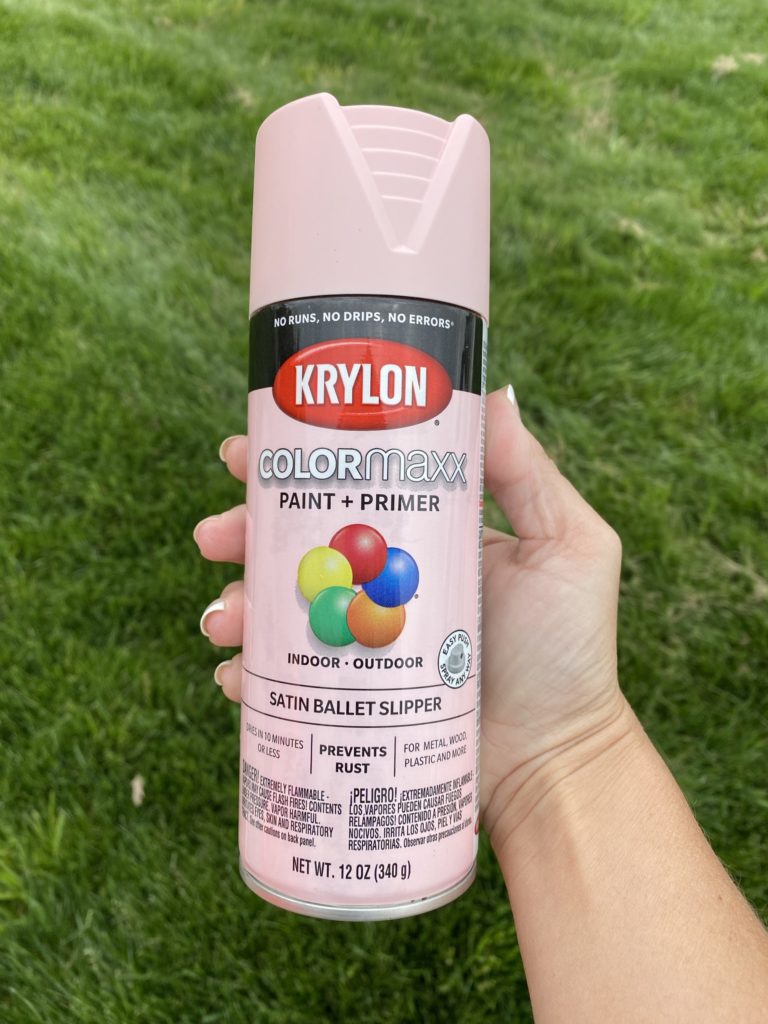 After it was done drying, the next step is to recover the seat… which is actually pretty simple! I let Eden pick out some fabric that I already had in my stash, and she chose this pink polka-dot print!
Simply lay the fabric over the cushion, and begin stapling it into the wooden base. You'll want to make sure you are pulling on the fabric pretty tight to make sure there are no wrinkles!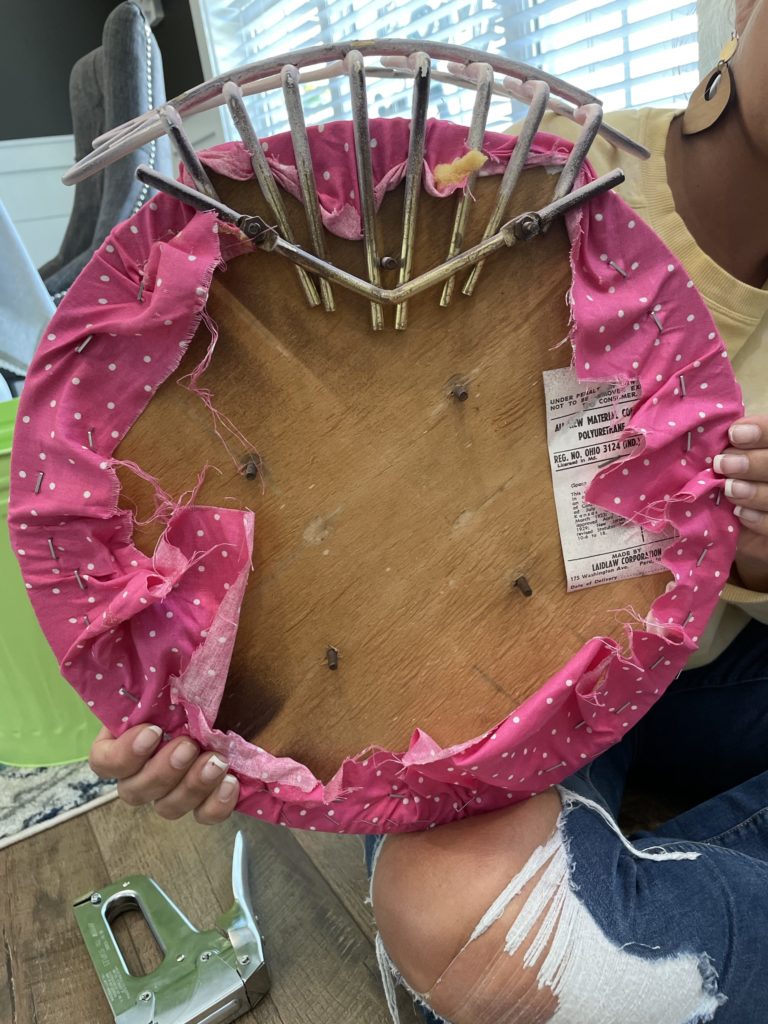 If you want a more in-depth tutorial on how to reupholster furniture, you can see my tutorial right HERE!
After it was all stapled on, I just screwed the top of the chair back onto the bottom… then, I packed it all up the stairs to her room, and we were DONE!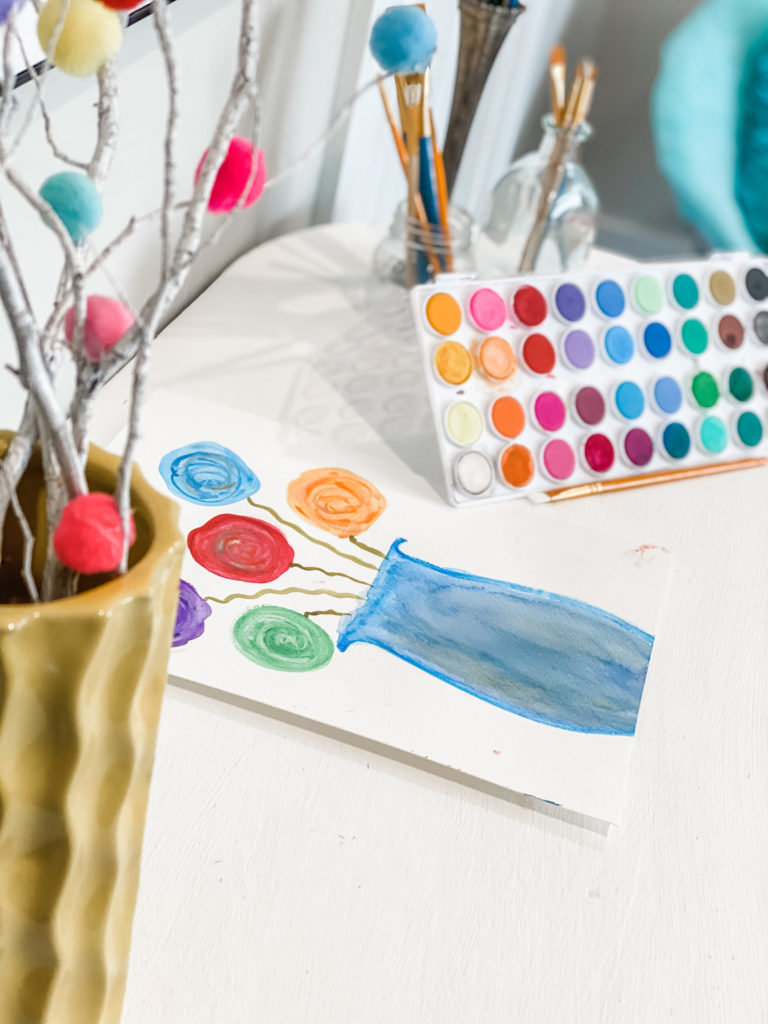 It made for the PERFECT little desk for her to create her art!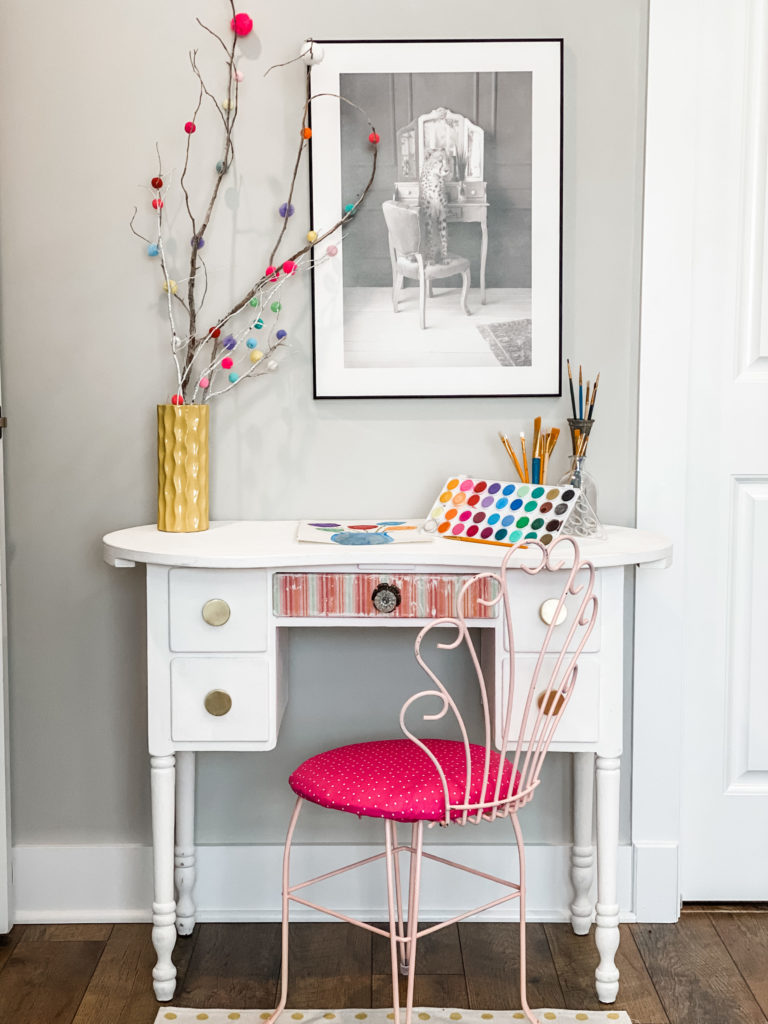 How GORGEOUS did that mod podged drawer turn out?!?!?
If you want to see another trick on how to mod podge furniture, you can see my tutorial on mod podging FABRIC to furniture HERE!
I'm telling you what… this does NOT look like the same two pieces of furniture!!! That just goes to show how amazing a little bit of paint and creativity can be!
MAKE SURE TO PIN THIS!!