This is one of those tutorials that you didn't know you needed. Today, I'm giving you a CHEAP and EASY side table makeover using CHALK PAINT!
I had originally bought this table from a friend on facebook, with full intentions of giving it a makeover as soon as it was in my possession. Well… a few years went by… and I FINALLY made the point to get it done!
Anyone else have an ongoing list of furniture makeover projects that they wish to get done lickity-split, but it ends up taking them YEARS to complete?!?! Because…same. LOL!
Any who- this little blue table got a complete 180 facelift… and I'm showing you how it's done!
Supplies needed for this makeover…
*click on the bolded item to shop my affiliate link! By shopping through my link, may receive a small commission at no extra cost to you!*
I went with a shade that was out of my comfort zone… and boy am I glad I did! I'm a fun-loving gal… and what's more fun than pops of color in your home?
I started by painting just the drawers with the celery color. Isn't that such a HUGE difference?!
Here is what it looked like when I painted the entire table. I will say, I LOVE how the original blue color was peeking through behind the green. I think it helped make this color even more unique!
For this piece specifically, it took two coats to cover the drawers, and one coat to cover the whole piece.
Once the table was completely dry, it was time to start adding in this fun dimension… METALLIC GOLD!
I used a small detail brush, and began painting the risen parts of the table. This took a few coats to get it to my liking!
Once it dries, you'll really start seeing the SHINE from the metallic!
Just to add some finishing touches, I took that same detailing brush, and brushed on some gold to the edges of the table.
I decided to go with new knobs for this table… but you could totally repurpose the original knobs!
I found these at Hobby Lobby for a GREAT deal for 50% off!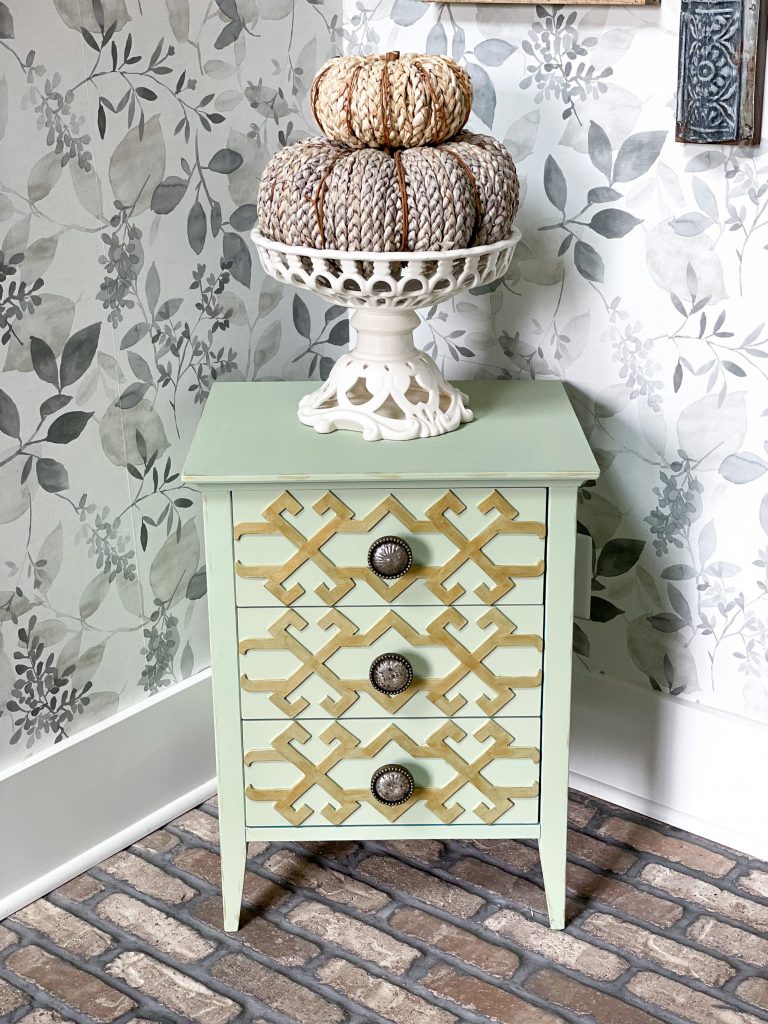 And there you have it!
Right now, I have it perched in front of my entryway… but, I might end up moving it to my home office!
There is always something so rewarding seeing a makeover come together…
Be sure to PIN!
SUBSCRIBE TO MY YOUTUBE CHANNEL!