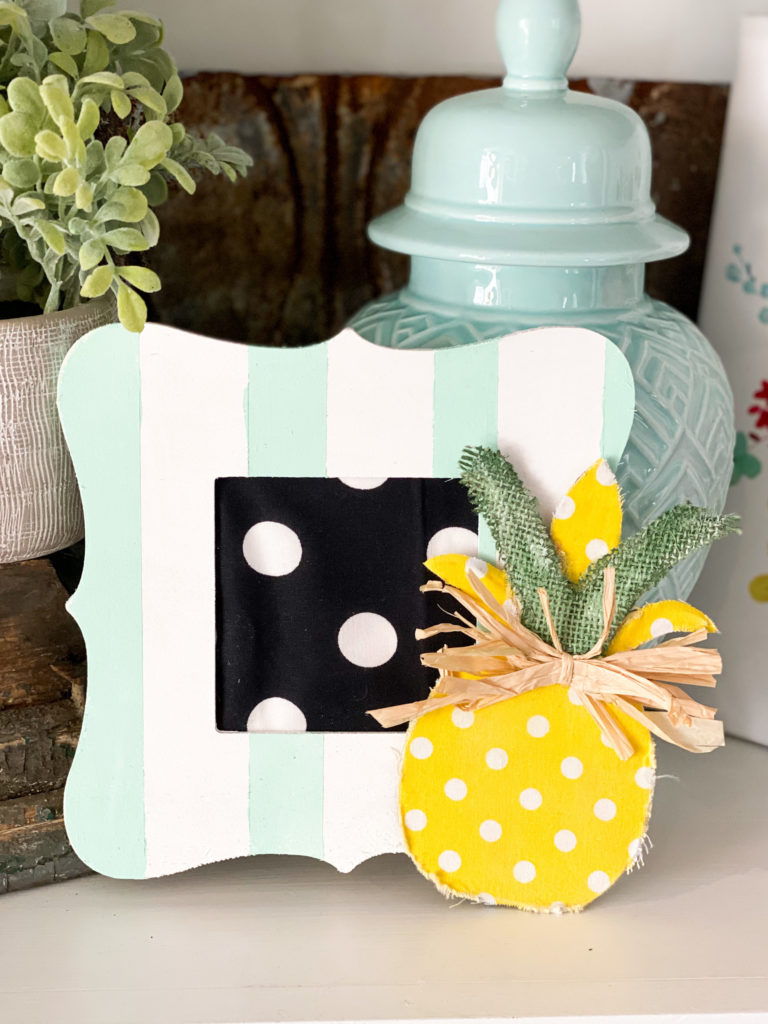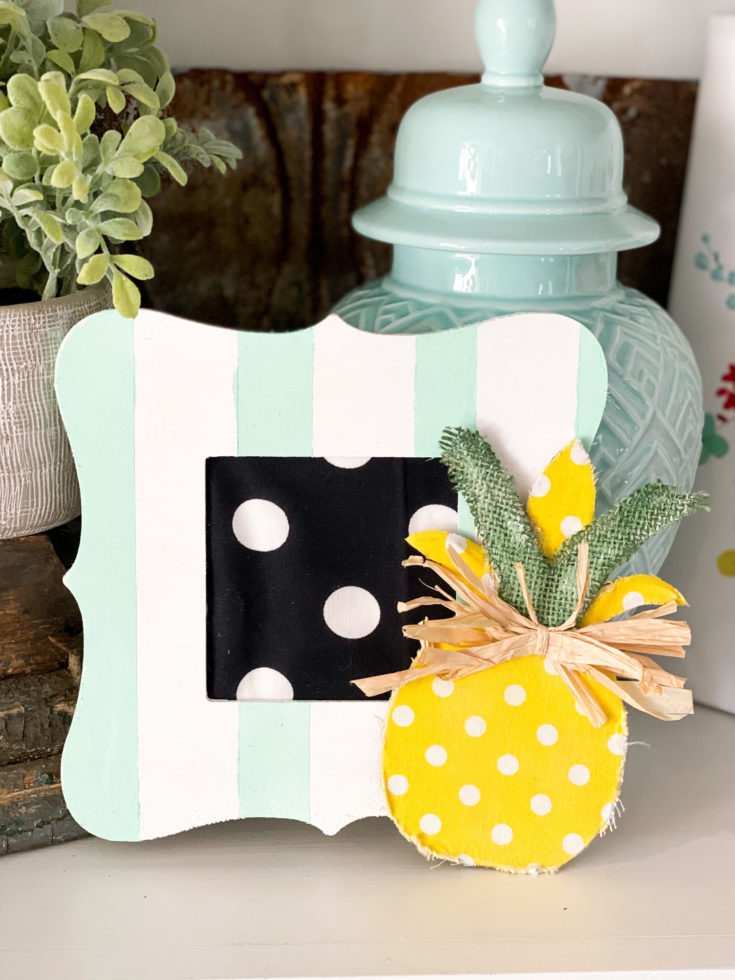 diy dollar tree spring sign
Spring is in the air... which means I needed to make some new Spring decor for my home!! There's nothing wrong with buying decor from a store of course... but MAKING your own is much more fun!!!
I made a trip to the local Dollar Tree to see what I could find... and I hit the JACKPOT! (If you haven't seen what Dollar Tree has out for Spring right now, you can see my post about that HERE!) I went right to work with all my new goodies... and this adorable pineapple frame is what I came up with!
*all materials are from Dollar Tree, unless stated otherwise!*
Materials
Blank Frame
Blank Pineapple 
Fabric of your choice
Painters Tape
Raffia
Burlap
Sanding Block (linked in the post!)
Apple Barrel Paints from Walmart (Marsh Green, White) 
Folk Art Paint from Walmart (Minted Aqua)
Scissors
Instructions
The very first thing I did was begin painting my frame! I painted the whole thing white, then covered parts of it with my painters tape to create stripes! I painted the parts without tape with my Minted Aqua color, and set aside to dry!
While my frame was drying, I started working on the pineapple. Go ahead and lay your fabric face down, and trace out your pineapple (or whatever shape you choose) and cut it out! Here's what you should have so far!
Now, this part is a little tricky to explain- so bare with me. You see those two risen leaves of the pineapple? We're going to trace that part on a piece of burlap. It might not make sense right now, but you'll see it come together- I promise!
After we have our little burlap leaves cut out, we're going to paint them with our Marsh Green paint!
Now it's time to construct our pineapple!! First step, mod podge your fabric that we cut out onto the pineapple. But then, you'll take your scissors and cut out the two risen leaves so we can attatch our burlap! This is what it should be looking like so far:
Simply just hot glue your burlap on to the leaves, to look like this:
You know what time it is... SANDING time!!! Just take your sanding block and hit the edges of the fabric to make it have that "frayed look"! I also added on a teeny tiny raffia bow so it looks a little more finished!
We are on to the final steps!!! After you have pulled off your painters tape to reveal your beautiful striped frame, just simply hot glue your pineapple wherever you'd like. I placed mine on the bottom right corner!
And last but not least... we have to put something IN the frame! Of course you could add in a cute Springy picture, but I decided to go with more fabric that I had on hand! I simply mod podged it on to the existing picture that came with the frame. LET'S SEE THE FINISHED LOOK!!!! For all this being from the Dollar Tree, I am HIGHLY impressed with how it turned out!!! Again, you could literally do this technique with ANY little wood cut out... if you don't see a shape you like from Dollar Tree, you could buy an attachment from my friend Tamara at Southern-A-Doornments Decor through my referral link HERE!
Recommended Products
As an Amazon Associate and member of other affiliate programs, I earn a small percentage from qualifying purchases at no additional cost for you in return for my referral.
What do you think about this gorgeous little sign??? I could think of a million and one ways to make it your own by using different colors, patterns, a different cutout, etc… but that's up to you to use your OWN creativity to see what you can come up with! 🙂
PIN THIS FOR LATER!!