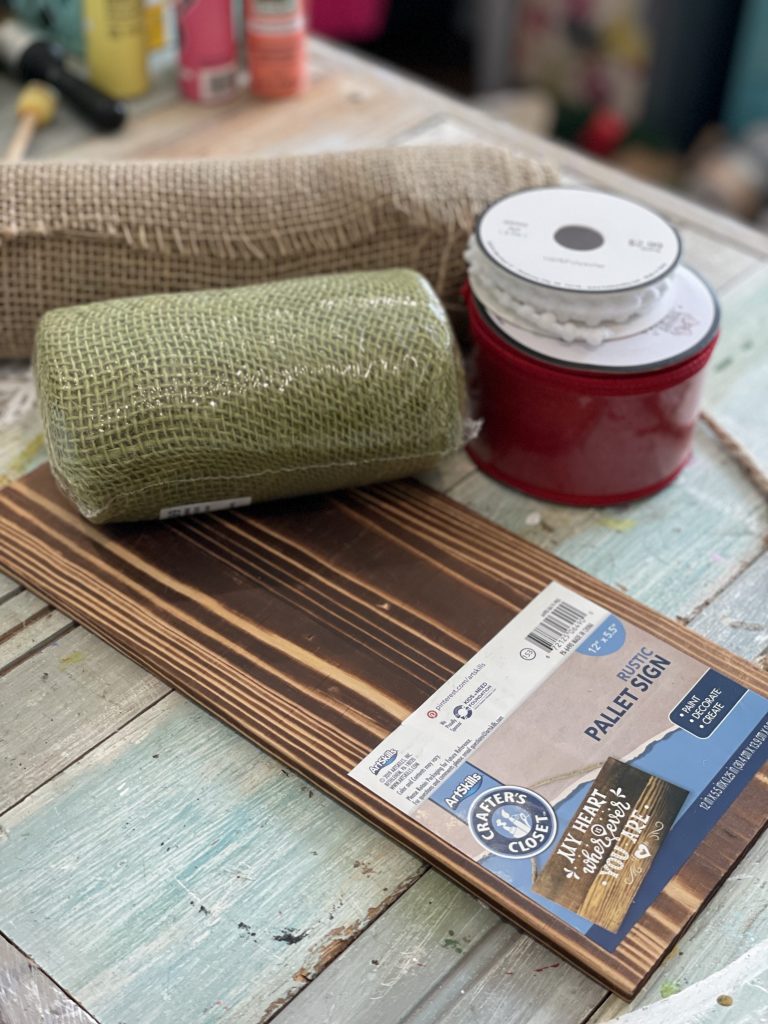 I hope you're ready… because I'm throwing a super EASY and CHEAP Christmas diy at ya today!
I actually thought I was going to go in a different direction with this project, because I had these ADORABLE reindeer embellishments I wanted to use… but they were a tad too small!
So instead, I used them as inspiration, and made my OWN version! 
Here's what you'll need…
red burlap
natural burlap
wood board
hot glue
scissors
2 black buttons
ribbon of your choice
twine
white paint (optional)
The very first thing I did, was cut out some letters from my green burlap! I wanted my sign to say JOY- and I had other plans for my O… so you'll only need to cut a J and a Y!
Now listen. DO NOT be scared about free handing your cuts! It is NOT meant to look perfect… it's meant to be FUN!
Let's move on to the O! Remember those reindeer embellishments I showed earlier? My original plan was to use one of those as the O, but like I said… they were too small. SOOO- let's MAKE one!
Simply cut a triangle out of a piece of burlap!
Now, take your red burlap, and cut out a circle for a nose!
I also cut out a few strips of twine to use as the antlers.
With your twine, cut two smaller strips, and hot glue them on either side of the longer piece of twine. This will create the antler shape!
This is very similar to how we made the wood block reindeer the other day! If you didn't catch that tutorial, you can see it here!
Now, assemble your pieces onto your sign! Simply hot glue them all down.
Here's what it should be looking like! I decided to add a re-fabbed bow to make it not so blank!
After I started taking photos of it, I thought, hmmm… I wonder what it would look like with some polka dots….
So, I added them!!! Which do you prefer… polka dots or blank?!
Either way, I think it turned out SUPER cute! I can't wait to display this in my Christmas Tree this year… because y'all know how much I LOVE adding in big signs to my tree!
If you're interested in seeing some of my other Christmas crafts… check these out!
Be sure to pin!!!