I have the cutest and most fun little Christmas diy ornament for you today! Who wants to see how I made a very simple diy reindeer ornament?!?!
It all started with me going through my Christmas craft "stash"…which is full to the brim of Christmas randomness! I saw this plastic bulb that I had gotten from the Dollar Tree last year, and then I saw my pack of red gems from Dollar Tree…and a light bulb went off!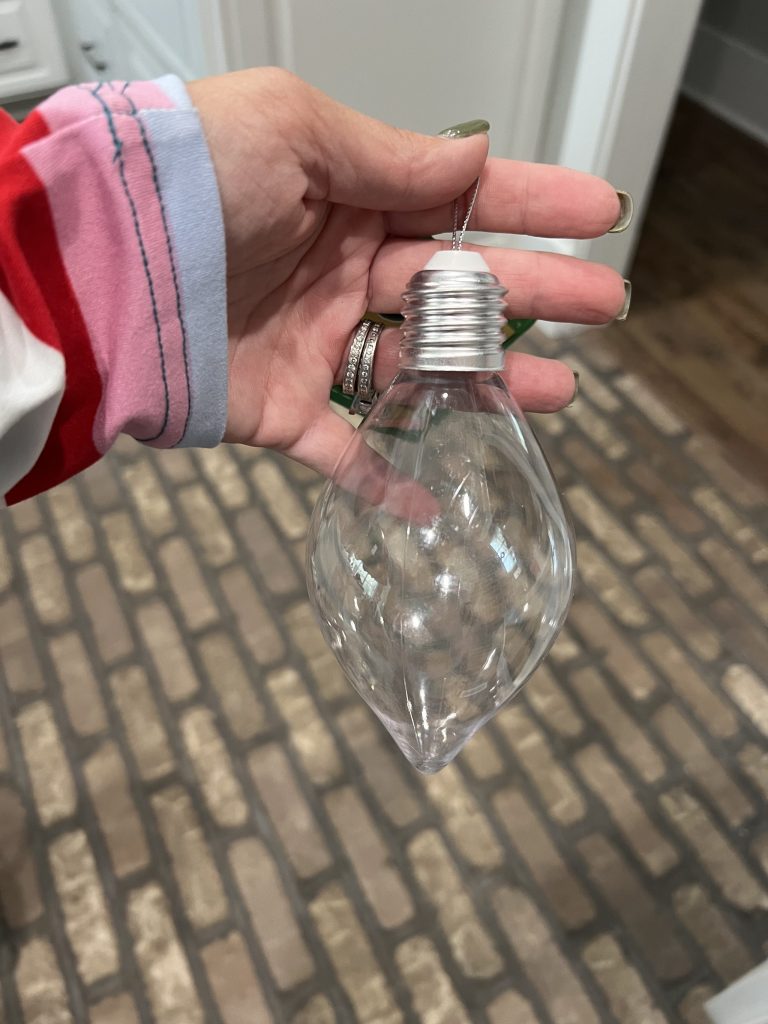 I would make a GIRL rudolph with the bulb and gem and some other goodies! So fun!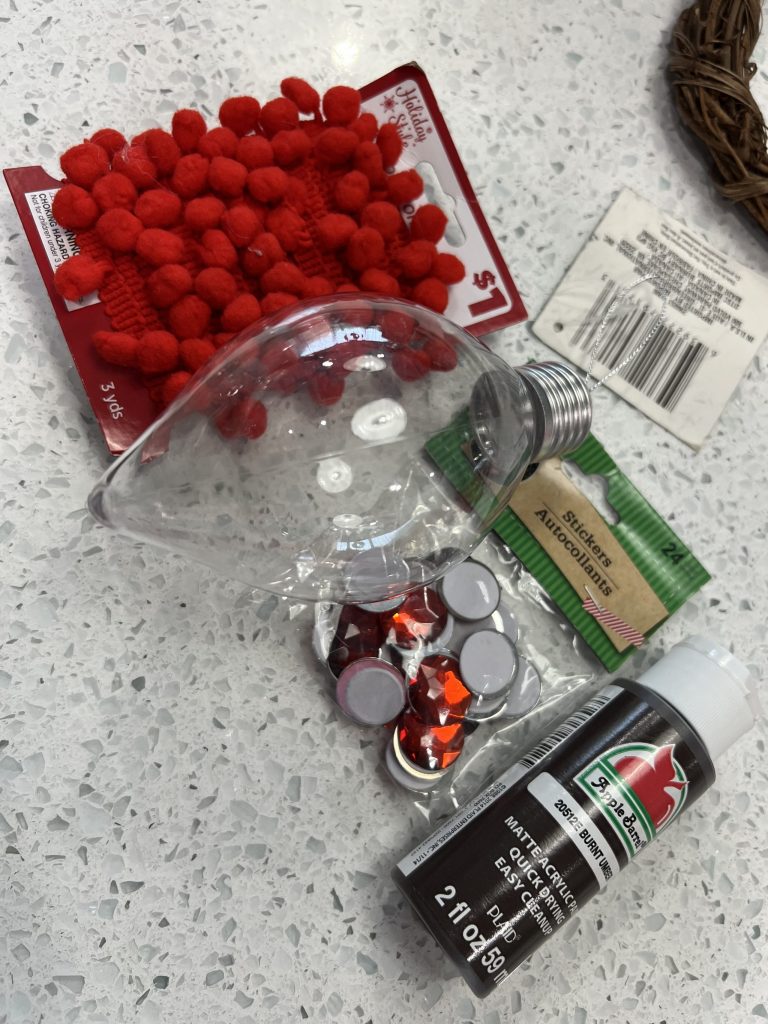 So, I didn't take tons of supply pics, because as I went along, I kept adding things and changing my mind…but I will walk you through each step, although I think you will find it self explanatory.
First, I filled about 2 inches of my bulb with bunt umber paint by apple barrel (.50 or so at walmart) and shook it up really good (with the top on the bulb, of course!). You can check out this TANGLED CHRISTMAS LIGHT blog post to see another project that I used this method!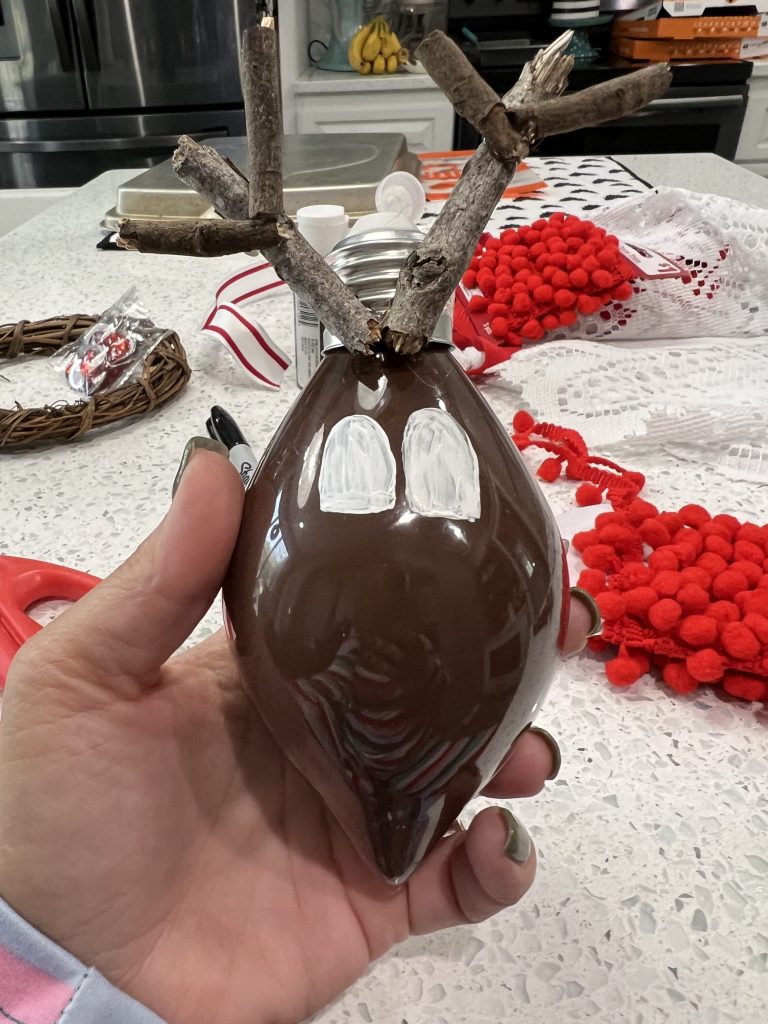 Once I did that, I painted on my eyes using white paint from Walmart (just the apple barrel .50 craft paint).
I then added my red gem on my nose! SO cute so far! THEN…time for the antlers! I took sticks from my yard that my son ran out and found me…and broke them down to smaller ones. I took 1 on each side first and then added the small ones off of each main stick! I just used hot glue, and it stuck perfectly!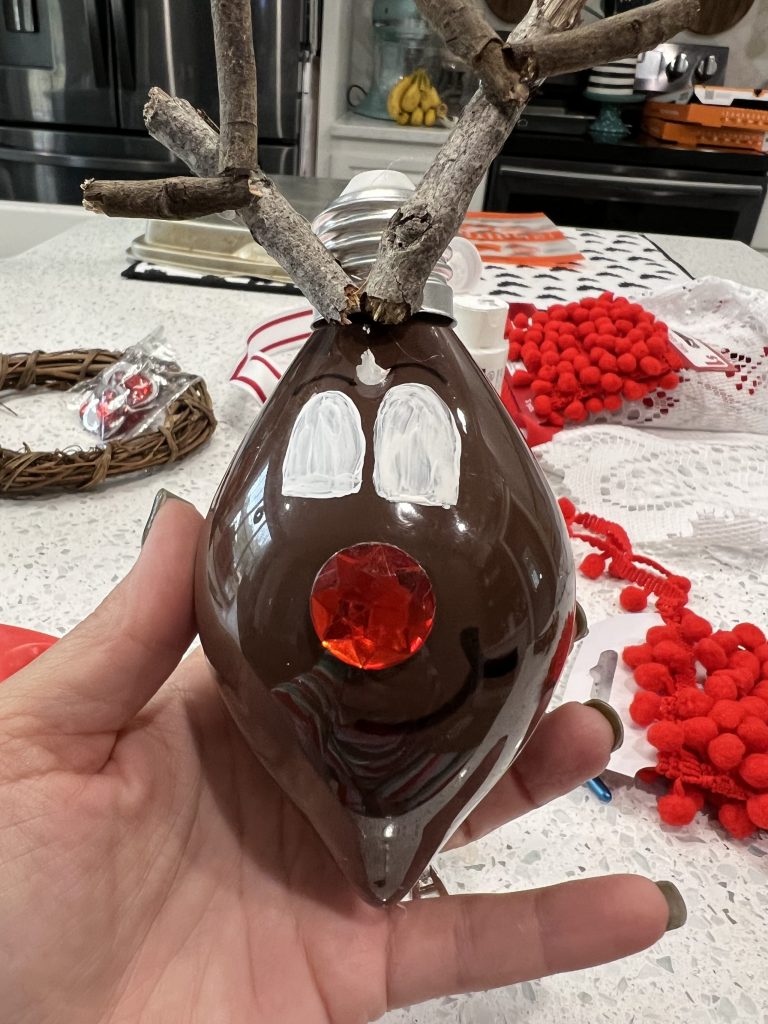 Next, I took my black sharpie and added some eye brows and a sly grin!
Now we need to add some detailing to the eyes! After the white paint had dried, I added black with my sharpie inside the white , along with some eye lashes to make it "girlier"!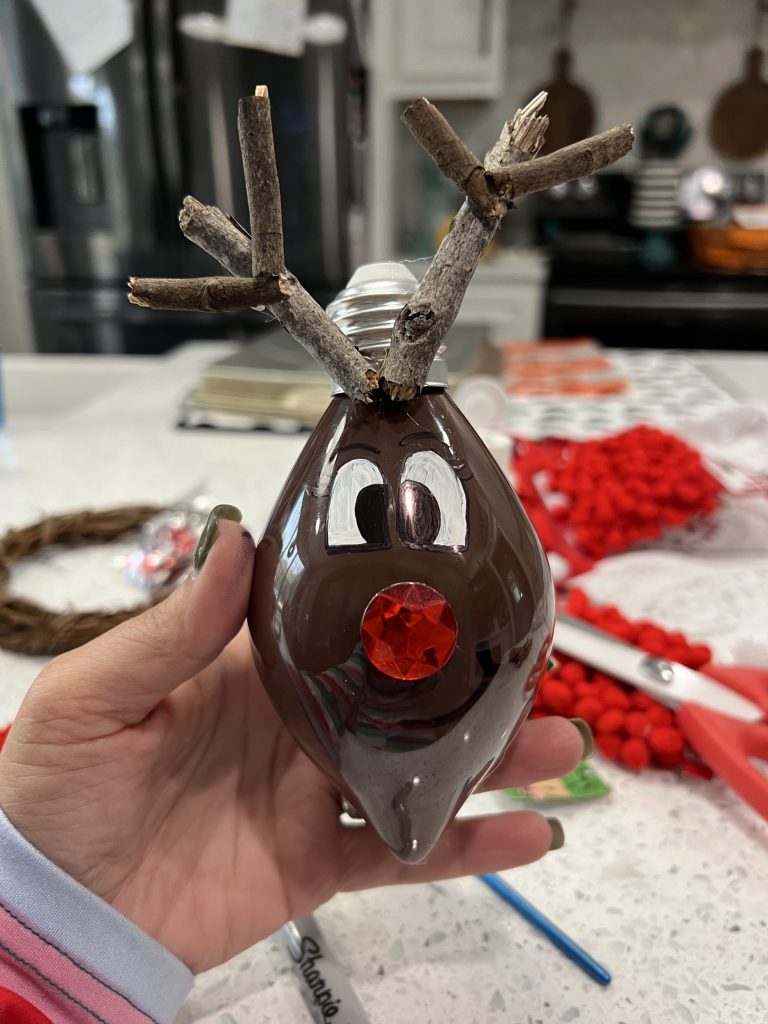 It was coming together but certainly needed one more thing….a BOW and a couple of white dots inside the black of the eye!
Y'all know I am OBSESSED with raffia of all kinds to make bows at Christmas! I will put a link at the bottom of this post with some choices from Amazon that I use a lot!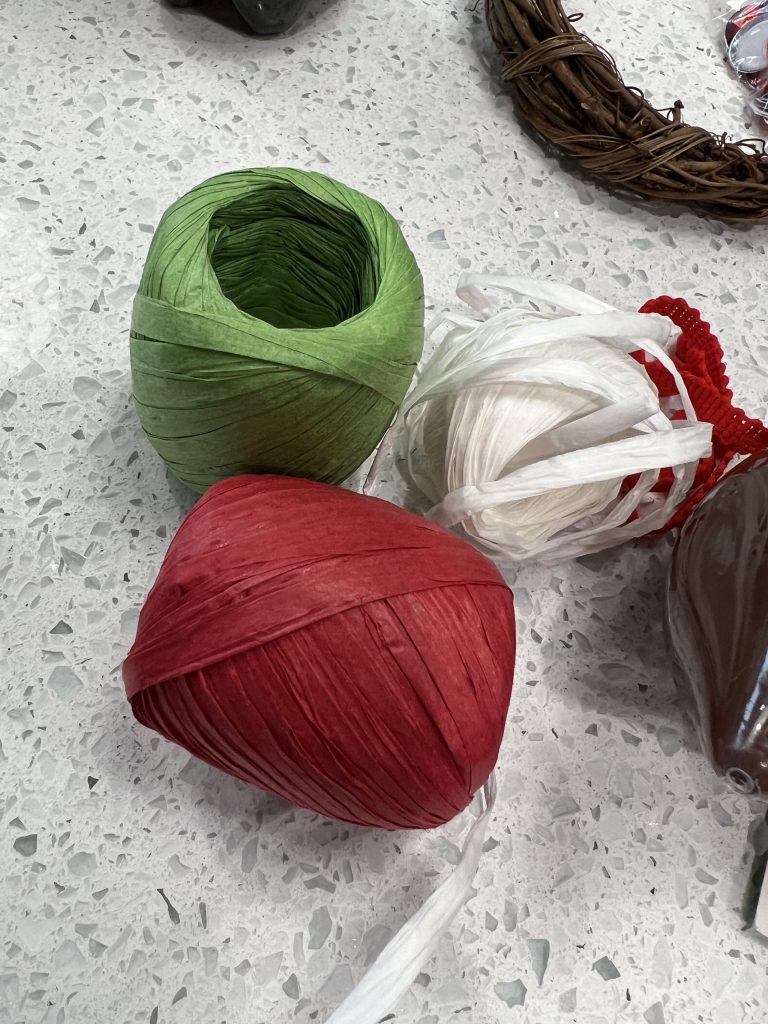 I made a little bow and then hot glued it between the antlers, and TA DA! All done! Sure did turn out precious!!! Kiddos would love to make this one too! And what a cute little gift idea?!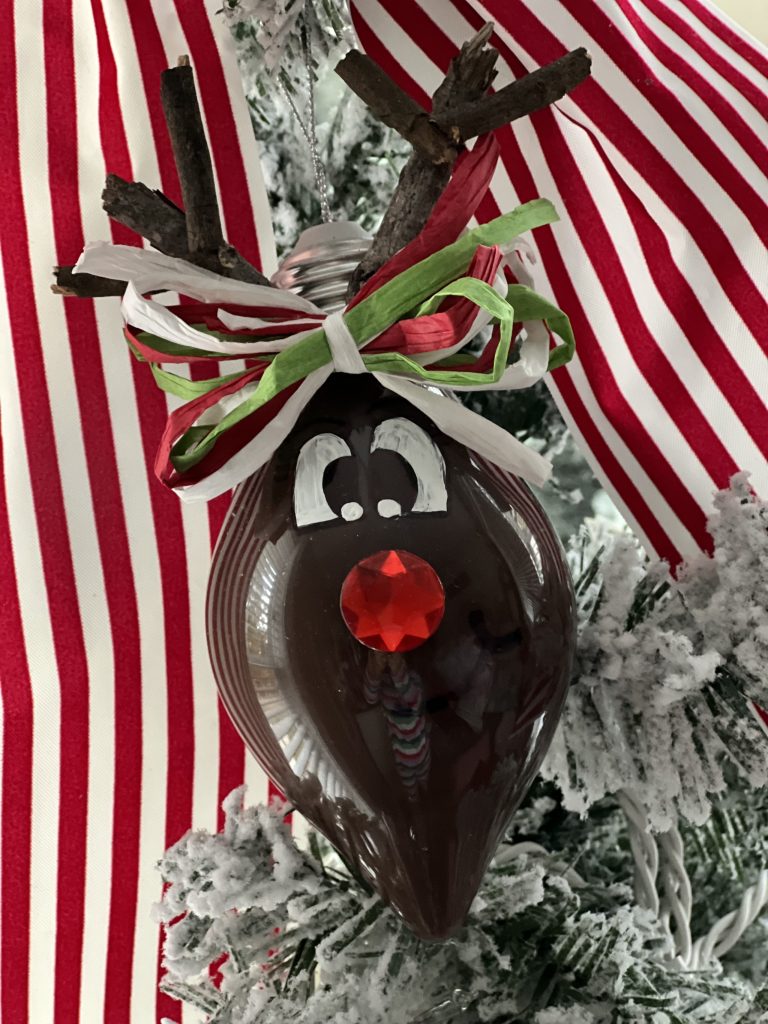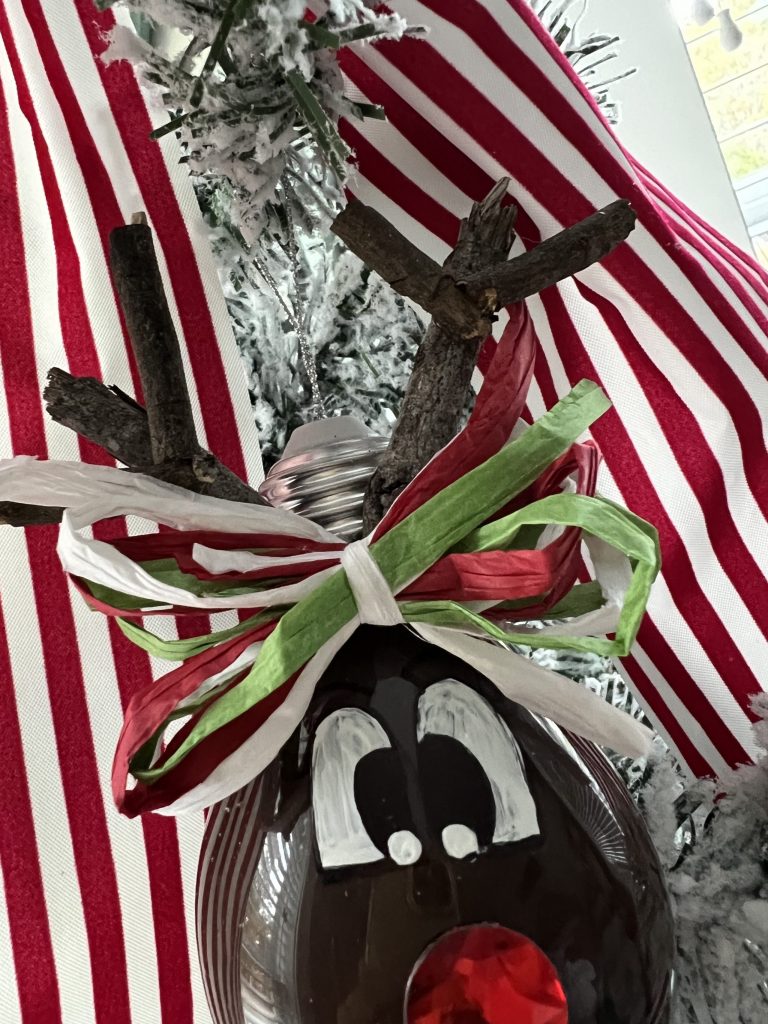 I may go back and fill in the white a little more, either with white paint or a paint pen…or I may just leave as is!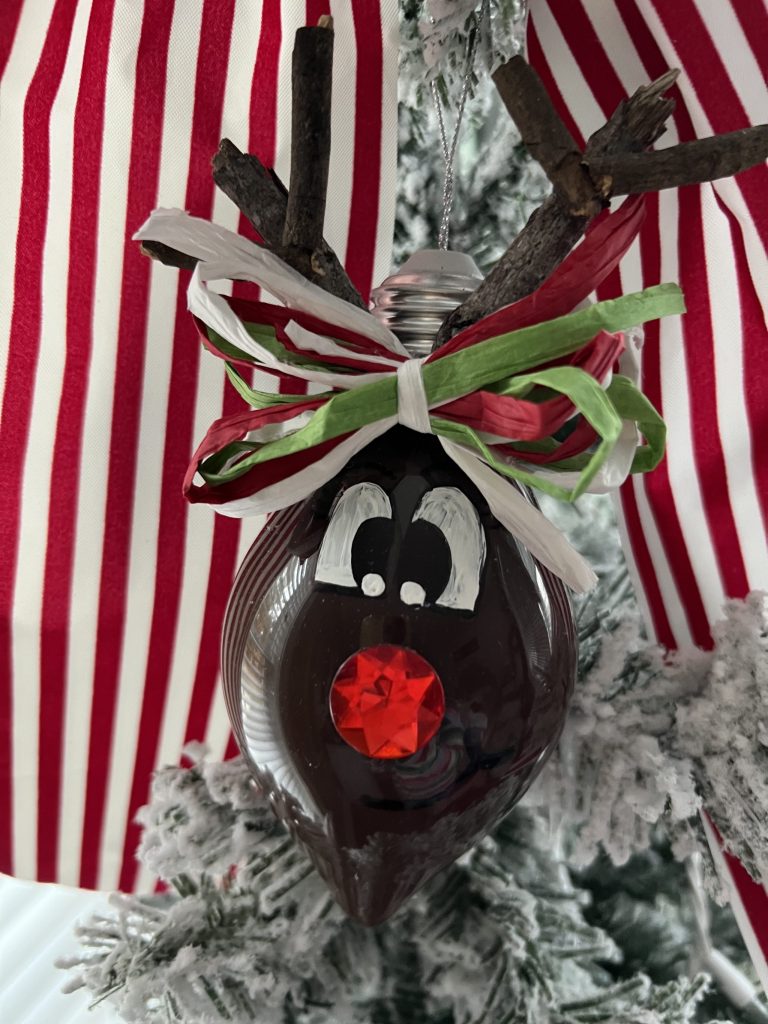 I hope you enjoyed! Be sure to share with your friends and PIN FOR LATER!