They say the kitchen is the heart of the home… and since my heart is FULL of Christmas cheer, it would only be right to spread that Christmas cheer into the KITCHEN!!
I love looking at other bloggers kitchens for inspiration, and today- I have found some AMAZING Christmas kitchens!!! The talent in these photos are impeccable, so be sure to check out each blogger's page, and show them some love! (to visit their pages, just click on their names that are in bold!)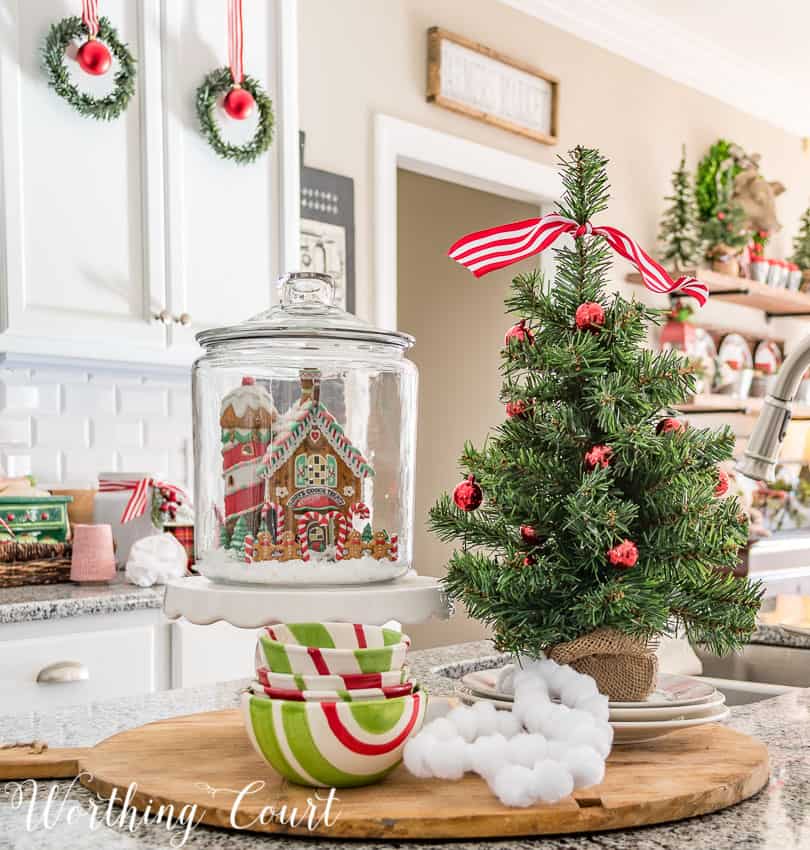 Can we just agree that this is SO CUTE? I love the idea of having a gingerbread house in a glass canister… and those little decorative bowls are adorable!!! This kitchen belongs to Suzy from Worthing Court Blog– be sure to check out the rest of her post to see her kitchen in it's entirety!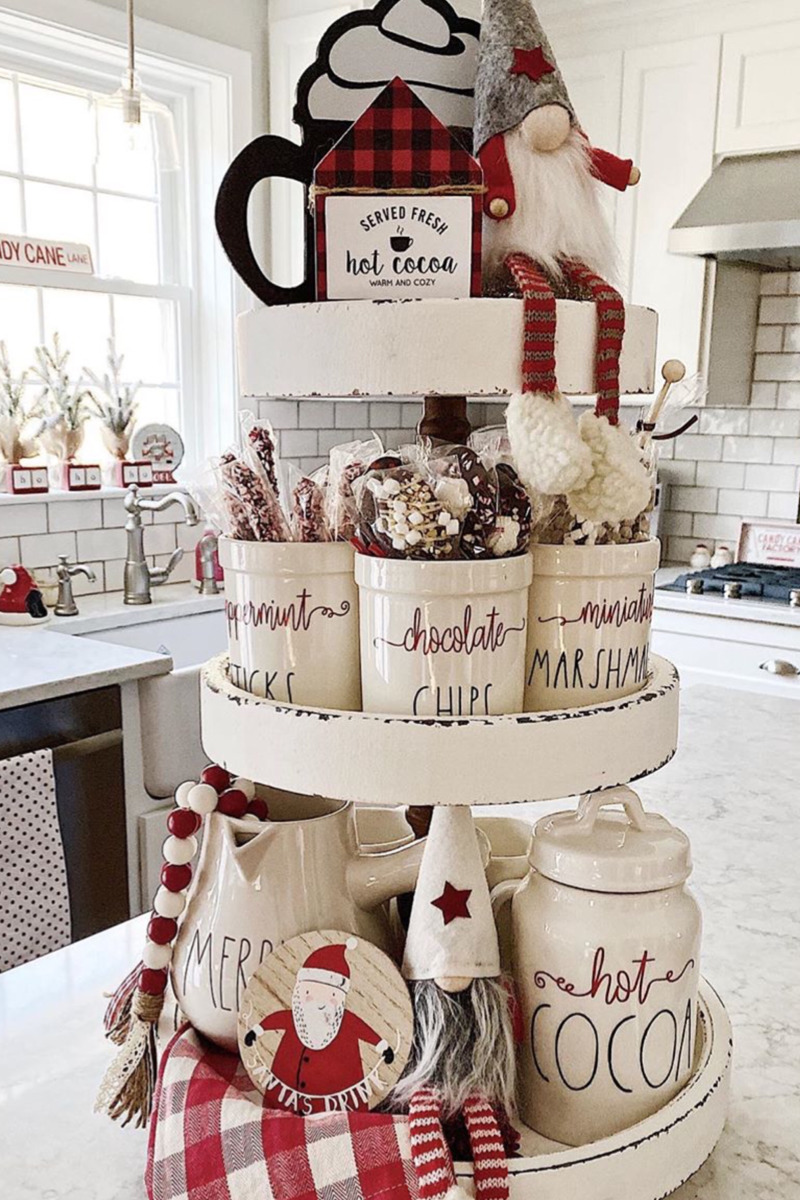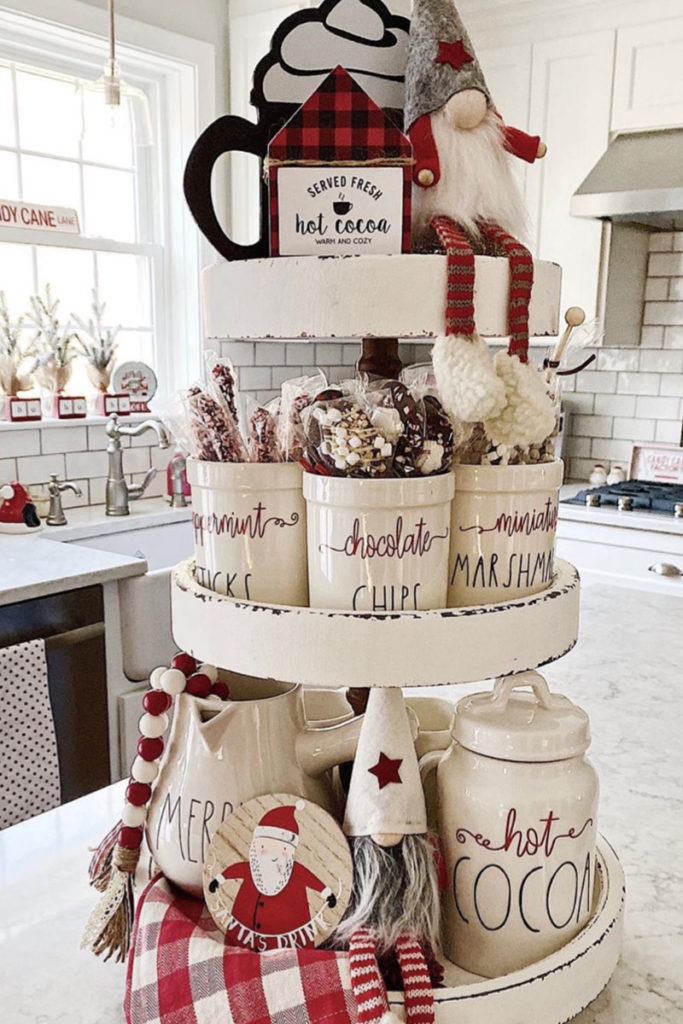 I'm a sucker for a Christmas tiered tray… and this one did NOT disappoint!!! On Daisy Hill Drive sure does know how to style a tiered tray!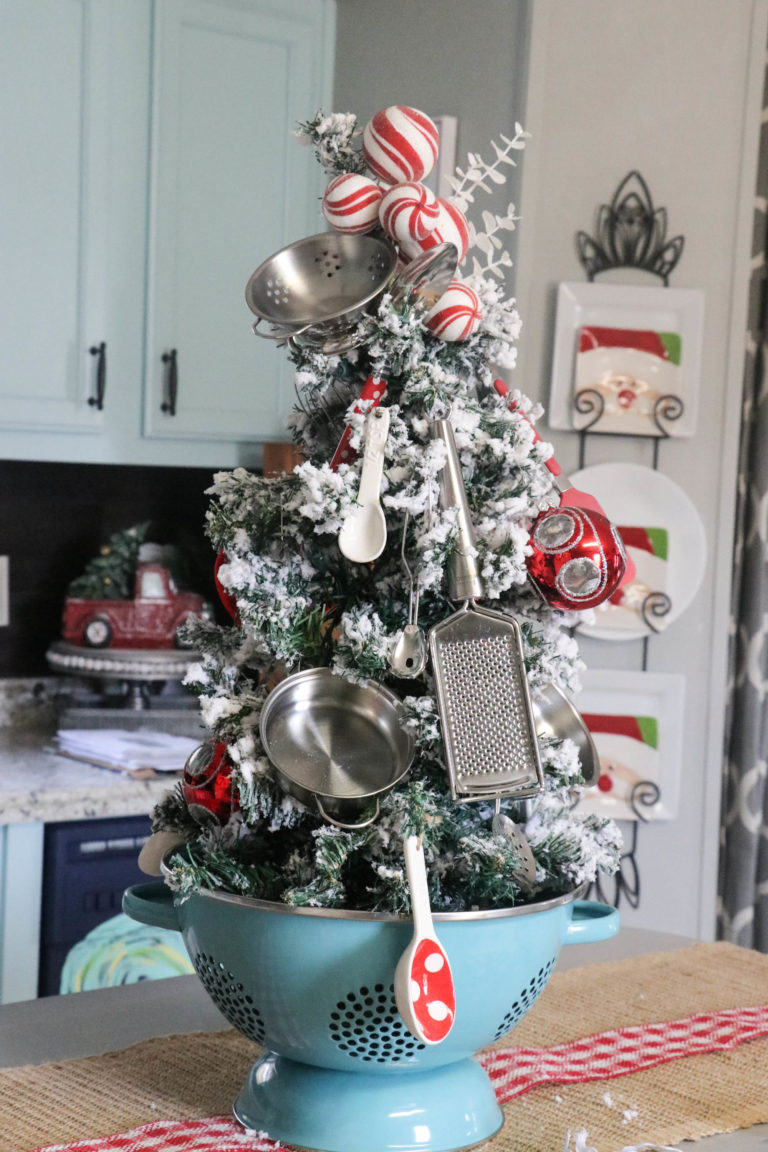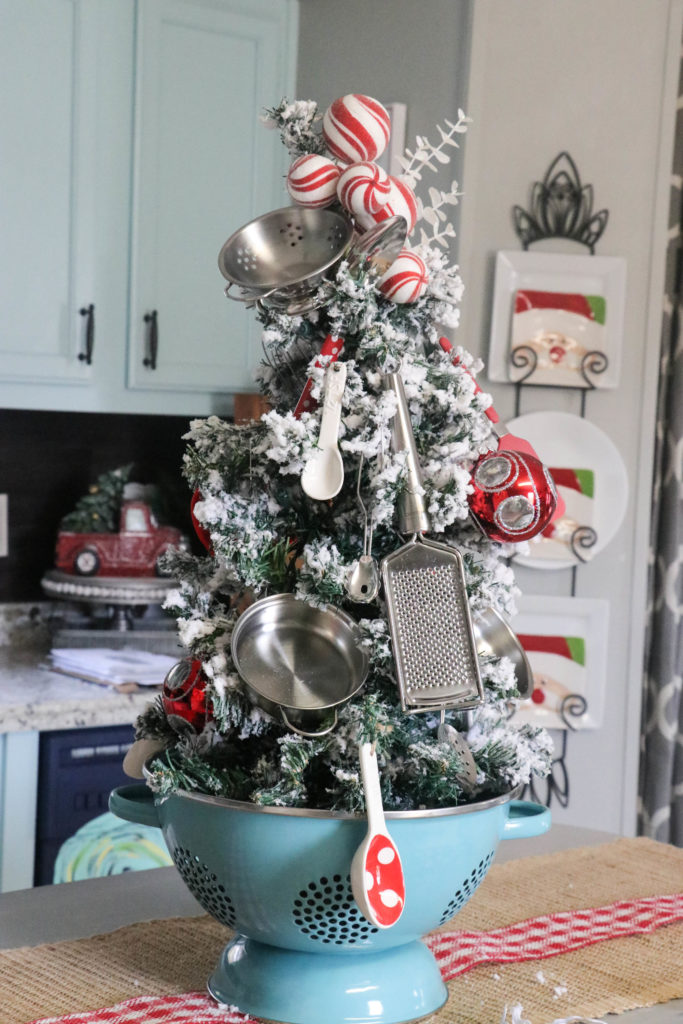 Not enough space in your kitchen for a full blown Christmas tree?? No worries… this little countertop tree is PERFECT! I made this a few years back- and I still get compliments on it til this day! You can see the full post about how I decorated this tree HERE.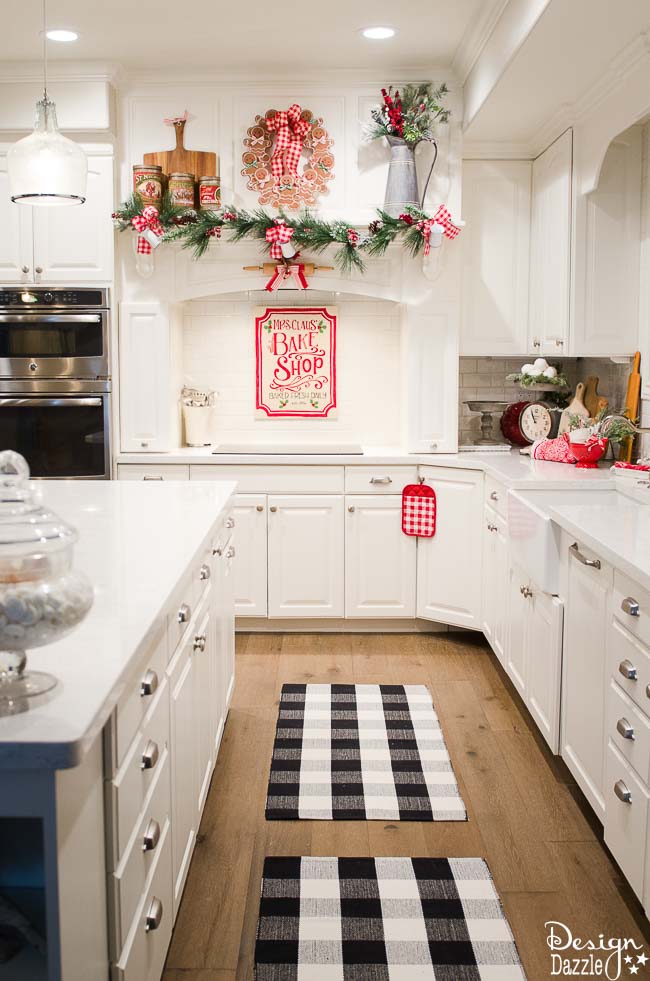 I am OBSESSED with this kitchen!!! It just so happens that my kitchen this year will have the "gingerbread" theme… so the decor in this kitchen is really speaking to me!! Toni from Design Dazzle did the perfect job of creating a simple Christmas kitchen… be sure to click on the link to see the rest of her kitchen!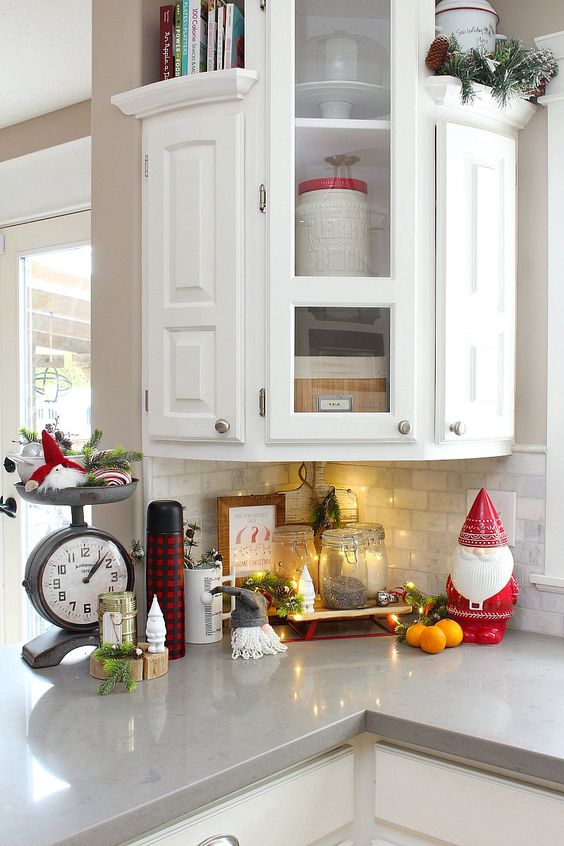 I too LOVE to create a vignette in the corner of my countertop… and this vignette was too cute not to share! The lights gave it that extra pop, and I love how she added the industrial scale, too! Jenn from Clean and Scentsible will be sure to give you inspiration, so be sure to check out her page!! 
Jodie and Julie from the Design Twins knocked it out of the park with this dining table decor!! The subtle pops of red just scream Christmas, and I love that they included so much greenery!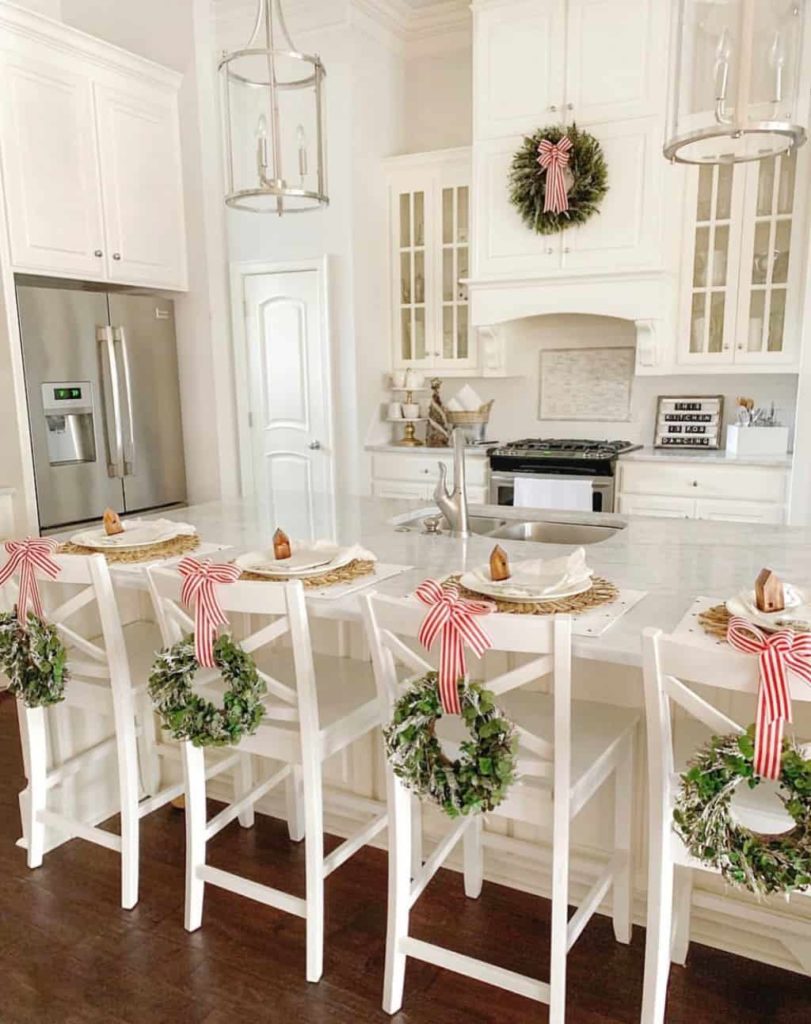 I have barstools in my kitchen, but I have never tried adding little wreaths to the back of them… but maybe this will be the year I try!!! The simplicity of them is what I love the most, and how it all ties together with the larger wreath hanging above the oven. Thanks for the inspiration, Heather from Heather Bug Lane!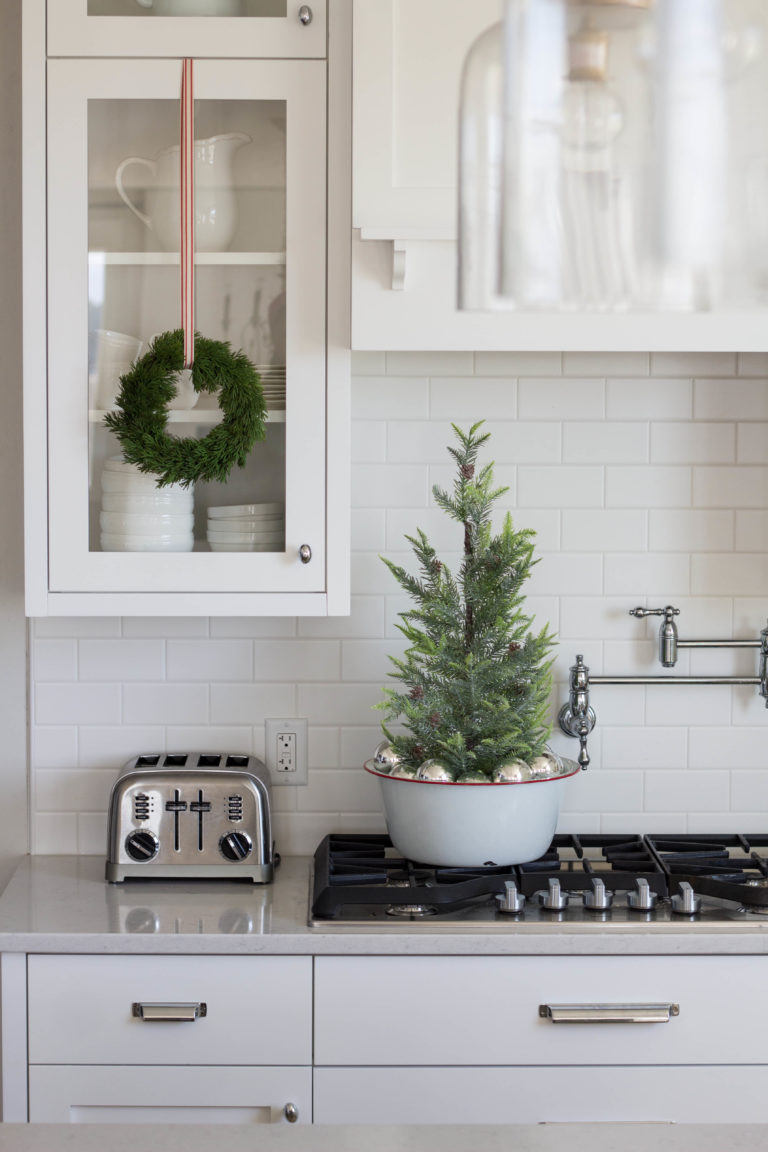 For my minimalist folks, this one is for you! I am just obsessed with the idea of adding a little tree and surrounding it with ornaments… talk about cheap and EASY! And again… adding the smallest pops of red is a game changer! Emily from Handmade Farmhouse has some incredible ideas, so be sure to check out her page!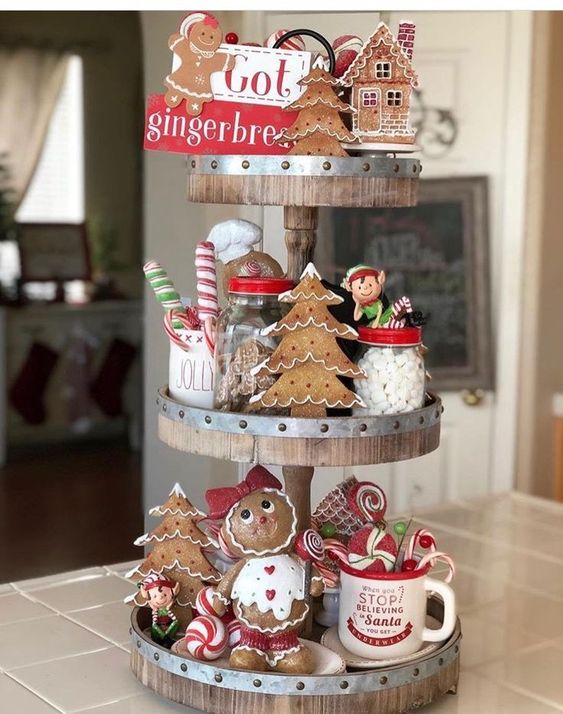 I have another tiered tray to show you… but this time, it's decked out in a GINGERBREAD theme!!! Like I mentioned above, my kitchen this year will be all about gingerbread… so this is giving me lots of ideas!!! I especially love those little trees that look like gingerbread cookies… how CUTE!! Mayra from Cupcake Country Girl shared this on her Instagram page… go give her a follow!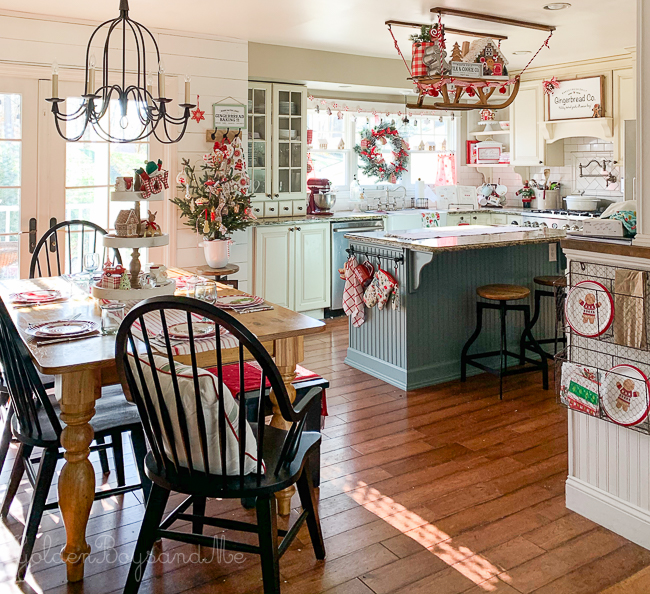 Last but certainly not least… check out this AMAZING kitchen from Golden Boys & Me! Y'all know my favorite color is aqua… so seeing how she incorporated red and aqua together has my heart fluttering!!! And do you see that sleigh above her island?? GORGEOUS! 
I hope this gave you tonssss of inspiration for your own kitchens… decorating for Christmas is more than just putting up a Christmas tree- you can add in so many more elements like a hot cocoa bar, vignettes, little wreaths, etc… take what you have seen from this blog post today, and RUN with it!!! 
PIN FOR LATER!!!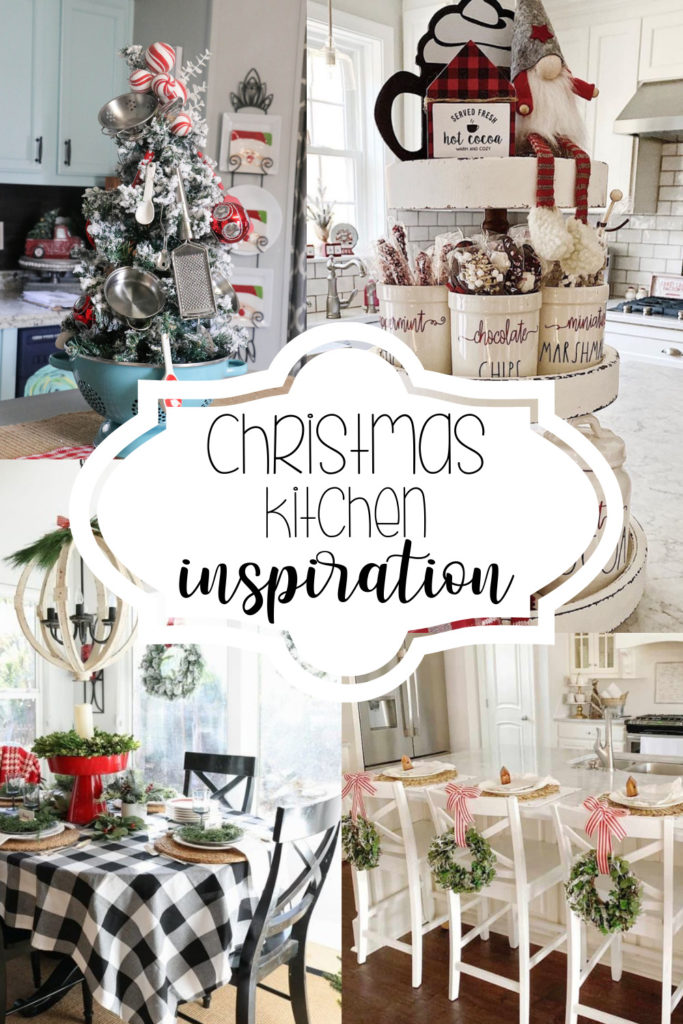 Text me!!! 270-200-5848