If you have been following me since the very beginning, you have seen my white dining room table over and over. I have had it around 10 years, and I have loved it so much! BUT…it was time for a change. (I also want to add that my dining room theme is COMPLETELY DIFFERENT THIS YEAR!!!!!!!)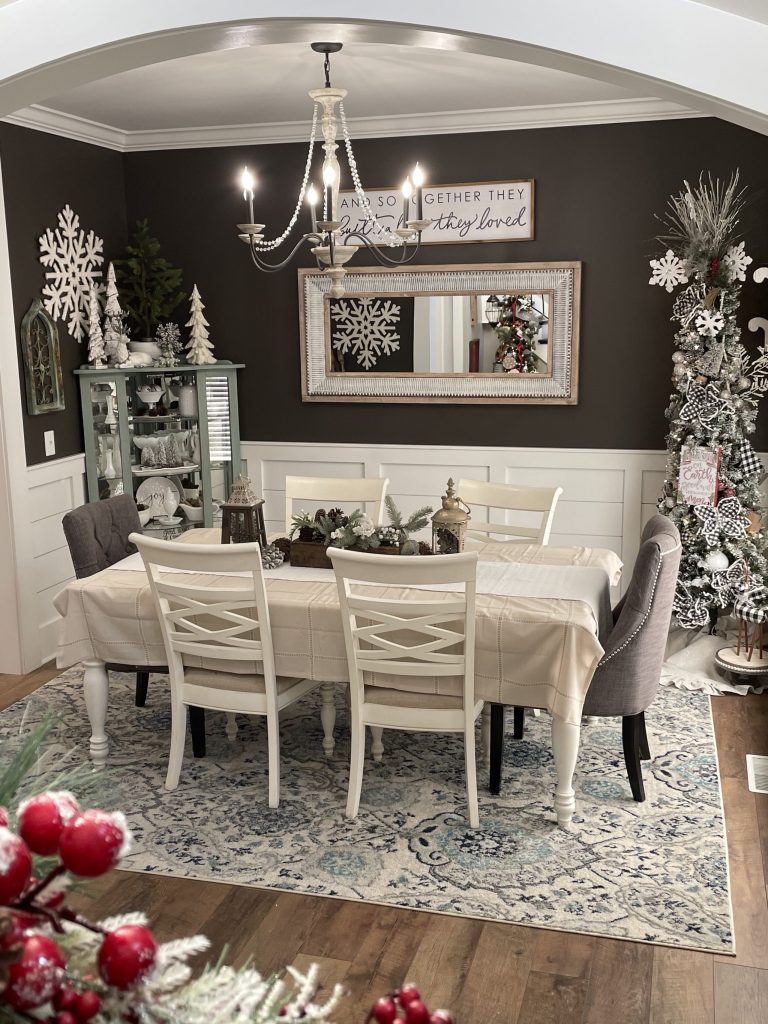 You see, my former table has been LIVED IN to the finest (isn't that what they are for??). It has stains where the kiddos and me have literally done thousands of craft projects, paintings, etc… and of course, numerous family meals. It has been loved and appreciated, and it will continue to be loved and appreciated in the Re-Fabbed House!!!! (its new home)
Blank slate, decor and all! It is all blank LOL! (HERE is where you can find this rug* affiliate link!)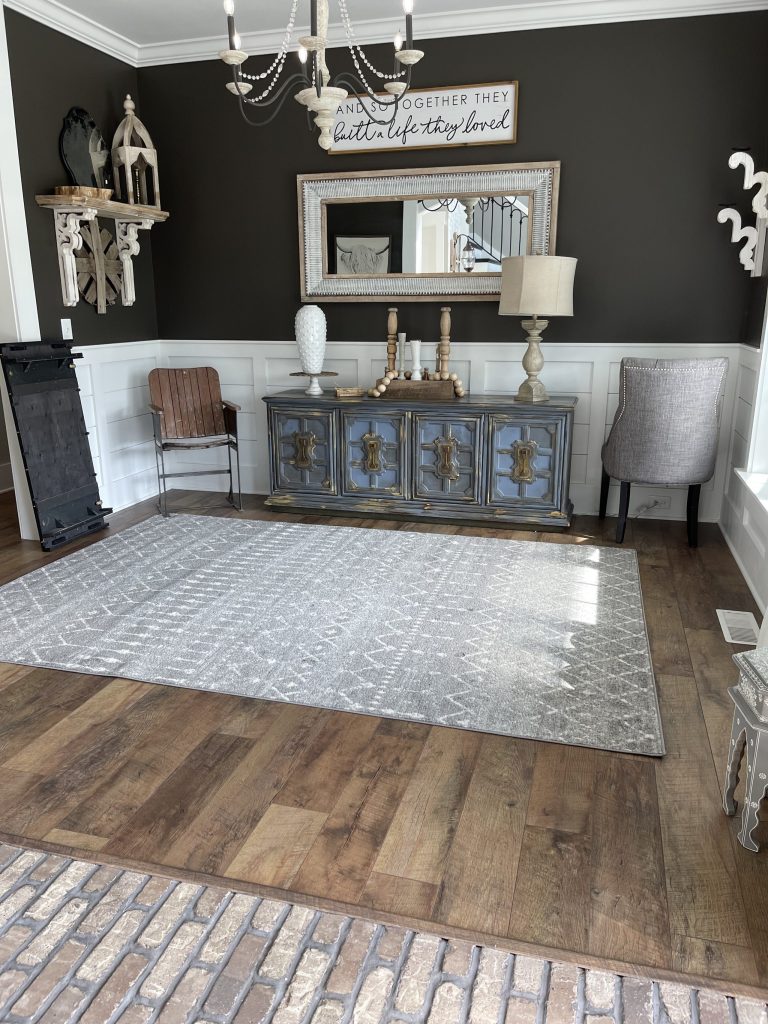 So, I reached out to my friend Leslie at Creative Interiors here in my town and told her I was ready for a new table. Within 30 minutes, we picked this one and BAM! It even came in within like 2 weeks, which is sooooo fast these days! I AM IN LOVE WITH IT! It gives everything a whole new look!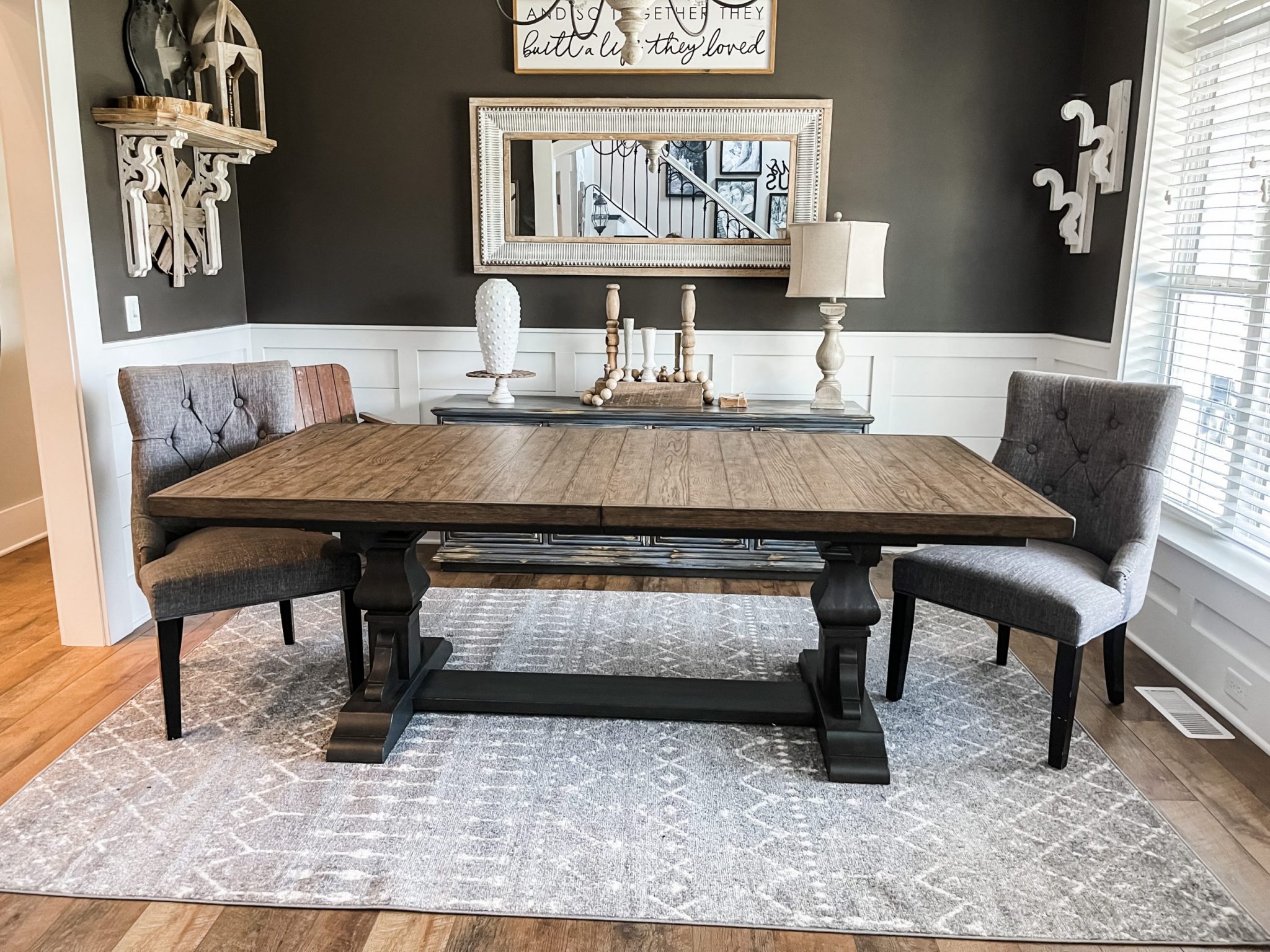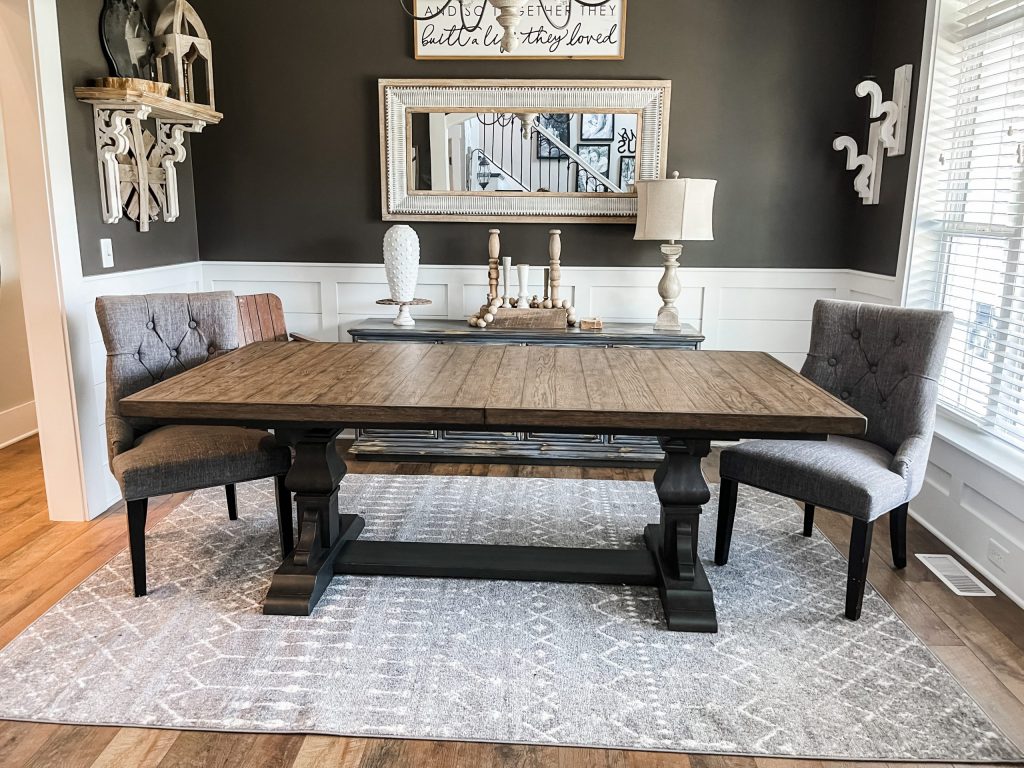 YALLLLLLLL! Those LEGS! It is everything I could have wanted. It is bigger and HEAVY as all get out!
I do not have chairs yet, because I wanted to pick my own! But, I had already been using these 2 on the ends, so I may still do that (not sure yet!)
MY FAVE part of this is the LEAF that is INSIDE!!! My other table had a leaf, but it was separate, and I had to store it. It was just a pain to constantly get out when it was needed!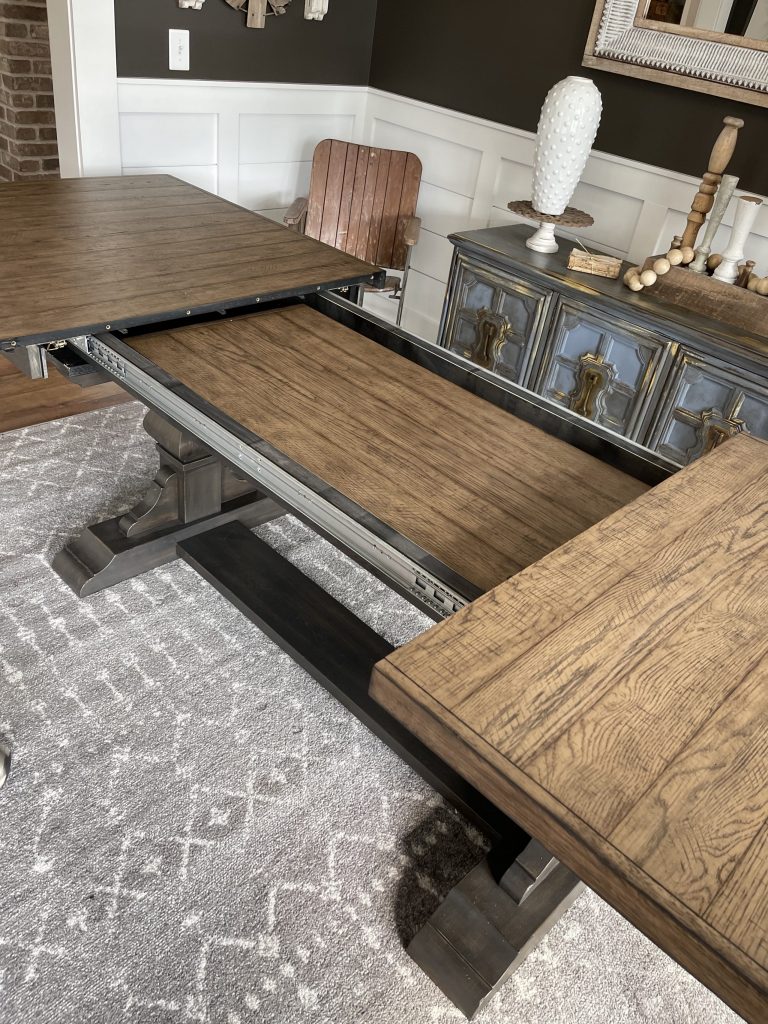 And the LEGS!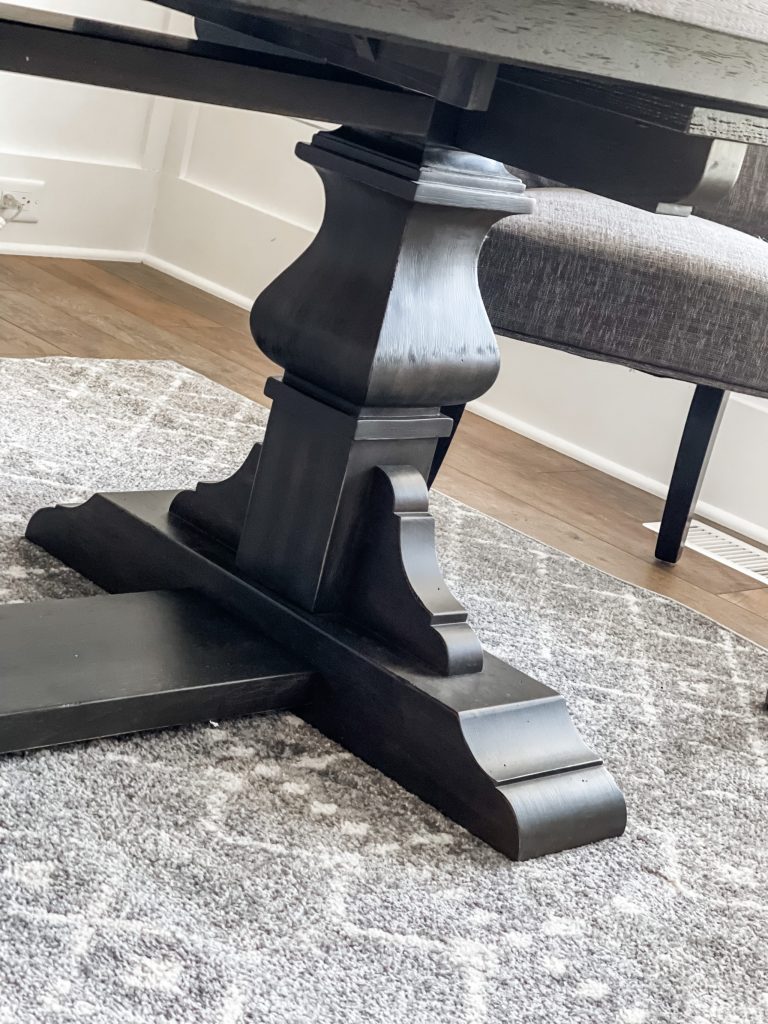 It is a very very dark wood. It is ALMOST black. As I mentioned before, it is HEAVY too.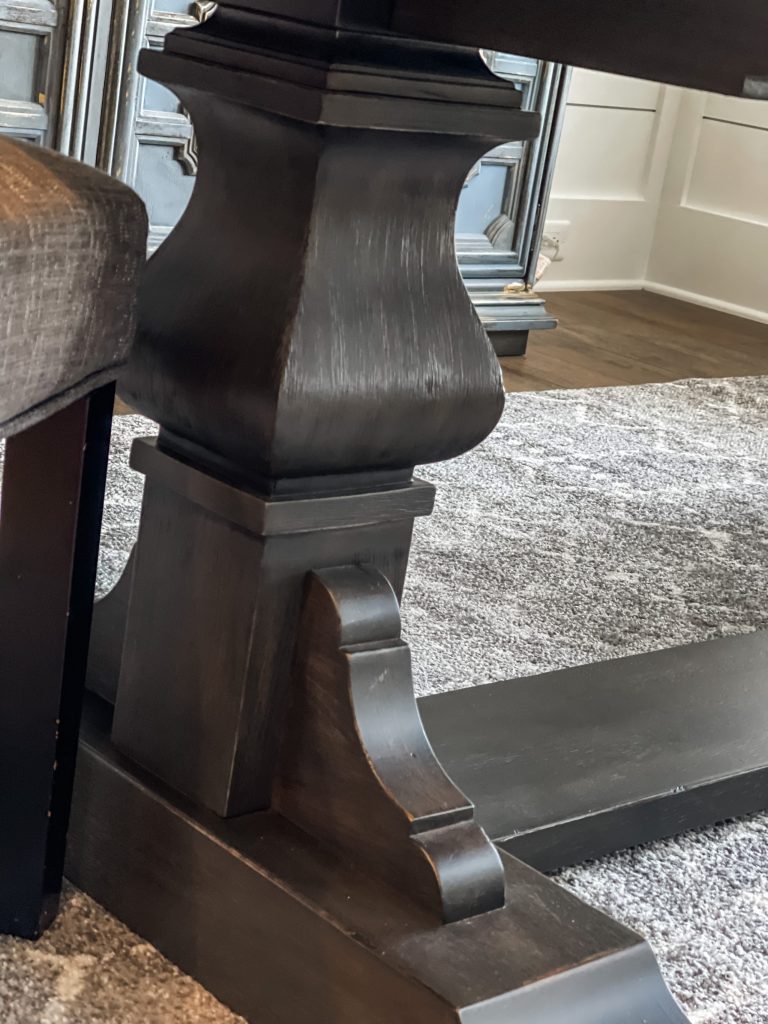 One last look and some DETAILS!
This is the company description! It is Liberty Home and named Harvest Home! (Same brand as my Master Bedroom furniture!)
A "classic" vintage style uncompromised describes the Harvest Home seven-piece trestle table set. Crafted of rubberwood solids and knotty white oak veneers, this kit features a chalkboard finish, and is complete with the trestle table and six slat back side chairs (I didn't get the chairs). The trestle table features a thick butcher block planked top with a solid wood edge, a 20" self-storing leaf, and a two-tone finish. The slat back side chairs have a saddle shaped seat for added comfort, and nylon chair glides to protect your flooring.
DIMENSIONS:
84″ without leaf
104″ WITH leaf
40″ wide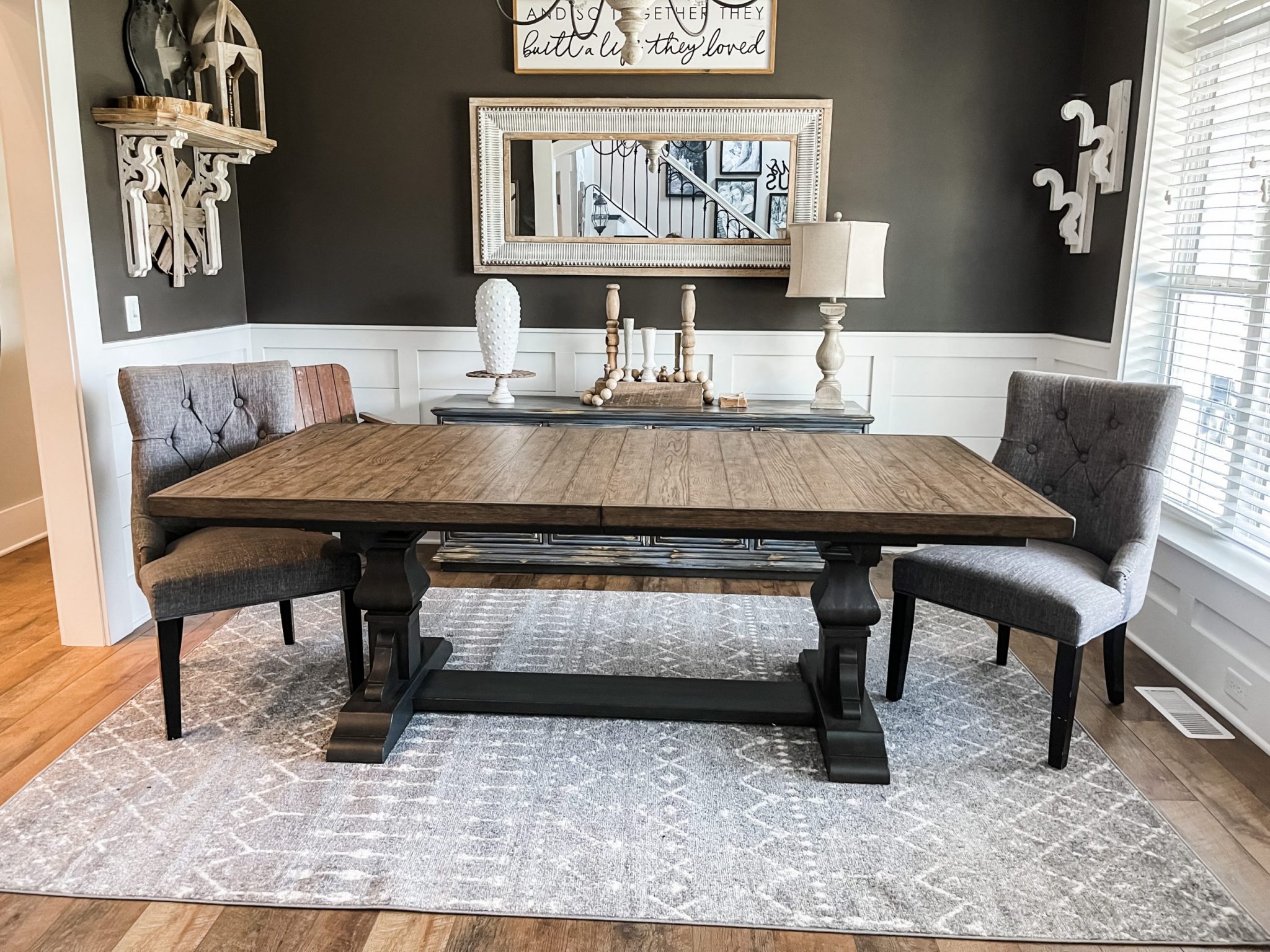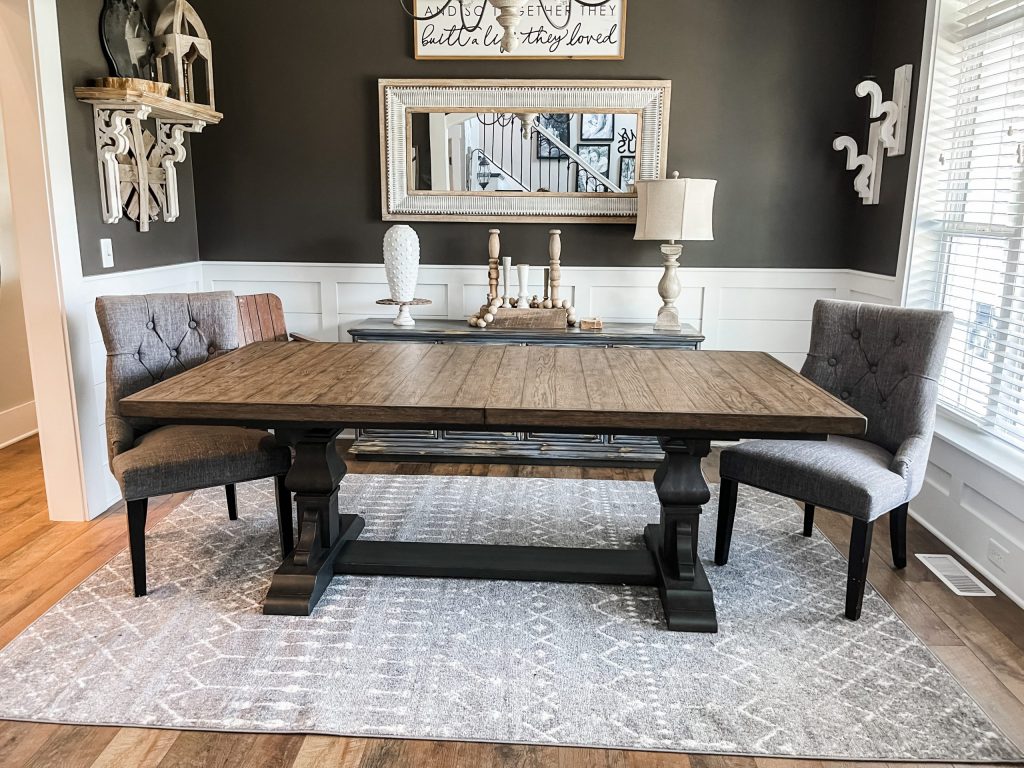 This is going to be sooooooo fun to start doing tablescapes on! I haven't had a wooden top table EVER! (isn't that hard to believe???)
Make sure to keep following along so you don't miss ANYTHING coming up on the blog!

TEXT ME

! FOLLOW ON

INSTAGRAM

!