This year, I am literally swooning over my dining room. It kind of just fell together on accident, as I slowly added to it and took away elements I didn't like. Suddenly, I looked at it and said…You know what? I like you. I am gonna keep you just like this! I hope you enjoy the little tour!
This is the view of the dining room looking in from the living room!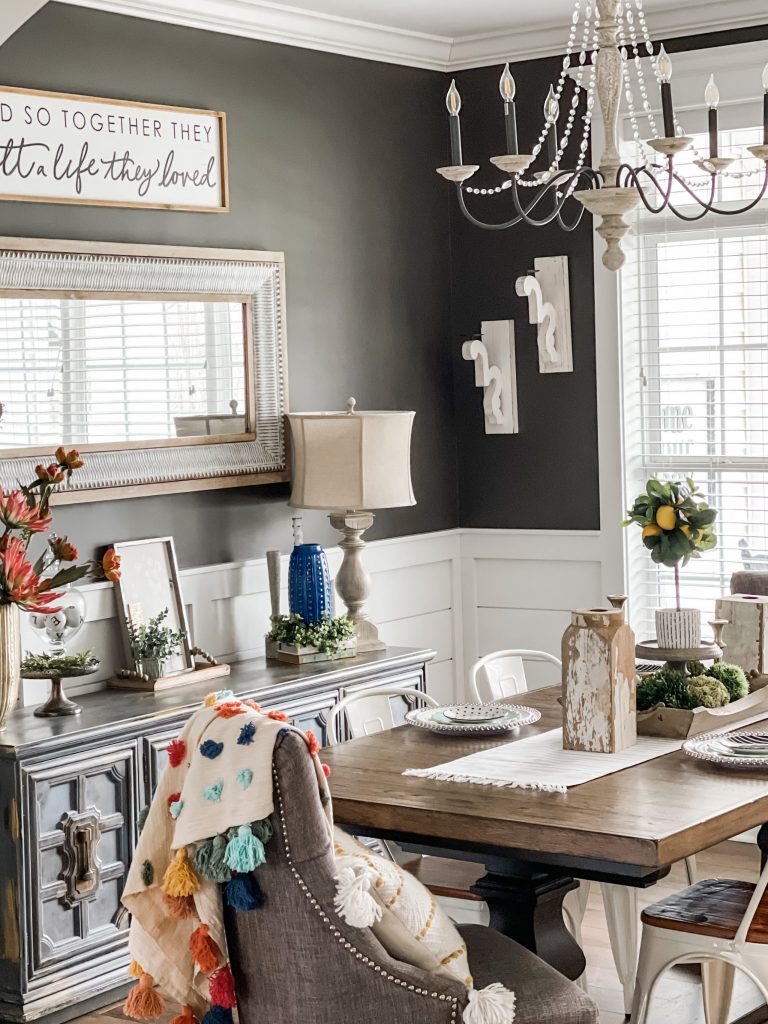 This is the view of the dining room from the entry way!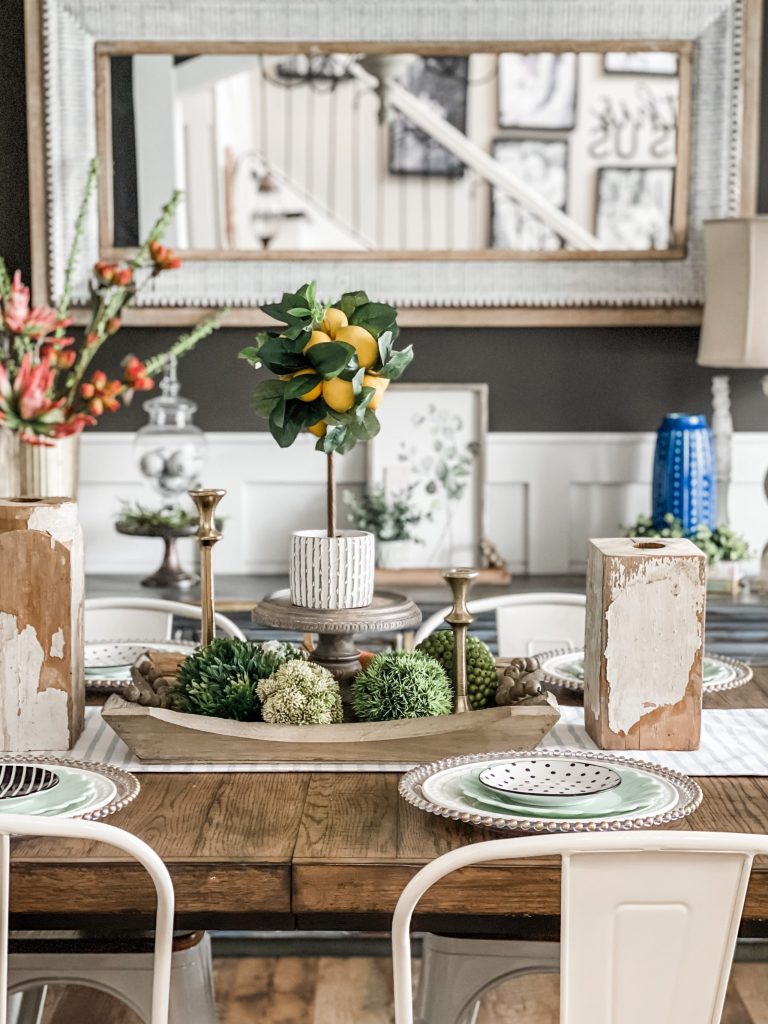 This years design (if you can call it that) really just happened by accident, as I mentioned. I love whimsy and fun…but this design turned out to be a little more sophisticated with touches of fun mixed in! Lots of greenery ended up being the star of the show.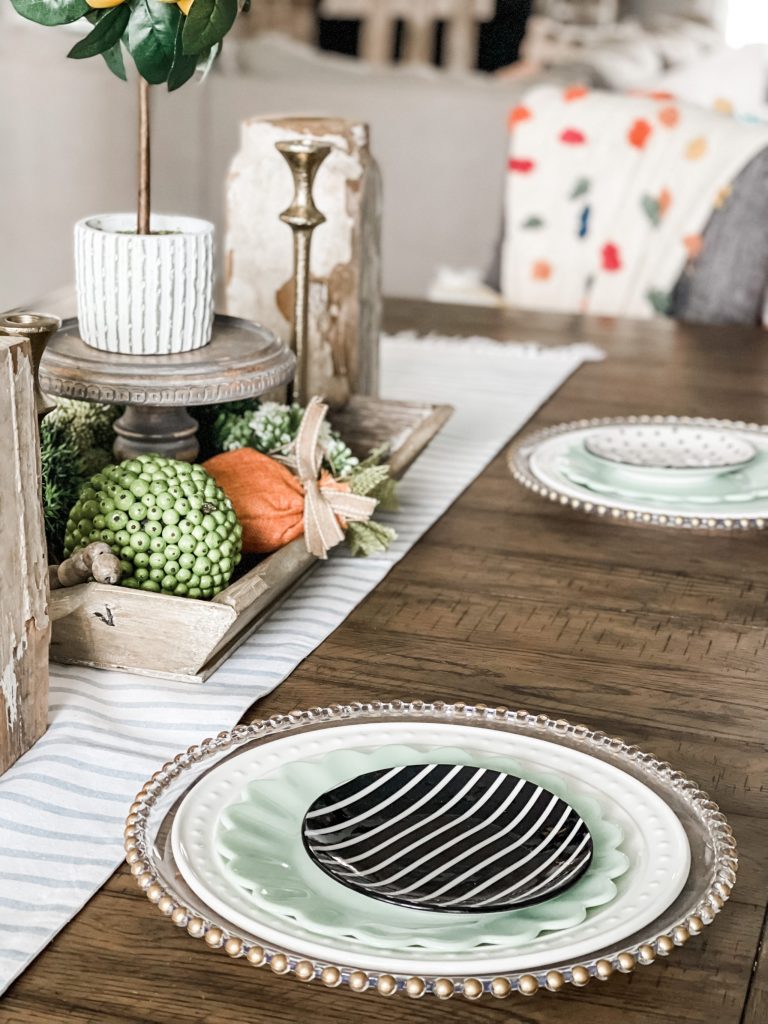 The black and white appetizer plates are from Dollar General! How stinkin' cute are they?? The jade ones are pioneer woman from Walmart, and the white is from Dollar Tree a couple of years ago! The chargers are from Hobby Lobby!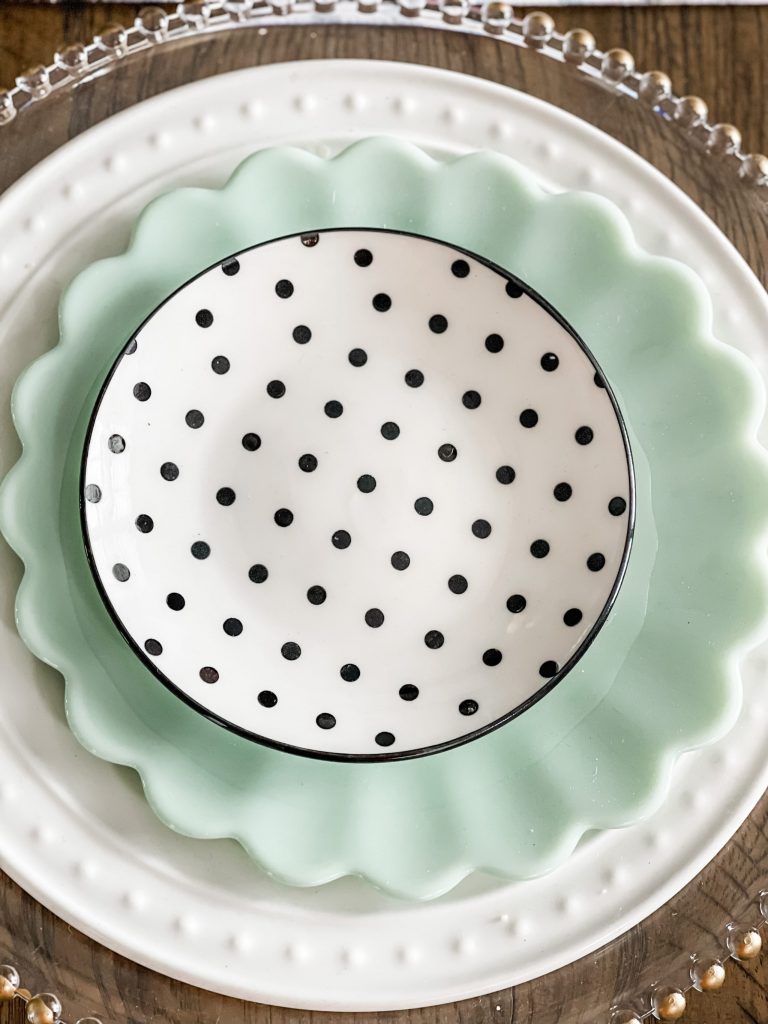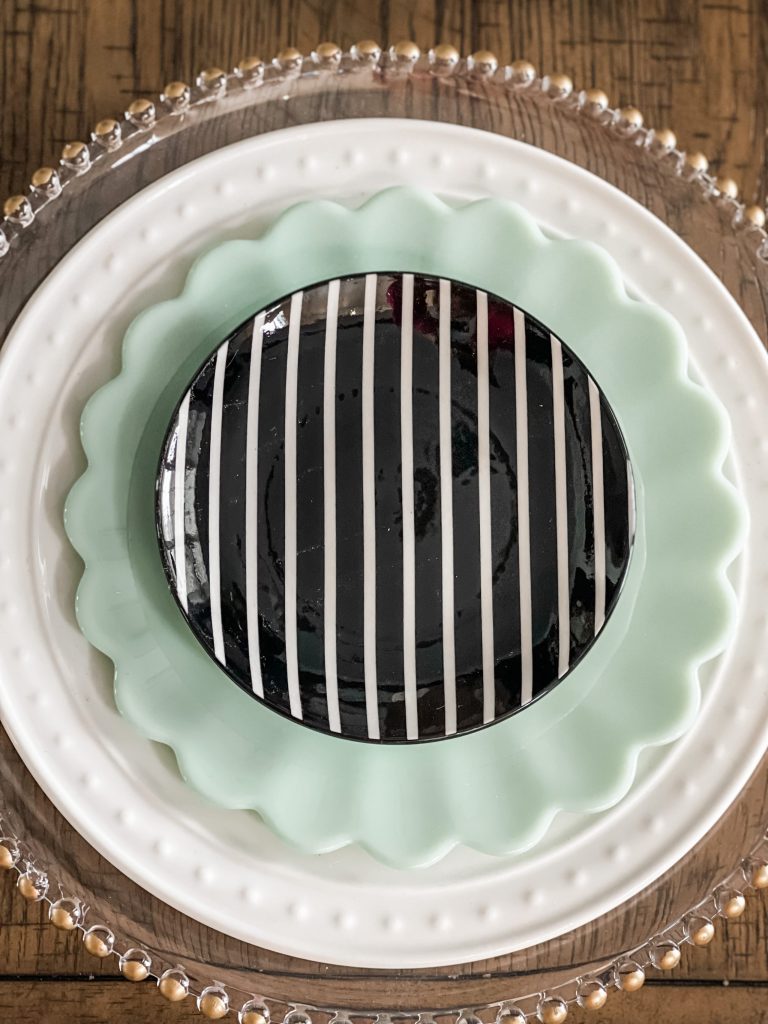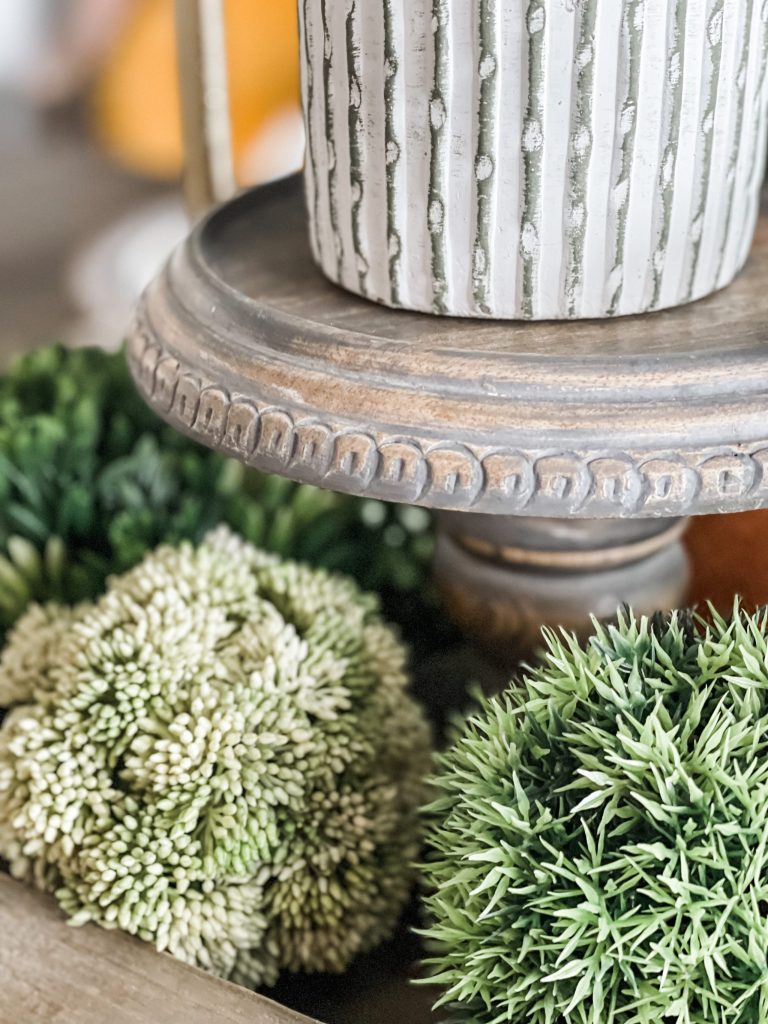 The green balls are from a local flower shop/boutique called Broadway florist! I just love how they look in my Hobby Lobby tray from a few years ago!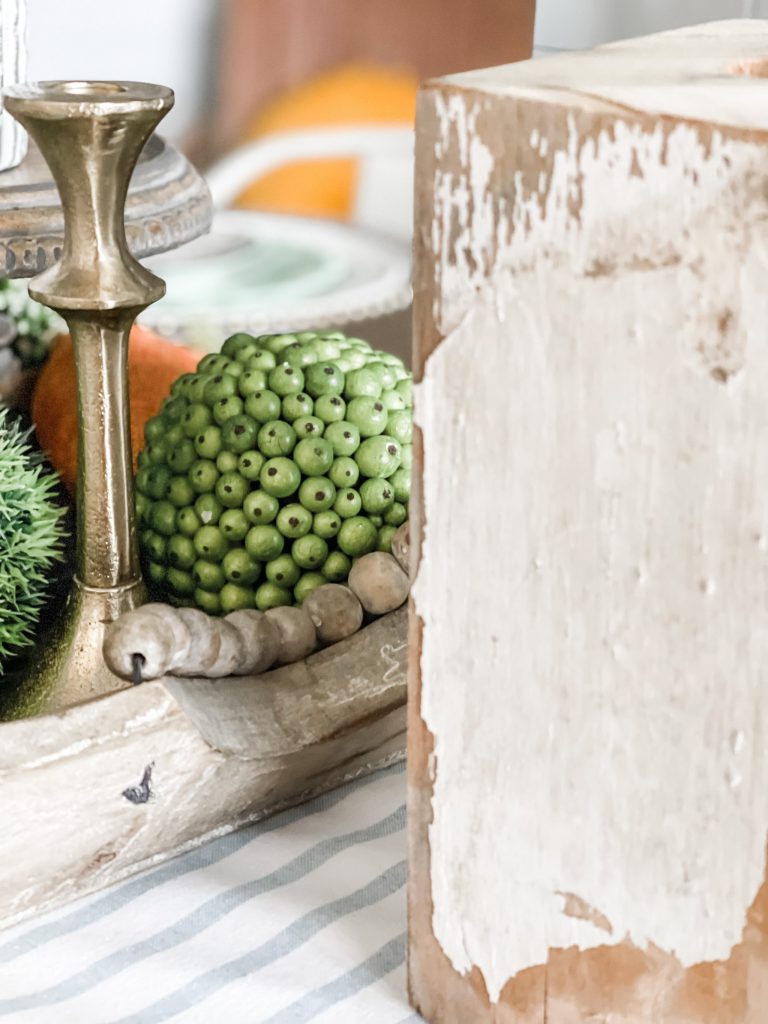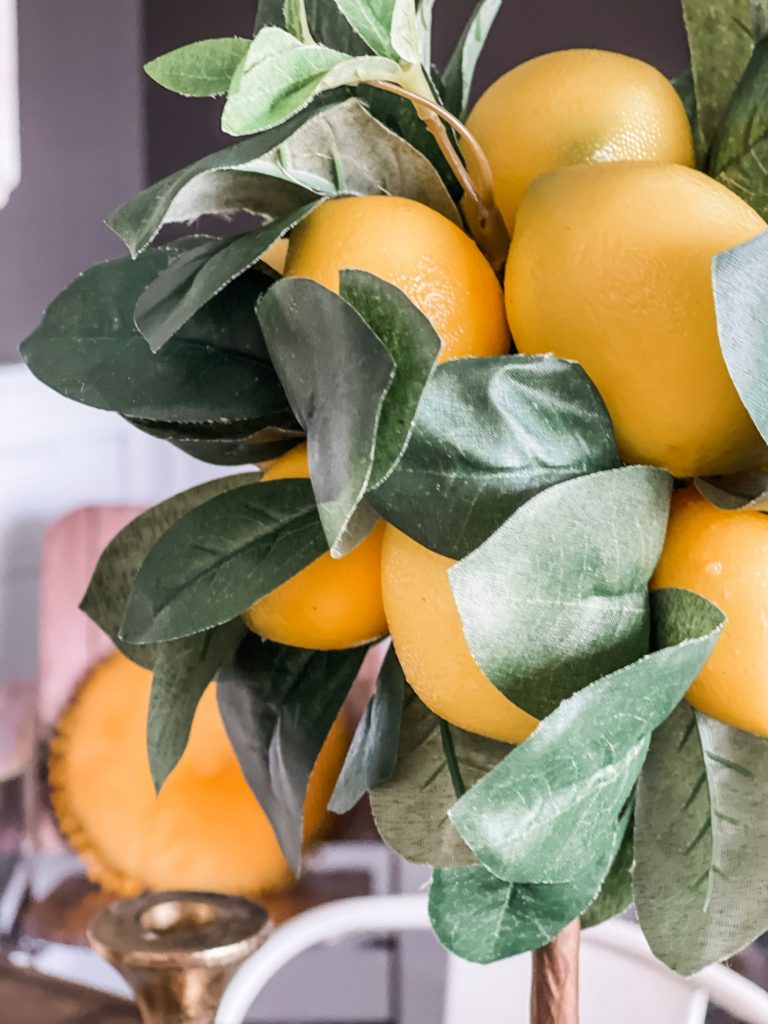 This lemon tree was from TJ Maxx, and I just couldn't pass it up! I love lemons, and I also love the pops of yellow, of course!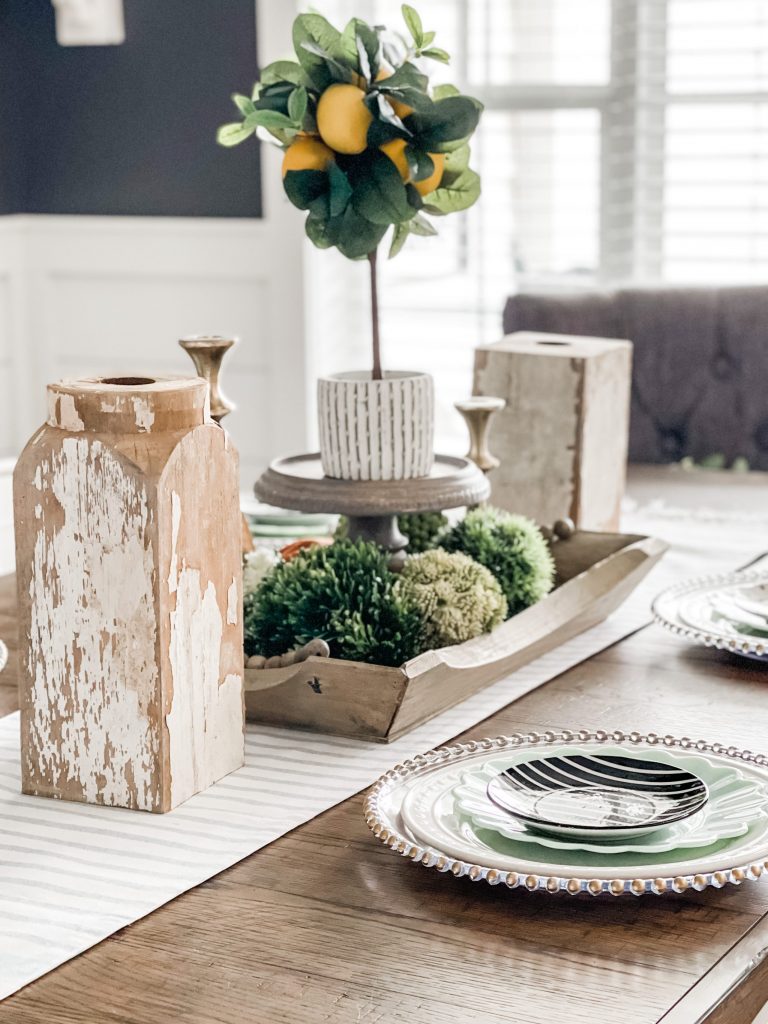 I am still obsessed with my theatre chair in the corner. That bad boy is HEAVY DUTY, let me tell you! 
This is perhaps my favorite littlle setup in the dining room! The only thing I bought new was the flowers in the gold "vase" (which I actually a trash can, I think??). I also got them from Broadway florist, and I literally could NOT love them more!!! The colors, the textures, the feel…they are fabulous!
I had the little balls for years. They spell RILEY when you set them out! The cake stand was from Anything Goes one day! Still obsessed with it too!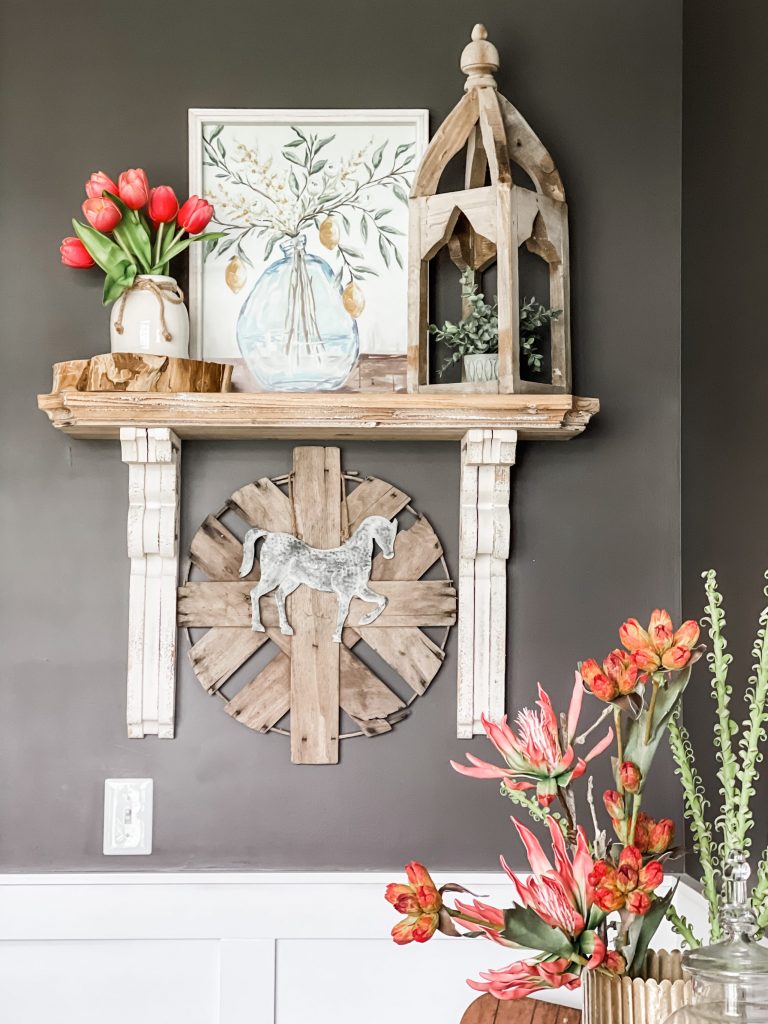 This little shelf area was an addition I made about a year or so ago, and it really added some new elements in the space. I love to "set" stuff around, so it gave me more options. I got the shelf from Decor Steals! I found all of the other pieces at random places, such as booth malls, junk stores, TJ Maxx and Kirklands!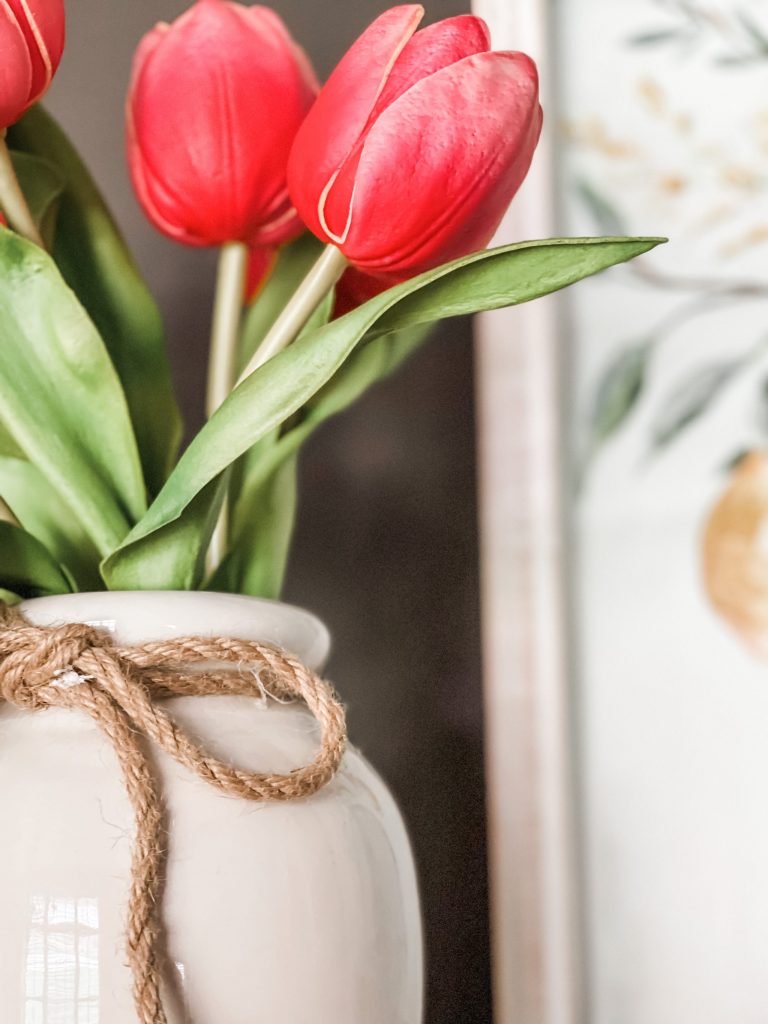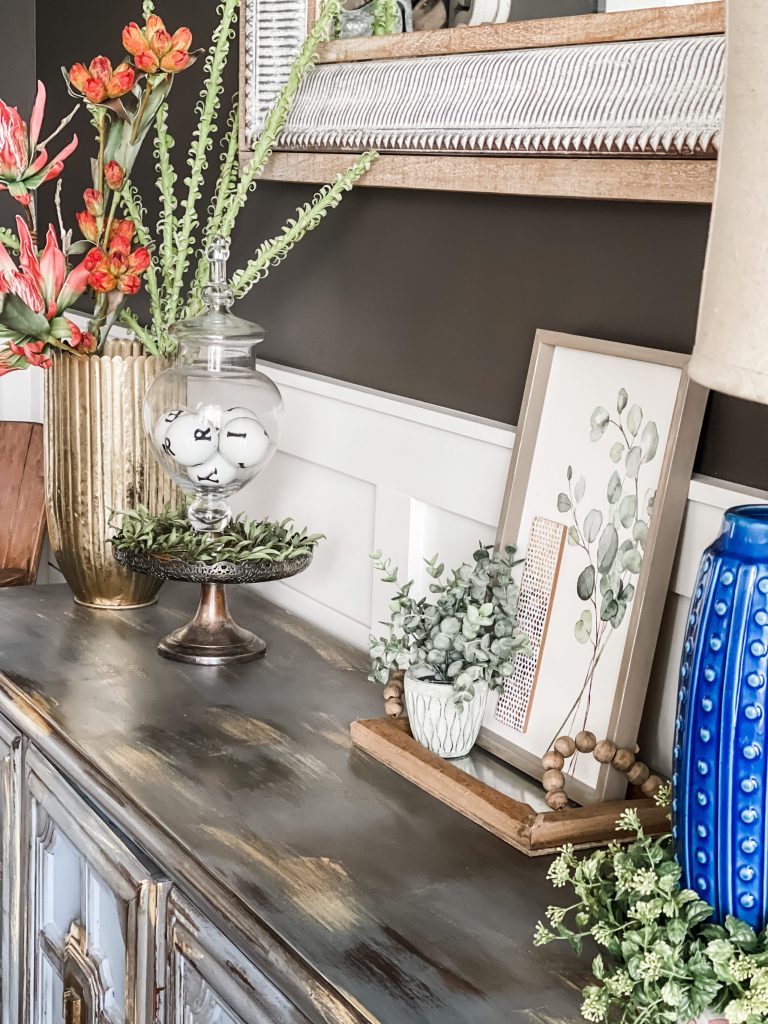 This whole area turned out nice, I think! I bought the piece of furniture from a friend who was selling it, and I just adore it!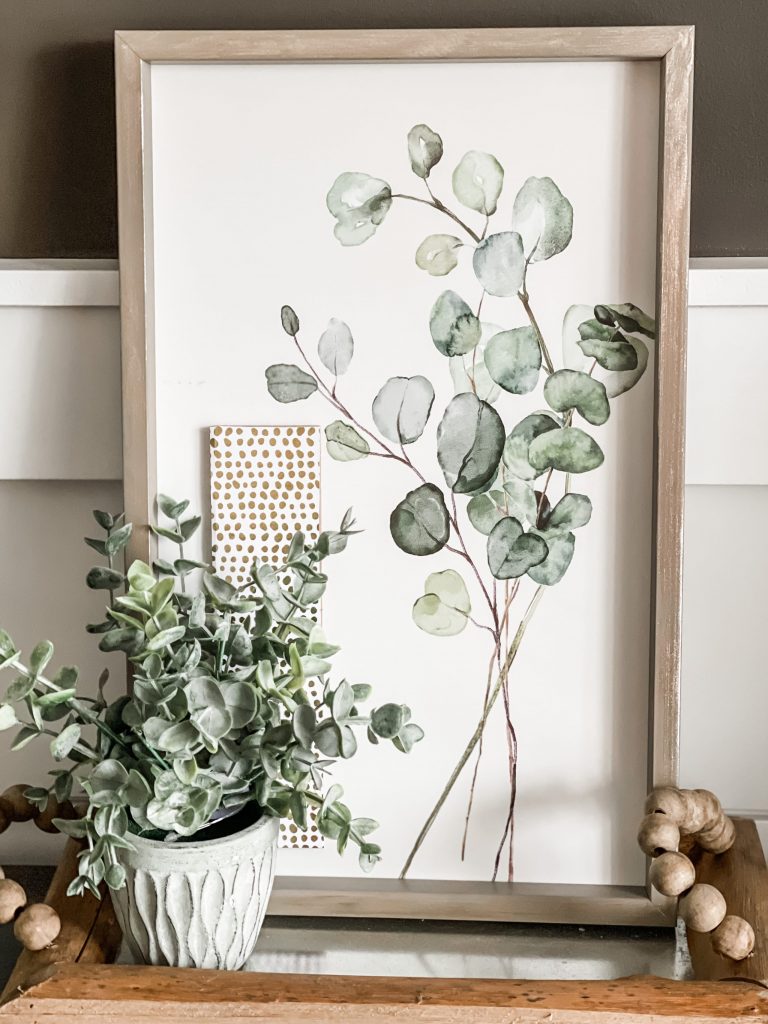 This cute little greenery sign was a DOLLAR GENERAL MAKEOVER! If you haven't seen it, it is a must see. I, for one, love it! 
This blue vase has made its rounds around my house! You may remember it from my SPRING MANTEL one year! I NEVER keep things the same. What is the fun in that??
I hope you enjoyed my little Dining Room tour this year! It isn't a big space, but it is a fun space to decorate for the seasons! I wish each of you could come and enjoy a cup of coffee with me here…but for now, we will just have to be friends through the waves of the internet!
PIN FOR LATER!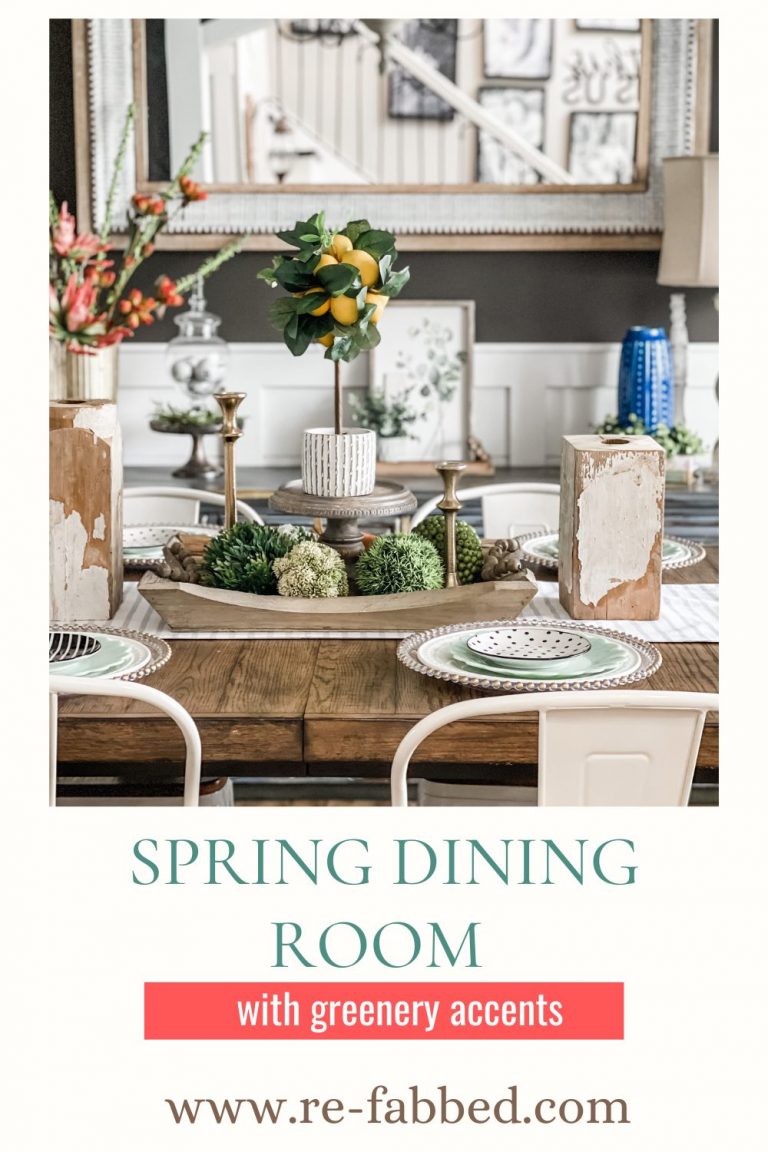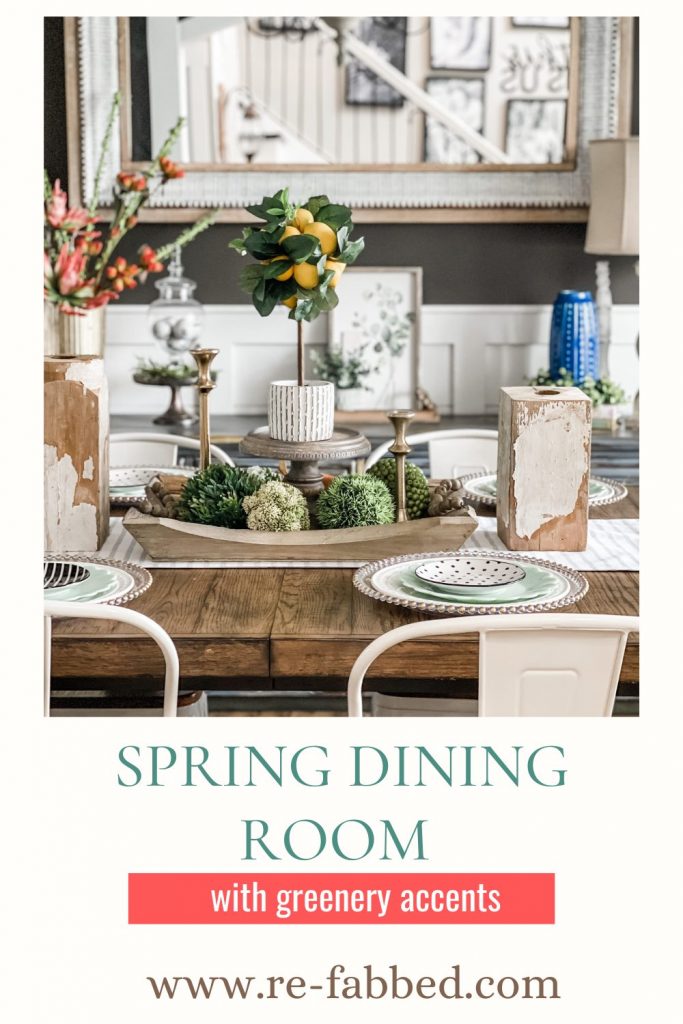 Make sure you are on my FREE TEXT LIST!