So, since moving to our farm a little over a year ago, I have had to be more creative in how I choose to decorate. I mean, space is BIG time limited. (If you are new to the blog, check out THIS POST to get caught up! We moved to our farm and are living in a single wide mobile home while we prepare to build.)
Last year, I chose to go all neutral with my tree and decor in the living room….but this year, I decided to go all out with a red and white Christmas Tree! I love both! The great thing is, I have SOOO many ornaments, because I am used to a much bigger tree and space- so I just use current ornaments I already have and pick and choose which style, without having to buy many new. (Of course, I always buy a FEW….hehe) I usually do a red, white and green tree- so last year I used my white ornaments and this year I used my red with a few white!
This is just a little 6 foot $30 flocked tree from Walmart, and I LOVE IT. It is the same tree I used in my Rustic Office Christmas Tour a couple of years ago!
So, here it is! I will show the rest of the living room and kitchen soon. I just have too big of a mess right now! LOL. #truth #real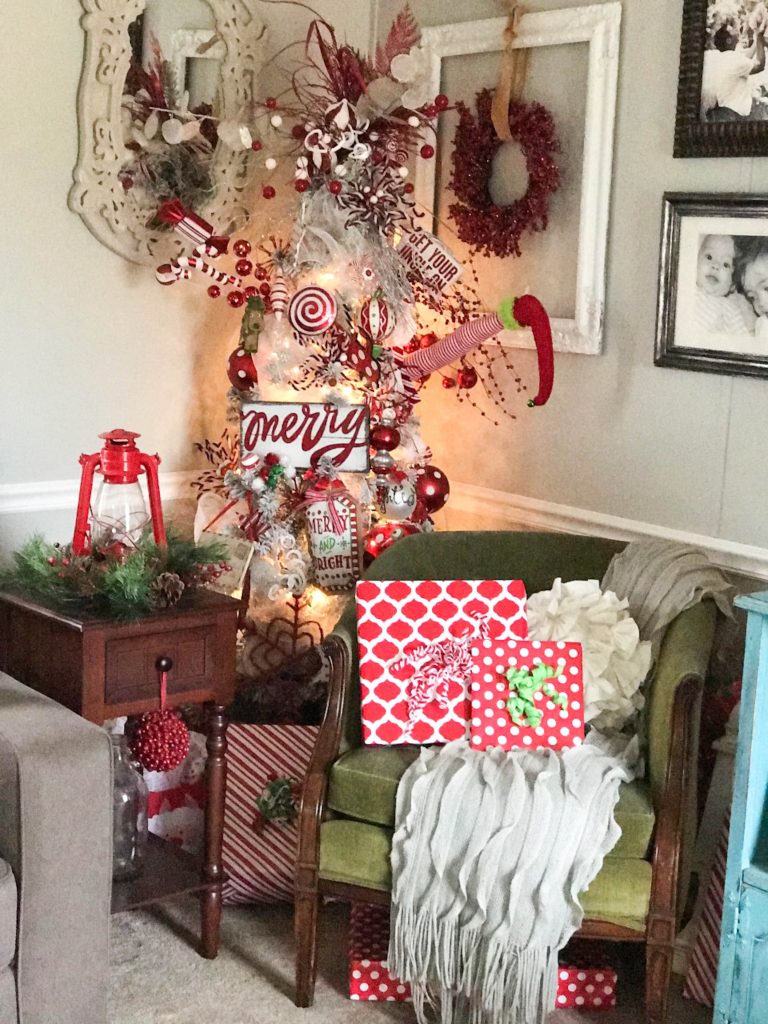 Now, let me say this. I know it is packed in there. We have zero room, AND I am not a minimalist when it comes to decorating! LOL.
But….I do love the funky and whimsy vibe that the red brings into our home during this time of year!
I love putting picks, ornaments, ribbon and anything and everything on the tree to make it jam packed with Christmas goodness!
I
I love using all sorts of items on my Red and White Christmas tree, even if they aren't truly "ornaments"! This Merry sign was $5.99 from TJ Maxx. I loooove it.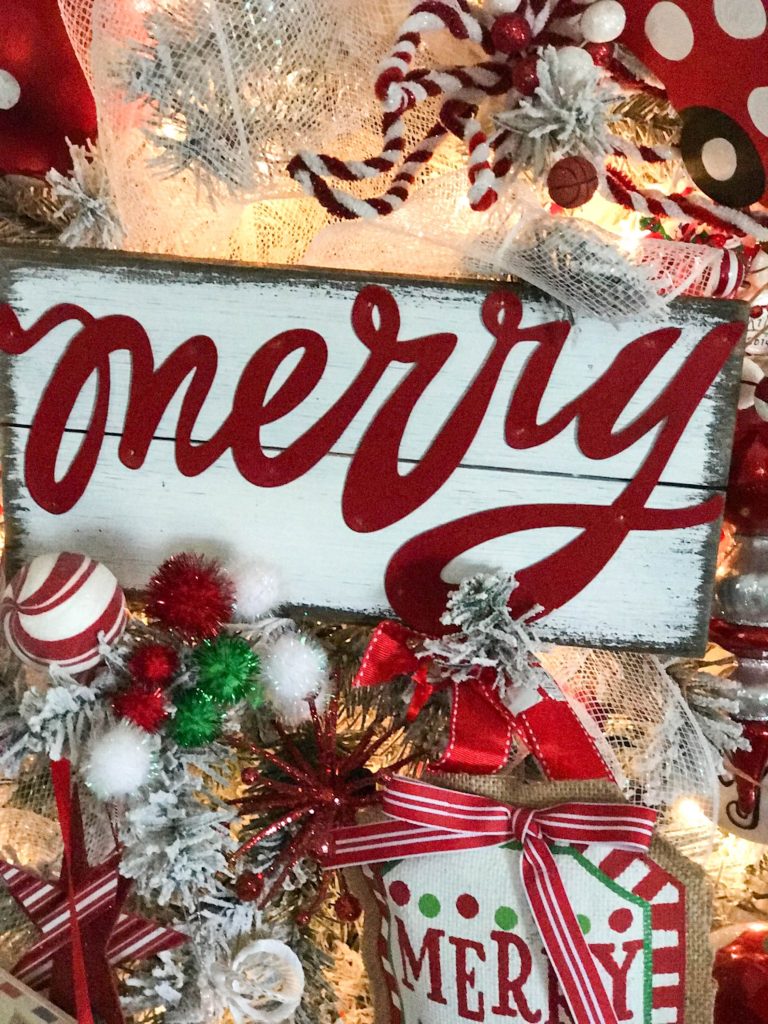 The top of my tree is always full and funky! I stick lots of fun picks and stuff in until I think it looks just right!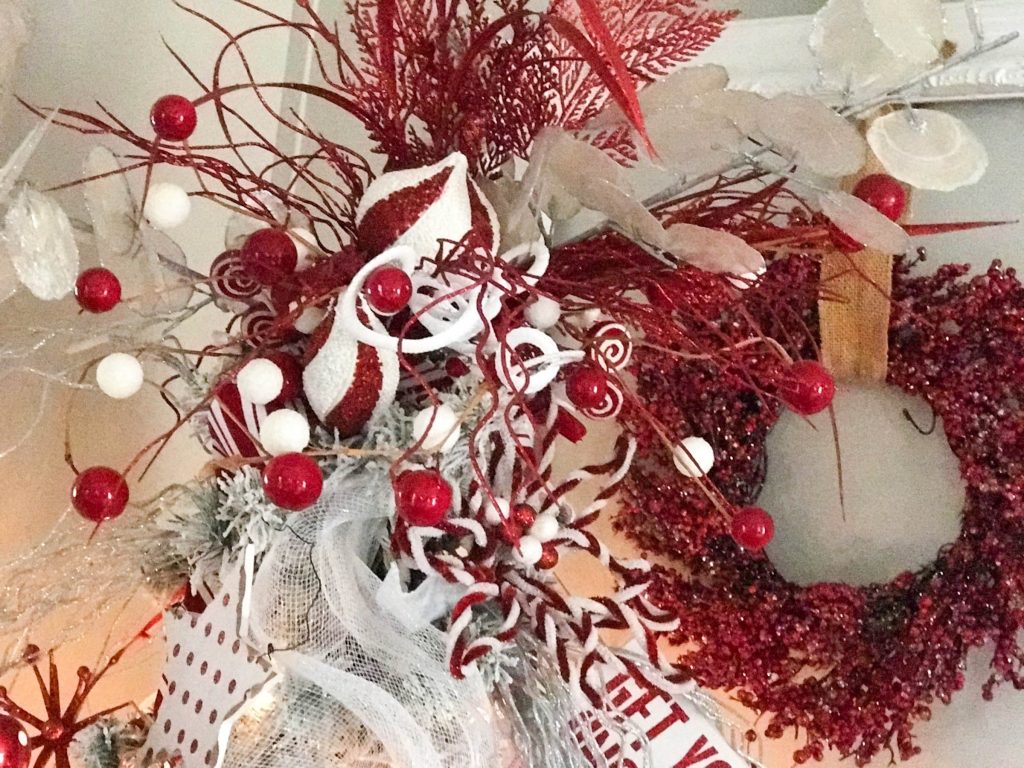 I always enjoy using old frames that I have painted white this time of year. It looks so pretty with a little berry wreath hanging from it!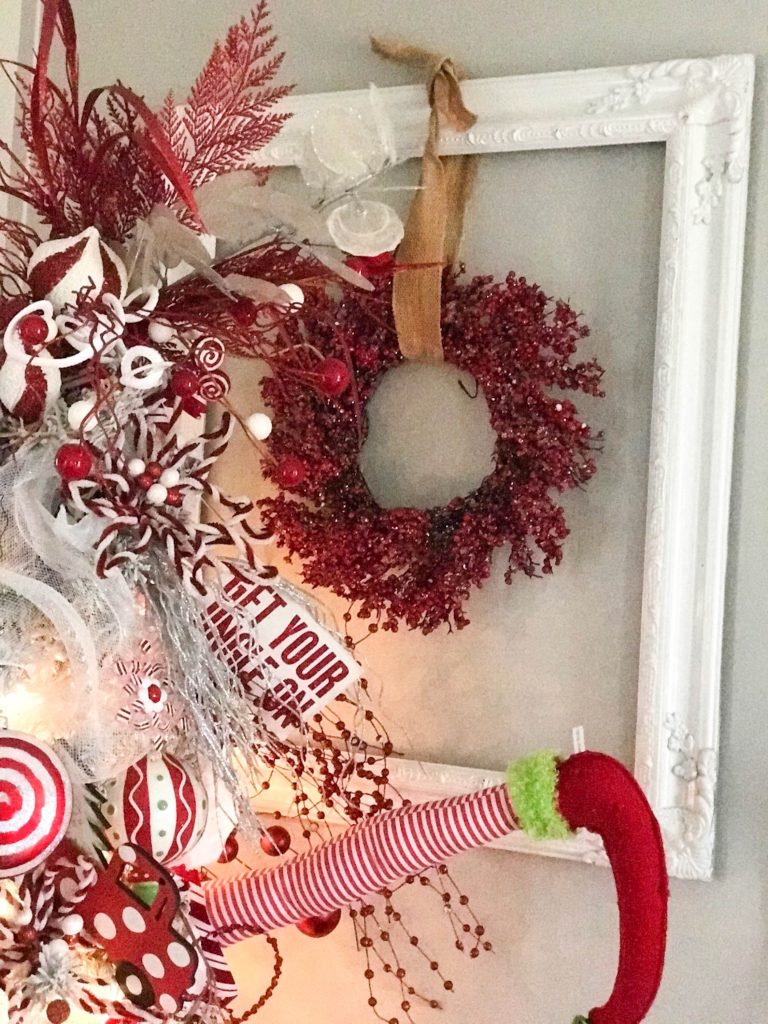 And of course, when your precious 4 year old makes a reindeer, you put it on the tree- EVEN if it is green 😉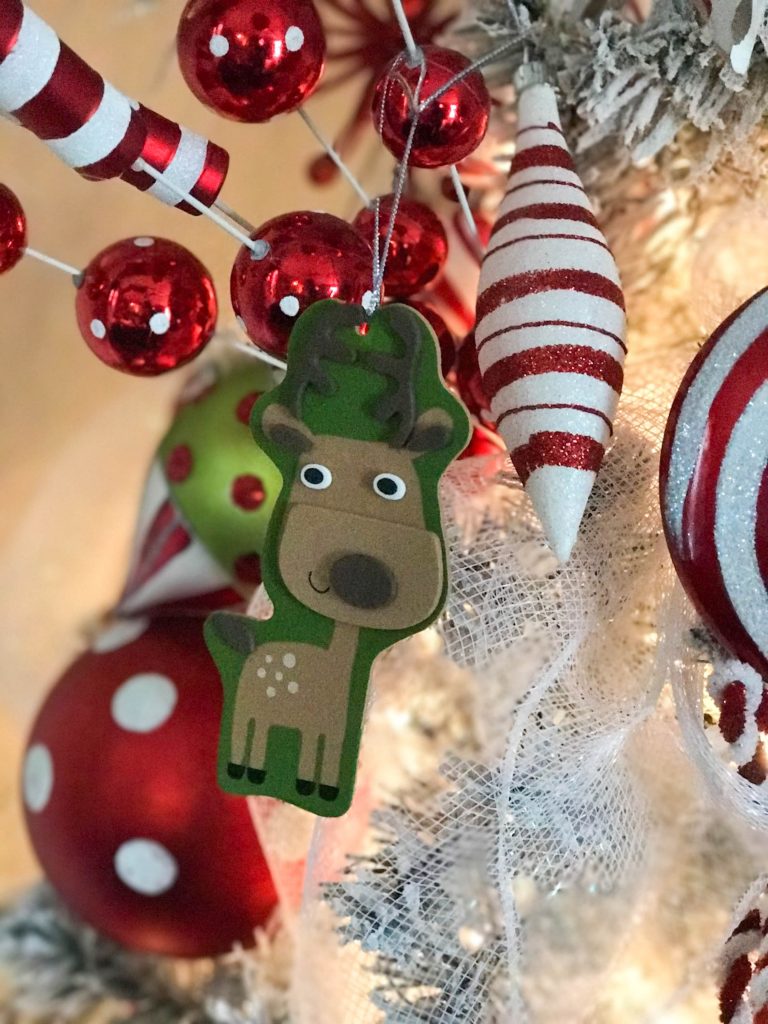 I found these little berry balls from a local place called Pear Tree Mall here in Mayfield. They were $1 each, and I LOVE THEM! I hang them just like this on my end tables!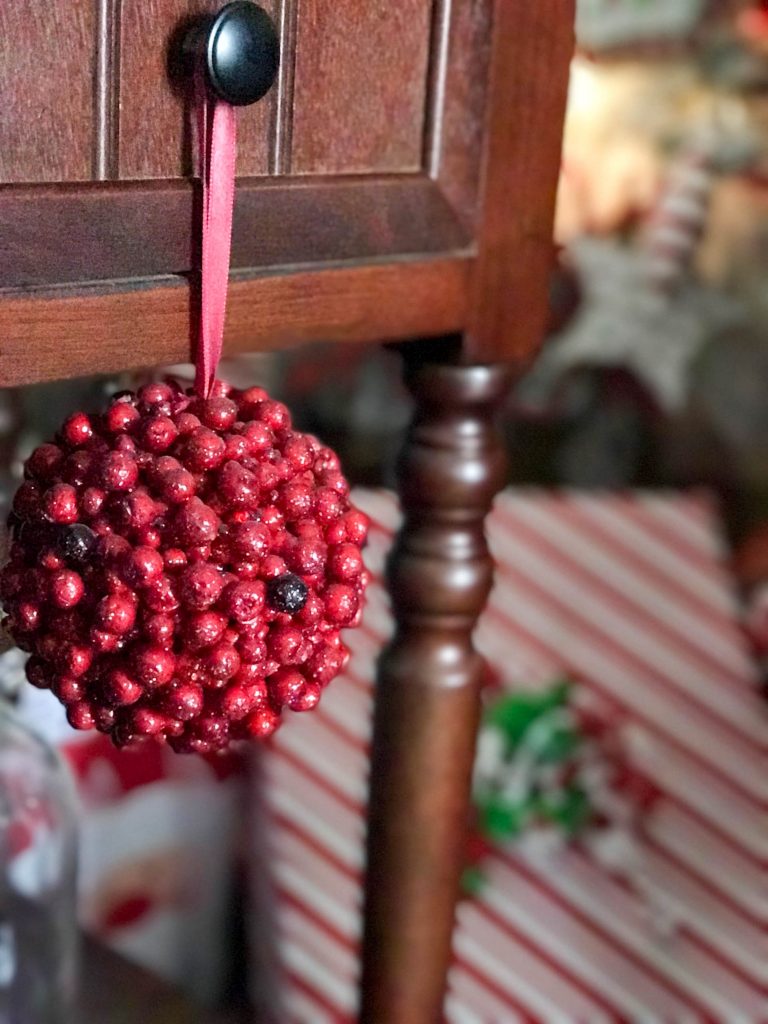 Hobby Lobby is my go-to for Christmas wrapping paper. It is excellent quality, and I always rack up after Christmas when it goes EVEN CHEAPER. I have accumulated different patters of red the past couple of years. I also have a striped design that I am using that isn't pictured.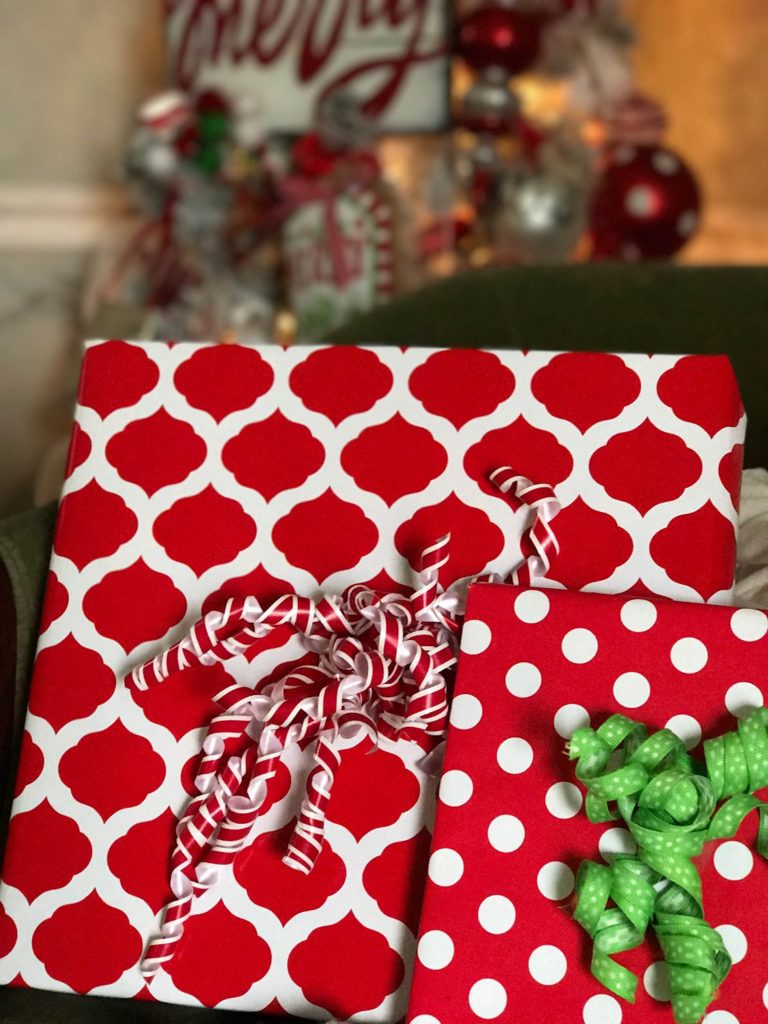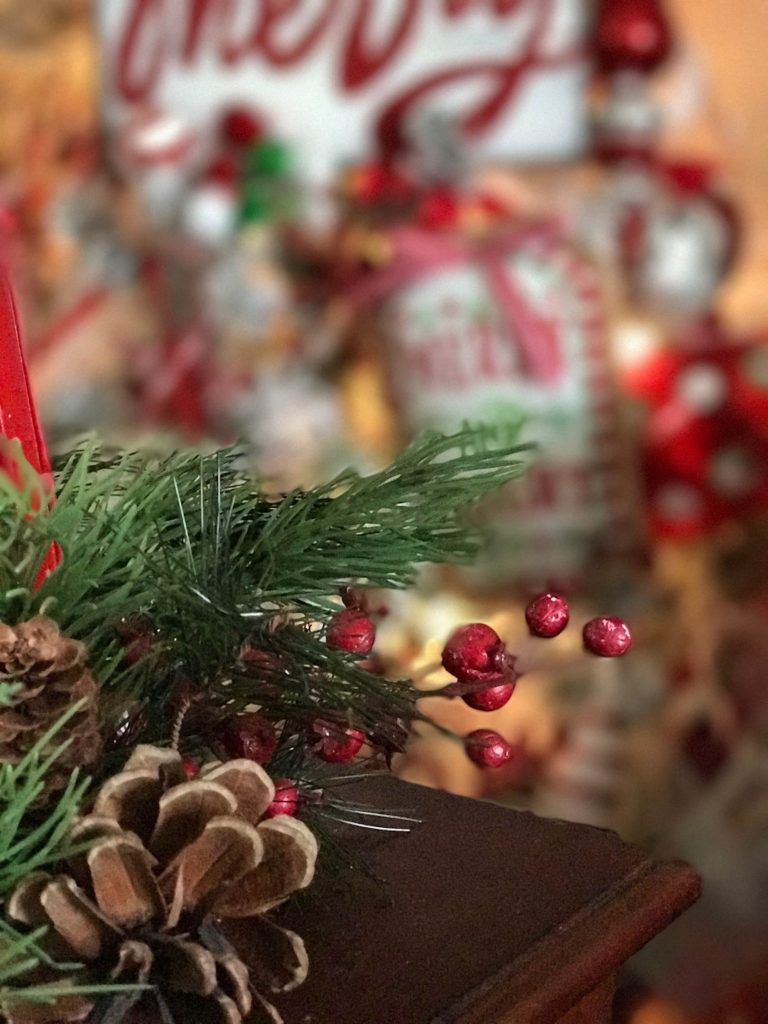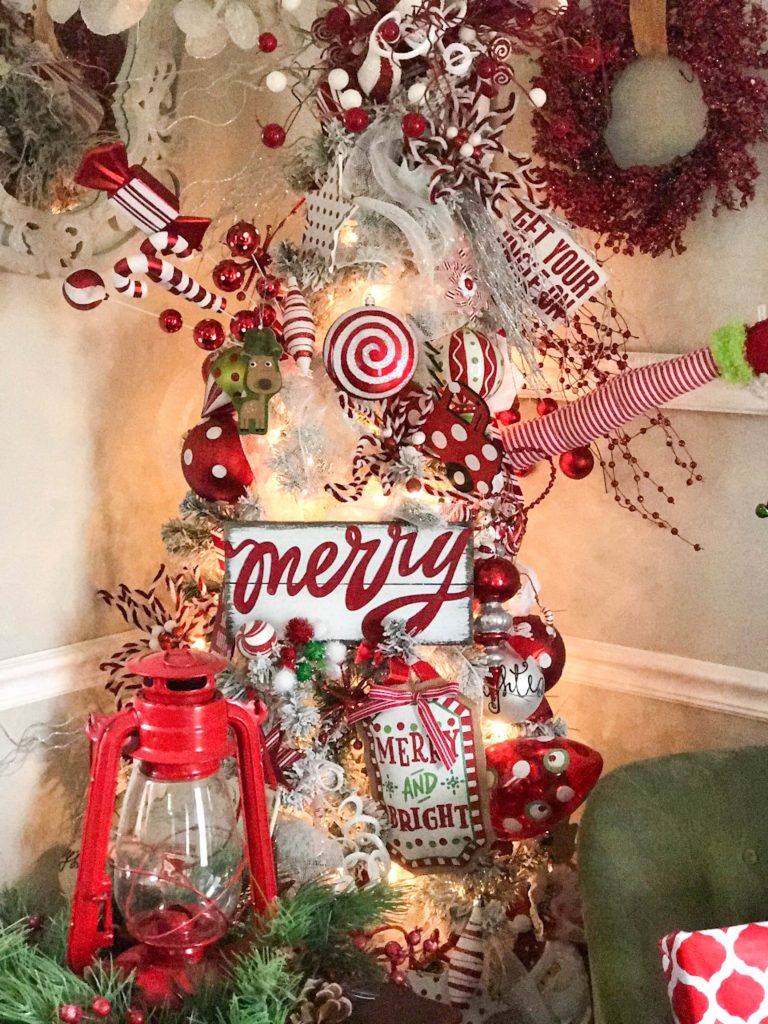 Well, I love my little corner of my living room. It is so festive and fun!
I hope you enjoyed a glimpse into my home and my red and white christmas tree. I will try to show more soon, when I get it clean LOL
Merry Christmas!
Follow along on social media!
PIN FOR LATER!