The first annual Re-Fabbed Christmas makeover give a way was a huge success! With over 10,000 entries (there were way more but only 10K followed all the rules LOL), Dawn Barnes of Beloit, Wisconsin was the WINNER! She won her entire main living area transformed for Christmas by me and my team (me, Brandon-aka hubby, Melanie and my mom)!
That meant a new tree and decorations and lots of other Christmas goodies from numerous sponsors (all listed HERE and at the end of the post)!
Here is me and Dawn on day ONE!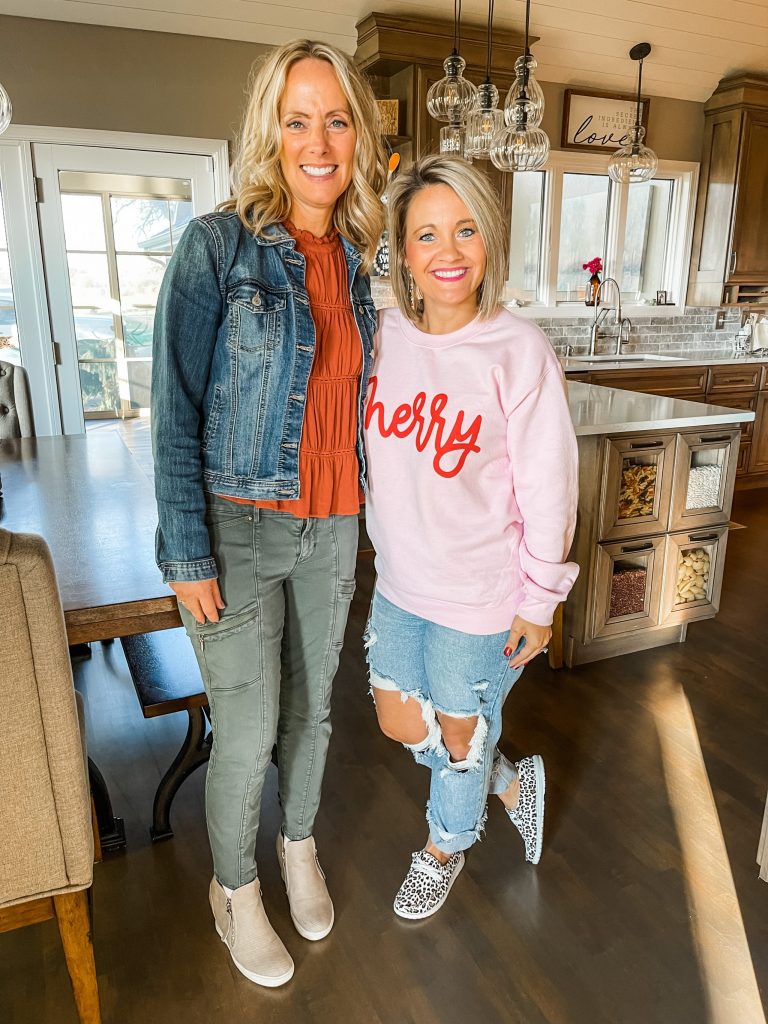 You can also see the YOUTUBE VIDEO of the makeover!!!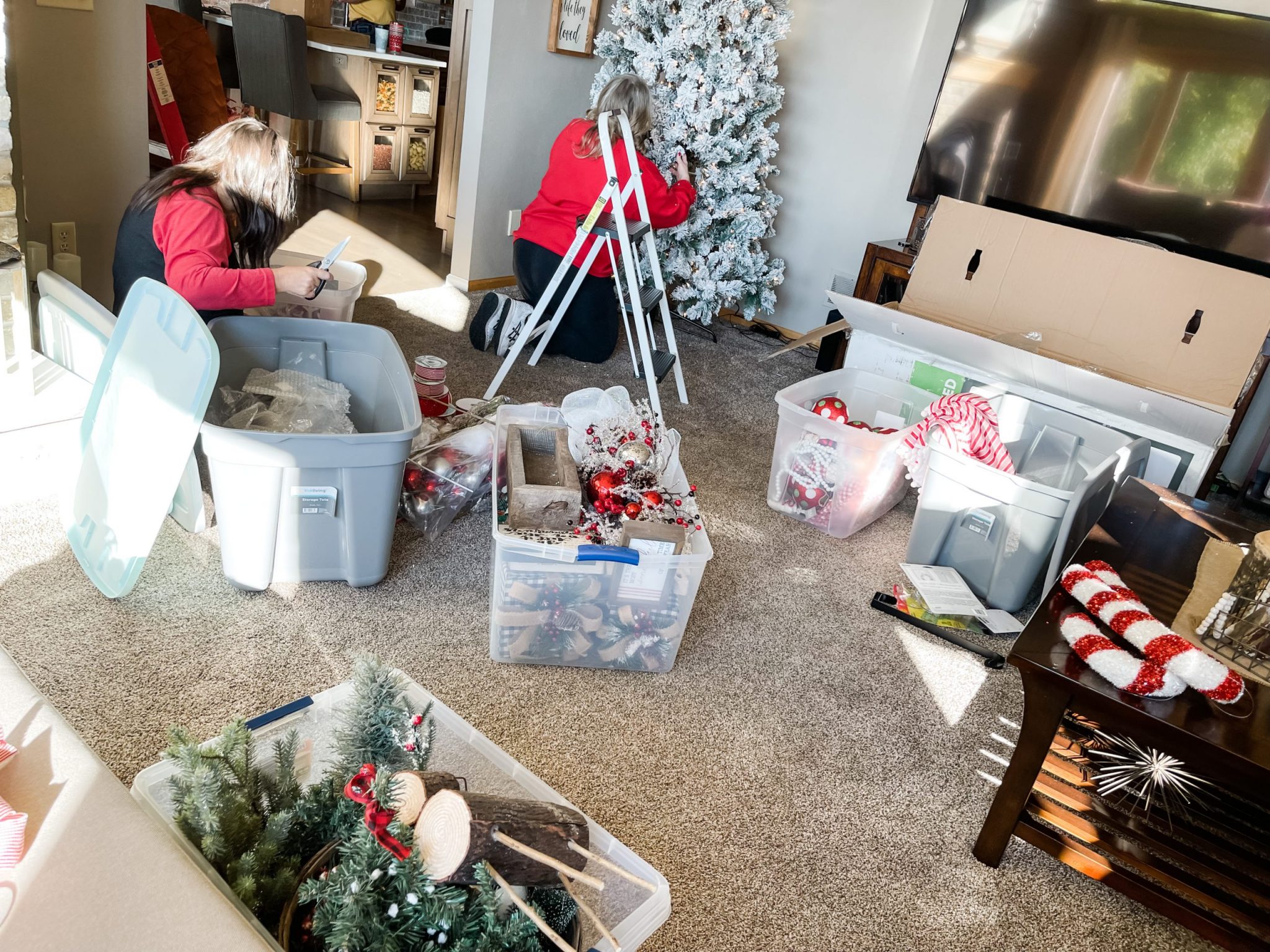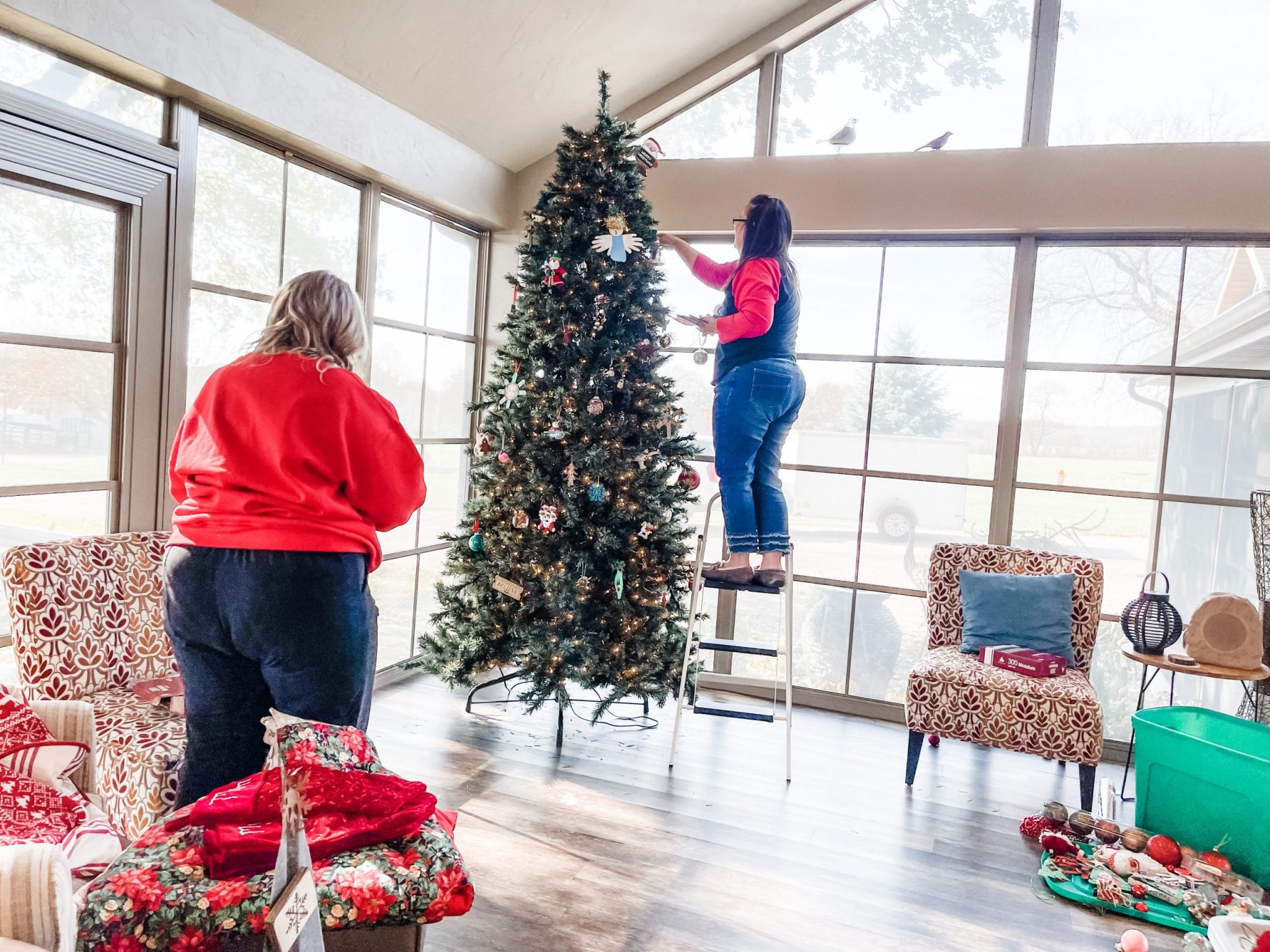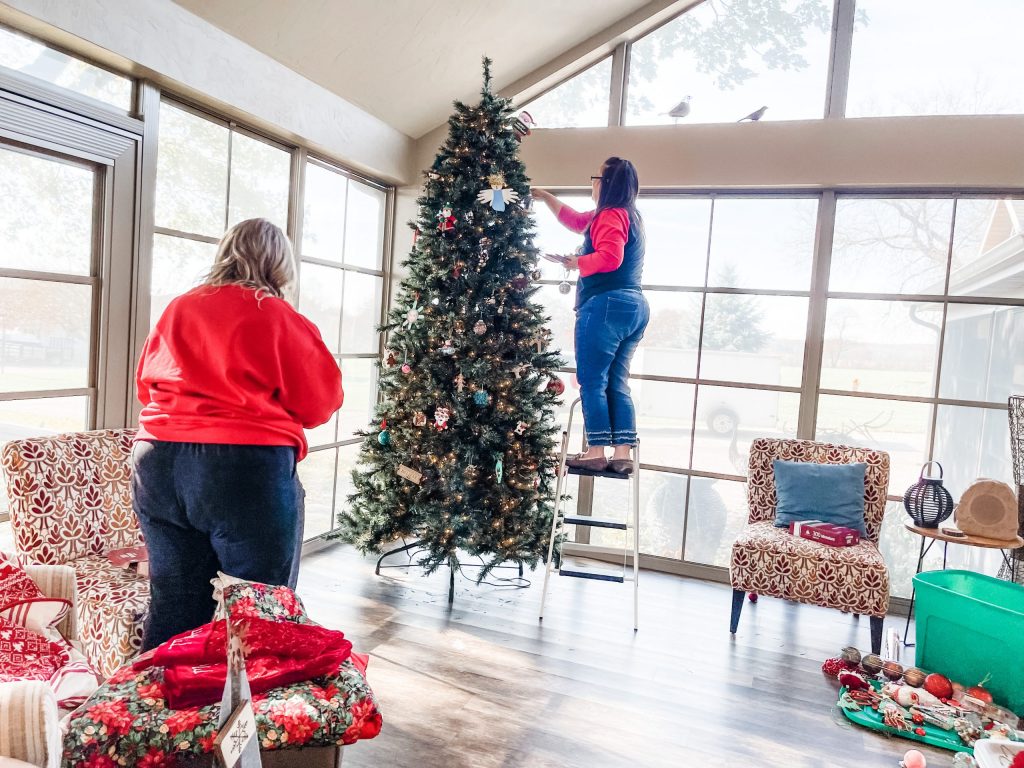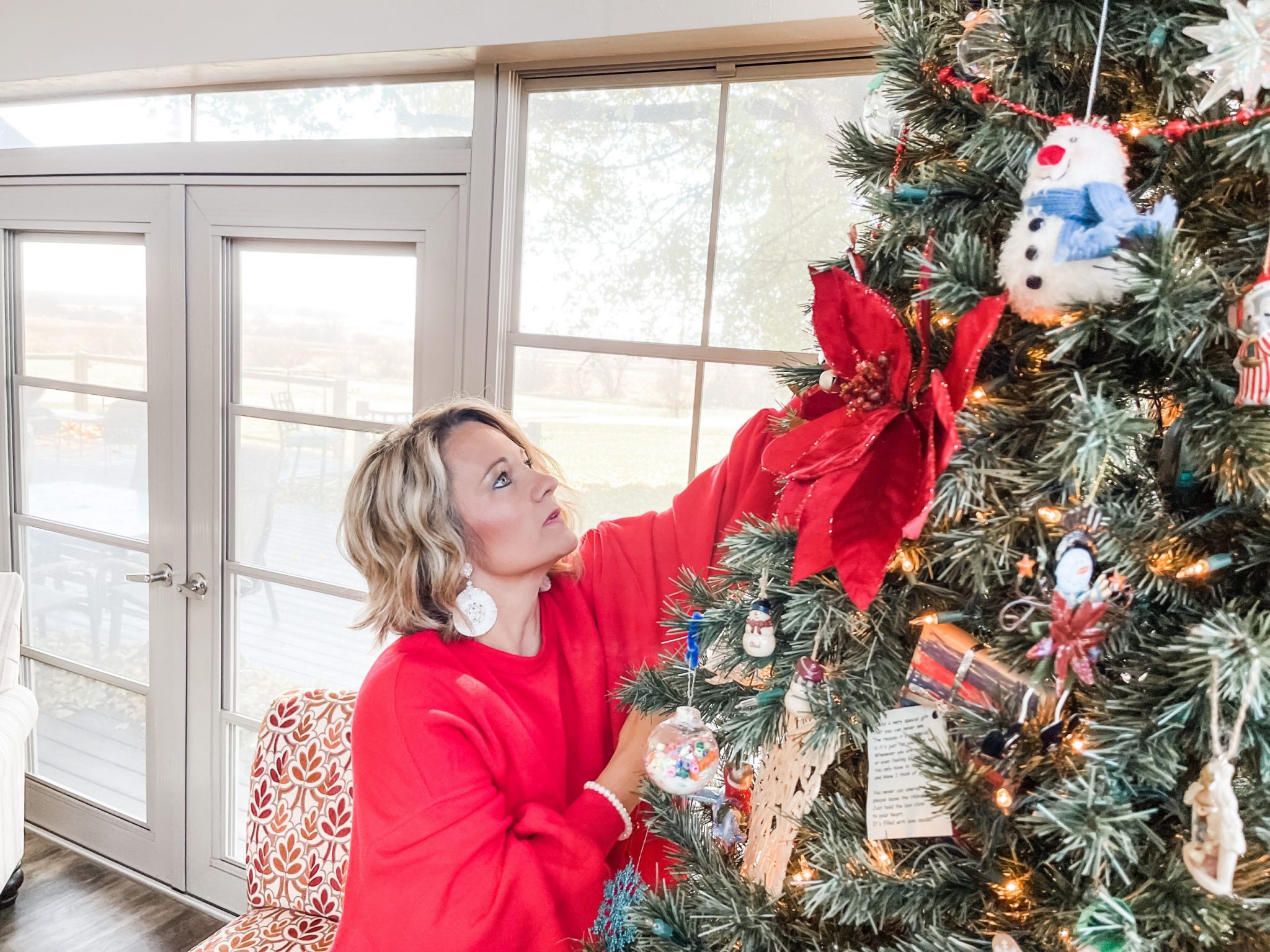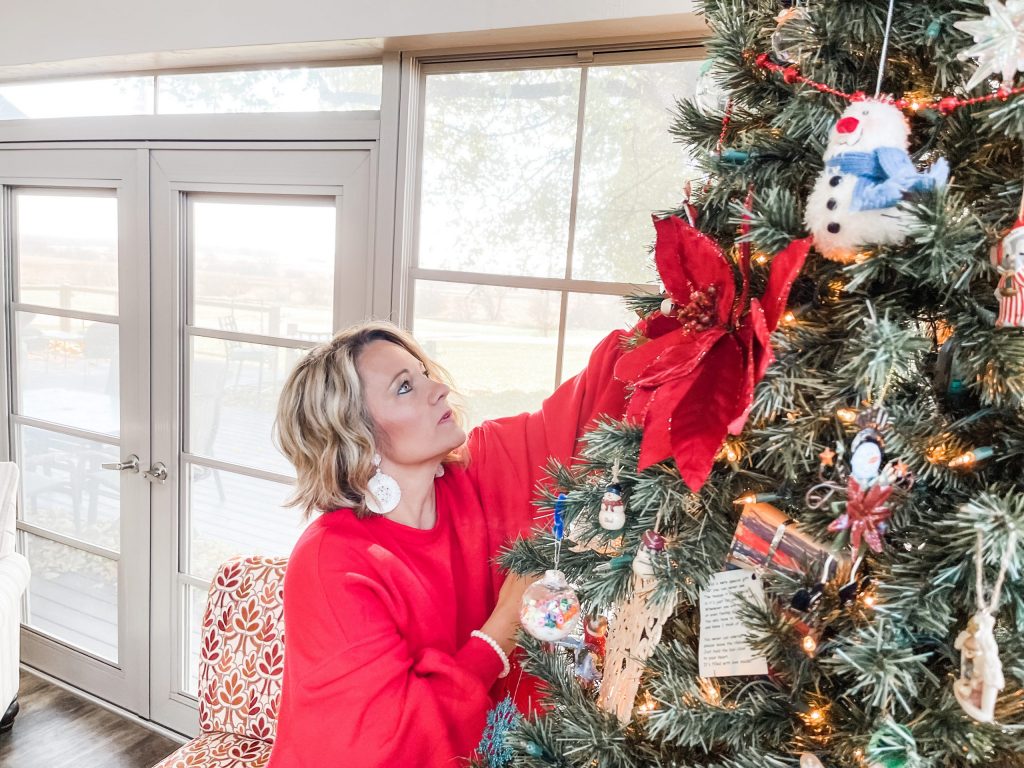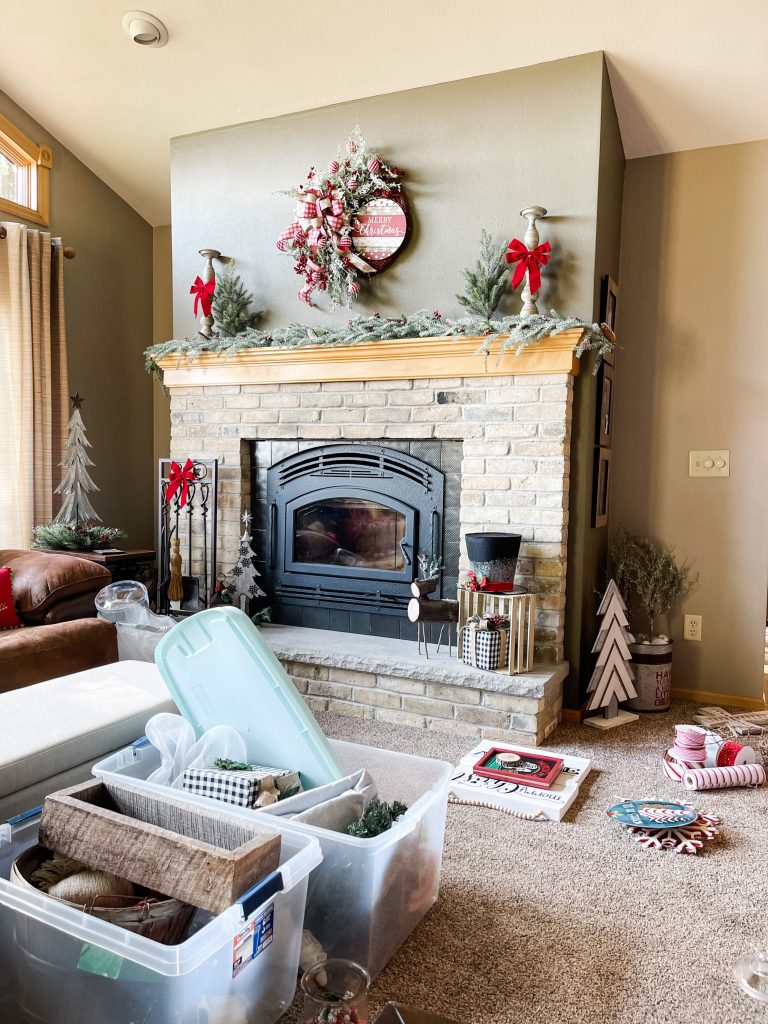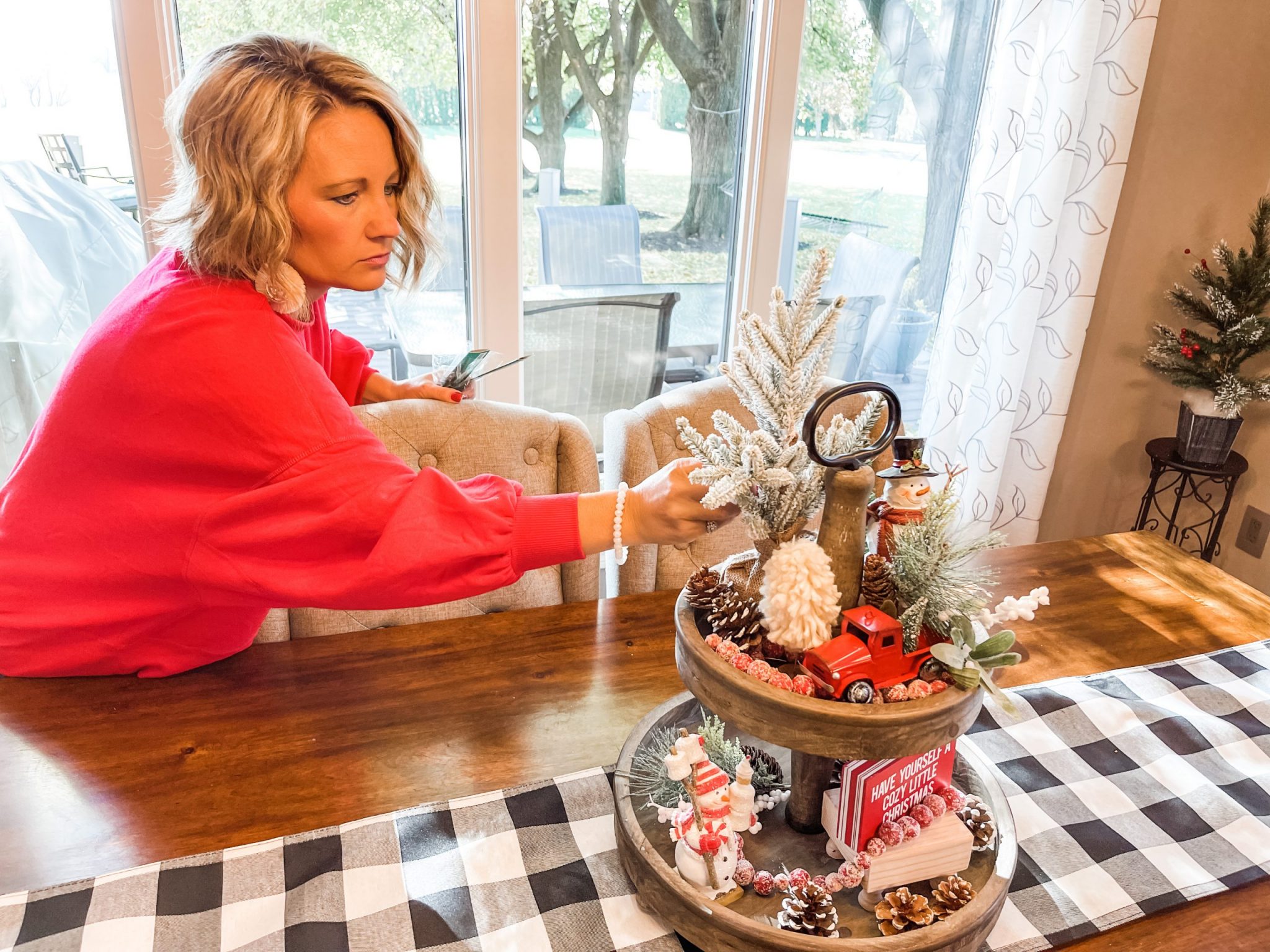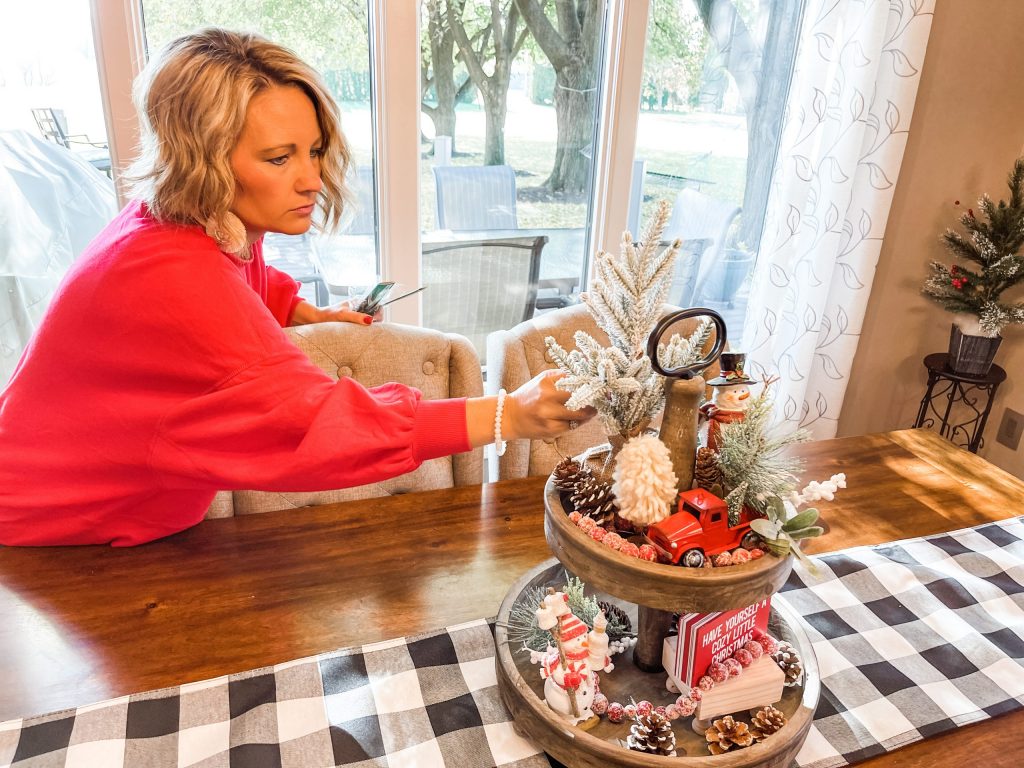 A few details about what we did before I FLOOD you with AFTER pictures!
We met Dawn and her family at their home on Friday morning. They showed us around their home, and she had all of her own Christmas decor totes out, so that we had full reign to use all of that along with what we brought.
They left and stayed with family for the next 2 days so we could work our magic!
We did the main living area, the kitchen and their sunroom! We also added little touches a few other places.
She got a brand new 9ft flocked Christmas tree with ALLLL NEW decorations!
She also got 2 large swags, 2 new wreaths, multiple Christmas decor items and more.
We mixed all of her new items with her existing items to make everything feel new but also like home…with some nostalgia from her past Christmases mixed in!
Now, I want to mostly just flood you with pictures of everything we did so you can see it all up close and personal. This was an absolute JOY to do. It was truly a blessing for us to be able to do this for her family. They were so kind and hospitable and just a joy to spend time with.
Let's start with the sunroom. You walk into this room first! We decided to use this room to fill with all of Dawn's own Christmas decorations! This room is full of family memories and nostalgia! It is also her own Christmas tree with her own ornaments! We added a few poinsettia's and a Joy to the World topper, but everything else is hers!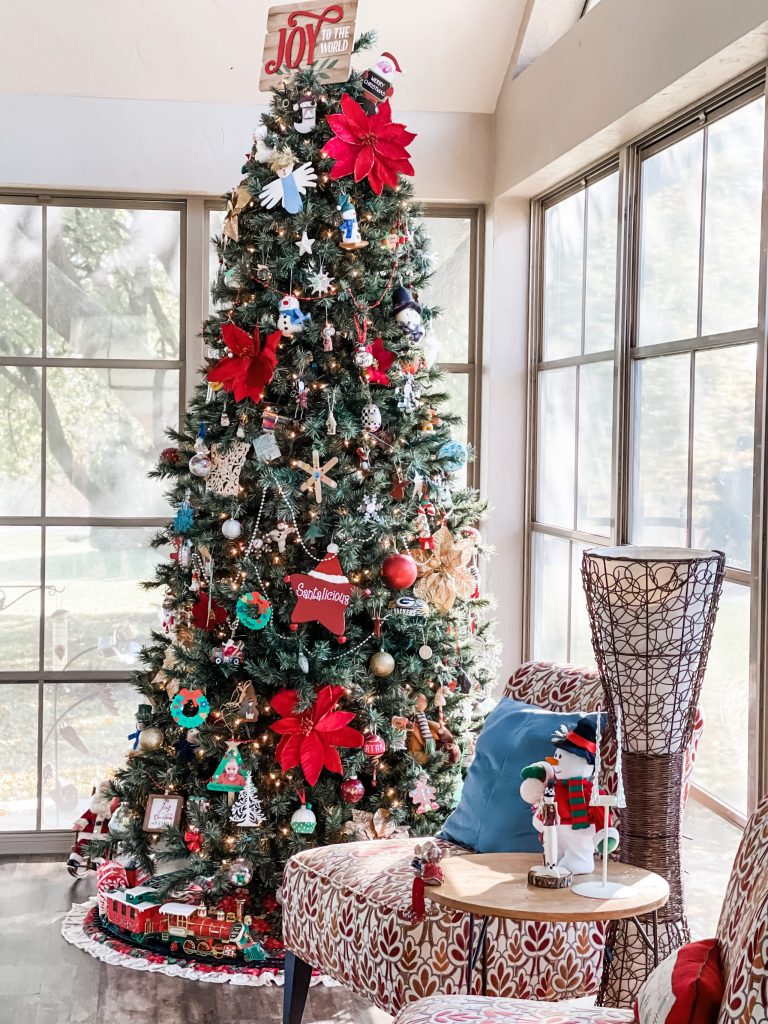 Next, you come into the entryway! Look at that GORGEOUS wreath on the door from Deco Exchange and Creative Team!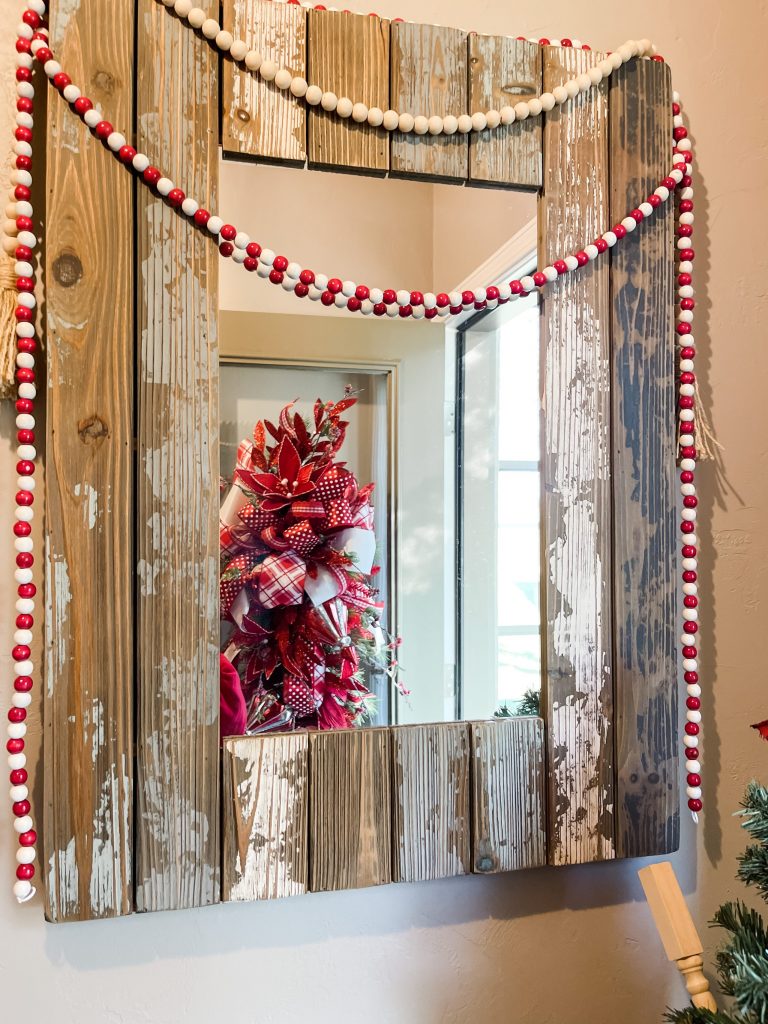 I got her this fun canvas print to put on the wall by the entryway. I thought it was the perfect place for it!
Now, let's move into the kitchen!
FIRST OF ALL, her kitchen is gorgeous. I had no idea how beautiful it would be. I will show lots of close ups, but you can see the JINGLE sign over the stove that she made herself! Does it look familiar??? It was so fun to see so many things I had done for my blog that she replicated. It made me sooo happy!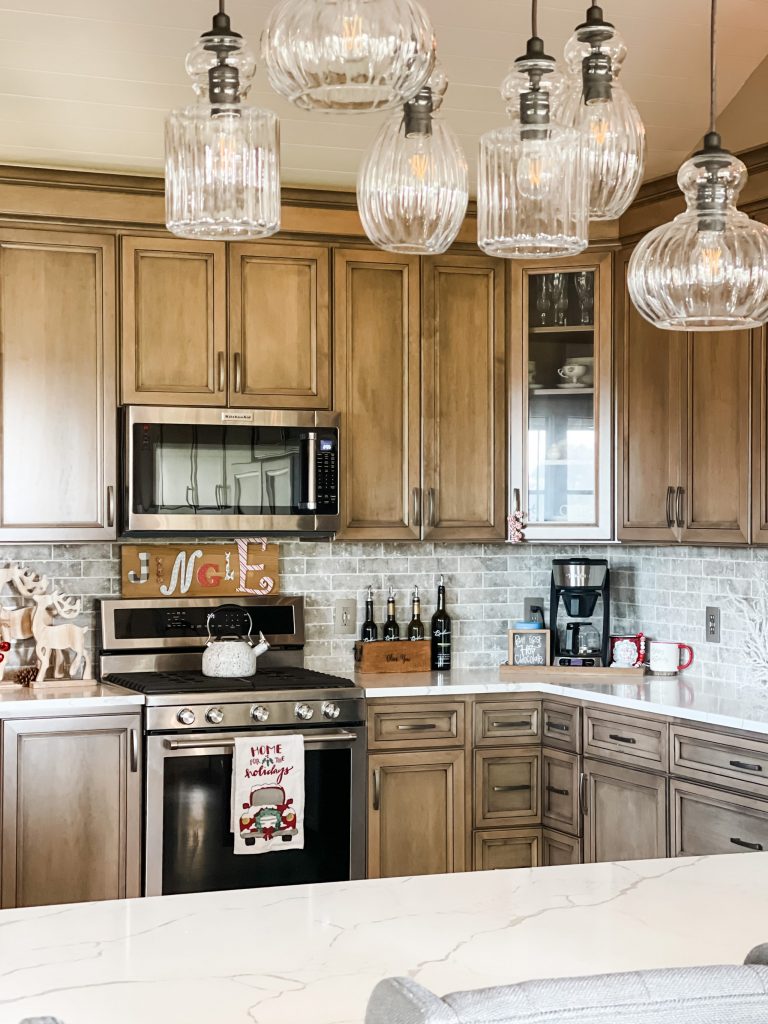 Lots of special Christmas touches throughout the kitchen! Lots of her own mixed with new from us!
The Barnes sign was handlettered by Kasey with P'Zazz Art Studio!
Above the cabinets!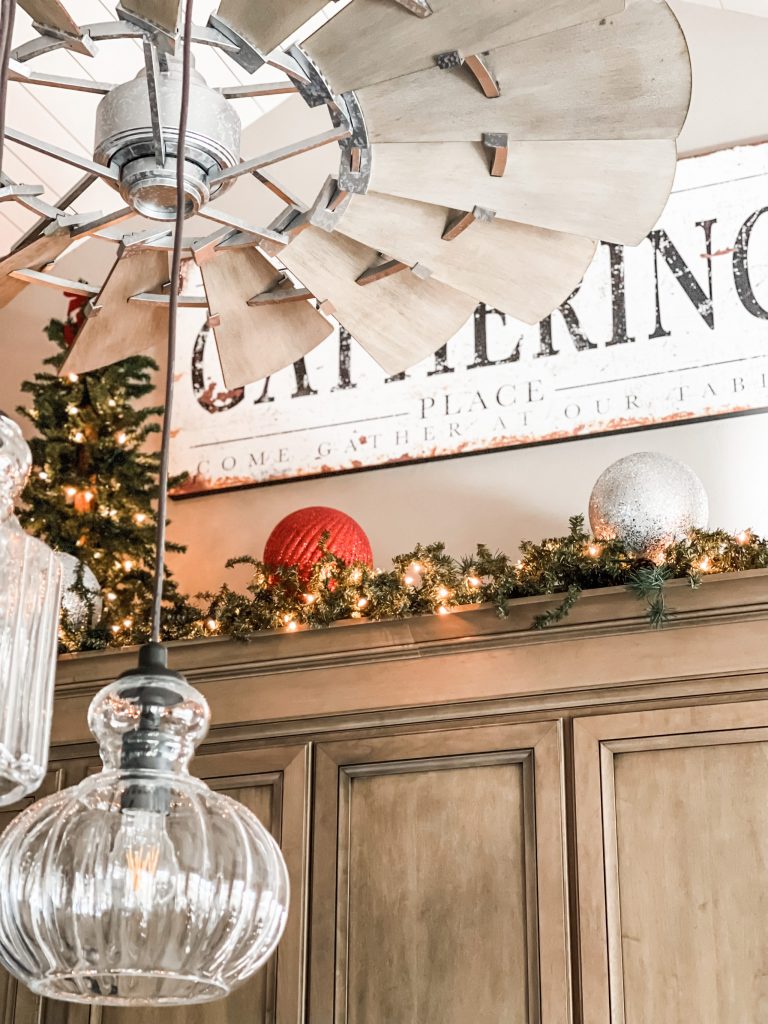 A few more touches in the kitchen and eating area! She had made her own kitchen tree!!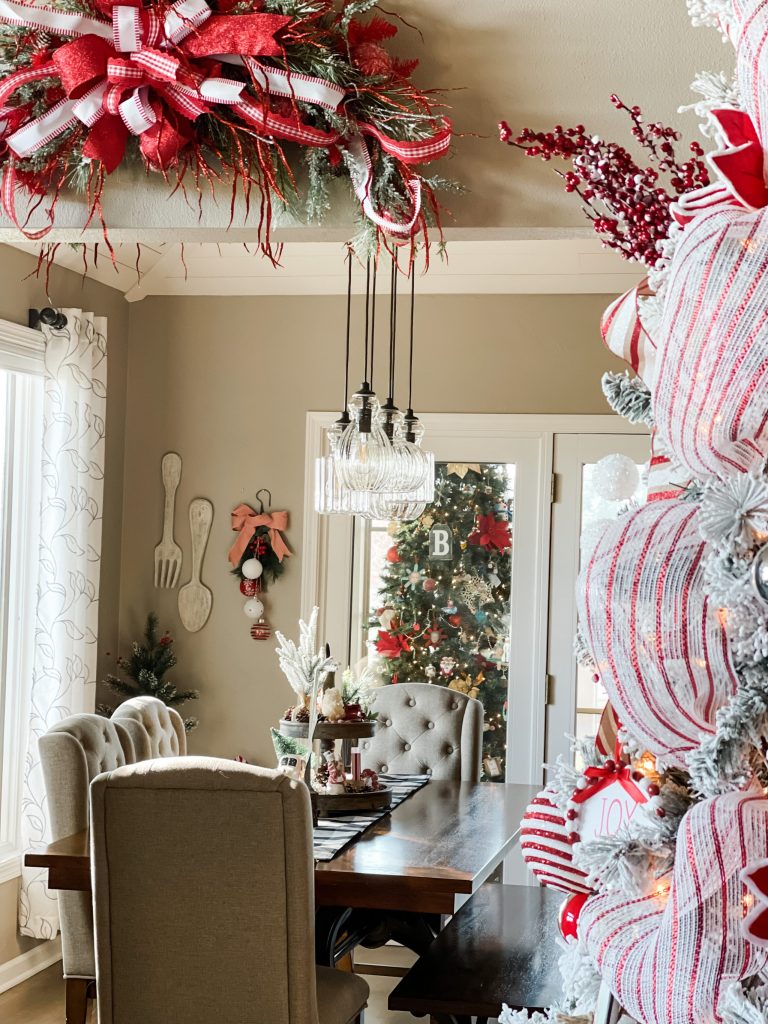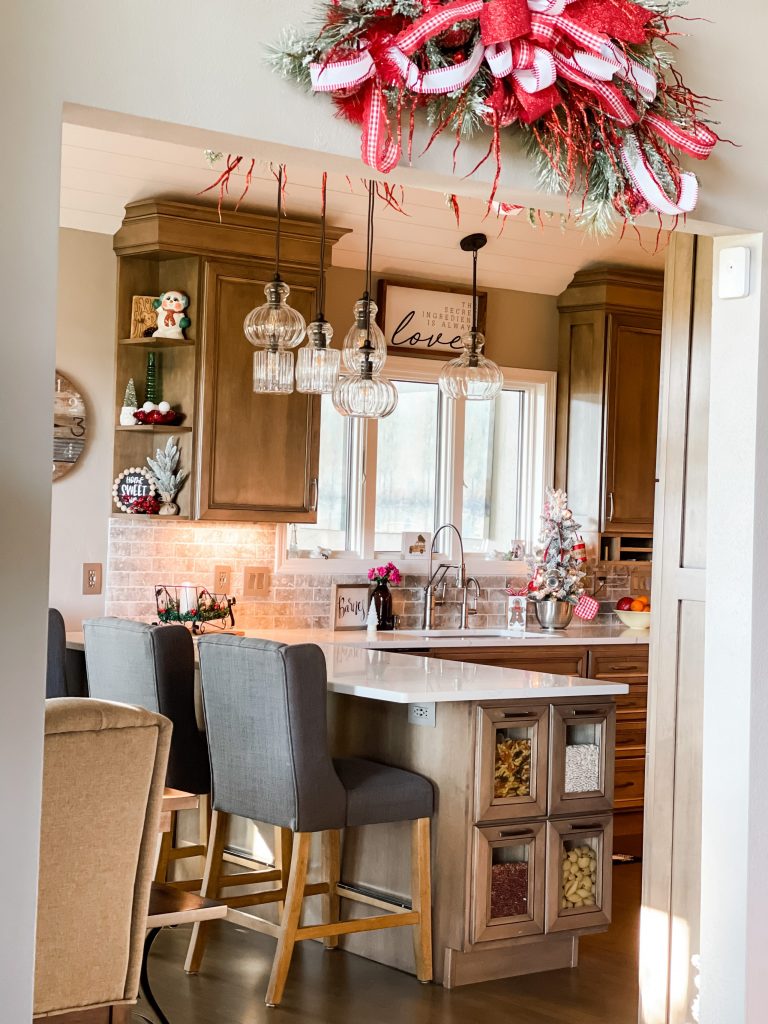 We also decorated her tiered tray for her table! This is a mixture of old and new!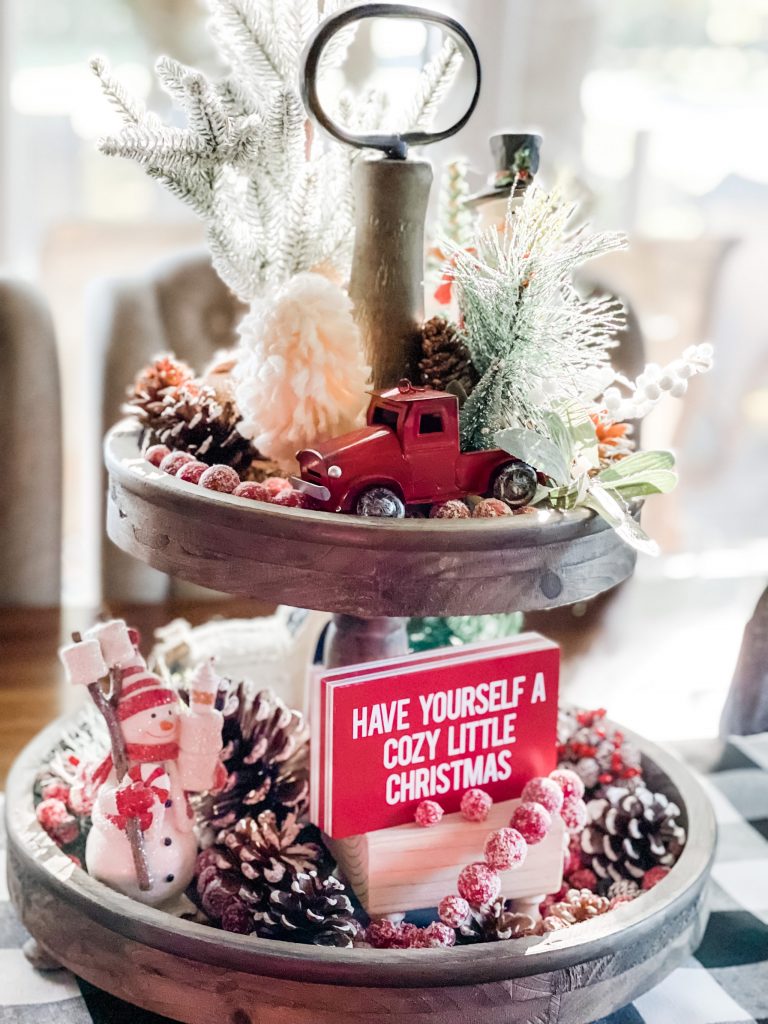 Now, let's move on to the main living area!!!! MY FAVE!
First off, her TREE!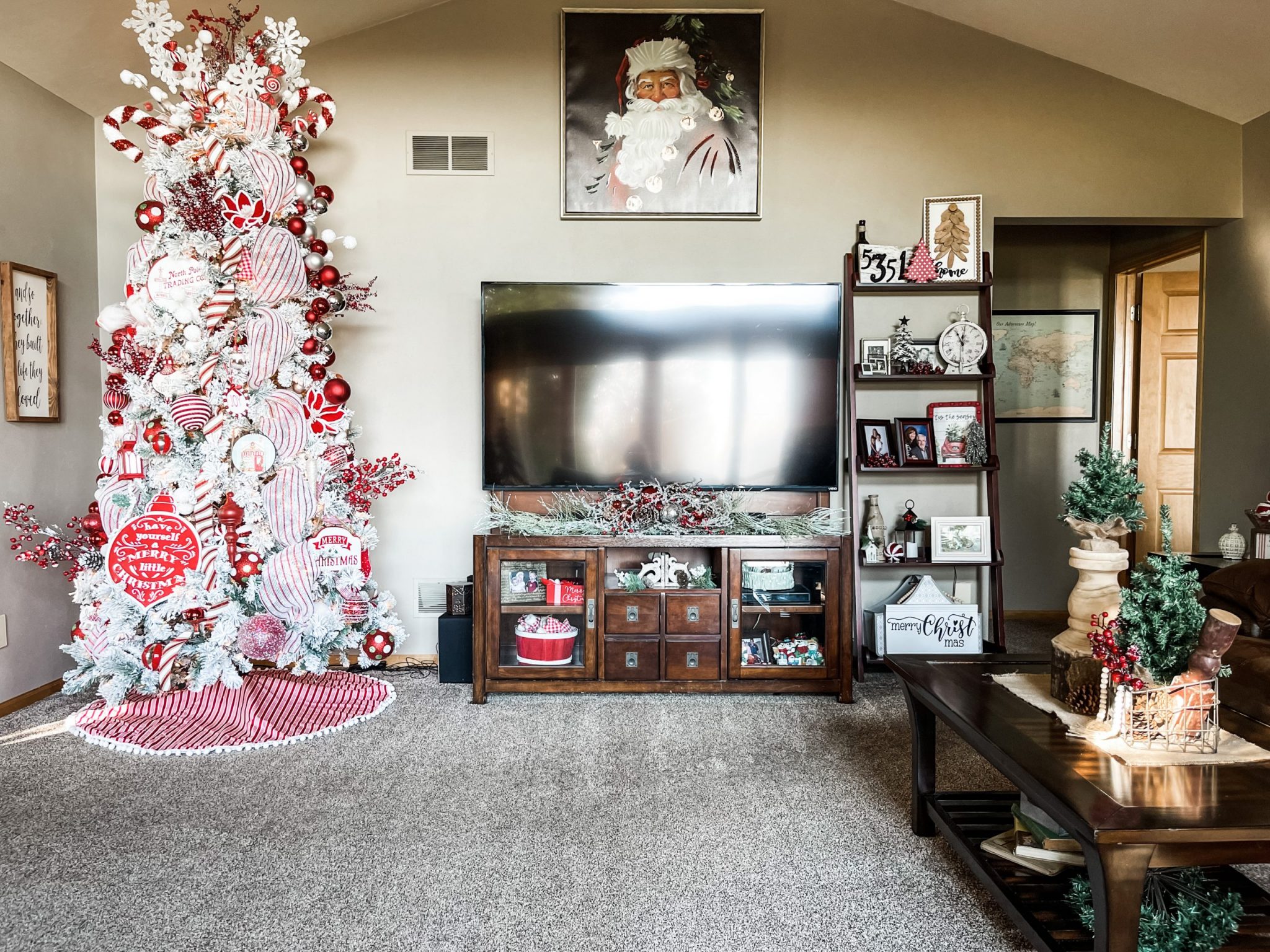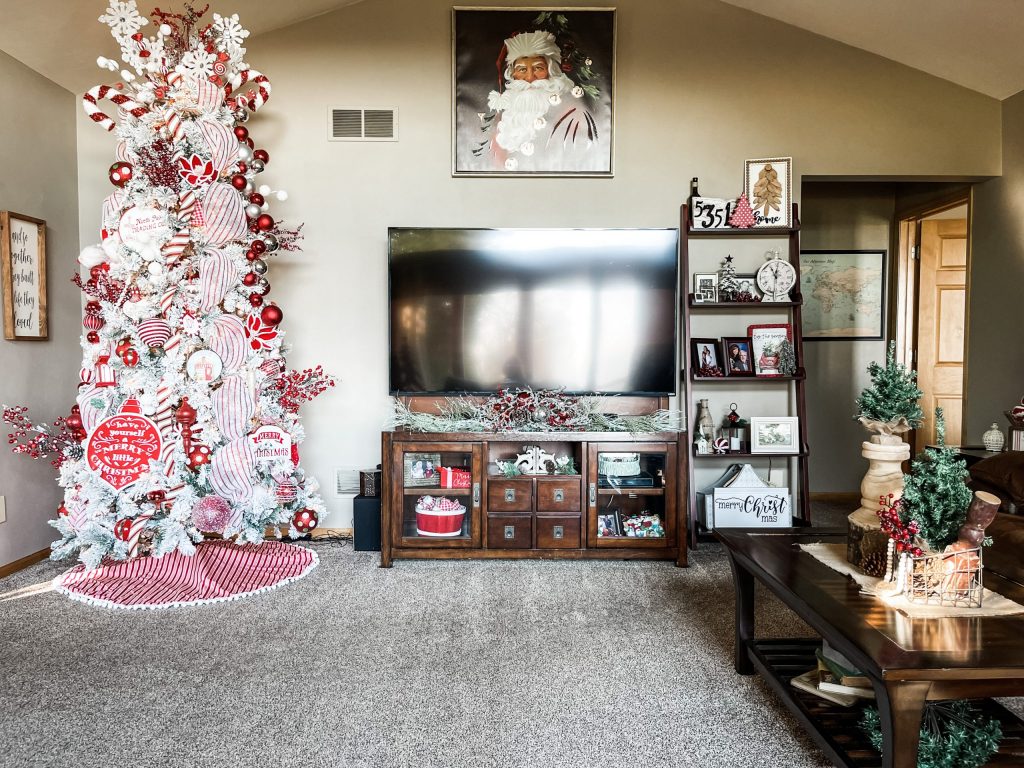 I LOVED HER TREE SO MUCH, and so did she! It looks spectacular in her living room! It is 9ft tall, flocked and full of red and white goodness from Trendy Tree!
I only added a few extra ornaments from Hobby Lobby to the tree. The tree skirt was from At Home!
I loved this view from the living room to the kitchen!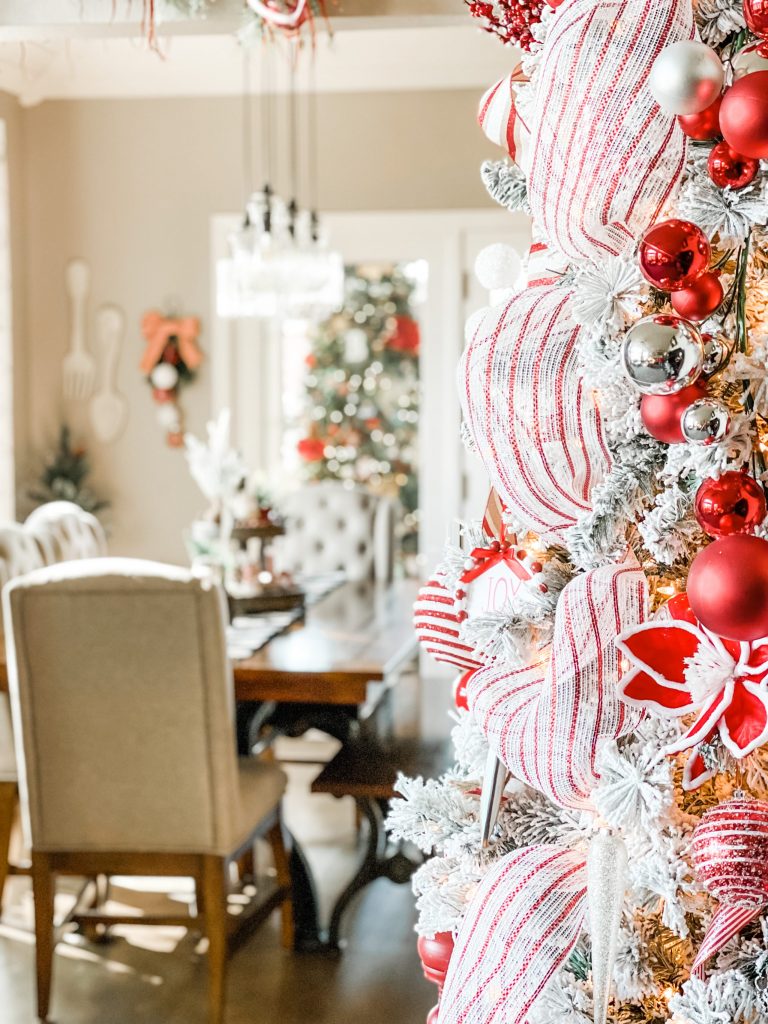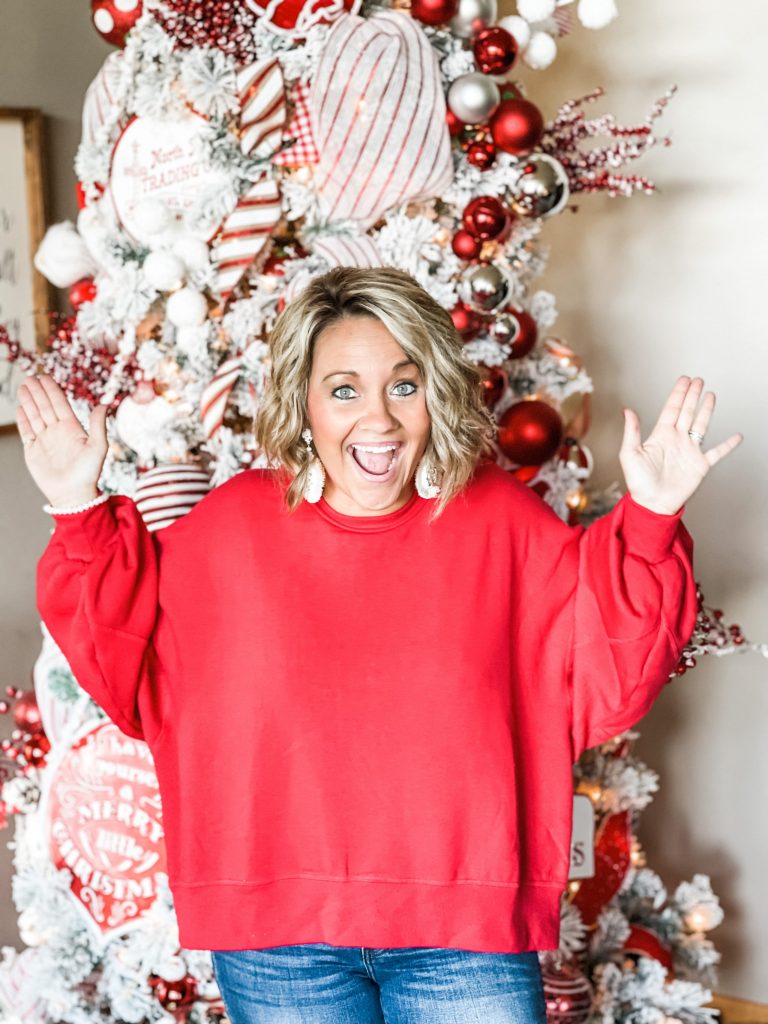 Let's move on to the fireplace and the rest of the living room area!
We got them all new matching stockings! And this WREATH from Julie with Southern Charm Wreaths was the perfect touch above the fireplace!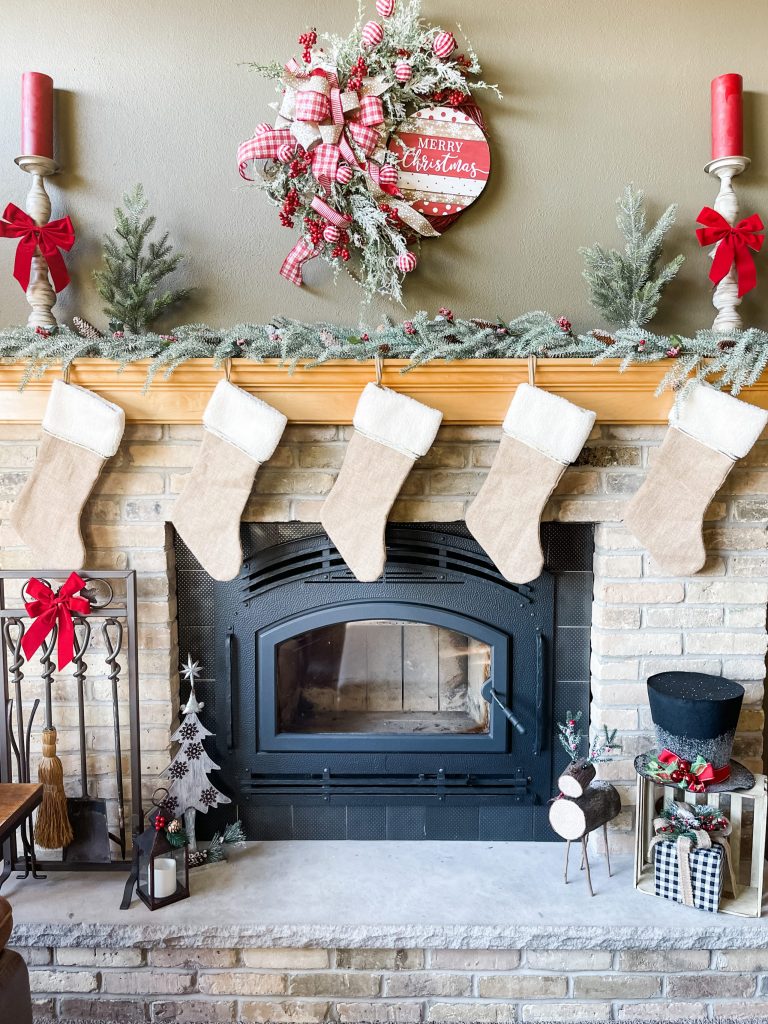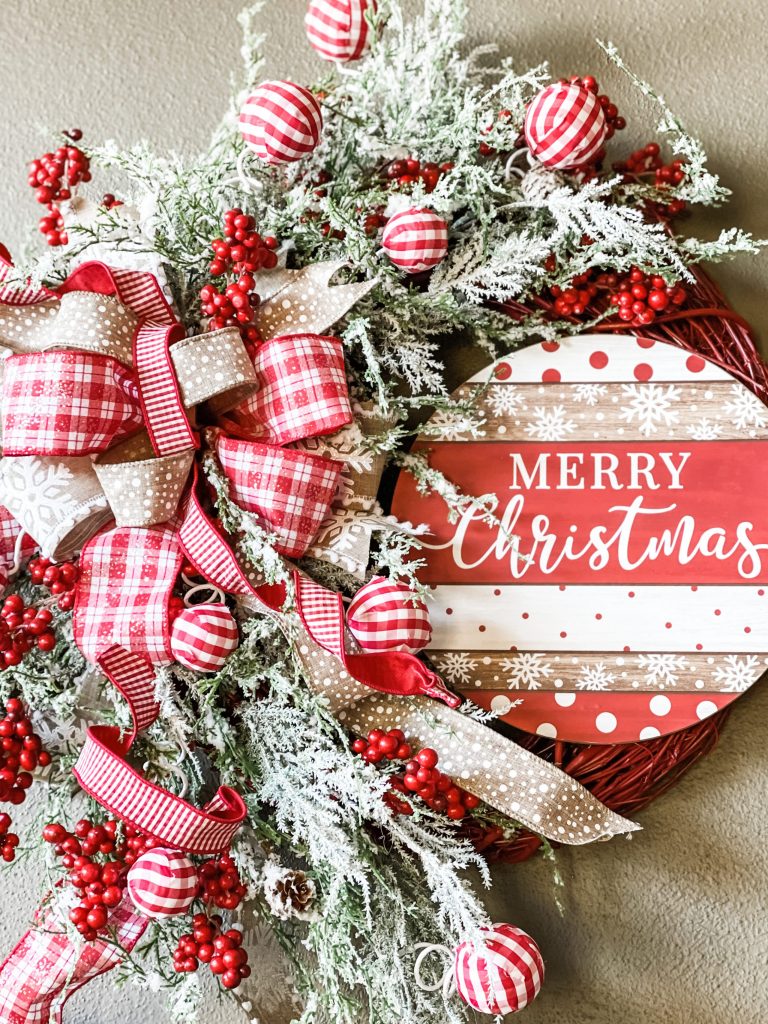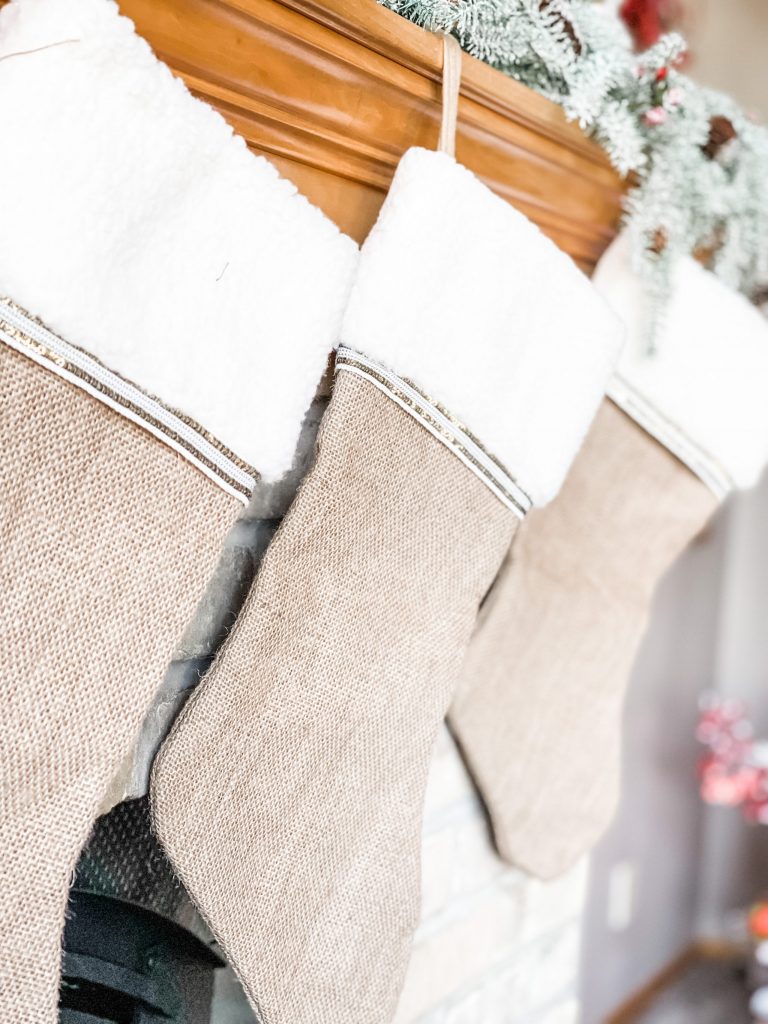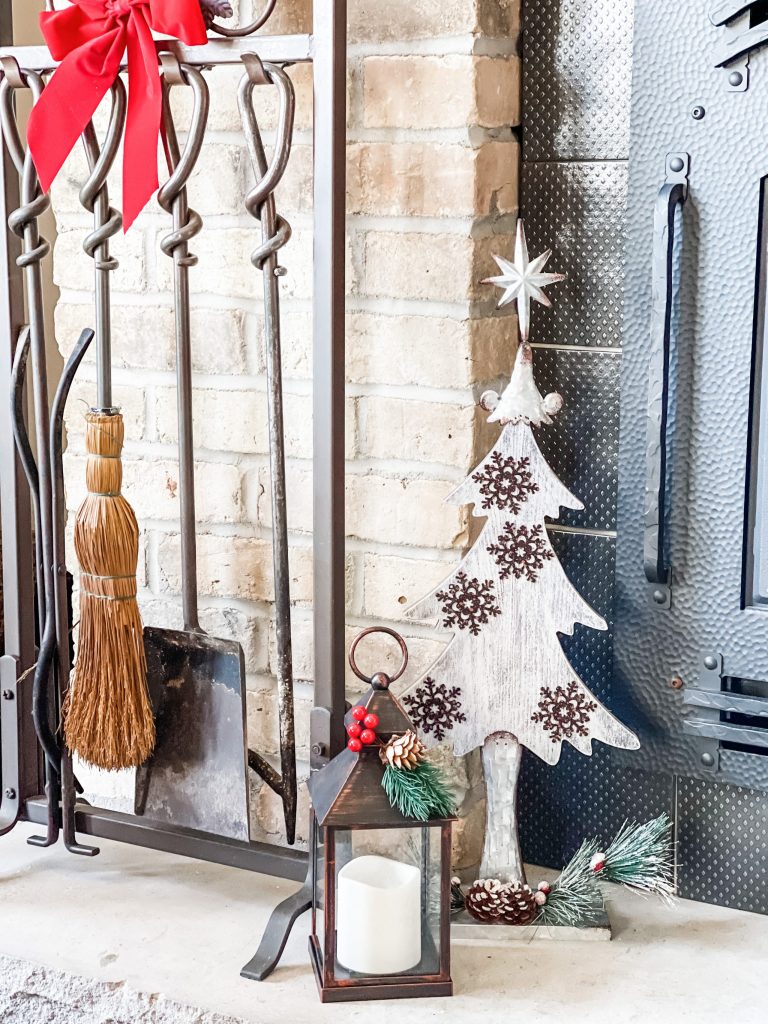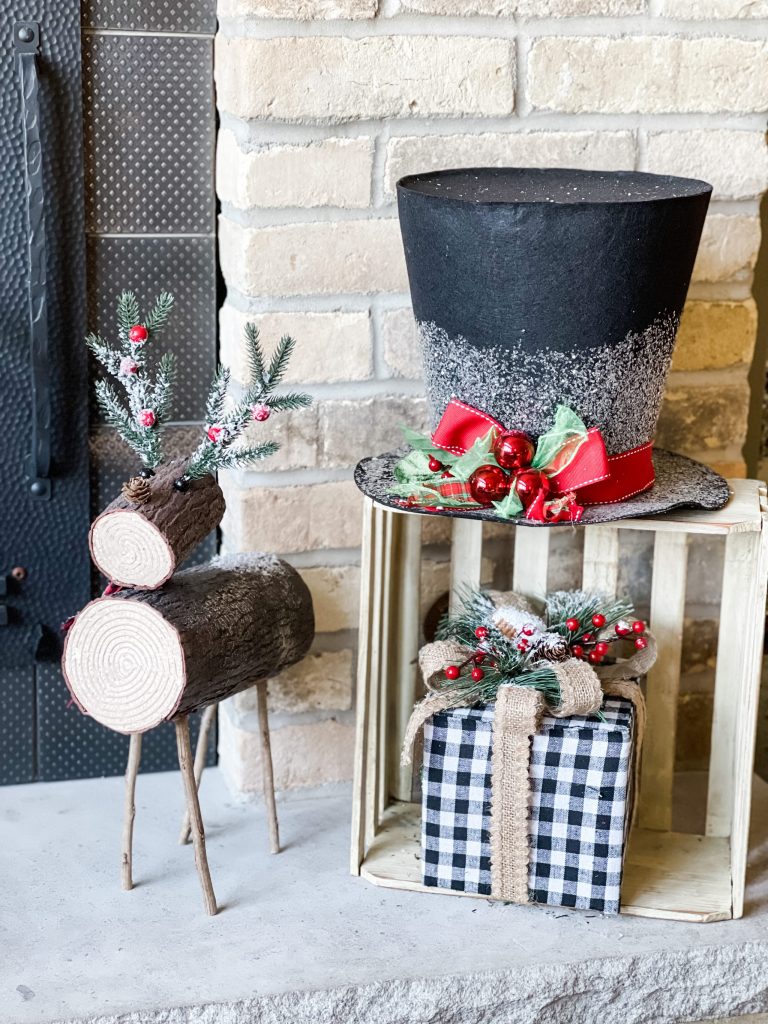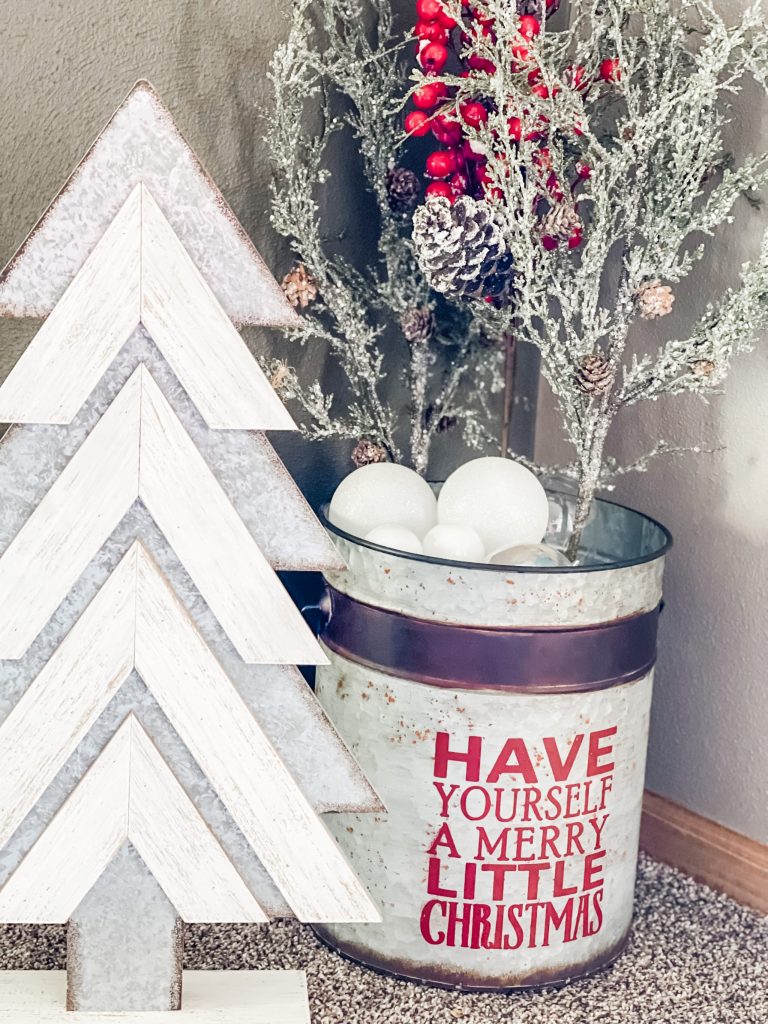 And I decorated her shelves…mixing her own pieces with new!
I love the 'tis the season sign that Stacey from Wilshire Collections made for Dawn!
This was the piece that I personally made for Dawn and her family! You can find the TUTORIAL HERE!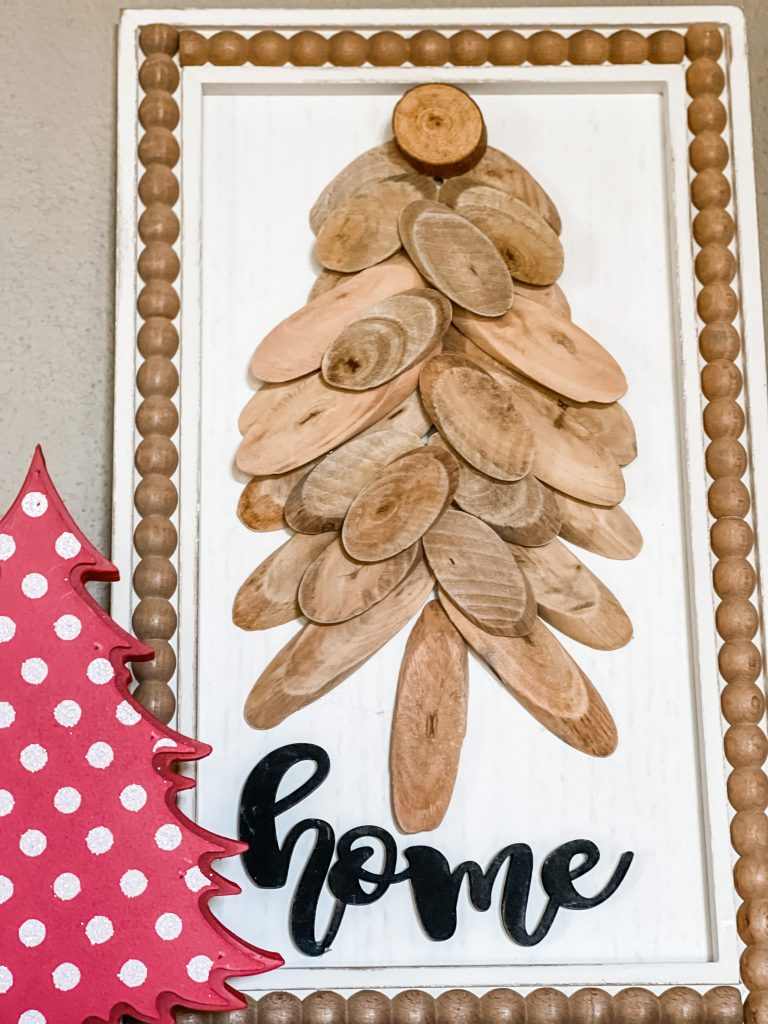 I forgot to mention…that Santa above the TV was from me! You may recognize it, as I have one exactly like it above my fireplace!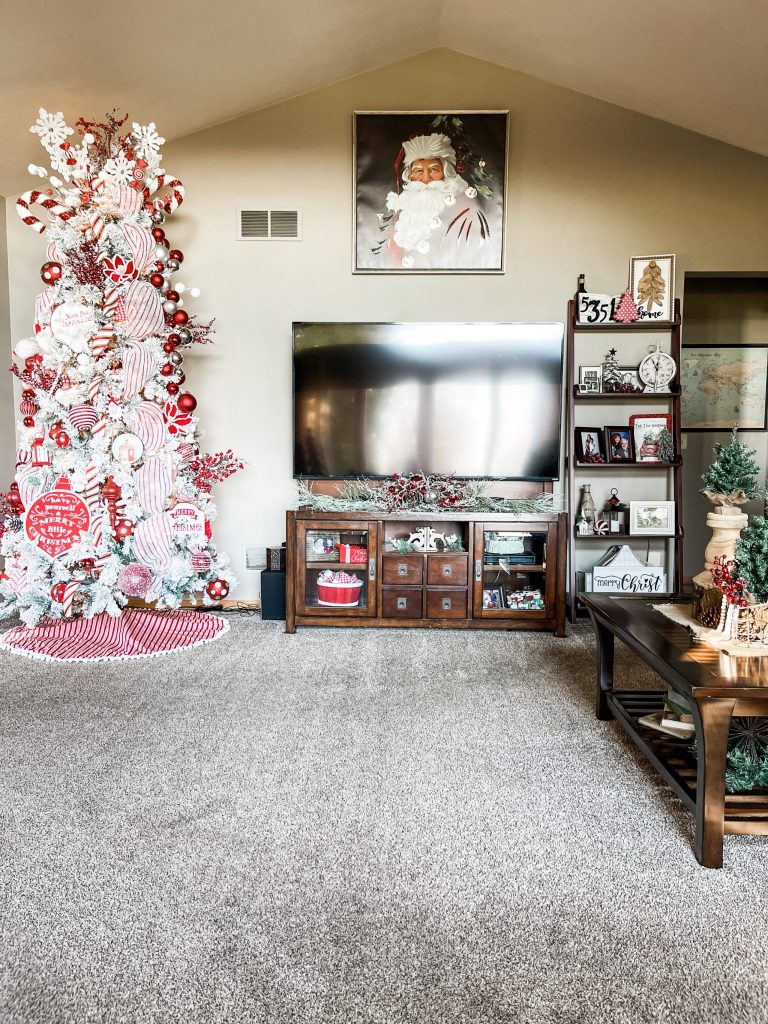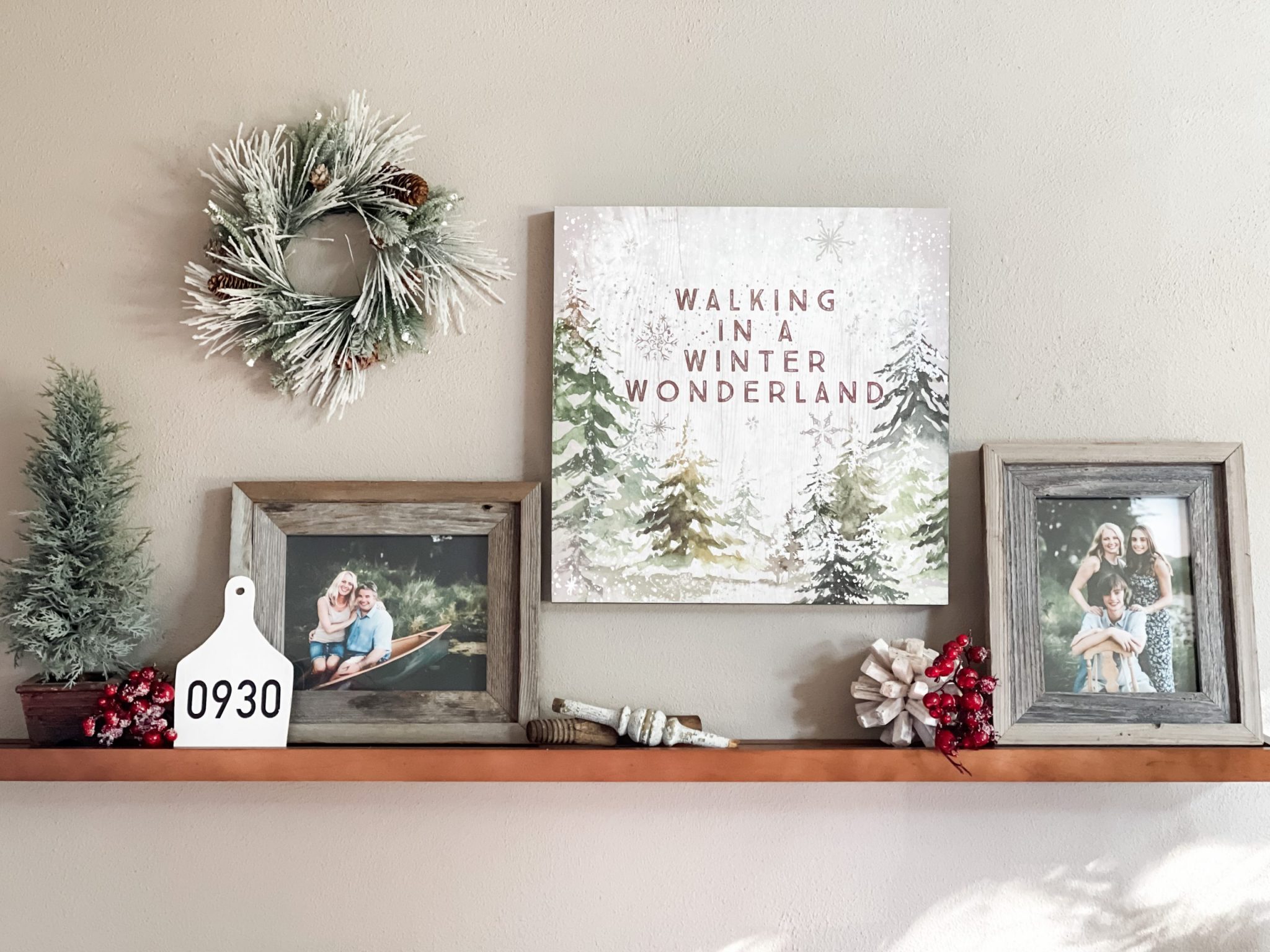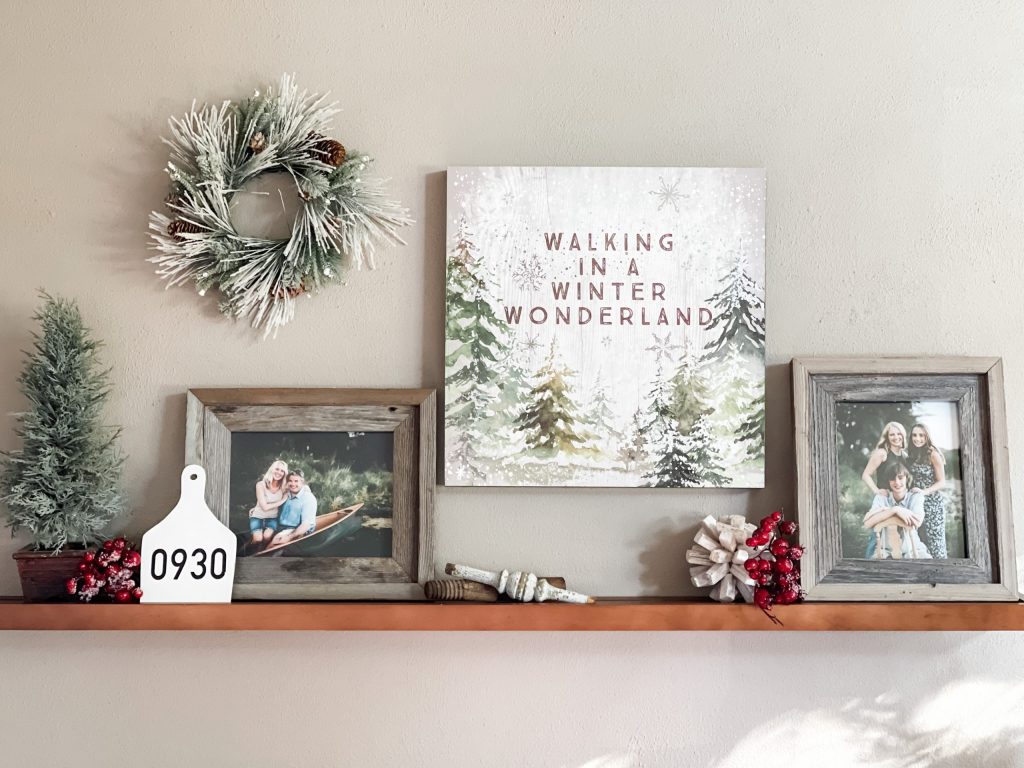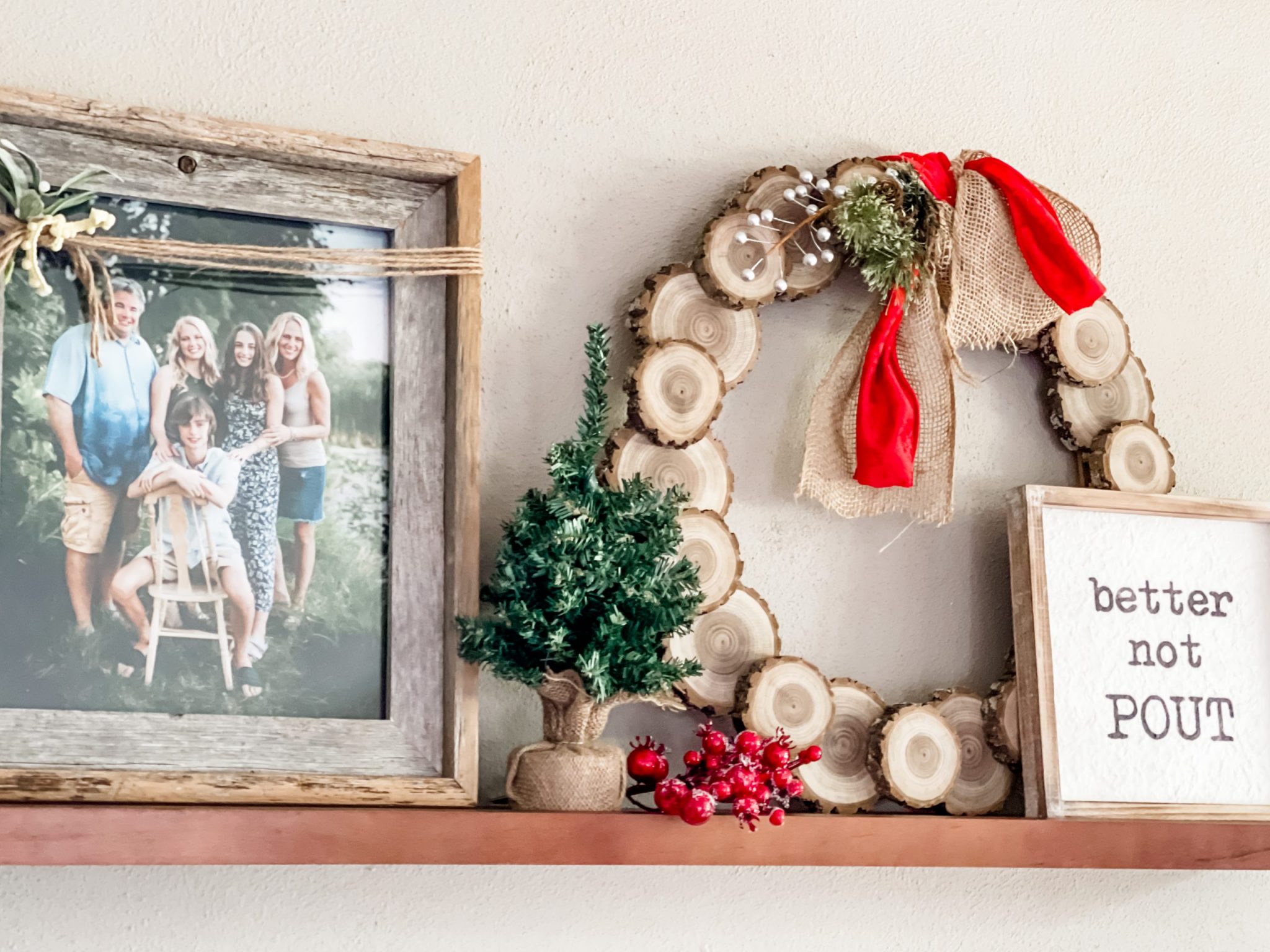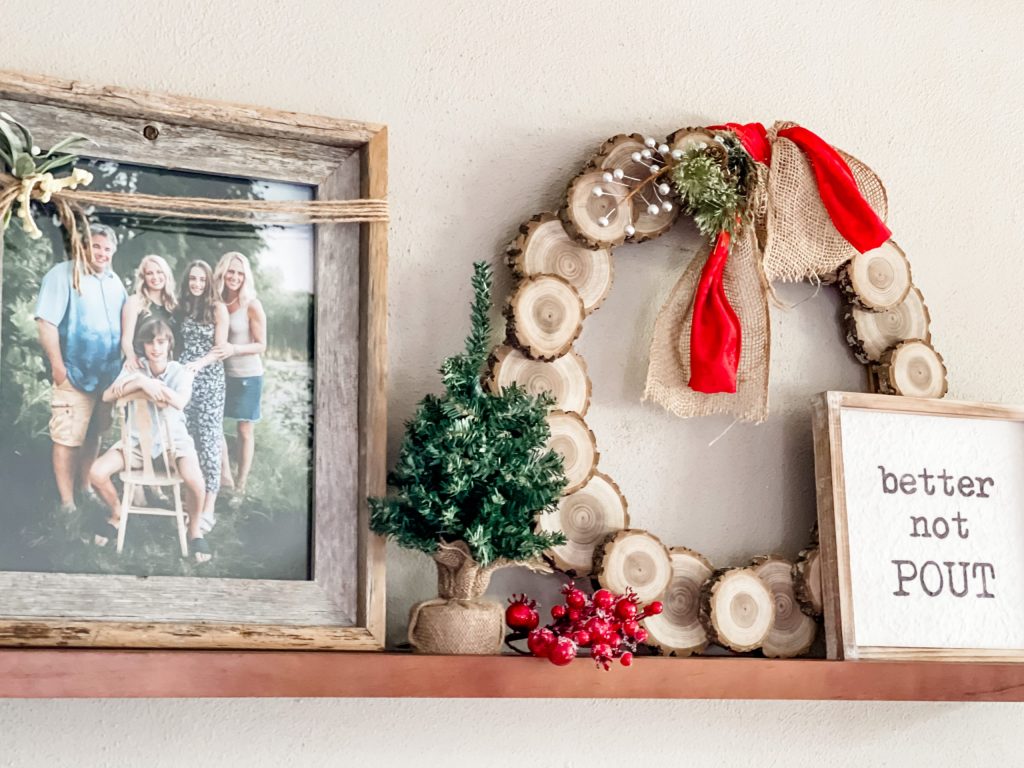 More details!
How stinkin' COZY is their home now????? The red blankets (there are actually 2) are from Sarah with Framed by Sarah! They are soooooo comfy! And….I LOVE the display on the coffee table!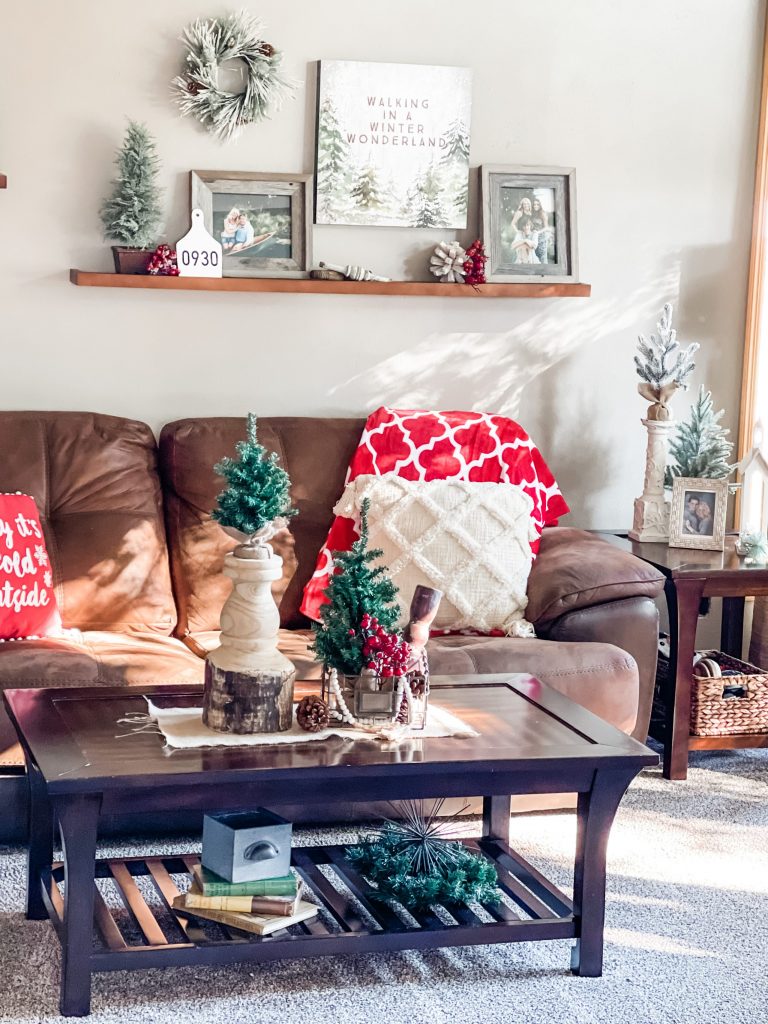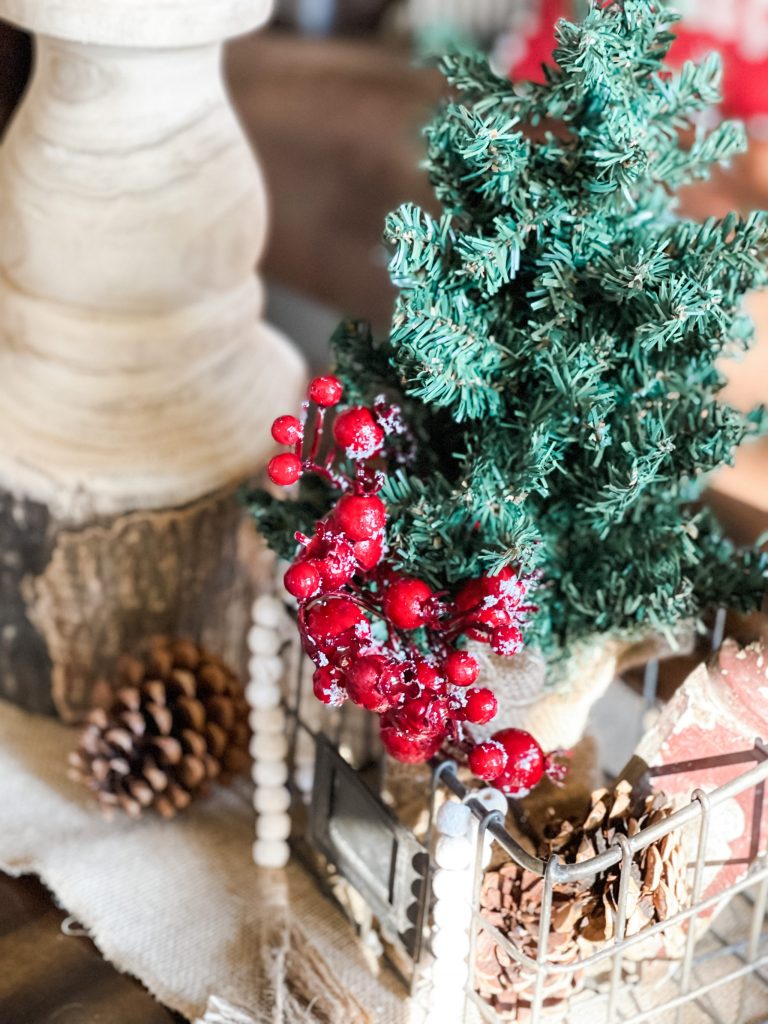 This was two days full of fun, hard work and trying sooooo much to make this a dream come true for Dawn and her family! I think it came together to be absolutely beautiful, and I am so thankful for the opportunity we had to do this for them!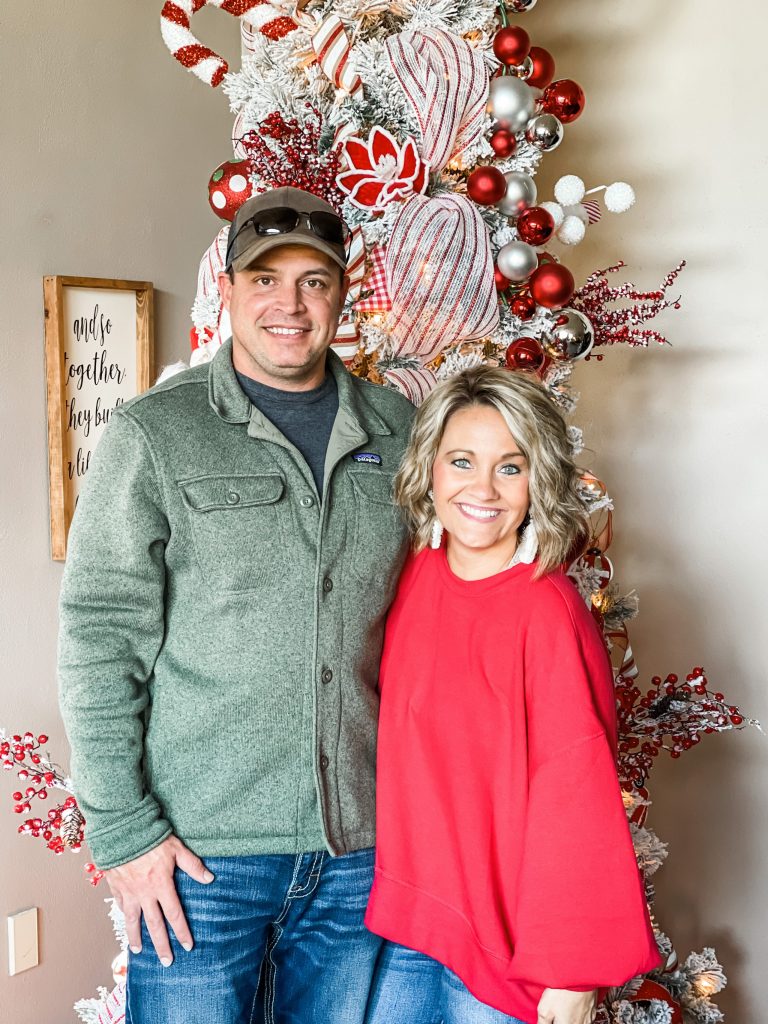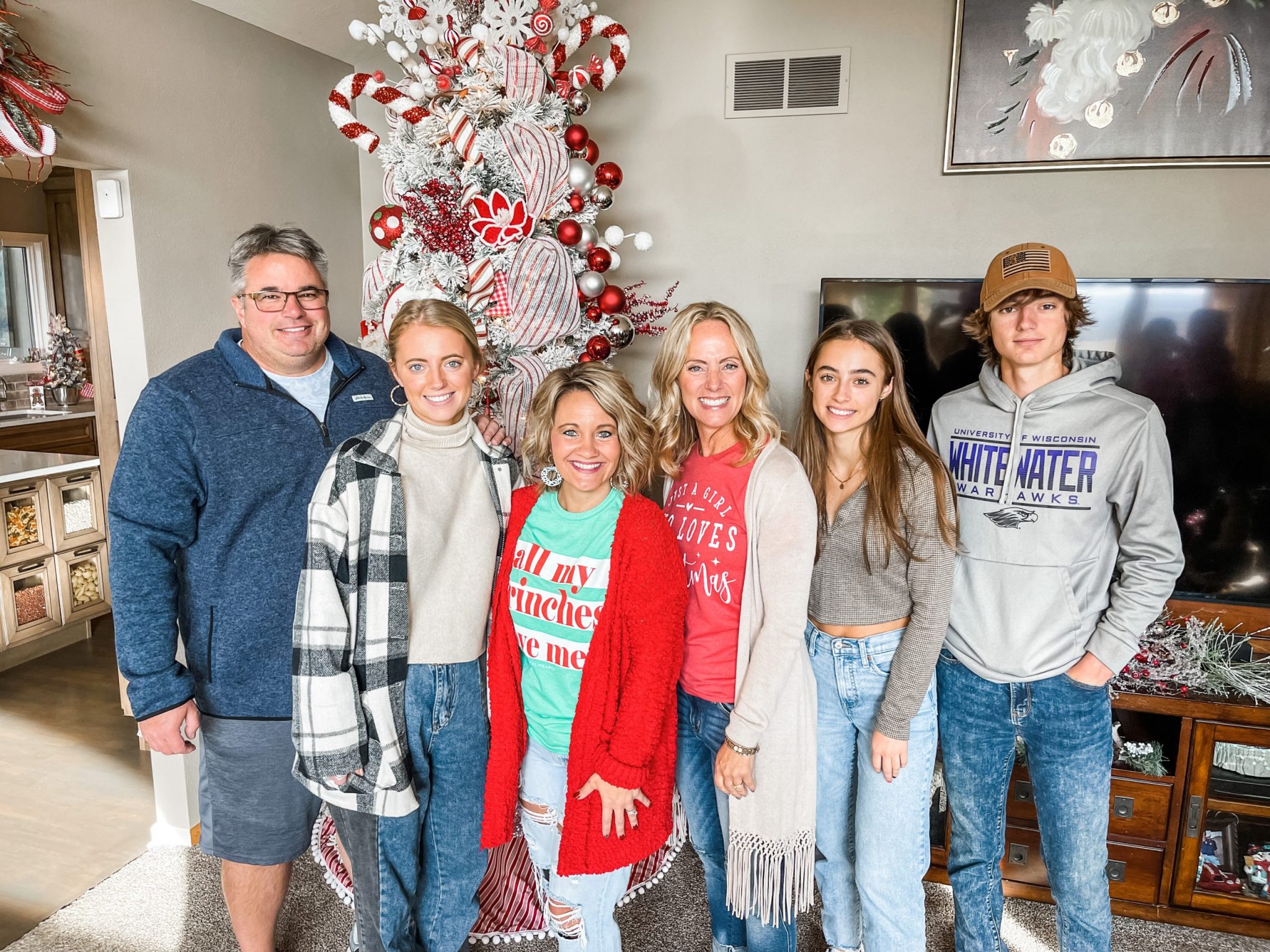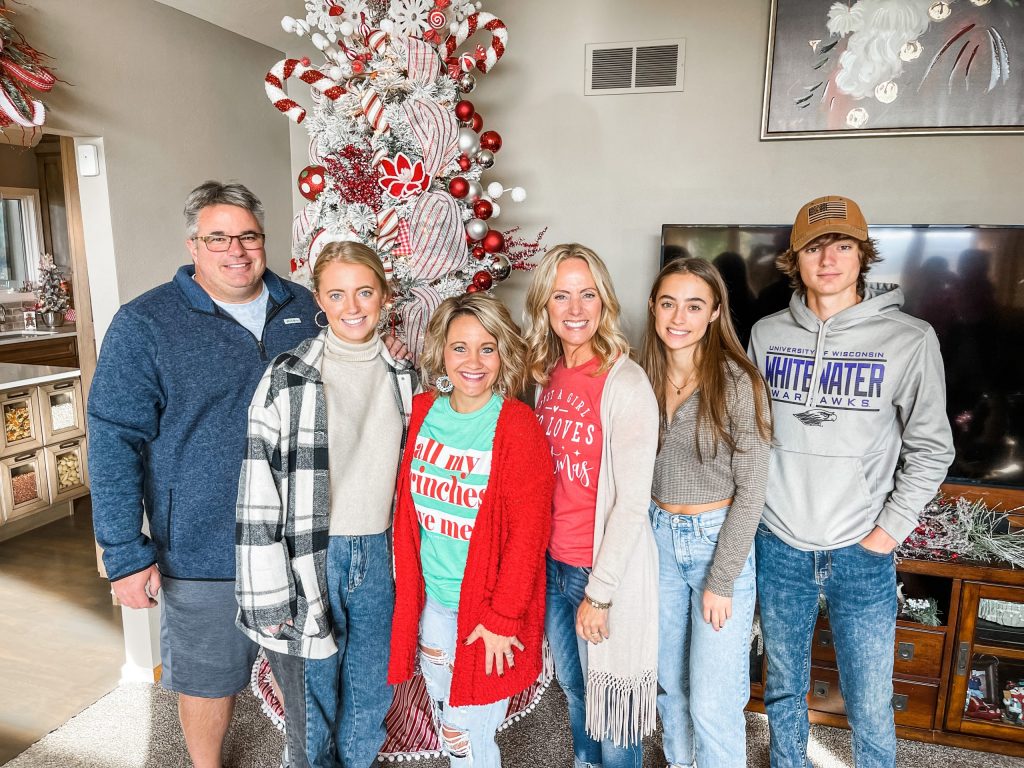 It took EVERY SINGLE ONE OF US TO PULL THIS OFF!!!! What a wonderful team!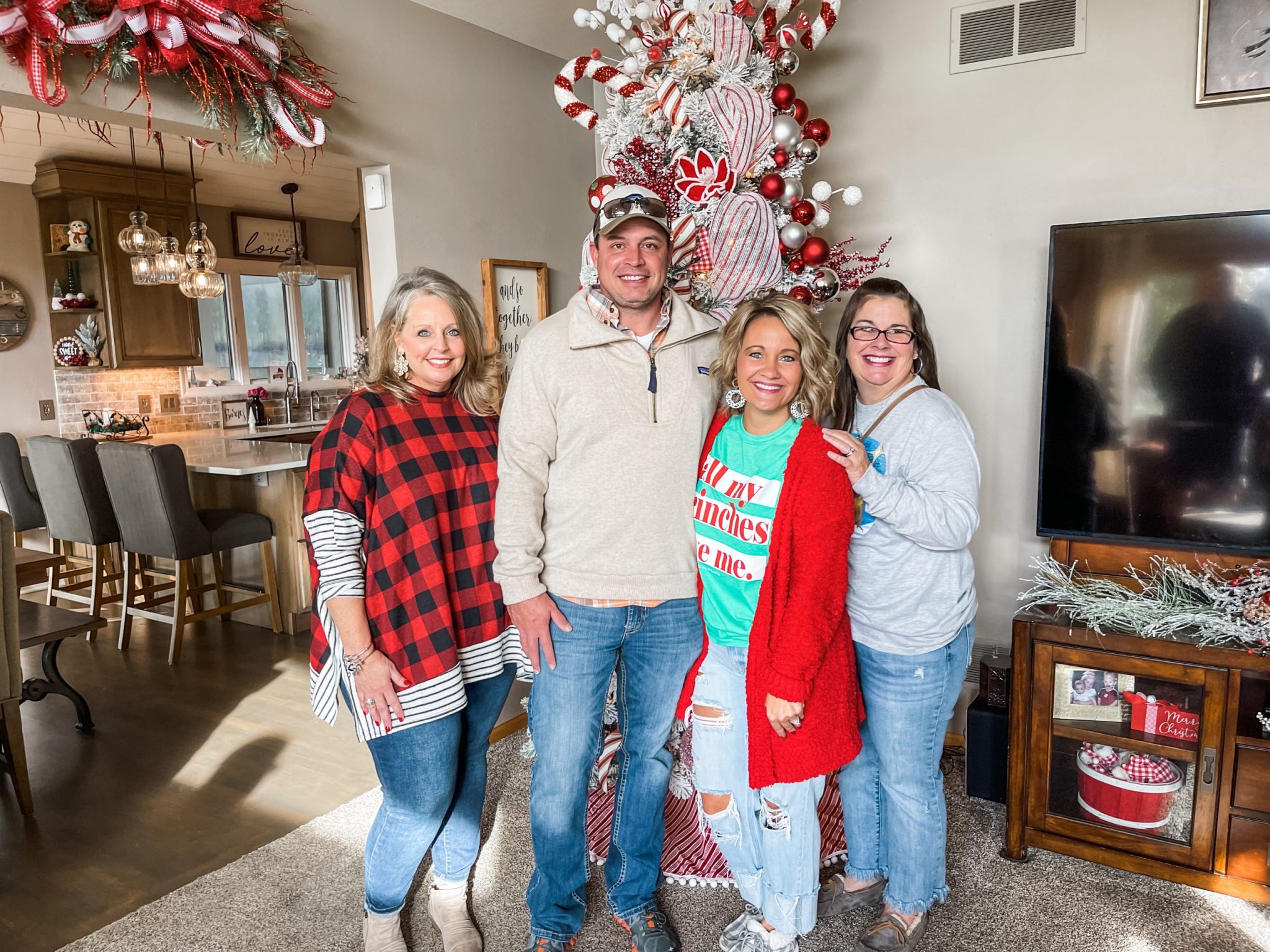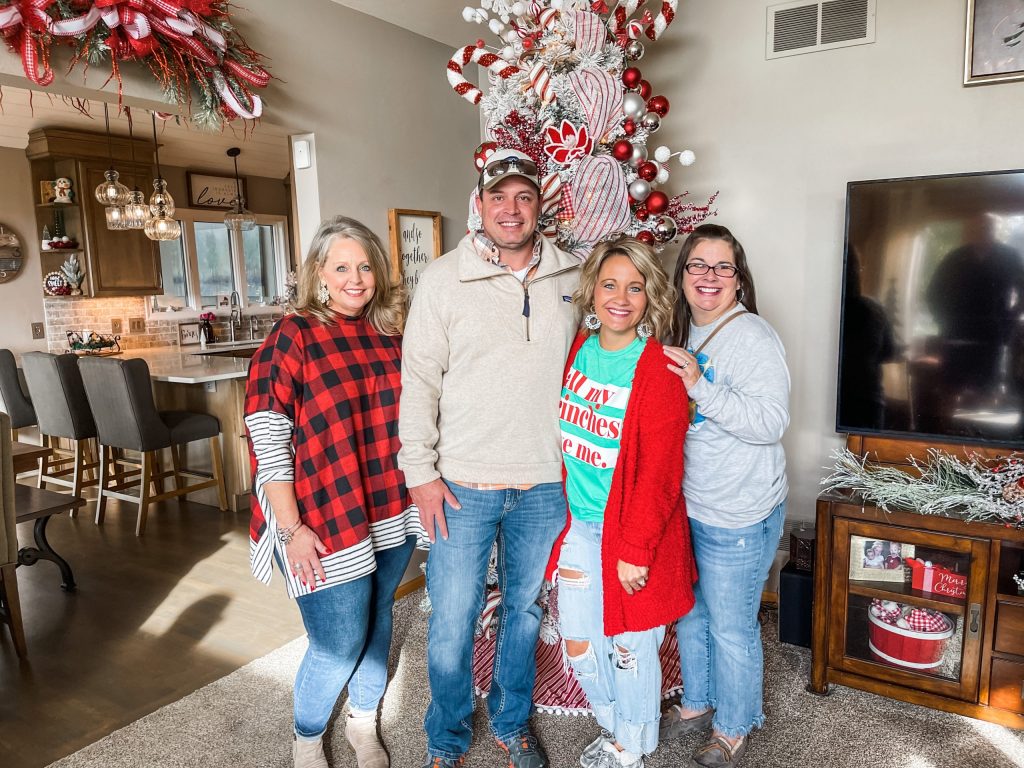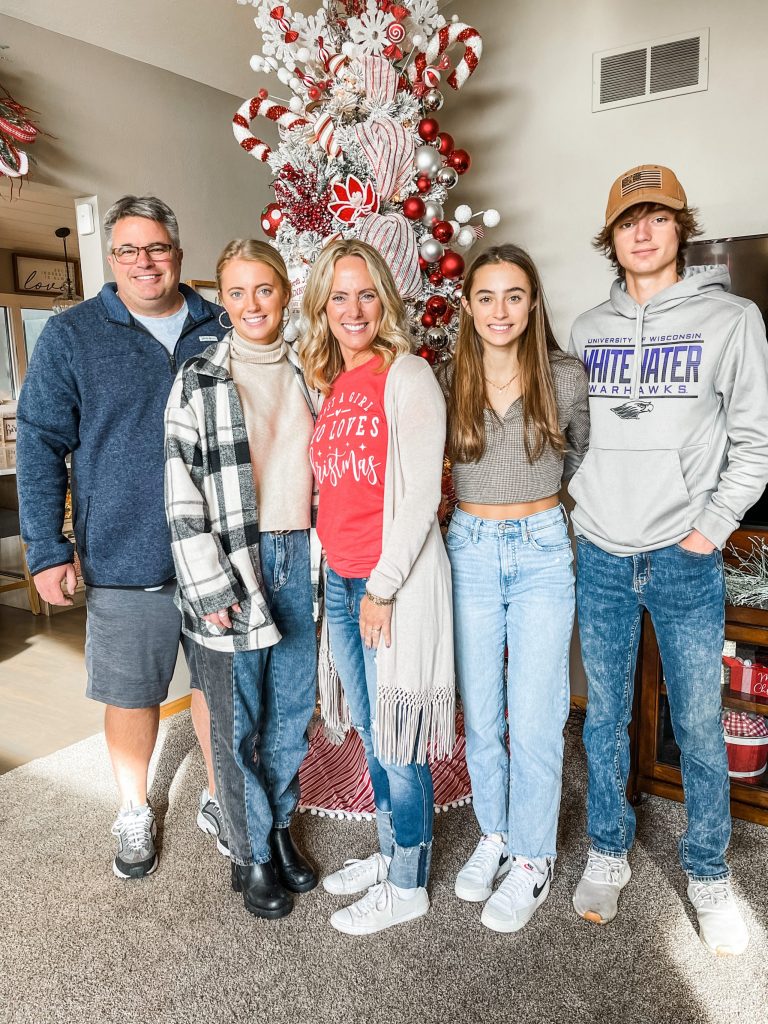 In addition to all of the goodies you have seen in pictures, Dawn also received a paint class for up to 10 people from Heidi at Texas Art & Soul, a gift pack from Jennifer at Artistic Painting Studio and a painting from Christie at The Social Easel!
There was also several other details that are not pictured that she received from our AMAZING SPONSORS, including Kelea's who was part of the Deco Exchange team!!!! 
They are all listed right here! I highly recommend you follow each and every one of them! They are truly spectacular, and this would not have been possible without them!