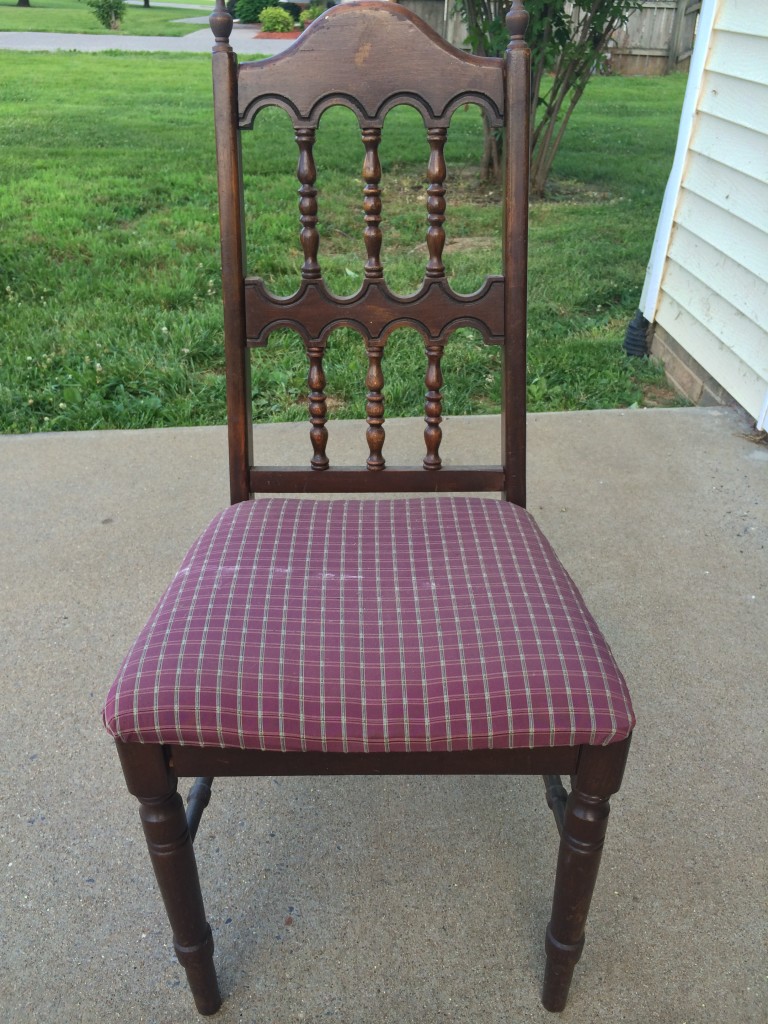 My husband and I recently went to a local auction at a photography studio downtown. It was a great auction full of things a re-fabber like me loves! When we first got there, we walked around, scouring each room trying to see what we just HAD to have. There were several things that I hoped to get, but when we headed upstairs to the attic, I saw this chair. It was hidden under tons of random items, but I remember telling my husband, "Wow! Look at this chair! I love it!" He thought it was nice (not as nice as me), and he made the comment, "If we are still here when it sells, we will try to get it." Honestly, we doubted we would be around long enough for the items in the attic…but I held out hope! I really thought this chair could be something so unique and beautiful!! Don't you agree?
Well, because of other plans, I had to leave the auction early. We already found LOTS of bargains, but there was still a lot left to sell. The hubby decided to stay a little longer, just in case we could get some other great deals, and with the way things were looking at that point, he would have time to stay for the attic bids! On my way out the door, I reminded him of the chair. I don't know about your husband, but mine loves to be reminded of everything constantly 🙂
After a couple hours of being home, I got a text telling me what all he had bought. (I plan on making a post soon of all of our awesome finds!) I said, "What about the chair?" He told me that he got it, so I asked him how much? He said, "free"! What?! Free? How does that happen at an auction?? Well, come to find out, a lady bought a group of items, and the chair was part of that group. When Brandon asked her if she was willing to sell the chair, she said, you can have it! He offered to pay her, and she said she didn't want any money. She said there were other things in the group that she wanted and she was more than happy to give us the chair.
I know this is something so simple…just a random act of kindness, but let me tell you- it made my day! I caught myself thinking, would I have just given that chair away, knowing someone was wanting to pay me for it? Would I have been selfish or would I have been kind and giving when it was completely unexpected? She didn't know us, and she had nothing to gain from her act of kindness. In fact, she probably did not even think twice about doing it…but I have thought about it quite often. It has challenged me to go beyond the realms of a smile and friendly gesture and do more. It has challenged me to give in unexpected ways…ways that would make someone else's day the way she did mine. What if we all made a point to show at least one person a random act of kindness each and every day? What if we all stepped out of our little circle of selfishness and did one thing for another person each day? Can you imagine the impact that could make in that person's life? In this world? Yes, this was just an old auction chair- not even worth much anyway- but in the end, it has been able to show me a thing or two about what more I can do and should be doing to make a difference in the lives of others. Maybe it can do the same for you.