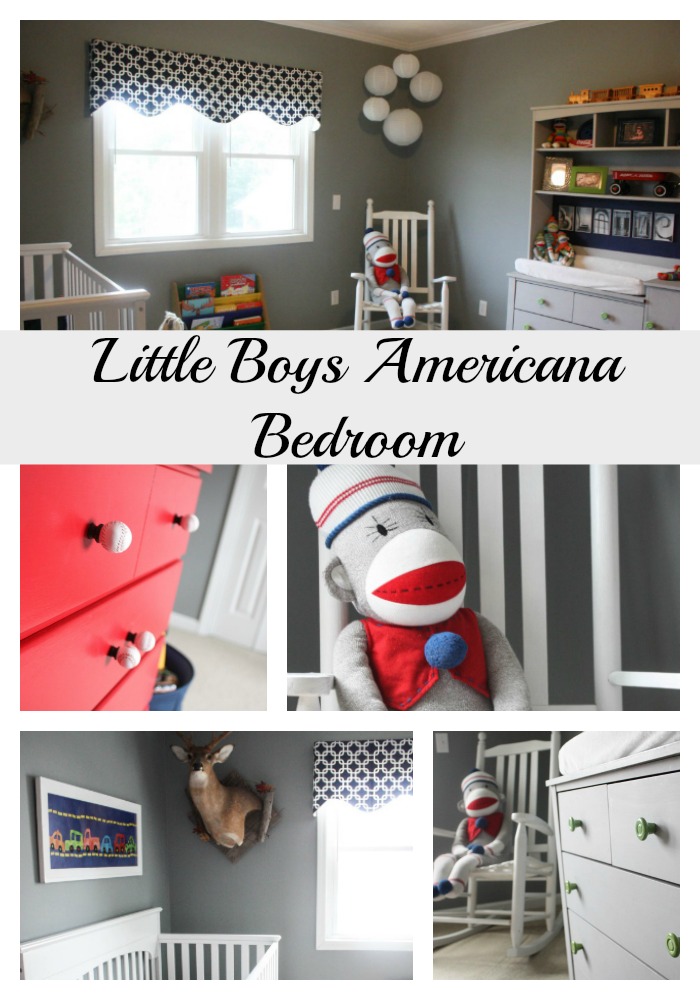 I will have to say…my little boy's bedroom is one of my favorite rooms in our house. There is nothing spectacular or overly "themed" about it, but is full of all of the things that fits my idea of a true blooded American boy.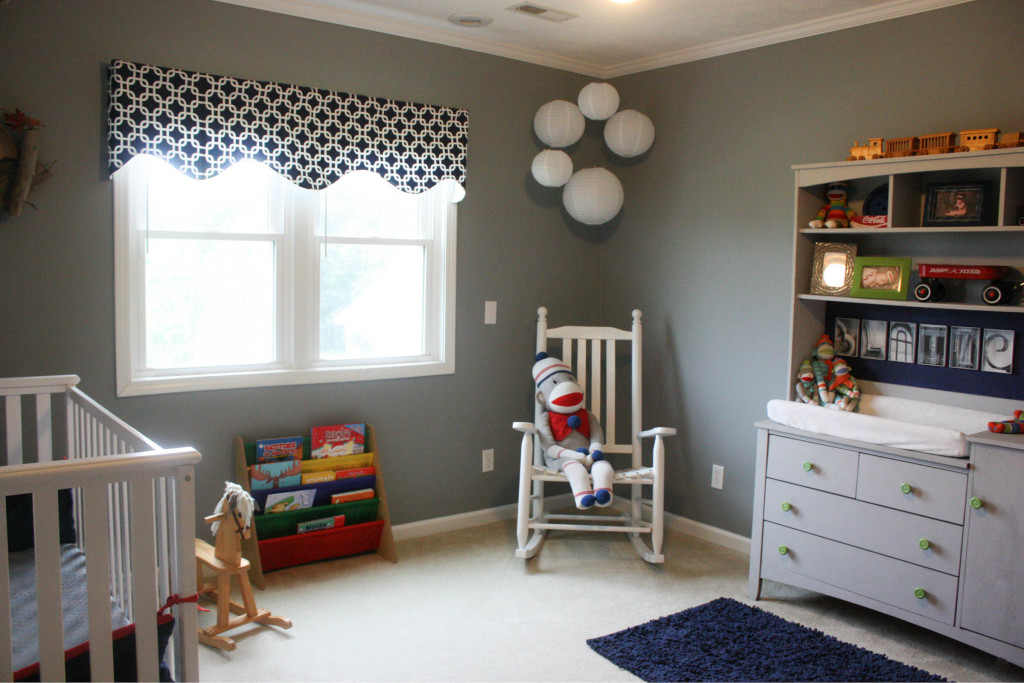 If you haven't been able to tell from my living room and dining room makeovers, I LOVE gray! To me, it is simply the best neutral to work with for any color scheme. I chose navy, red and white for my key accent colors, mostly because of this awesome consignment find right here!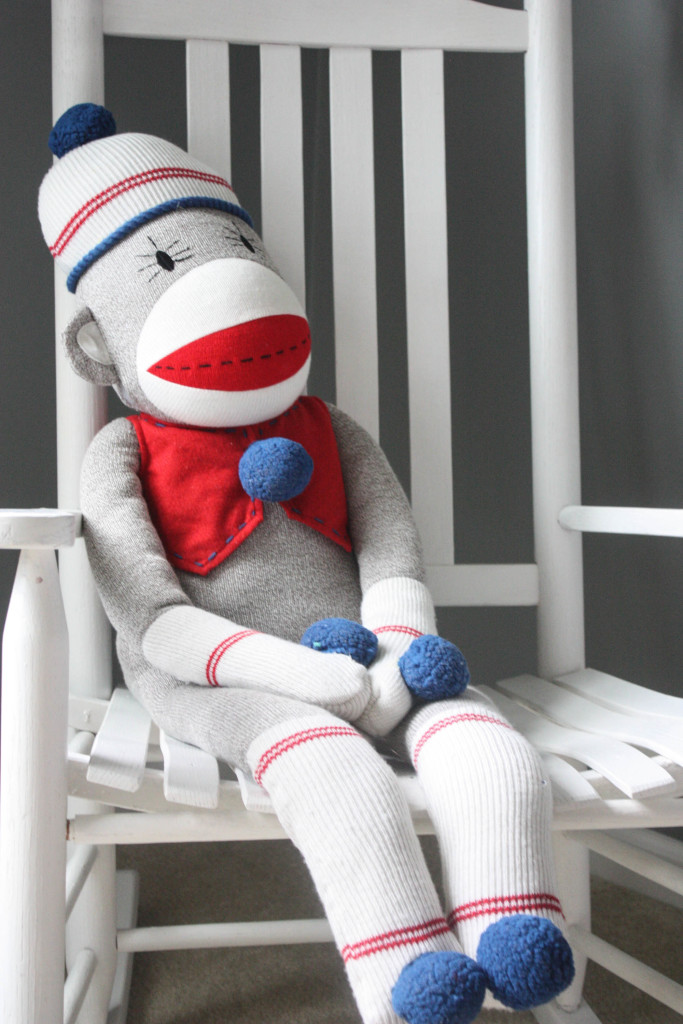 I found this Americana sock monkey at a consignment store one day while I was pregnant with my son. I immediately knew I wanted to use it in his room! At that point, I had no specific plan in mind for his theme, so all of my choices after this buy was based on this! He was seriously almost as big as me, so what a cool statement piece! I found the rocking chair at a flea market and painted it white. I think it's the perfect fit for his sock monkey!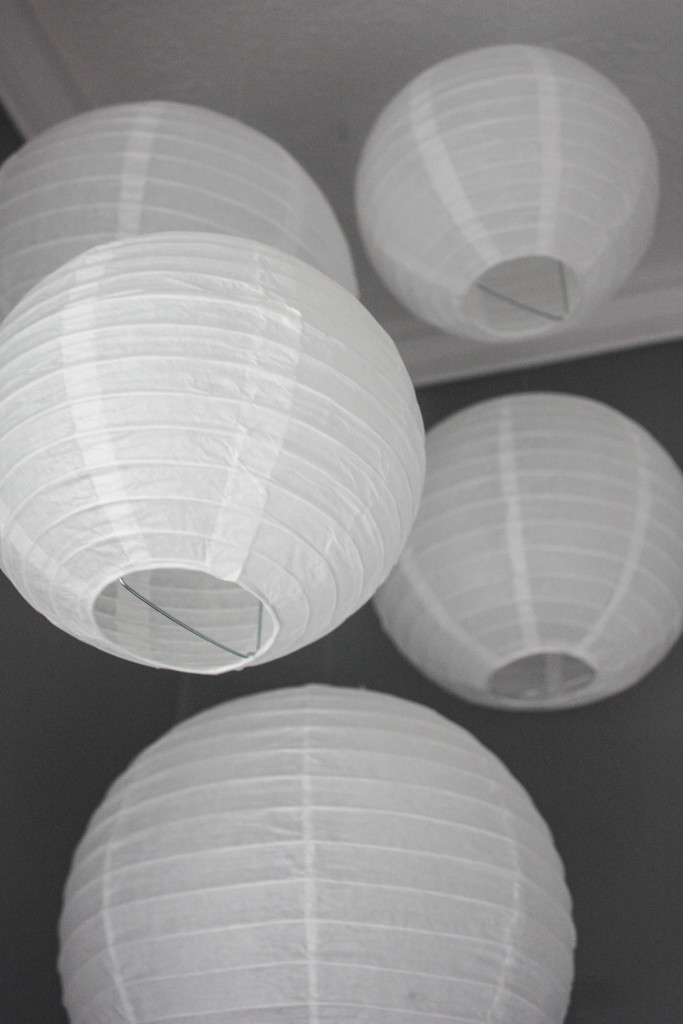 I found these paper lanterns from Hobby Lobby for $4.99 with 40% off! I felt like the corner needed something extra, so I liked the idea of hanging them at different lengths to add dimension. I got white because I liked the "cleanness" of it…plus, I could re-use them if I ever decided to change the look of his room.
This hutch was on VCI (a local online classified) for around $20. (Sorry-no before pictures! This was bought long before I started documenting everything) I painted it with Annie Sloan's Paris Grey. I wanted something neutral, and this gray was much lighter and looked great against the darker walls. The wall color is Eddie Bauer Vintage Gray. I chose the knobs from Hobby Lobby because I loved the green color. You may think green seems like an odd choice, but it's actually a really good accent with the red white and blue, and I didn't want a real "matchy matchy" room.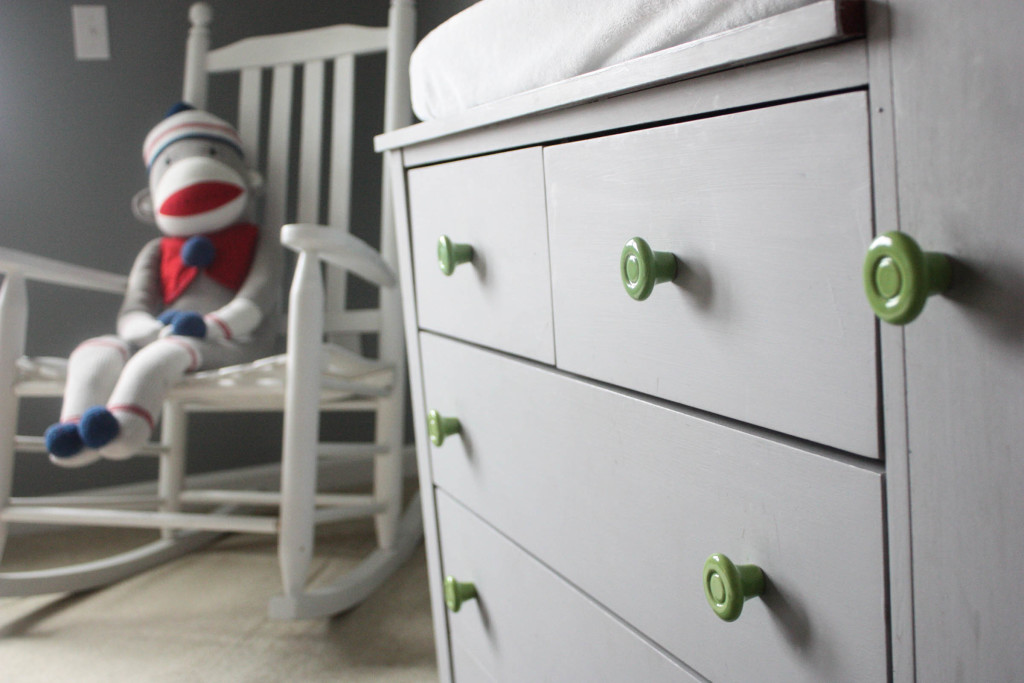 As die hard Kentucky wildcat fans, I had to put this cute fella in his room! I found it at a flea market for just $7.00! Jackpot!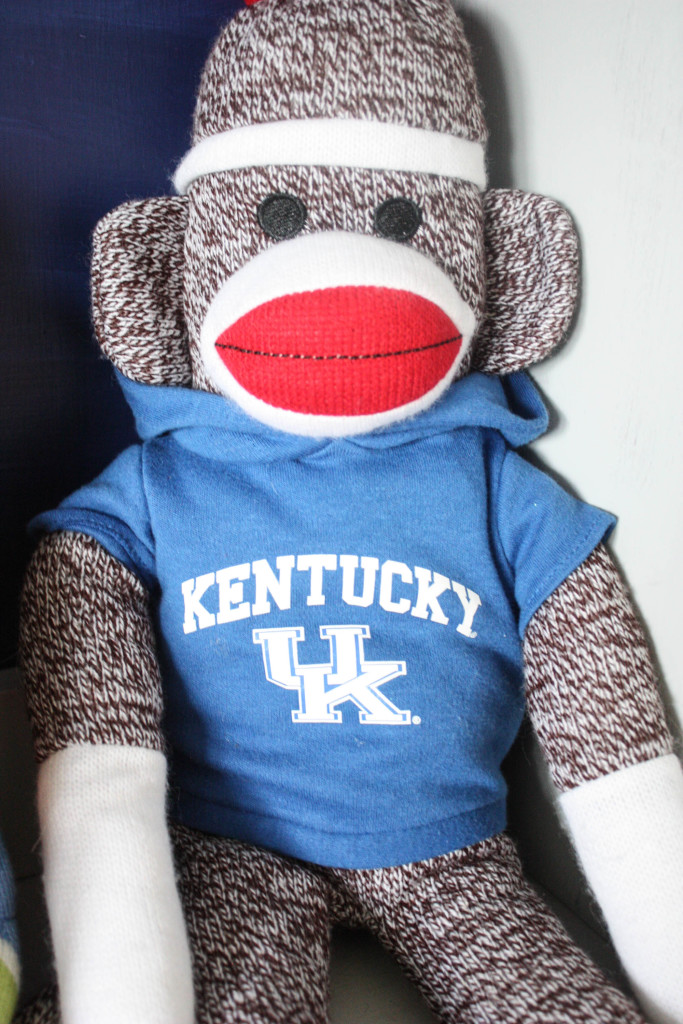 This cute little red chest was another thrift store find. It was originally a royal blue, so I painted it with a bright red latex semi gloss from Lowes. This took 4 coats…because red is not am easy color to paint. This is another reason I use chalk paint so much- it covers so well and goes on so easily. While writing this, I am remembering the pain of coat after coat on this chest. Good thing it turned out so cute! I found them at Hobby Lobby for $2.00 each. They were originally $4, but they were half price. Cha-Ching!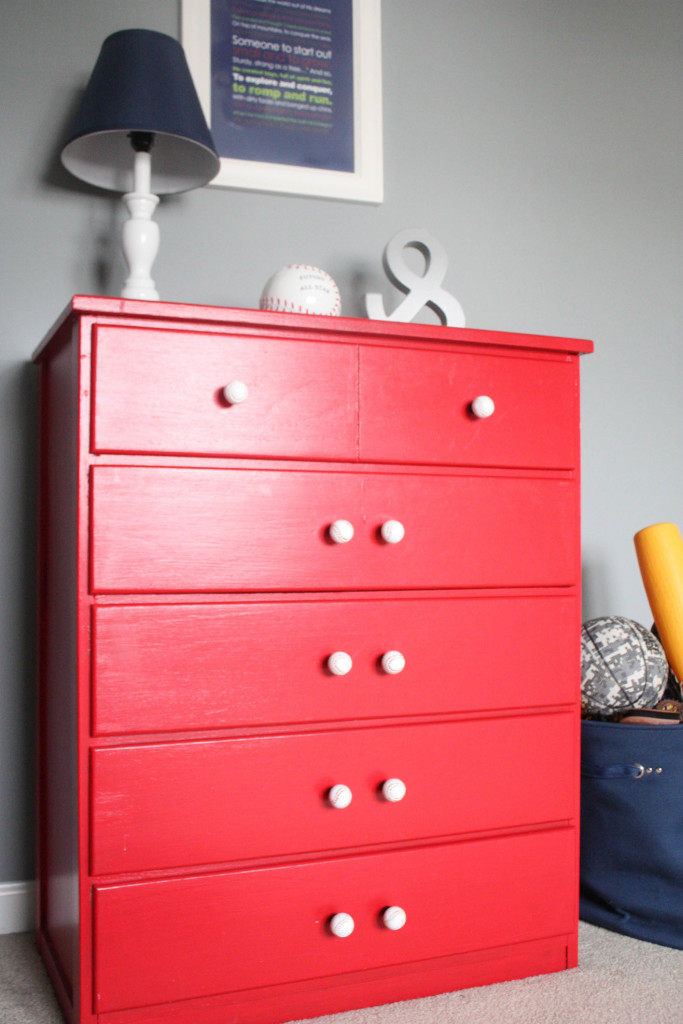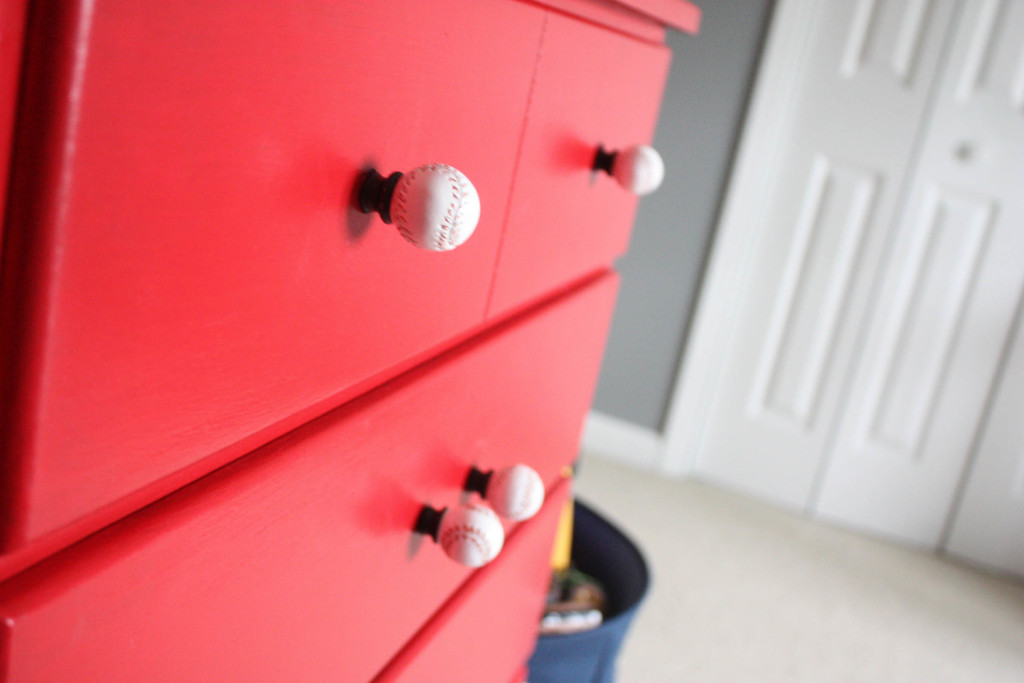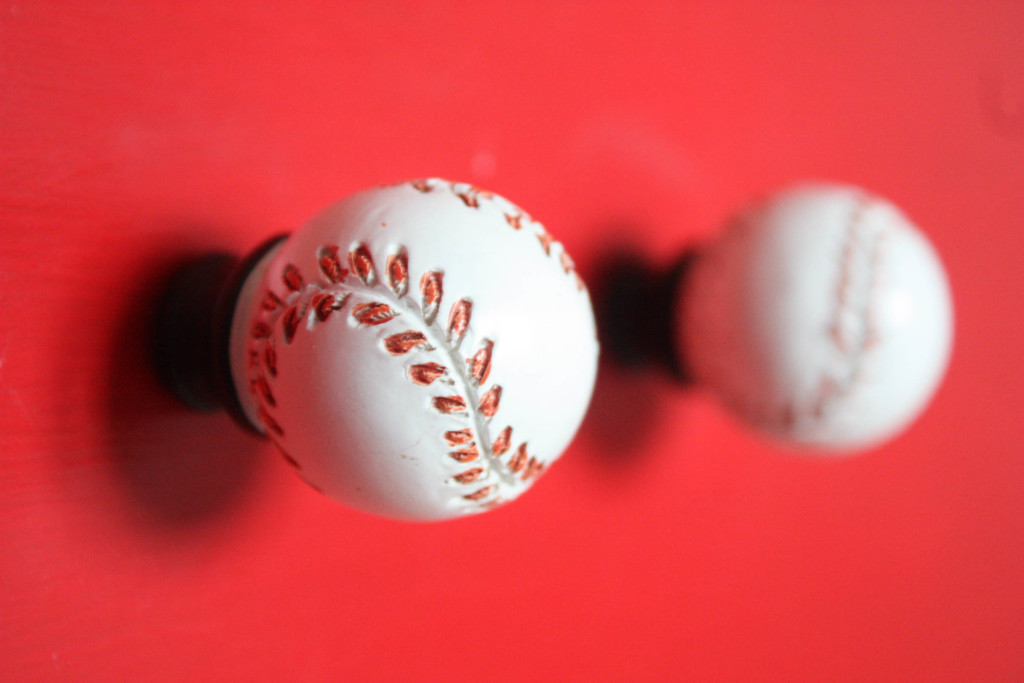 To decorate this piece, I found a baseball piggy bank at TJ Maxx for $7.99, and the gray ampersand for $5.99. I found the lamp (showing in one of the above photos) at Dollar a General for around $5.00. I liked that it was simple, clean lines.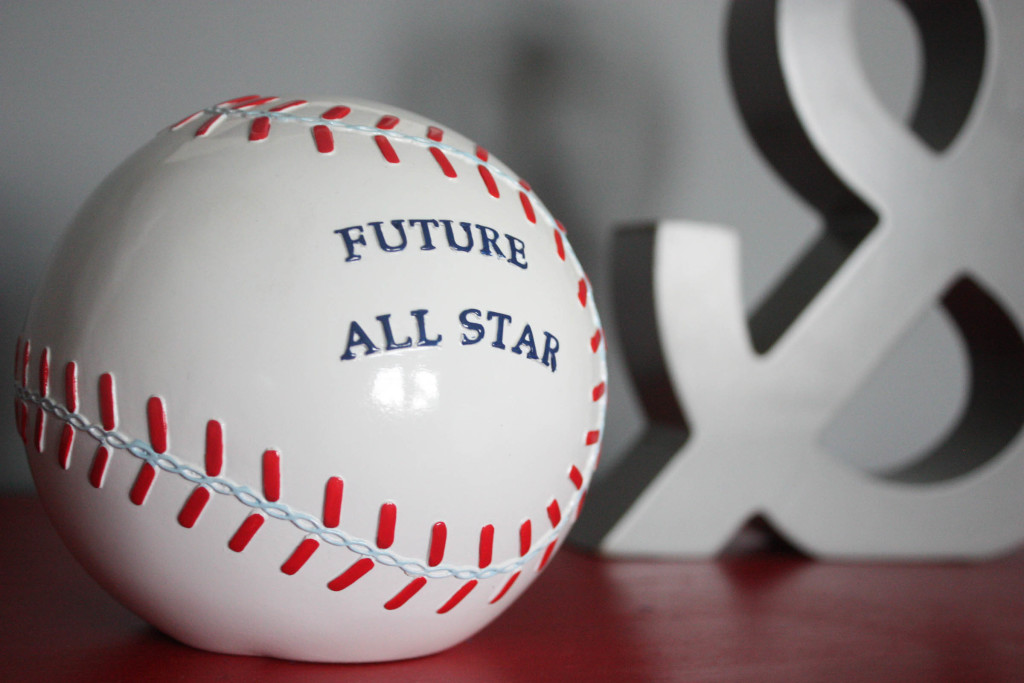 My hubby is an avid hunter. I mean, he eats, sleeps and breathes it. This turkey is one of his kills, so it means a lot to have it in Blaize's room. Blaize also thinks it is pretty cool. He rubs it and calls it "his turkey"!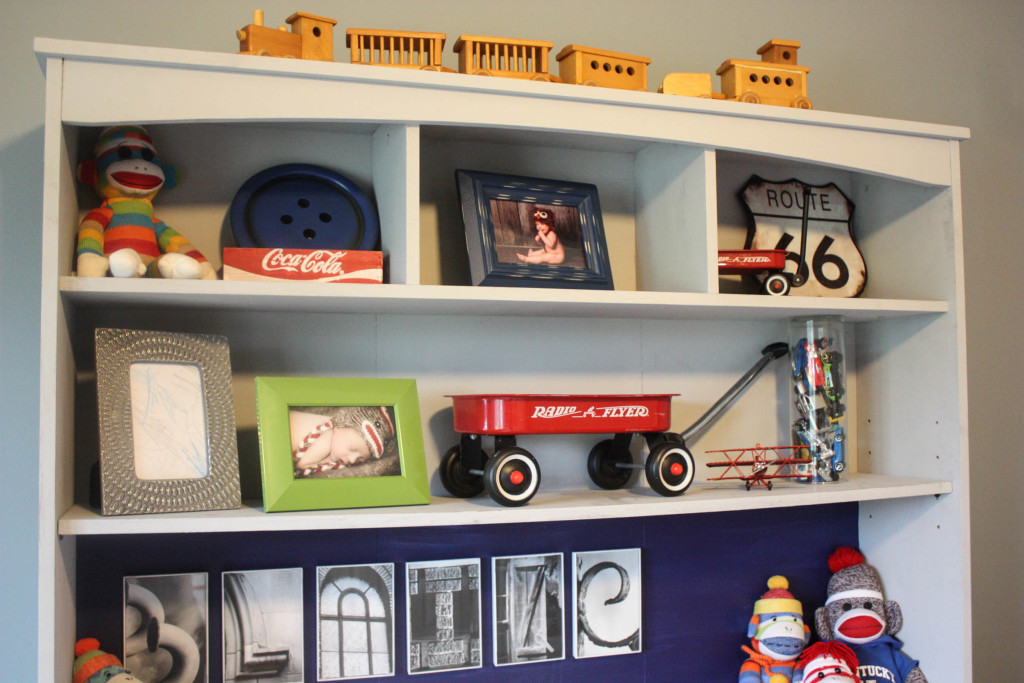 I found random items here and there and everywhere to decorate these shelves. I went with items that had a true "boy" feel to me, and just put them all together. The one that means the most was not randomly found but was given to us by Blaize's great grandmother. It is the train that runs along the top of the shelve. It was in the family and has very special meaning. A couple other favorite finds were the Radio Flyer wagons. I got them at our church yard sale for $2.00! I was so excited! Perfect for these shelves!
My little angel, Eden colored this for her brother when he was just a couple of months old 🙂 I love incorporating things like this into my decor. The frame came from Target.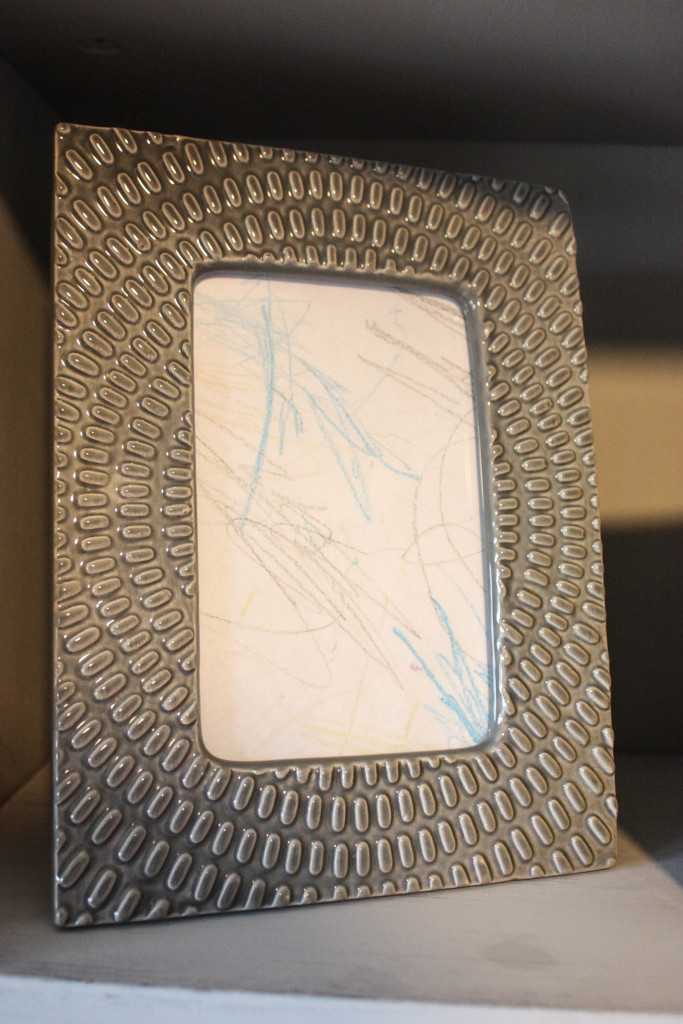 This deer hanging on his wall is the first deer that his daddy ever killed in velvet, so it had a little extra special meaning to it. I am not a hunter at all, but I try to be understanding! (And this is the only room I allow dead animals to be displayed!ha)
I wanted a white crib to go with all the white trim and accents, and I found it on Walmart.com. The super cute navy interlocking valance was found on etsy. His bedding was ordered on Polka Tot Designs, and you design your own. It takes forever to get it because it is custom made, and it is pricey- but it's very nice and exactly what I had in mind. It's not nearly as fluffy and full as it once was (as you can tell), but it's been awesome bedding over the past 2 years!
His cute little train picture was found at a consignment store for half price ($6)! I thought the colors coordinated really well, and he loves trains- so win win!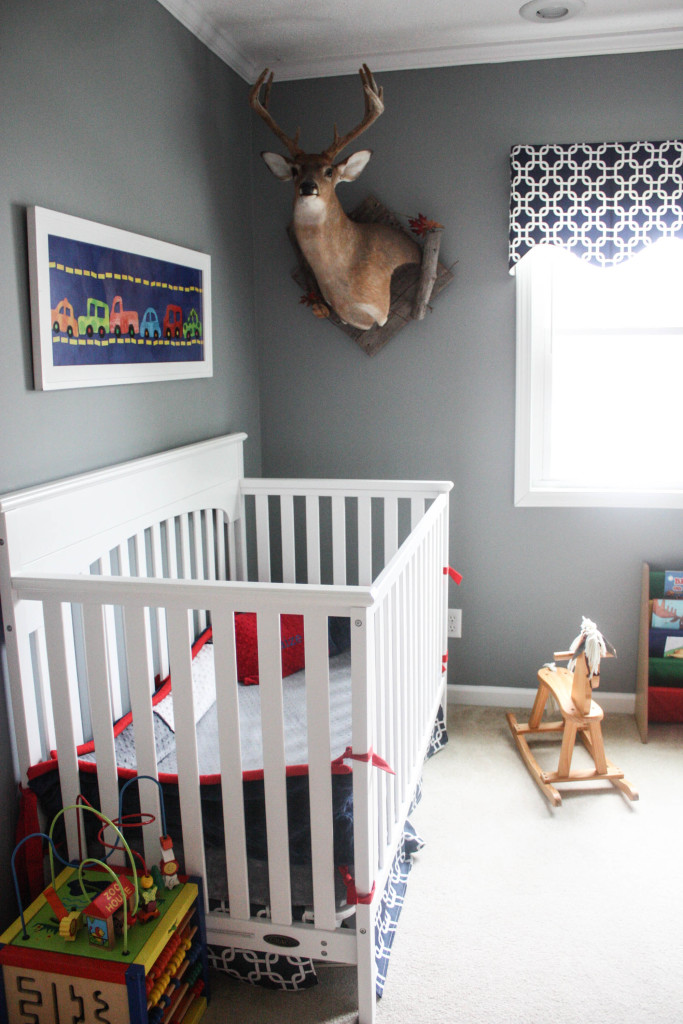 The little rocking horse is so cute!! To me, they are just a must for a little boy's room! I found this sweet little thing for $6.00 at a local consignment sale.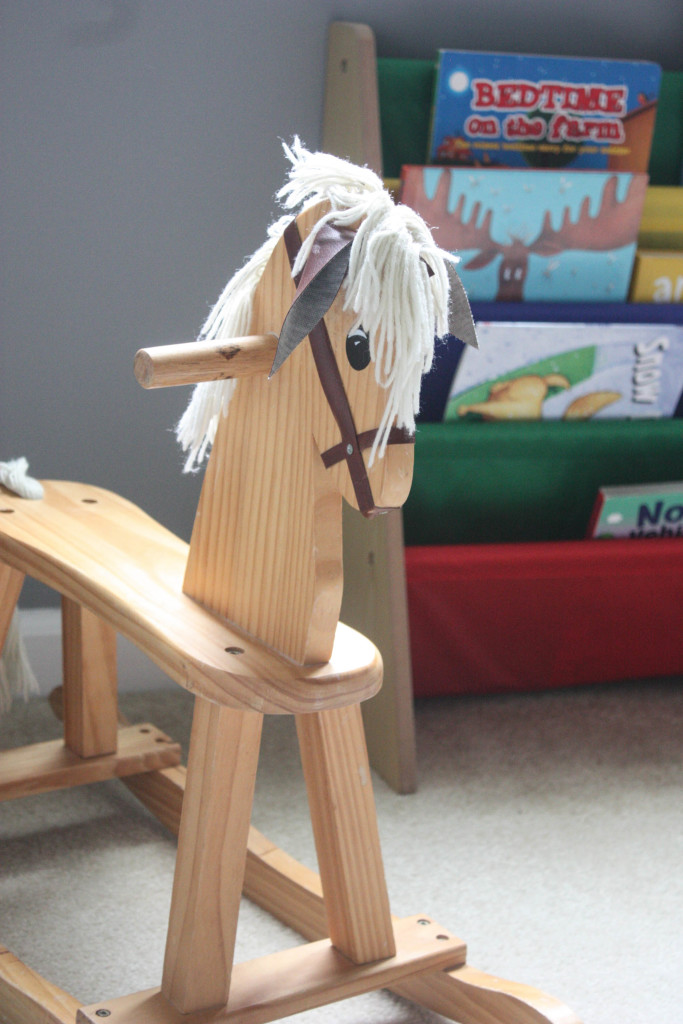 Anyone who knows Blaize knows that he is a HAT LOVER, to say the least! If we are leaving, he wants to know where his hat is! This little Allstar rack from TJ Maxx makes the perfect place place to hang some of his favorites. (Notice I said some. He has lots more!)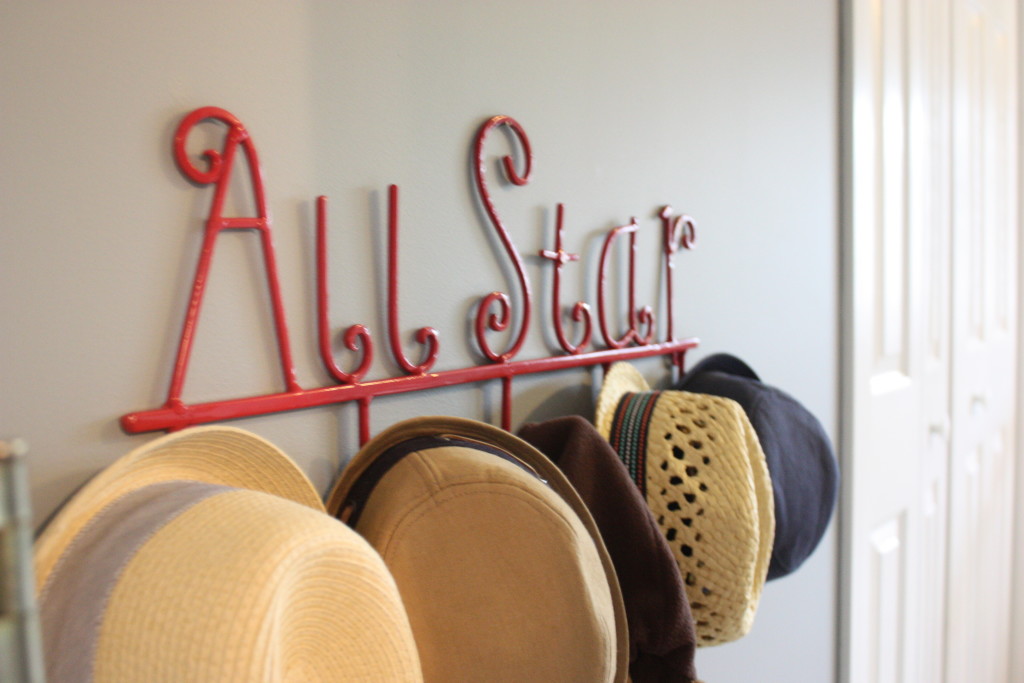 This "stuff" bag from Homegoods has been a favorite of mine since we got it. It fits tons of toys and is just so precious next to his red chest! It will be a good bag for years to come.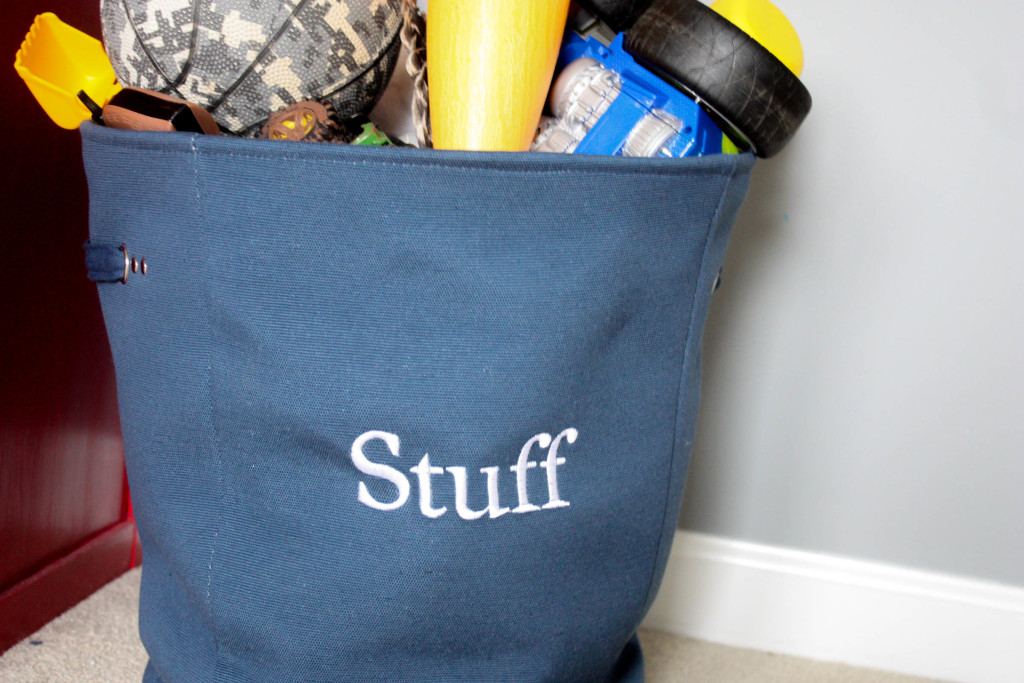 Last but but not least is his super cool Baseball ceiling fan that we happened to find at Lowes. It was the last thing we bought for his room, and it truly pulled everything together perfectly. How cute is this?!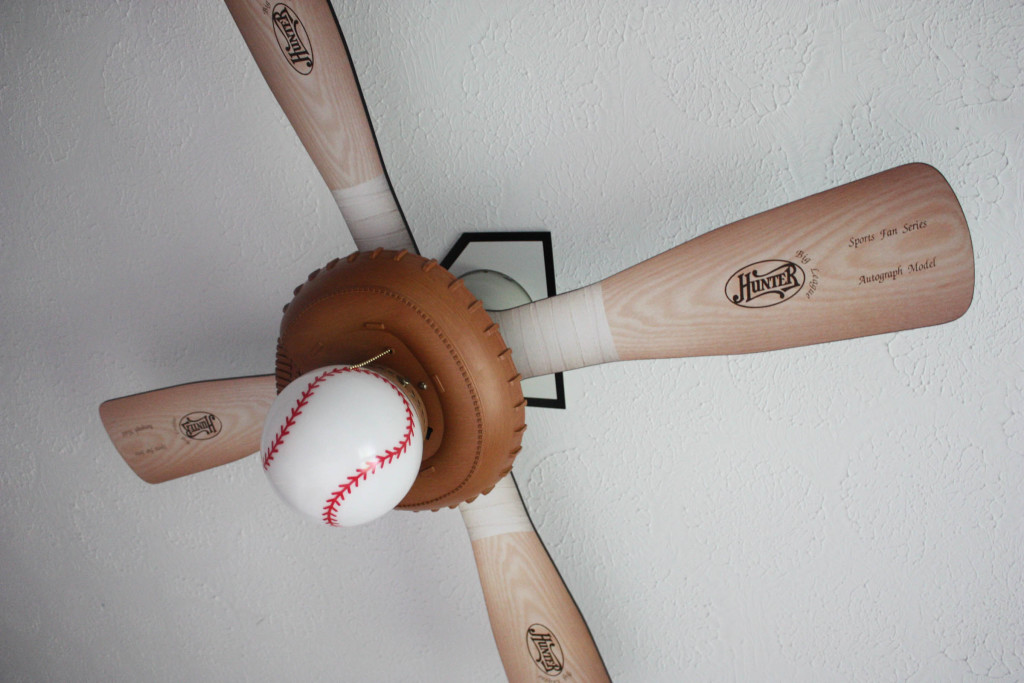 According to the dictionary, Americana means "things associated with the culture and history of America, especially the United States." I would have to say, I think this bedroom fits this definition perfectly. Would you agree?
Linking up at:
http://www.savvysouthernstyle.net
http://www.piecedpasttimes.blogspot.com
http://www.ishouldbemoppingthefloor.com
http://www.liverandomlysimple.com
http://www.huckleberrylove.com/