You can never have too many signs… PERIOD. I think having so many signs within my decor is my secret weapon, because you can use them in SO many different places. I like to use them within my built-ins, as shelf sitters, on the coffee bar, and of course on the wall!
So today, I wanted to make a simple little VALENTINES sign that would perfectly mix in with the rest of my Valentines get-up!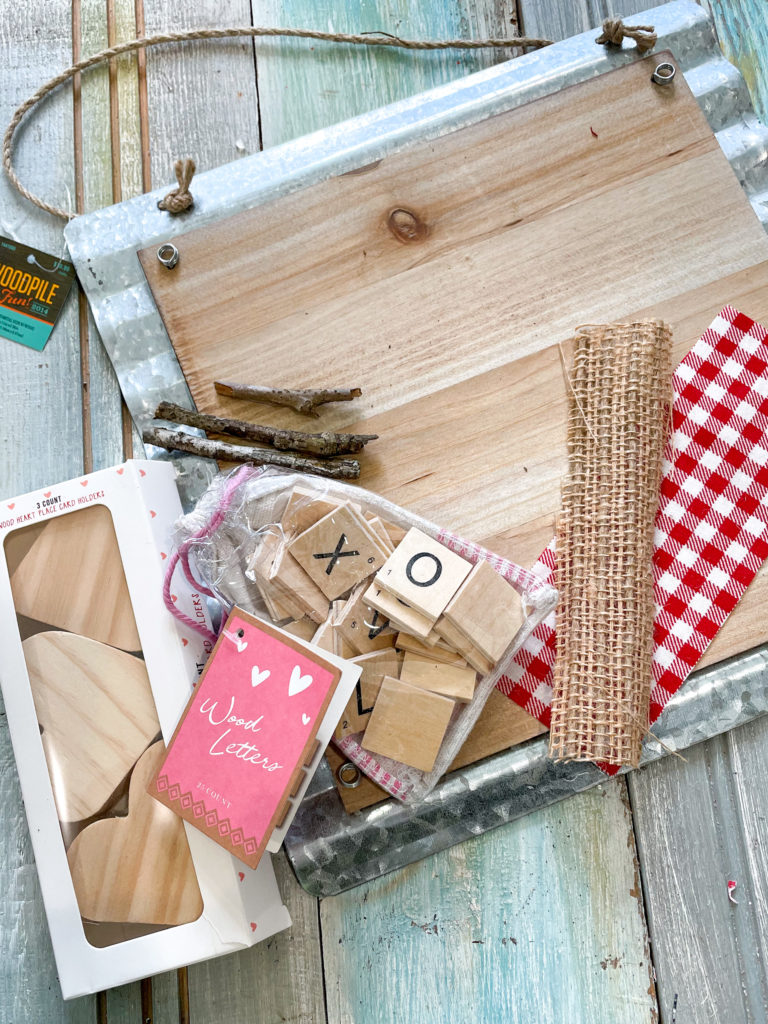 Stay tuned until the end of this post to see how it all came together… I think you'll want to high tail into gear and make one for yourself!!!
Here's what you'll need:
any blank sign (I found mine at Hobby Lobby)
little wooden heart (I got mine in a pack of three from Target Dollar Spot)
scrabble letters (I only used Y O & U)
three little sticks
hot glue gun
ribbon/fabric of your choice
red and white paints
sanding block (optional)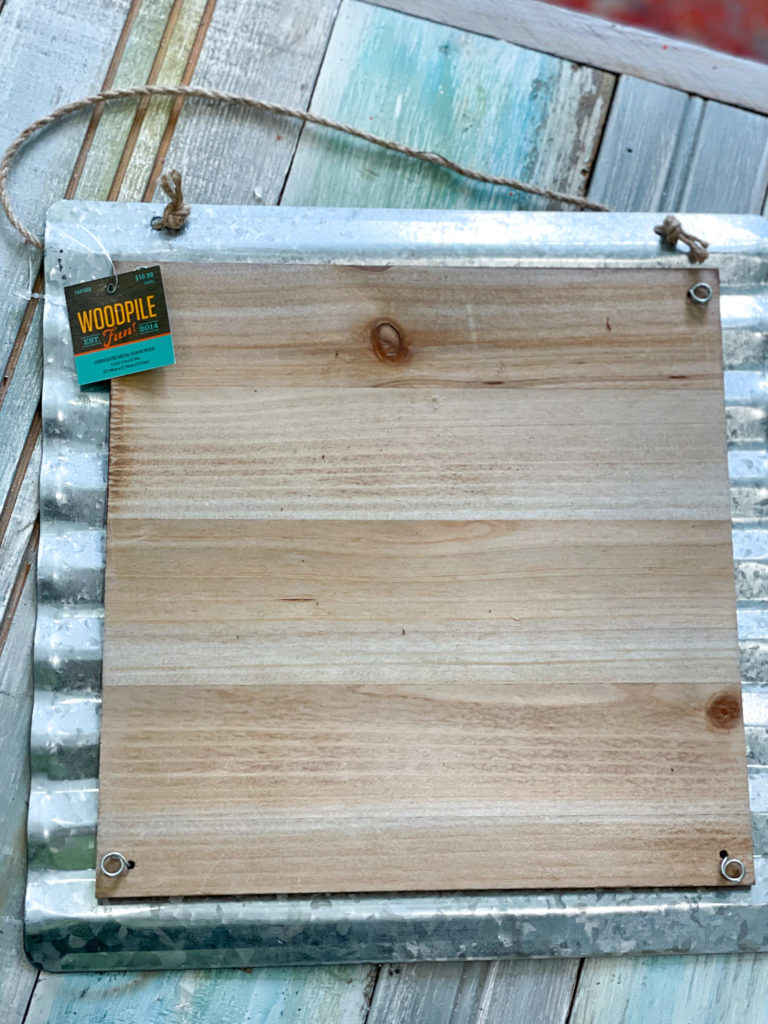 Starting off, you need to find a good sized blank sign! I found mine at Hobby Lobby for 40& off, making it roughly 6 bucks!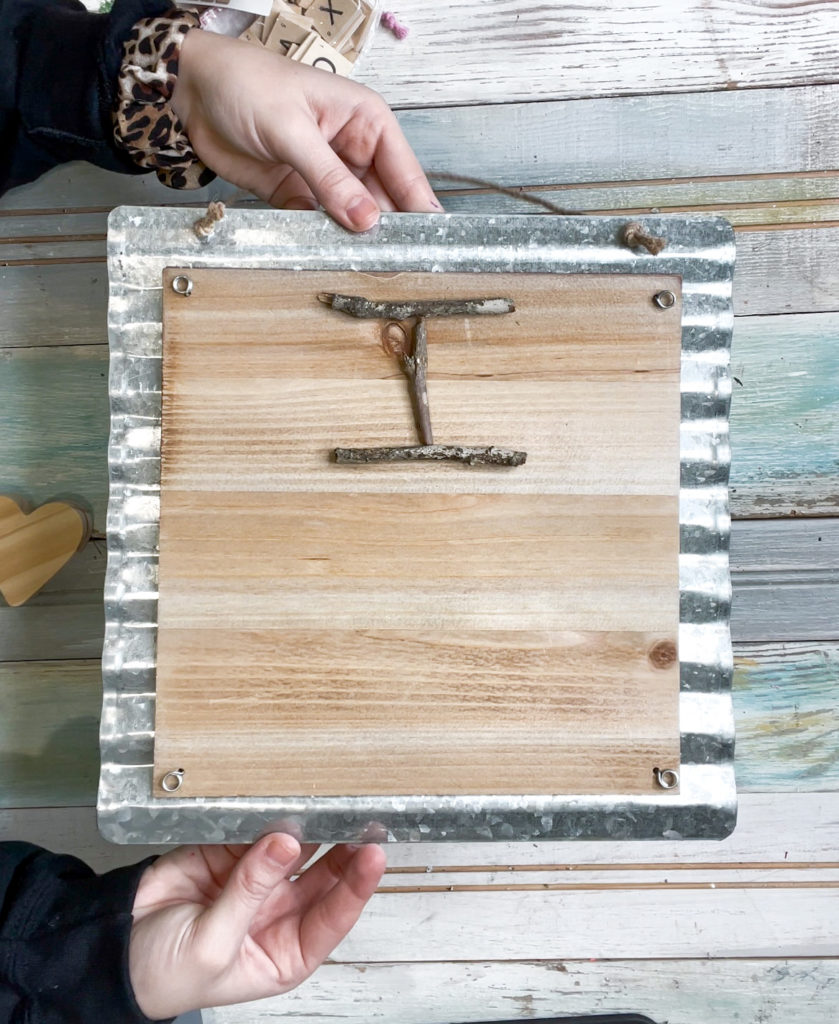 The very first think you need to do is glue on your three little sticks into the shape of an "I". You'll want to make sure it's centered so it will look right with the rest of the sign!
Next, take your mini heart (I found mine in the target dollar spot in a set of three… it was originally supposed to be a place card holder!) and paint it RED!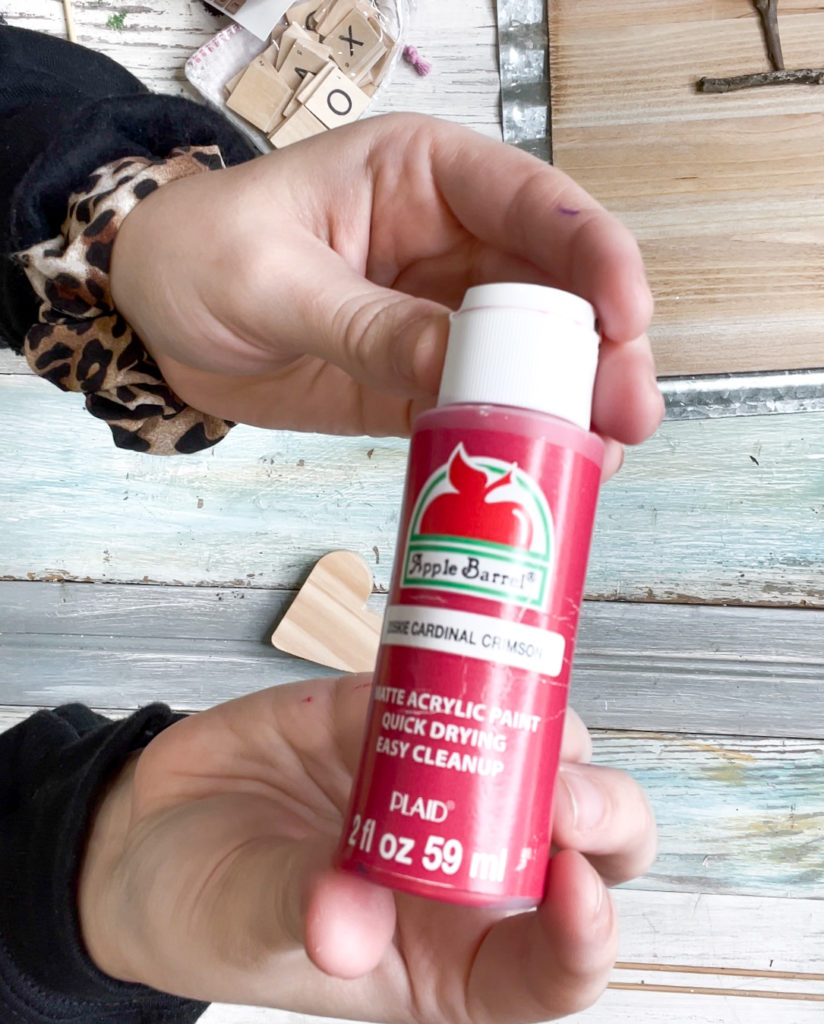 The color red I used was Cardinal Crimson by Apple Barrel Paints.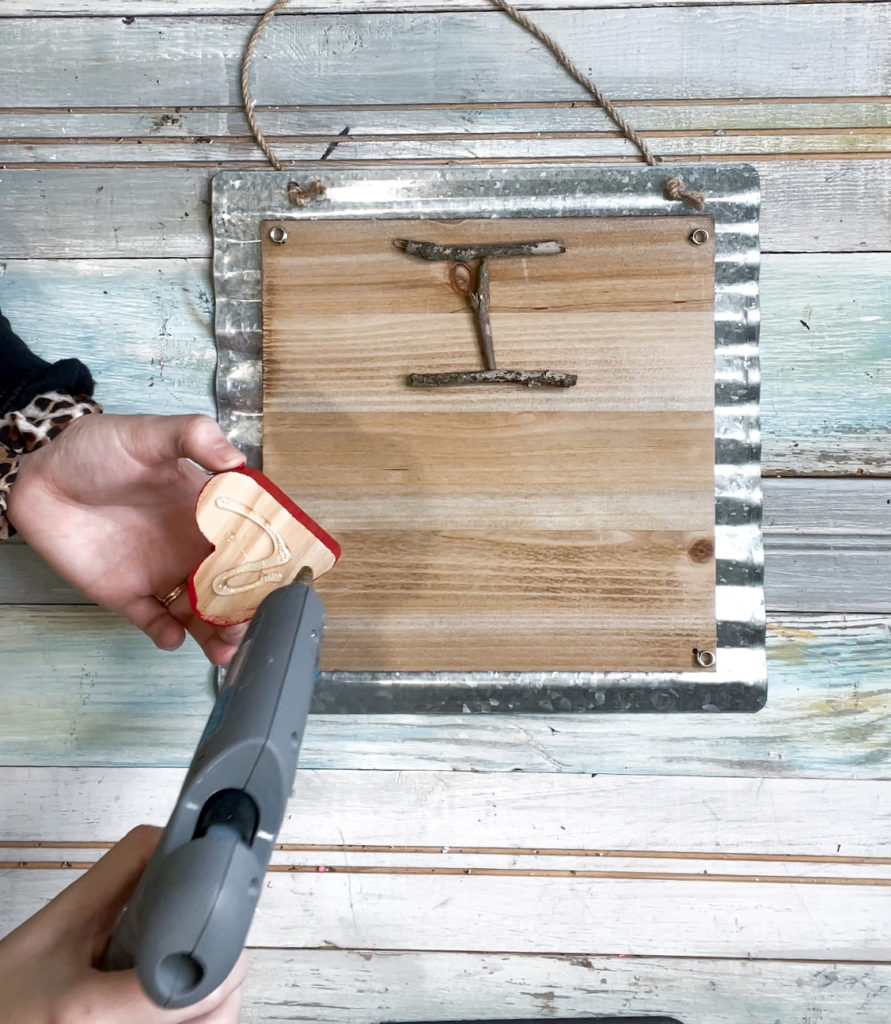 Hot glue it directly underneath your "I".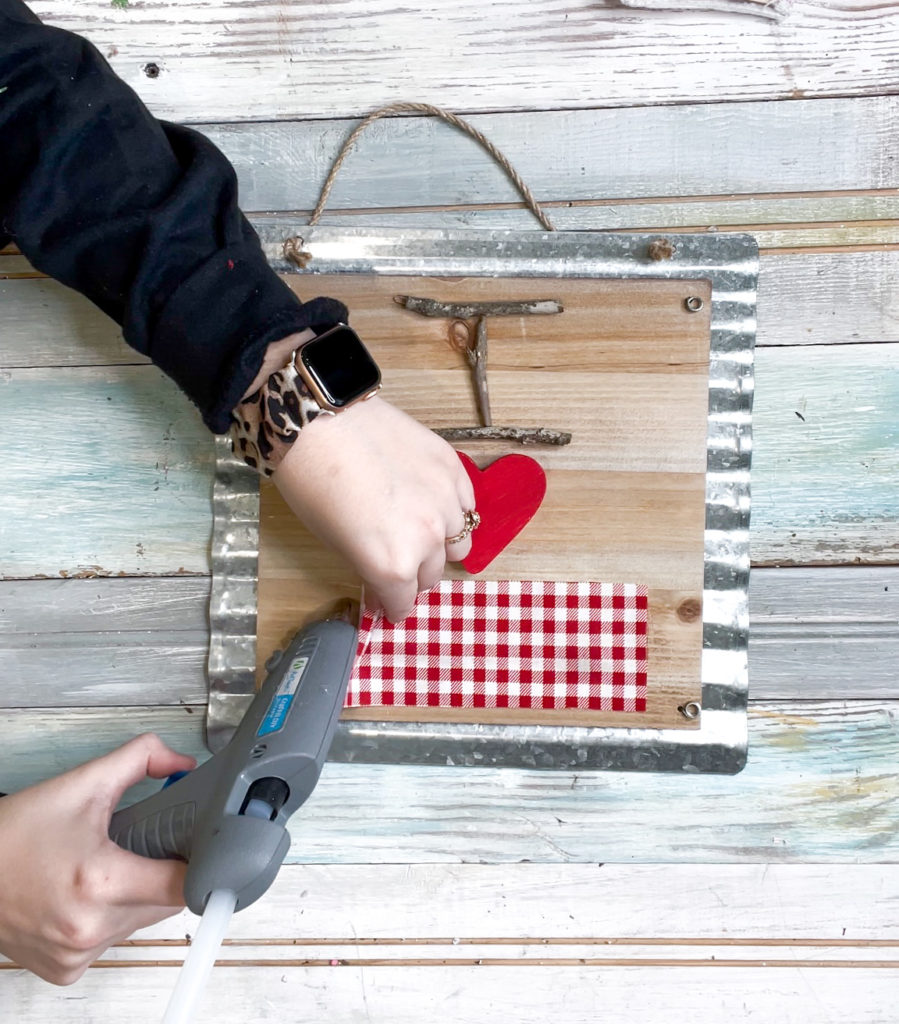 Now it's time to glue on your ribbons/fabric! I actually used a little strip of fabric for this part, but you could absolutely just use whatever ribbon you have on hand! Go ahead and glue down this piece directly under the heart.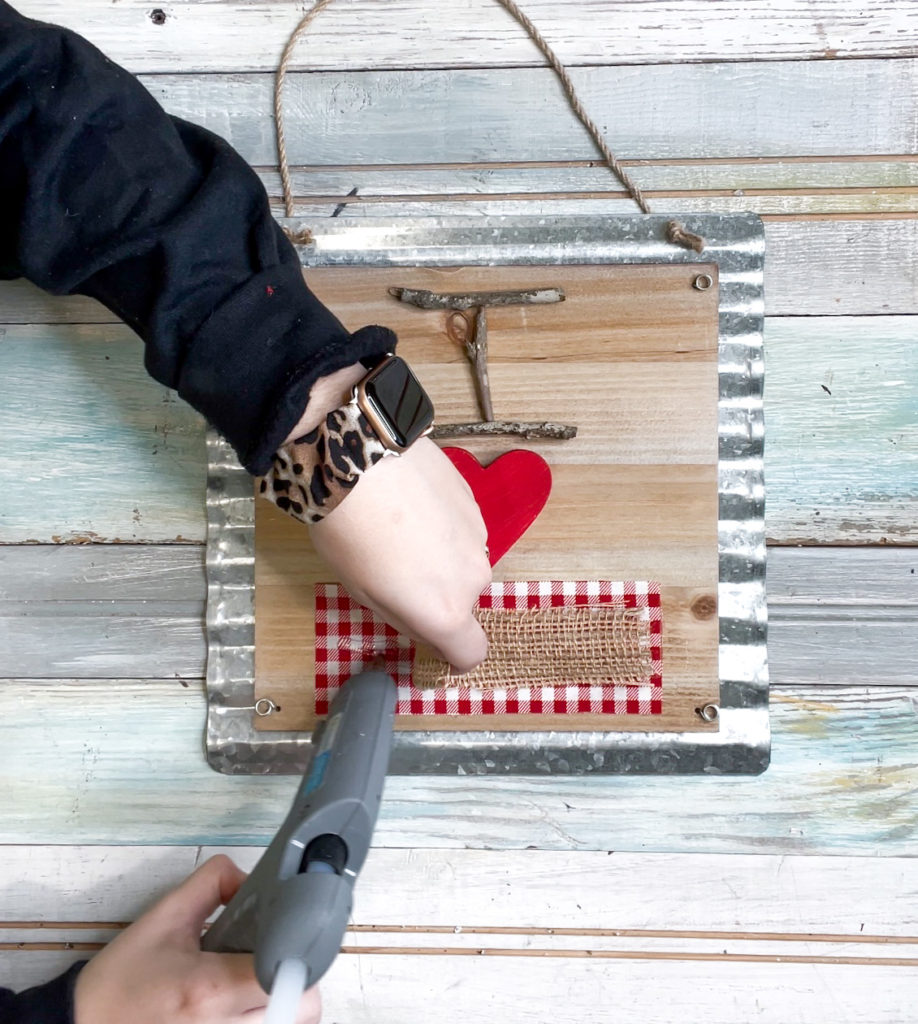 Then I decided to layer a piece of burlap on top of the fabric! You know me and my love for layering…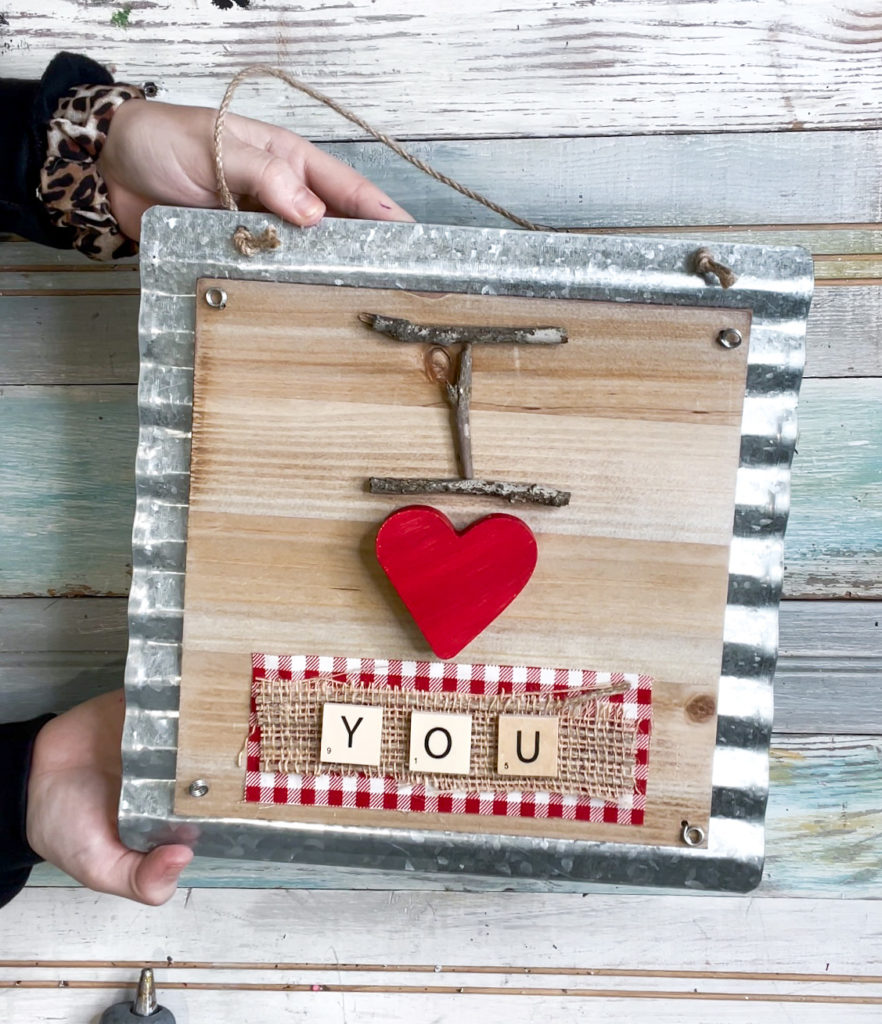 Simply glue on your Y O & U on top of the burlap! BUT WAIT… we aren't done!!!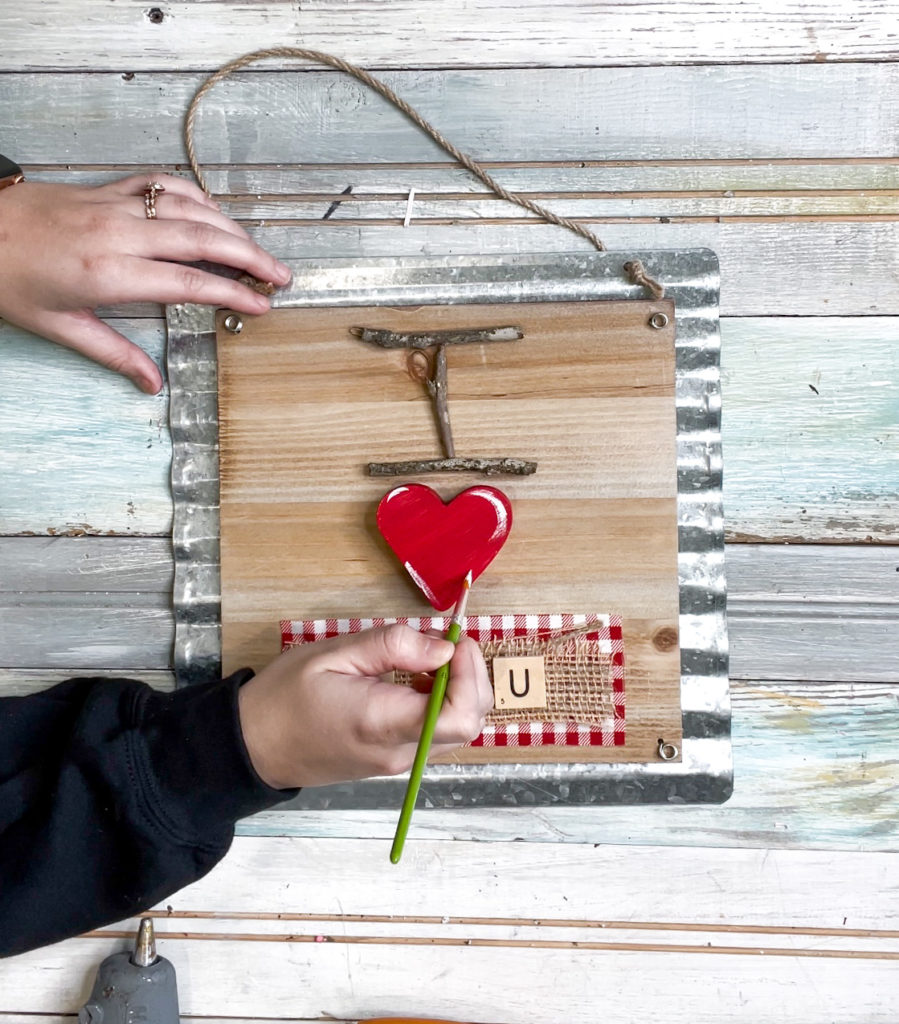 These next two steps are totally optional, but I do think they make a heck of a difference! I took some white paint and started to highlight around my heart.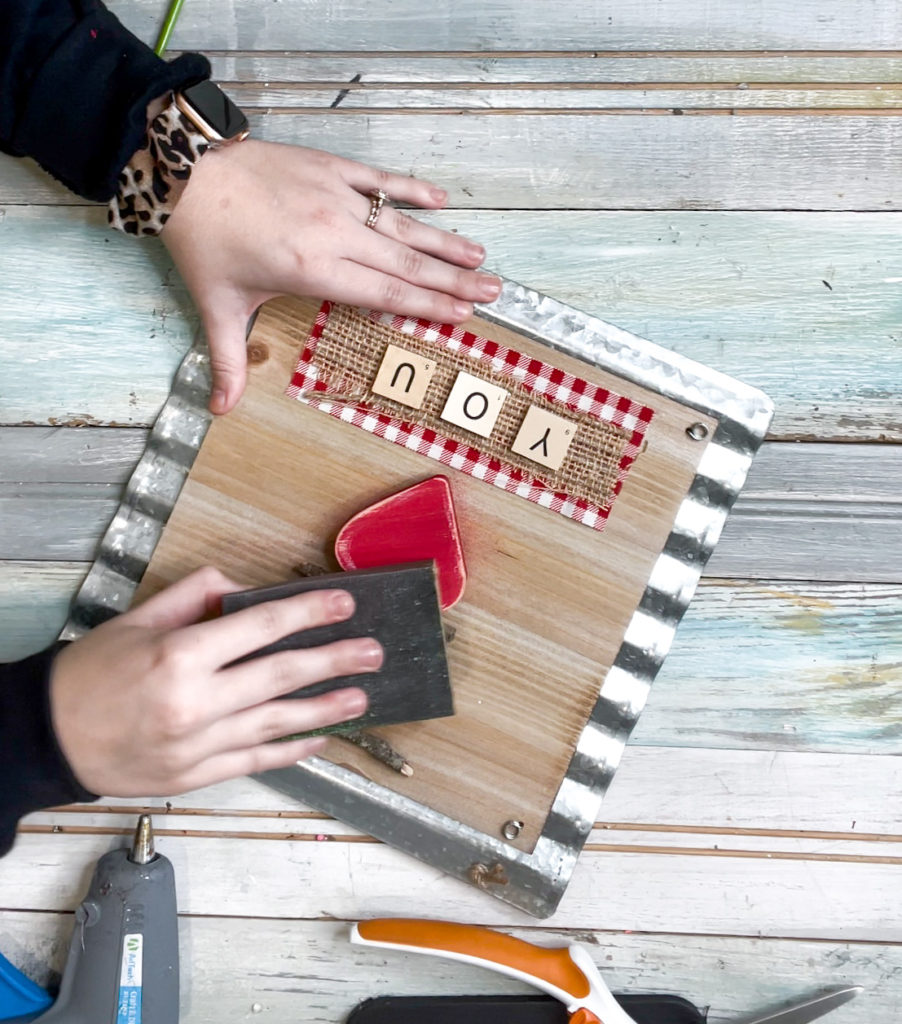 Before your white paint is done drying, take your sanding block and sand all around the edges of the heart. This way, it looks a ton more rustic and less "perfect"!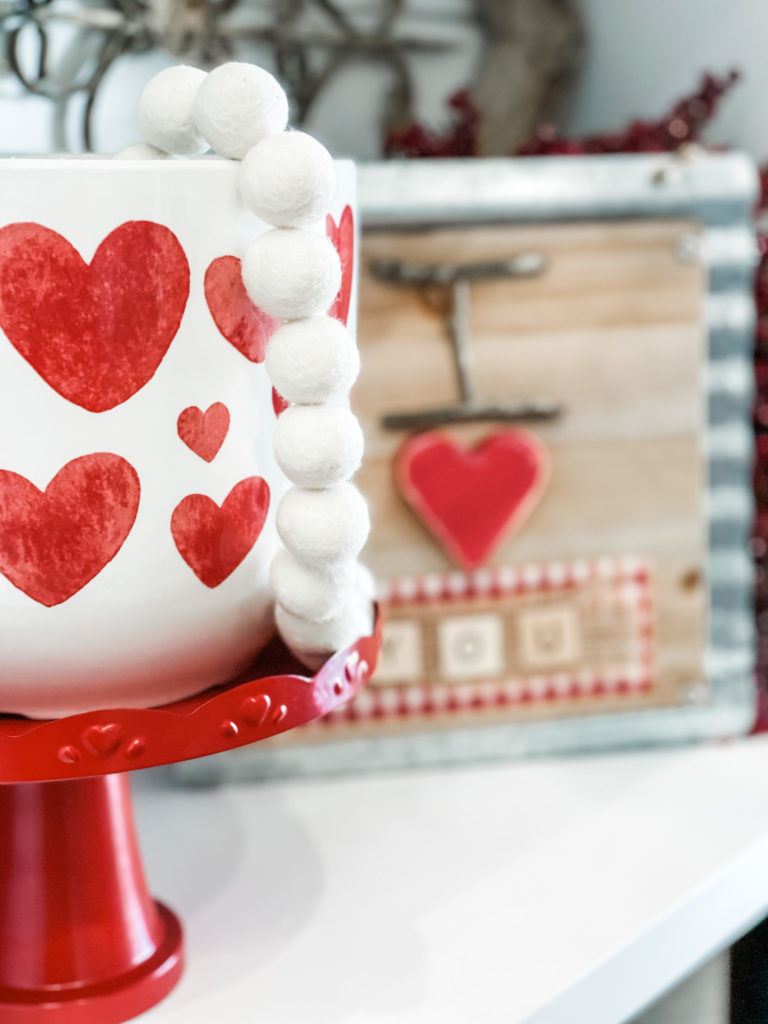 NOW we're done!!! Let's take a look!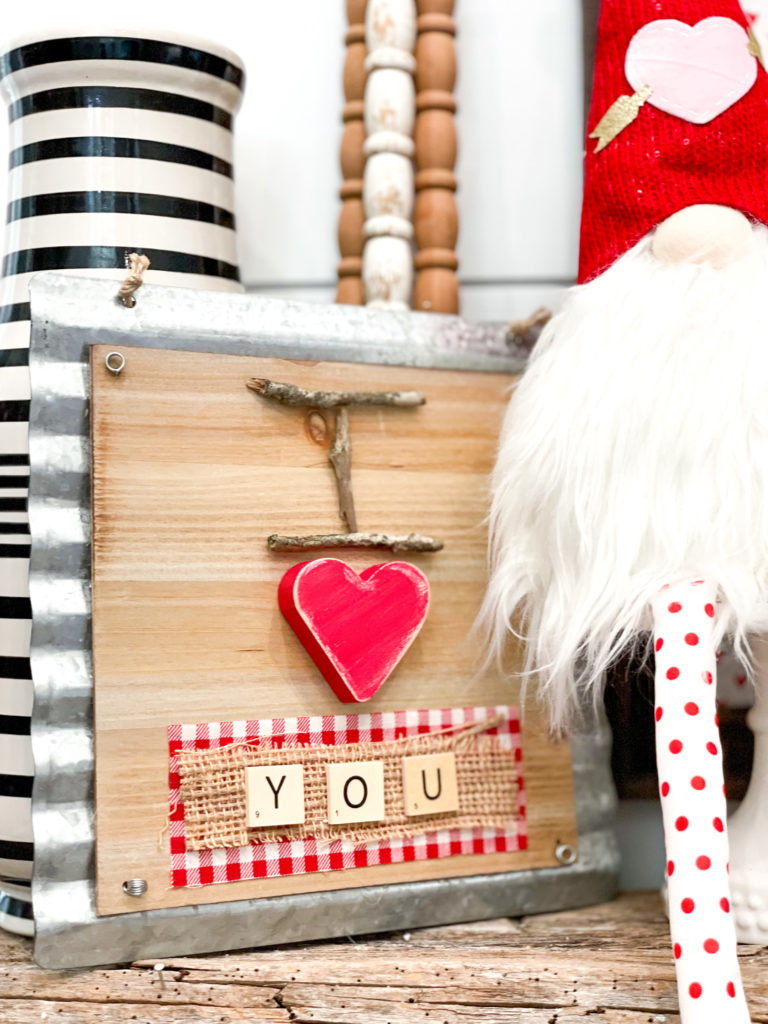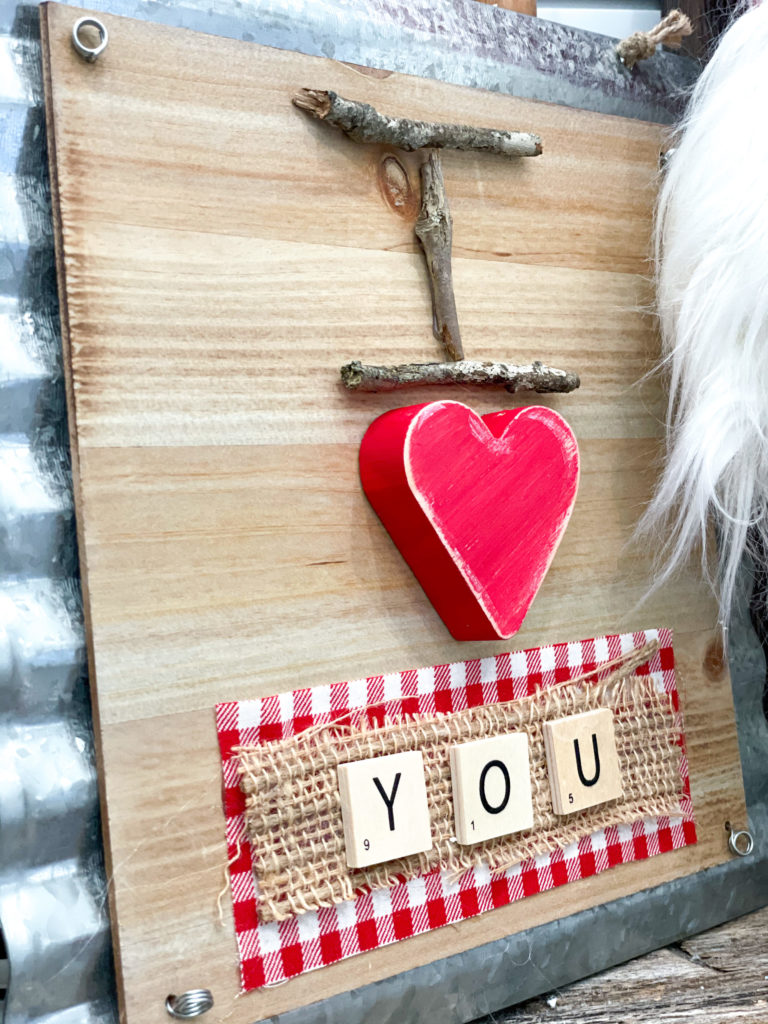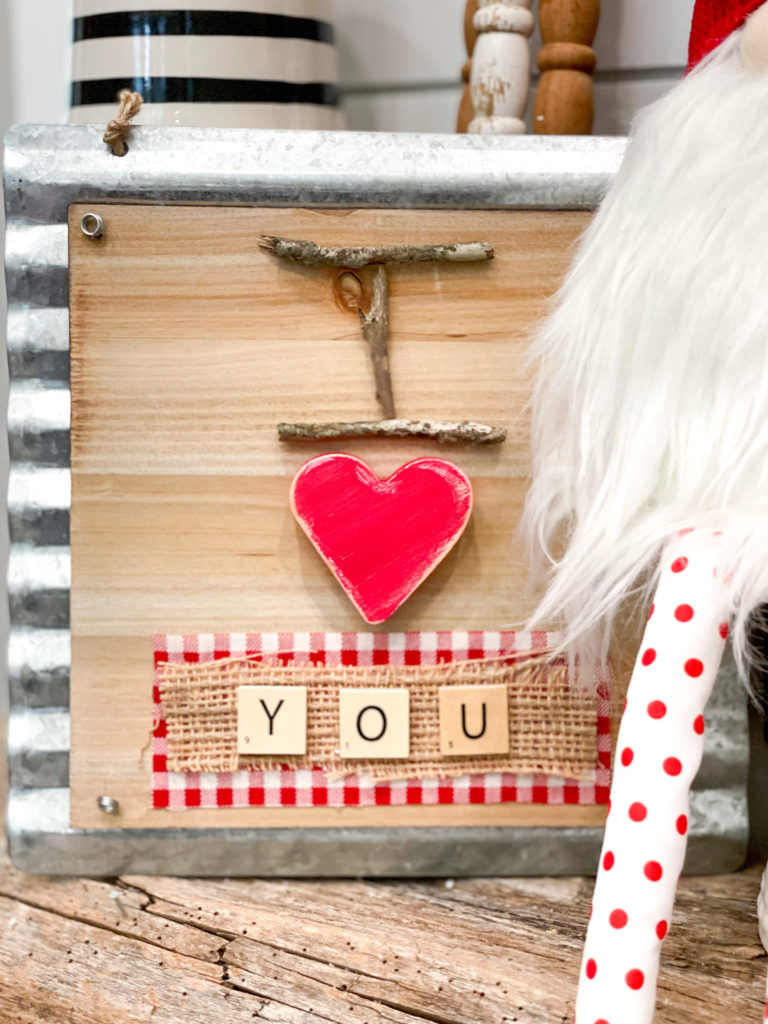 Wasn't this the easiest little Valentines sign EVER?!?! It's basically just hot gluing things onto a board… can't get much easier than that!!!
MAKE SURE TO PIN FOR LATER!