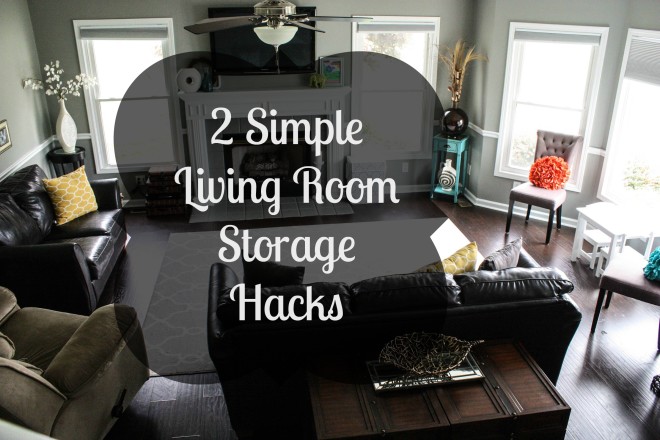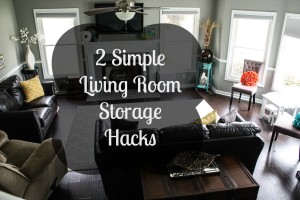 A couple of weeks ago, I showcased our re-fabbed living room (if you haven't seen that post yet, take a look!). Well, today I wanted to zone in on a couple different areas of that same living room and show you some "storage secrets"! Behind the scenes, there is so much going on that you would never know just by looking!
First of all, let me start by saying that this is a very "lived in" space. Heck, our whole house is lived in. With a 2 and 3 year old, life is CRAZY…and more times than not, there is some wild hooligan jumping off the furniture. We need to be able to contain the madness in some way, and I think we have found a couple of small easy ways to do that..if only just a little.
At first glance, these 3 suitcases look like just that…3 suitcases. They are cute enough, and I like the way they are stacked-but they are nothing super special…or are they?!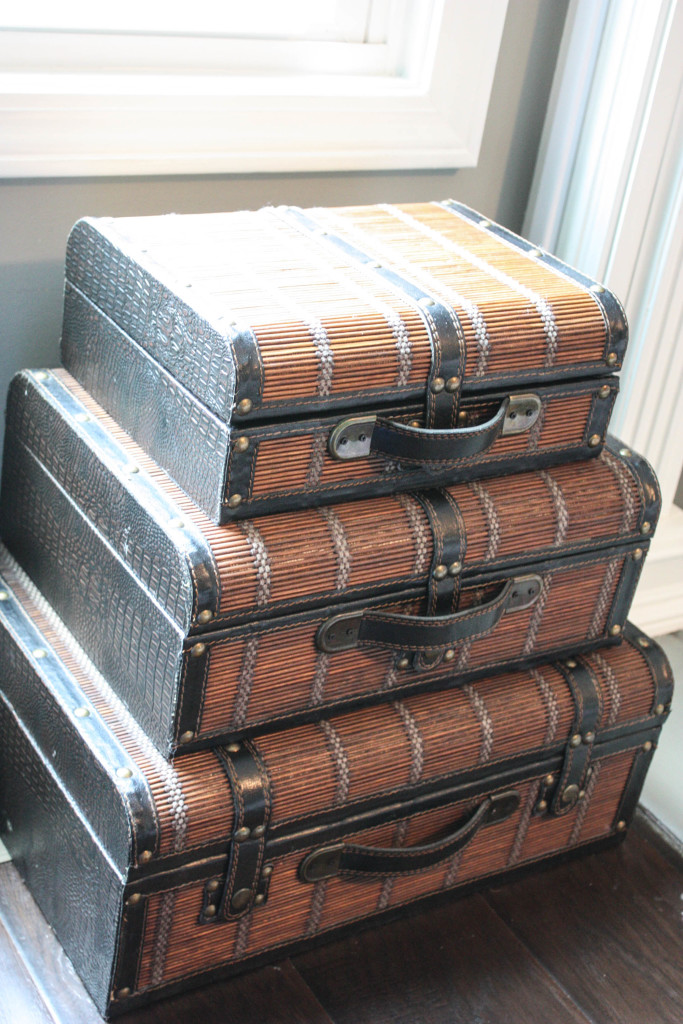 Well, actually…to me they are very special. They are what allow me to keep my sanity when it comes to the CORDS! I am a pretty laid back person, if you ask me, (you may need to avoid asking my husband) but when it comes to cord clutter, I just lose all composure. I honestly can't stand the site of cords going everywhere. When we moved into this home, we decided to put the television above the fireplace. It was basically the only place we could put it because of all the windows, and it was just the right spot anyway. It showcased the pretty fireplace, and I have always wanted a fireplace…so…it was perfect! BUT…cords were hanging all down the side of the mantle and onto the floor.
This was NOT happening. I wasn't sure what to do exactly, but I knew we needed to do something. My hubby had a great idea (yes, I do have to give him the credit for this one)! He said, "Why don't we hide the satellite receiver, cords and power strip in that big suitcase at the bottom?" Ahhh…very smart thinking hubster! I wasn't sure "how" he planned to do that, but he did 🙂 The next thing I knew, he had drilled a hole in the back of the suitcase and had all of the cords going through the back where you could not see them! (These are old suitcases that I found forever ago…and I didn't mind them having a hole) Brilliant! Everything was placed in the suitcase, cords stuck through the back and it was closed. You would NEVER know it was housing such a mess of clutter!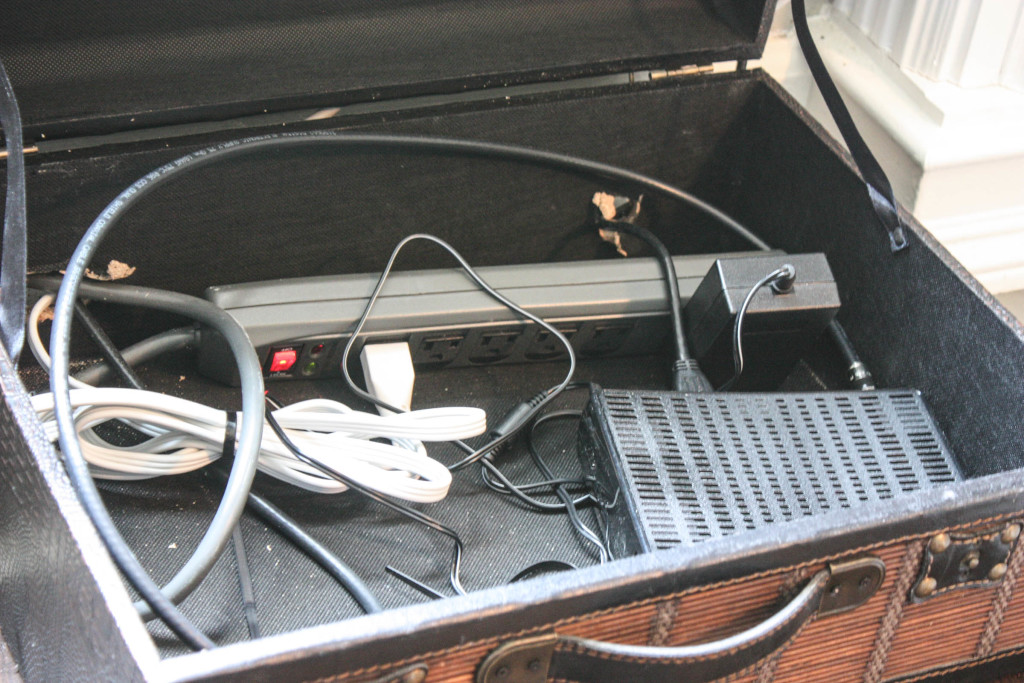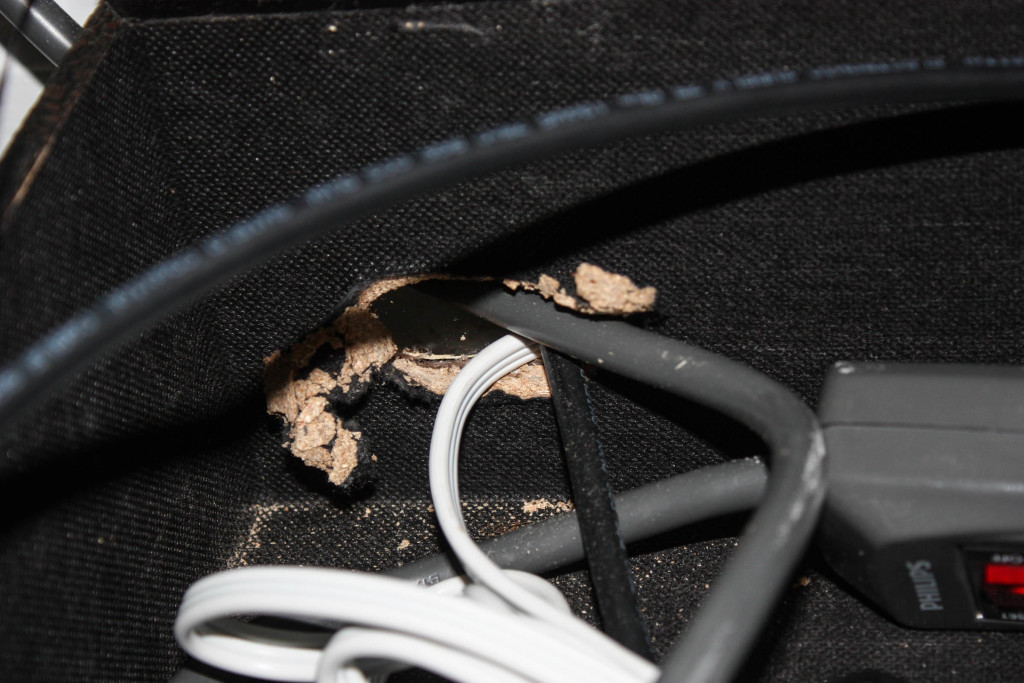 I know this is not "pretty" by any stretch…but nobody can see this hole (it is only in the largest suitcase), and there would never be a reason for anyone to have to in the future. It is easily hidden and is usually flush against a wall. Even if I decided to get rid of them at some point, I have hardly anything invested, so to me…this is a win win!
You may be wondering what happened to the cords that were actually running down the side of the mantle? Well, we concealed those as well!
Brandon went to Lowe's and bought some cord covers (there are tons of different kinds you can use), and he simply put the cords inside and ran it down the side of the mantle.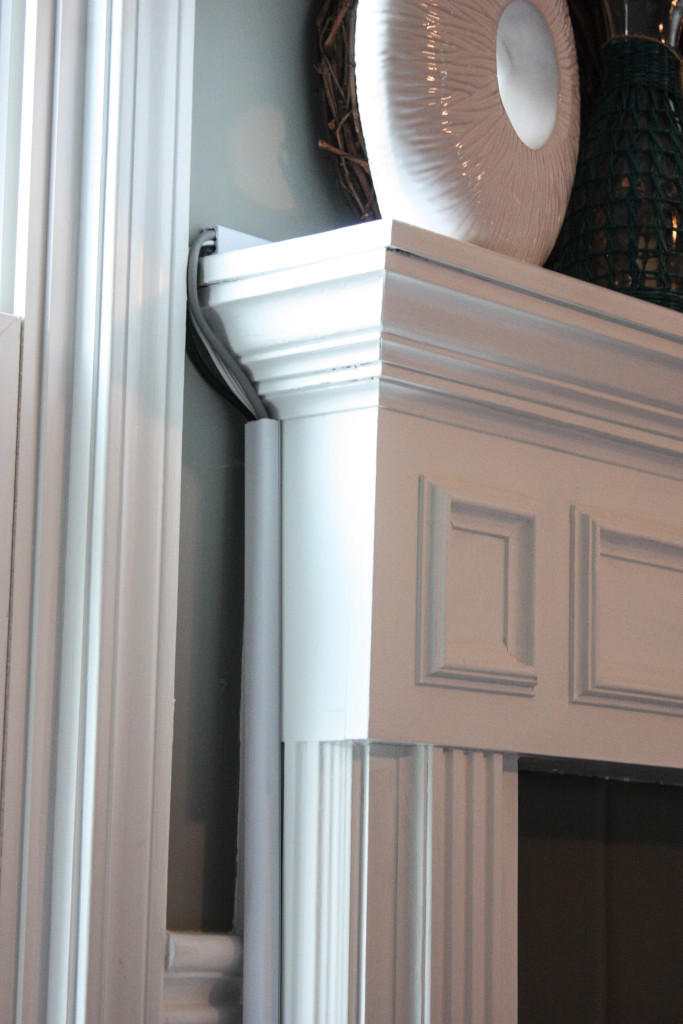 With the nice clean lines, you honestly never even realize they are there! That makes this mama HAPPY!
The second trick (well, now that I think about it…this is actually the third! I guess you are getting 3 for the price of 2 today! ha!) I wanted to share for storage is the laundry basket. You may be thinking, laundry basket?! I didn't see a laundry basket anywhere. Well, I hope that is what you are thinking because that means I have done what I had hoped I would do…conceal the fact that this is indeed a laundry basket!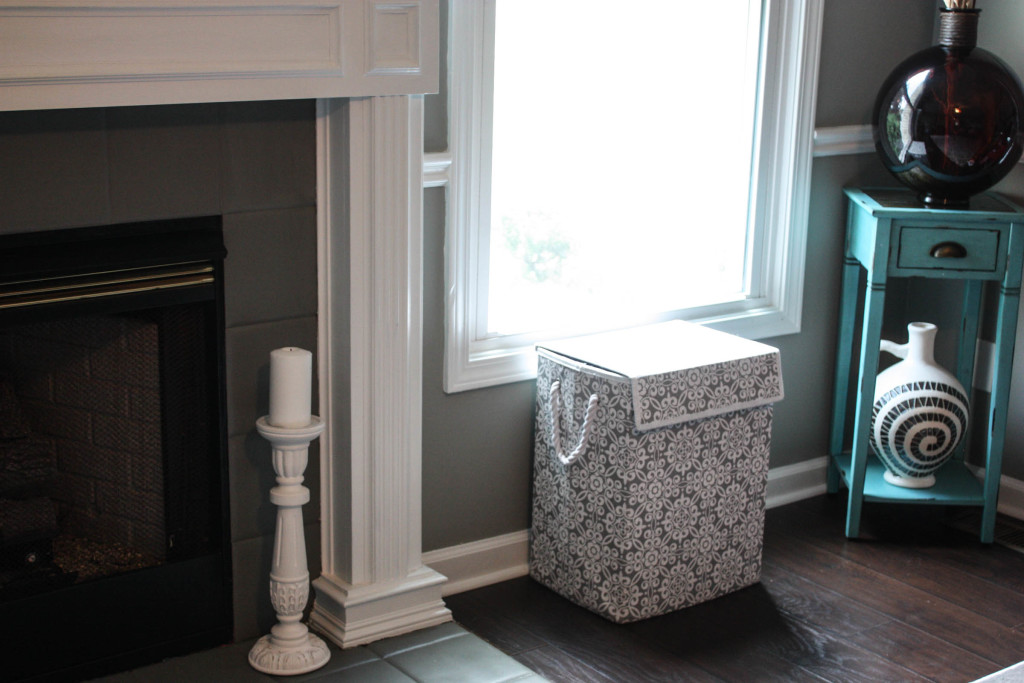 While shopping at my favorite store- TJ Maxx…I came across this laundry basket for $19.99 and loved the look of it. I loved the size, and I loved the color. More than anything, I loved that it had a "lid"! I knew I wouldn't use it for a laundry basket in the traditional sense, but I knew I could use it for something else…toys! With 2 wild kids running around like crazy people all the time, toys are everywhere…and yes, I do mean everywhere! Like I said, this is a very lived in home! I love for them to have fun and play, but at the end of the day- I also want to be able to have their toys out of sight and out of mind.
This basket is housing LOTS of fun toys~but you would never know it just by looking! (This is Harry the Hippo…perhaps Eden's favorite stuffed animal!)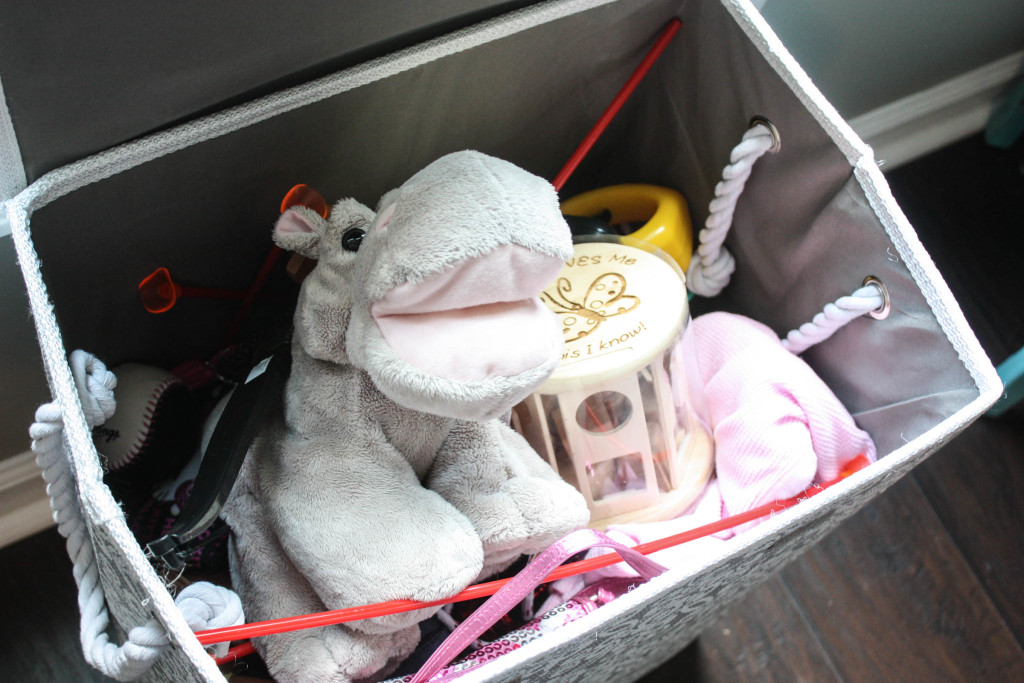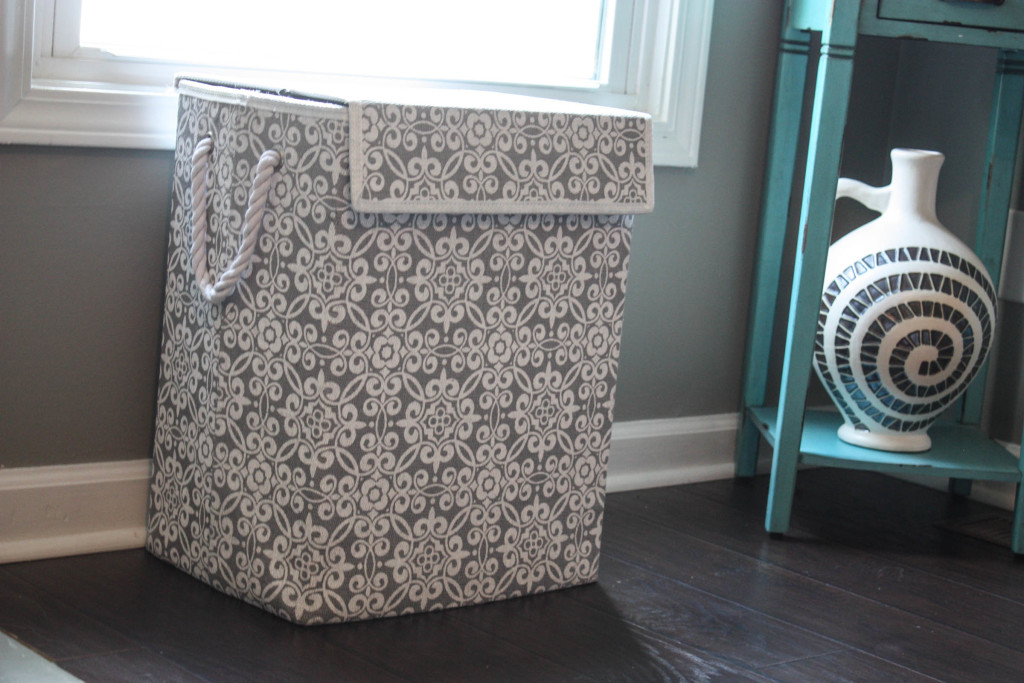 What I hope you gain from this post is that you can pretty much make whatever you already have on hand work for you. You may have to get a little creative, like drilling holes in the back of your old suitcase…but in the end, you can have the ultimate function AND look that you desire 🙂
And just one look at the overall room, in case you haven't seen it before!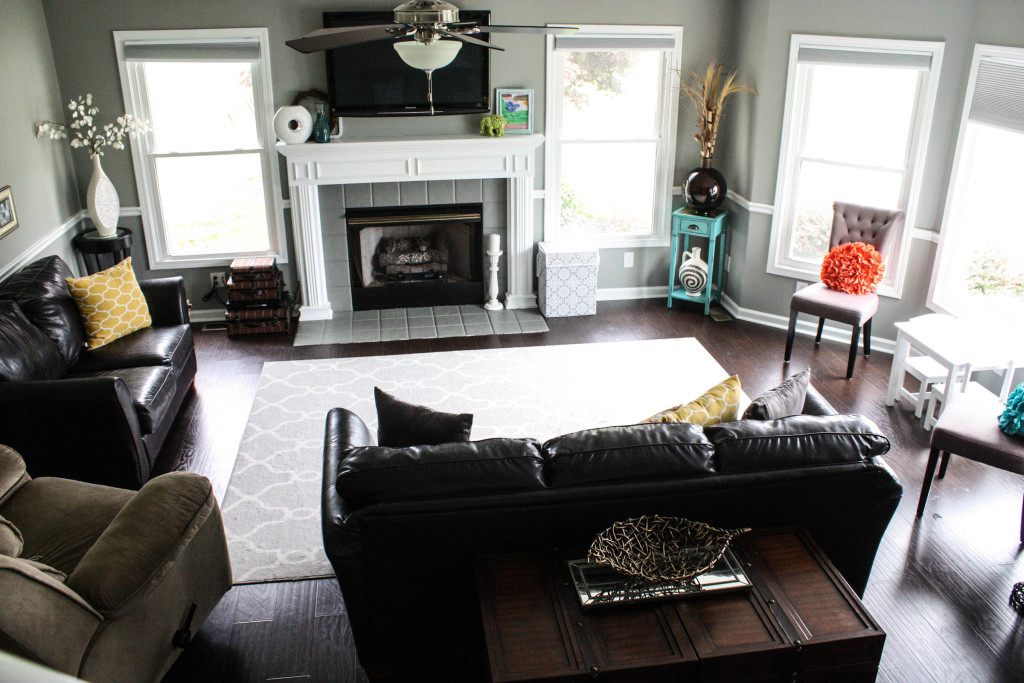 Pin it for later!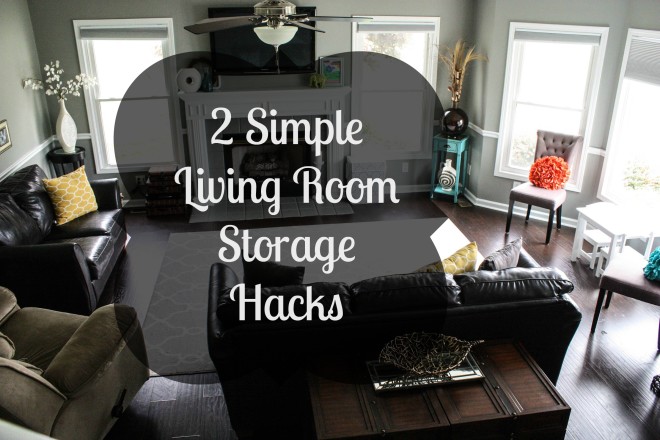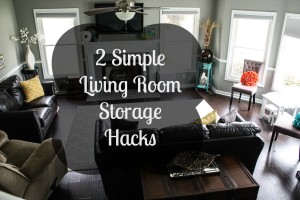 Linking up at:
http://www.frommyfrontporchtoyours.com