Hello, everybody! I literally could not wait to show y'all my current Valentine
coffee bar! I will do my very best to let you know where all these adorable pieces
came from, but if I leave something out and you need to know… TEXT ME! I'm
happy to answer questions about where I found these Valentine treasures!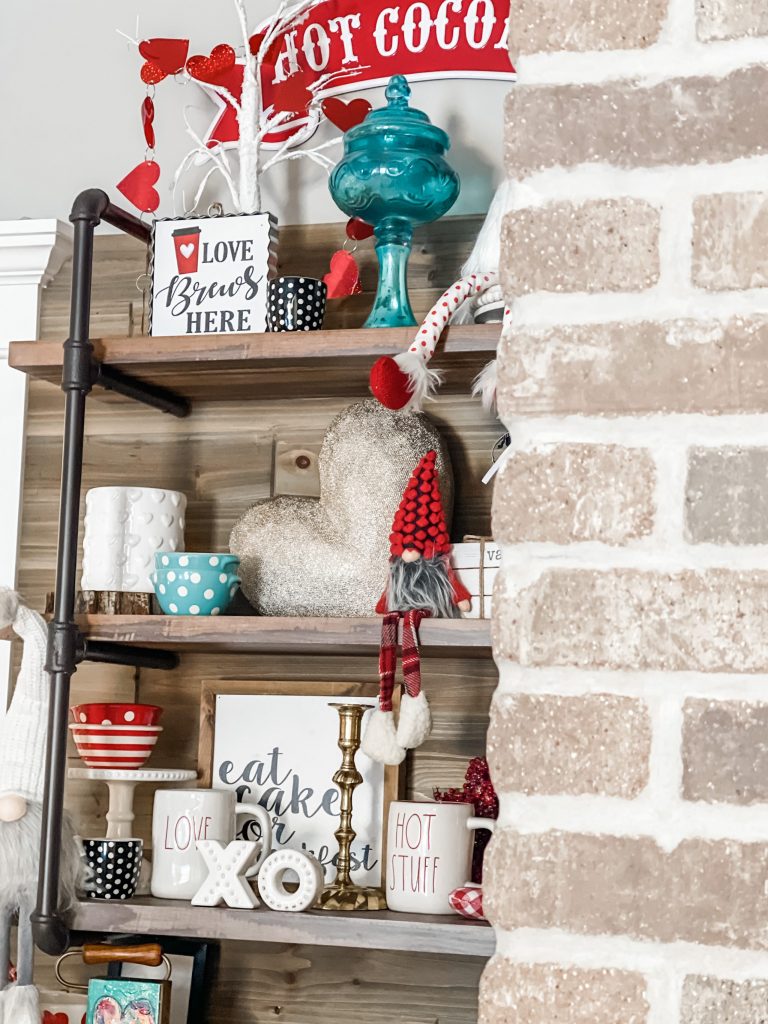 Let's start with these super cute XO salt and pepper shakers. You read that right!
Salt and pepper shakers!! Aren't they the cutest with that little hobnail texture??
I'm almost positive I picked them up at a Burke's Outlet. They are SO SWEET as a
decoration for Valentine's!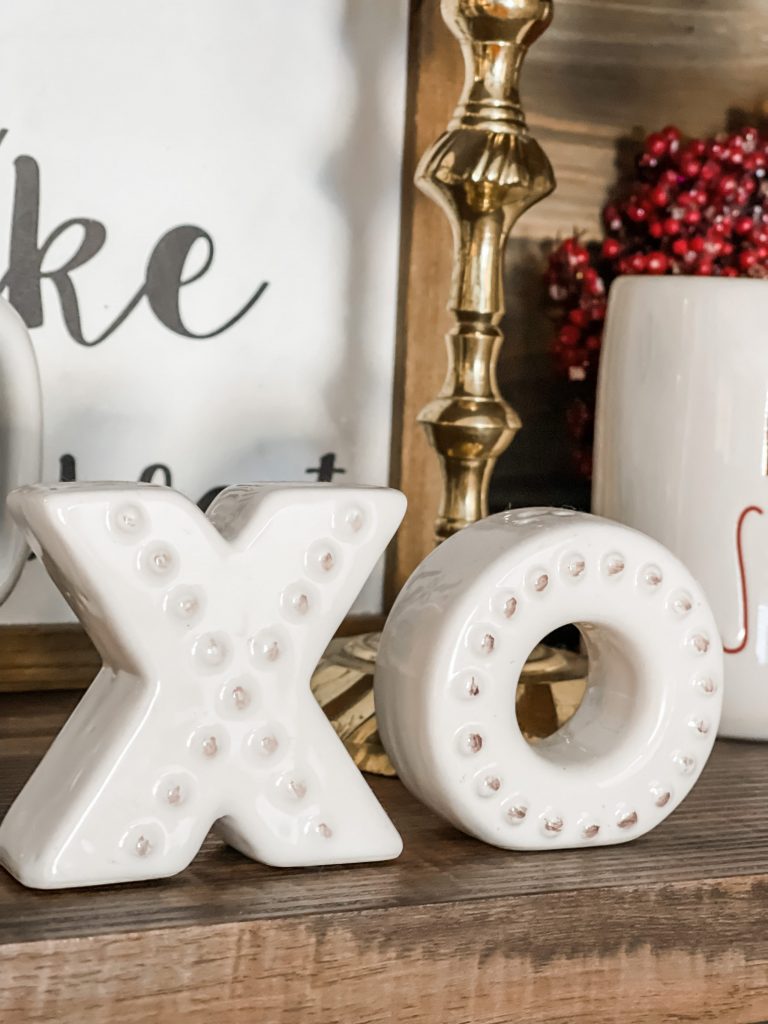 If you've been here for a bit, you know how much I LOVE all things Rae Dunn! But
what you might NOT know is that while Rae Dunn pottery isn't THAT different
from other pottery, she embraces the beauty of imperfection in her pieces…
which could be its own blog post for another day…The Beauty of Imperfection!
Anyway, you won't be surprised to see the Rae Dunn mugs and canisters
throughout the whole display! Some of those I bought at TJ Maxx or from friends
on Facebook. I love to find a good Facebook bargain, don't you?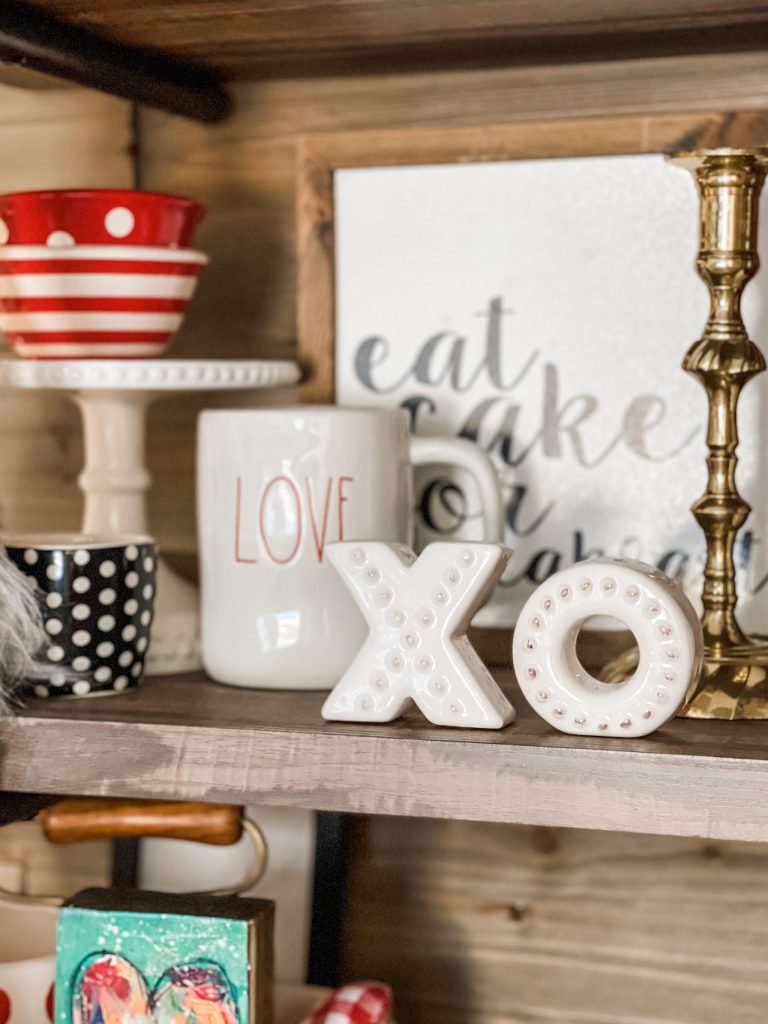 Let's talk about my Gnomes! Y'all already KNOW. I am in LOVE with those little
guys! They make me so happy! That little guy in the black and red hat is a treasure
I got on our last vacation in Winter Park, Colorado. My favorite souvenirs are
things like that, and every time I bring it out to use in my décor I'm reminded of
that wonderful adventure with my family! That bigger gnome on the top shelf was
a TJ Maxx find, and so was the gray gnome hanging out right above my tiered
tray. I always have the best luck finding little treasures at TJ Maxx! Never pass up
an opportunity to go there if you have some time to kill!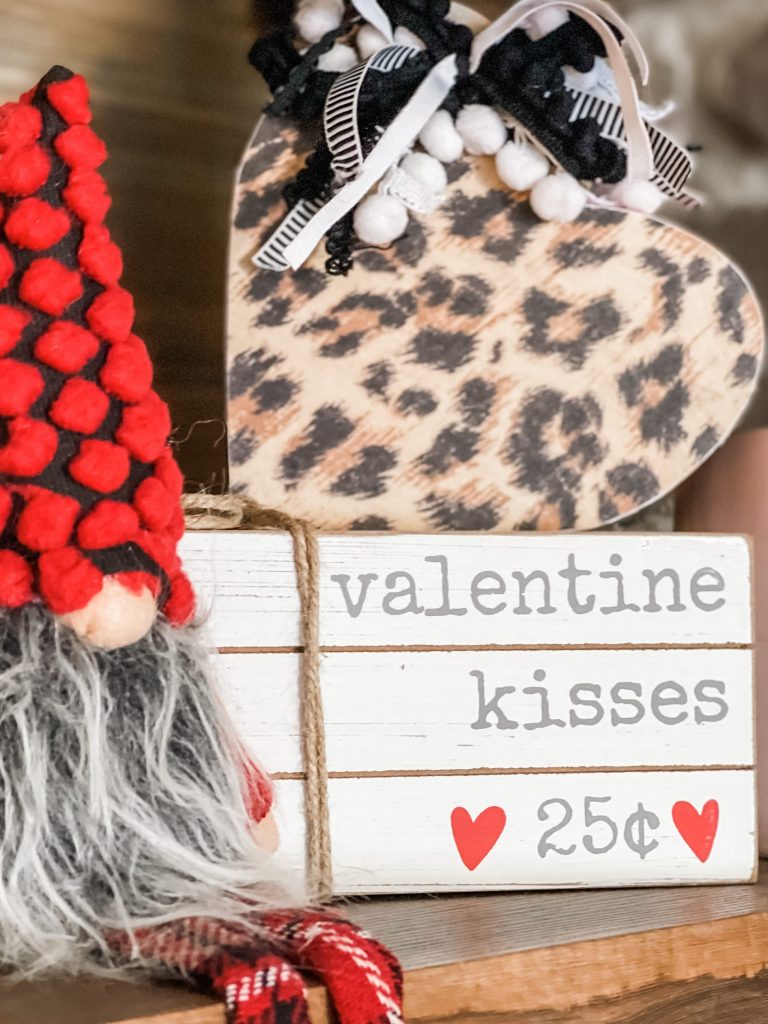 I love that Eat Cake For Breakfast sign SOOOO much! I found that at Hobby Lobby
and thought to myself… is that not GREAT advice? Life is so short… eat the cake
whenever you want!

That sweet little wooden heart block on my tiered tray is a hand painted treasure
by my friend MandyMade Designs. Is it not PERFECT?? She has a Facebook page
and if you're not following her… what are you waiting for?? She is an amazing
painter and SO stinking sweet! I love to decorate with her pieces!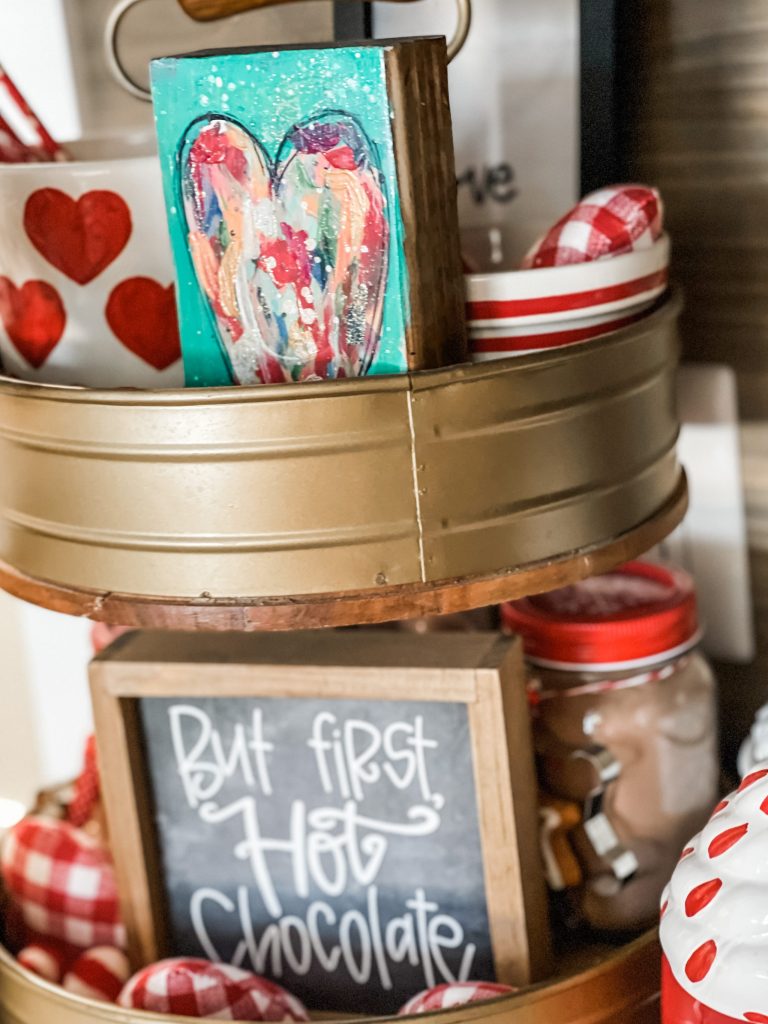 You may remember that leopard heart sitting on top of the Valentine books from
a DIY I did on a live! I bought a couple of super cute wooden conversation hearts
for ONE DOLLAR at the Dollar Tree and then gave them a little makeover! Y'all
know how I feel about all things leopard print, so I sure did cover that heart with
leopard scrapbook paper and added a bow! I loved how it turned out! I thought it
looked perfect propped on top of that wooden stack of books that I picked up at
Home Goods.
Here is the pic one more time for reference!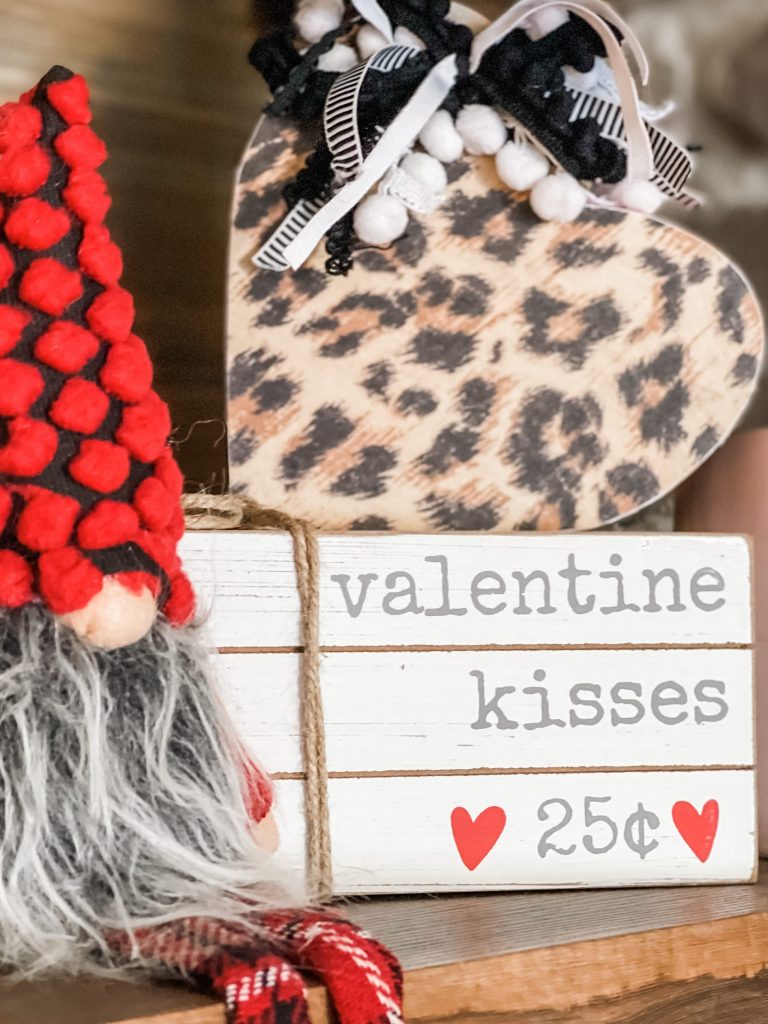 The shelf sitter with the three hearts is another DIY I shared here on the blog,
using a wood block from my stash. This was my first attempt at trying gel medium
to add texture to my acrylic paint. I love how it turned out so much that it found a
spot right next to my tiered tray on this year's coffee bar!

I wish so much I could remember where I found that 'Love Brews Here' sign so
that you could try to find one too, but I just can't! I love it so much and it's the
perfect addition to the coffee bar for Valentine's! I love it right in front of that
frosty white winter tree- and y'all, I can't remember where it came from either! –
but it is perfect for cold weather decorating! Isn't the super cute red heart
garland draped across the tree perfect, though?? I do remember I got it last year
at the Dollar Tree! What a great find for a dollar!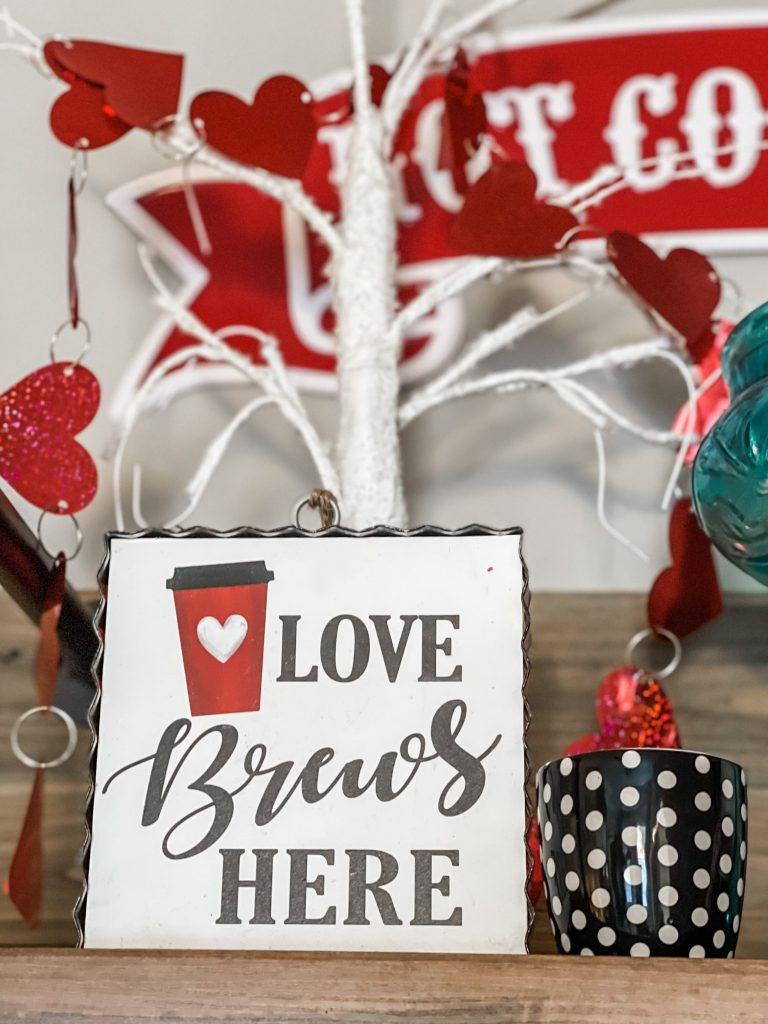 Pictures can't even capture the fabulousness of that sparkly silver heart placed
behind my little red gnome. I picked that up at Home Goods and I just KNEW I
would find a perfect place for it… and I did!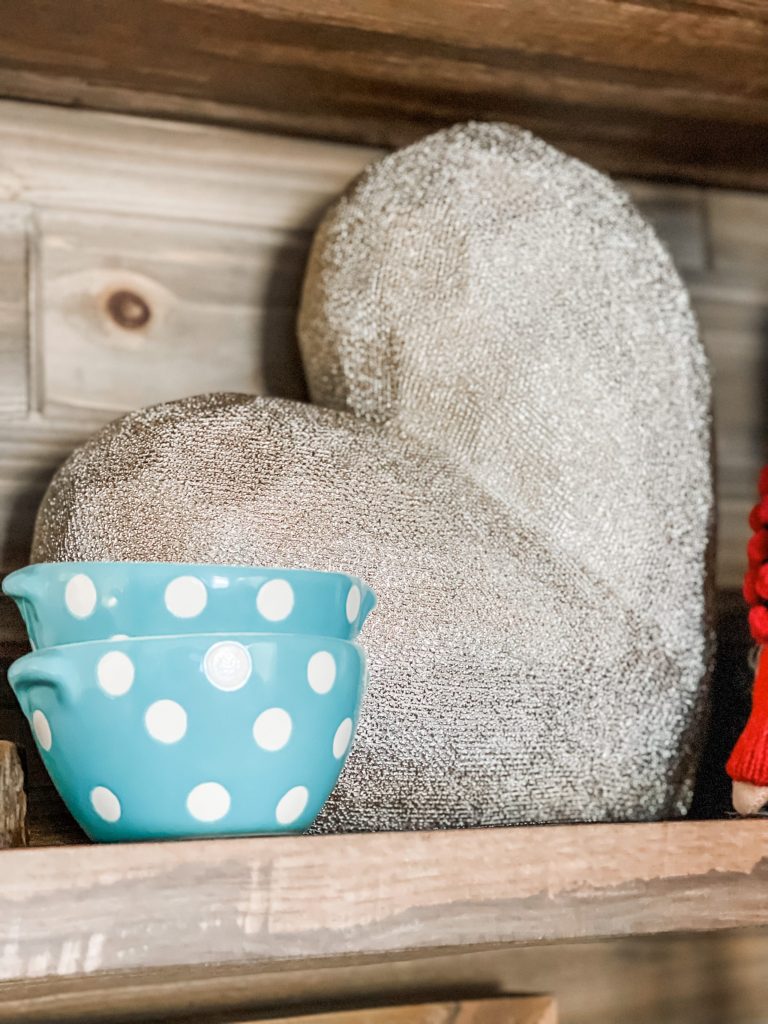 Last, but certainly not least, y'all know I'm going to find a place for anything aqua
when I have the chance because it's just my FAVORITE. I especially love it with
red, so I was so happy to use those little aqua bowls with the white polka dots
because they are the perfect accent color and because they were a gift from a
follower which makes them extra special!

Thank you SO MUCH for spending some time with me and checking out this year's
Valentine Coffee Bar! I hope you love it as much as I do! Hope to see y'all soon, but until then XOXO!!!
Pin for later!