There is a place about 5 miles from my house called "Anything Goes". This place is a slice of heaven for someone who loves to go "junkin'"! You can find any and everything there, but you have to be willing to look. There is so many things laying around outside, that sometimes, it can be quite overwhelming! When I pull up, I get excited. I love places like this because you never know what you will find! It is awesome!
Well, this past week, I ran by there before taking the kids to the park, and while browsing through piles of junk, I found something that stood out. I wasn't sure what it was, and it was just laying on the ground with dirt on it. When I picked it up, I could tell it was probably a piece that had been on a piece of furniture at some point. I knew I had to have it. The detailing was just gorgeous. It wasn't real wood, so it was really light, and I knew I could eventually hang it on a wall or just use it on a shelf as a decorative piece.
Here it is! Can you see why I got so excited? And the best part, well…it was practically free. I got another awesome find that same day for $10, so this was basically just a free add on! WINNER!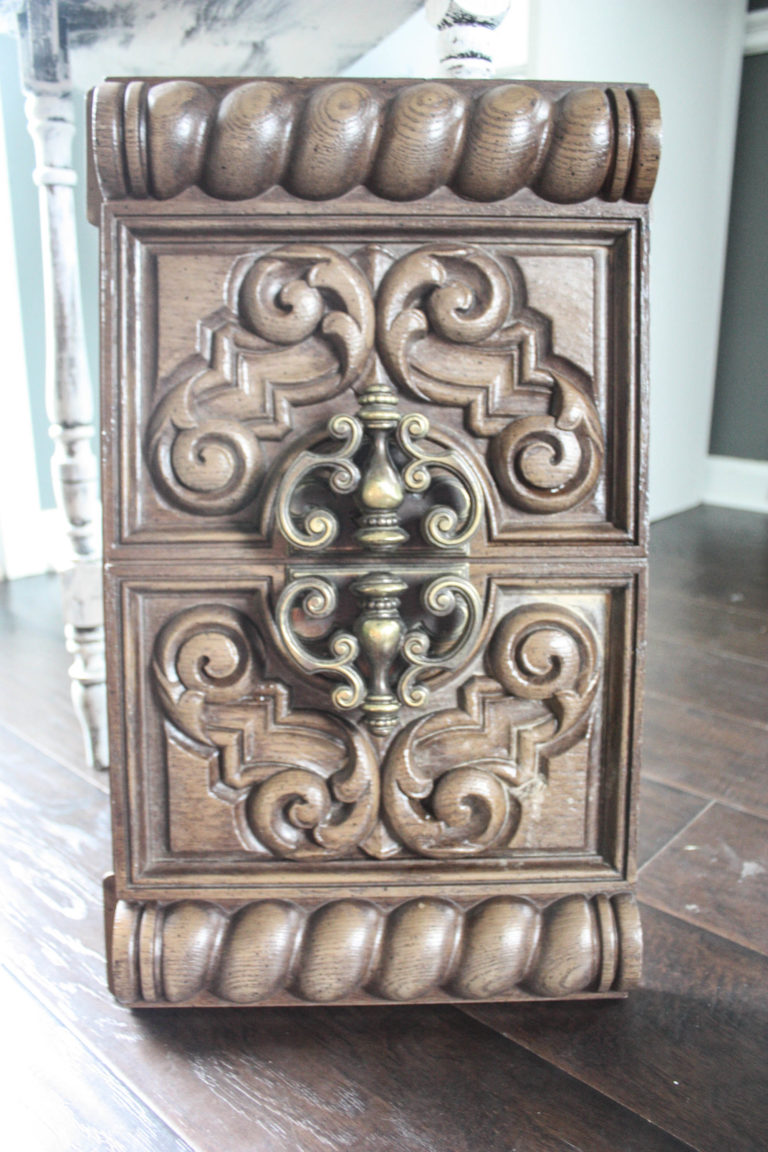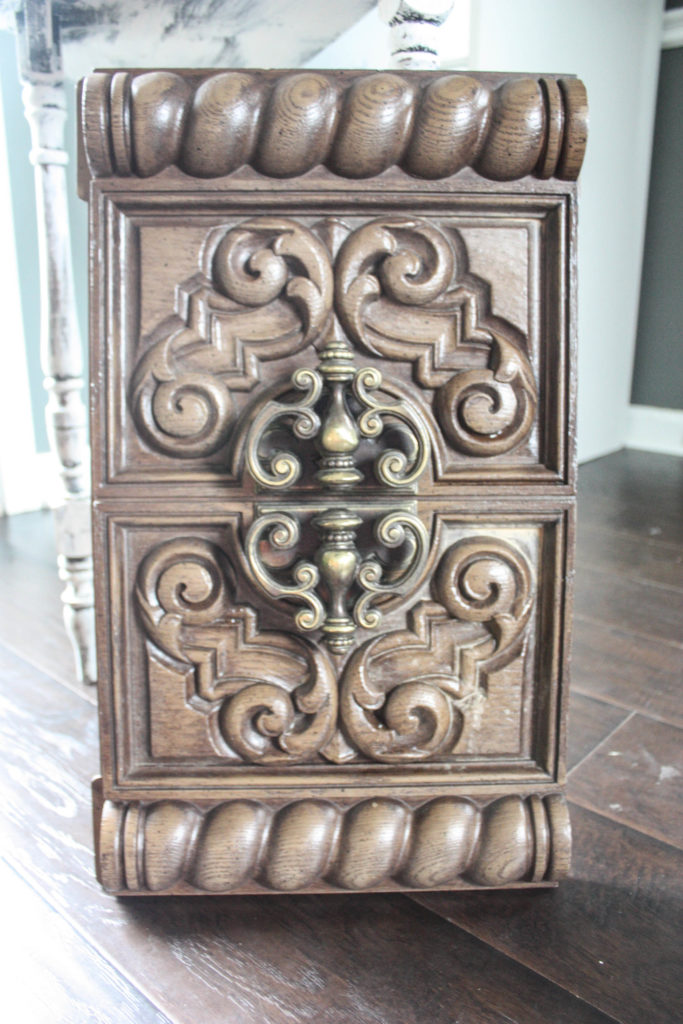 Now, this one of those times that I wish I could give step by step instructions on how I ended up with the finished result once I decided to paint this bad boy…but alas, I will have a hard time doing that. Why? Well, I am not a conventional painter. I'm serious. I literally just keeping adding colors until I get the look I want, and that makes it very  hard to explain! I also didn't take pictures of every single picture. BAD. BLOGGER. MOMENT.
But, I will do my best to talk you through the process!
After removing the handles with a screw driver (they came off easily), I laid this piece on a trash bag in my office and started painting. I had in my mind that I wanted this to be a pretty mint green color with gray handles. Doesn't that sound pretty? Well, I have enough paint to choke a mule around here, so I just went to my stash and pulled some leftoever mint out, an old chip brush, and got to work.
Here it is after 2 rough coats: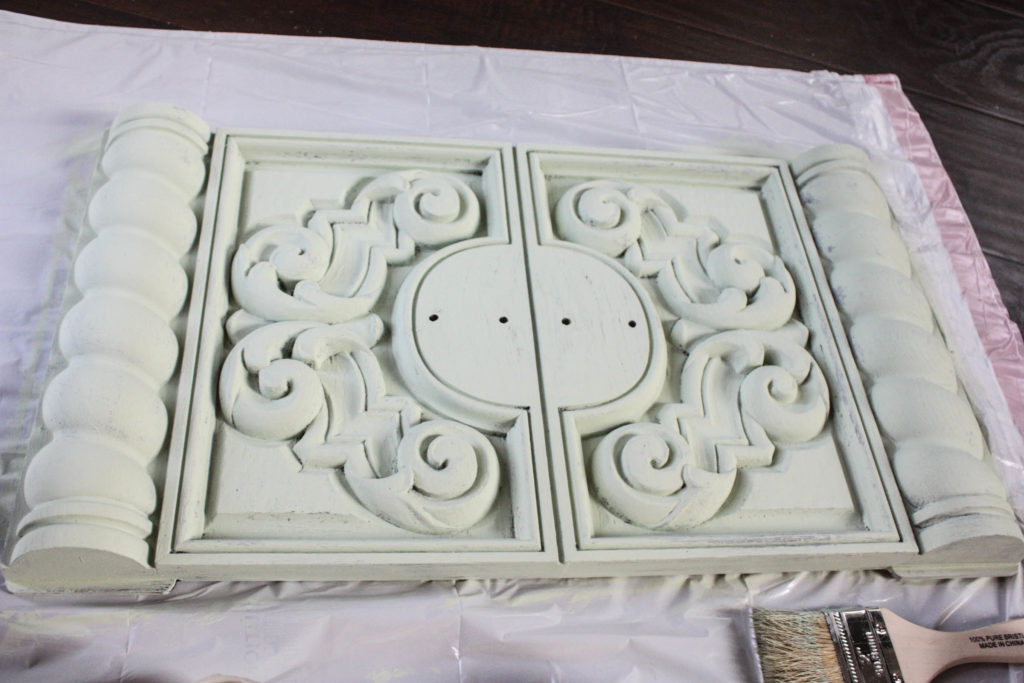 I wasn't trying for perfection, just some decent coverage.
While this was drying, I took the handles outside and sprayed the handles with my gray spray paint! It didn't take 15 second to do this part. I LOVE SPRAY PAINT!
(Here is my affiliate link for the type I used)
Ok, here is where it gets tricky!
I went ahead and put the handles on the piece, even though I knew I wasn't done. I could just tell it wasn't finished enough.
After that, I added a thin layer of some light gray (French Gray- Vintage Market and Design) paint that I had on hand (using the SAME chip brush that I had used to apply the mint). I thought maybe a "white washed" look would look good. Well, it was ok…but not my favorite. Also, the gray handles just looked too dark with the other. But, I didn't give up. I kept adding layers of paint! Ha.
I then went and found my super dark gray (almost black) paint that I still had, and added a thin layer of it all over the top (with same brush)! Now….it was starting to come together! The layers were looking really great. The handles still seemed out of place, so I took some more of the french gray and barely dabbed my same brush in it and ran the brush over the handles. Because of the nature of the handles, it only grabbed hold of the raised parts and gave it a beautiful look.
FINALLY, this piece had the look I was going for! I had a piece that was one of a kind and would look great mixed in with my current decor…for practically no money!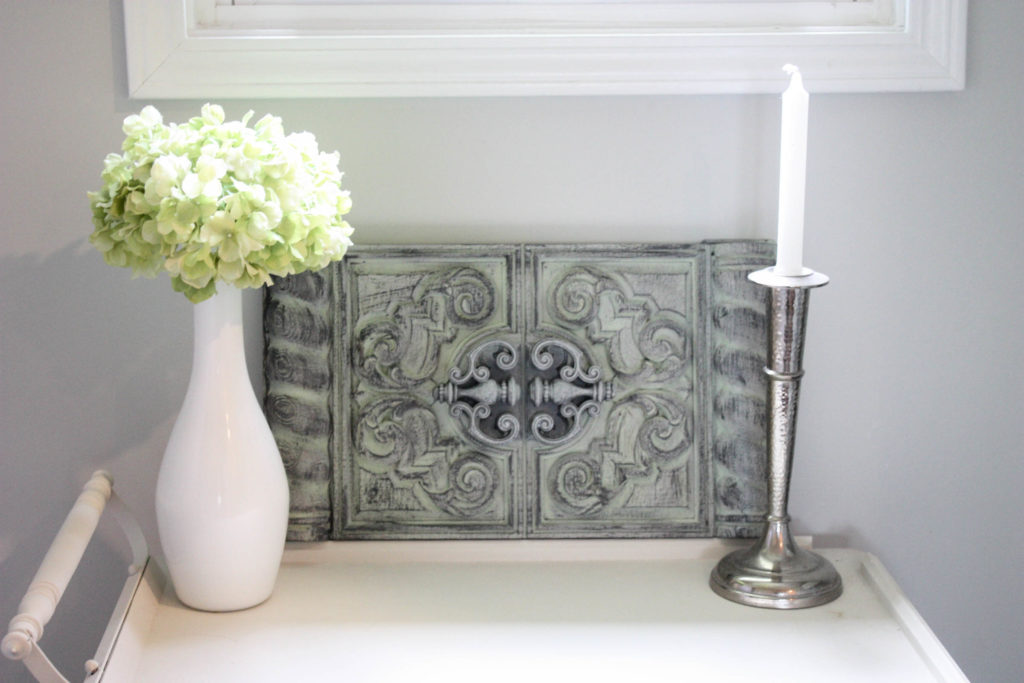 I decided to put it in my bathroom on my tea cart for now. I kind of wanted something with color on that side of the room, so this worked perfectly!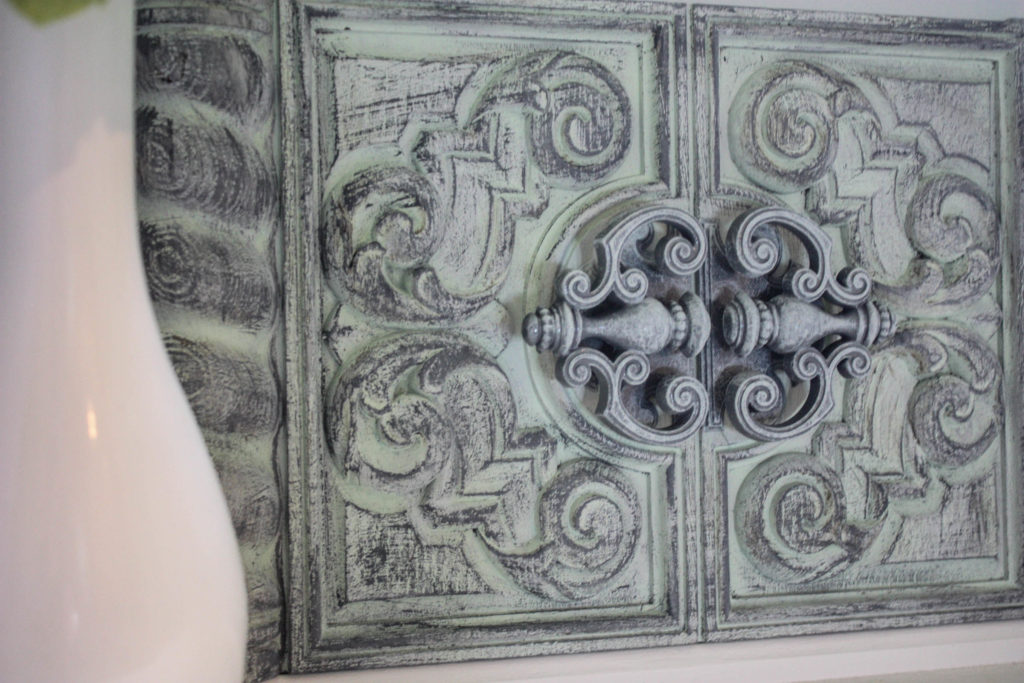 Doesn't the layering of the paints look good on this piece? ANYONE can do this! You just can't be scared to keep painting until you like your end result.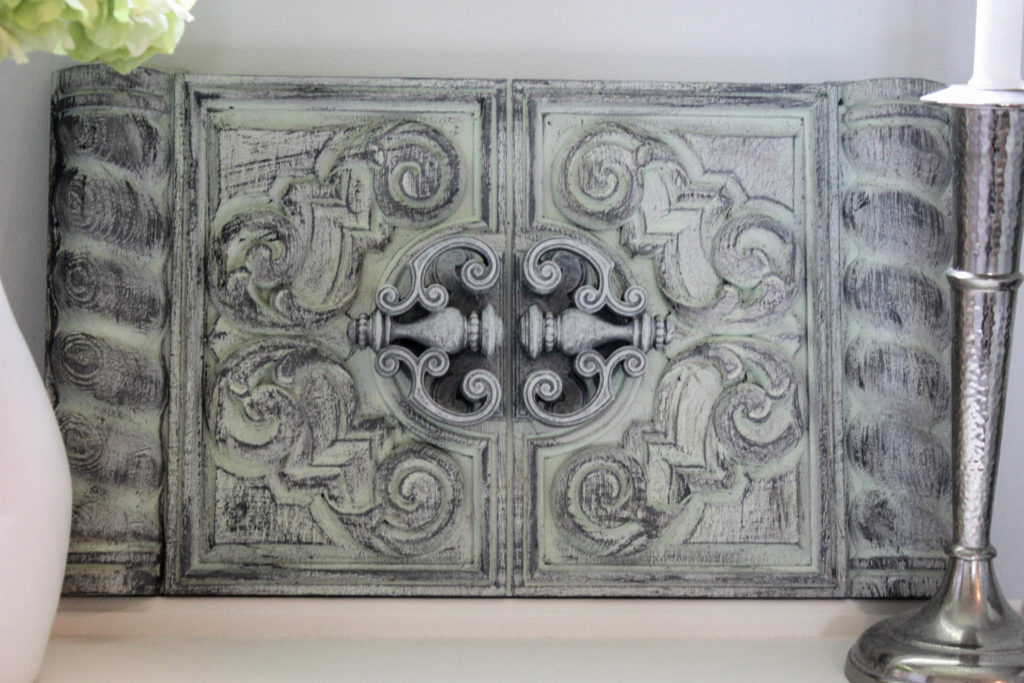 Do you remember earlier how I mentioned that I got another awesome find that same day, for $10? Well, here is a peek at that! This makeover is coming soon!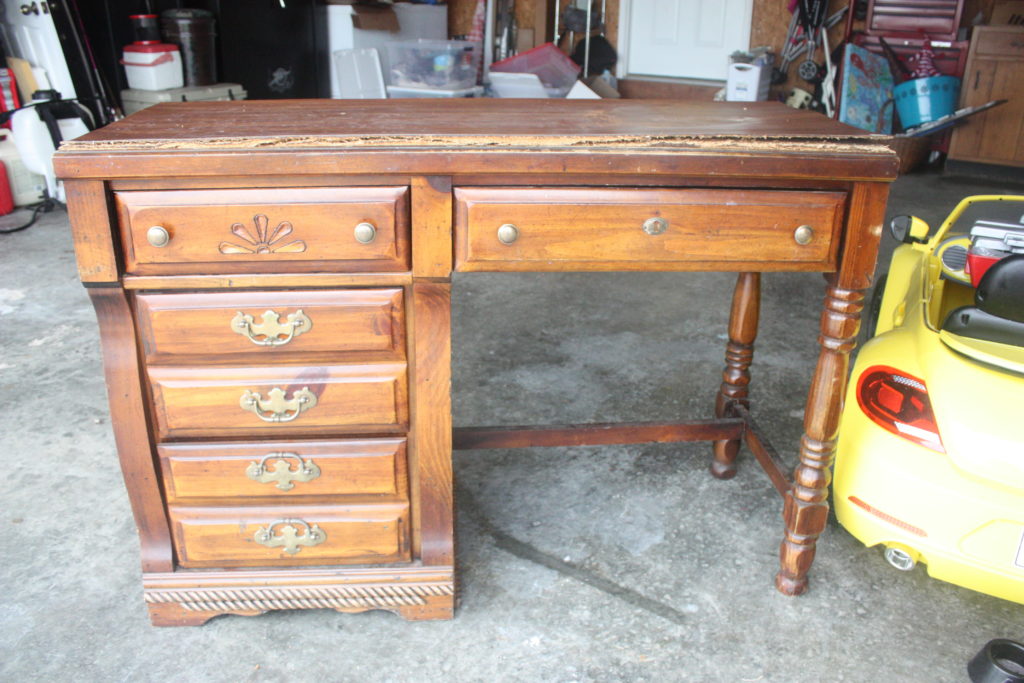 So, tell me? Do you like it? What about the colors? The layers? Give me some feedback! 🙂
Pin for Later!