Mason jars are the perfect blank canvas for any crafty DIYers. With a little bit of creativity, Mason jars can be turned into some really fun and unique projects. Whether you're looking for a new way to decorate your home or want to try your hand at a new hobby, these Mason jar crafts are absolutely worth checking out. From a Dollar Tree jar globe to home decor, the possibilities are endless! So get creative and have some fun with these ideas.
DIY Mason Jar Crafts You Will Love!
I've loved mason jars for years and I think it is because of all the childhood memories I have of making strawberry jam with mom and grandma year after year. I have SOO many great memories and they are so special to me. Those memories have kept me from tossing any mason jars I have! If you are like me and have a variety of mason jars then take a look at these amazing DIY crafts you can do using your own collection of Mason jars.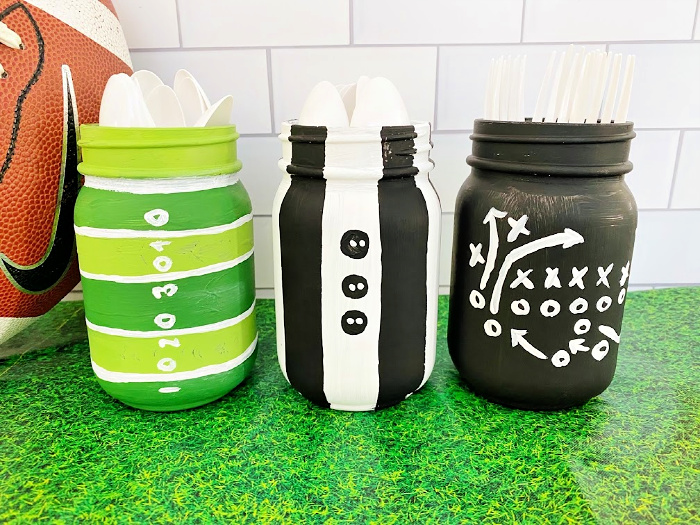 With the Super Bowl coming up these mason jar football centerpieces by Mason Jar Breakfast & More are fabulous for any Super Bowl party you may be hosting. Using just craft paint, paintbrushes, and mason jars you have an inexpensive way to decorate your next football-themed party.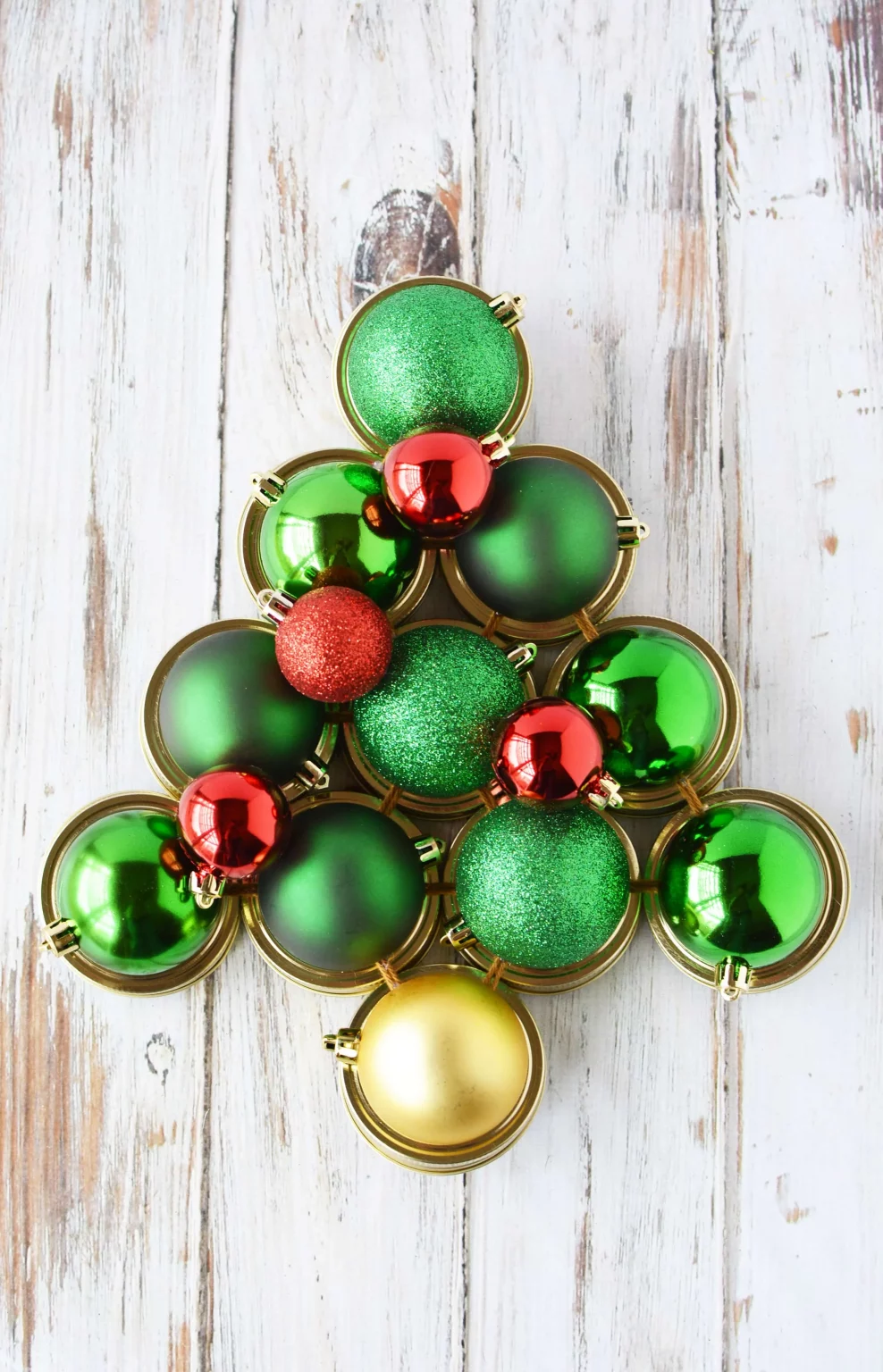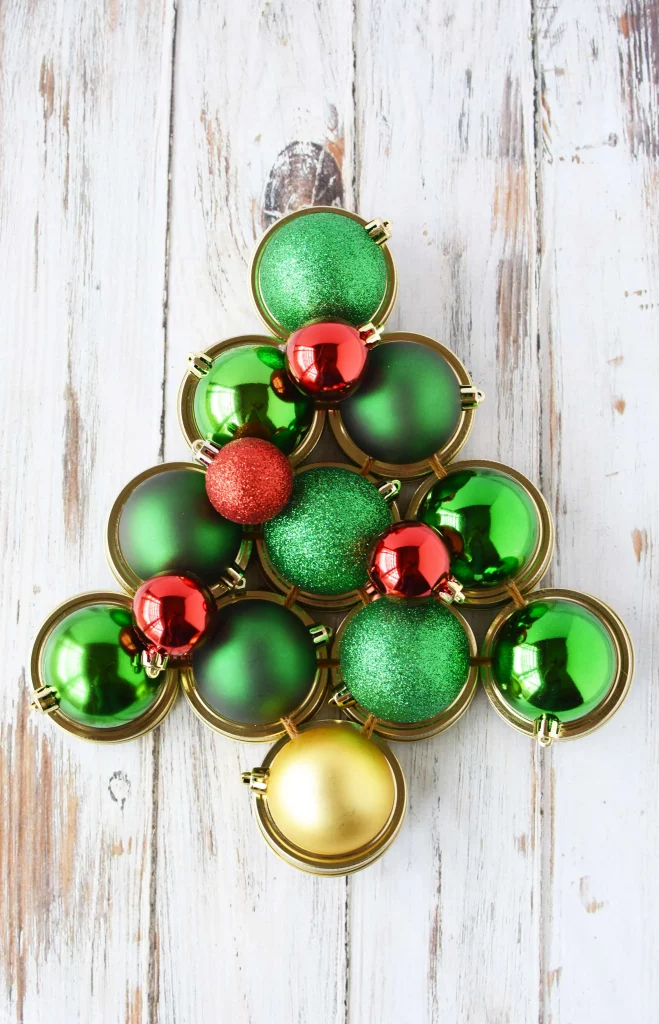 This right here goes to show you that you can craft with ANYTHING! Who would have thought to use Mason jar lids to create such a fun and festive Christmas decor? Thanks to Stephanie at MomDot for showing us exactly how to create something beautiful using mason jar lids. What a fun holiday wreath to display!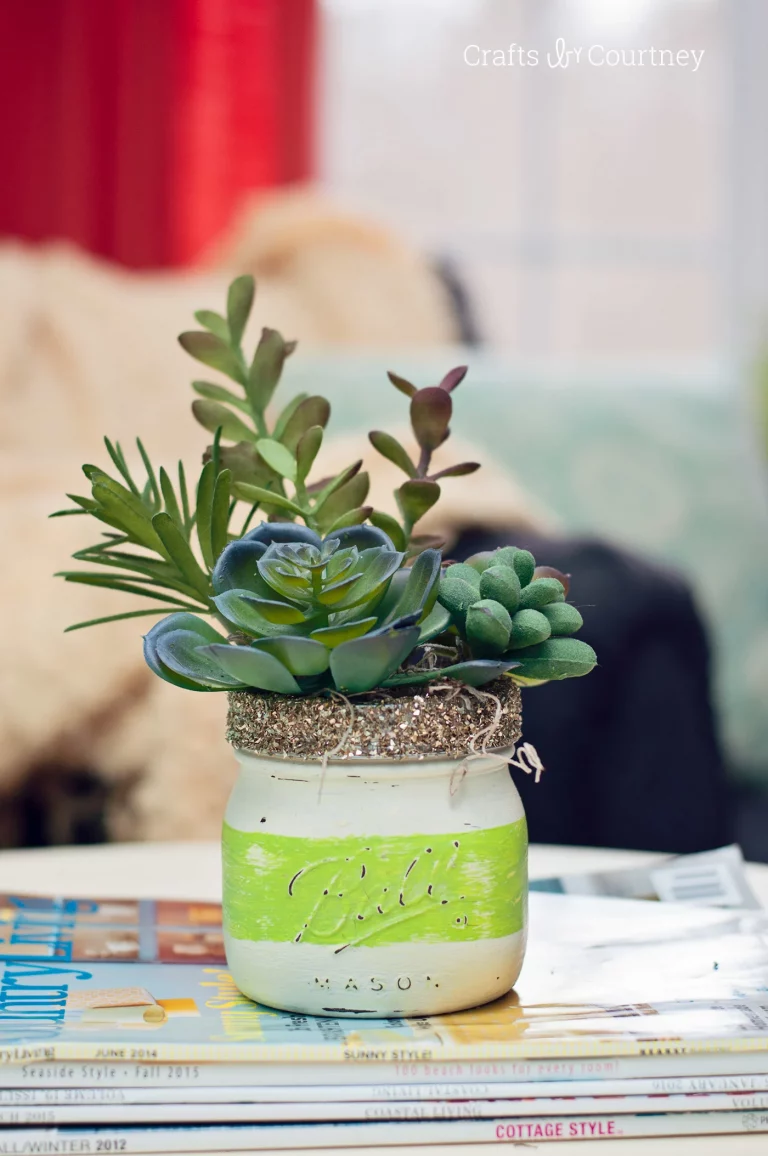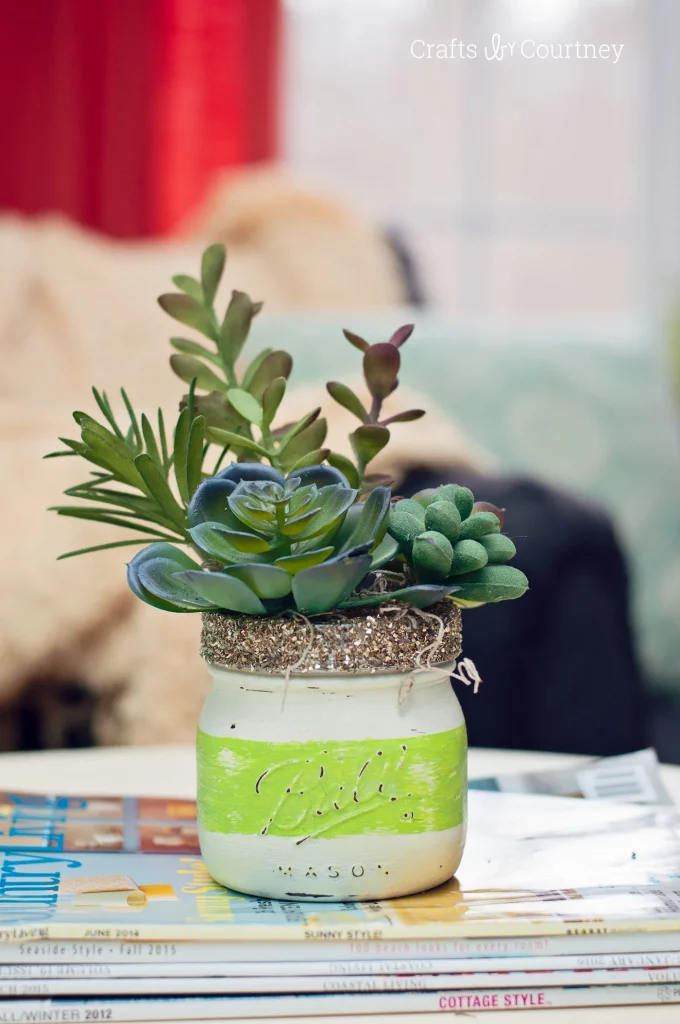 Y'all know I do not have a green thumb. I do LOVE flowers but don't ask me to name them! However, succulents are the perfect plant for me. I think I love them because you really can't kill them. Better yet get the fake ones to use with this craft and you will never have to remember to water it! This craft by Mod Podge Rocks is an excellent decor piece to make and place on your kitchen windowsill or even a seasonal mantel! If you are looking for more ways to add more greenery around your home this is the one for you!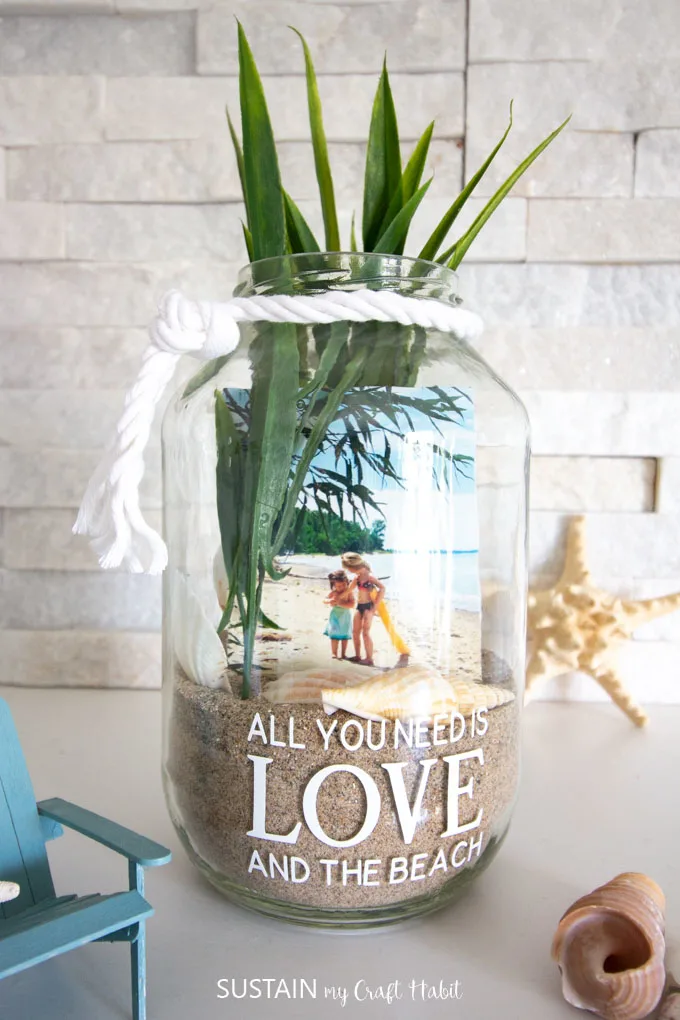 I love having my toes in the sand and listening to the sound of ocean waves. My kids love it too! That is why when I saw this mason jar turned into a photo frame, I had to see more! I can't wait to do this myself and add a photo of my kids from our last beach trip. You too can create your own beach photo display jar by visiting Sustain My Craft Habit for more instructions!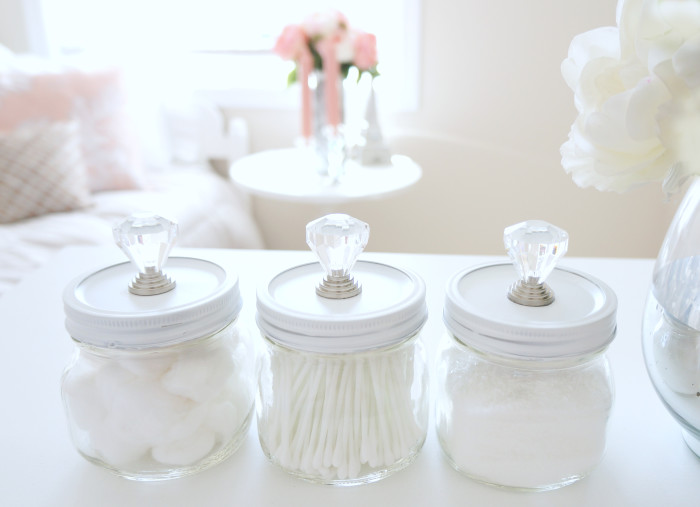 You will LOVE these! Elysia with Haute & Healthy Living made the perfect DIY Mason jar storage containers as a way to add some organization and cute factor to her bathroom. They're also really easy, so you can do them quickly and have them on display before your next guest arrives.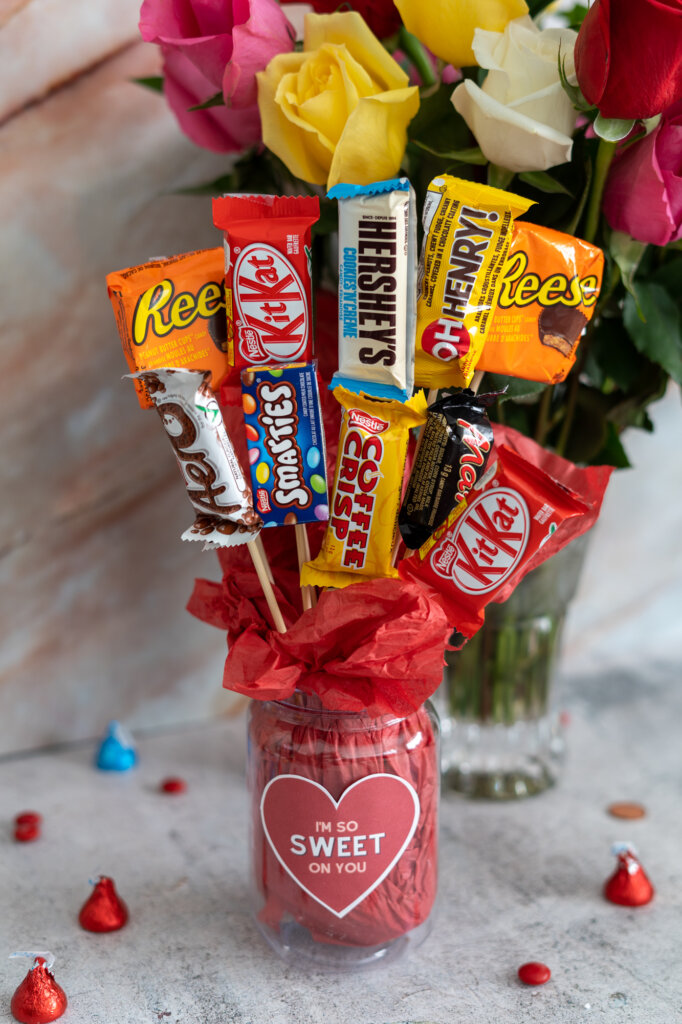 What a clever idea! I love the simplicity of this homemade gift. These would be so fun for Valentine's Day, or whenever you want to give someone special sweetness in their lives. Check out Thoughtful Gift Club as they walk you through step by step how to make your own. Surprise someone this year with a sweet candy bouquet.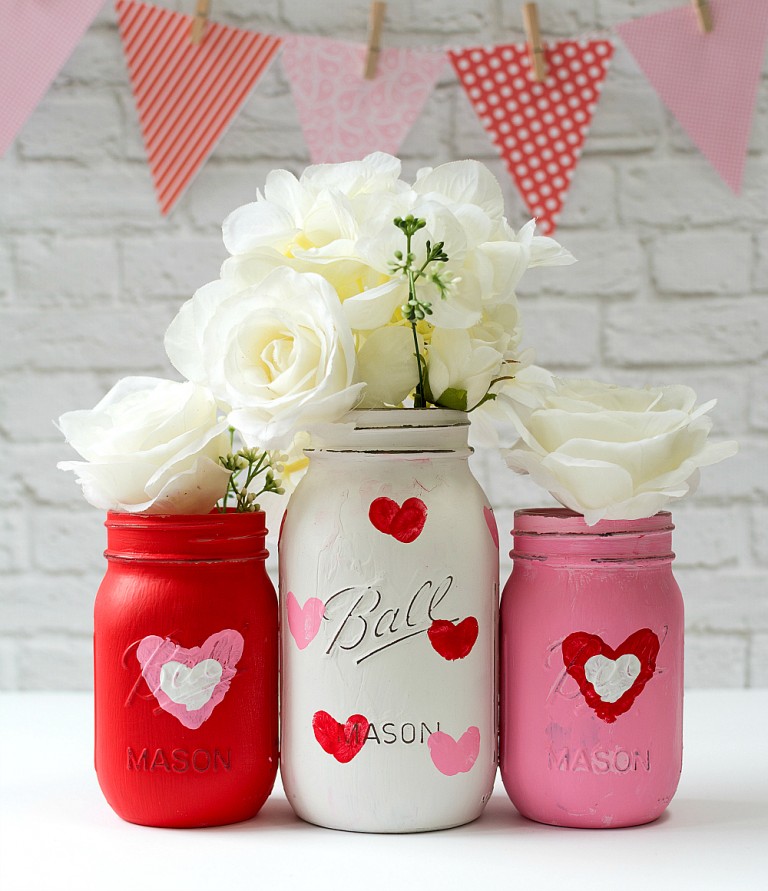 These fun heart painted mason jar Valentine Decor by Mason Jar Crafts is the perfect project to do if you are looking for a quick and Easy way to add some pink and red decor to a Mantle, coffee bar, or table. If you even want to get the kids involved in making some decor then do this one! Using your fingers to paint the hearts you can't get any easier than that and what kid doesn't love getting messy?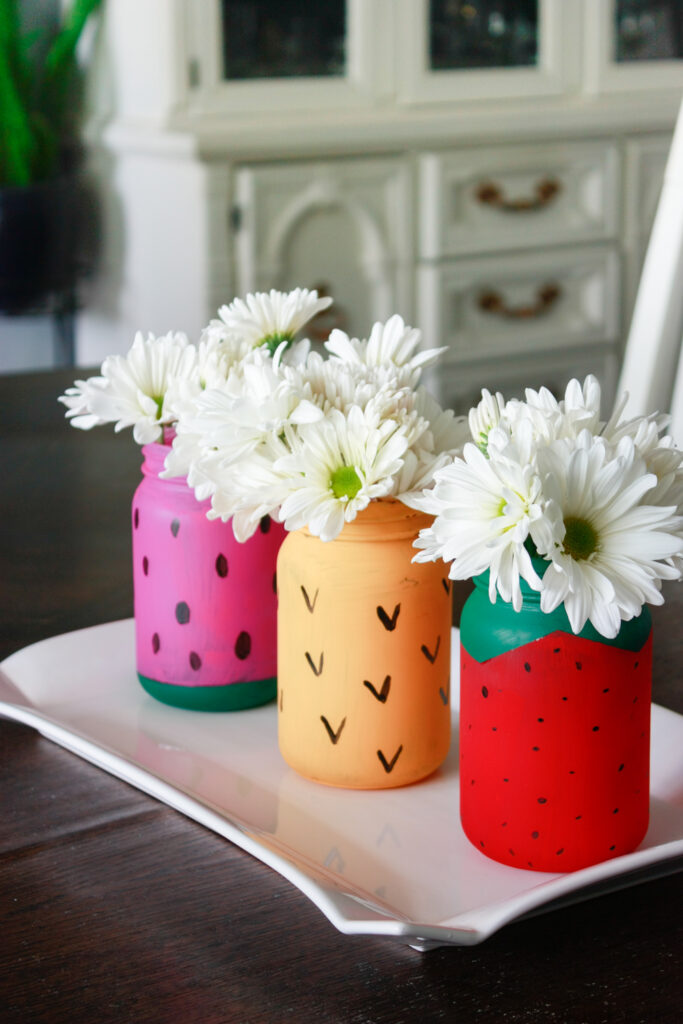 I love the beauty of snow but I am SOOOO ready for summer to arrive. When I saw these fruit-themed flower vases it reminded me of summer and all the dreams I've been having of floating in my pool and enjoying the summer sun! If you are looking to brighten up your summer decor then these are worth the try! Amber Oliver truly brings color and creativity to life with this mason jar craft.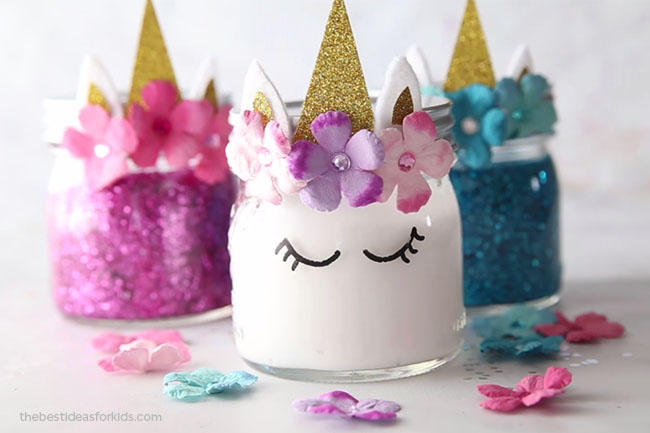 Ok, hear me out! If you are like me you are SOO over slime! But think how CUTE these Unicorn jars would be as decorations for a little girl's Unicorn themed party. Slime or no slime these Unicorn Jars by The Best Ideas for Kids would make the cutest party decorations for any unicorn lover!
Who doesn't love a little bit of distressing? It gives things that extra bit of character and these painted mason jars have just that! In this tutorial by Little House of Four, you'll learn how to paint and distress mason jars for a fun look that will add some personality to your decor.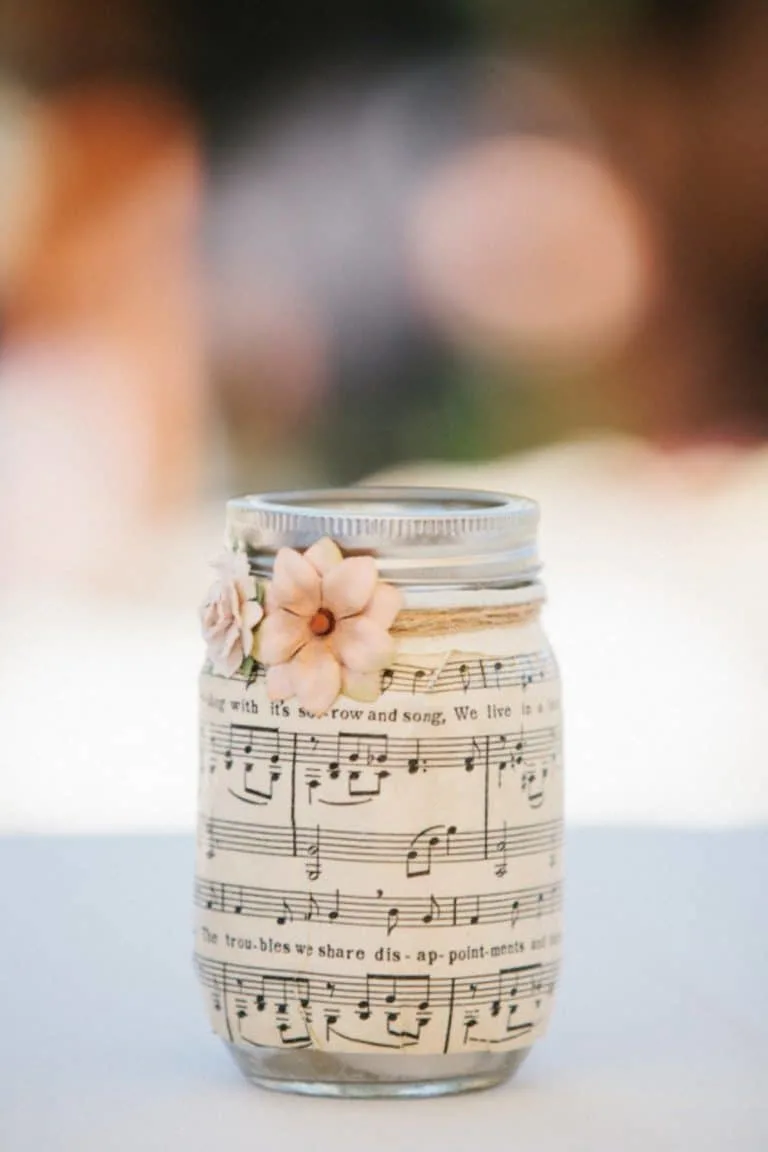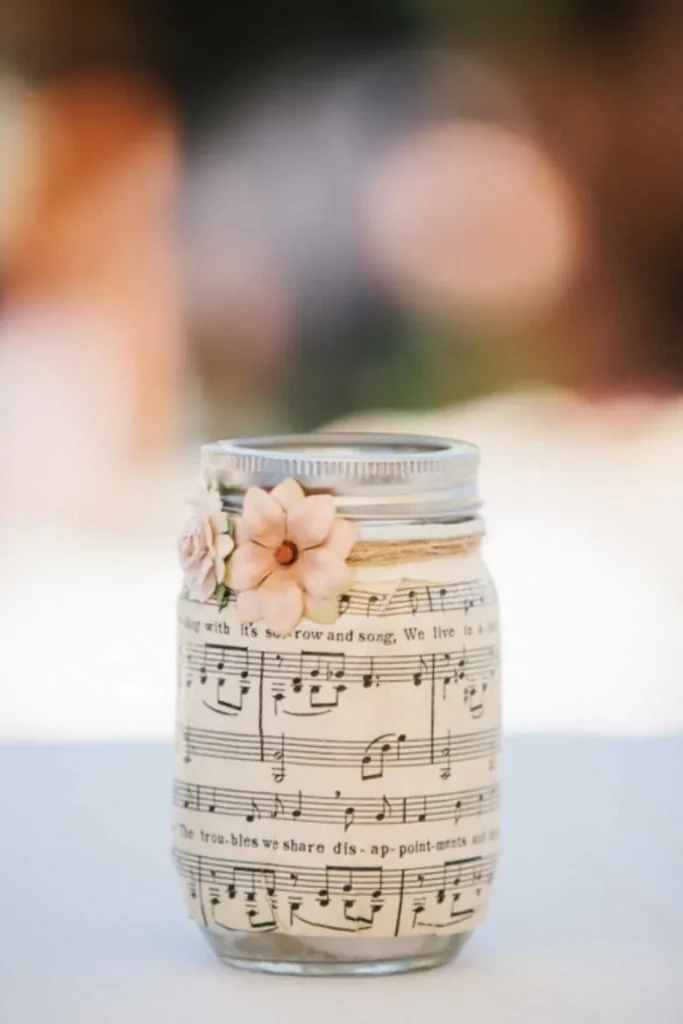 If you are always looking for a new DIY to try you will LOVE this one! I love crafting with old hymns and this sheet music mason jar by Mod Podge Rocks Blog caught my eye. I am sure you have seen ALL my crafts using sheet music and I can't wait to try this one next!
Mason jars can be used for so many different crafts. I've shared with you just a few of my favorites, but I want to know – what are your favorite mason jar crafts? Share them with me in the comments below. And if you need more inspiration, be sure to check out my PINTEREST PAGE for even more ideas. Happy crafting!