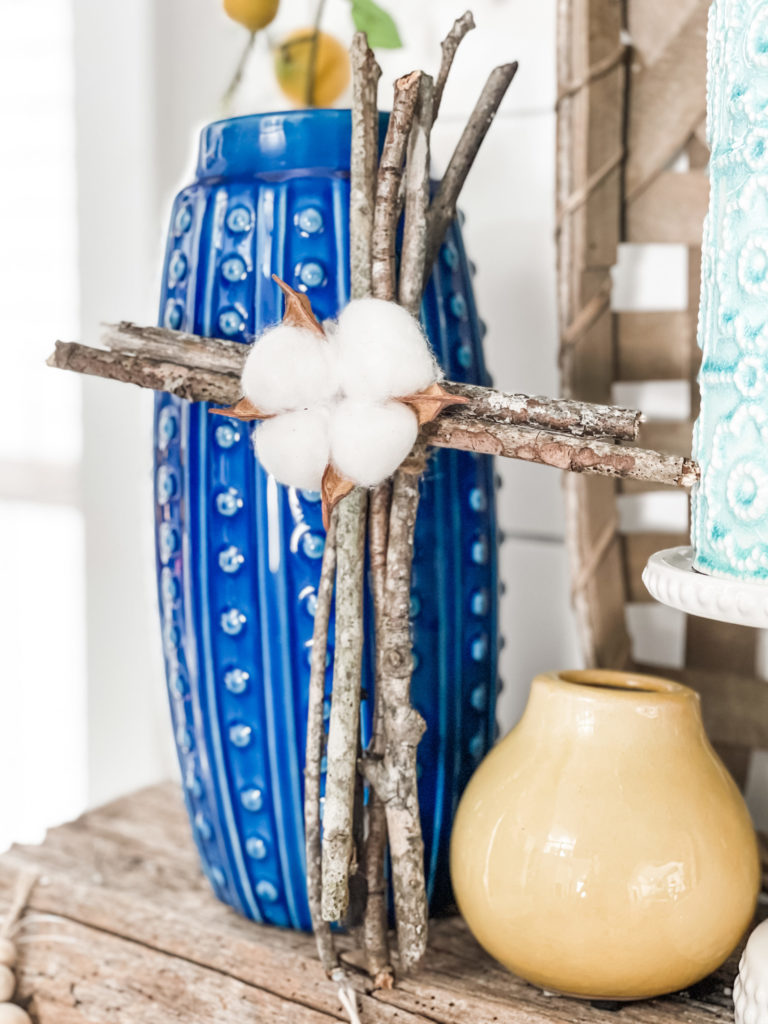 diy two dollar stick cross
You don't have to be here long to know that I'm a Christian... and being so, I love to display crosses throughout my home! With Easter right around the corner, I thought it would be a good time to create a new one, but for only TWO BUCKS!!!
Materials
sticks (how many you use is up to you! But make sure some are smaller than others)
twine from the Dollar Tree
cotton pad from Dollar Tree
hot glue gun
scissors
Instructions
First things first... go out to your yard and collect some sticks!! I gathered these bad boys in 10 degree weather with 6 inches of snow on the ground... so you know I'm dedicated to this cute craft- LOL!
Go ahead and cut a pretty long piece of twine. This is to wrap the first bundle of sticks!
This is for the vertical part of the cross. You want them to be pretty much the same length!
I placed the center of the cut piece of twine on my bundle of sticks, and just started wrapping it around. It doesn't really matter what method of wrapping you use- you just want them to get all bundled up!
when you get to the end of the twine, just tie it up and cut off the excess!
do this exact same thing for the horizontal part of the cross- you want these sticks to by a little shorter than the vertical sticks to represent how a cross usually looks!
Now, simply just hot glue the smaller set of sticks on top of the other set.
This part is optional, but I LOVED the way it looked! I took this little cotton pad that I found at Dollar Tree, and tied it on to the center of the cross.... then you're DONE!
Now, you can't tell me that this wasn't the quickest and cheapest little cross you've ever seen!!! I'm being serious... this only took me 5 minutes TOTAL to make!!! If you have five minutes and two dollars to spare, I would HIGHLY recommend trying this craft out!!
Recommended Products
As an Amazon Associate and member of other affiliate programs, I earn a small percentage from qualifying purchases at no additional cost for you in return for my referral.
MAKE SURE TO PIN!!!