I want to let you in on a secret. Did you know that I DON'T spend a fortune on my Christmas decor… or any decor for that matter?? I don't want anyone to get the wrong impression that I'm spending buckets of money on my decor for my home… because I totally AM NOT. 
Let me fill you in on another secret… did you know that I decorate using SUPER budget friendly items? And did you know that YOU CAN TOO?!?! Don't worry… I'm about to show ya how. 
Today, I went around my house and snapped some pictures of displays where I took budget friendly items, and mixed them in to my decor… In case you had never thought about doing any of this, I wanted to show you my ideas to maybe inspire you a little bit with your own decor!
Hack 1. Adding ornaments into different fixtures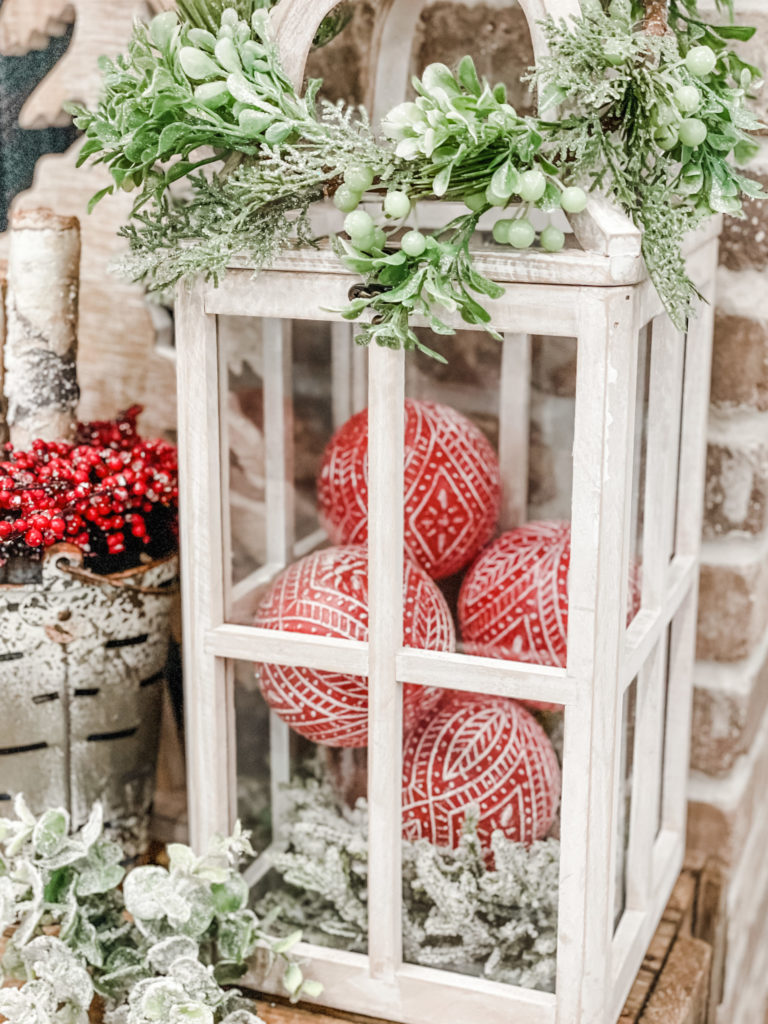 This lantern is gorgeous on it's own, but it needed a little pop of something to make it more Christmas-y… so I added in this set of red ornaments from WALMART inside! At the very bottom of the lantern, you can see a tiny flocked wreath poking out… which is also from Walmart!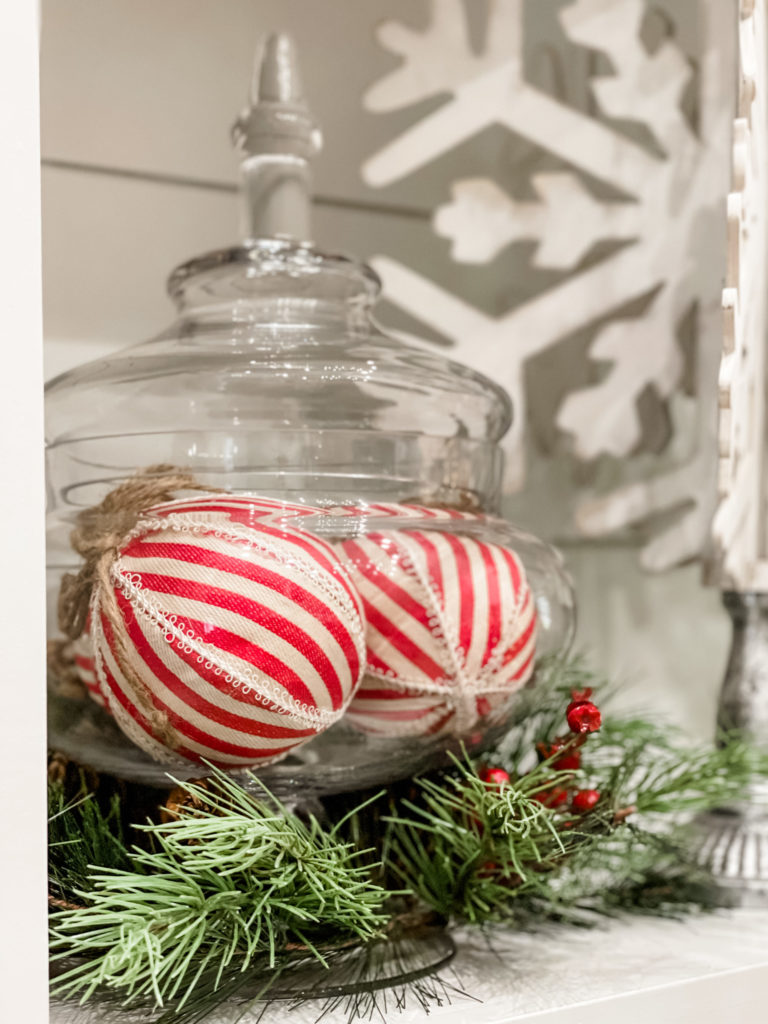 This is the very same concept, except I added the ornaments into a cheap apothecary jar! The ornaments came in a 3 piece set from Hobby Lobby, which I got for 50% off! I actually bought this jar from a friend on Facebook… which I also need to mention! If you keep an eye on your Facebook Marketplace, you can usually find some pretty good deals for home items!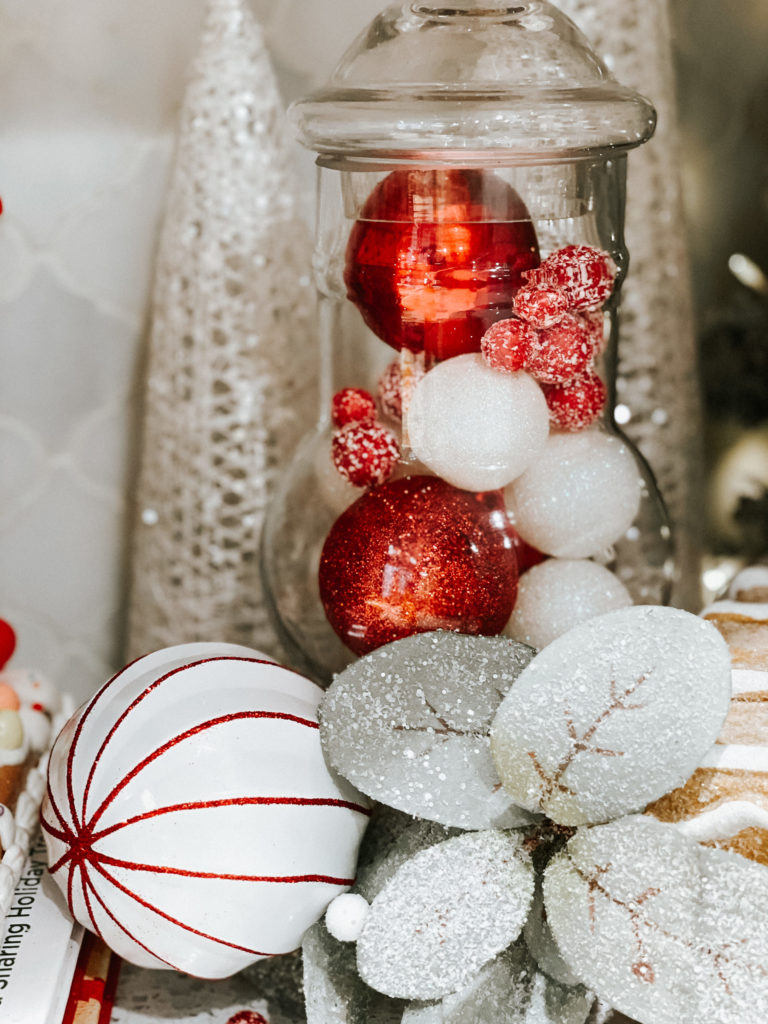 Again, same concept… but what a HUGE difference it makes! The ornaments inside this jar came from Dollar General- and the jar came from Facebook as well. You can also see in this photo how I have another ornament laying in front, as well as the little flocked pick… which I will be mentioning next!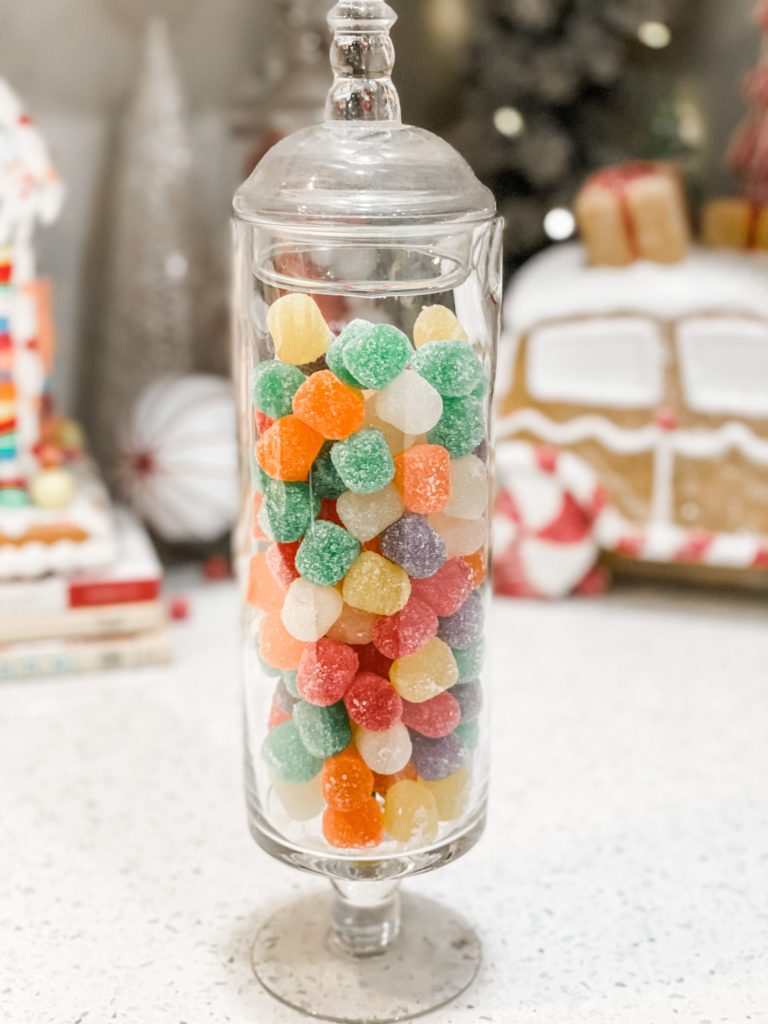 For this one, instead of using ornaments… I used colorful gumdrops from the Dollar Tree! My kitchen's Christmas theme this year is gingerbread- which is bright and colorful. Adding in this pop of color was such an easy thing to do- and only cost me $1!
Hack 2. Using picks!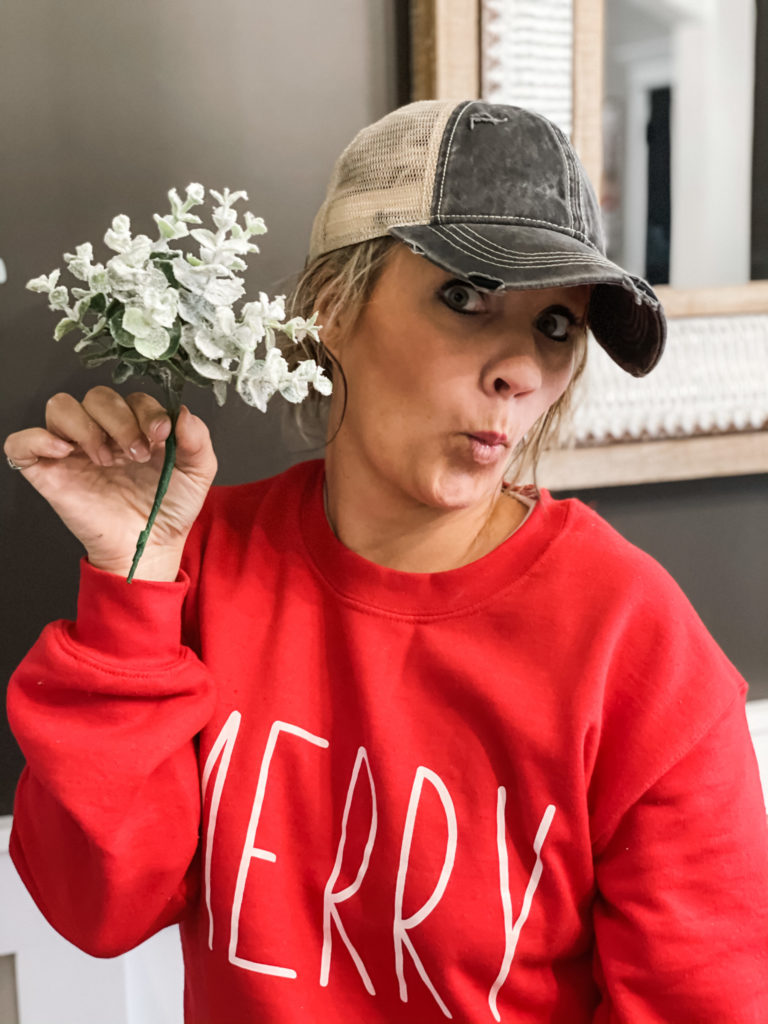 You always see people using these little picks on Christmas trees (which I also do) BUT… I always set them around in my vignettes and displays to add more texture! Just like the photo above, I take these bad boys and simply set them around… it seriously makes all the difference!
The picture below shows how I took this exact pick, and styled it in my Christmas corner cabinet!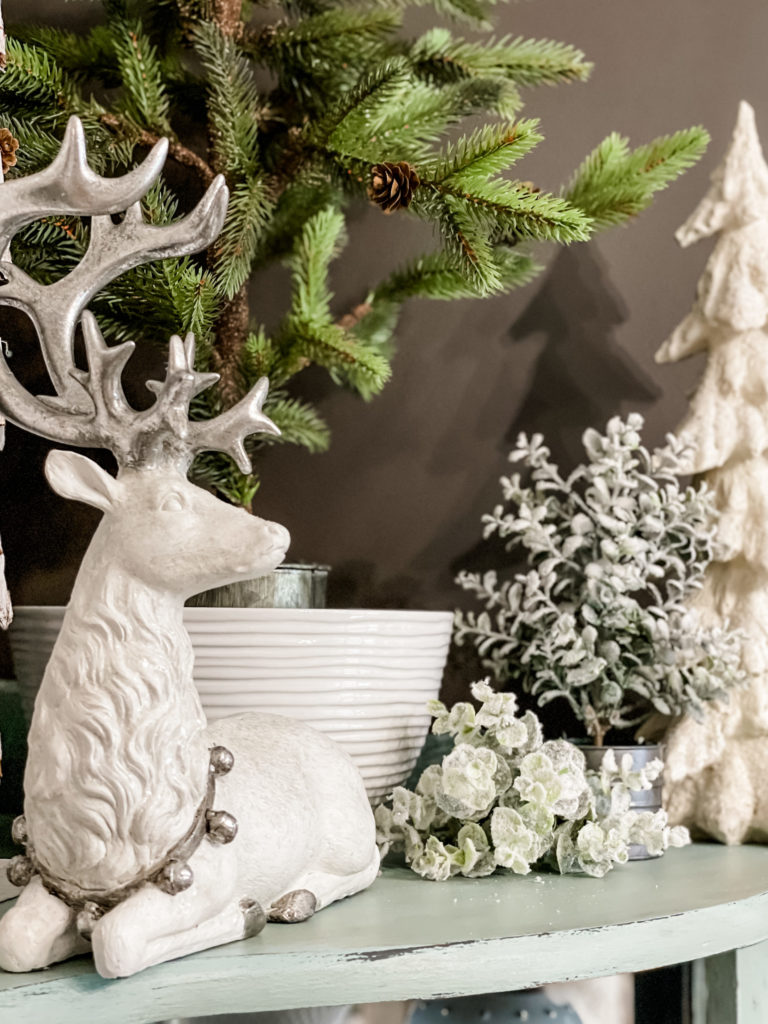 This hack is HUGE… I do it EVERYWHERE in my home!! You can find picks anywhere from Walmart to Hobby Lobby… and they'll cost you around 1 buck!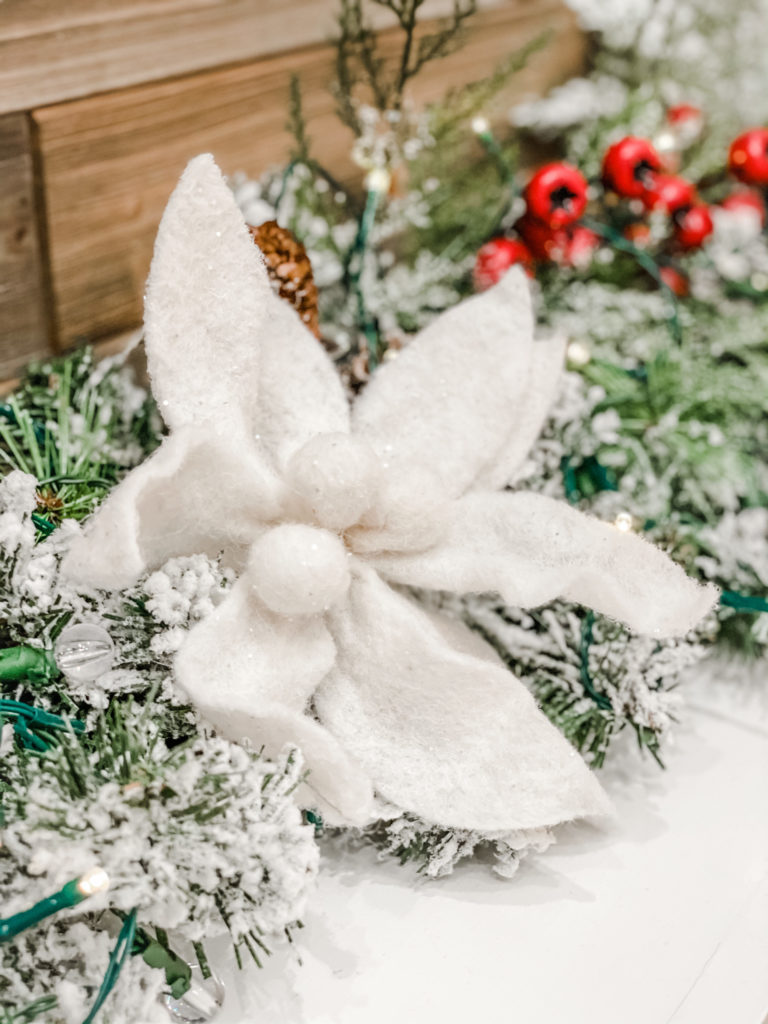 Same hack, different pick! You also see people using picks like this in their tree… but have you tried sticking them in your garlands? You can seriously take your garlands up a notch by adding in picks- which cost hardly anything!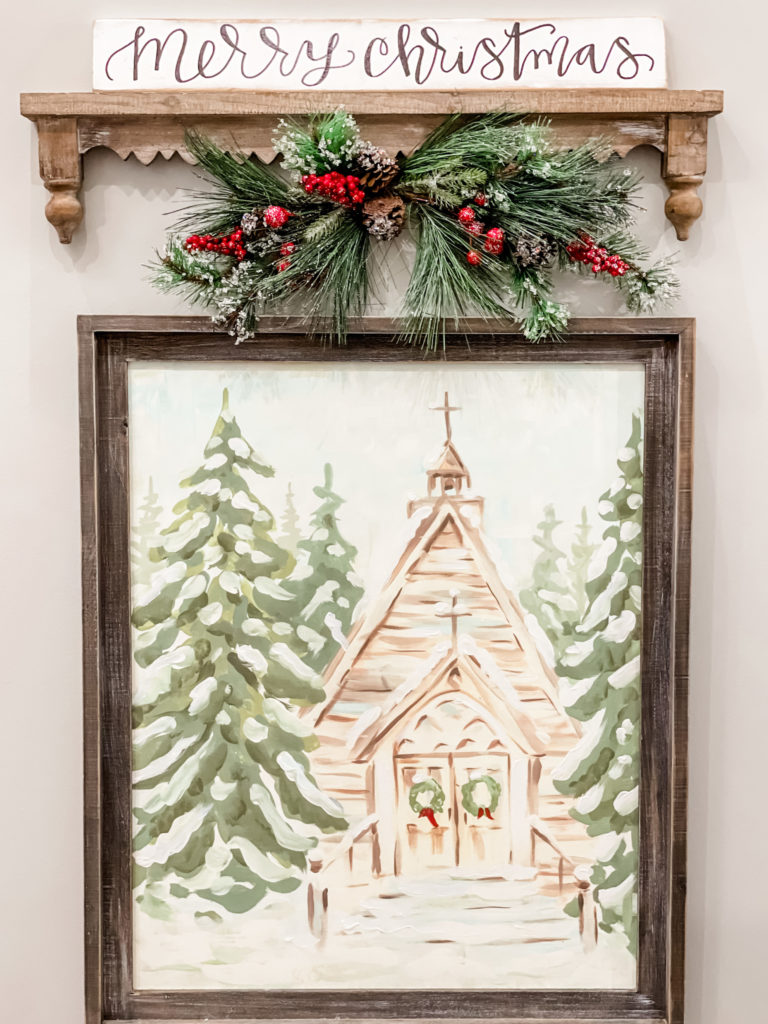 Here is my last example of using picks! The greenery above this gorgeous church picture are just two Walmart picks tied together!!! Imagine this space without the picks… still pretty, but now there's much dimension!
Hack 3. Add in thrift store finds/FREE natural elements!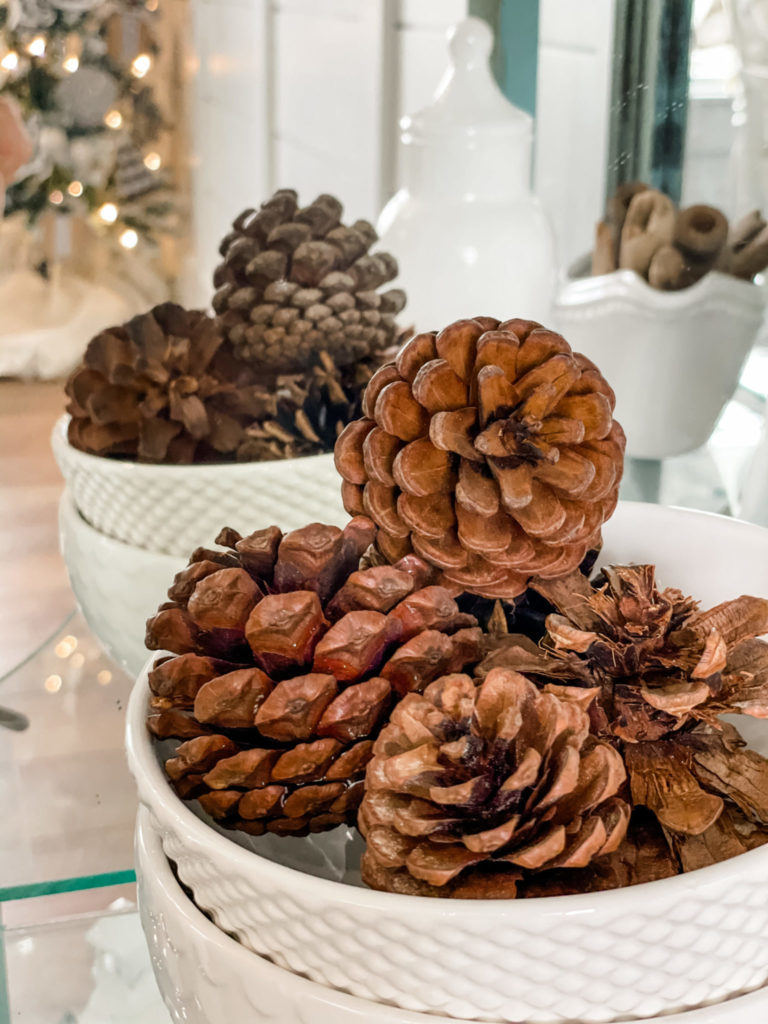 If you've seen my Christmas corner cabinet reveal, then you have seen this bowl filled with pinecones. I didn't pay a dime for these bad boys… I walked out to my yard, and picked them up off the ground- talk about a MAJOR hack!! Don't be scared to use natural elements in your decor!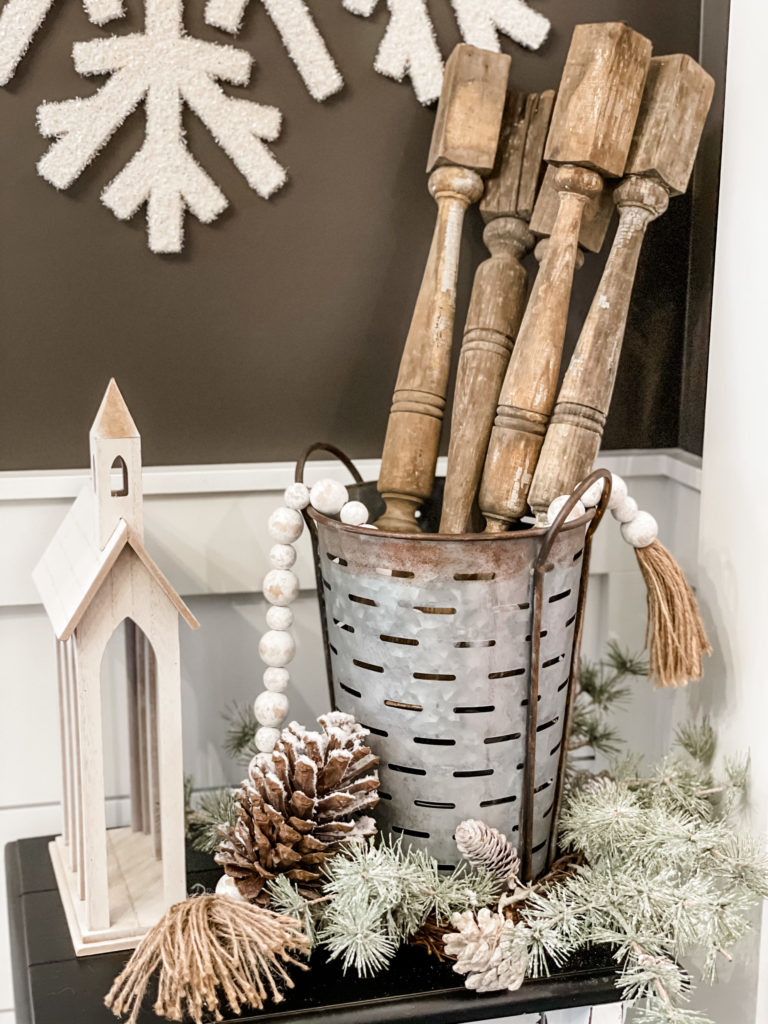 You never know what you may find when you're out thrifting… I found this bundle of spindles from a junk store for hardly anything, and turned them into a nice addition to my Christmas decor! Better yet, you can use this bundle of spindles all year long… which is a win in my book!
When you're out thrifting, keep in mind the possibility of something… don't just consider it the way it meets the eye, but try and imagine how it would look paired with other things… I have found some of the best items from my home at thrift stores by using this very thinking!
Hack 4. DIY your decor!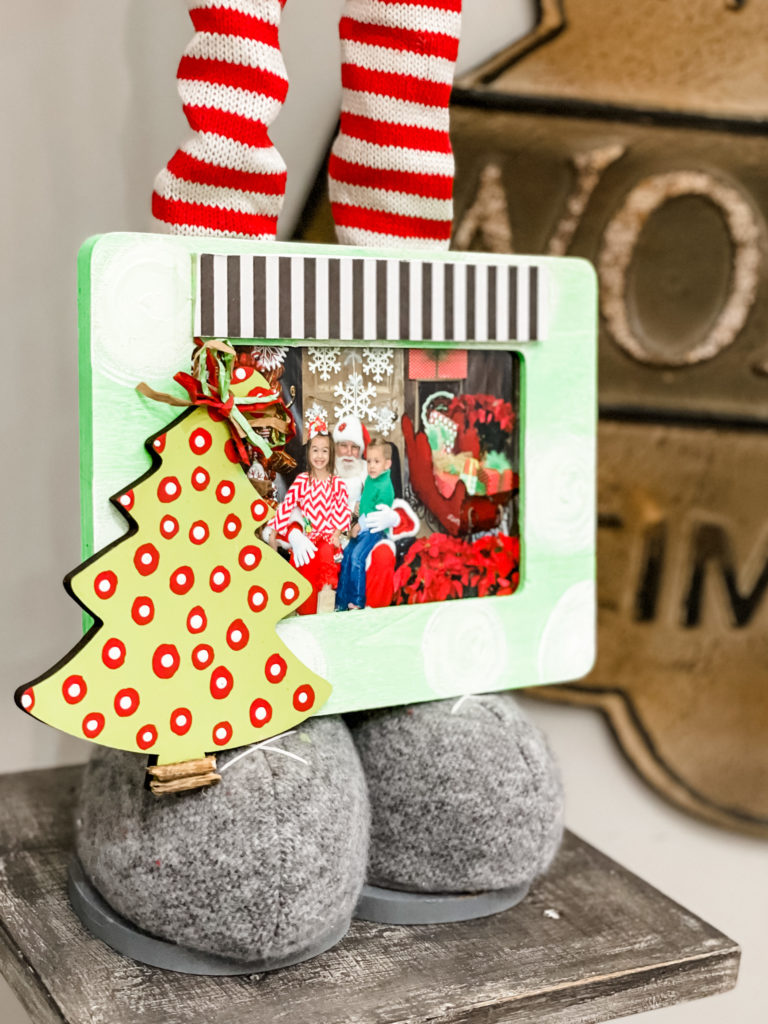 This one is pretty much a given… but I just had to mention it! A huge percentage of my Christmas decor is things I have made from cheap supplies… but they turn out to be the cutest things I have!!
This little frame is just one example, but I have TONSSSS of other budget friendly Christmas crafts on my blog…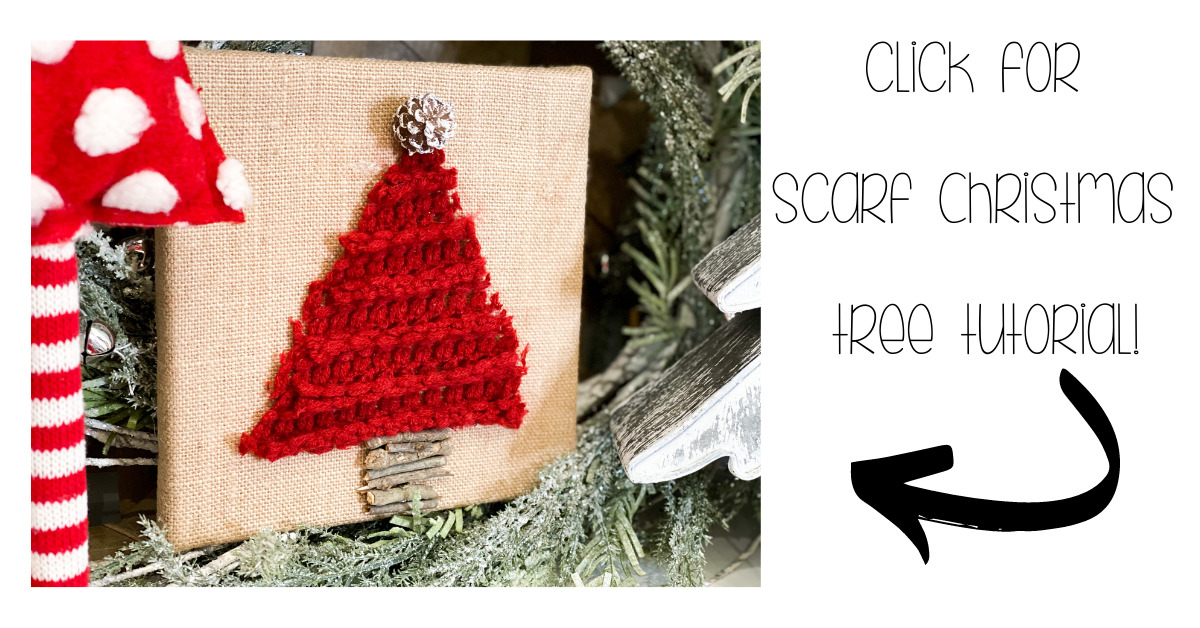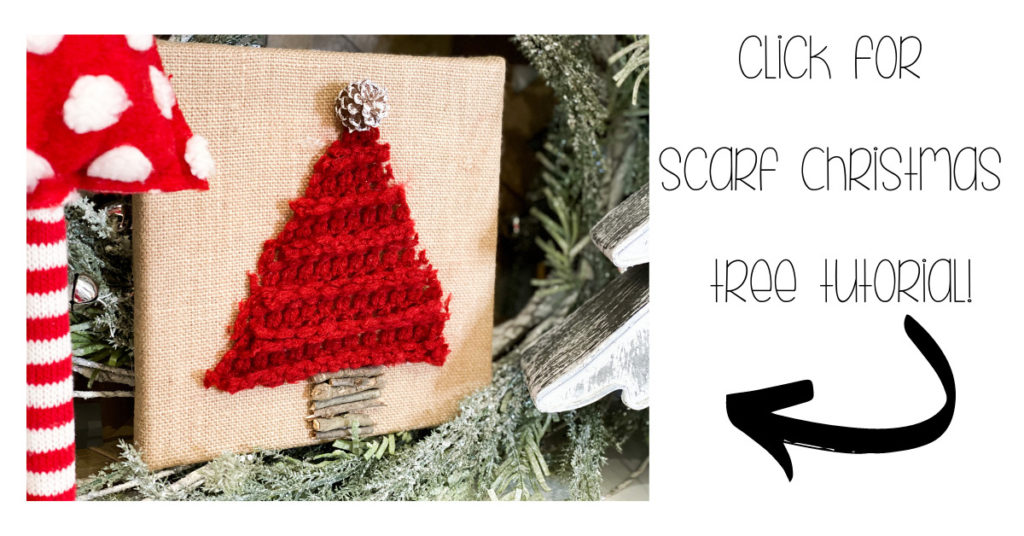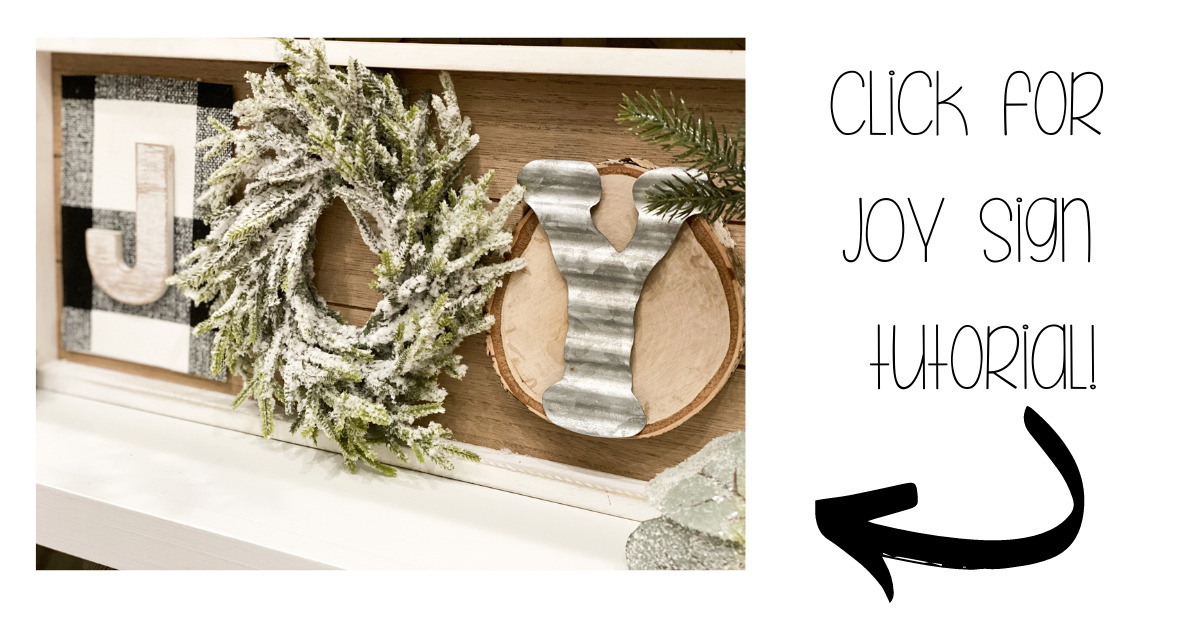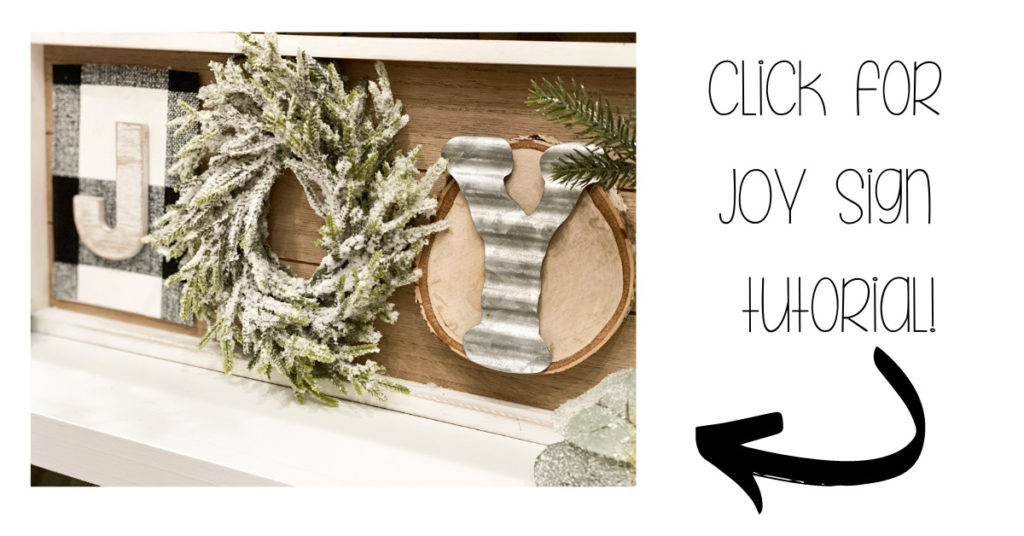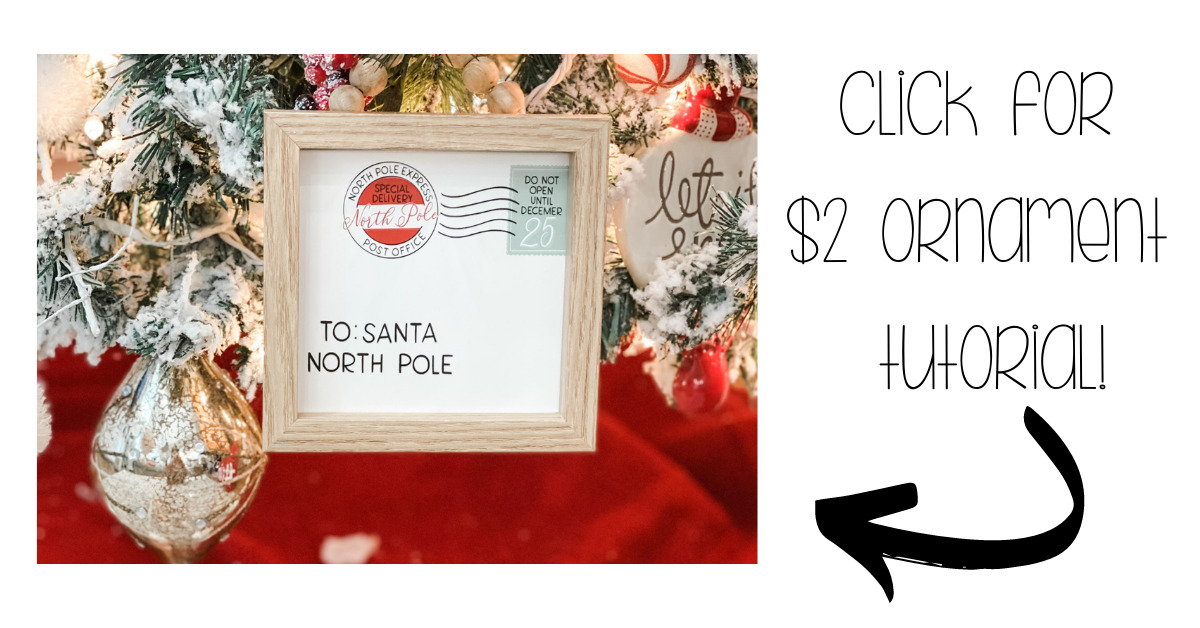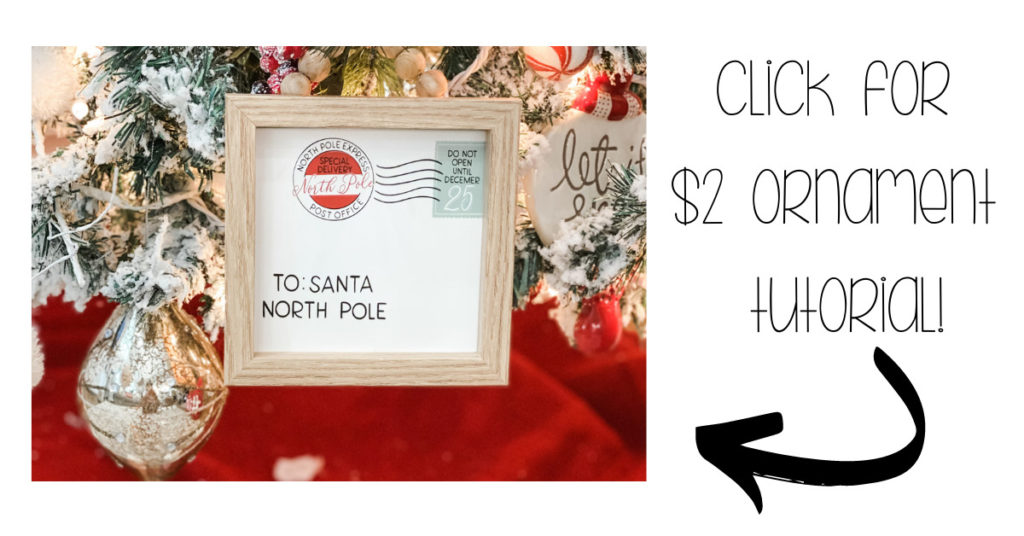 I hope you take these hacks and apply them to your own decor… the sky is the limit when it comes to decorating, but if you use a little creativity- you can come up with some of the best Christmas decor while STILL on a budget!
PIN THIS FOR LATER!!!