I love to create. I love to see something simple turned into something sooo cute, with just a little imagination.
It truly makes my heart flutter a little extra to create cute little crafts for the holiday seasons! Am I weird, or do you get me on this??
But here is the deal. Sometimes holiday decorating can get to be a little over the top, and after each season, I am constantly having to find somewhere to store each of these fun crafts or decorations!
Well, for THIS craft- I will not have to worry about storing much because it is able to be switched out for each season! Whoo hoo!!1
While wondering the aisles of my local Walmart the other day, I came across a couple of things that immediately spoke to me. Basically, they said buy me and figure out how to use me later 😉
So, I grabbed them up and came home to get creative!
This is what all I started with: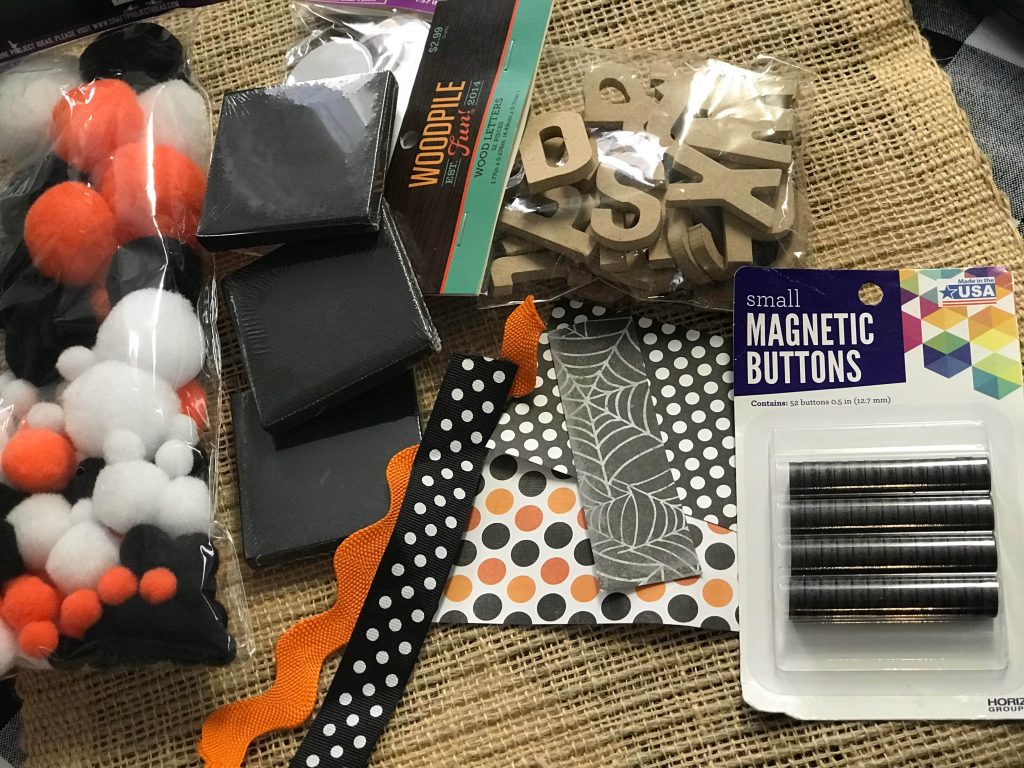 Here are the supplies that you will need to do this craft like I did!
Black mini canvases (Walmart) — only $.97 each
Large Googly Eyes
Hot glue gun
Fun little pieces of scrapbook paper of your choice
Little wood letters (mine are from Hobby Lobby but many places have them)
Scrap ribbon of your choice to match your theme
Magnets
I decided to go full on Halloween theme with this little project, and since I had 2 of the little black mini canvases, I decided to make the word BOO!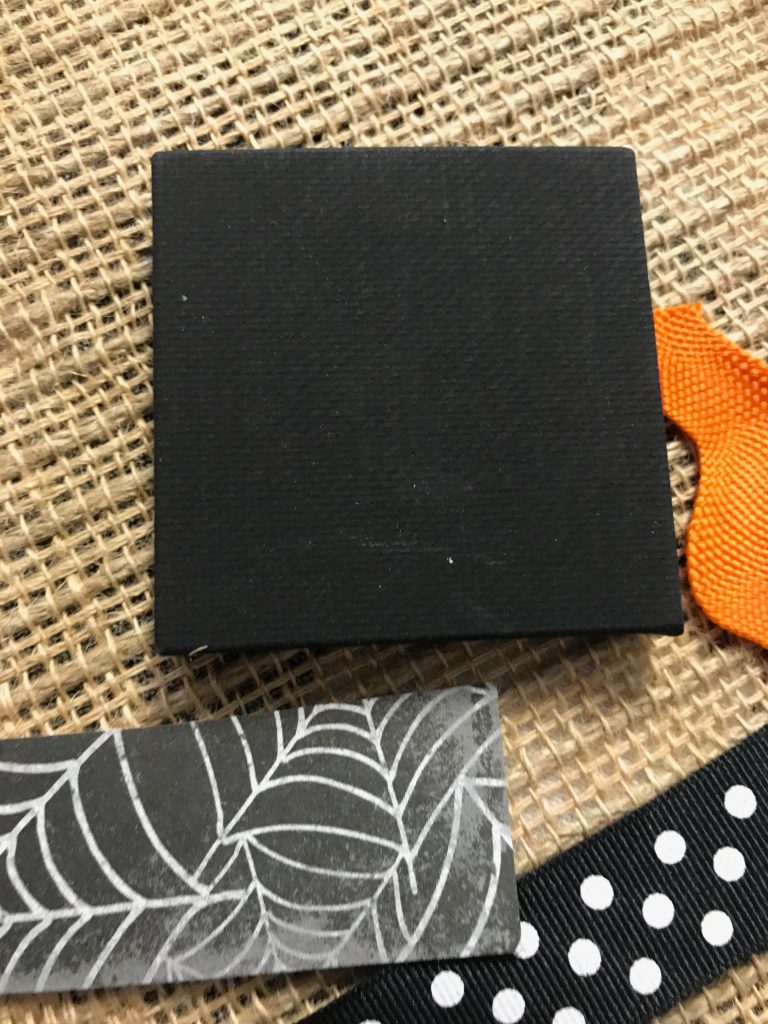 Here is what I did (VERY easy and self explanatory!)
I took each of my 3 little canvases and cutied them up! I added little ribbon pieces, scrapbook paper, etc to give them a fun design!
Then, I took my letter B and painted it and put some little polka dots…and glued it on my canvas!
For the other 2 canvases, I simply glued a big googly eye on each one for my "O"!
After that, I glued my magnets onto the back of the canvas to make them into magnets!
I wasn't exactly sure what I wanted to do next with that, so I ended up taking my Dollar General chalk board that I had on hand and stuck them on there! I loved it, but it felt like it needed just a little something extra!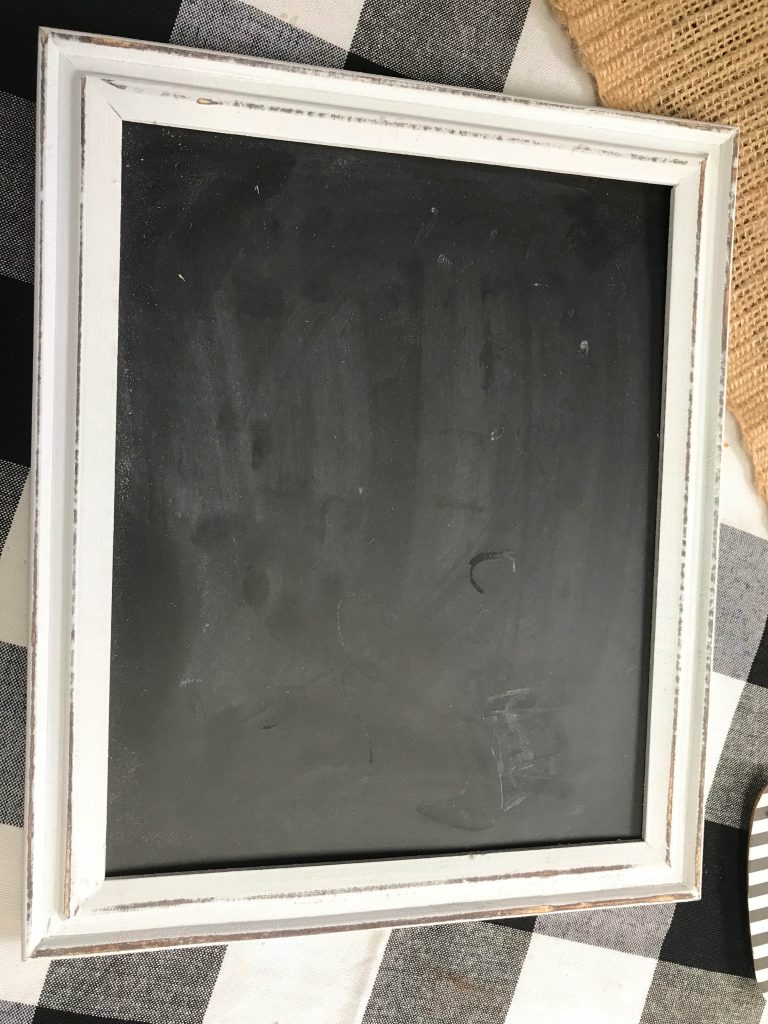 So, I added a little witches hat magnet that I made on a Facebook live HERE!
That was all this fun little craft needed to be as cute as a little button!
But, what is even better is that when Halloween is over, it can all be taken off and something else can be used! WIN WIN!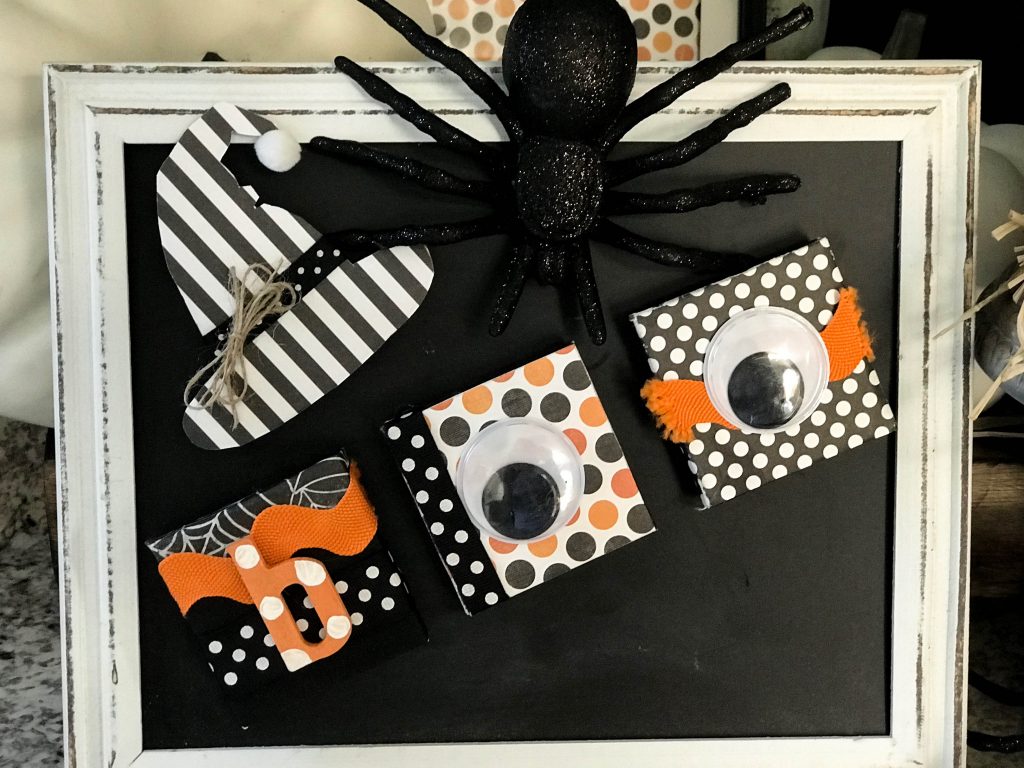 What do you think?? I think it is adorable. Do you?? Think of ALLLLL the possibilities! I already have Christmas ideas too for this that I can't wait to share!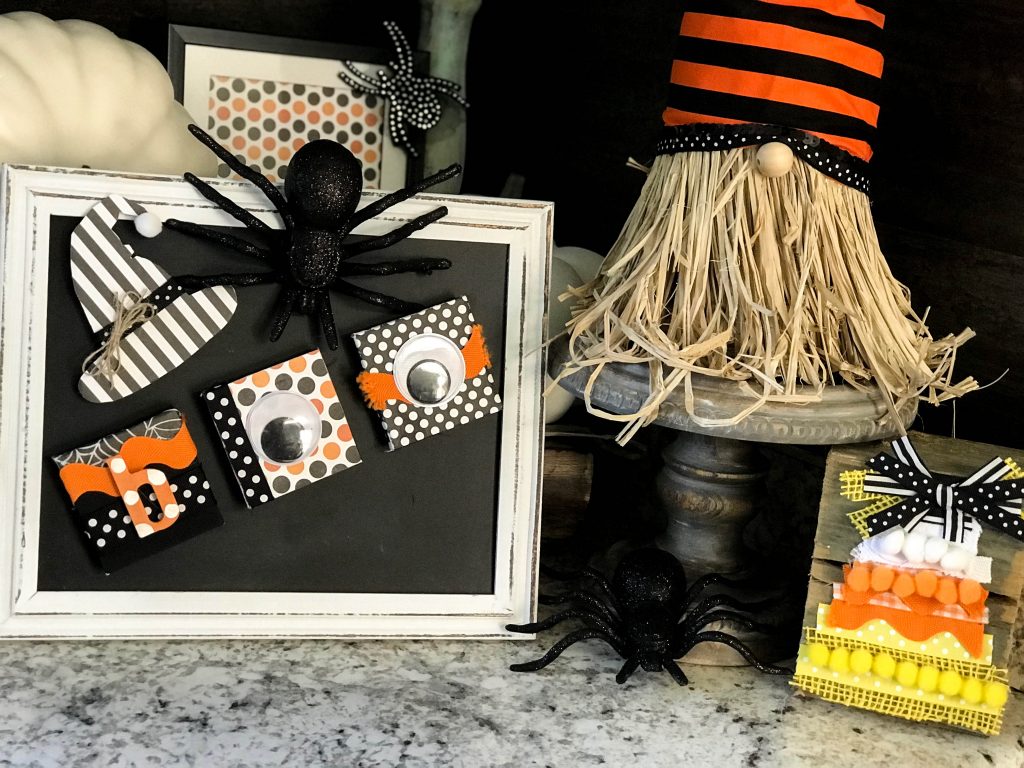 Be sure to PIN FOR LATER and share with your friends so they can see how easy it is too!!!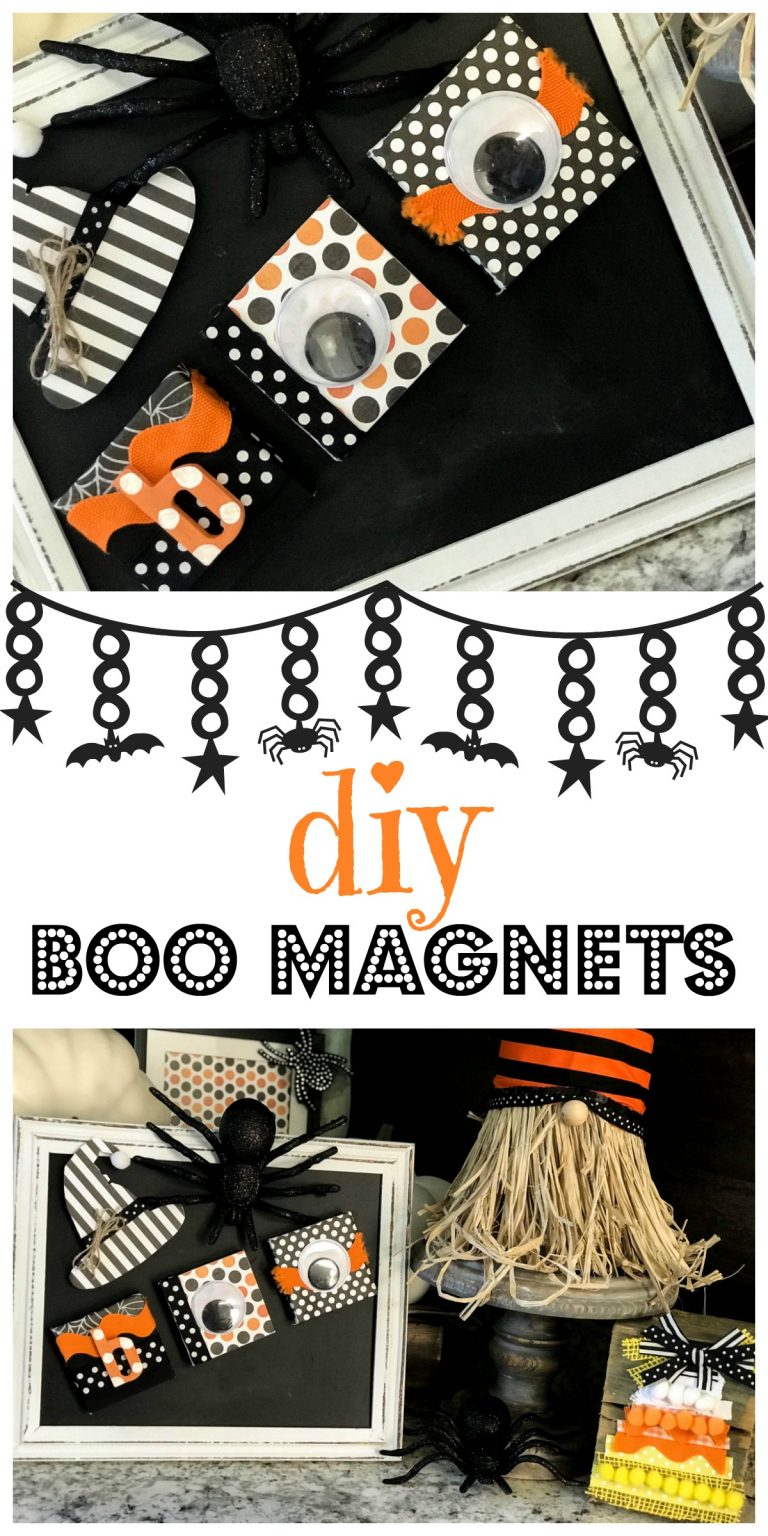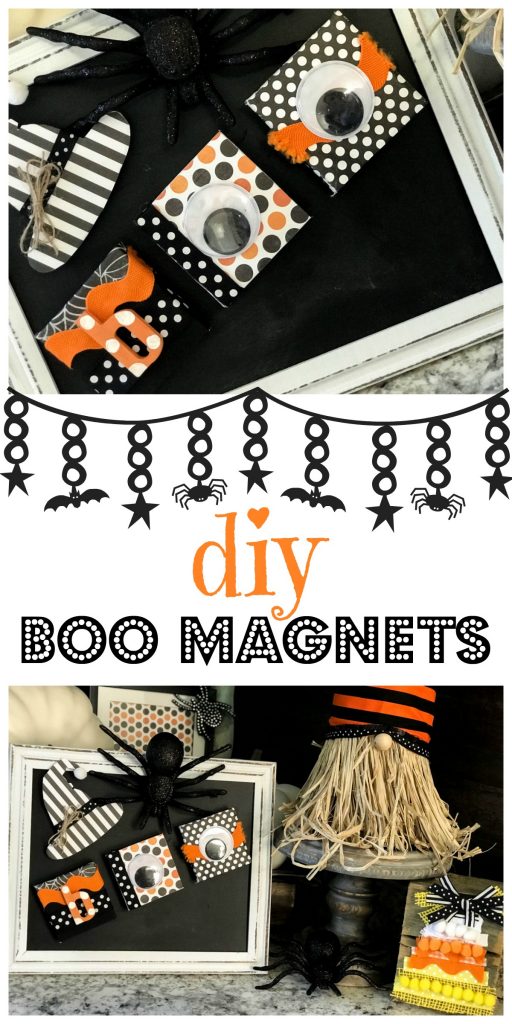 Make sure you are following on Social Media!!
Facebook/Instagram/Pinterest/Email