Farmhouse decor is all the rage these days! Since Chip and JoJo hit the scene, this farmhouse phenomenon has taken off even more than it already was. Everyone seems to be looking for what that "fixer upper" style is and how to get it. It is truly not that hard to obtain the look that JoJo incorporates into many of her homes. By using rustic, industrial, galvanized, chippy, shiplap and some metal- you are pretty much set! Vintage mixed with traditional sets her look apart from many designers.
With the new year, many of us are looking to update our homes and clean out some of the old to replace with some new. This post is chalked full of some amazing finds to help you do JUST THAT!
I have been looking on Amazon for some organizational products for our playroom, and I got a little sidetracked by all of the gorgeous farmhouse fixer upper decor that I kept seeing…hence this post!
*There are some affiliate links provided for your convenience. Click on the corresponding number to take you directly to the shopping site.*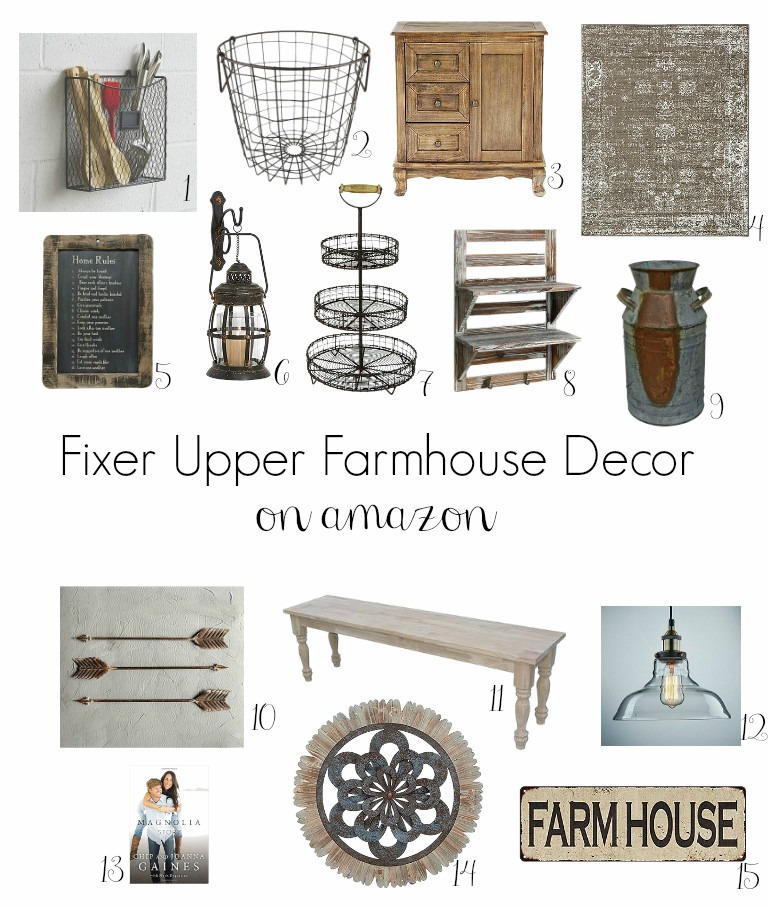 1 Chicken Wire Basket 2 Metal Storage Bin 3 Rustic Finish Pine Chest 4 Area Rug
5 Farmhouse Rules 6 Wall Sconce 7 Three Tier Rack 8 Farm Shelf 9 Milk Can
10 Gold Arrows 11 Farm Bench 12 Edison Pendant 13 Magnolia Story
14 Circle Metal Sign 15 Farmhouse Sign
Do you have a favorite piece that you would love to incorporate into your home this coming year?
Pin for Later!