My poor husband. From day to day, he never knows what he may get with me. I have a creative soul and am always aspiring to change things or try something new. I love change, and I love creating. I get such a thrill from seeing dull things come to life and a space get revived. He has stopped even asking questions, and I can almost see him embracing it now 🙂
Well, this latest creative endeavor of mine was one of those that I just decided to do on a total whim. In the midst of a busy day when I had tons of other things I needed to be doing, I had a wild hair. That wild hair led me to start on this painted dishwasher. It was not planned out, and it was literally about a span of 3 minutes from the moment I decided I was doing it until I started. I didn't even tell the hub I was doing it.
Here was my original dishwasher:
**If you are new to Re-Fabbed, I am currently living in a single wide mobile home on our farm until we build our home very soon! This is temporary, and I share lots of fun DIY projects on a tight budget in this home. No, this isn't a magazine worthy home, but it is home right now and I am loving how it is coming together! Feel free to catch up to where we are now HERE**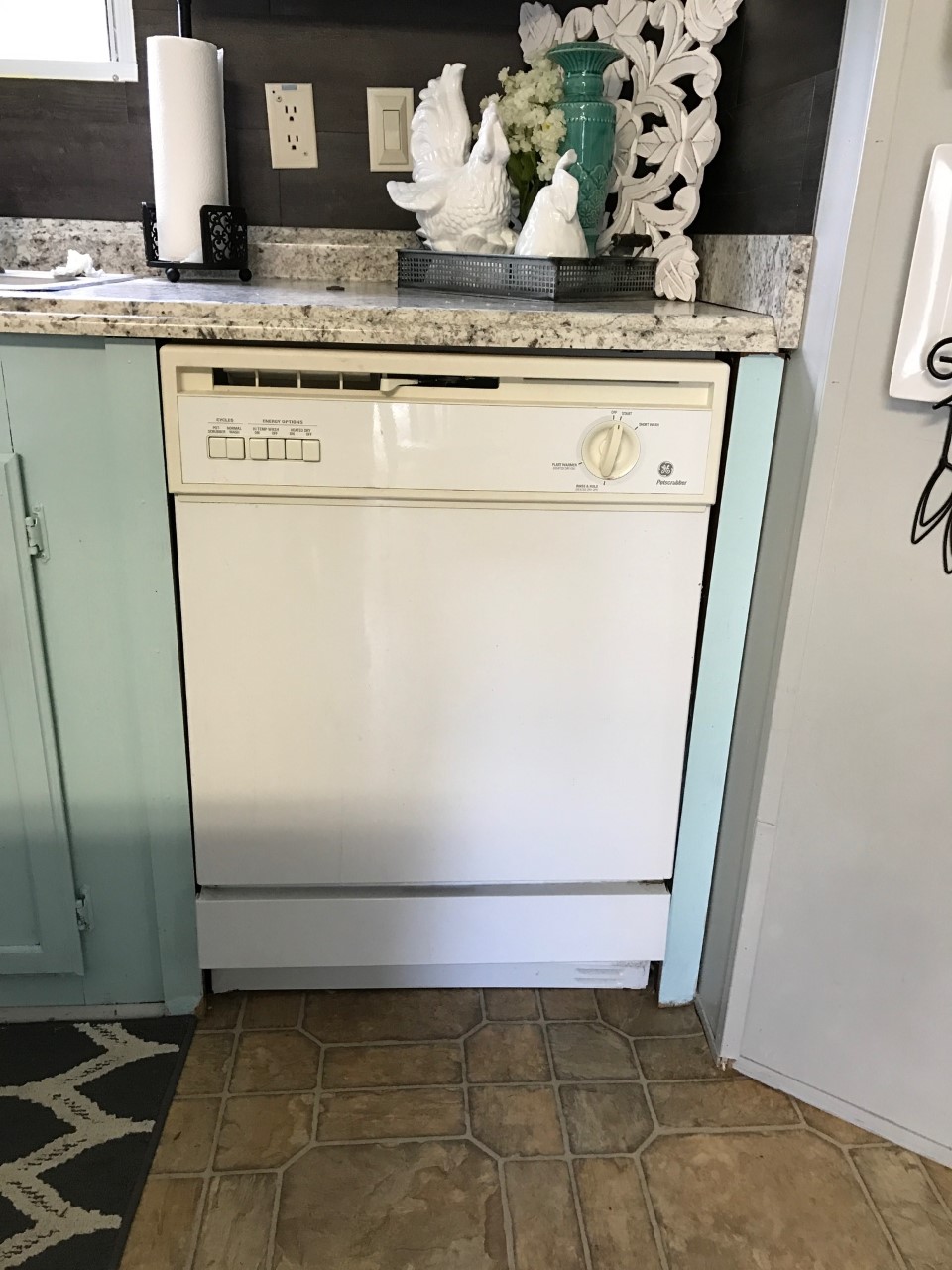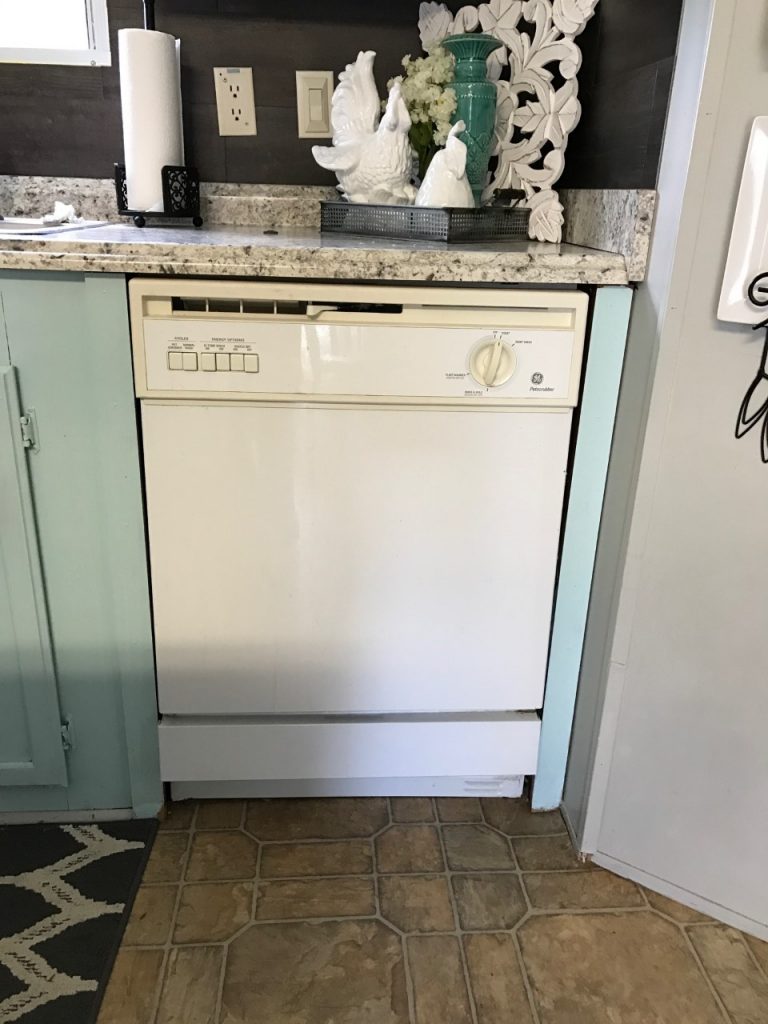 First, let me say a few things:
This dishwasher does NOT work. It hasn't worked since we moved in. My husband has told me to go get a new one if I wanted, but I just haven't made it a priority. In all honesty, it truly hasn't bothered me to do dishes by hand. I will definitely have a working dishwasher when we build our house, but I am fine for now. So….this one sat there, looking like this, providing storage! LOL.
Also, since this was on a total and complete whim (which turned out better than I even imagined), I did not go buy special materials or even special paint. This is all what I had literally on hand right beside me. At the end of the post, I will provide a list of items that are probably much better to use if you attempt this, especially if your dishwasher works.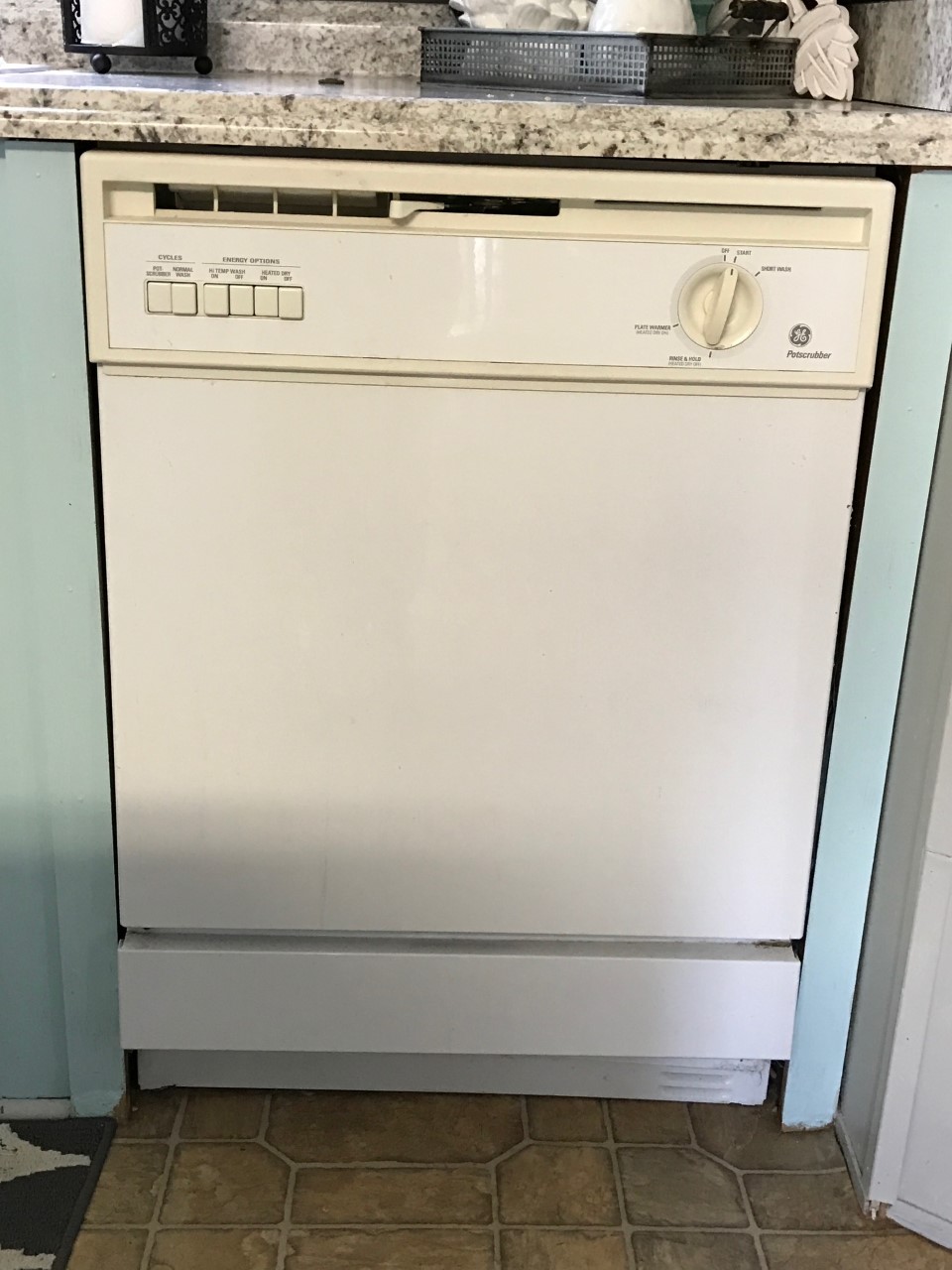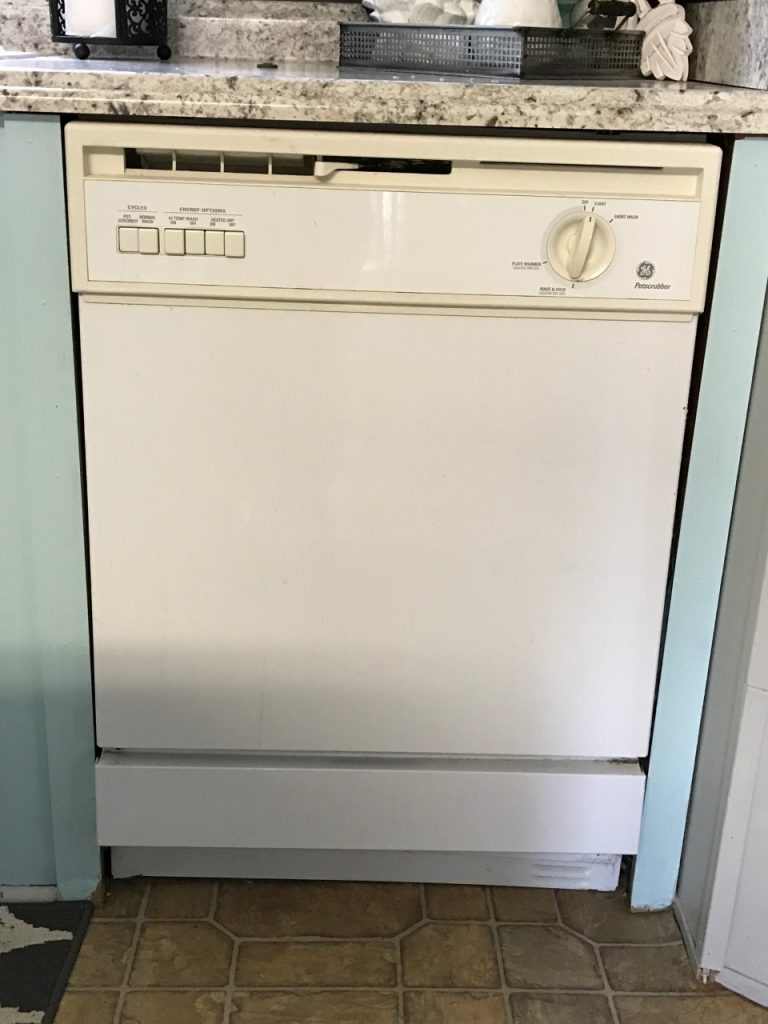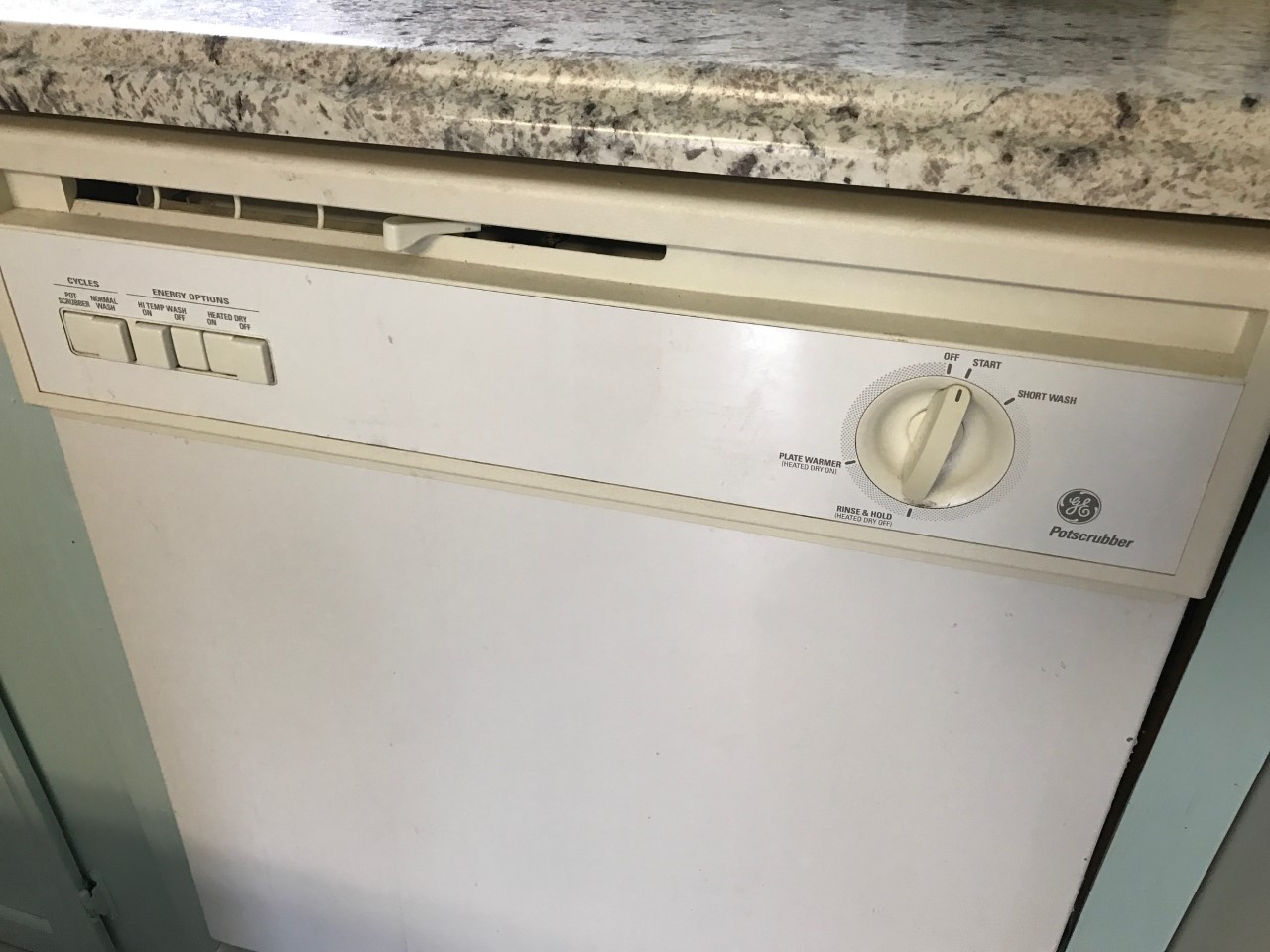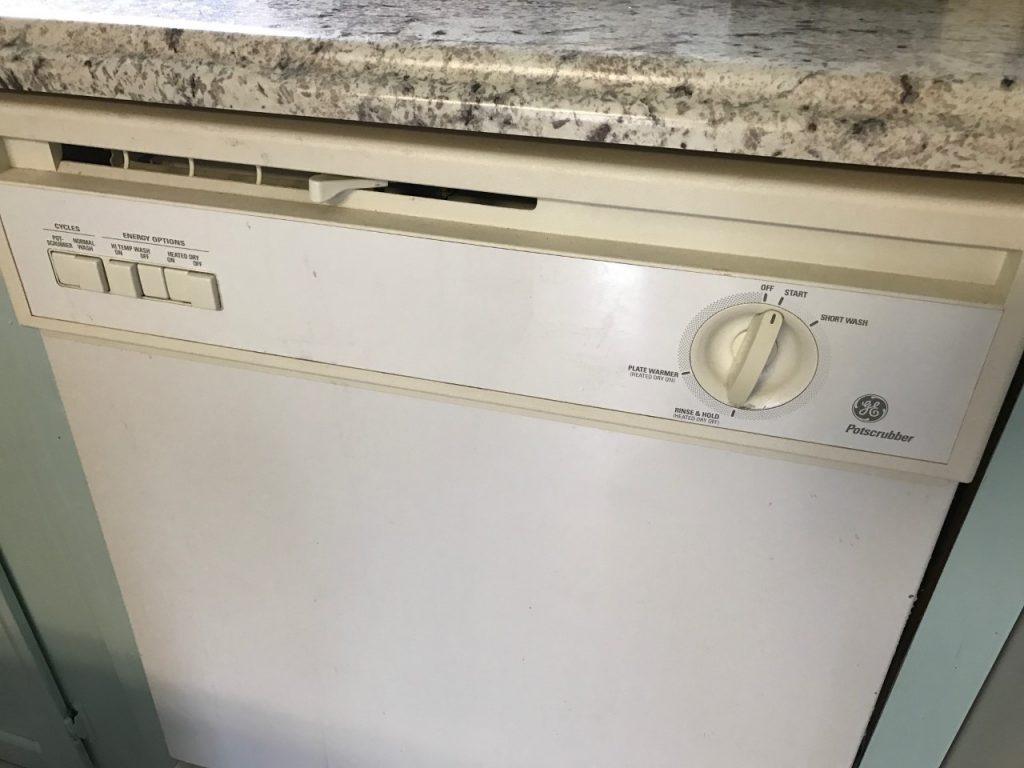 As you can see, my dishwasher was older, outdated and pretty dirty. I have scrubbed, but most of it is stained on from time gone by…and it just wasn't coming off. It felt like no matter what I did, it was just such an eye sore. I felt like the rest of the kitchen was fairly cute and coming along- but this was just not going to cut it.
Since I clearly wasn't ever going to go buy a new one, this one needed revamped!
Like I said, I decided to paint it and 3 minutes later had started with supplies I had right there.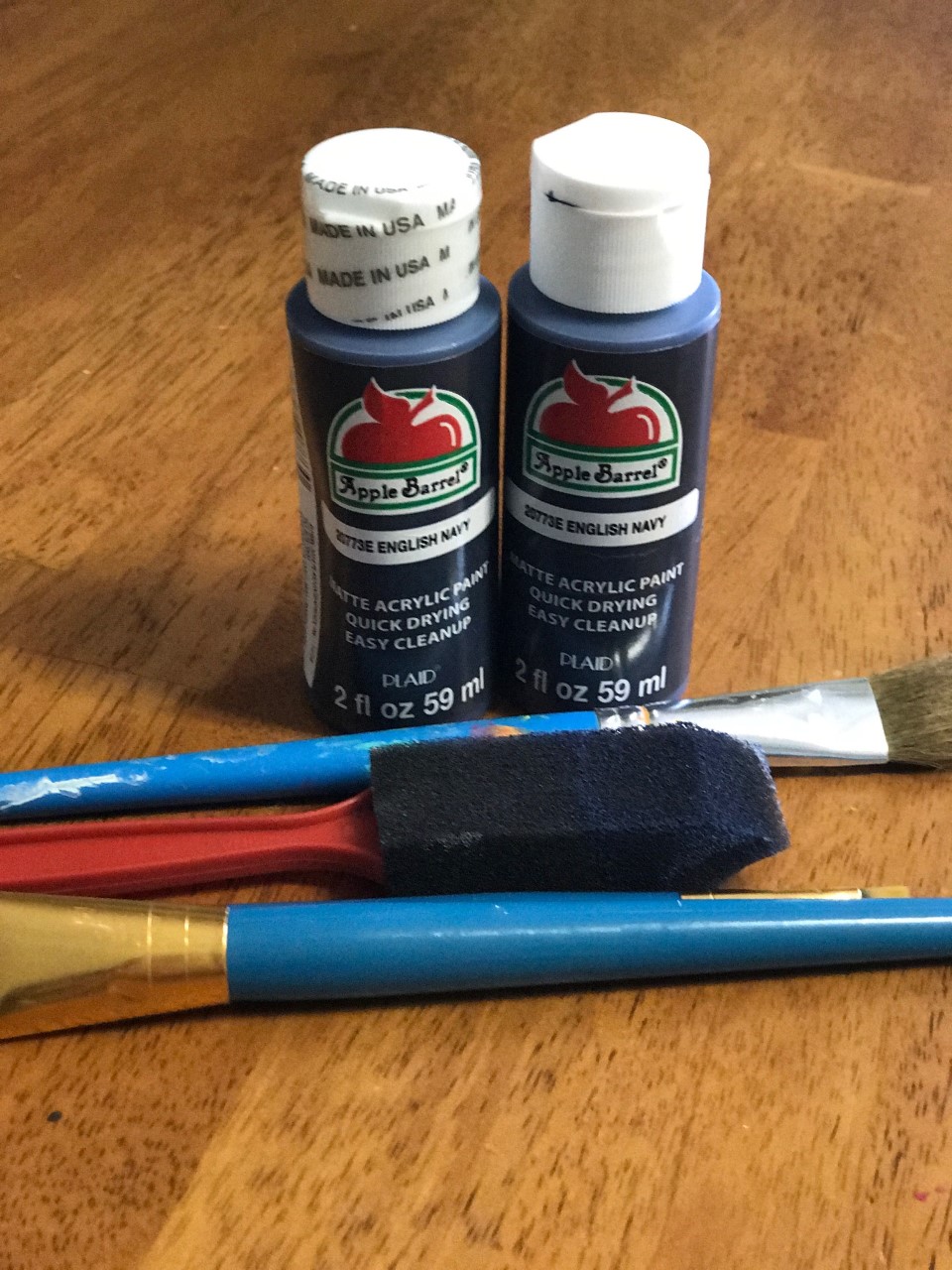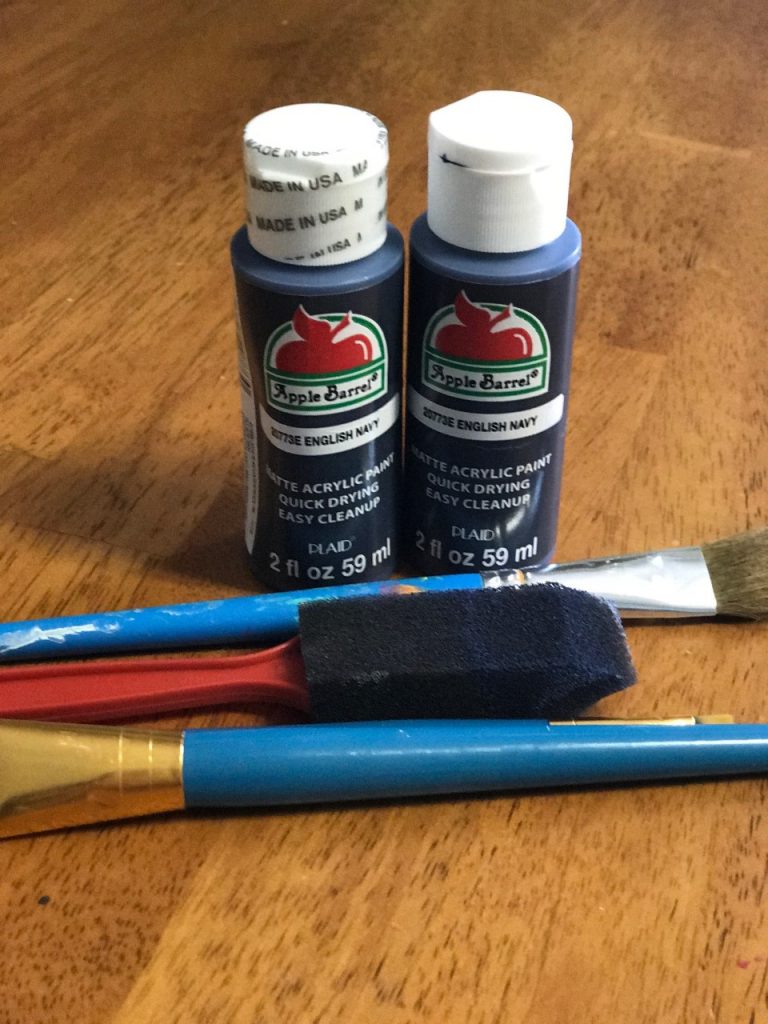 I had this navy acrylic paint and brushes on stand by from a paint class that I recently hosted, so they were my culprit. I love navy and aqua together, so I thought the navy would look amazing as my main color for the dishwasher.
I took my sponge brush and started applying the acrylic paint directly to the surface.
This is after 1 coat.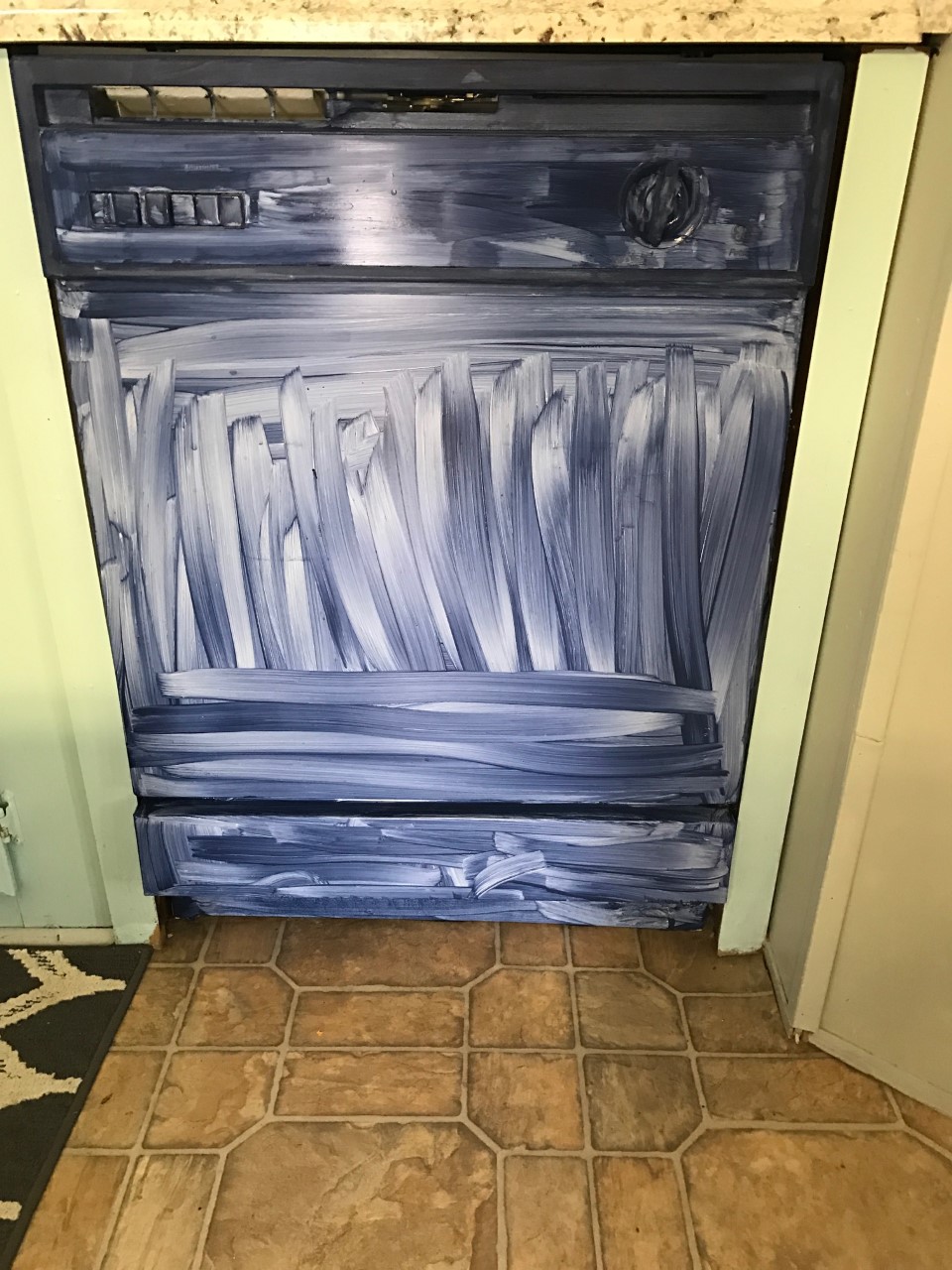 This dried SUPER fast, and it took about 4 coats, with a few touch ups.
The navy paint is only $.50 per bottle at Wal-mart or most craft stores, and it only took me 2 bottles to do the whole dishwasher, so $1.00 total!
Here it is after 4 coats: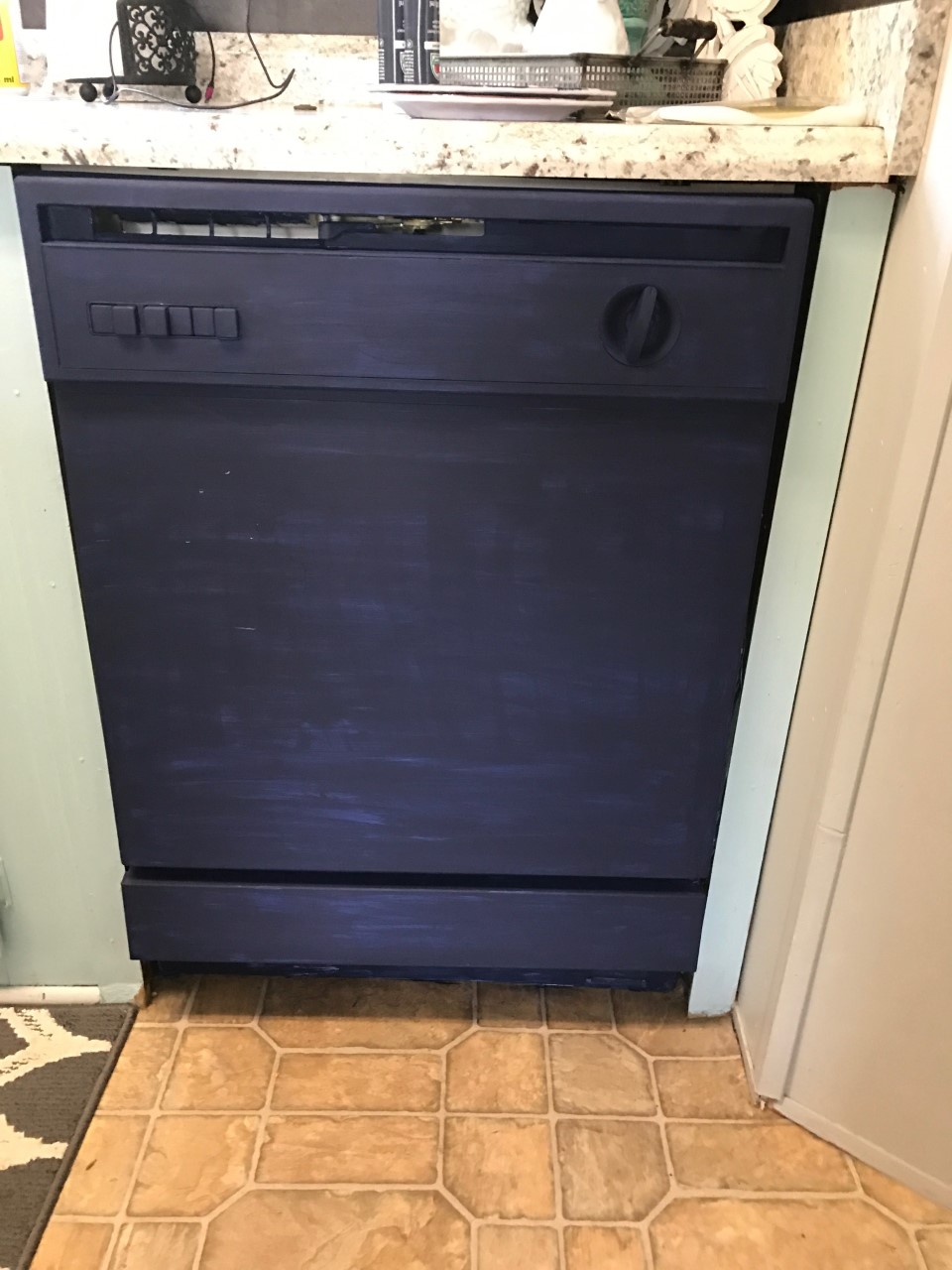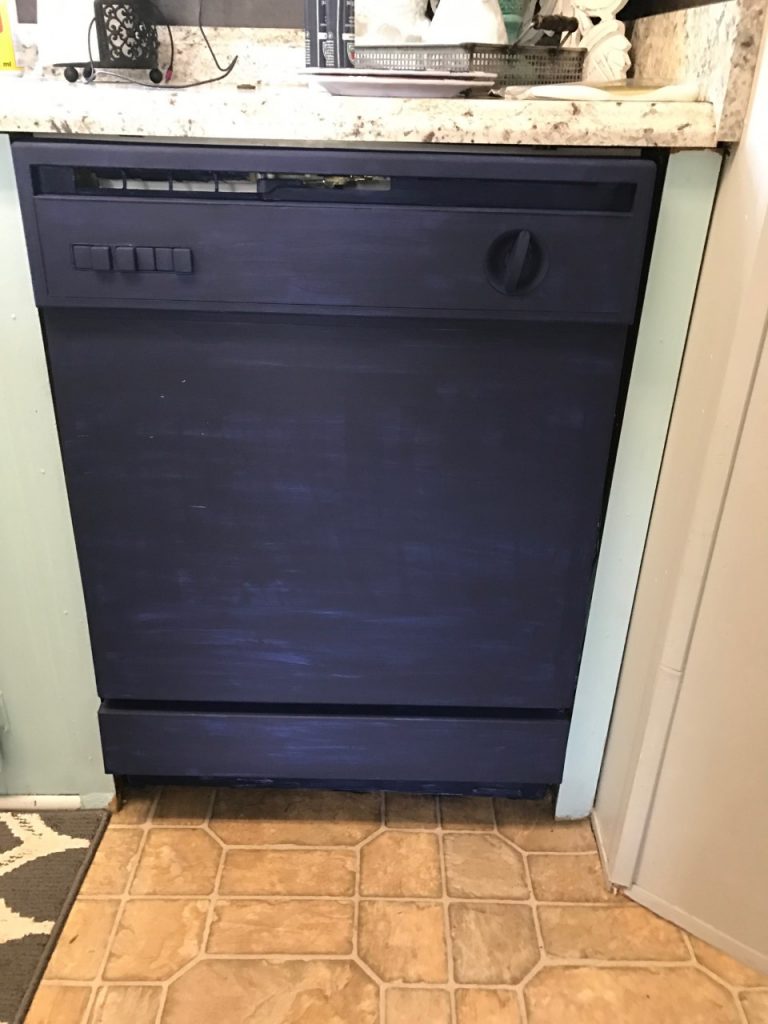 I did a few more touch ups at the bottom and where you could still see some white, but this is pretty much finished. I knew I was going to paint a design over it, so I wasn't super worried about getting it perfect.
I decided to use this surface exactly like I would a blank canvas. I got my paint brushes (ones in picture) and some more little bottles of $.50 acrylic paint that I had on hand (I have TONS of paint because of my paint classes and all of my craft endeavors) and got started painting. I used pale daffodil yellow, lime green, and key west blue.
I decided on a flower because it would be fun and whimsical and would also fill up the space nicely. I literally just painted the flower onto the surface EXACTLY like I do on a canvas.
I didn't take pictures of the painting process because that isn't what this post is about, but here is my finished product!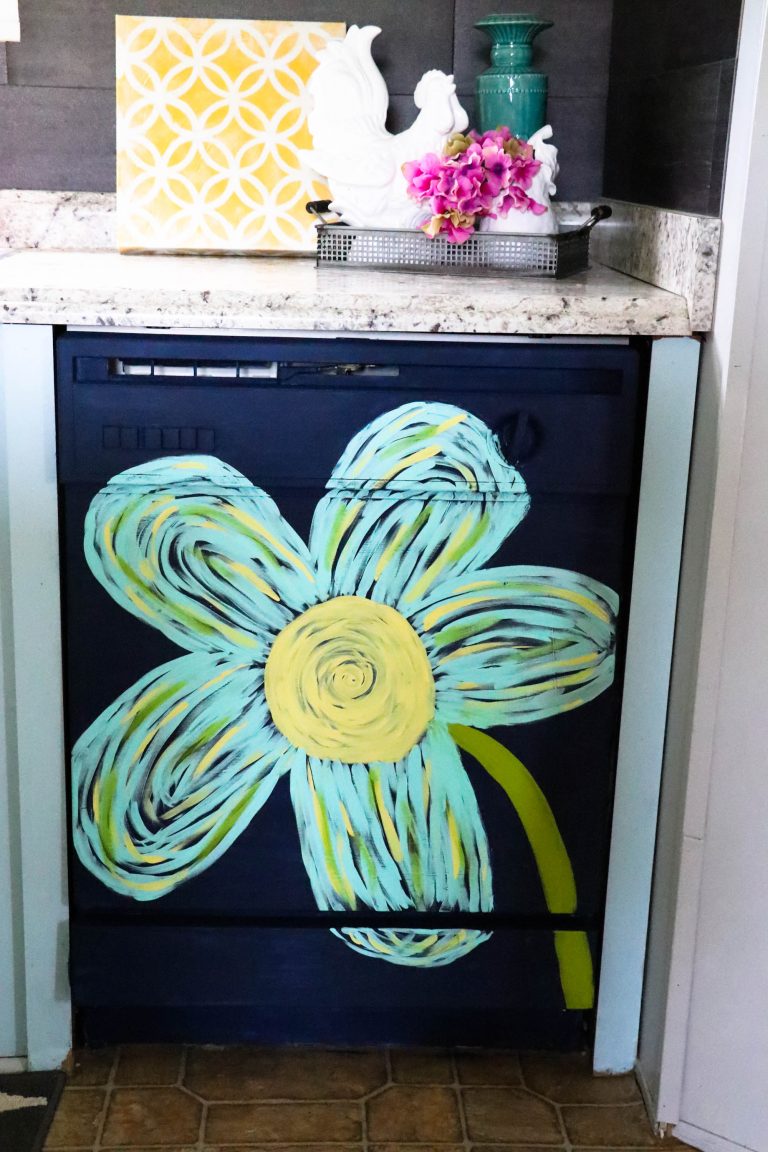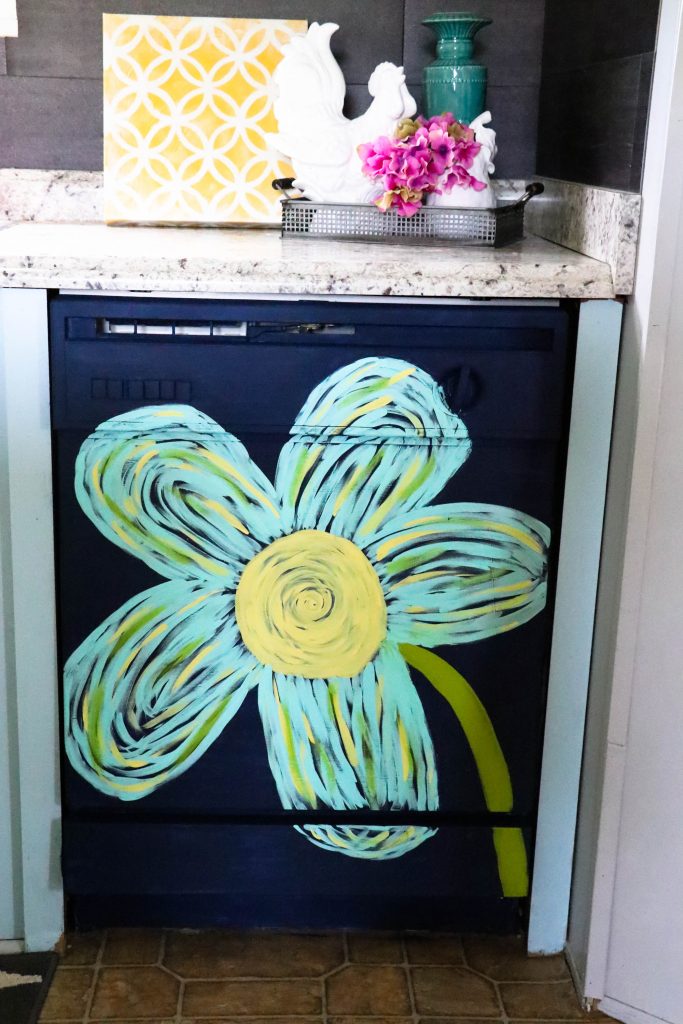 I absolutely LOVE IT. It has changed the entire look of my kitchen, and it is so fun and colorful…just like this space. I wish I had done this much sooner!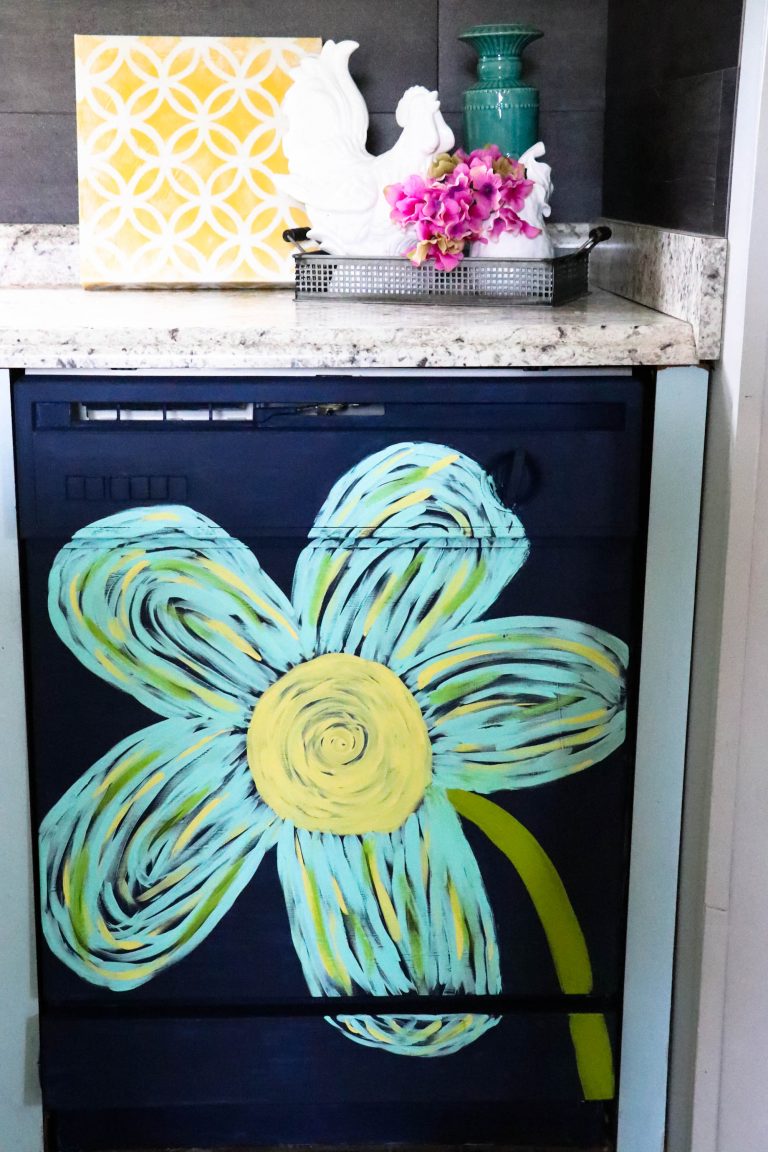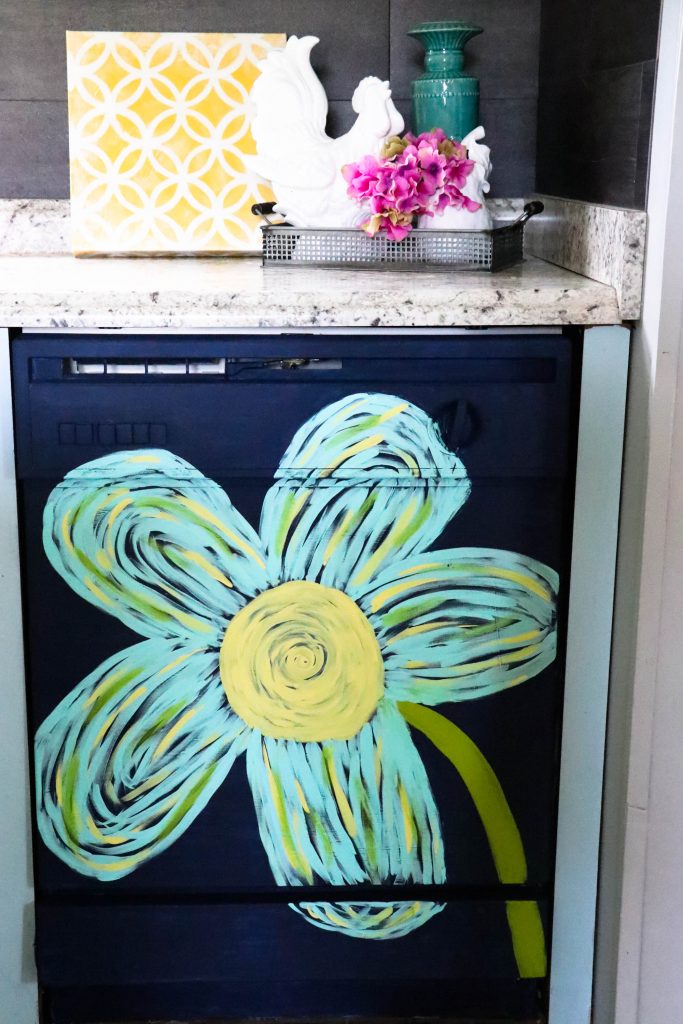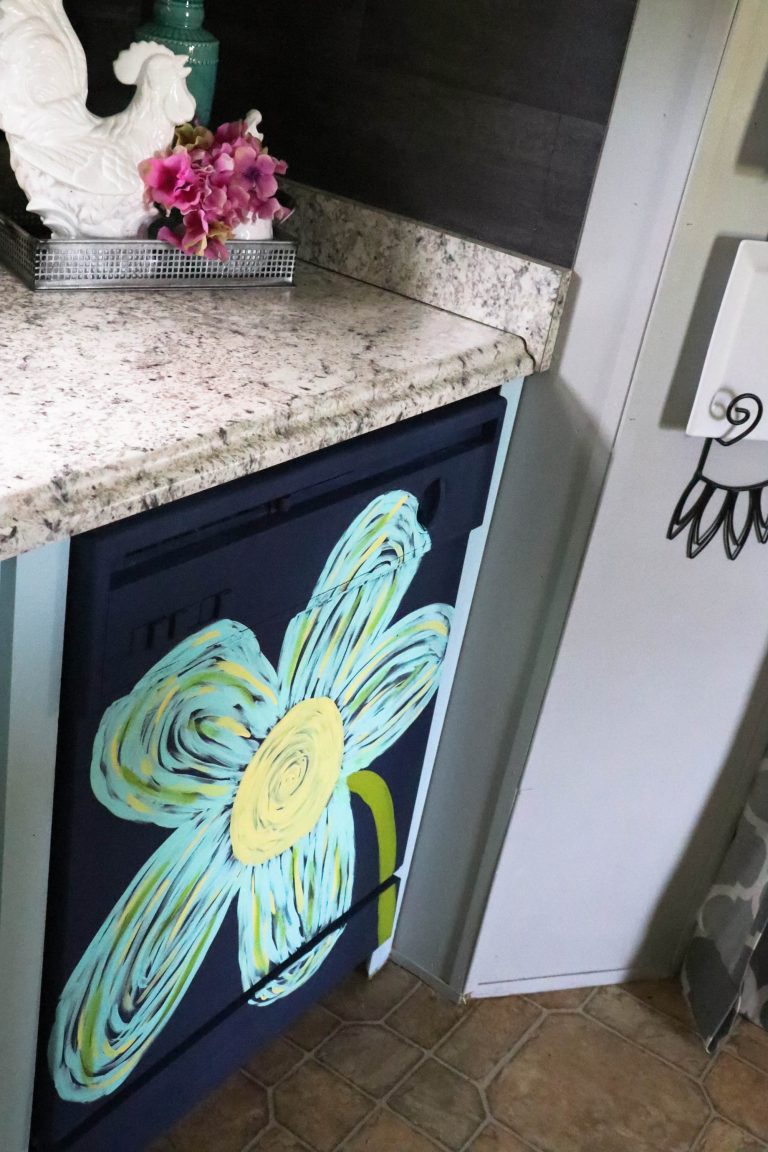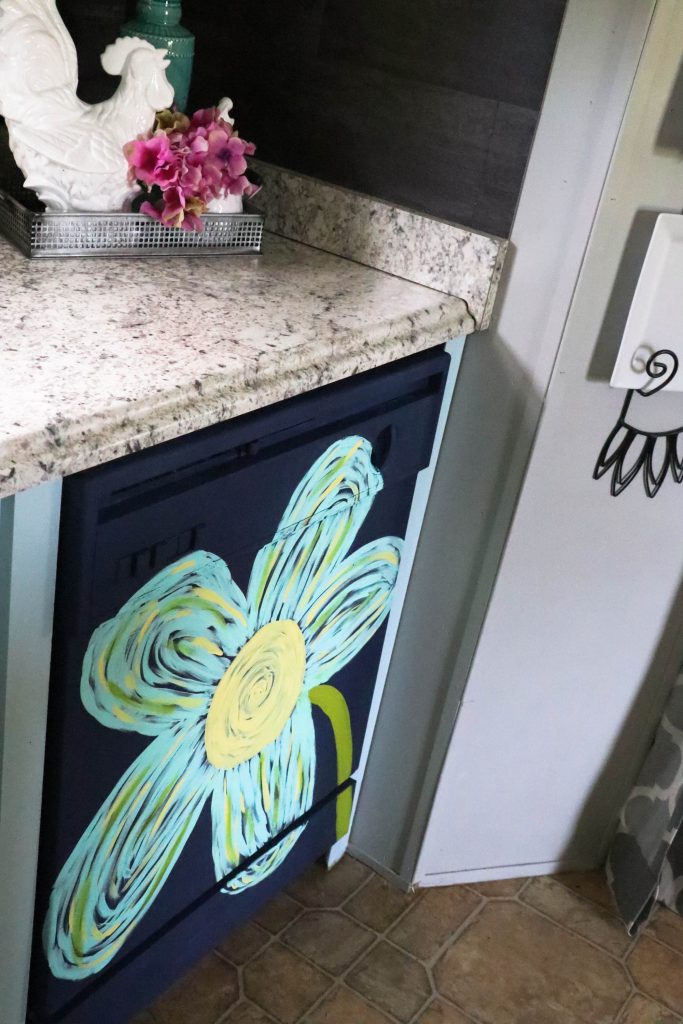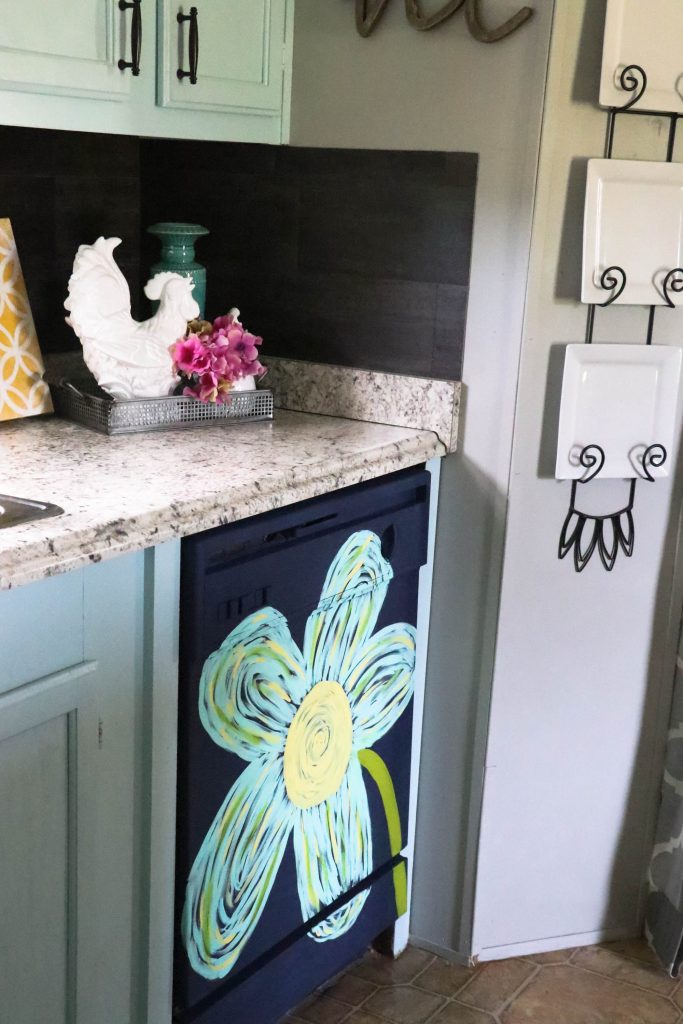 I am truly amazed at the difference and how well this project turned out. I LOVE it! Don't ever be scared to take a plunge on something out of the box. It is so rewarding. Sure, sometimes things don't turn out like you hope, but many times, it is better than you could have imagined. Be brave and Be bold!
P.S. When my hubby came home, it was in the mid-finished state…and he really liked it. He actually loves it now!
Let's take one more look at the before and after!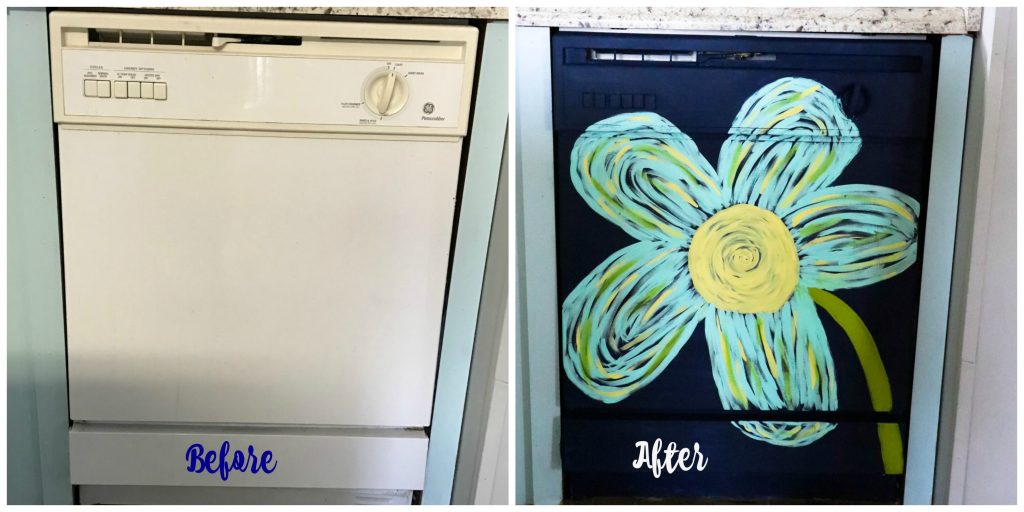 Wow. Wow. Wow. And all for literally $2.00 at the MOST!
Pin for later and SHARE with your friends!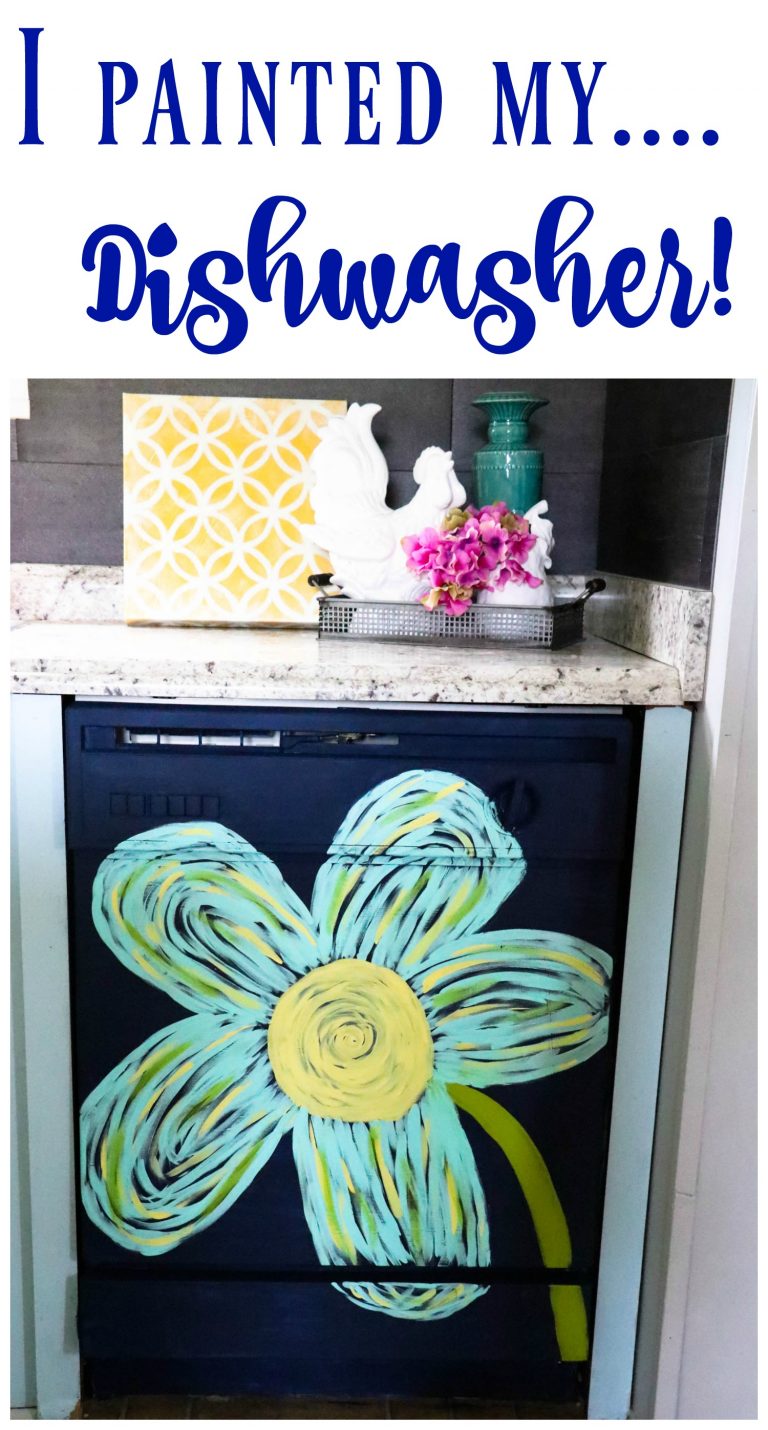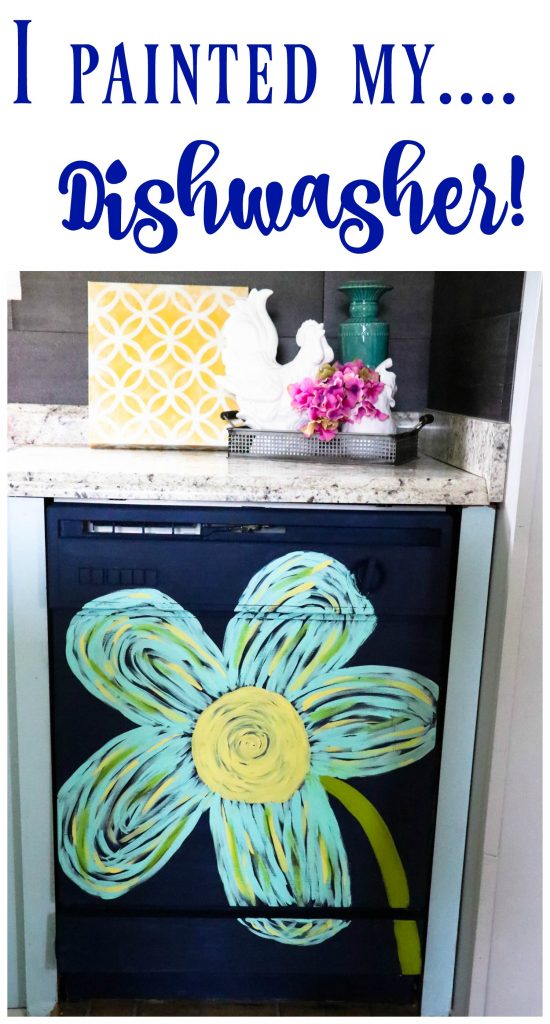 And…as promised- here is some tips for painting a dishwasher that you will actually be using 🙂
Use light sandpaper to scruff it up a little, for better adhesion.
Paint the entire surface with an adhesion primer.
Use a good, cabinet grade paint.
If you follow these steps, you should be good to go!
Follow along on my crazy journey by Email! Don't worry- no spam…just new posts when they go live!
Follow along on social media:
Facebook/Twitter/Instagram/Pinterest