Well, it happened. My baby girl turned DOUBLE DIGITS… well, she will officially turn 10 in two days, but we had her birthday party this past weekend!
She decided on the theme of the party herself- which was S'MORES! She had plans of having a s'mores bar, and having "tents" in the living room to have that feel of camping. She told me her ideas, and I made them come to life!
The first plan of action- order all the supplies! Amazon was my best friend for this… because that's where I got majority of the party decorations!
I ordered three teepee tents for $39.95 each… which I thought was pretty good! They were SUPER easy to assemble, the girls thought they were the coolest things ever.
CLICK HERE FOR MY AFFILIATE LINK TO THE TEEPEE!
To get that extra feel of "camping," I got battery powered lights to go over the teepees! These were SUCH good quality, and were a great length! I only needed two strands to go over the three teepees.
CLICK HERE FOR MY AFFILIATE LINK TO THE BATTERY LIGHTS!
Another one of Eden's requests (which I was VERY happy to oblige to because it's the cutest thing ever) was to have matching pajamas for the girls. I found these neutral sets for a very good price- and the girls got to keep them of course!
CLICK HERE FOR THE MATCHING PAJAMA SETS!
This was one of Eden's gifts… and it is seriously the coolest thing EVER. She wanted a starry night projector to make it feel like you're under the stars… and it worked WONDERFULLY.
It's hard to tell from the picture, but it was so peaceful… I might be stealing it from Eden. LOL
CLICK HERE FOR THE STARRY NIGHT PROJECTOR!
Now for the star of the show… the S'MORES!!! Brandon started us a nice little fire outside, and we roasted s'mores until we we're s'mored out!
Here's the real test… do you like your marshmallows to be toasted, or BURNT???
I also had to include to Brandon in here for manning the grill for us!
The next morning when the girls woke up, we got straight to our donut bar!
This doesn't really go with the "s'mores" theme persay… but I wanted to include it in here, because the girls had a BLAST doing it!
I had bought a bunch of random toppings for them to choose from… and they went wild with decorating their own donuts!
That afternoon was the actual party with the family! Look at that precious little photo bomber… she melts my heart.
We didn't have a real fire this day, but we did have a S'mores maker!!! This thing was LEGIT. It worked amazing… it was as huge hit to say the least!
I bought it off amazon, of course… and stuffed the trays with random items to make s'mores with!
CLICK HERE FOR MY AFFILIATE LINK FOR THE S'MORES MAKER!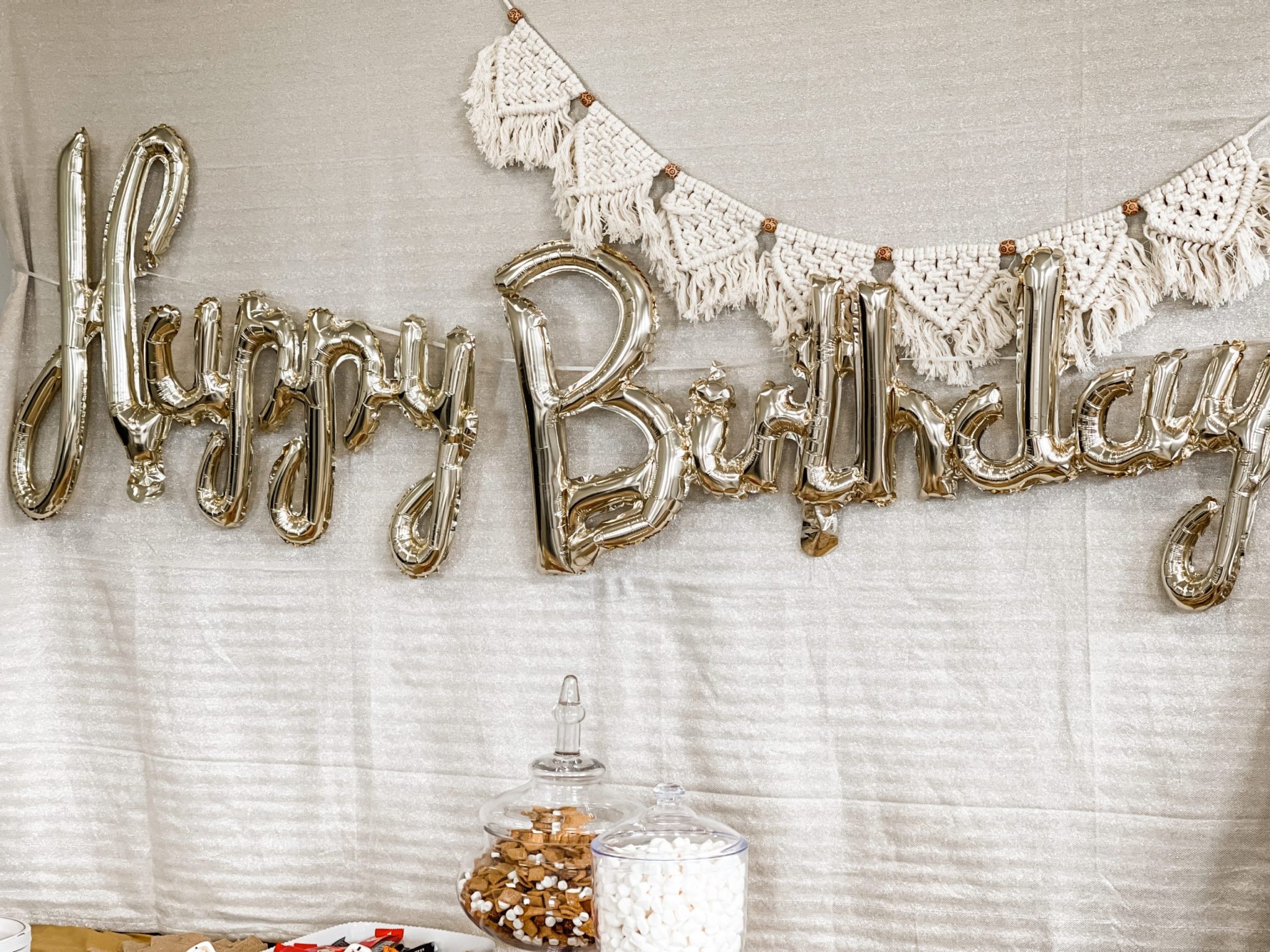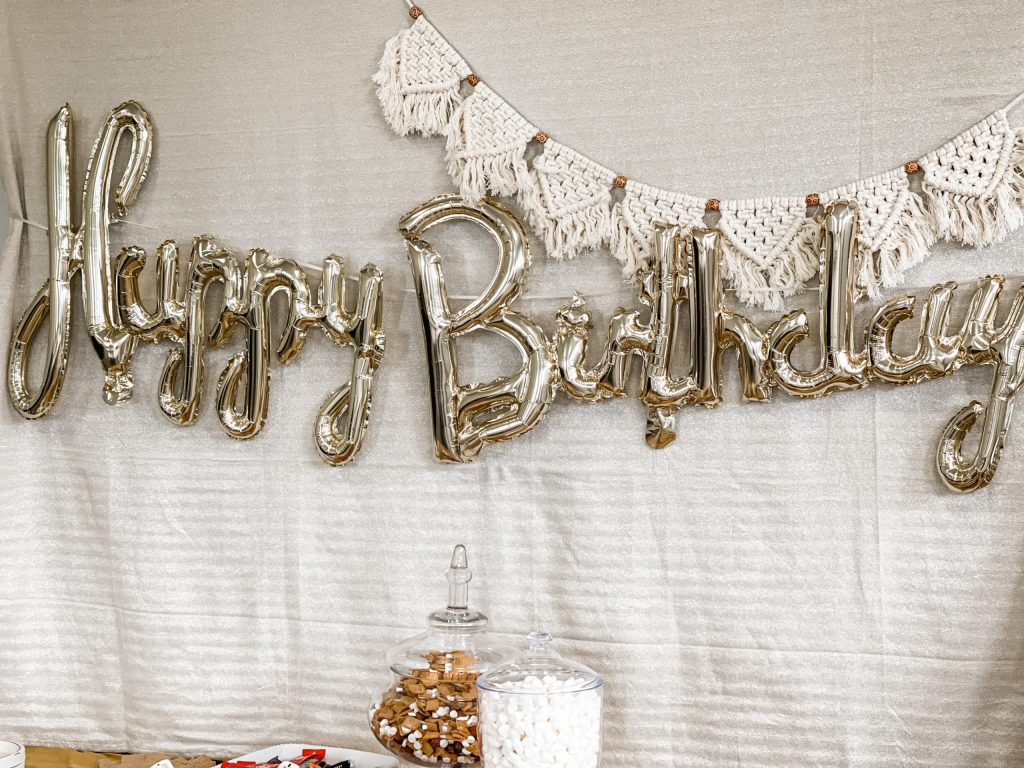 I didn't get many pictures of the actual party… but I did want to make an honorable mention to this golden happy birthday balloon from Dollar General!!! $3 bucks y'all!
You may also recognize the macrame banner that I featured in my Fall Decor finds blog post… it fit in perfect for this theme!
And you can't have a birthday party without a cake! This cake is SUPER special, because my little sister Brayden made it… didn't she do an EXCELLENT job?!?!?!
I pretty much can't have a party anymore without decorative cookies… and my friend Anna with Sprinkled Sweet makes the BEST!! How adorable did they turn out?!
If you have someone in your life that would enjoy this birthday party theme… be sure to share this with them! This would work for ANY gender and honestly any age!!!
If you're interested in seeing some other birhday parties I have done in the past, check them out below!
PIN THIS FOR LATER!