While most of my posts are about furniture makeovers or DIY projects, I also LOVE to plan parties! I am not the absolute best, by any stretch, but I truly do enjoy it… and this one was a BLAST to plan (and EASY~which let's face it, is the best part!).
For a few months now, I knew I wanted my son to have a barnyard theme. He loves tractors, animals, and all things boyish, really…so I thought this would be a fun theme for him. He is turning 2 (tear), so I still get to decide the types of parties to give 🙂 I know Chuck-E-Cheese and sleep overs are just around the corner, so I am enjoying it while I can!
My husband made this barn out of bead board. He even painted it for me! He did an awesome job…even better than I expected. He really is the BEST.
I made the banner out of chipboard pennants and scrapbook paper, and then I used twine to pull them all together. I got the number 2 at Hobby Lobby. It was already white, and I actually already had it from when my daughter turned 2! Winner!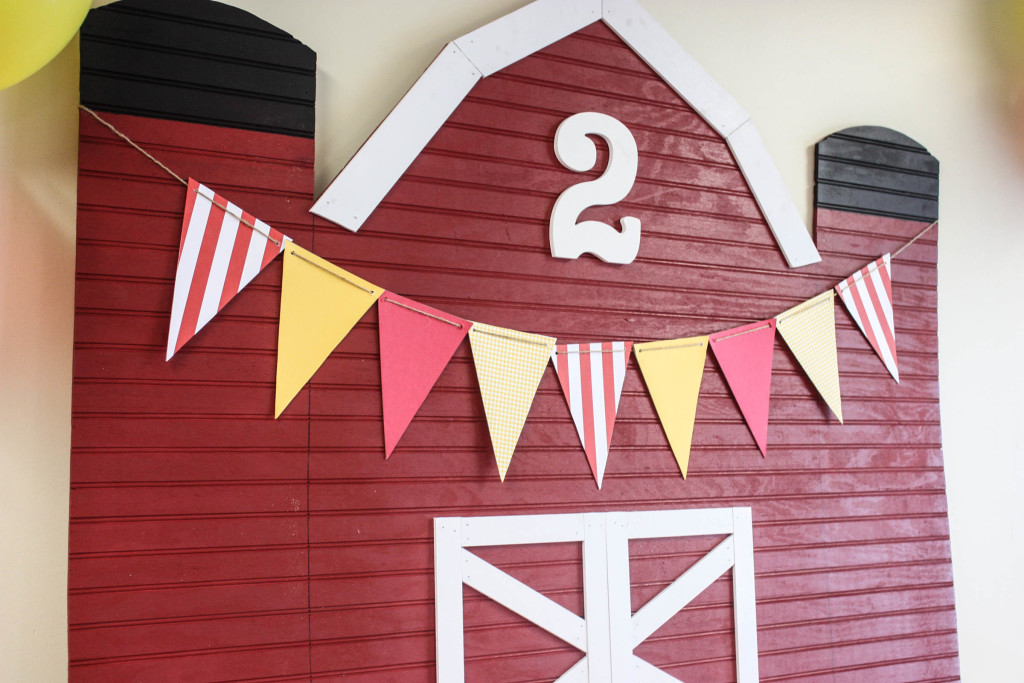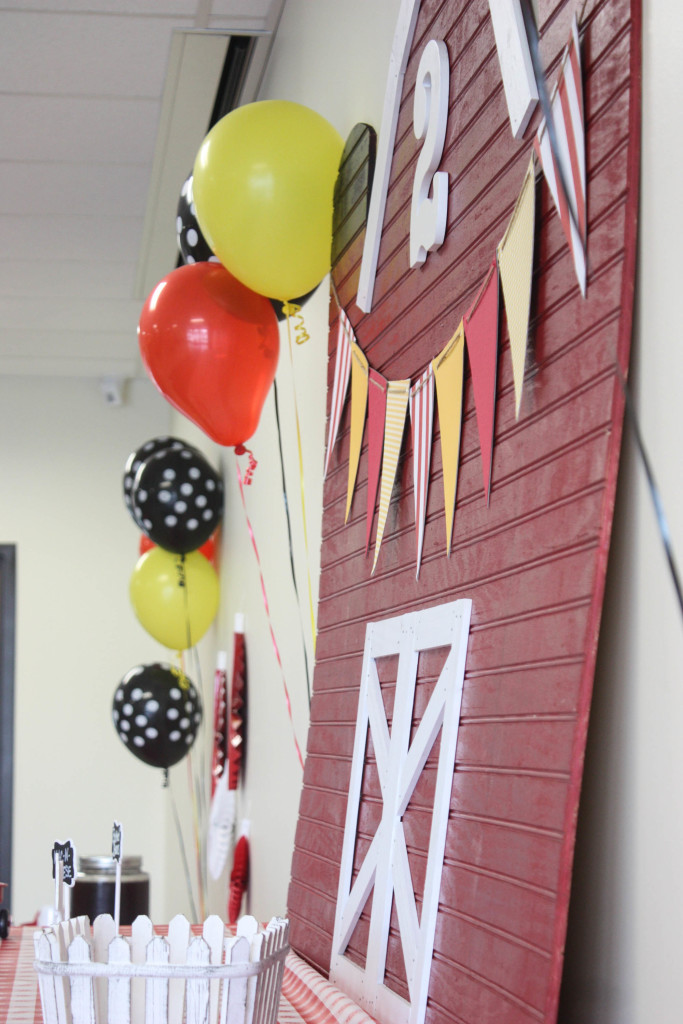 There was really nothing to these little gift bags. I got the little red bags from Wal-mart (2 for $1), and I already had the tags. I also had a bunch of farm animal stickers that I had grabbed up along the way, so I thought it would be cute to just stick them on the tags. I think it turned out pretty cute. Very simple! (And as you will see throughout these posts, I used LOTS of stuff that he already had to decorate…toys, wagons, etc…)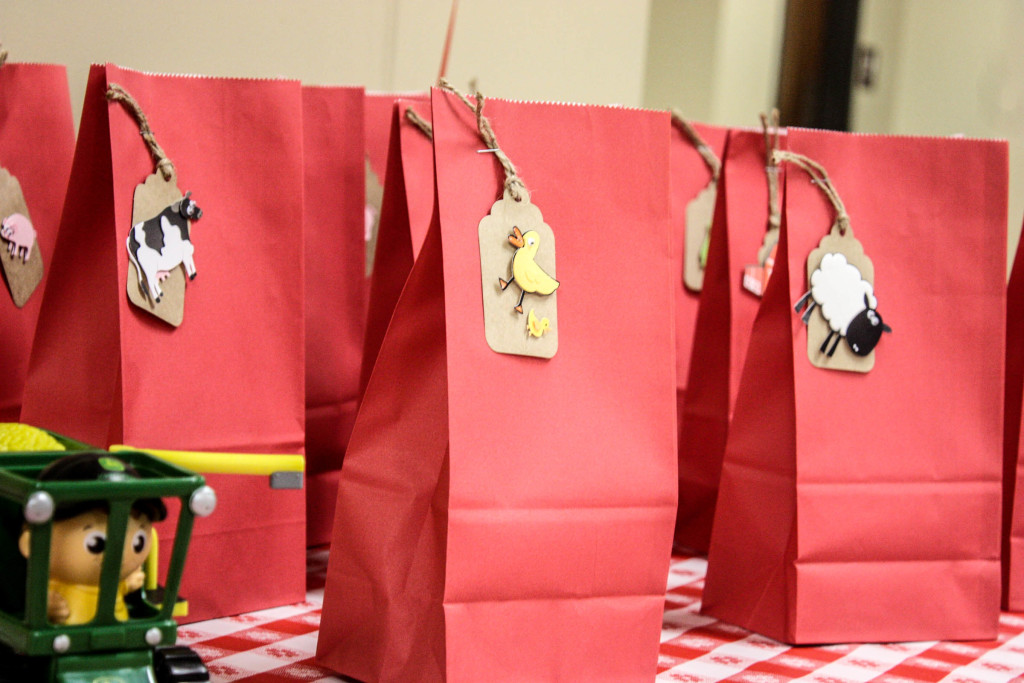 For the serving station, I simply used large plastic tubs that I had or that I borrowed from a co-worker…and just filled with ice and waters. A woman I work with let me borrow the rooster chalk board, so it was perfect for my "watering hole" sign! The paper straws were just placed in a mason jar filled with raffia…simple and cute! On the wall behind (which you can barely see…) are several paper fans. They take about 1 second each to put together. They make a statement, and are very inexpensive. You can get them in a variety of colors at any craft store.
We also had lemonade and sweet tea (of course!), but I realized when I was looking through all of my pictures that I completely forgot to get one of that part of the table. Bad blogger.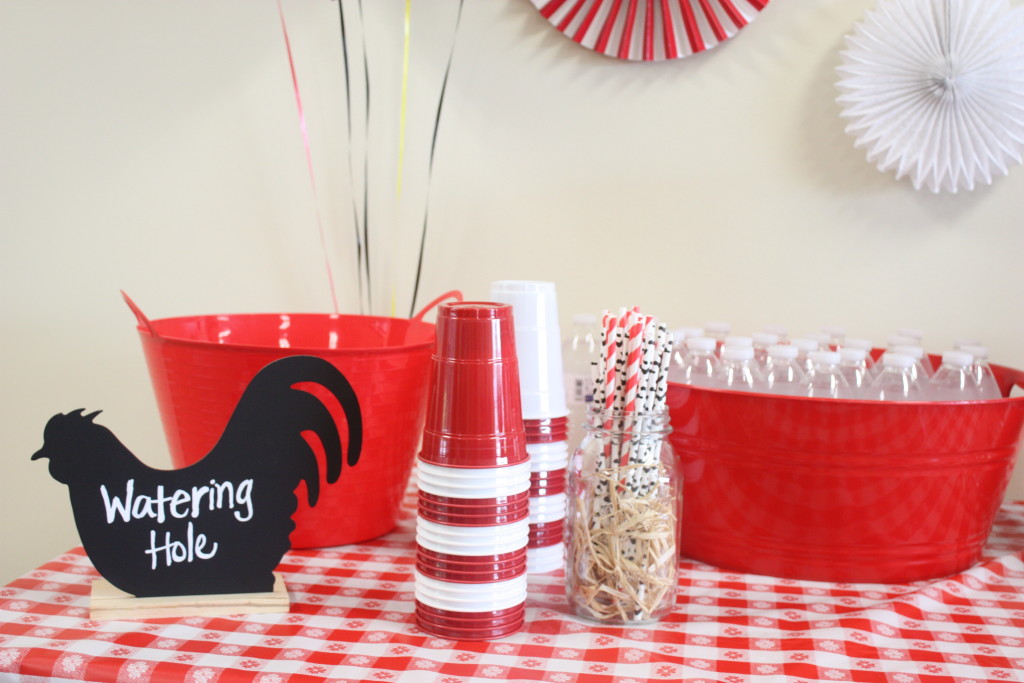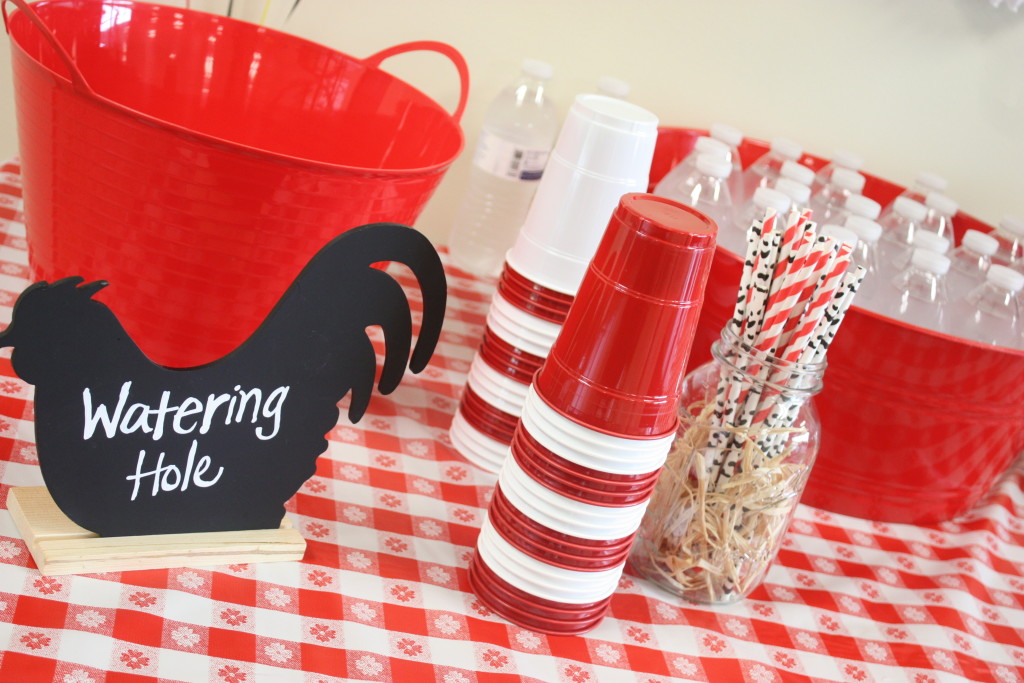 On the same table as the drinks, we had the utensils and plates.
We labeled the forks as "pitchforks" (using a liquid chalk pen), and placed them in a mason jar with raffia just like the straws! *Bonus- I found the raffia at a thrift store on sale! It was a full package. Yay! Love finds like that!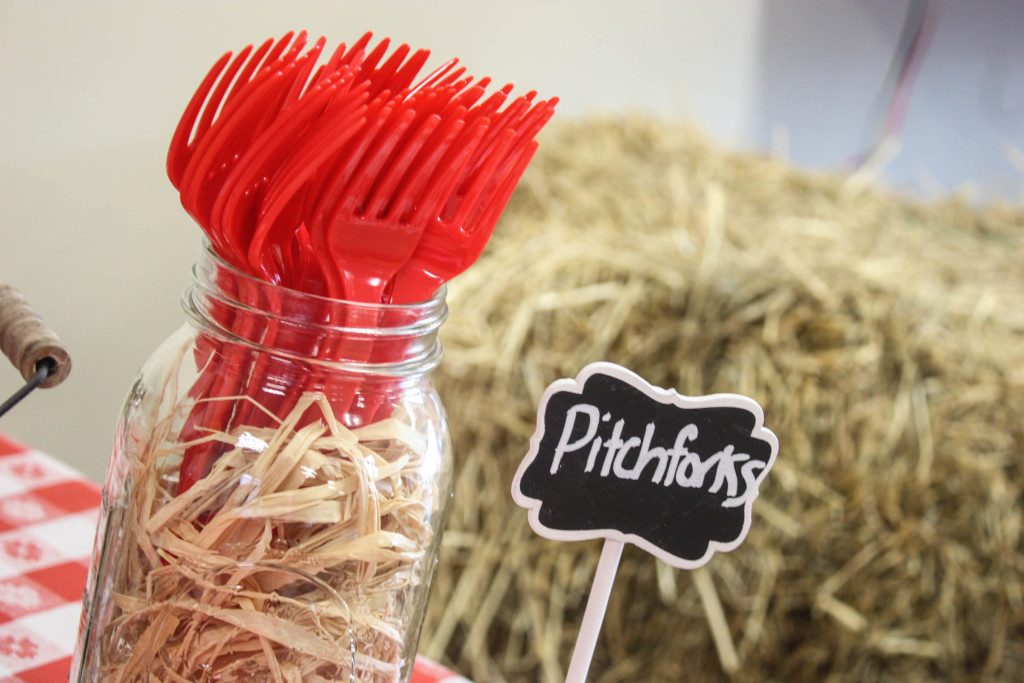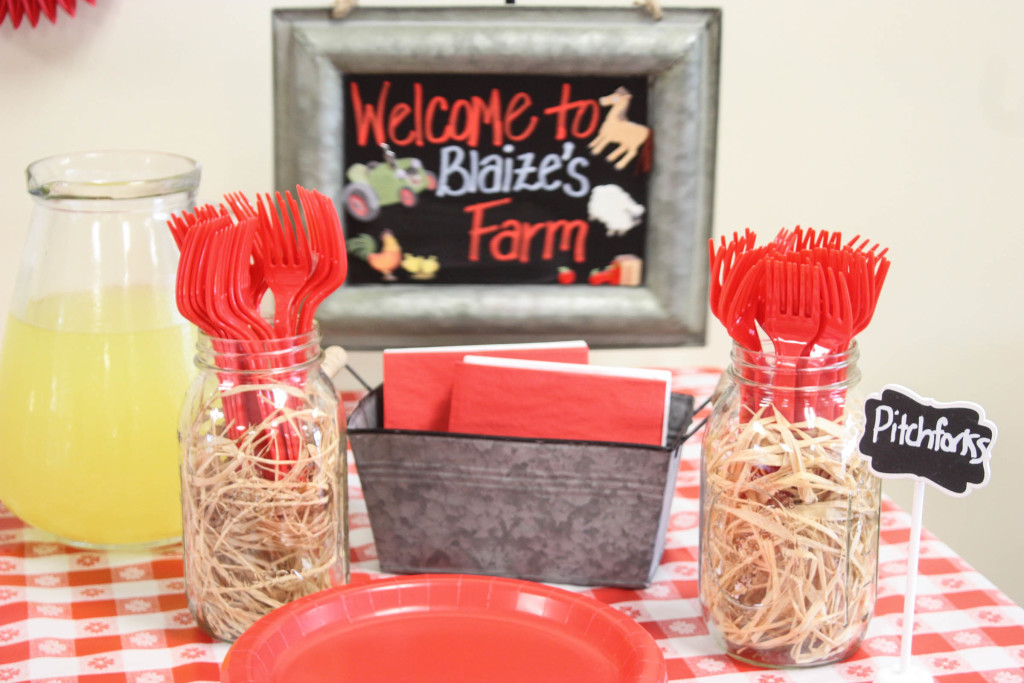 I bought this blank chalkboard sign at Hobby Lobby for around $6, and I just used my chalk pens to write "Welcome to Blaize's Farm." I used stickers to decorate around it. I plan to use this sign in my kitchen to write what's on the menu now that his party is over.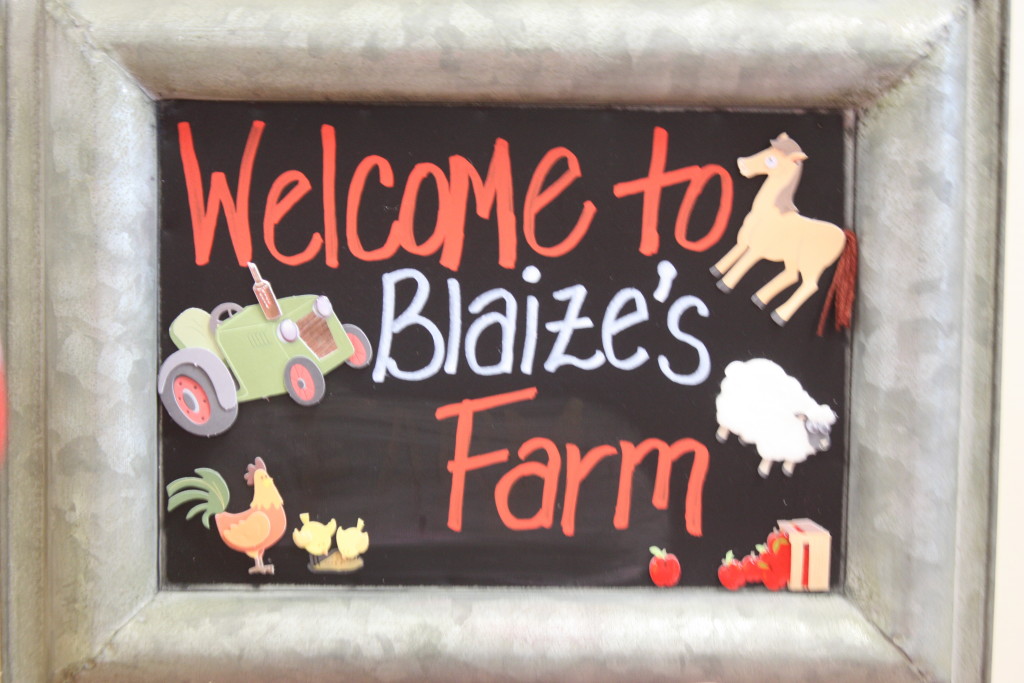 For the food, I just used very simple foods that I thought people would enjoy. I tried to be clever with some of the names, but some of them were just "as is"…such as Mac-N-Cheese. I just couldn't think of anything too "farmy"!
For the chicken coop, we just made deviled eggs…then just laid out cucumbers, broccoli and carrots for the veggie garden. The cute little picket fences came from Hobby Lobby for a mere $3.00 each! For the pigs in a blanket, we made…well, pigs in a blanket and put them in a little basket! Nothing too crazy! We also had bbq, baked beans and macaroni and cheese. I didn't take pictures of those because they weren't "cute!"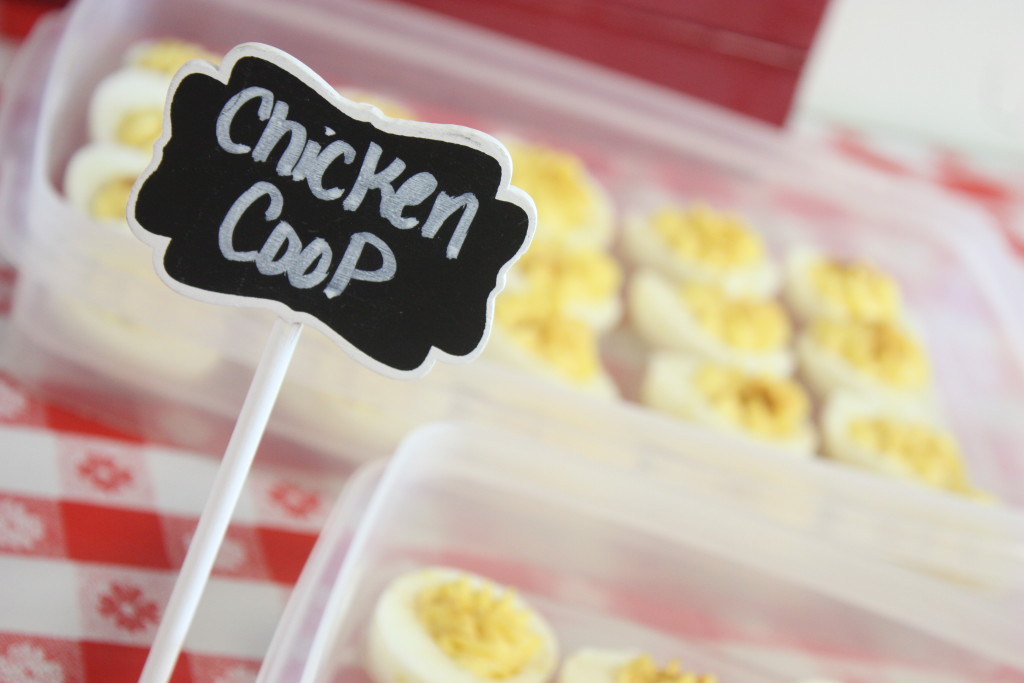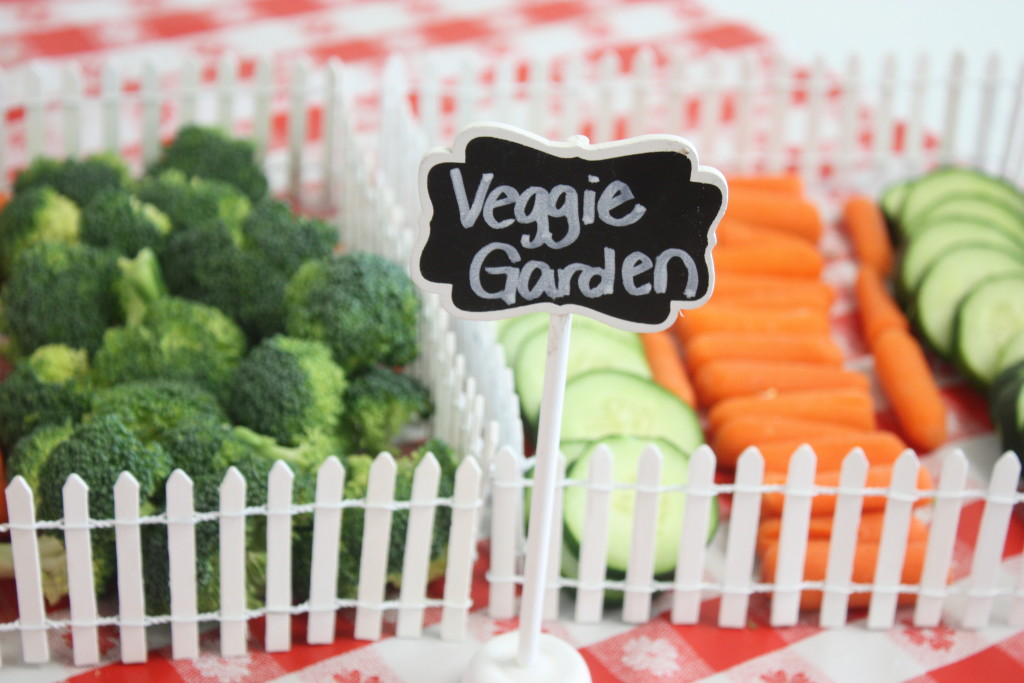 The dessert table was my favorite! Anyone who knows me even a tiny bit knows my love for all things SWEET! We had plenty! I ordered the cupcakes and cookies from a local bakery, and they did a fantastic job. The cookies were delicious and soooo cute!
And as you can see, we used another toy that he already had.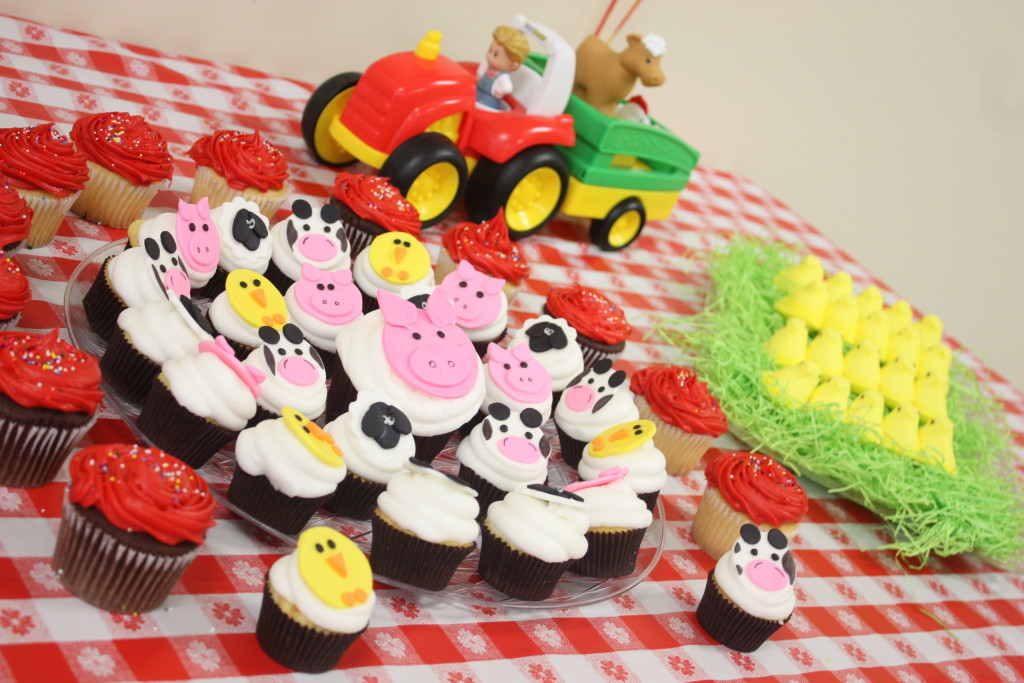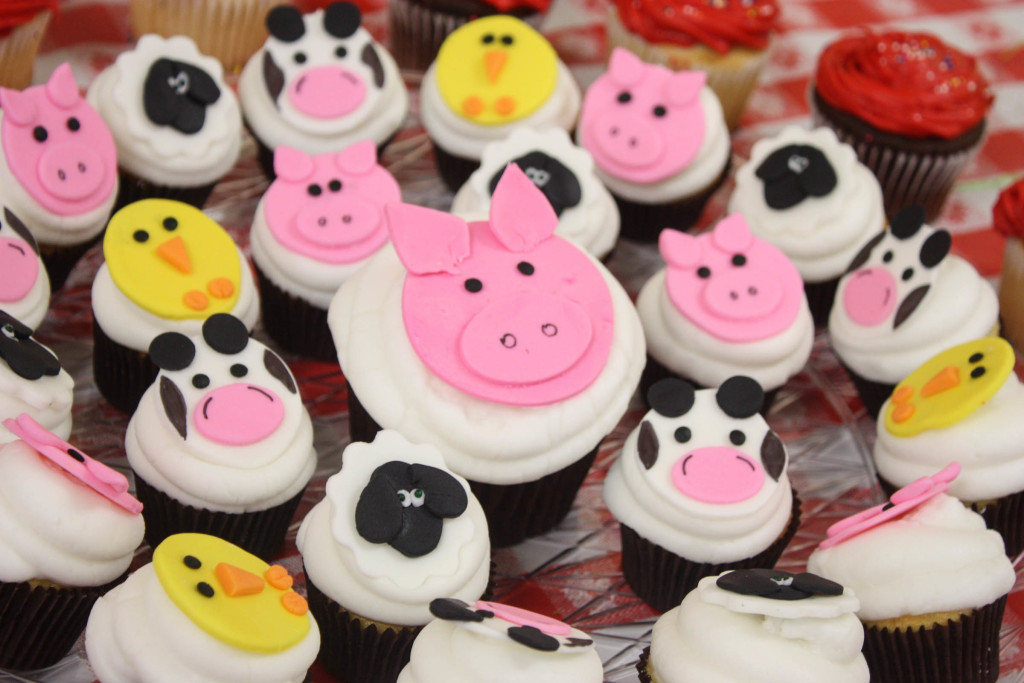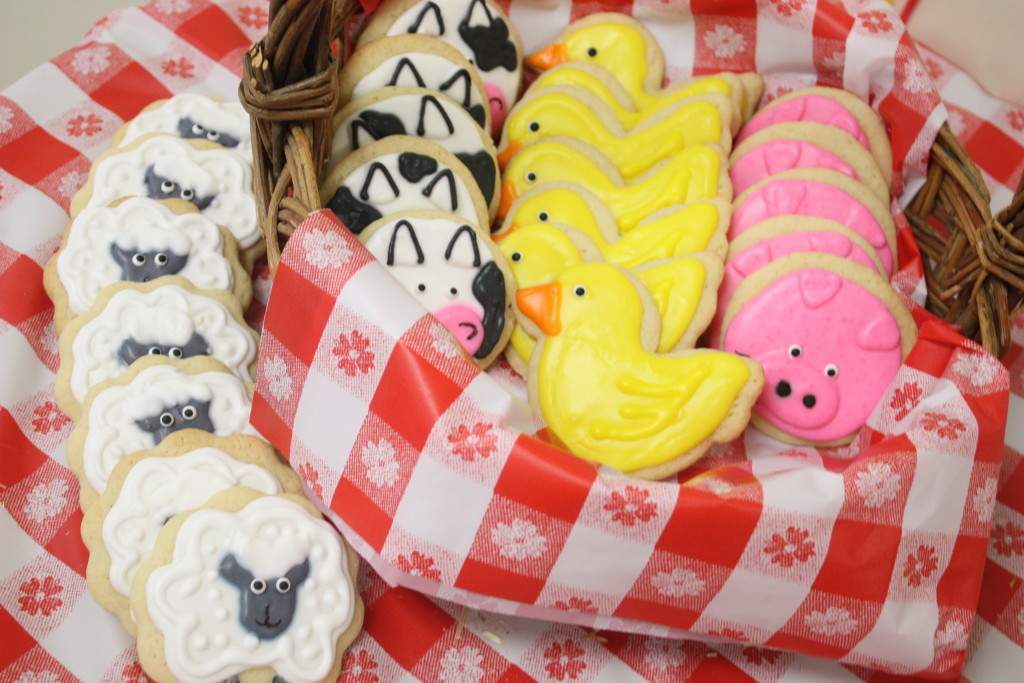 I used peeps to look like chicks on grass. Since I knew I was going to do this theme for a while, I waited until after Easter and got the peeps and grass for about $.10 each! WINNER!!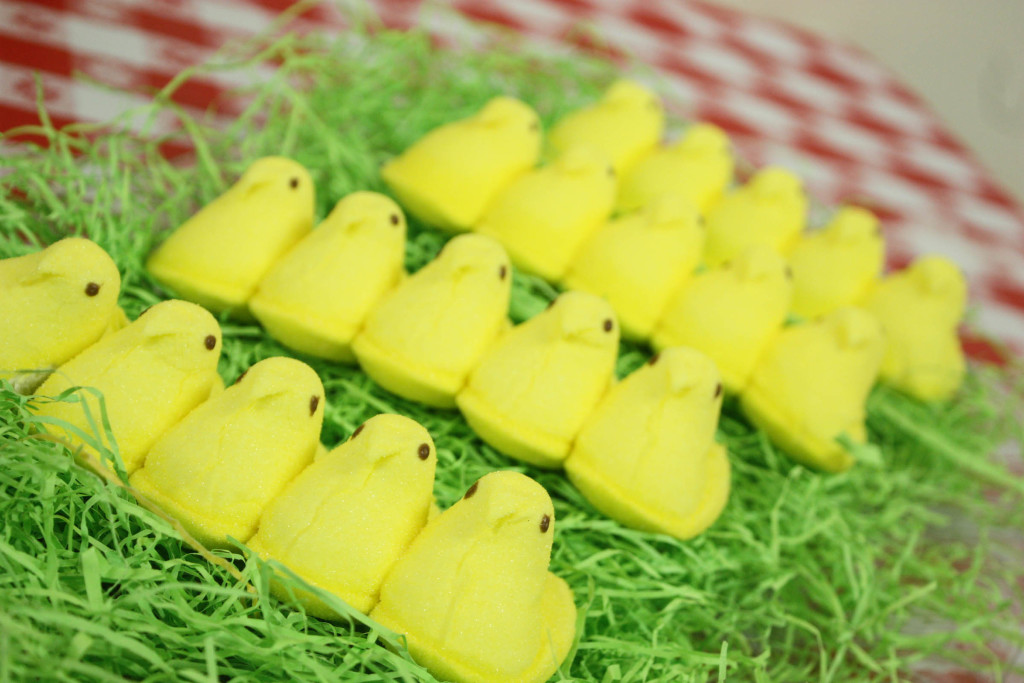 I took a radio flyer wagon from a shelf in his room and stacked rice crispy treats to look like hay bales. It turned out so cute!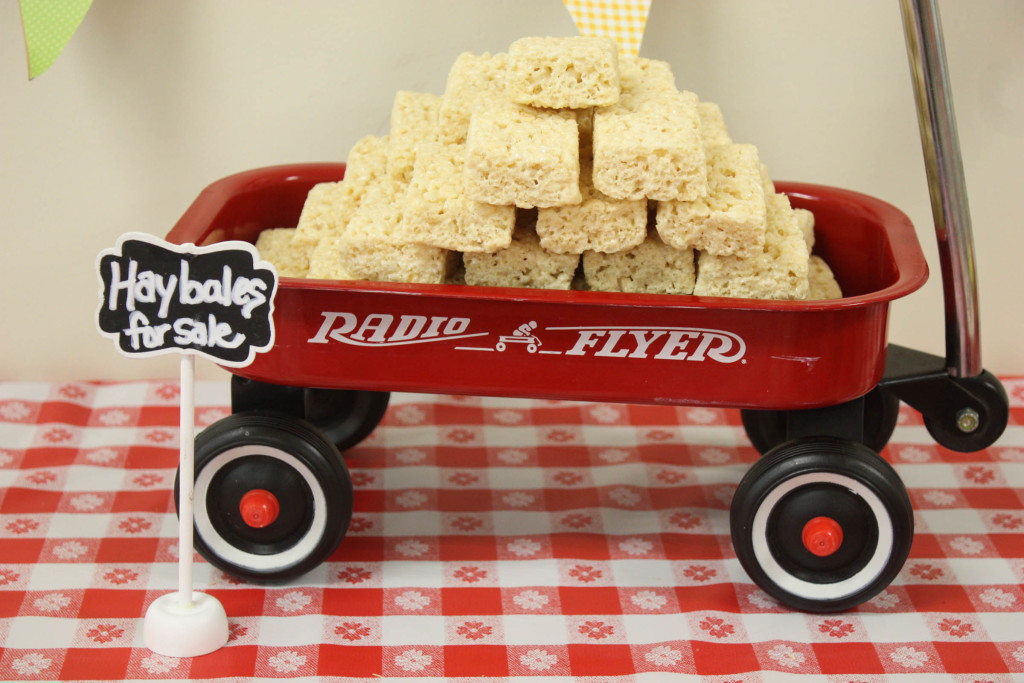 My VERY talented cousin made these adorable cake pops! They seriously tasted as good as they look. She did a fantastic job. Thank you again, Whitley!
The little miniature hay bales came from Hobby Lobby as well. I believe they were in sets of 2 for $2.99.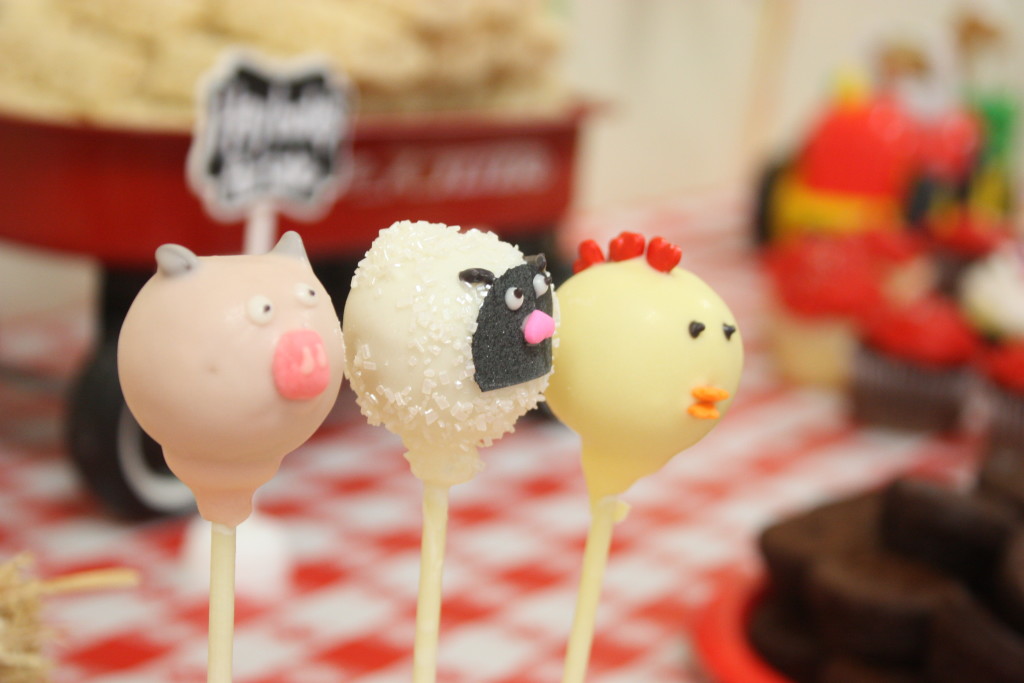 For the tables, I went VERY simple. I got red and black vinyl table cloths from the dollar store and put a very simple centerpiece on each one. On the red tables, I put a little wheat centerpiece. It was extremely easy. My husband went and got me a little dab of wheat out of a field (not much, don't worry…I didn't alter a farmer's livelihood), and I put it together in cans that I had saved from canned goods that we had eaten. We also took some raffia and tied it in a little bow for a finishing touch. My mother in law tied the bow. I am horrible at that. This was free, and so easy and cute!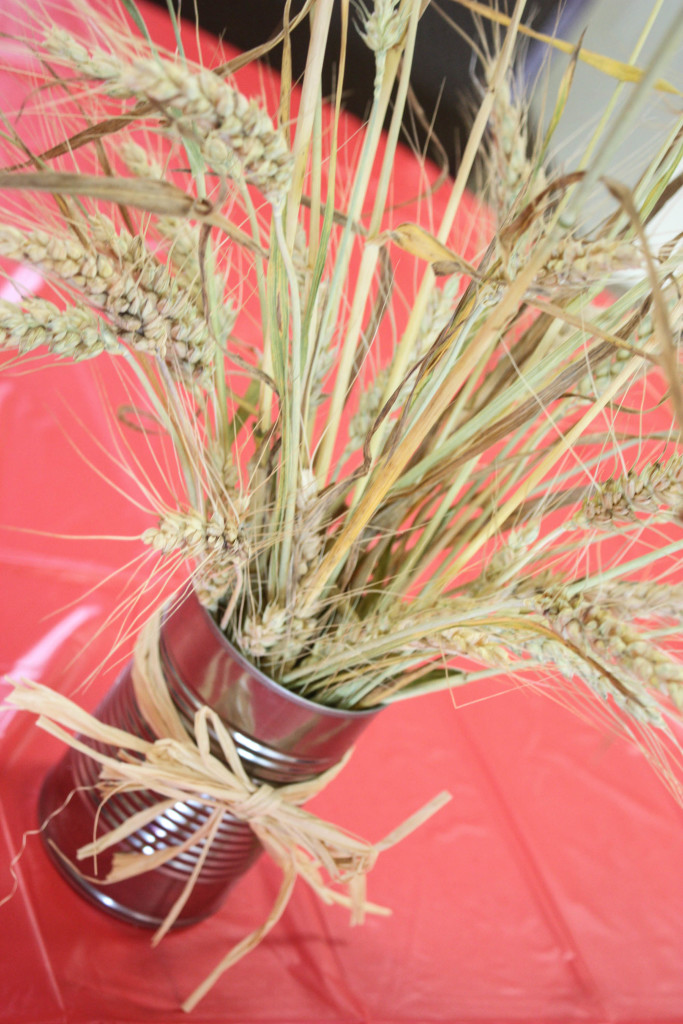 One the black tables, I laid 1 bandanna, then I took mason jars and filled them with raffia and stuck a balloon in. Again, VERY easy and pretty cute! (This picture didn't turn out the best. I apologize!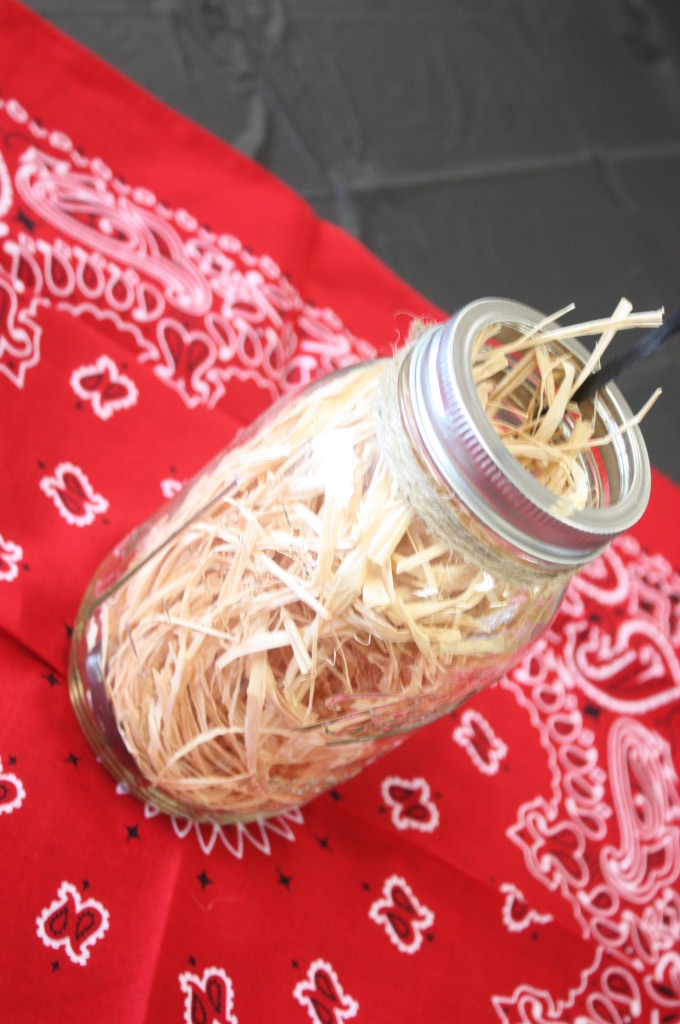 And last, but certainly not least, is a picture of the birthday boy! At 2, it is impossible to get a really good one…but he sure is sweet showing off his precious smile (while covered in food and drink)! Happy Birthday, Blaize!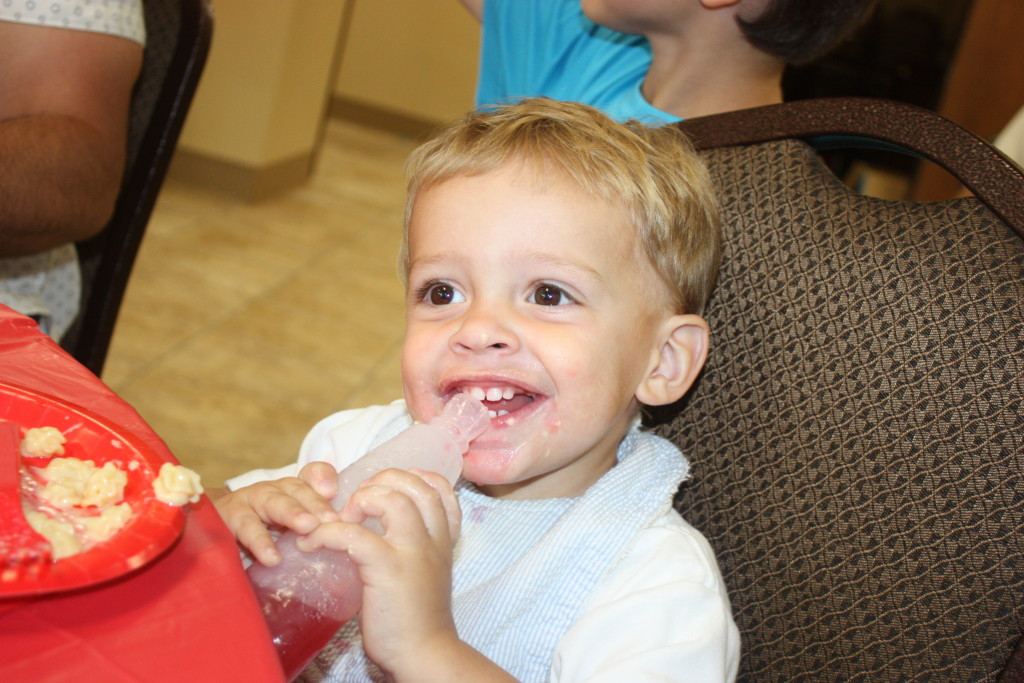 PIN FOR LATER!