This is one of those projects that when you're in the midst of making it, you aren't sure if it will actually turn out the way you had envisioned… until you get to the END!!!
Just trust me on this one, y'all… this little reindeer turned out ADORABLE- not to mention, it's the EASIEST and CHEAPEST reindeer I've ever made!!
Here's what you'll need…
wood block of any size
small sticks
small wooden slice
raffia
hot glue
white, black, and red paint
I decided to start with the nose, so it had time to dry! Obviously, we're using this small wood slice to create the big bright nose- like Rudolph!
I took "Cardinal Crimson" by apple barrel paints, and simple painted the whole front of the round!
Go ahead and hot glue that bad boy on!
Now is where the sticks come in. We'll be using them as the antlers!
I took two "thicker" sticks, and hot glued them on the top of the block. Don't worry… I know it may look a little rough right now, but just trust me!!!
Take some tiny sticks, and break them into little pieces!
This is where our sticks will start to look more like antlers. Just hot glue them in diagonal angles onto the stick!
Grab your raffia (or ribbon if you prefer) and make a little bow!
Hot glue it right of the center of the antlers!
This part might be a little scary for some… but I promise, you can do it!!! We're painting on two white circles for the eyes… then will paint two smaller black circles in the center!
Like this! I also added some little eyelashes!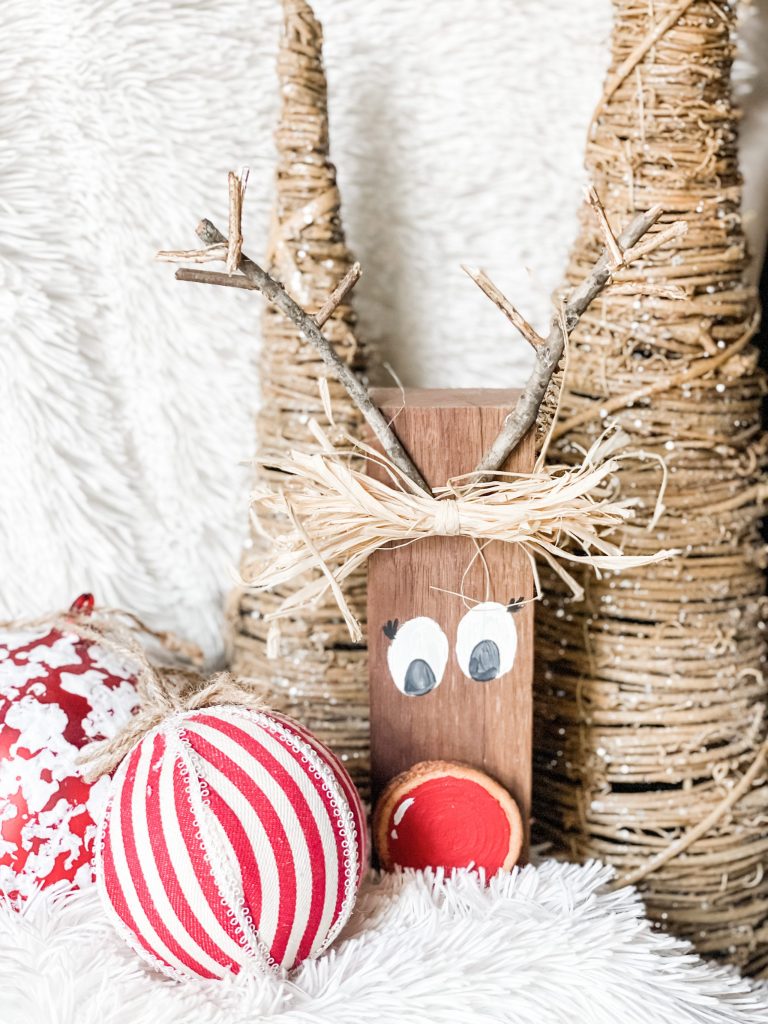 And there you have it! The cutest, cheapest little reindeer!!!!
If you like this project, then I bet you'll LOVE these! Click on each image down below to go straight to the tutorial!
Make sure to pin!